A WordPress SEO audit is the best way to identify technical issues affecting your site's performance on search engines and areas that need improvement. Maintaining a regular SEO audit can keep your site visible on search engine results pages (SERPs), drive more organic traffic, and ultimately boost your conversion rates and revenue. 
Typically an SEO audit includes an analysis of various elements such as code, content, website loading speed, and the overall website architecture to ensure that it is optimized.
The tech scene is volatile, and search engine rules are no exception. With new algorithms and content released daily, it can be challenging to keep up with all the information and keep your website optimized. A WordPress SEO audit checklist provides a structured way to evaluate the performance of your WordPress site on search engines while still staying on top of trends. 
This guide provides a quick yet comprehensive WordPress SEO checklist with a series of tasks, such as ensuring you have an SSL certificate, checking if your site is mobile-friendly, and many more. No matter the type of website you're running or whether you're a beginner or an SEO expert, this guide will help you fix issues that may be affecting your WordPress site ranking on SERPs.
The Types of SEO Audit
Different websites have different SEO needs and goals. For instance, a large enterprise website has different needs compared to a small personal blog website. By understanding your needs, goals, and types of SEO audits, you can make an informed decision on the type of audit you should perform. 
In this section, we will discuss various types of WordPress SEO audits and explore when they are most beneficial to your site.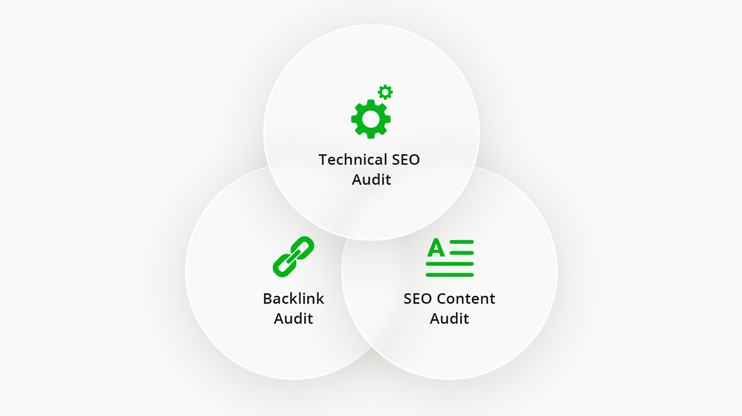 Technical SEO Audit
A technical SEO audit is a comprehensive scrutiny of the entire technical elements of a website and its ability to be easily indexed by search engines. Unlike an on-page SEO audit that focuses on the content, a technical SEO audit focuses on site architecture, internal linking, sitemaps, internal linking, robots.txt, indexation, and crawlability. In subsequent sections, we will discuss these concepts in detail and how you can implement them when conducting a technical WordPress SEO audit.
SEO Content Audit
An SEO content audit assesses the quality, performance and relevance of data on your website. This type of audit allows you to evaluate and identify content and pages that are rarely visited and, in fact, hinder your site from ranking well on SERPs. Typically an SEO content audit involves assessing the quality and effectiveness of content on your site.
Assessing content quality involves checking its usefulness and relevance and whether it can meet your target audience's needs. By doing this evaluation, you will identify gaps in the content coverage and areas that may need a rewrite. Quality content is more likely to attract more readers, increasing the chances of your WordPress site ranking higher on SERPs.
Keyword research and usage practices are important to an effective SEO content audit. Conducting keyword research involves identifying words that are often searched by your users and how those searches may change over time.

According to HubSpot, keyword research is the process of finding and analyzing search terms that people enter into search engines with the goal of using that data for a specific purpose, often for search engine optimization (SEO) or general marketing.

Keyword research allows you to optimize your content with the relevant keywords making it easy for users to find your content on SERPs, thus increasing your visibility. 
Once satisfied with your keyword research, use the keywords in your content in a natural way that gives users a good reading experience (Semantic SEO).
Duplicate content is another issue you should address during an SEO content audit. Addressing duplicate content during a content audit increases the quality of your content, credibility and visibility on SERPs.
Backlink Audit
A backlink audit reviews the quality and quantity of links that point to your website. The goal of this audit is to identify harmful links that may be affecting the rankings of your site from those that are quality and from reputable sources.
This audit also allows you to audit metrics such as the 
The number of referring domains. 

The percentage of image backlinks. 

The percentage of High Domain Rating (DR) referring domains. 

The percentage of .edu and .gov backlinks. 

The percentage of do follow backlinks. 

Acquisition rate and the potential spam indicators. 
You may also want to compare your backlink profile to your close competitor to identify areas of improvement. 
Maintaining a diverse and healthy backlink profile will improve your site's authority, credibility and, eventually, your search engine rankings. Regular and comprehensive backlink audits can also form the basis for developing a strategy to improve your backlink profile. Tools such as ahrefs make this easier.
Technical SEO Audit Checklist for WordPress Websites
Performing a Technical SEO audit can be a daunting and intimidating exercise, especially for those new to the process. It can also take time to figure out where to start and how to fix the issues raised after an audit. Although we've highlighted other audit methods, this section is tailored to address technical issues specific to WordPress sites.
We will walk you through a comprehensive and detailed checklist that enables you to kick-start your audit process and easily identify and fix SEO issues on your WordPress site. While we intend to make this checklist comprehensive, we recommend that you combine this checklist with other tools and best practices.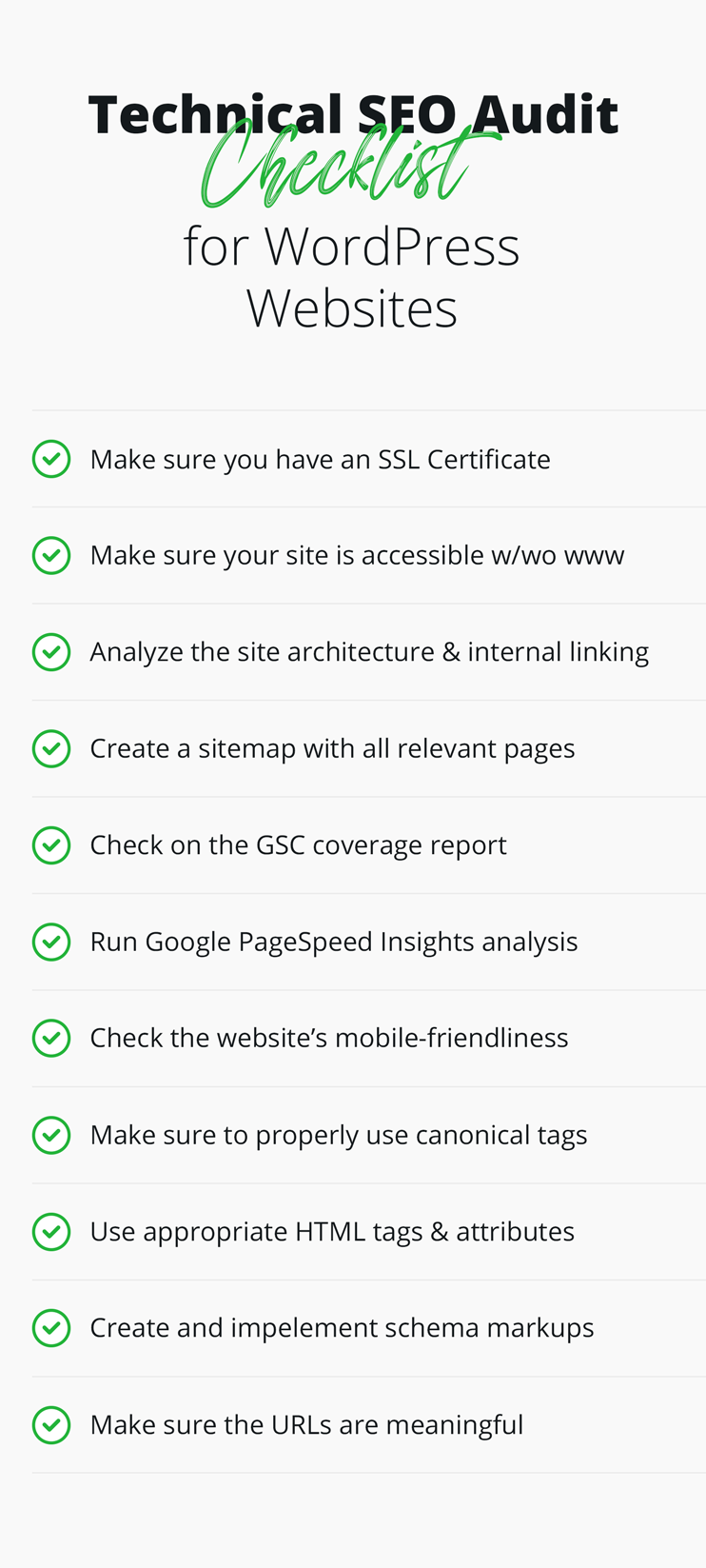 1. Make Sure You Have an SSL Certificate
A Secure Socket Layer (SSL) is a digital certificate that verifies the identity of a website and encrypts communication between your web browser and server. An SSL certificate keeps sensitive customers' information secure while browsing your website and prevents malicious actors from intercepting information in transit. 
As part of Google's efforts to make the web more secure, having an SSL certificate is now a must if you want your site to rank on Google. There are a couple of ways that you can use to make sure that your WordPress site is SSL encrypted and secure. 
The easiest way to check if your site is SSL encrypted is to check if the site's URL starts with HTTPS. To get more details about your site SSL certificate, click on the padlock button at the start of the address bar.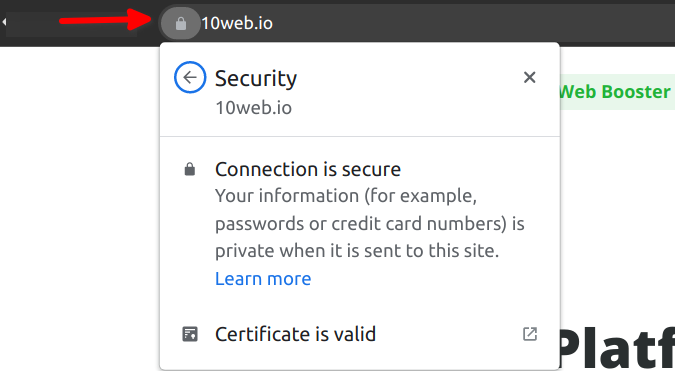 Click on the "certificate is valid" option to view more details about the certificate, such as the validity period, the domain name the certificate was issued to, and the certifying authority.
Alternatively, you can also use an SSL checker like SSL Shopper's SSL checker to verify the SSL certificate on your site. This tool lets you check if your SSL certificate is correctly installed, the expiration date, and the hostname, among other details.
Many hosting providers automatically install an SSL certificate for your WordPress site. Regardless, you can check whether your WordPress site has an SSL certificate installed by going to "settings" and then "General" you will see in the WordPress Address (URL) and Site Address (URL) if it starts with https, this means that your WordPress site has an SSL installed.

2. Make Sure Your Site Is Accessible With or Without Www
Normally websites should be accessible with or without the www in the domain.  However, if that is not the case, then Google's search engine may have indexed different versions of your WordPress site with slightly different URLs. 
This is possible when no canonical URL is set. For instance, Google's search engine may consider https://10web.io/ and https://www.10web.io/ as separate entities. Different versions of your WordPress site lead to content duplication and affect your site's rankings on search engines. 
To check if your site is accessible with or without the www, you should type both versions of the URL on the search bar on different tabs and compare the results. For instance, if you type https://www.10web.io/ and https://10web.io/ on the search bar, they should lead you to the 10Web's homepage. 
If that is not the case for your WordPress site, you can use a plugin such as All in One SEO (AIOSEO) to set up a canonical URL on your site automatically. Alternatively, you can edit the .htaccess file and set up redirects from one URL version to another. Ensure that the redirects you're are 301 redirects to let the search engine know that they are permanent.
3. Analyze the Site Architecture and Internal Linking (Horizontal and Vertical)
Site architecture and internal linking are key elements of any SEO strategy. Both of these play a critical role in the visibility of your WordPress site's visibility to search engines.
Site structure simply refers to how your WordPress site is organized. A good architecture makes it easier for search engines to crawl and index all your pages and identify the most important ones. A fairly simple and logical structure is good for search engine bots and for your users. Users can easily navigate your content and find what they want.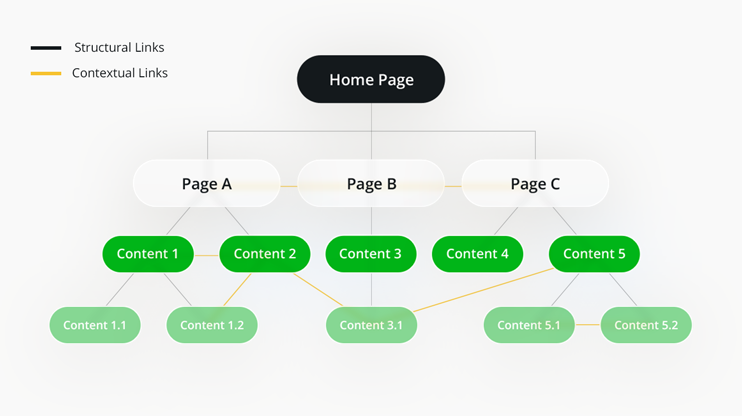 To fully realize the benefits of internal linking, your linking needs to be consistent, descriptive, and have anchor texts.
Screaming Frog is a powerful tool that allows you to crawl small and large sites and evaluate results in real-time. Using Screaming Frog, you can evaluate internal linking and URL structure using interactive crawl and directory force-directed diagrams and tree graph site visualizations.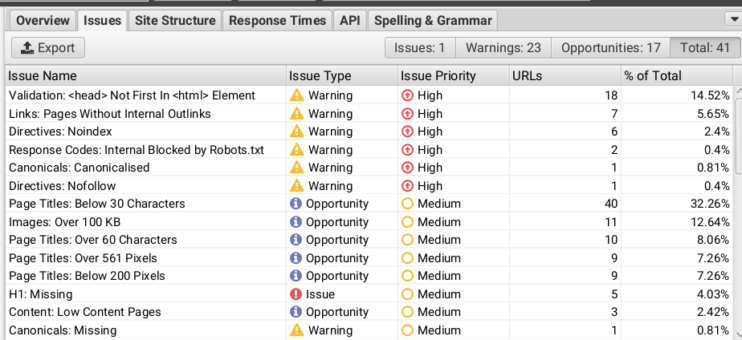 You can also crawl your site instantly and identify issues with your linking structure, such as missing links, links leading to wrong pages, and broken links. Using Screaming Frog, you can also discover exact duplicate URLs with an md5 algorithmic check and partially duplicated elements such as page titles, descriptions, or headings.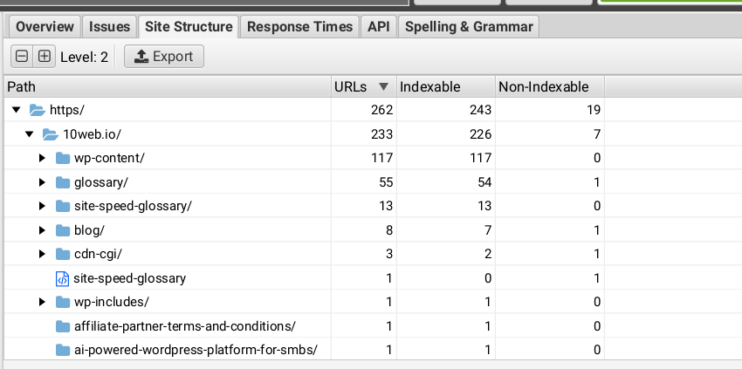 Screaming frog also allows you to export data to an excel sheet, connect to the Google Analytics, Search Console, and PageSpeed Insights APIs and fetch user and performance data for all URLs in a crawl for further analysis.

4. Create a Sitemap That Includes All the Necessary Pages
A Sitemap is a file that lists information about pages, videos, and other files on your site and details the relationship among them. A Sitemap makes it easier for search engines to understand the structure of your WordPress site and thus crawl and index it with ease. This can improve the visibility of your WordPress site on the internet.
Without a sitemap, search engines can find it difficult to index large sites with lots of multimedia content and unlinked pages. Using a sitemap, you can also ensure that all the important pages of your site are indexed.
However, you should ensure that your sitemap file is well structured, follows the sitemap XML sitemap protocol, and does not include "noindex" URLs. You may also need a video Sitemap if you have a lot of video content on your pages.
You can use a WordPress plugin such as Yoast SEO or XML Sitemaps to create an XML sitemap for your WordPress site. Once you have created a Sitemap and included all the necessary pages, submit it to your Google search console. Alternatively, you can specify the location of your Sitemap file in your robots.txt file.
5. Check on the GSC Coverage Report for Crawlability and Indexation Issues
The Google Search Console Coverage report allows you to access information on how Google crawls and indexes your site. The report includes vital information such as:
page experience,

security issues,

crawl errors,

indexed pages,

resources that may be blocked. 
Checking the GSC coverage report for crawlability and indexation issues is important when conducting a Technical SEO audit. Some of the issues you may discover include crawl errors in red, indicating pages not indexed by Google and those indexed with potential errors (yellow). The report also has details of pages that have been successfully indexed and those that have been excluded from indexing.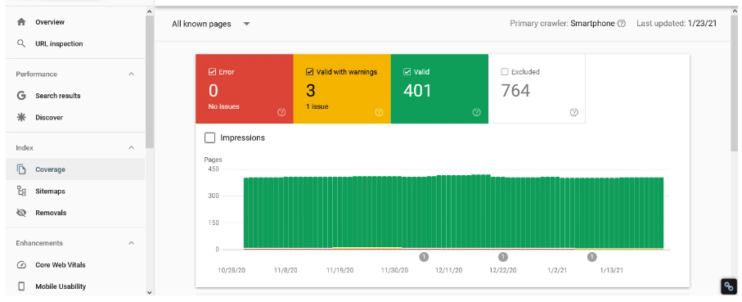 Apart from indexation and crawlability, you can also access analytics such as the number of clicks, impressions,  and the average position of your site on the web. You can also submit sitemaps to GSC and check for mobile-friendliness and any security issues on your Website.
The GSC coverage report is an important tool to help you keep your site healthy and visible on the web and monitor performance so you can know when something needs to be fixed.
6. Run Google PageSpeed Insights Analysis for a Sample Group of Important Pages
In today's fast-moving technology environment, so many things compete for your users' attention. To improve user engagement and retention,  you need to monitor and improve your page speed at all times.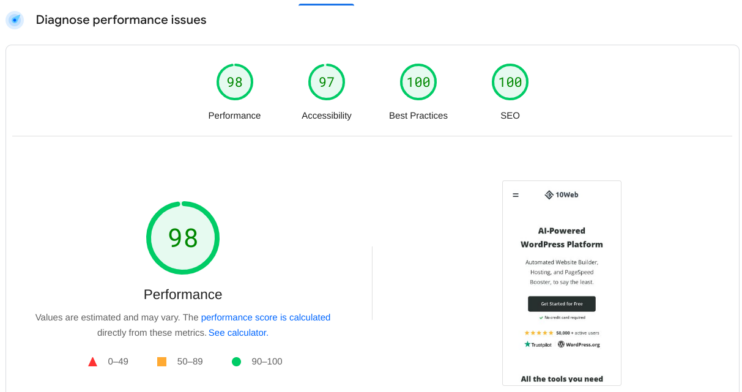 It is also important to note that page speed is one of the ranking factors that Google now considers.
Google PageSpeed Insights is one of the many tools you can use to analyze the performance of your WordPress site both on mobile and desktop and identify issues that need fixing. These tools measure a range of metrics; among them are the core web vitals to help you discover the user's experience when using your site.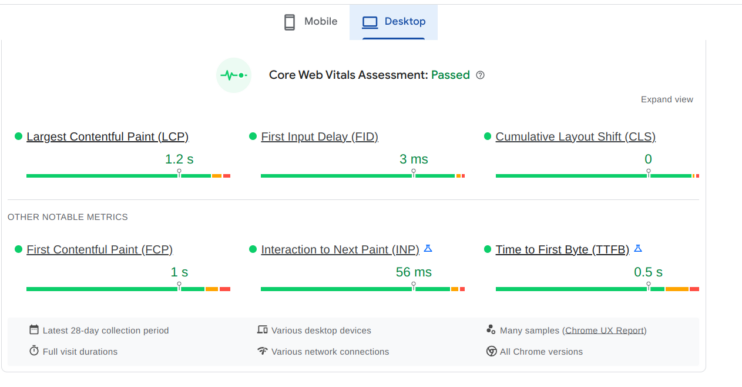 The short definitions of Core Web Vitals are as follows:
Largest Contentful Paint (LCP): Focuses on loading time, specifically regarding the largest element found on the screen.
First Input Delay (FID): Focuses on interactiveness, specifically regarding a website's response rate.
Cumulative Layout Shift (CLS):  Takes into account the visual stability of a website, specifically in terms of layout shifts.

Related Article
Besides the metrics, Google PageSpeed insights also provide specific recommendations on improving your site's performance.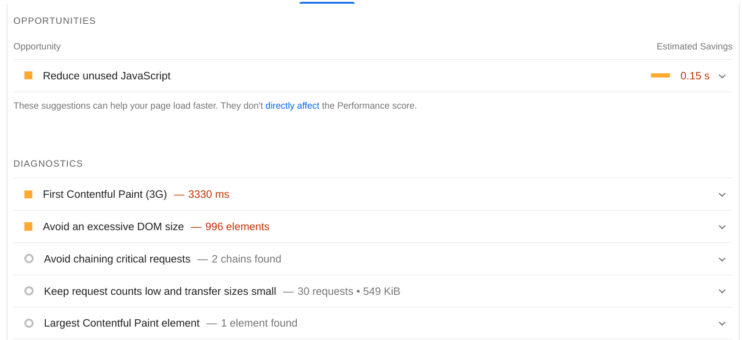 With the 10Web Booster Free version, you get optimization of the homepage and 5 additional pages in your website, including images on these pages. You can install and use 10Web Booster for any hosting, including shared hostings. If you upgrade to the Pro version, you get full front-end optimization for all web pages.
Regardless of your hosting service, you can speed up your WordPress site to get a 90+ PageSpeed score and pass the core web initials with the click of buttons. 
Want to speed up your website instantly?
Get 90+ PageSpeed Score automatically with 10Web Booster ⚡
On any hosting!
Want to speed up your website instantly?
Get 90+ PageSpeed Score automatically with 10Web Booster ⚡
On any hosting!
7. Check the Website's Mobile-Friendliness
A majority of internet traffic comes from mobile devices compared to desktop devices. A mobile-friendly site means users accessing your site using mobile devices can access the same content and functionality in desktop devices. Back in 2016, Google adopted a mobile-first indexing approach that was later adopted for the entire web later in 2018.
 A mobile-first approach means that Google crawls and indexes sites by prioritizing the mobile version of the websites. 
Most WordPress themes are designed to be responsive by default, meaning that they can automatically adjust based on the screen size. You can confirm this by checking the theme's description or testing manually. This may not be the case with custom themes. However, there are plugins such WPtouch that you can use to make your WordPress site mobile-friendly. 
You should also test your WordPress site to ensure that it is mobile-friendly. A simple way to do that is by changing the size of your web browser window. Alternatively, a tool like the Google Mobile-Friendly Test allows you to test if your site is mobile-friendly and suggests tips to improve it. 
Here's how you can use it:
Go to the Google Mobile-Friendly Test website:

https://search.google.com/test/mobile-friendly

Enter the URL of the webpage you want to test in the "Enter a URL to test" field.

Click the "Run Test" button.
The tool will then analyze the webpage and provide a report on its mobile-friendliness. The report will include a score, telling you if the page is mobile-friendly or not.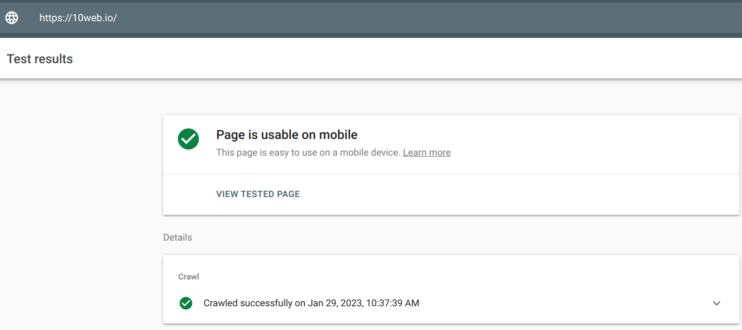 And also it includes a summary of the issues found on the page and suggestions for how to fix them.

Related Article
8. Make Sure the Canonical Tags Are Properly Used
A Canonical tag  (rel="canonical") is a way to tell search engines that the specified page should be considered the main version of the page during indexing. If your page contains multiple pages, canonical tags are a great way to prevent search engines from indexing duplicate pages and making sure that the main page is indexed. Canonical tags also let search engines know where to consolidate link equity. 
The Yoast plugin allows you to easily add canonical tags to your WordPress pages and posts. Once you have installed and activated the Yoast SEO plugin:
On the page where you want to add a canonical tag, navigate down to the Yoast SEO section.

In this section, there is a  field called "Canonical URL" enter the URL of the original or preferred version of your page.

You can use the Yoast plugin to set up canonical URLs for other pages by following the same procedure.

Once you've added your canonical tags, make sure you save the changes and update your page.
The Yoast plugin makes adding canonical tags to your WordPress page or posts easy. However, if you're using a CDN service, ensure that you configure it to pass the canonical headers correctly.
9. Make Sure the Website Follows the Best Practices for HTML Tags & Attributes
HTML tags and attributes help search engines understand the structure and content of your website. Therefore when conducting an SEO audit, it is important that you check whether your site conforms to the best practices.
Some of the practices for HTML tags & attributes:
Headings (h1 to h6) allow you to structure content on your Webpage but also signal to search engines the importance of different sections on a page. Ensure that there is only one h1 per page and that any nested headers are in the correct hierarchy.
Ensure that all images on your WordPress site have their tags labeled accurately.
Ensure that your pages contain unique and appropriate title, meta and description tags. Well-written tags can help improve your click-through rates (CTR), indicating that your search results are relevant and compelling.
Proper use of structured data such as schema markups. Structured data should be properly placed and only containing information visible to the user.
Following these practices gives more relevant information to search engines about your site and increases the chances of the site appearing in different search results.
Optimize your content SEO with AI!
Write and perfect original content and fix all SEO and readability errors 10X faster with 10Web AI Writing Assistant✨
10. Create and Implement (Or Check) Schema Markups for Relevant Pages
Schema markups are structured data that may be represented in different formats such as Microdata, RDFa (Resource Description Framework in Attributes), JSON-LD (JavaScript Object Notation for Linked Data), and provide additional information to search engines about the content on your page. This information includes the type of content, relevance, and its relation to the content in other parts of the page.  
Besides improving your site's visibility, schema markups help search engines display more relevant information when users enter search queries. Here is an example: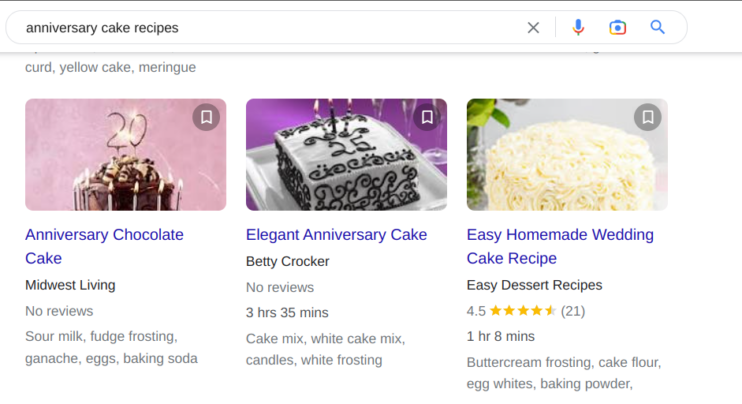 A schema markup written in Microdata and RDFa should be added to the HTML code of your web page. Schema markups represented in JSON-LD format should be included in your JavaScript code.
You can manually add schema code to your WordPress site by editing your pages' HTML code. Alternatively, you can use a plugin to implement a schema to your WordPress site without editing your HTML code. Some of the plugins you use include Schema pro, WP Rich snippets and All in one Schema rich snippets. 
To check the validity and accuracy of your Schema you can use tools such as Schema markup checker to identify errors and areas that need improvement.
Alternatively, you can use Google's Structured Data Testing tool or Screaming Frog SEO spider, a paid tool that lets you crawl your site and check schema markup issues, among other SEO-related issues.
11. Make Sure the URLs Are Readable and Meaningful
A URL (Uniform Resource Locator) is a unique address that identifies a web page or document on the internet. Keeping URLs readable, meaningful, and simple is important for getting users and search engines to understand them.
To keep URLs simple and meaningful, it is important that you follow the best practices. Here are some of the best practices to follow:
Keep URLs simple and descriptive to allow users to understand them and search engines to crawl and index them.

Include relevant keywords on URLs to enable search engines and understand the content on your pages.

Maintain a consistent structure for your URLs and use hyphens to separate words to make it easier for search engines to understand the context of a page.

Avoid using special characters, and numbers in URLs, as this makes them less readable.

Use fewer subdirectories to make URLs brief and easy to understand.
Readable and meaningful URLs make navigation easier, boost your Click-Through Rates, and at the same time, including relevant keywords may also positively impact your ratings.
The Summary of Tools Needed for WordPress SEO Audit
In conclusion, in today's highly competitive business environment, a well-optimized website can be the key to unlocking various opportunities on the internet. As we have highlighted above, a comprehensive WordPress SEO audit covers different aspects of your website, such as mobile friendliness, content quality, site architecture and other technical SEO issues. We have also discussed various tools that can make your WordPress SEO audit much easier. However, do not also shun away from doing a manual audit for your site as it gives you an in-depth understanding of it.
Want to speed up your website instantly?
Get 90+ PageSpeed Score automatically with 10Web Booster ⚡
On any hosting!
Want to speed up your website instantly?
Get 90+ PageSpeed Score automatically with 10Web Booster ⚡
On any hosting!
FAQ
Is an SEO audit worth it?
Yes, an SEO audit provides a comprehensive analysis of your WordPress website and helps identify areas that need fixing to keep your site well-optimized.
Can I get a quality SEO audit for free?
Some tools provide a free basic SEO audit for your site. However, for a detailed audit, you may need to pay for a premium tool or service.
How frequently should I audit my WordPress website?
We recommend that you conduct an audit at least once a year to ensure that your site is up to date and keeps up with changes in search engine rules. However, you may need to do an audit more frequently if you are making changes to your site now and then.
What to do if I have important pages in 'Crawled - Currently Not Indexed' status?
There could be many reasons why this is happening such as poor site structure, technical issues or low content quality. You may need to relook at your content and also check for issues such as broken links or missing meta tags and fix them.
How to automate sitemaps on WordPress?
You can automatically create, manage and update your sitemaps using plugins such as Yoast SEO or Google XML Sitemaps.