Personal websites have become an important tool for students and professionals planning on advancing their careers. From creating an online presence to differentiating themselves from the sea of static resumes, a personal website can make all the difference when applying for jobs or presenting your portfolio to clients. However, building one can be challenging, with many design, style, and text options to consider.
By creating your unique website, you can convey who you are and what you do in style. A well-designed personal website increases your online visibility through search engine optimization (SEO), gives you a more polished appearance, and strengthens your sense of individuality.
Four major types of personal websites exist, each with its own unique purpose. 
Personal link-in-bio

page creates your brand's first impression and organizes your diverse content on one page.

Personal blogs

are suitable for people who wish to promote certain material, discuss their experiences, or offer their expertise. 

Personal portfolio

or resume is suitable for designers, engineers, and other creative professionals. 

Personal online store

allows you to create your website with a higher sales conversion rate in mind.
Why personal websites are essential for you
Personal websites serve multiple purposes, from providing information and entertainment to boosting your career prospects. By creating and maintaining your personal websites, you can enhance your brand and open doors for new opportunities.
Here's why you need a personal website:
Instant credibility:

Showcasing your work experience, education, and portfolio on your personal website helps establish your credibility in your industry. You should let your website speak for you.

Stand out from the competition:

A professional personal website sets you apart from other candidates in the job market. It allows you to highlight your strengths and convince companies or organizations why they should hire you.

Unleash your creativity:

Your personal website offers endless opportunities for creativity. Whether it's crafting your bio or writing original articles, you can let your personality shine in your online space.

Learn and grow:

Building your own website not only helps you understand what works and what doesn't for your personal brand, but it also allows you to explore new ways of communicating your message. You'll gain valuable skills in website creation and search engine optimization (SEO), boosting your career prospects.
If you're looking to create impressive personal websites in 2023, we've got you covered. Here are 41 of the most impressive personal website ideas to inspire your own creation.

Example 1:

Sean Halpin
– Innovative and stylish personal portfolio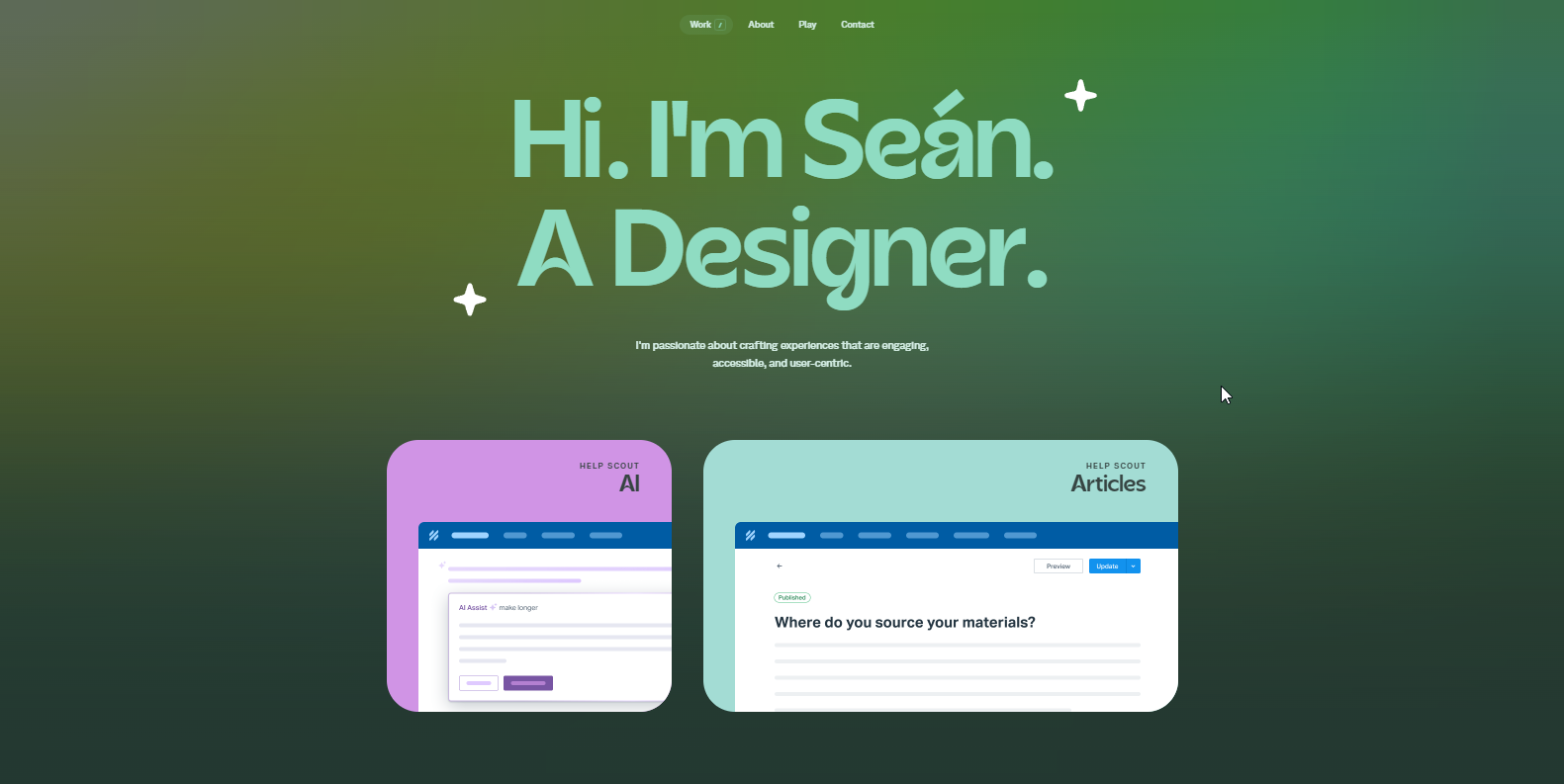 Sean Halpin's page is innovative, with a streamlined layout and creative elements to liven things up. Sean's personal website beautifully showcases his work and experience with four different sections. 
The work section highlights his various completed projects and ongoing initiatives, while the project showcase demonstrates his abilities in a captivating way. In the About section, Sean presents his professional experience, similar to a resume, and adds a "fun" section with multiple interactive elements to entertain and delight visitors. 
Moreover, with a direct communication section like live chat, reaching out to Sean has never been easier. Overall, this personal website is a splendid platform to showcase your skills in an engaging and amusing manner.

Example 2:

Michael Mannucci
– Clear value proposition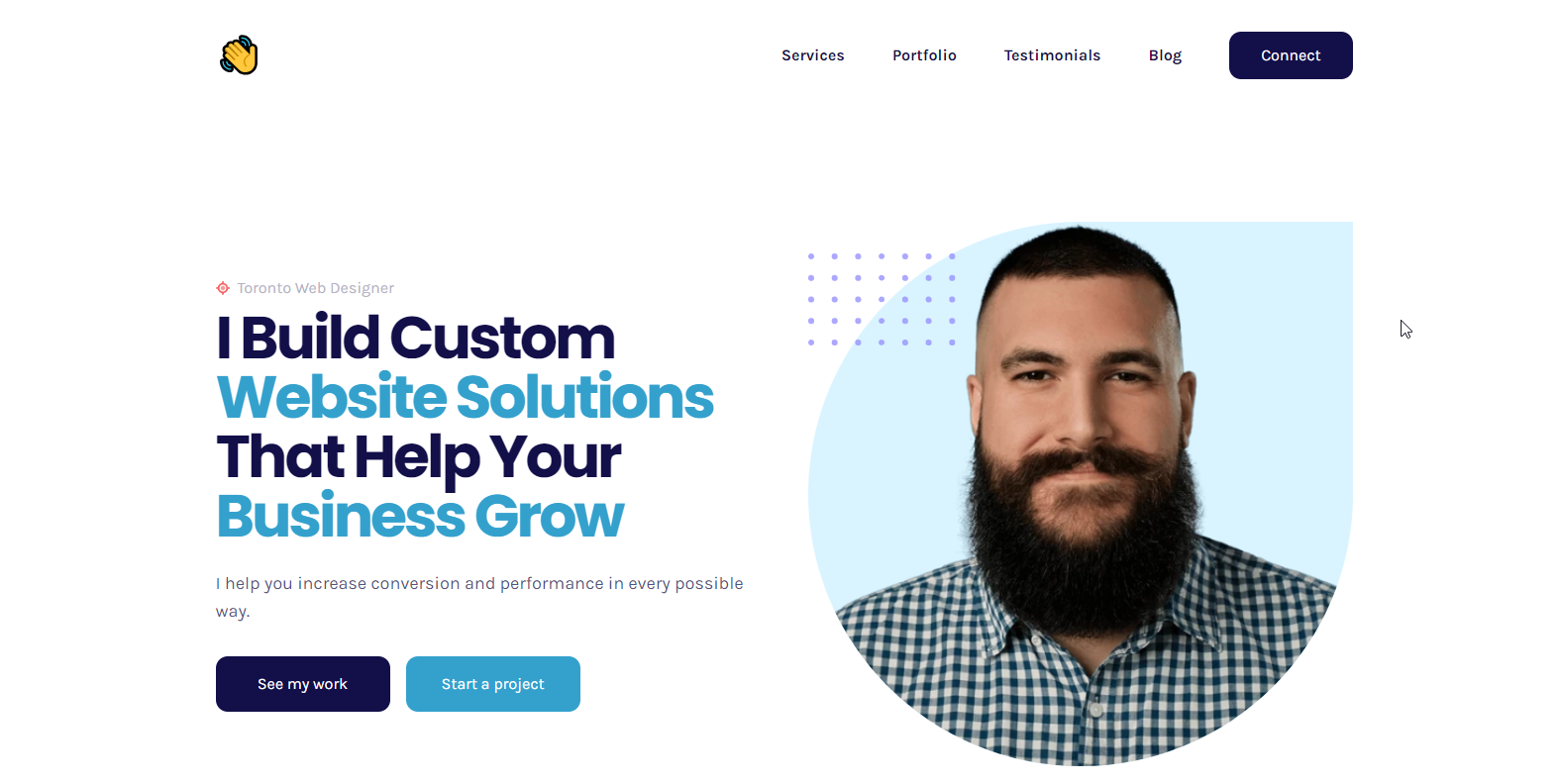 Among the best examples of personal websites is Michael Mannucci's website, which features a landing page-style resume with navigation that simplifies the process of scrolling to the desired section.
The site features clear call-to-action icons allowing users to directly view and contact Michael's work. With a well-structured breakdown of the project execution, the website offers clarity to clients seeking Michael's services.  
The website has been designed to ensure that content loads seamlessly, enhancing your browsing experience. In addition, Trustpilot reviews support Michael's credibility and expertise. 

Example 3:

Shane Kinkennon
– Striking executive portfolio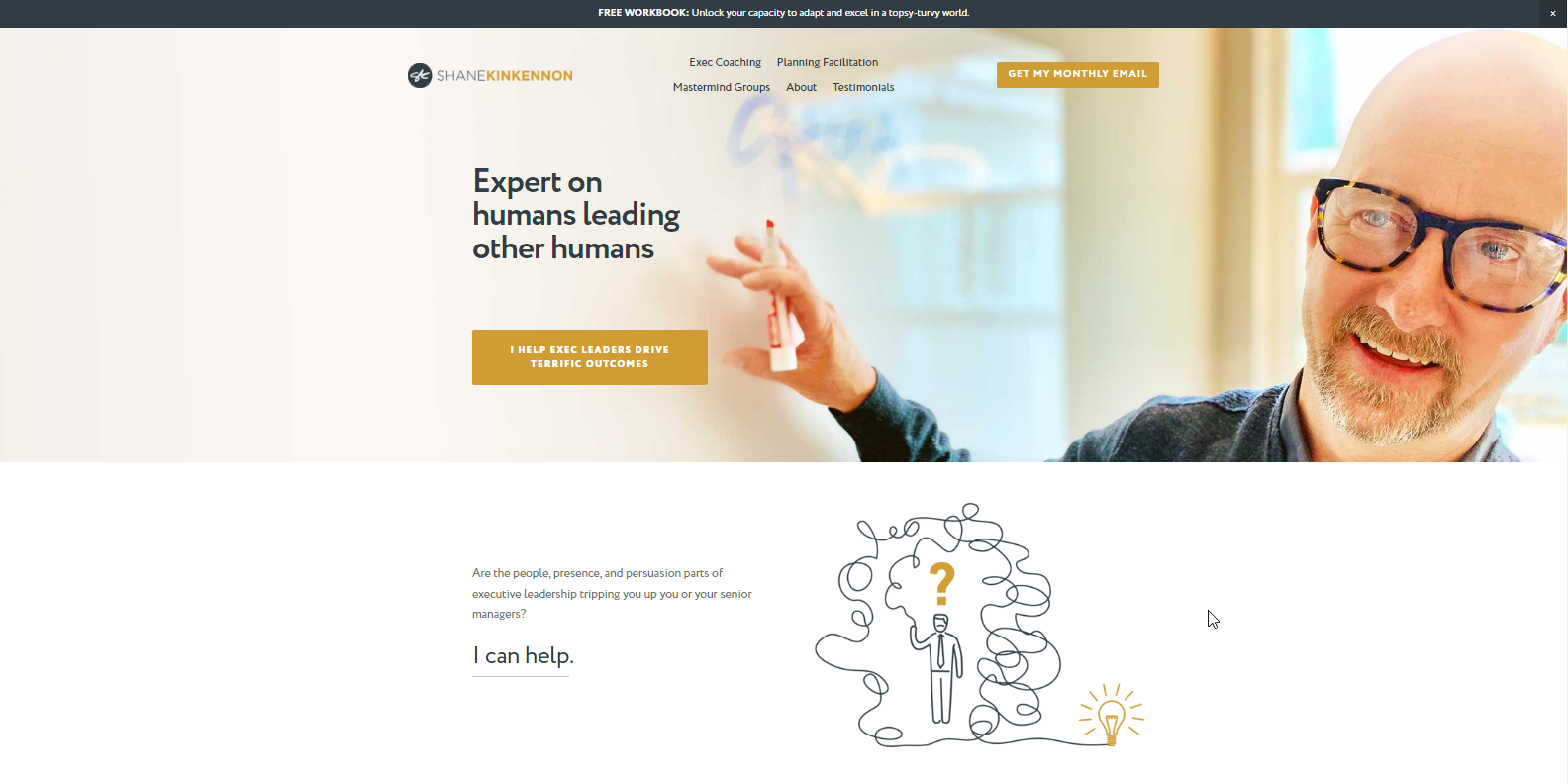 As a specialist in coaching ethical executive leaders, Shane helps people overcome obstacles and excel in their roles. An eye-catching illustration and vibrant color scheme create a streamlined and dynamic appearance for the website's design.
When you enter the website, you will immediately spot Shane on board. The website's content strikes a confident and professional tone, catering to the high expectations of C-suite executives.
In addition to Shane's own message, his website includes testimonials from other high-ranking executives. By reading Shane's recommendations, potential clients can discover how he has worked for other clients.

Example 4:

Alexander Sakhnenko
– Inspiring photographic journey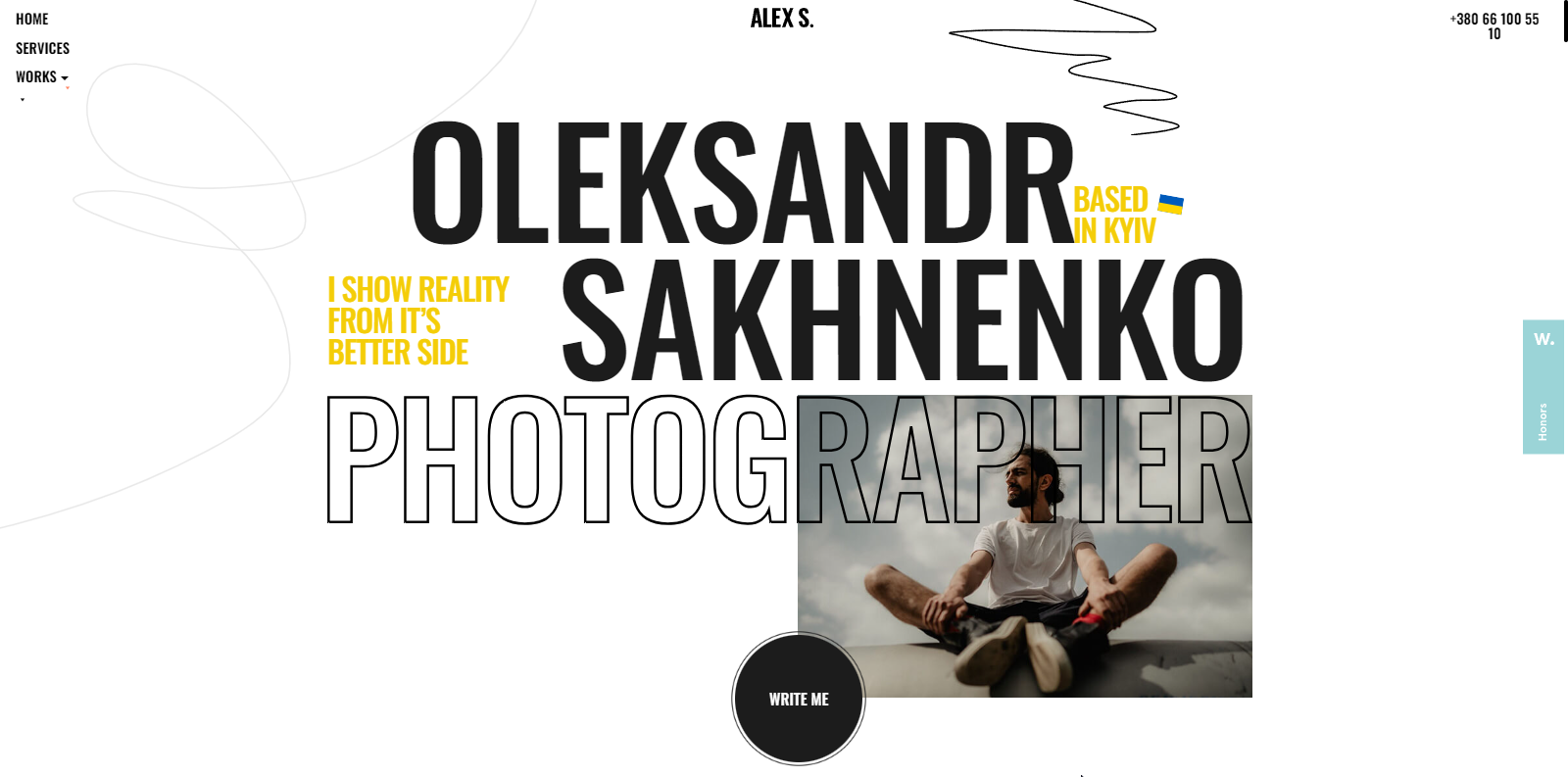 Alex, a photographer located in Kyiv, Ukraine, aims to showcase the beauty of reality through his photography. This website is a must-see for photography enthusiasts with creative call-to-action icons, awe-inspiring graphic designs, and visually stimulating content. 
A stylish, cool graphic design and aesthetically pleasing website layout make the site visually appealing. With a clear and inviting "Write me" button, visitors can easily reach out to Alex directly by filling out a simple form. A comprehensive display shows his excellence in various categories of photography, including weddings, cars, content, photo sets, and events.
Additionally, the website includes detailed information about Alex's projects, experience, and an impressive list of countries he has visited. 

Example 5:

Diegovz
– Exceptional portfolio canvas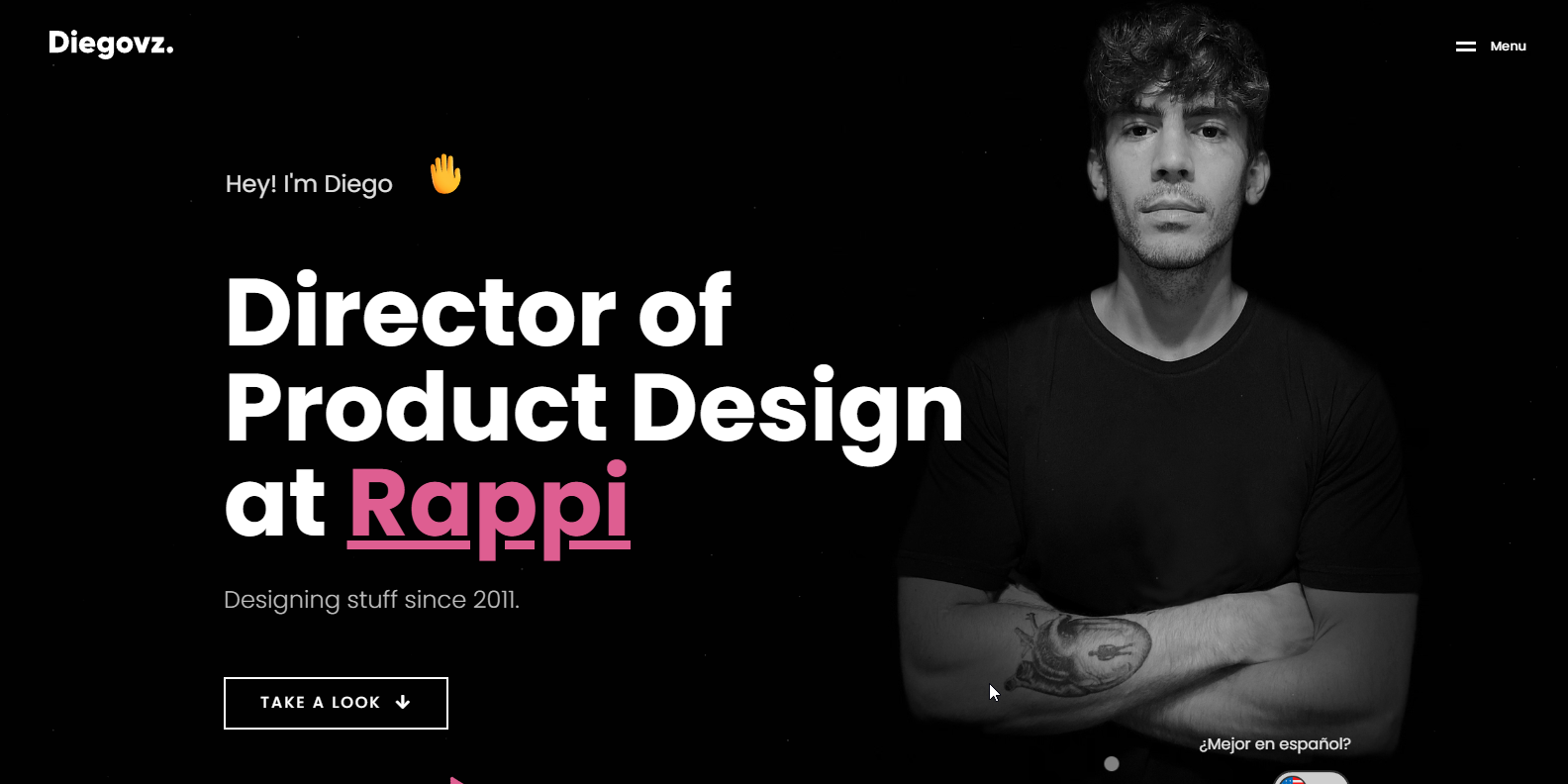 This website serves as the personal portfolio of an accomplished product designer. It showcases a wide range of exceptional works, accompanied by detailed case studies. The visually captivating design of the website, characterized by a sophisticated dark background and a melodic pop of pleasing pink, elevates its aesthetic appeal. 
The headline displays the designer's role, reflecting his expertise. Additionally, the website employs engaging animations to provide visitors with a rich and interactive experience, ensuring a smooth navigation journey.
If you find the design of this website appealing, consider leveraging 10Web AI Website Builder to recreate it effortlessly.

Get a head start on website creation with AI
Create a custom website tailored to your business needs 10X faster with 10Web AI Website Builder!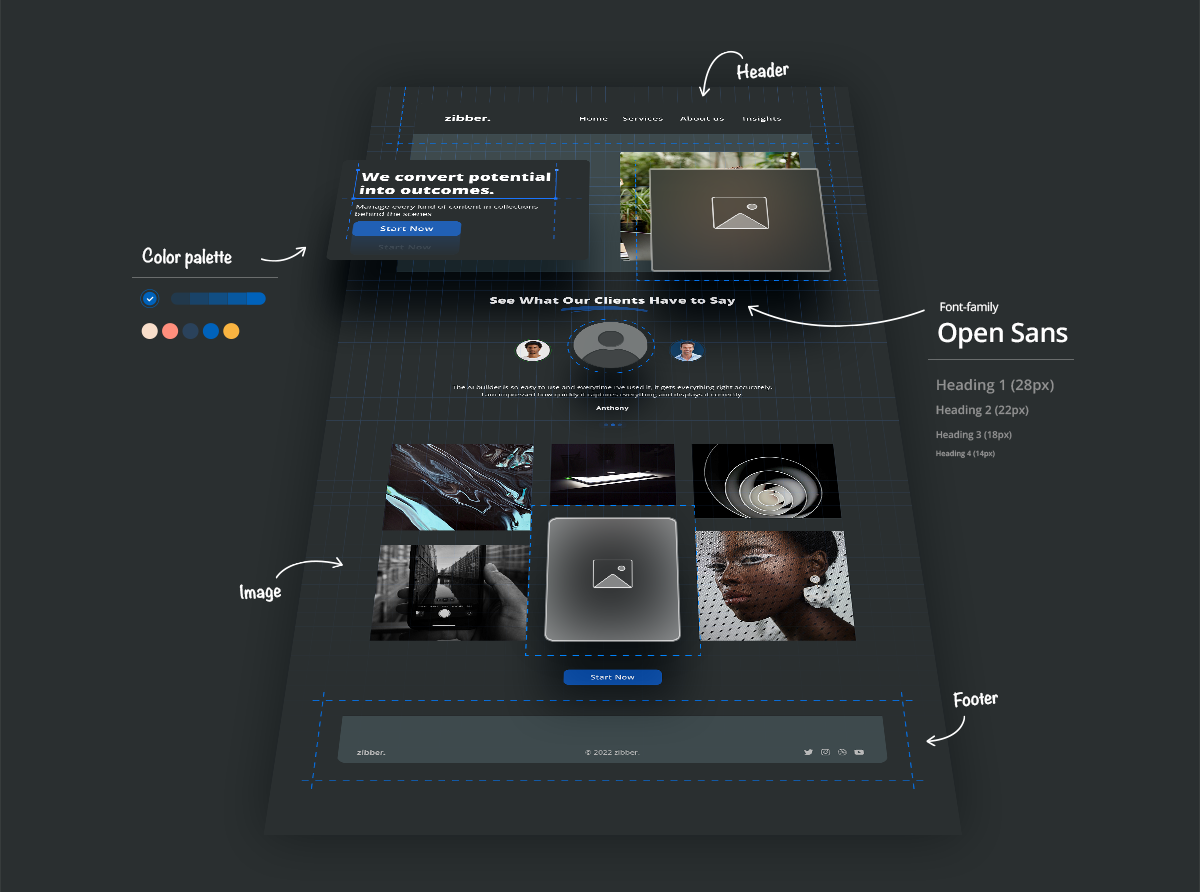 Example 6:

I Am Tamara
– Pleasing aesthetic blend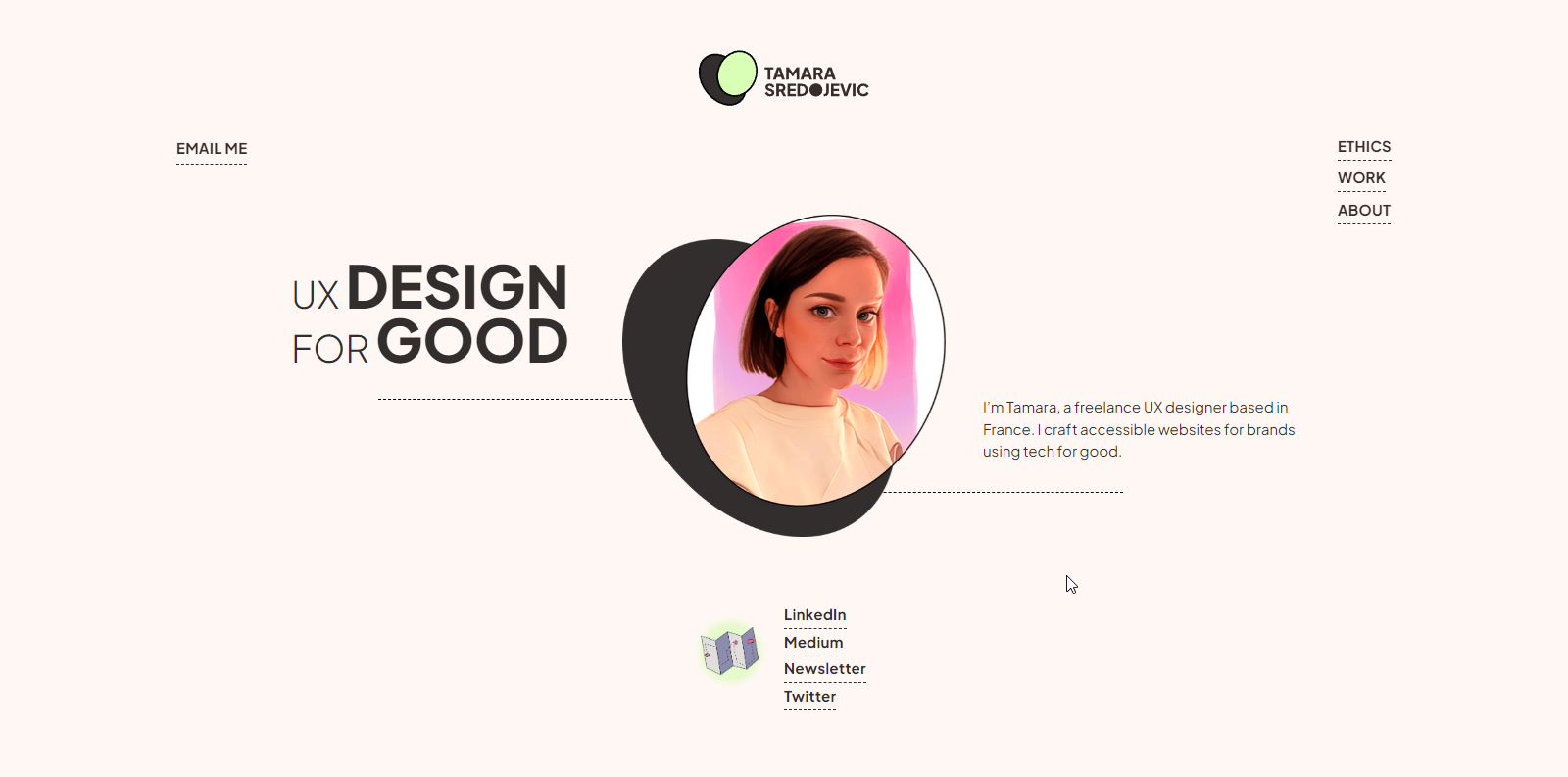 Tamara Sredojevic, a dedicated UX designer, is driven by her passion for ethical design, accessibility, and inclusion. Her website showcases a simple yet captivating two-page layout highlighting her professional expertise. 
With a pleasing combination of colors, Tamara's website embraces the concept of simplicity. These elements seamlessly blend to provide users with a delightful and effortless browsing experience. Aspiring designers seeking personal website ideas and inspiration could benefit greatly from studying Tamara's approach to web design.

Example 7:

Kelsey O'Halloran
– Visually captivating professional portal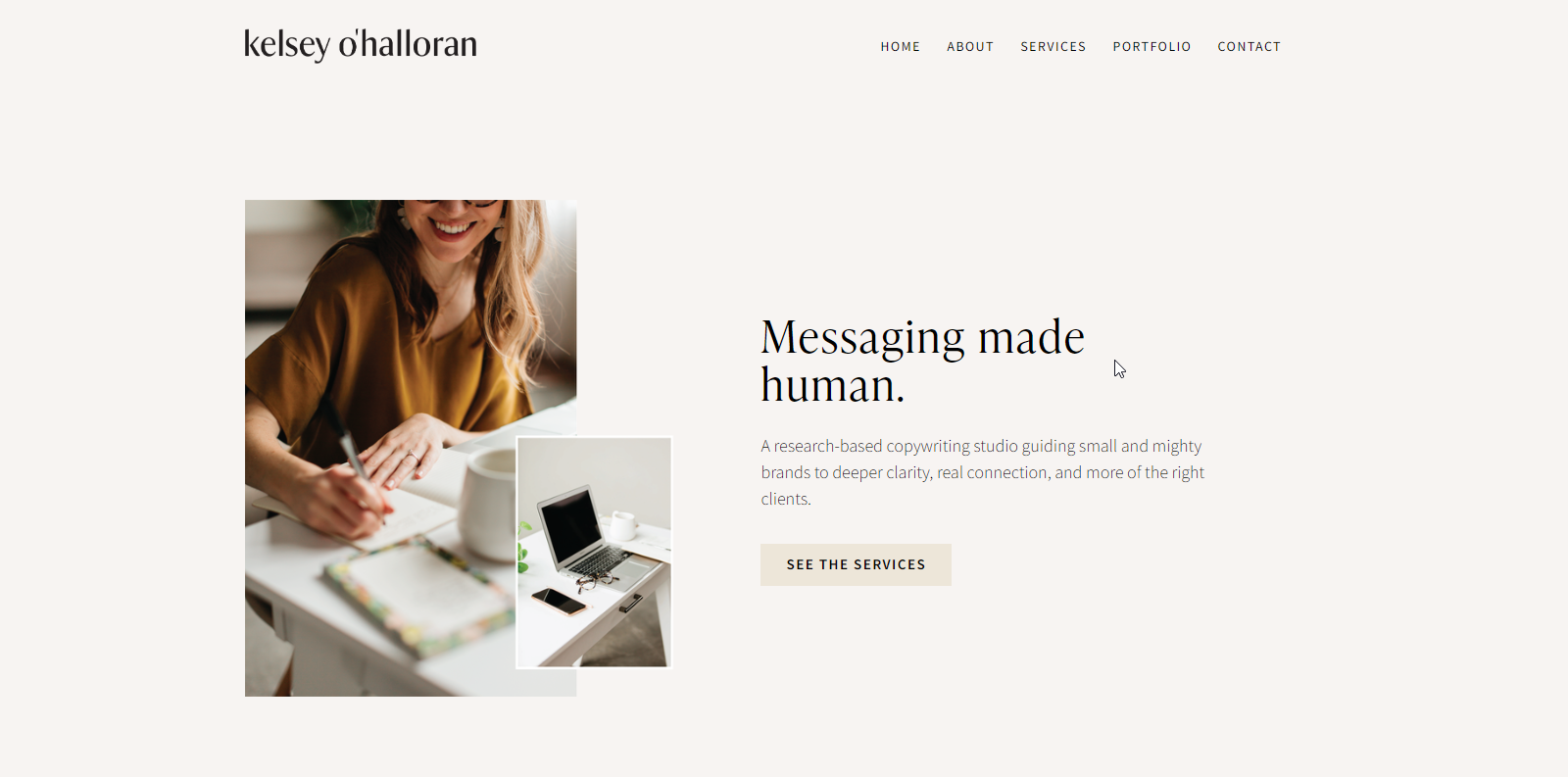 Kelsey O'Halloran has created a visually appealing website that is easy to navigate. The layout is eye-catching, and the color scheme is attractive. The attention to detail is evident throughout the site. One notable feature is the strategically placed client testimonials and a brief bio of her services. These elements help potential clients understand the value of her work. 
The footer section includes links, calls to action, and an Instagram feed, providing additional engagement opportunities. An important observation is the clarity of the pricing information. This is an important selling point for Kelsey since clients can easily understand how much her services cost. 
The website also includes a booking section where clients can schedule one-on-one meetings. This feature optimizes communication and makes it easy for clients to reach out. Overall, Kelsey's website is thoughtfully designed and sure to capture visitors' attention. The delightful user experience makes it easy for potential clients to engage with her services.

Example 8:

Jen Carrington
– Harmonious creative coaching interface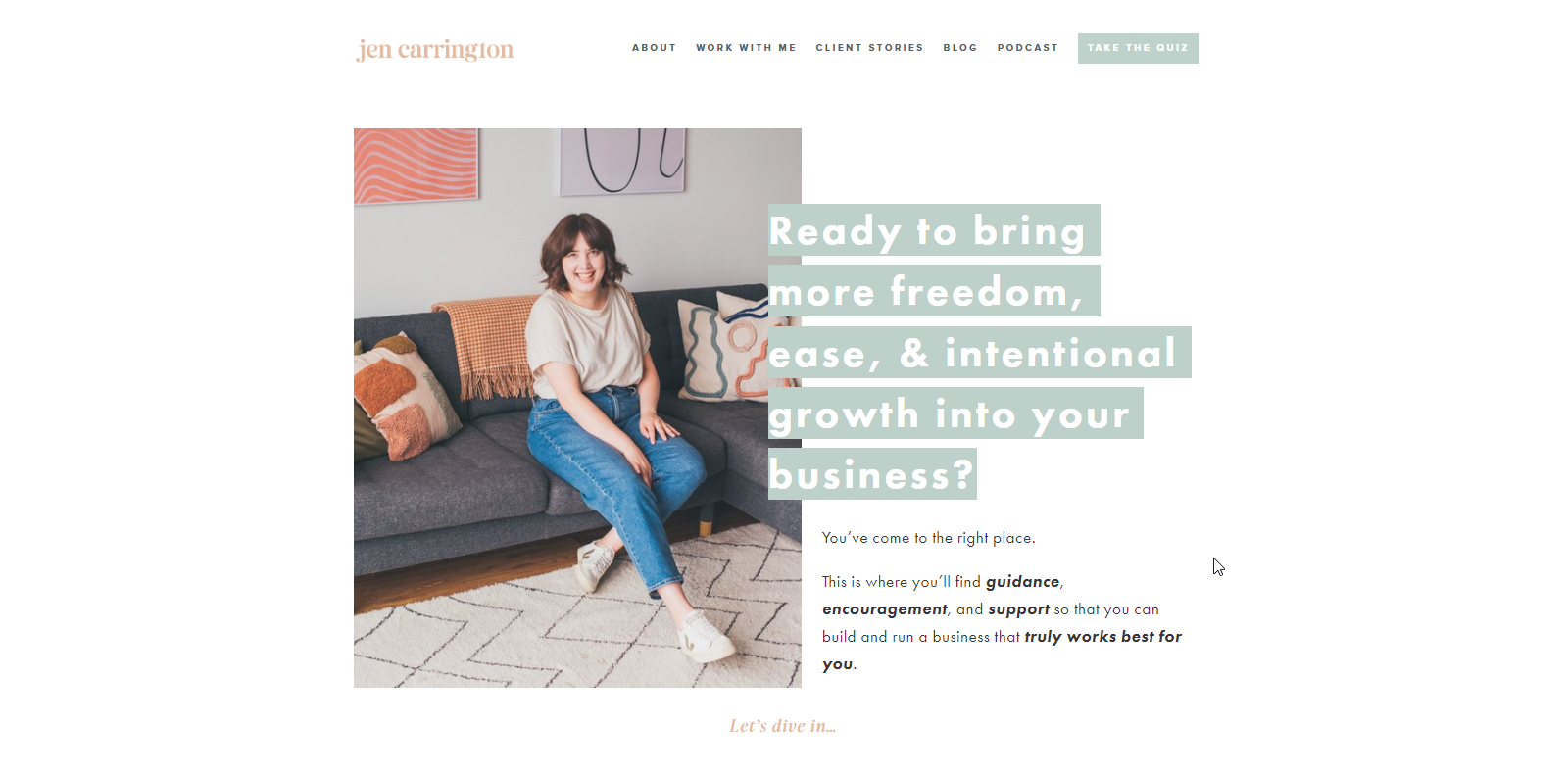 Jen Carrington's website serves as a great resource for those seeking personal website ideas. The website is ideal for busy creative professionals seeking coaching to enhance their personal and professional lives. Jen is passionate about supporting her clients to achieve their goals and experience happiness in a way that best suits them.
The website's clear and organized structure makes it easy to navigate. Clients can quickly and easily jump from the "Work with Me" section to "Client Stories" and podcasts to get a complete package of services.
The "Client Stories" section enhances transparency and highlights previous work, while Jen's warm and approachable personality shines through her stunning images throughout the entire website. Even the color scheme and modern-looking Futura font create a sense of peace that reflects Jen's supportive coaching style.

Example 9:

Gary Sheng
– Modern, user-friendly portfolio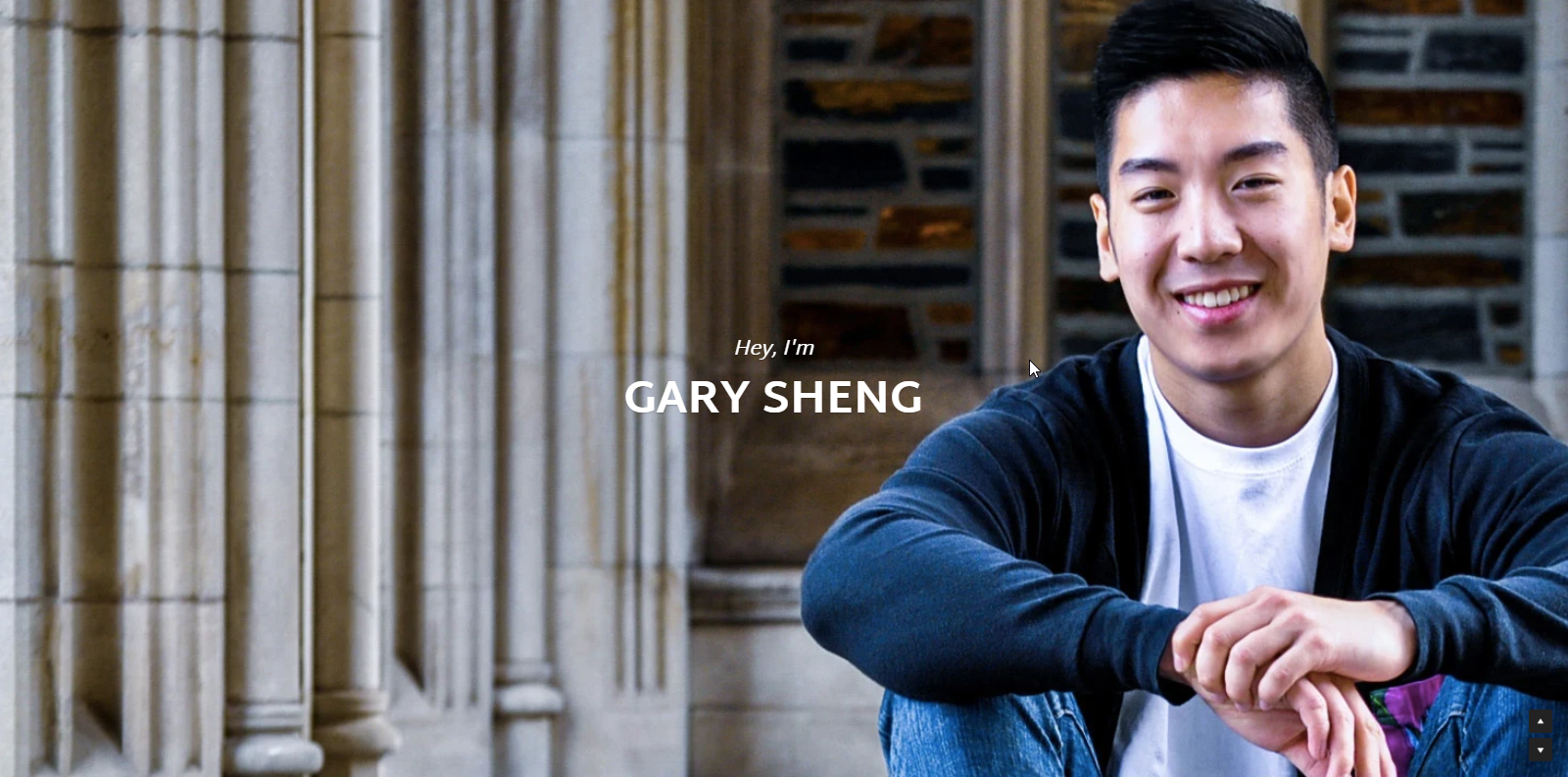 Gary's website provides a detailed overview of his educational and professional background, from his time at Duke University to his current positions. The website showcases a modern and polished design, featuring a high-quality photograph of Gary radiating confidence and a warm welcome message. Overall, Gary's website offers an outstanding example for those seeking personal website examples to follow, showcasing how to effectively present one's professional portfolio without overwhelming the page with excessive elements.

Example 10:

David Milan
– Artistic lettering showcase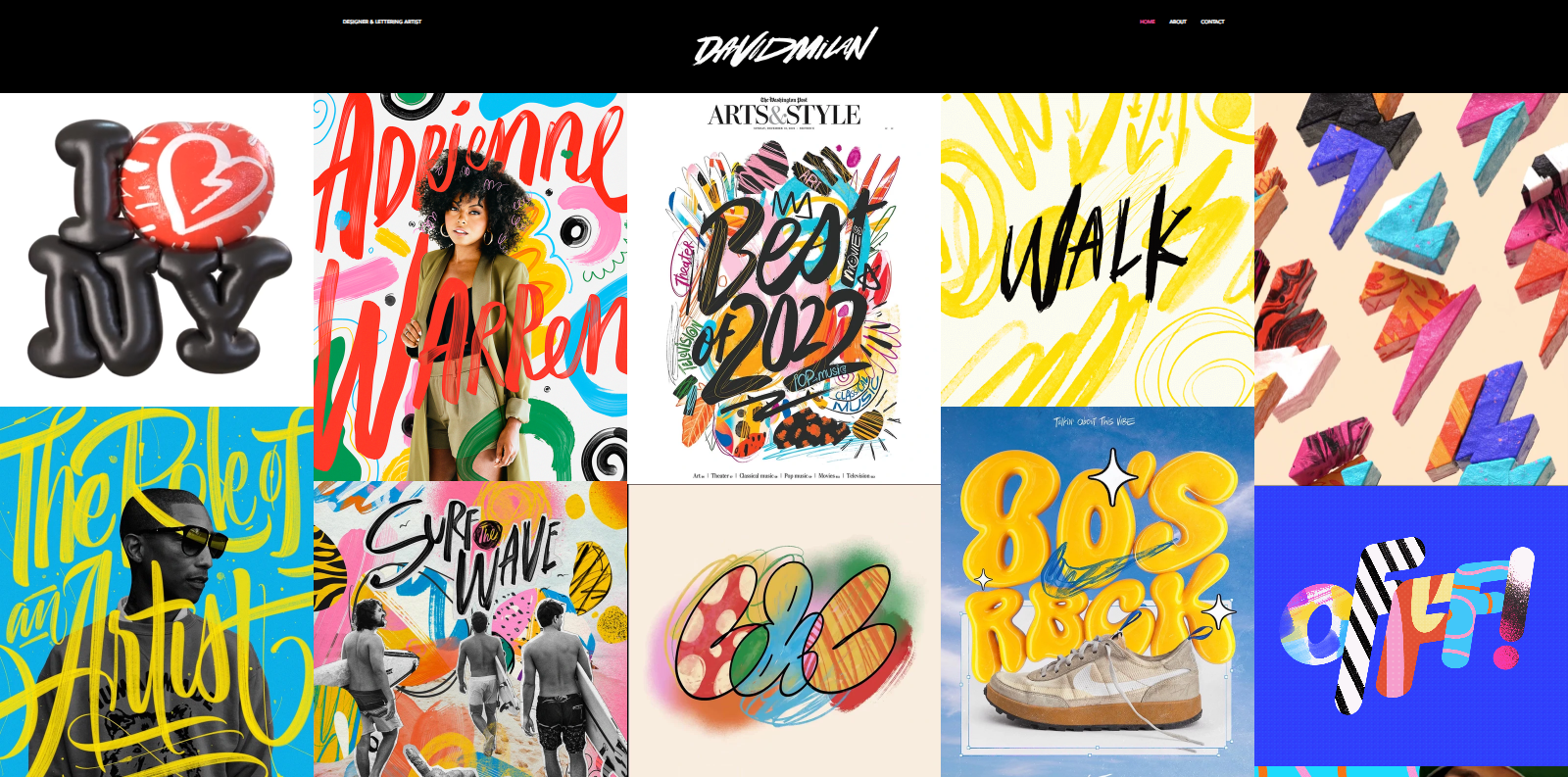 David Millan is a professional art director and lettering artist. From the moment you land on the homepage, it's abundantly clear that David is a master of his craft. 
With a keen eye for design, his homepage is adorned with a variety of art projects that will leave you in awe of his talent. Wonderfully crafted visuals, a striking logo design, and an array of portfolio illustrations are just a few of the things you'll discover on this unique personal website. 

Example 11:

Michael Albor
– Luxuriously styled web presence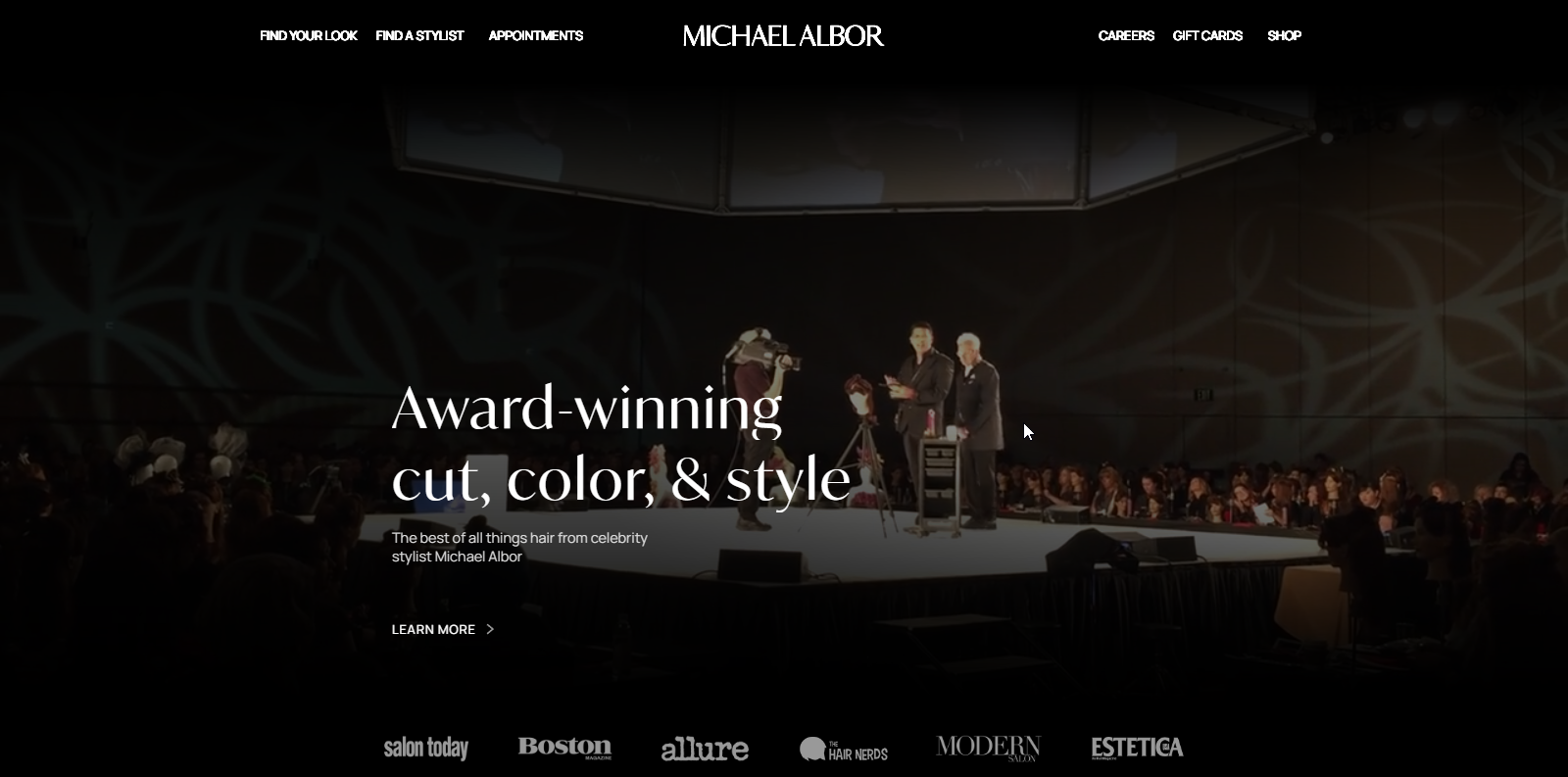 Michael Albor, a renowned hairstylist, has garnered impeccable praise in hair care, such as haircuts, extensions, and breathtaking event styling. His true passions lie in the art of color and shape. Michael's work on highly acclaimed photoshoots has consistently showcased his ability to set trends rather than follow existing trends. 
Our favorite aspect of this website is its elegant and luxurious design. The traditional neutral color scheme enriched with golden tones reflects sophistication. Additionally, the website proudly showcases the countless honors and press coverage Michael Albor has received, further reinforcing his expertise and success in the industry.
If you are impressed with this website's design, you can effortlessly replicate it using the advanced capabilities of 10Web AI Website Builder.

Example 12:

Mark Manson
– Provocative insightful design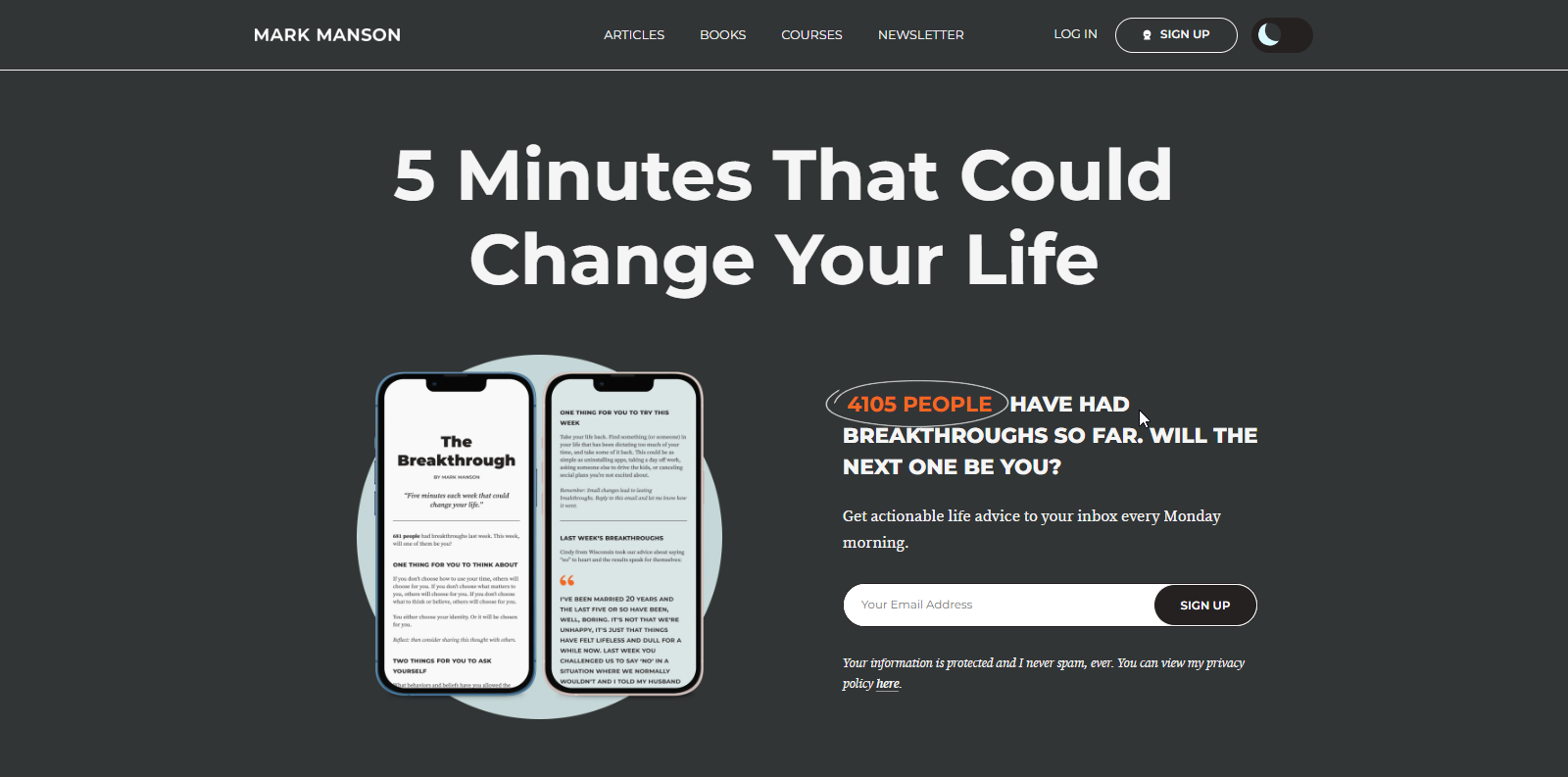 Mark Manson, renowned author and New York Times best-seller offers a captivating and transformative experience on his personal website. The enticing landing page, titled "5 Minutes That Could Change Your Life," invites visitors to explore the great value he provides. 
Furthermore, a compelling call to action encourages subscriptions to his thought-provoking blogs for those who wish to stay up-to-date. Among the website's prominent features are the latest articles and popular courses, providing readers with direct access to valuable content for learning and personal growth. Each course includes a detailed section outlining the key takeaways and a clear call to action to enroll. Furthermore, the website has enhanced transparency by incorporating reviews and offering an introduction to the experiences.

Example 13:

Gary Vaynerchuk
– Vibrant success showcase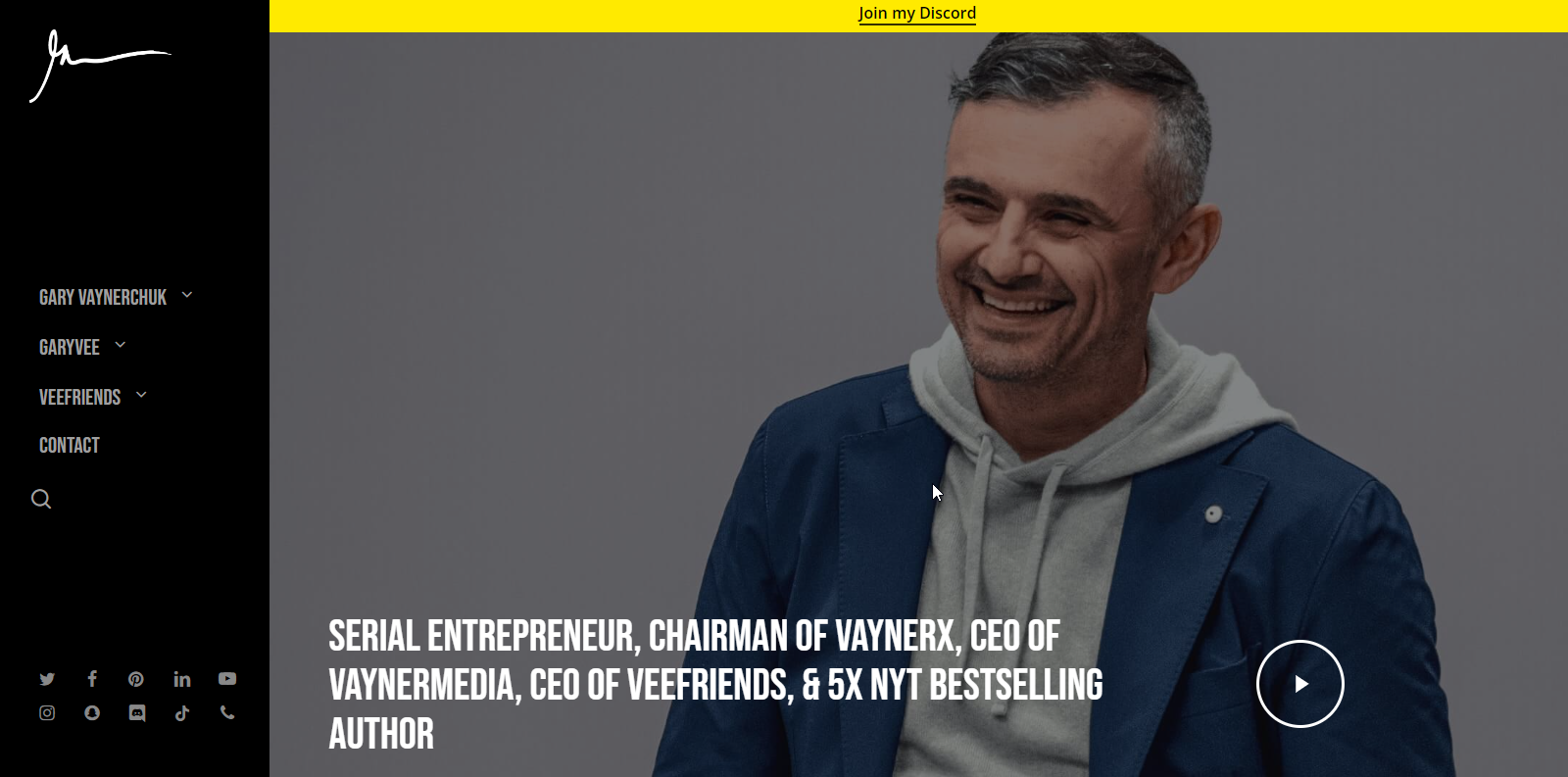 Gary Vaynerchuk is an active entrepreneur, podcaster, and chief executive officer of the comprehensive digital agency VaynerMedia. He is well known for his directness and outspokenness, which can be seen on his website. With a charmingly somber aesthetic and seamlessly integrated sidebars, the website's layout is visually appealing and well-designed. 
He uses his radiant image and compelling description of his accomplishments to captivate readers. The website also features a compelling video documenting Gary Vaynerchuk's journey to success. His services are also highlighted in sections, and a dedicated social media page allows visitors to access his profiles conveniently.

Example 14:

Ali Abdaal
– Unified personal branding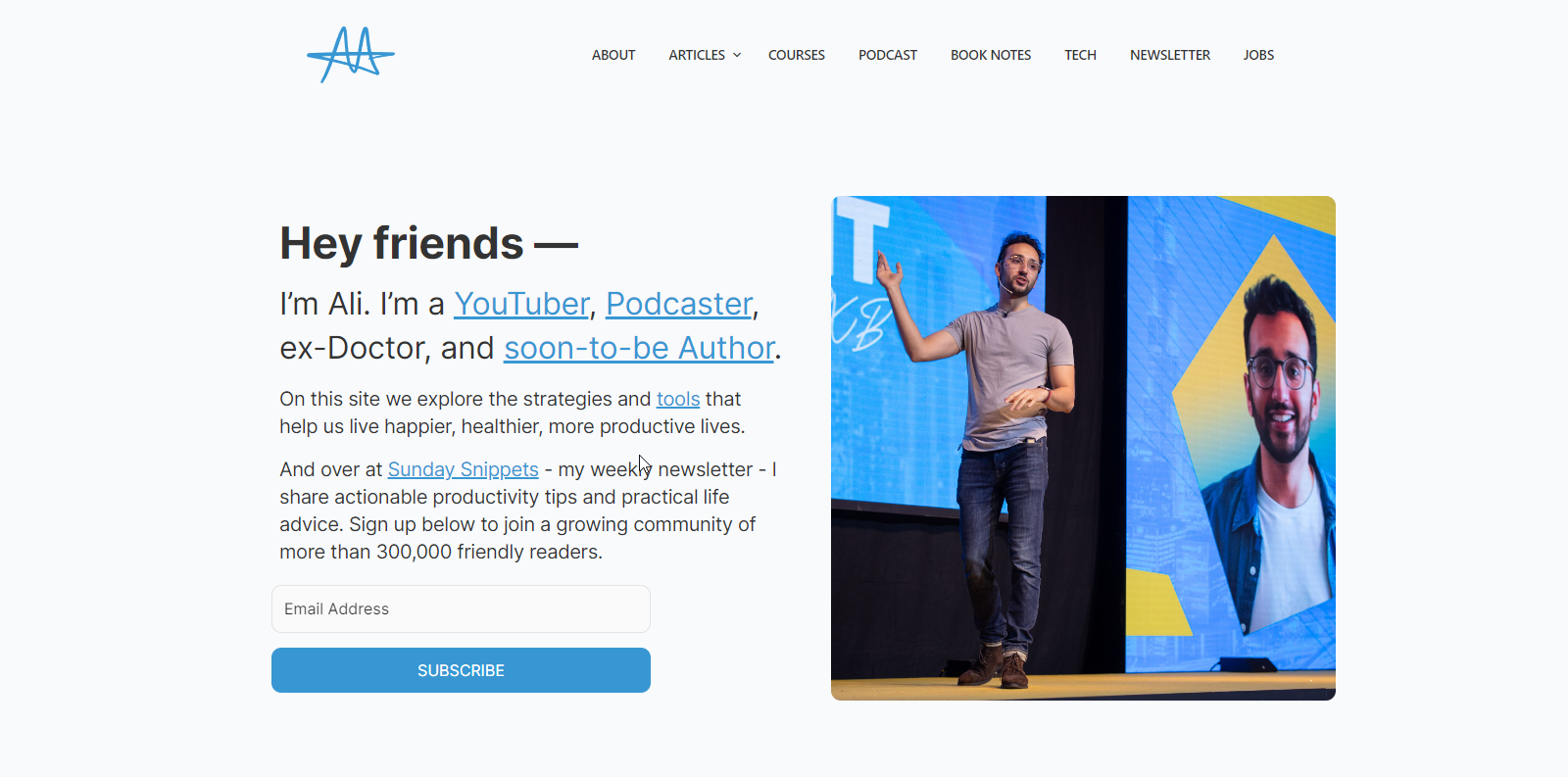 Ali Abdaal, a doctor based in the U.K., is known for his YouTube videos and podcasts on productivity, academics, and personal development. With its clean and user-friendly design, his website provides a wealth of information about his work. 
From insightful blog posts to episode-specific content for his podcasts, Ali consistently goes the extra mile to deliver meaningful insights. He even generously shares his book notes on the website. This unwavering commitment to high-quality content perfectly reflects his personal brand and offers visitors multiple ways to engage with his website.
The website also provides free templates just by providing your email address. Through guides, articles, courses, and other resources, the site strives to add user value through its seamless interface and a clear focus on personal branding. 

Example 15:

Gari Cruze
– Humorous authorial presence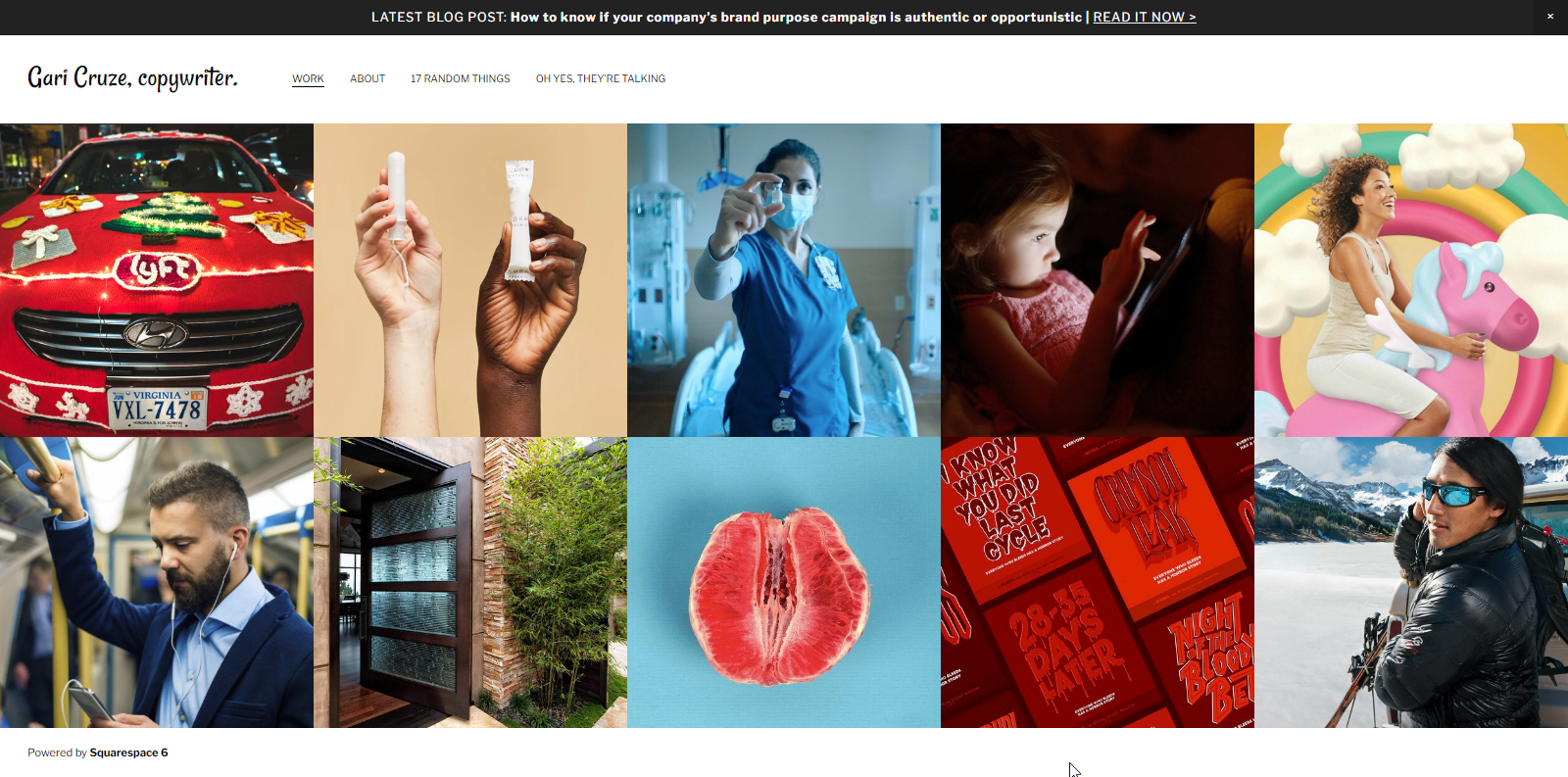 A talented author, Cruze skillfully transforms his website into an engaging portfolio, showcasing stunning images from his various campaigns. This captivating display instantly engages visitors, encouraging them to explore further. At the top of the page, he strategically positions a compelling call to action that leads to his latest blog post.
Adding a touch of humor, Cruze's website becomes unique with sections like "17 Random Things" and "Oh Yes, They're Talking." Cruze's writing style becomes evident in these sections, leaving visitors with a lasting impression.

Example 16:

Melanie Daveid
– Striking visual portfolio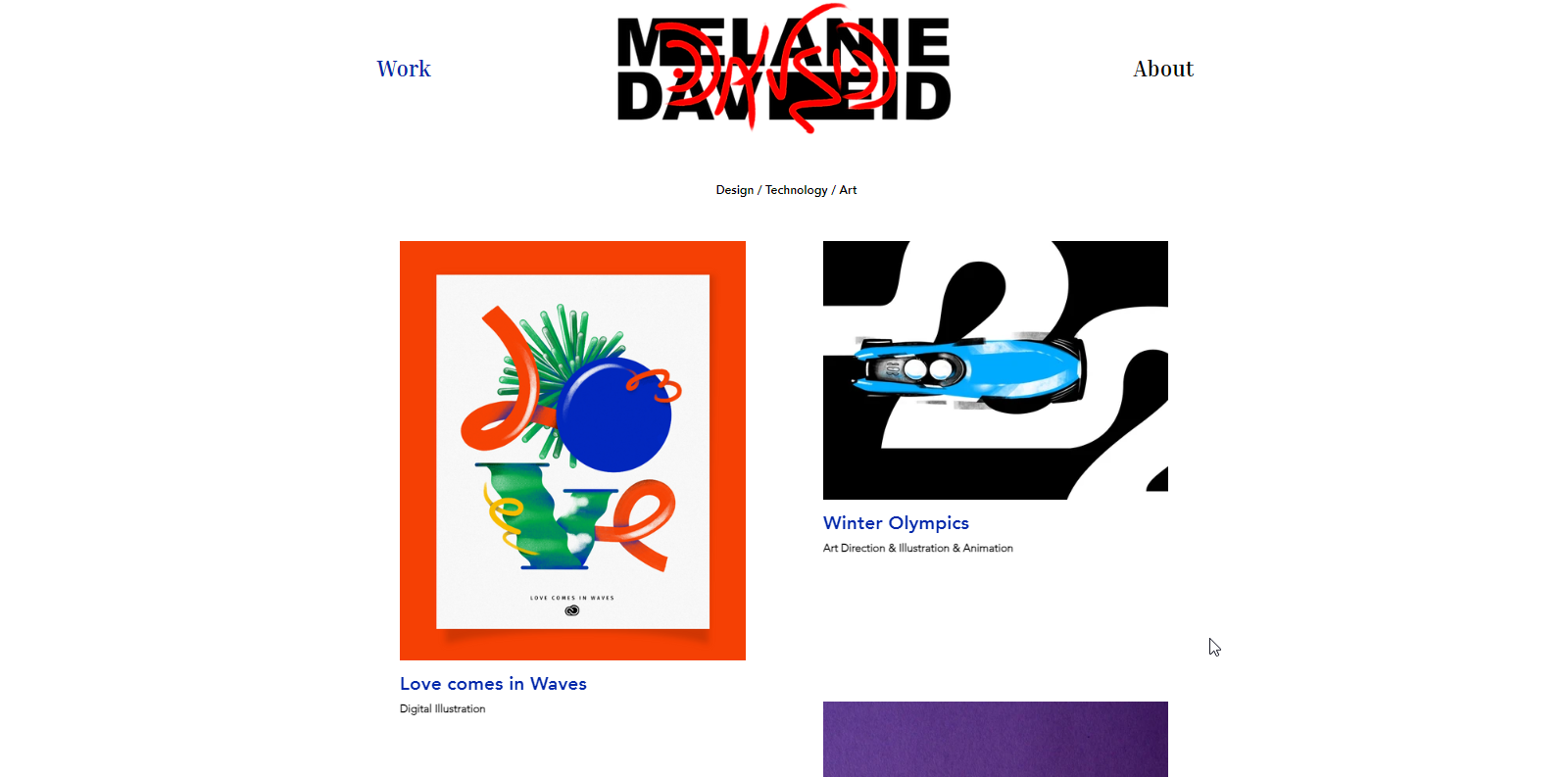 The website created by Daveid perfectly embodies the "less is more" concept. Her portfolio features visually stunning and well-branded images from her contributions to various campaigns and apps. Furthermore, she effectively demonstrates her coding skills when providing more detailed information on her work.
Even though Daveid's portfolio can seem too minimal, she purposefully includes only the most remarkable and noteworthy campaigns. In the end, this strategy is more beneficial, as it allows for focusing on a smaller number of outstanding examples rather than many average examples.

Example 17:

Side Hustle Nation
– Interactive hustle showcase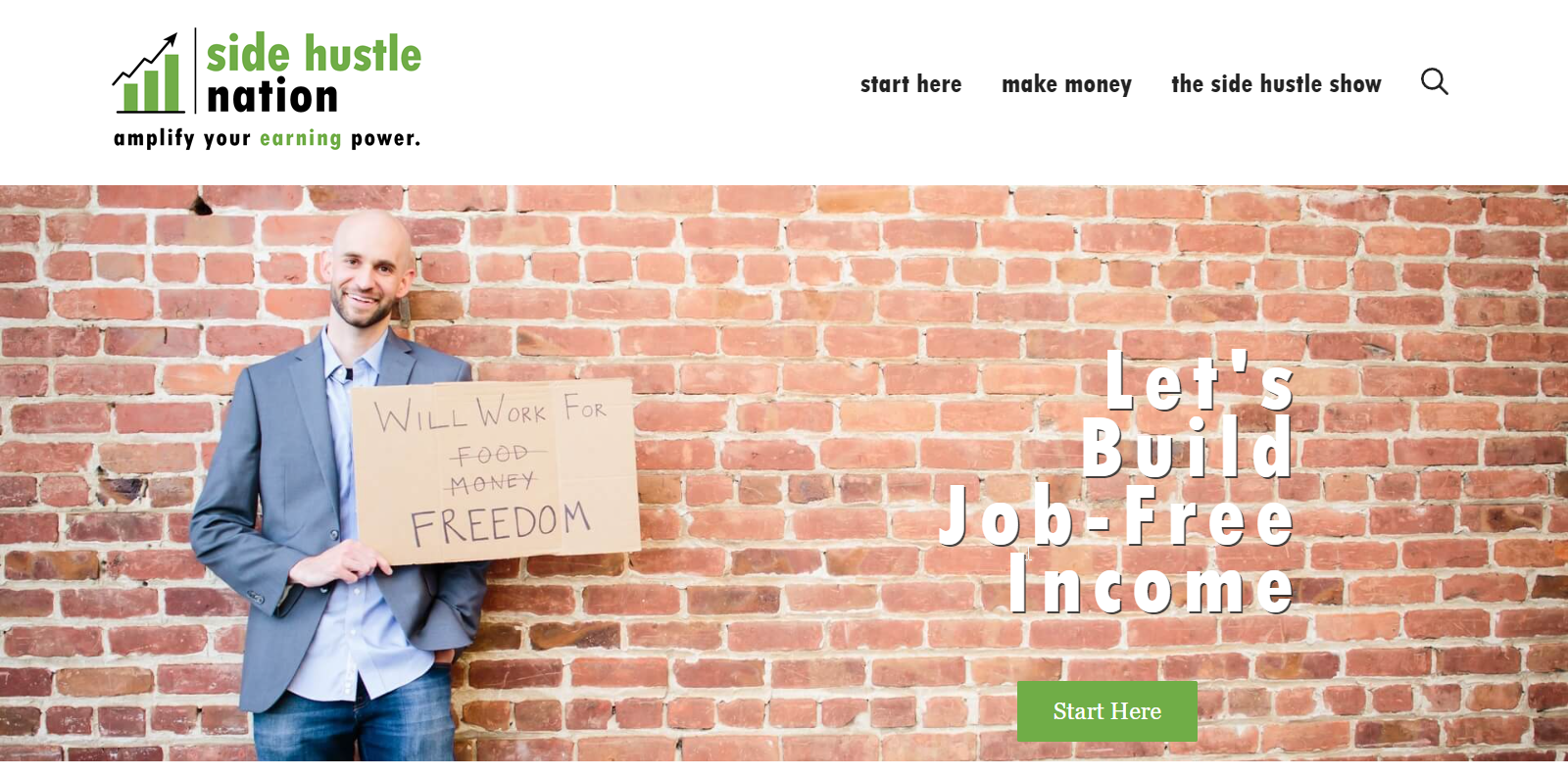 Side Hustle Nation, the business journal of financial advisor Nick Loper, offers valuable financial tips for small business owners. The homepage conveys a light-hearted yet passionate tone, focusing on achieving financial independence. The "Start Here" button guides new visitors on navigating the website.
Within Nick's collection of engaging blog posts, you'll discover his strategic use of content creation as a powerful tool for driving business growth. By exploring the various categories, you'll gain valuable insights into the inner workings of his operation, highlighting the practicality of his advice and the extensive testing of his insights.

Example 18:

Minimalist Baker
– Personable diet portal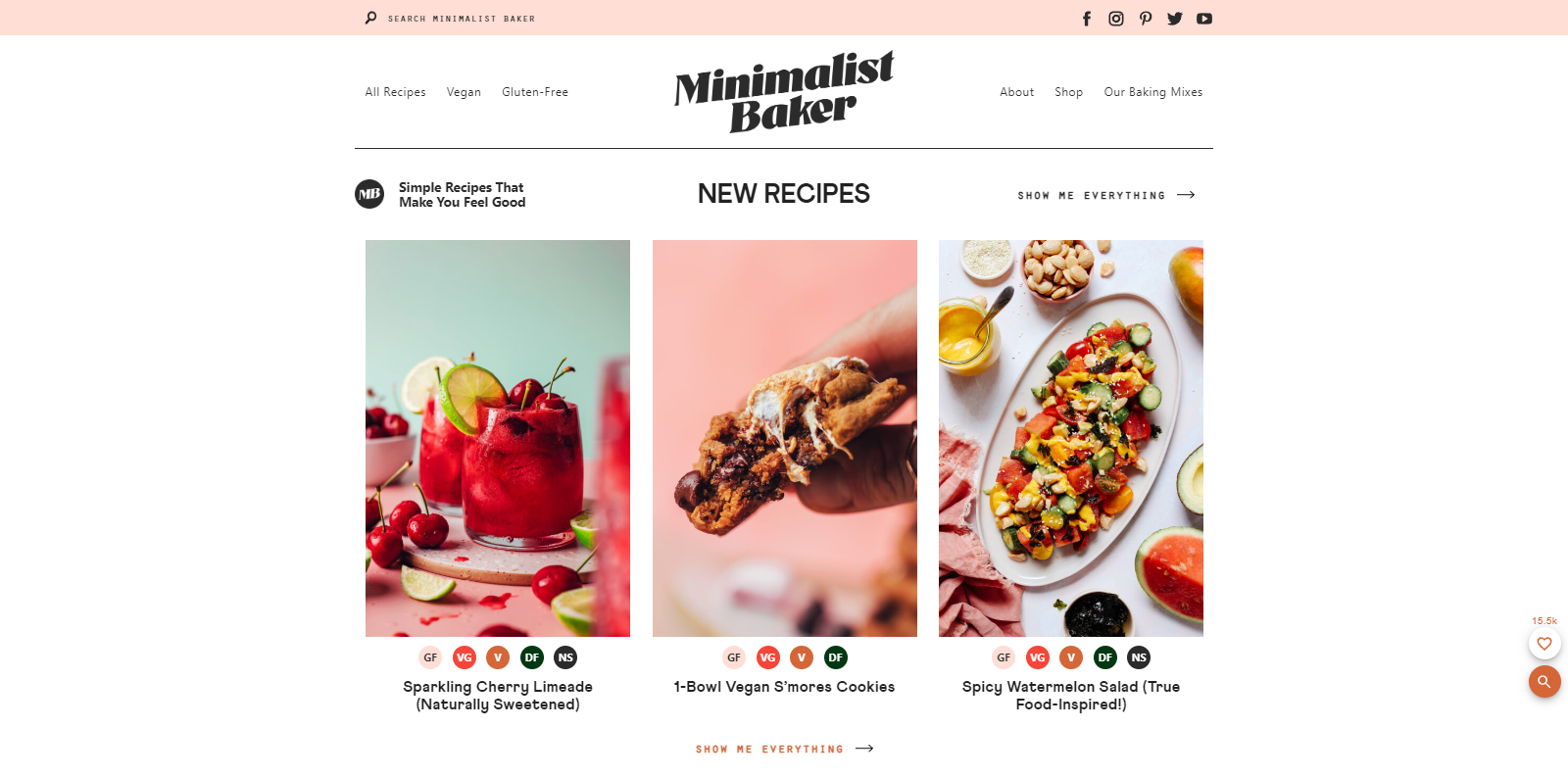 Minimalist Baker is a professional food blog that caters to the needs of vegan and gluten-free individuals. Users can easily navigate and filter recipes based on special dietary needs, cuisine preferences, recipe types, simplicity factors, ingredients, and products with a visually appealing website layout. 
The blog's minimalist design, characterized by a simple white background, allows the captivating food photography to take center stage. The unique branding helps to create a lasting impression, while a mini-bio adds a personal touch, making the overall website experience more personable.
If you are impressed with the design of this website, then you should check out 10Web AI Website Builder. It allows you to quickly and easily recreate the design of any website.

Get a head start on website creation with AI
Create a custom website tailored to your business needs 10X faster with 10Web AI Website Builder!
Get a head start on website creation with AI
Create a custom website tailored to your business needs 10X faster with 10Web AI Website Builder!
Example 19:

Marco Feng
– Informative journey space
Marco Feng's travel blog stands out with its vibrant colors and valuable information. Upon visiting the site, readers can quickly access their preferred blog post or explore destinations of interest from the top menu.
Additionally, the blog highlights its expertise and popularity through its Awards and Press Release section, further reinforcing its status as a trusted resource in the travel industry.

Example 20:

Salt in Our Hair
– Inspirational journey showcase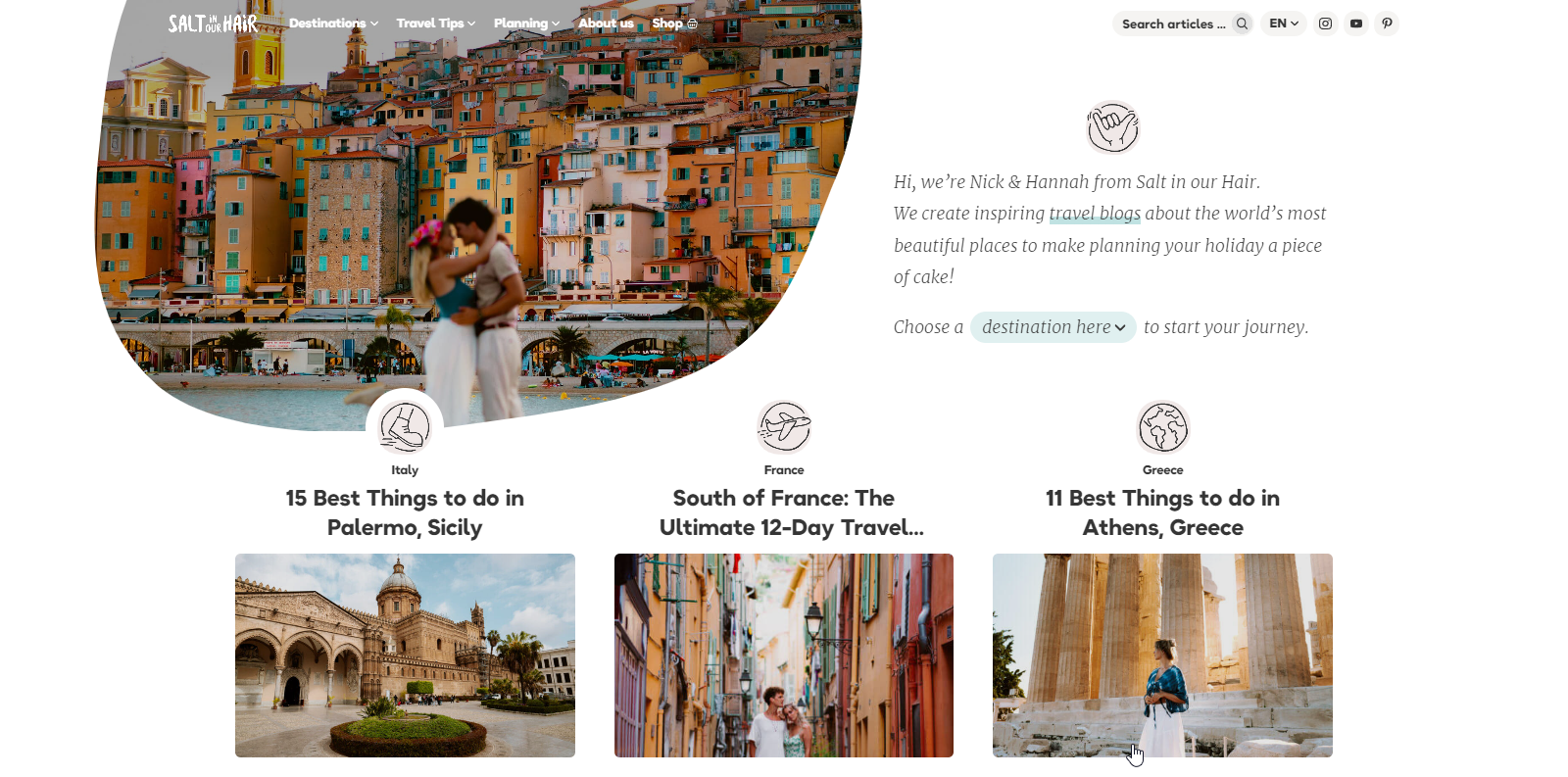 Salt in Our Hair is a popular travel blog with a reputation for its unique style. It was established by bloggers Nick and Hannah, offering a distinct and captivating experience for travel enthusiasts. 
Upon arrival at the welcome screen, users are greeted warmly by the passionate duo, who introduce themselves and establish the overall tone of the content. The blog features a convenient and user-friendly menu at the top, allowing readers to explore specific destinations or navigate various topics of interest.

Example 21:

Gina Kirlew
– Vibrant art showcase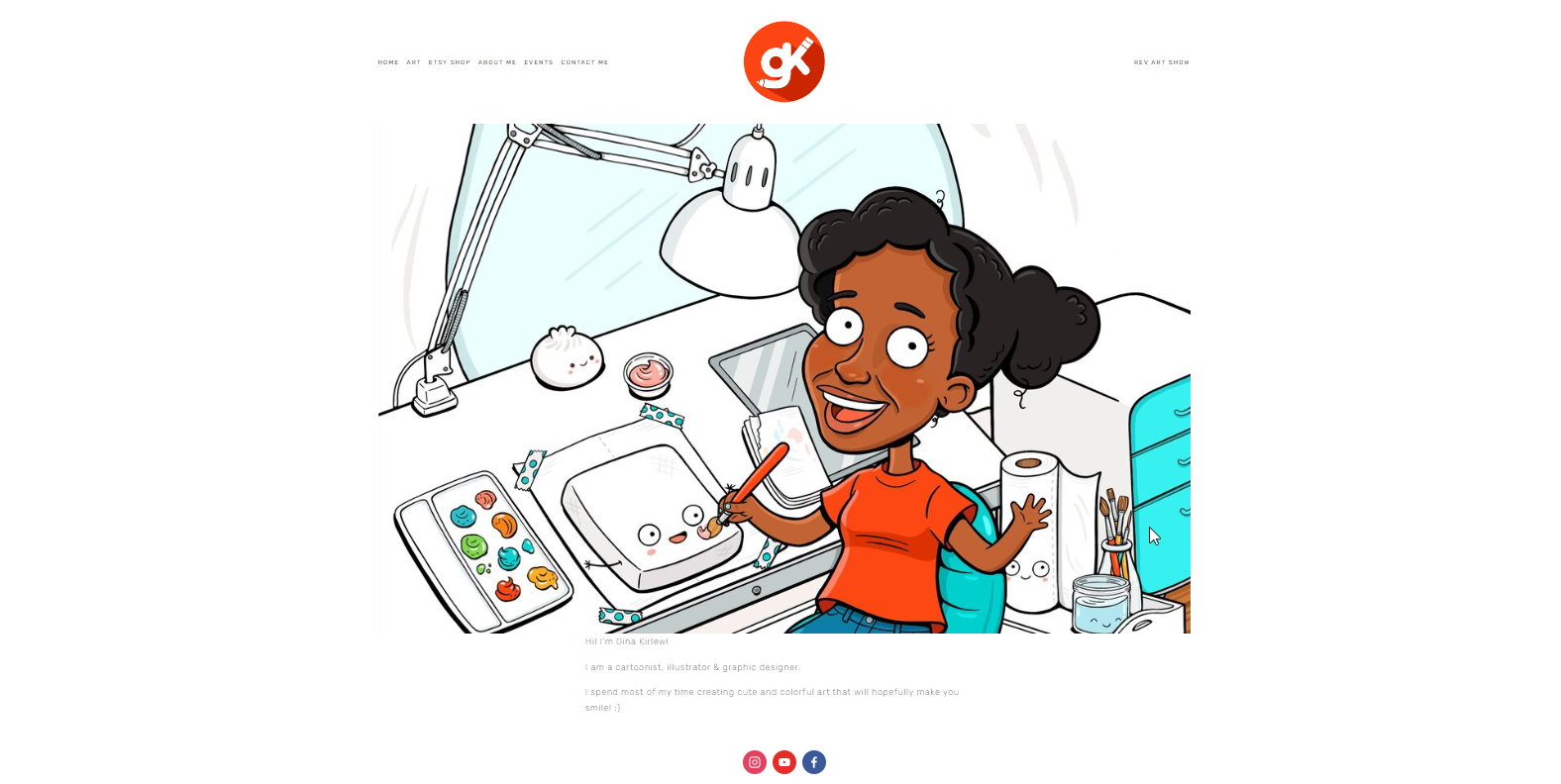 Gina Kirlew is a passionate cartoonist and illustrator who has created a personal art portfolio. Her work is both adorable and unique, filled with vivacious colors. As one would expect from a talented cartoonist, her website is thoughtfully organized into six sections: Home, Art, Etsy Shop, Events, Contact Me, and Key Art. Each section provides a glimpse into a different facet of her artistic talent, allowing visitors to navigate her work smoothly. 

Example 22:

Alice Lee
– Interactive illustration interface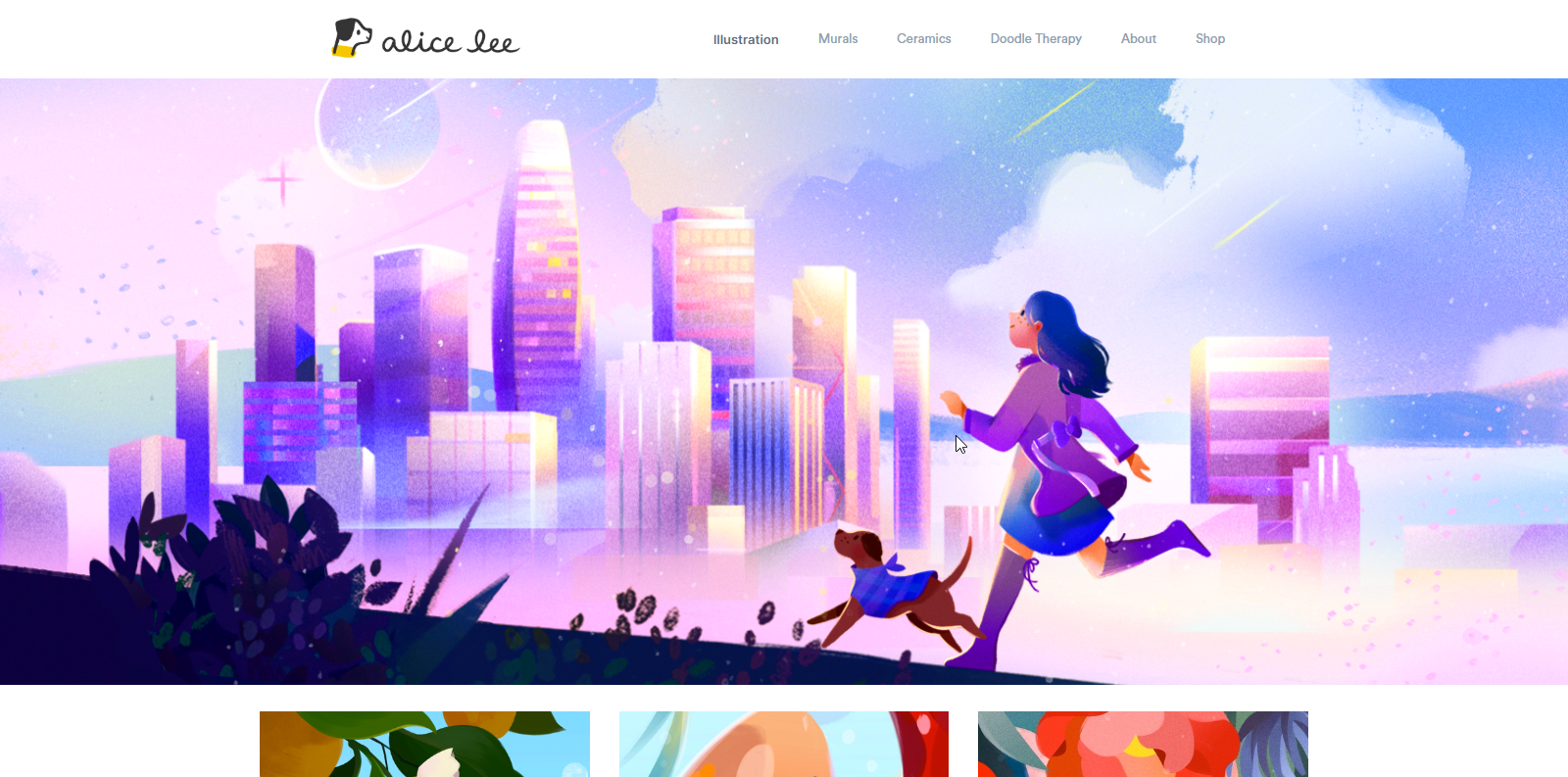 Alice's personal website is a prime example of an excellent personal website that showcases creativity and expertise. It offers viewers a glimpse into Alice's exceptional illustration skills and impeccable style that is full of captivating organic textures and vibrant colors. 
Her distinct style is on full display through this website, which goes beyond a simple resume to showcase her creative flair and exceptional illustration skills. In short, it is a prime example of a remarkable personal website.

Example 23:

Emre Devseren
– Impressive skills display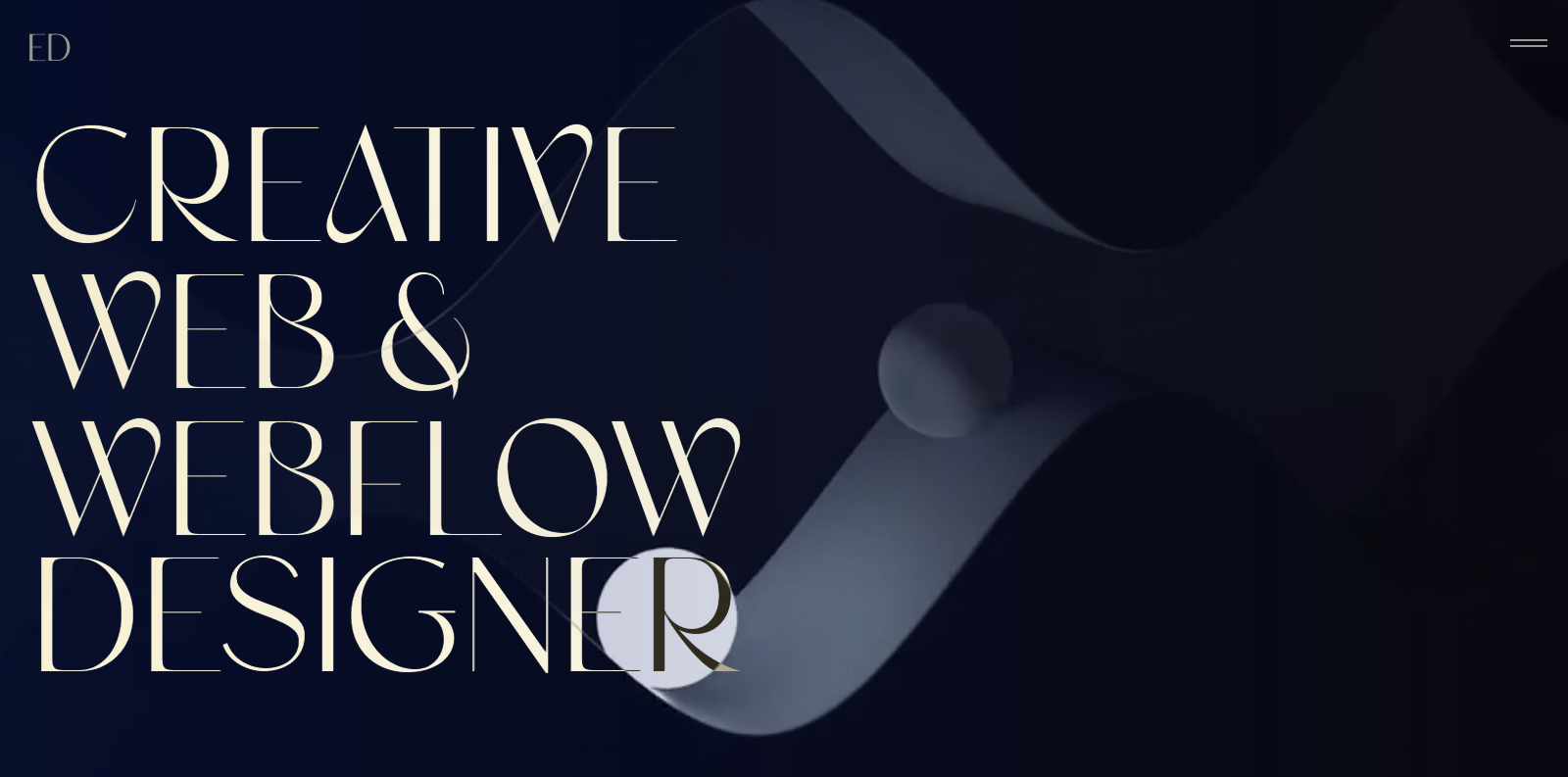 Emre Devseren, a highly skilled web designer, showcases his expertise in UI, UX, and marketing strategies through his impressive portfolio. His stunning website serves as a true testament to his talents, boasting a range of eye-catching animations, layouts, and UI designs that clearly demonstrate his mastery of the field. Upon visiting the site, visitors will quickly and easily comprehend Emre's capabilities and professional background.
The website's visually striking design, featuring vibrant and soothing pastel backgrounds, immediately captures the attention of users as they scroll through the page. Despite being a single-page website, Emre's exceptional web design effectively utilizes the limited space available, resulting in a truly remarkable and satisfying user experience.

Example 24:

Matthew P Munger
– Retro aesthetic showcase
Matthew P. Munger's portfolio offers a captivating journey back to 1996, providing a unique glimpse into the professional world of a Webflow designer during that era. This website beautifully exemplifies Matthew's creativity and boldness in pushing the boundaries of design, particularly through its intentionally retro aesthetic that commands attention.
The vintage graphical user interface of the website serves as a virtual time machine, immersing visitors in the early days of Mac OS. Replicating these obsolete computers' look, feel, and functionality is a challenging task, yet Matthew accomplishes it with remarkable skill. While there is an undeniable novelty factor, this design remains fully functional and user-friendly. Beyond showcasing his design prowess, Matthew cleverly utilizes this nostalgic platform to display his contemporary body of work. Personal websites have come a long way since 1996, but Matthew's portfolio is a testament to the timeless quality of great design.

Example 25:

Tobias Becs
– Vibrant freestyle display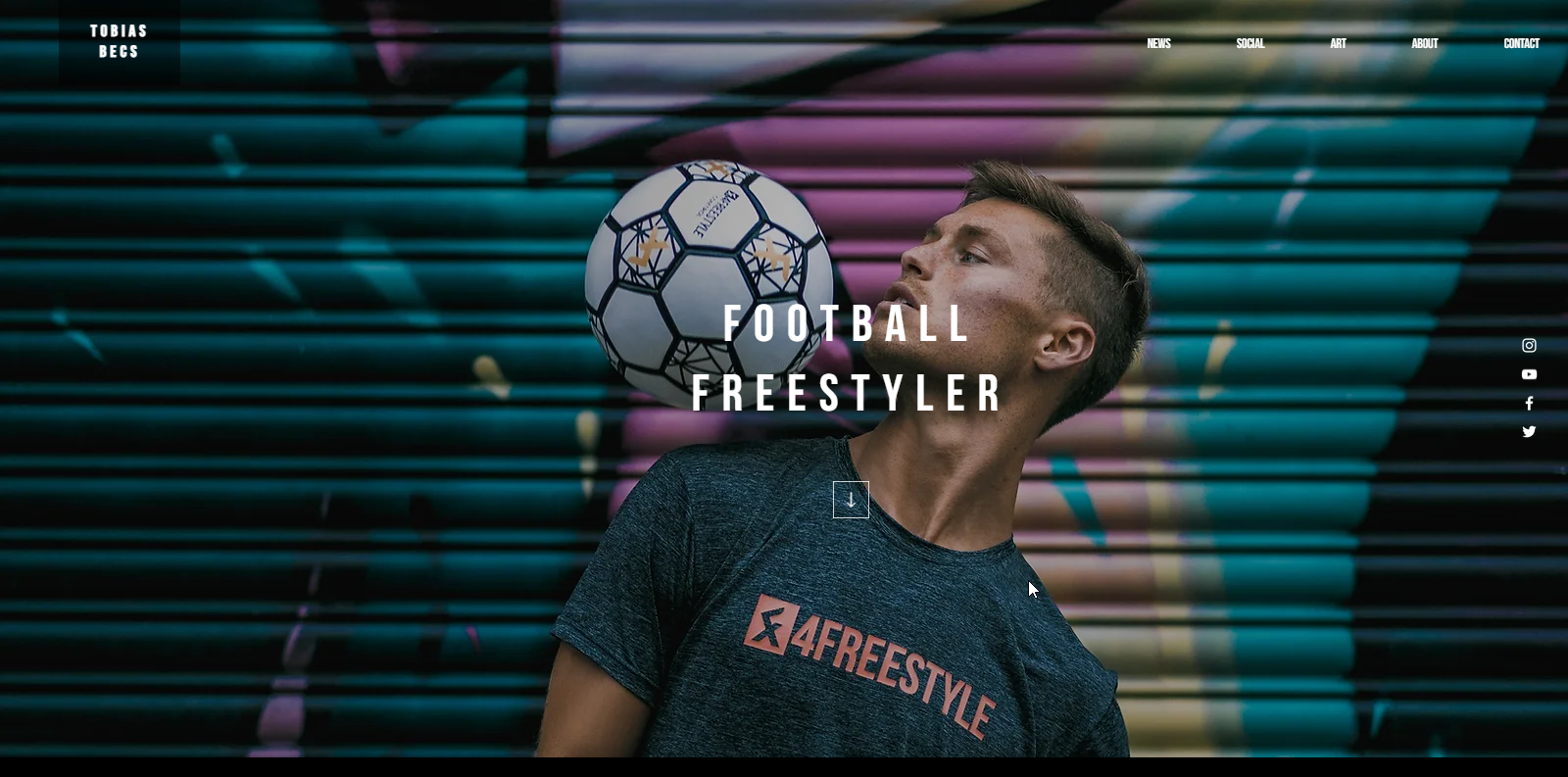 Tobias Becs has provided us with a remarkable example of how anyone can create a personal website to display their interests and hobbies. His website is centered on his love for street soccer, which is immediately evident from the captivating full-screen image of the world champion in action. The website's navigation is seamless, creating a cohesive viewing experience. 
Tobias is a master of his craft, with remarkable football freestyling skills, and he has effectively presented his talents and passions to visitors. His website is an excellent personal website example and one that offers personal website ideas for those who wish to display their hobbies and interests online. As an accomplished social media influencer and vlogger, Tobias has succeeded in presenting his brand in a professional and streamlined manner, demonstrating just how dynamic personal websites can be.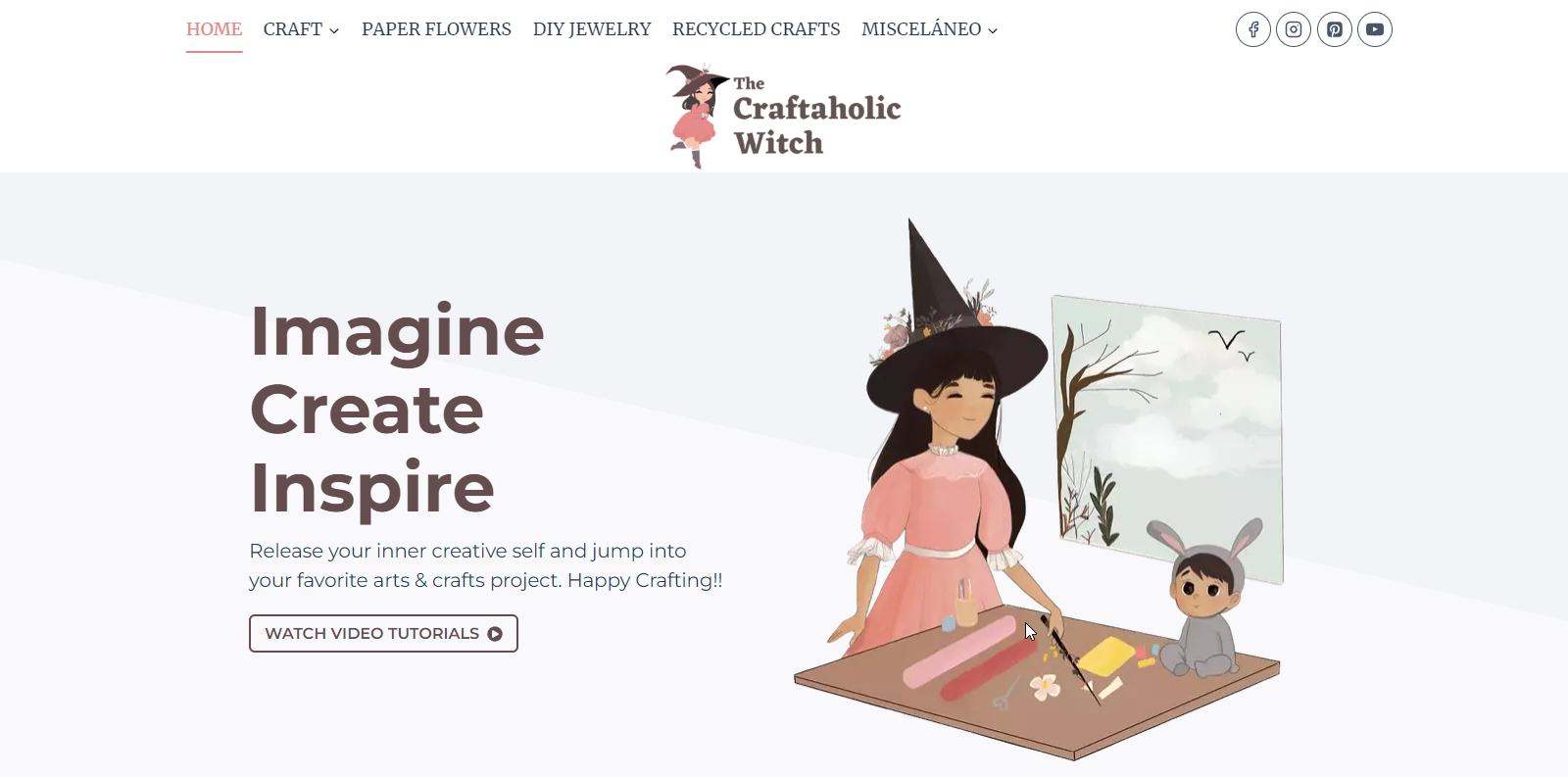 Muhaimina Faiz, the author of the Craftaholic Witch website, skillfully demonstrates her expertise and creativity on her platform. Through the clever use of vibrant colors and captivating animated visuals, she maintains a captivating aesthetic on her landing page that complements her website's theme. 
As we navigate further, we encounter a collection of showcased DIY projects seamlessly linked to relevant blogs. Additionally, Muhaimina provides a concise description of herself and her projects. A call-to-action encourages visitors to subscribe to ensure ongoing reader engagement. The WordPress theme is effectively utilized to enhance the appearance and functionality of this website.

Example 27:

Brice Clain
– Unique code aesthetic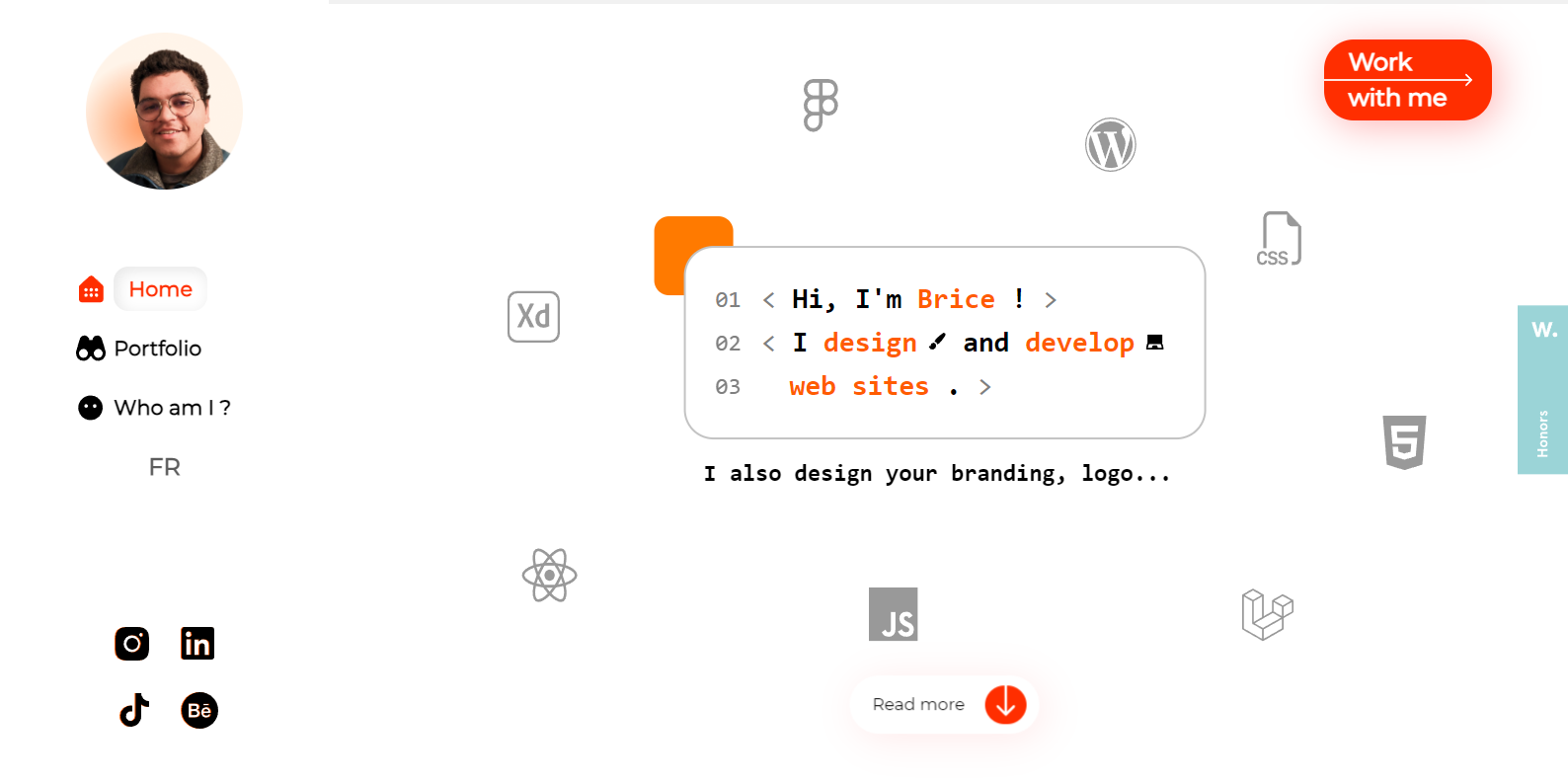 This portfolio stands out with its unique 1s and 0s style, showcasing a unique aesthetic that blends code elements and vibrant colors. Despite its unconventional approach, it remains user-friendly and effectively communicates the web developer's expertise.
The website is designed for easy navigation and includes icons representing different web design formats and programming languages, highlighting the developer's proficiency. Additionally, there is a clear call to action on the landing page, encouraging visitors to contact and collaborate with the developer directly.
The portfolio section is particularly impressive, showcasing the projects the developer has worked on and featuring reviews from satisfied clients. Furthermore, the inclusion of social media links and profiles makes it convenient to visit the developer's personal accounts. Overall, the website is stylish with minimal text, emphasizing eye-catching visuals and carefully selected fonts.
Example 28:

Lisa Maltby
– Dynamic art portfolio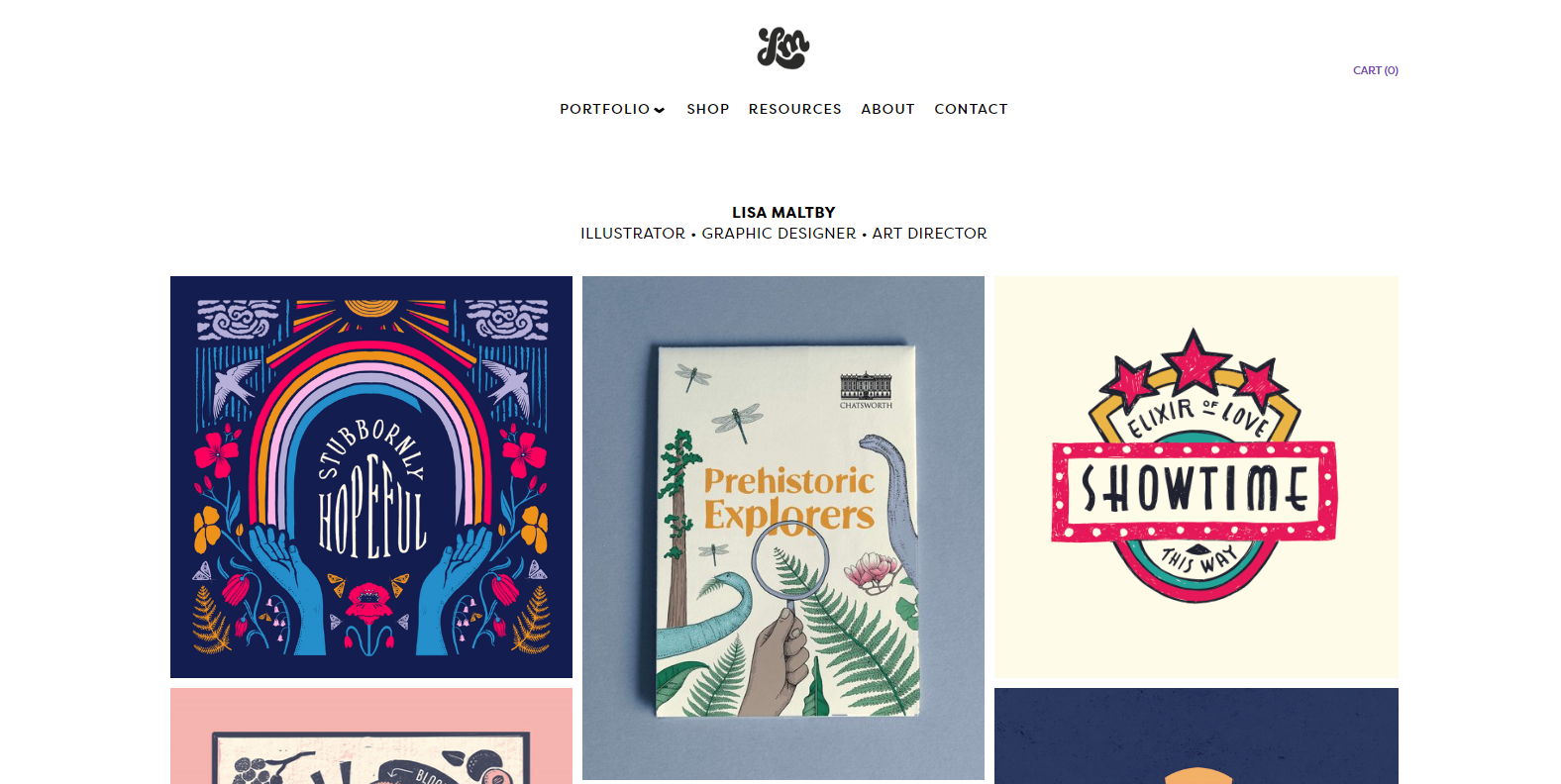 Lisa Maltby's personal website is highly recommended for art enthusiasts. Her website showcases a captivating grid of static and animated elements, enhancing her works' viewing and evaluation experience. When clicking on an element, a new page unveils valuable information about the client, an image brief, and additional image details. 
The website's header features an animated logo and a convenient drop-down menu with a shopping cart on the right. Lisa's name and expertise roles are displayed below, providing users with a clear understanding of her skill set. Visitors will be captivated by these unique personal website ideas and portfolios.

If you love the aesthetics of this website, you'll be amazed at how easy it is to replicate with 10Web AI Website Builder.
Example 29:

Eriks vCard
– Elegant vCard layout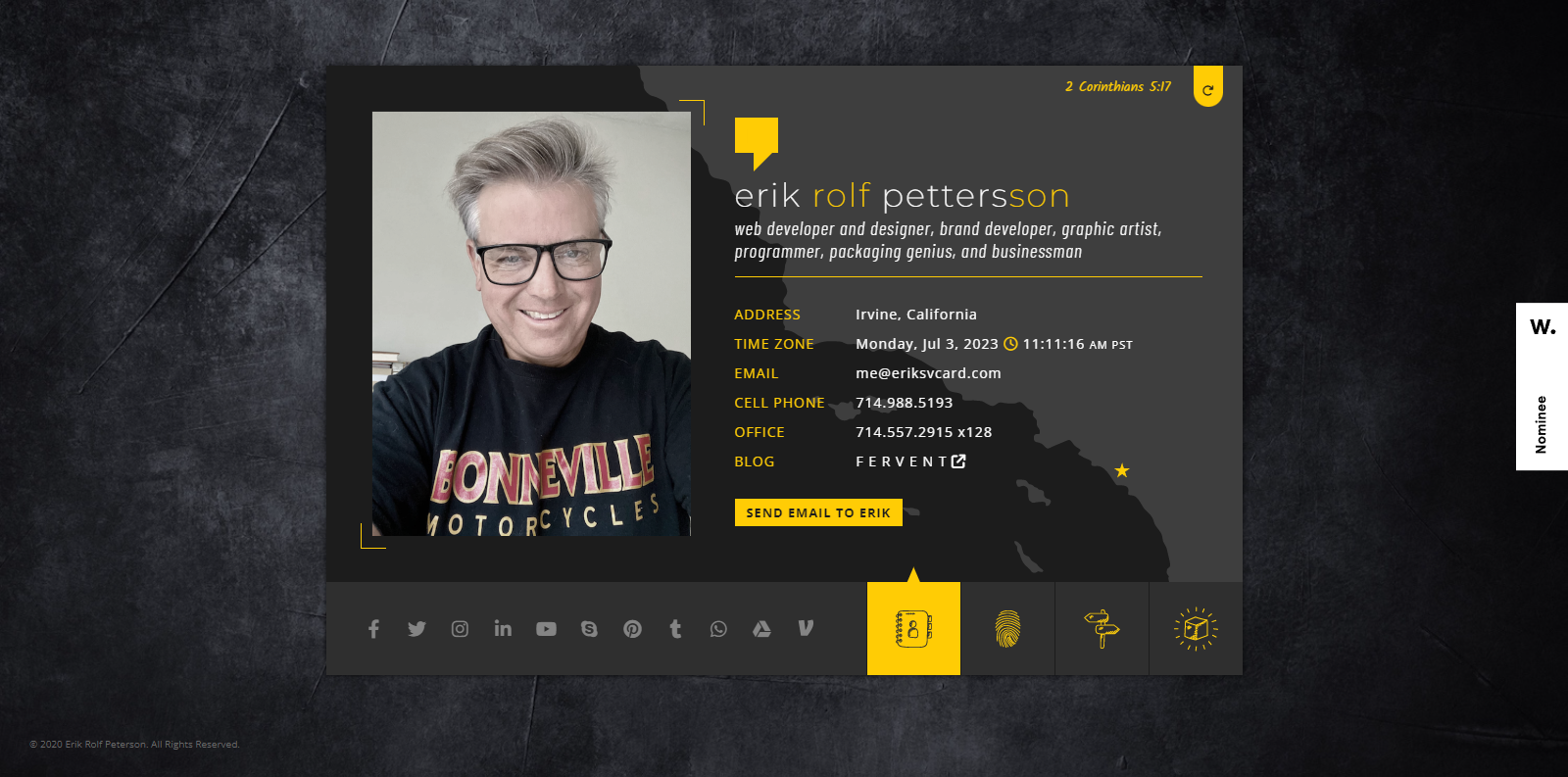 The personal website of a programmer and brand developer is a sleek and professional online presence. This one-page website, created with a customized template, serves as a vCard that highlights key information about the individual. 
In addition to showcasing details about their expertise, the website also includes links to the individual's social media channels. For visitors looking to connect further, there is a convenient contact option available on the website.

Example 30:

Ryan Hannebaum
– Intriguing design interface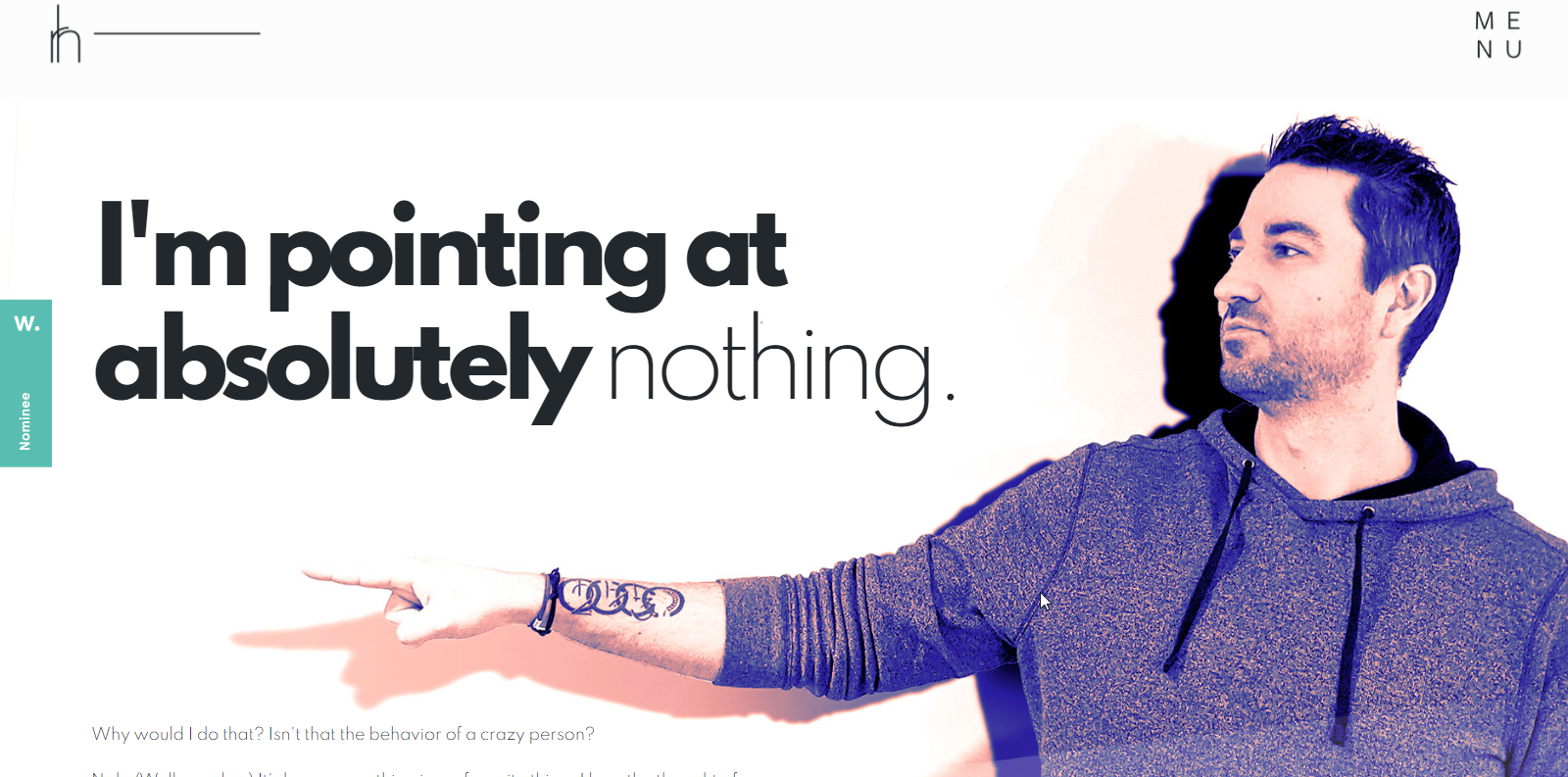 Ryan's personal portfolio website is not only captivating and intriguing but also welcoming to visitors. The exceptional quality of copywriting throughout the website adds to its appeal. Despite its simplicity with just four pages, it manages to provide a unique and inviting experience. The graphics on the website layout are well-organized and creatively utilize motion graphics to showcase Ryan's proficiency. 
Additionally, the writing tone of the website is engaging and even incorporates a touch of humor. It is easy to navigate through the website and discover Ryan's past projects and work history, allowing visitors to easily follow his career. To further enhance user experience, Ryan has added a menu on the top right that includes a direct contact option for those who wish to get in touch with him.

Example 31:

Jasmine Star
– Creative landing canvas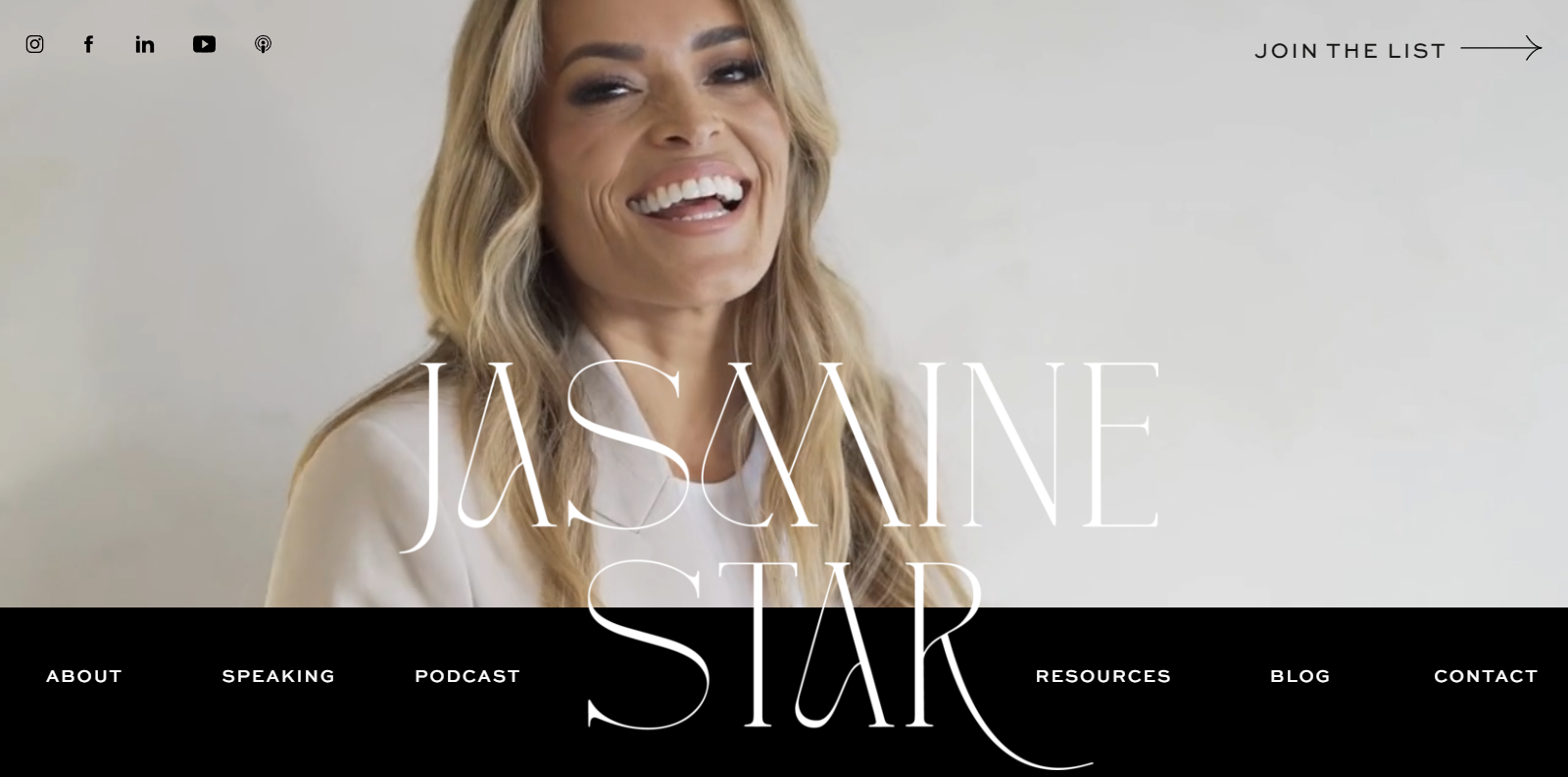 Jasmine's landing page features an impressive collection of dynamic pictures and videos. Her self-portraits take center stage on the banner page, elegantly showcased through slides. The website layout is user-friendly, with clearly defined sections for speaking engagements, podcasts, resources, a blog, information about Jasmine, and contact details. Each section provides valuable details and information. 
The website exudes a positive vibe, with images of Jasmine smiling throughout. Furthermore, the inclusion of testimonials and the mention of Jasmine's collaborations with renowned organizations such as Forbes and Entrepreneur amplify the positive impact she has made through her projects.

Example 32:

Robin Sharma
– Personal branding showcase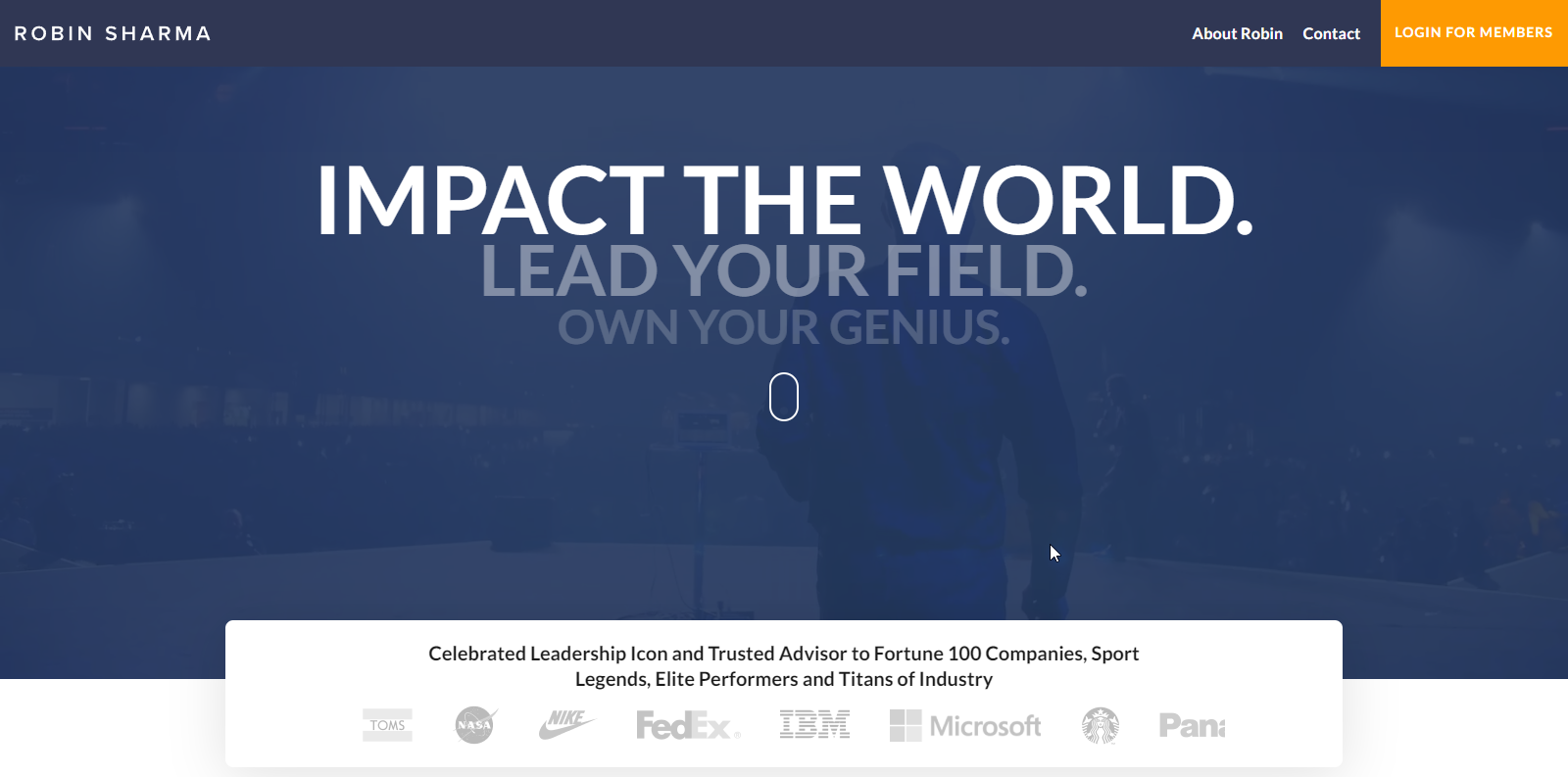 Robin, a renowned author whose works have been widely embraced, offers a valuable resource for individuals. Particularly beneficial for fellow professional writers aiming to monetize their literary creations, a visit to Robin's personal branding website promises valuable insights and innovative ideas. 
Robin Sharma's personal website stands out just like the Jasmine website. The landing page immediately grabs attention with a powerful video of him delivering a speech to a large audience. This impactful introduction is perfect for those who are unfamiliar with him. As you scroll down, you can see the logos of the companies he has worked with. This showcases his impressive portfolio and adds credibility to his services. 
Additionally, the website seamlessly integrates his personal and brand social media accounts, providing transparency and allowing users to see his followers and easily reach out to him. A catalog of his best-selling books is also featured, allowing readers to conveniently purchase them with just a few clicks.

Example 33:

HeHymn
– Intriguing 2D art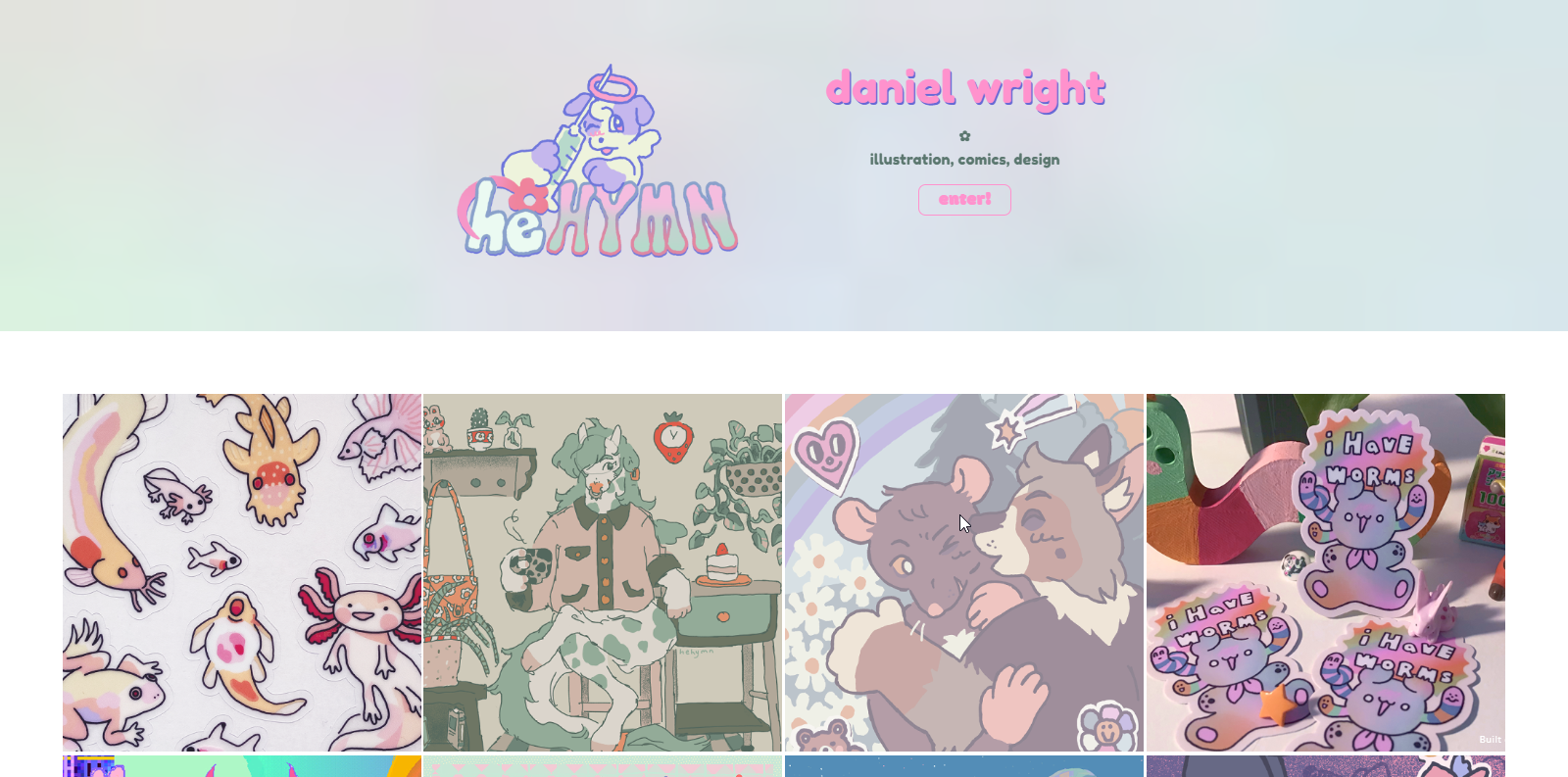 The website receives high praise as a testament to its excellence. It impresses with its personalized touch, showcasing the creativity of Daniel Wright. The combination of color palette and font style harmoniously contribute to an aesthetically appealing design.
This website is worth visiting, as it showcases amazing 2D art, eye-catching typography, and a distinct design style. Its uniqueness sets it apart from the rest.

Example 34:

Camila Conti
– Art journey
This artist's website example is a must-see. The striking use of bold colors and powerful imagery throughout the design is truly captivating. Here are a few aspects that we particularly admire about this website's design: the bold images, clean layout, and attractive shapes.
The artist effectively presents her work in a captivating manner. The landing page features an engaging animated video that demonstrates the process of creating art on canvas. Additionally, she shares her personal story, conveying the profound significance of art to her and offering insights into her background and expertise.
The artist's artwork is thoughtfully organized into sections dedicated to Tattoo, Watercolor, and Digital Art. Visitors can conveniently request a quote directly from the website. Moreover, the website offers a shop and "My Account" section, transforming it into a versatile platform where users can explore and purchase artwork, as well as personalize their experience by creating an account.

Example 35:
Ilya Kulbachny
– Impressive UI design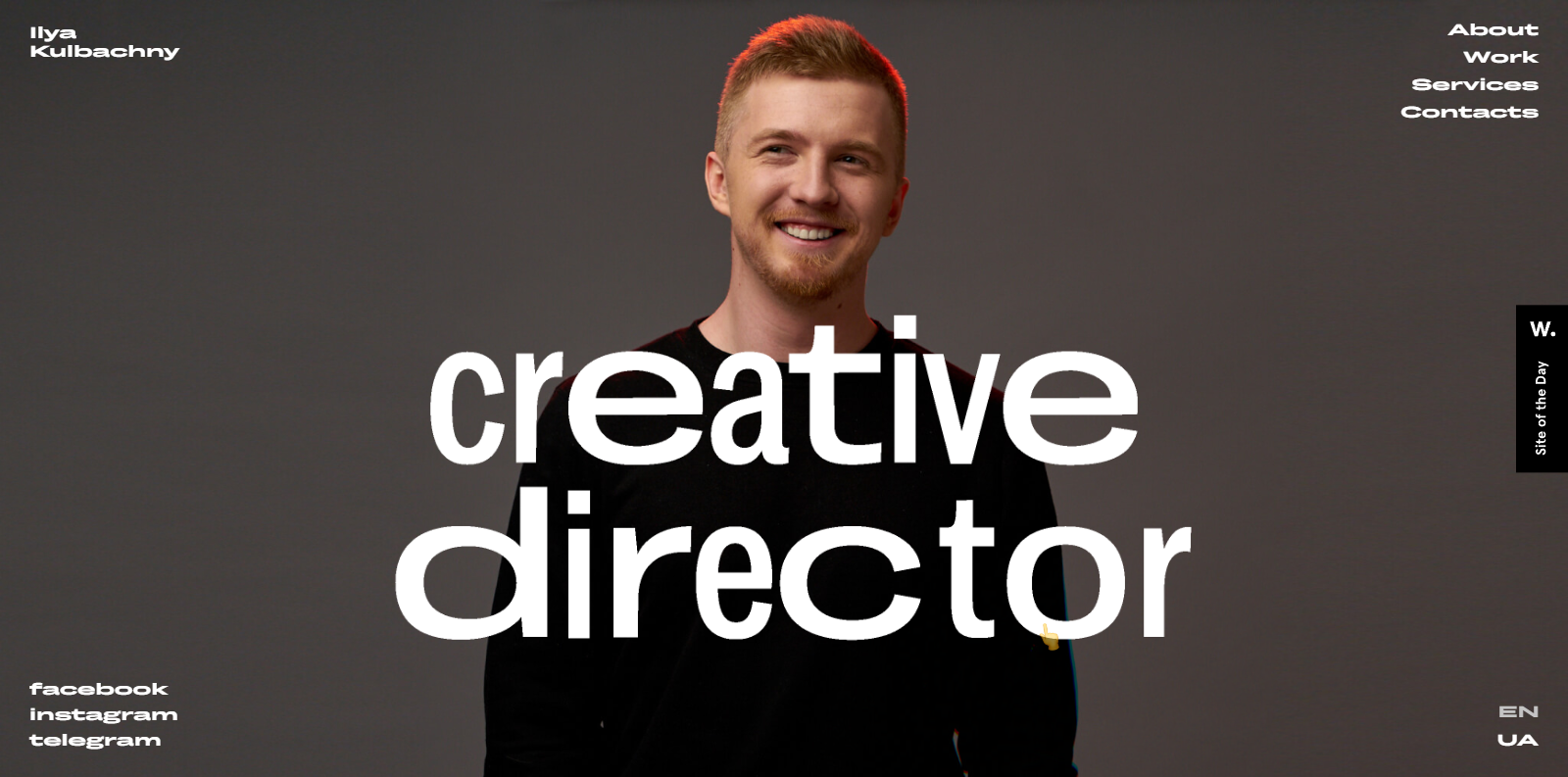 Ilya, the founder of Cosmos Studio and a respected jury member at Awwwards, is renowned for his creation of award-winning websites, NFT projects, and impressive UI designs. The above-the-fold content on this website provides an imaginative and innovative user experience that should not be missed. 
Here are some standout features of this web design that we absolutely love: bold and powerful typography, engaging scrolling and text animations, and eye-catching thumbnail pop-ups when hovering over project titles. Additionally, the website incorporates a creative gaming interface element that adds a unique and ever-changing touch. It truly showcases Ilya's creative nature and is a reflection of his talent.
Inspired by this website's design? Customize and create your own personal website using AI with ease.

Get a head start on website creation with AI
Create a custom website tailored to your business needs 10X faster with 10Web AI Website Builder!
Get a head start on website creation with AI
Create a custom website tailored to your business needs 10X faster with 10Web AI Website Builder!
Example
36:
Jay Pharoah
– Intuitive navigation experience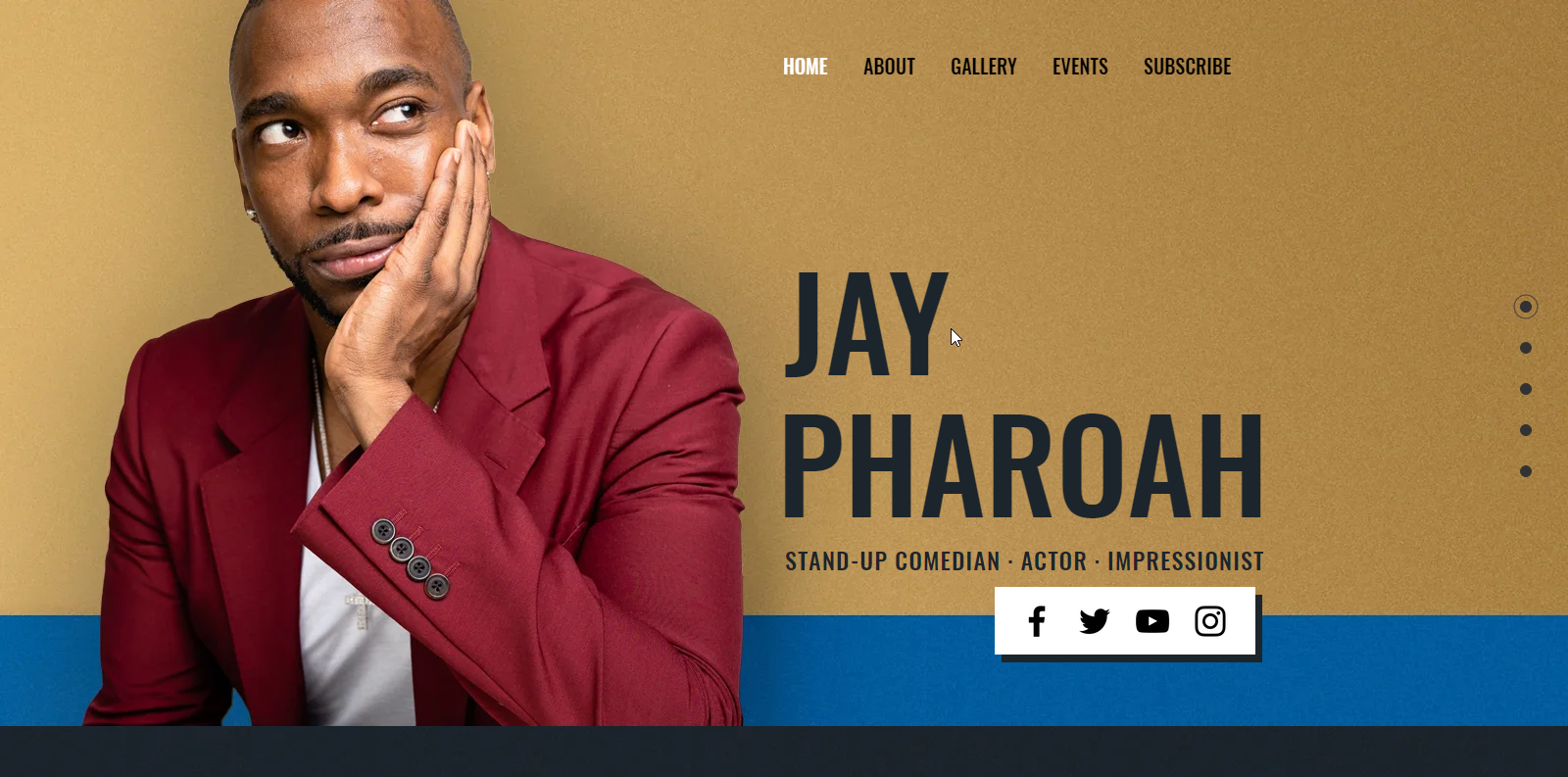 Jay Pharaoh's actor website is a remarkable example of outstanding design. From the impeccable color scheme to the stylish buttons and shapes, every element exudes a professional yet funky vibe. This website truly impresses. Here's what you can glean from this exceptional actor website design: a distinctive and one-of-a-kind design, captivating animations that enhance the scrolling experience, and strikingly impressive visuals.
The website focuses on personal branding, showcasing Jay Pharaoh's talents and accomplishments through clear and impactful images. Whether it's his performances or his personal life, visitors can easily get a sense of who he is. Additionally, the website offers the option to purchase tickets for his live shows.
The website prioritizes concise and meaningful text with a simple and clean layout. Its intuitive navigation allows visitors to explore the entire website in less than a minute. Overall, this actor's website effectively captures attention and conveys its message clearly and efficiently.

Example 37:

Andy Hardy
– Inspiring design approach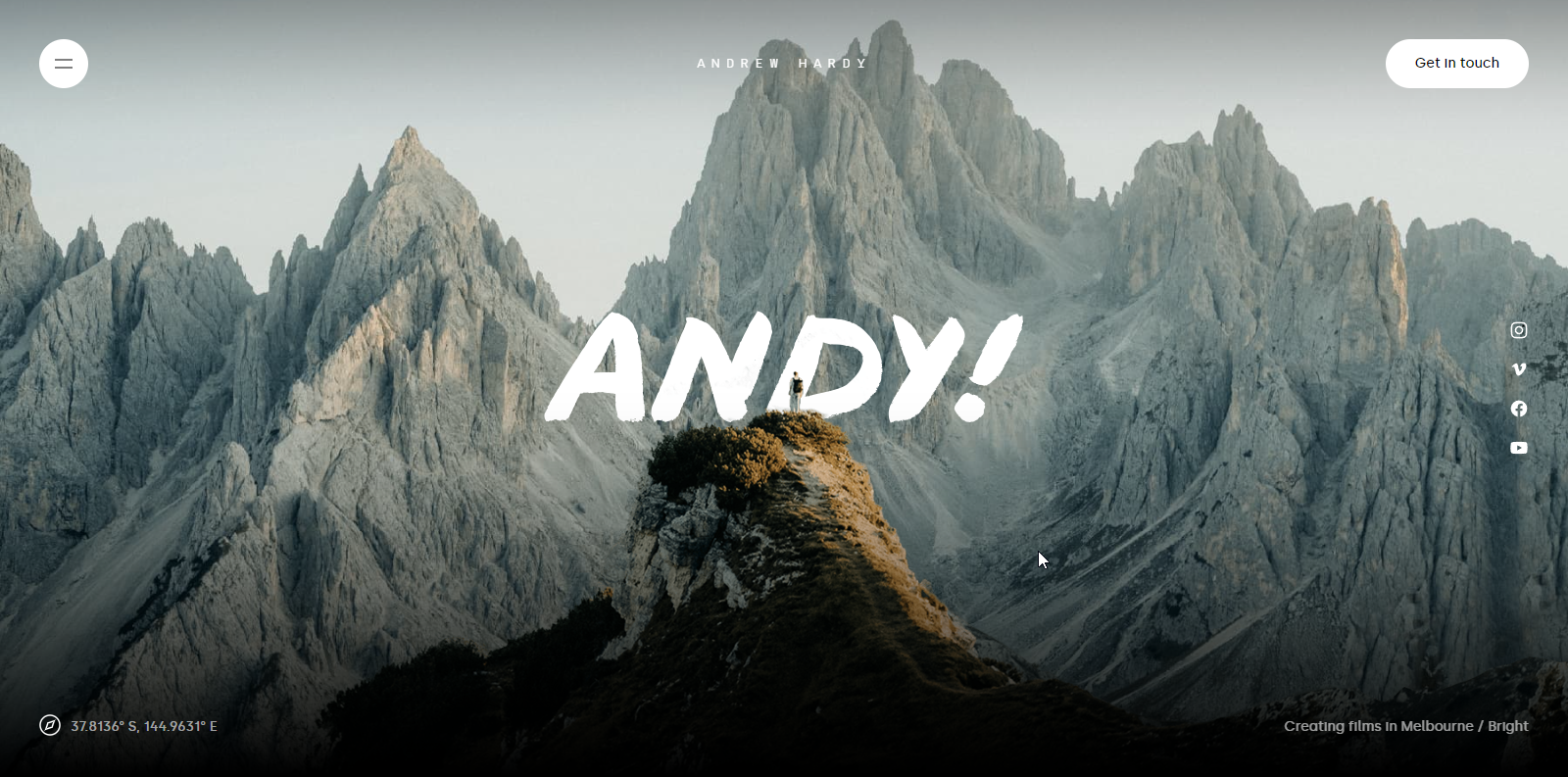 This personal website example is an exceptional showcase of the power and potential of aesthetic photography and captivating web design. The striking and daring vibes of the mountain image instantly captivate the audience's attention, setting the tone for the rest of the website. 
As you scroll down the page, you will experience the nice unwrapping of various aesthetic picture layouts, all enhanced by a sleek black background that effectively highlights the photography. This website is an inspiring example of innovative interface design and offers valuable lessons in creating a visually stunning online presence.
If you're in the photography industry and need a website that reflects your brand, consider using 10Web AI Website Builder. With its AI capabilities, you can create professional websites for your photography business with ease. Access AI-generated content and images, and customize your design effortlessly using the drag-and-drop editor.

Example 38:

Helena Bowen
– Sleek monochrome design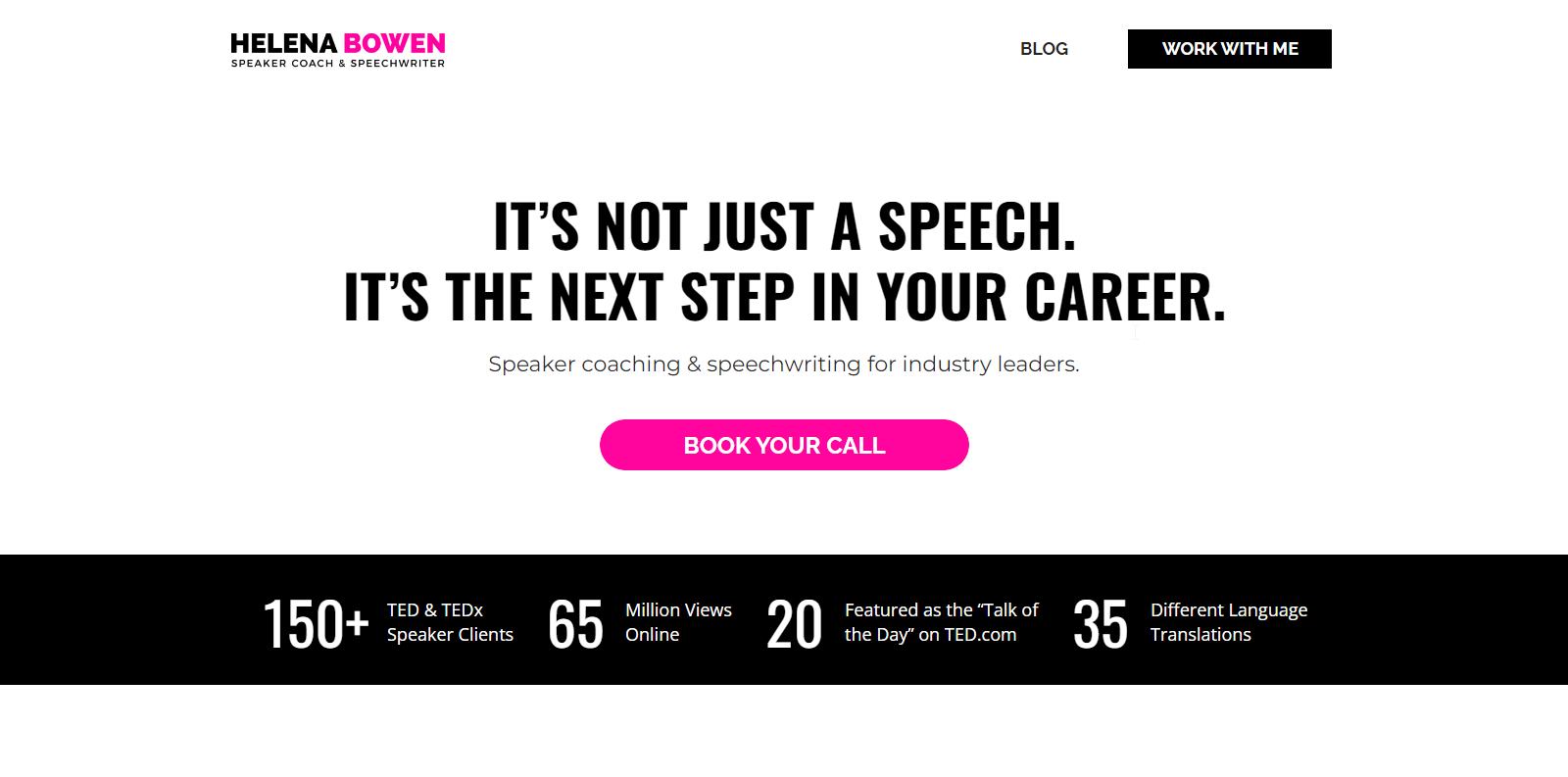 Helena Bowen, a professional speechwriter, and coach, presents her expertise through a sleek black-and-white homepage with clear navigation options. While there are no photos or background images, the homepage's concise three-line text is incredibly compelling. However, it is the impressive statistics and testimonials showcased at the bottom of the page that truly captivate industry leaders seeking improved communication skills. As visitors scroll down, they are greeted with Helena's photo, further reinforcing her competence. Helena's website successfully showcases her expertise in a playful manner.

Example 39:

Mr. Money Mustache
– Vintage financial interface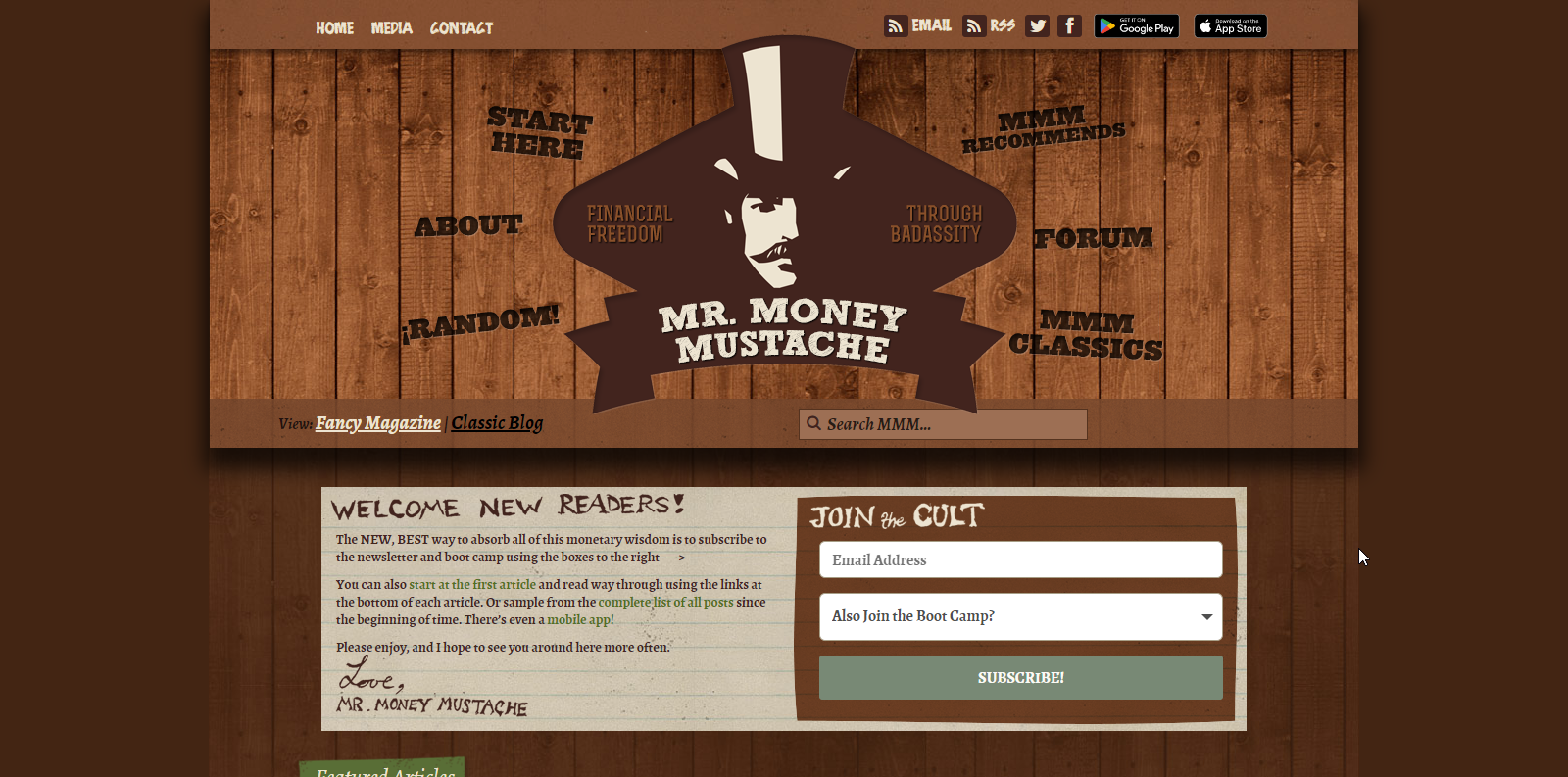 Although Mr. Money Moustache's blog design may give off a vintage aesthetic, his website and the financial advice it provides are thoroughly modern and relevant. Despite his appearance not matching the stereotype, his financial journal is a humorous and user-friendly platform offering valuable money management guidance to novice readers. 
Furthermore, the navigation links prominently displayed alongside his logo ensure effortless access to his content, even for those unfamiliar with his brand.

Example 40:

Peter Janssen
– Balanced design approach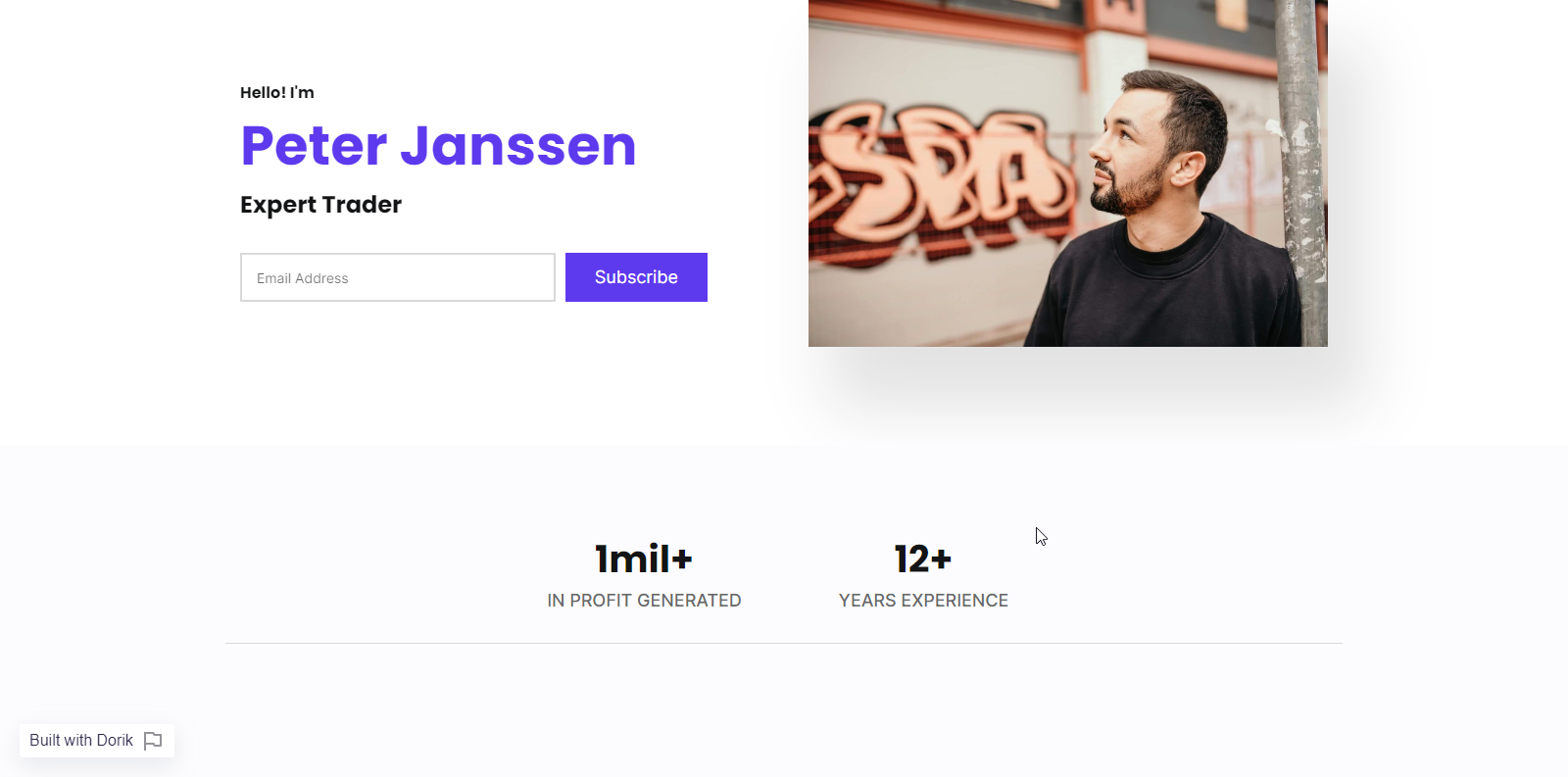 Peter's website is straightforward and adheres to standard guidelines.  Visitors to the site are immediately presented with a call to action, highlighting Peter's expertise and encouraging them to explore further. As they scroll down the page, they'll find a concise but comprehensive overview of Peter himself, allowing them to quickly recognize his skills and areas of expertise. 
While there are many personal website examples to choose from, Peter's strikes a perfect balance between professionalism and accessibility, making it a great source of personal website ideas for anyone looking to showcase their talents and skills.

Example 41:

Joel Runyon
– Key interest showcase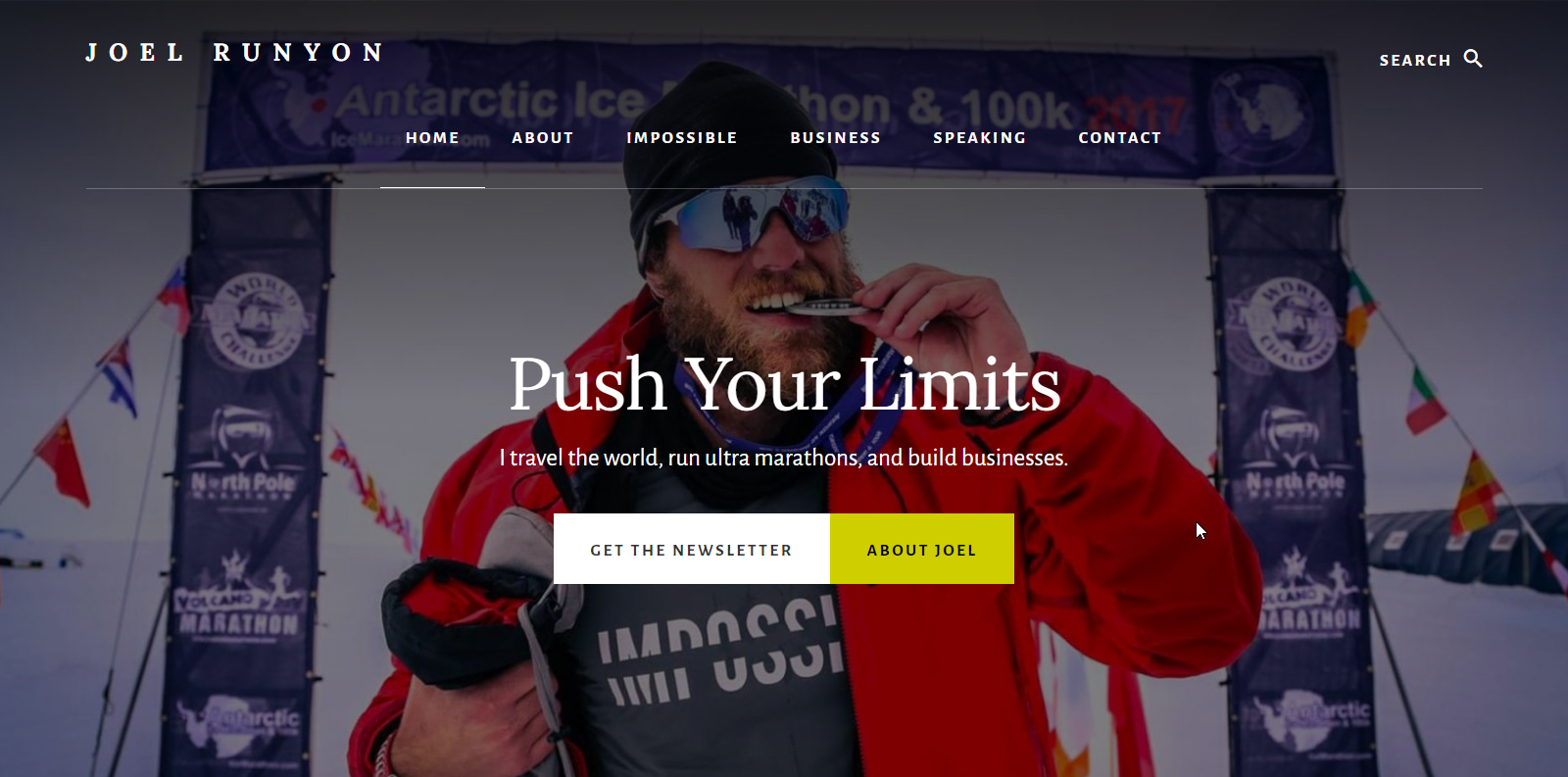 Joel Runyon thrives on pushing his limits and empowers others to achieve the impossible through his personal site. Despite having a lot going on, he manages to focus on just three main areas on his homepage: traveling, running, and building businesses.
This personal website example utilizes a concise navigation structure, but each section maintains the homepage image. This creates the impression of a one-page website design, ensuring visitors do not feel lost within a complex web of information.
The key lesson to take away is to avoid listing everything you do on your main page, as this can overwhelm visitors. Instead, focus on showcasing a few key areas of interest or expertise.

Conclusion
Personal websites serve as powerful tools for individuals to establish their online presence, showcase their skills, and promote their personal brands. They offer a platform to share portfolios, resumes, blogs, and other content, enabling users to connect with potential employers, clients, or collaborators. The article provided examples of 41 impressive personal websites to inspire individuals looking to create their own in 2023. However, building a website from scratch can be a daunting task, especially for individuals with limited technical expertise.
That's where platforms like 10Web come in. 10Web AI Website Builder helps accelerate the website creation process, making it accessible and user-friendly for individuals of all technical backgrounds. With 10Web AI Website Builder, you can build or recreate any website in minutes with the power of AI. The result is a professionally designed website that reflects your unique style and enhances your personal brand. 
Get a head start on website creation with AI
Create a custom website tailored to your business needs 10X faster with 10Web AI Website Builder!