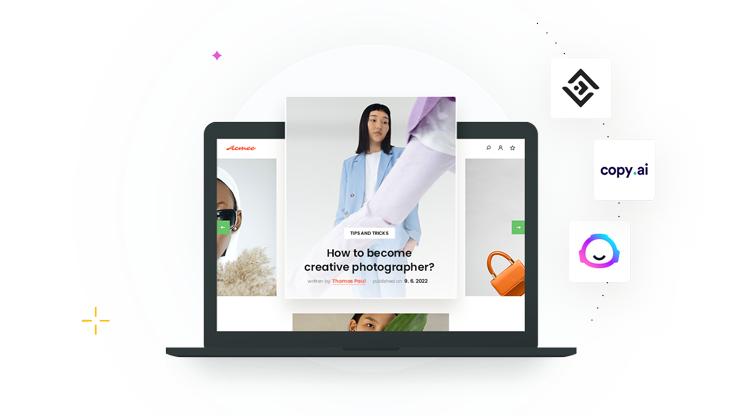 In today's digital age, creating content that captivates and educates your audience is more critical than ever. Fortunately, with the incredible advancements in AI technology, creating high-quality content has never been easier. In this article, we will explore the features to look for while choosing the best AI blog writer for your needs, examine the top options available, and discuss how you can get your hands on the best tool to assist you with article writing.
In today's digital age, creating content that captivates and educates your audience is more important than ever. Fortunately, with the incredible advancements in artificial intelligence technology – particularly with the rise of GPT – creating high-quality content has never been easier. Whether you're a business looking to connect with your target market or an individual seeking to share your passion with the world, harnessing the power of AI can help you craft content that truly resonates with your audience. 
One of the most useful applications of AI technology is AI blog writers, which can generate high-quality articles in a matter of minutes. However, not all AI blog writers are created equal, and it's important to know what features to look for to choose the best one for your needs.
In this article, we will examine the top options available and how you can get your hands on the best tool to assist you with blog/article writing.

Features to Look For in AI Blog Writers: How to Choose the Best One?
Before we compile the best GPT-based AI blog writers available, let's address one of the most important areas of concern.
Since multiple widely known and reputed tools are available, you might feel confused when using the right one. But how do you do that?
The answer is simple: keep the following features in mind and ensure your chosen tool has these functionalities!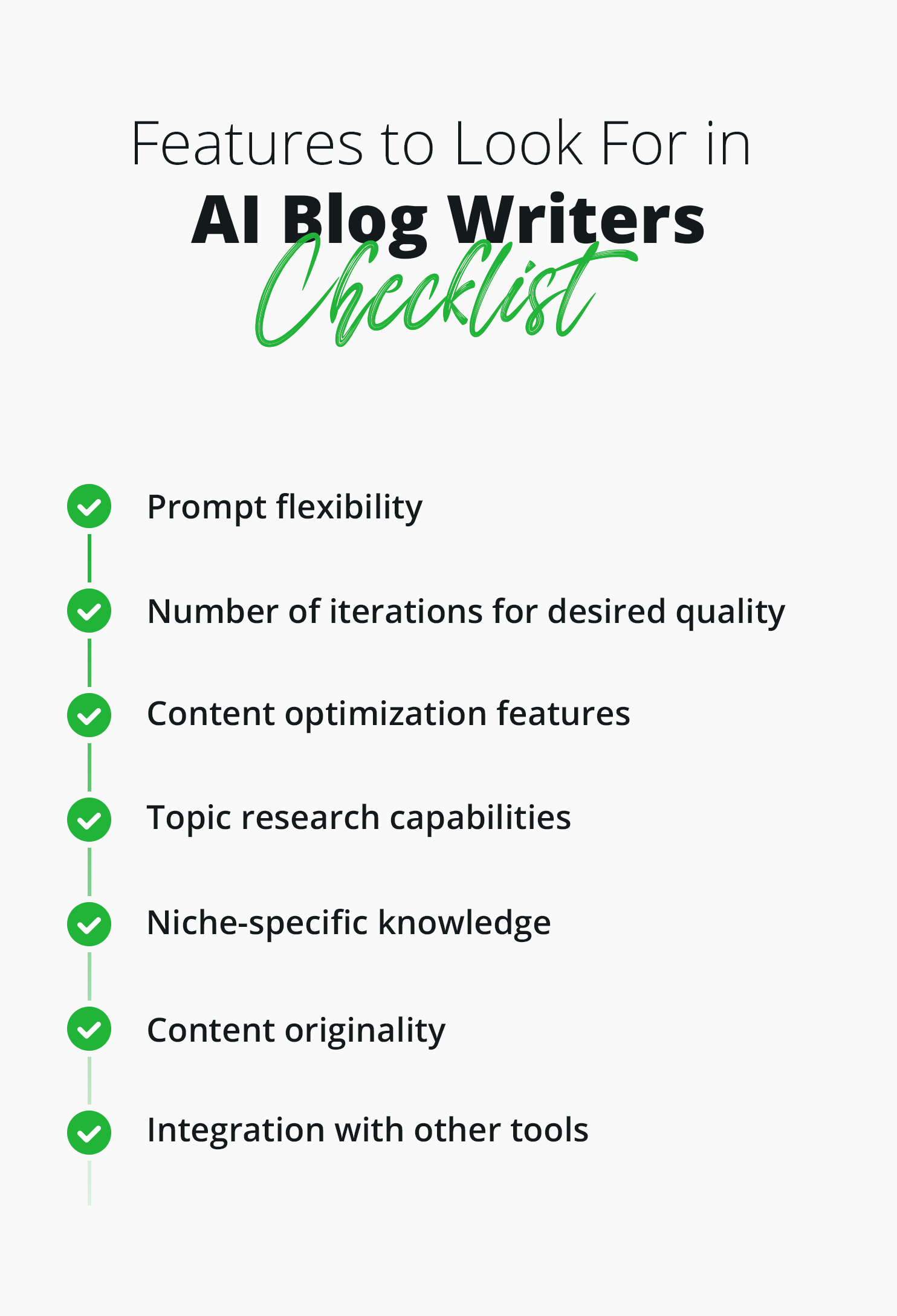 Prompt Flexibility
When choosing among the best AI blog writers, check if it can generate high-quality content based on a wide range of prompts, from short ones like headlines and keywords to longer prompts like outlines and summaries. 
Another aspect to remember here is the ability to customize the prompts based on your needs. The AI content writer should be able to understand your target audience and the goals of your content and generate text tailored to these requirements. 

Number of Iterations That Give the Desired Quality
When selecting the best among the top AI blog writers, another important thing to consider is the number of iterations needed to achieve the desired quality of content.
Iterations are the number of times the AI writer generates content before reaching the desired level of quality.
Of course, different AI writers may require varying numbers of iterations to produce high-quality content. Some may require only a few iterations, while others may need several content generation and revision rounds before producing the desired quality level. However, the number of iterations required may also depend on the content's complexity, the output's length, and the prompt's specificity.
Therefore, go with an AI blog writer that allows you to adjust the number of iterations to fit your needs. This will ensure that you get the desired level of quality without wasting time and resources on unnecessary iterations.

Content Optimization Features
Another crucial feature to look for when looking for the best AI blog writers is content optimization. The tool can optimize the generated content for search engines and other digital platforms. When your content is optimized, it has a better chance of ranking higher in the search engine results pages (SERPs) and attracting more traffic to your website.
In addition to this, you should also check whether the tool comes with a readability feature. This aspect is important to consider so that you invest in a tool that generates content that is easiest to read and understand with the proper sentence structure and no grammatical errors. It will be a plus if these features include matter tags and descriptions, AI optimization for images, and internal and external linking.
Optimize your content SEO with AI!
Write and perfect original content and fix all SEO and readability errors 10X faster with 10Web AI Writing Assistant.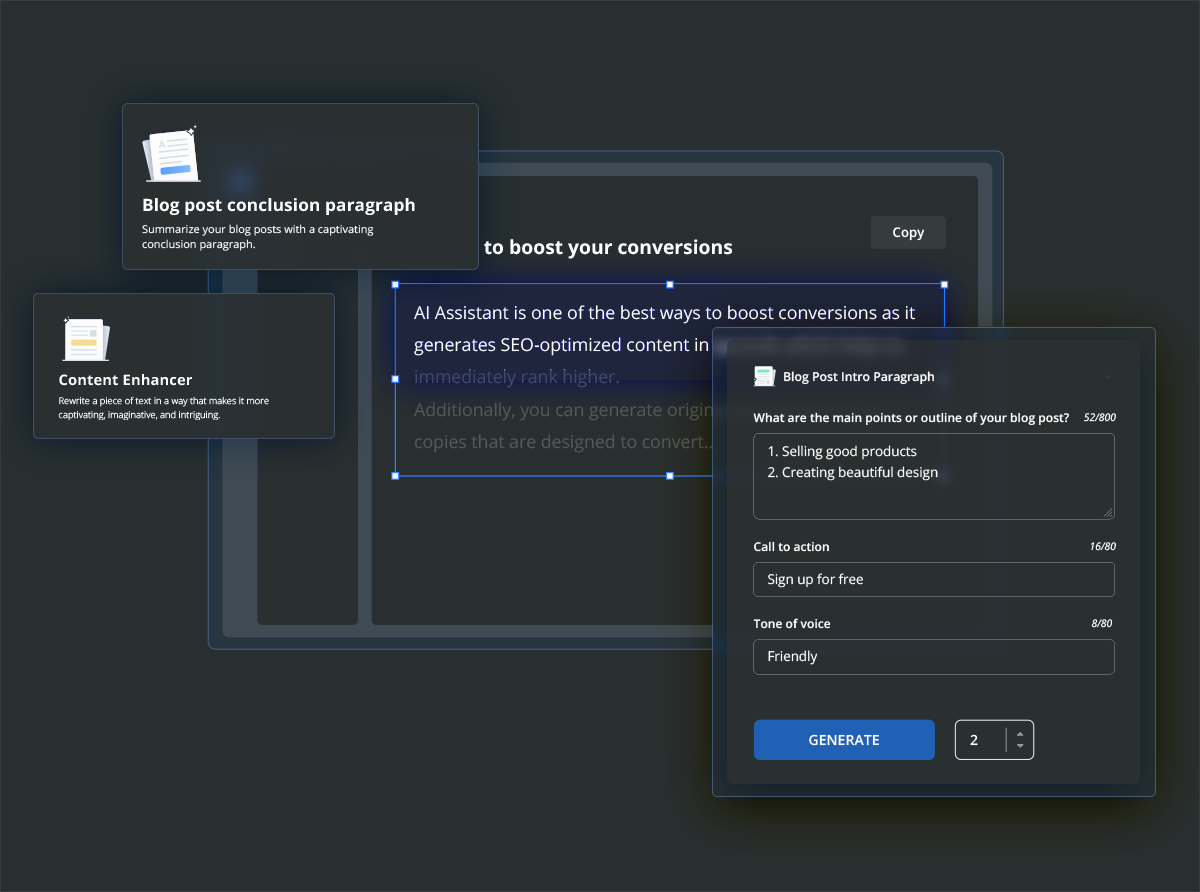 Topic Research Capabilities
An ideal AI blog writer must be able to research and analyze the topic with great depth and provide insights and suggestions to improve the overall quality of content. However, you must also look for several key features regarding topic research capabilities. Here are some of these:
The tool should be able to gather relevant information and data on the topic from a wide range of sources, including academic journals, news articles, and industry reports. 
It should also be able to analyze this information and provide insights and recommendations that can help you develop a comprehensive understanding of the topic
Ability to identify relevant keywords and topics related to the main topic
Must be able to suggest related topics and subtopics that can help you create a more comprehensive and informative piece of content.
While some AI blog writers offer the option of analyzing your competitors' content, it is always better to choose the option that offers you the most comprehensive and diverse yet efficient capabilities to stand out! 

Niche-Specific Knowledge
This aspect refers to the ability of a tool to generate high-quality content that is specific and relevant to your particular industry or niche. 
But here is the thing –  different industries have specific terminologies, best practices, and jargon. 
This is exactly why you should use a tool that can execute in-depth knowledge about your particular industry and generate relevant content. 
For example, if you belong to the healthcare industry, your AI blog writer should be trained to understand medical terminology and healthcare regulations. Similarly, if you're in the finance industry, your writer should be familiar with financial terms and investment strategies. Choosing an AI writer with niche-specific knowledge ensures that the content generated is accurate, informative, and relevant to your audience!

Content Originality
Content originality is one of the most important features when choosing an AI blog writer. This refers to the ability of the tool to generate unique and original content that is not plagiarized or copied from other sources.
Content originality is essential for two main reasons:
Search engines like Google prioritize original and unique content over duplicate content.

Original content is more engaging and interesting to readers. If your content is unique and provides fresh insights and perspectives, it will likely be shared and recommended by your target audience.
To ensure content originality, look for AI blog writers that use advanced algorithms and techniques to generate original content. They should be able to identify and avoid duplicate content and should provide citations and references for any external sources used in the content. 
Integration With Other Tools
Another important feature when choosing an AI blog writer is its integration with other tools. The AI writer should be able to work seamlessly with other tools that you use to create and publish content, such as content management systems (CMS), social media management tools, and analytics tools.
This allows quick and efficient publishing of content on your website or blog.
Facilitates content promotion and reaches a wider audience through social media management tools.

Provides insights into the performance and engagement of your content through analytics tools.

Offers suggestions for improving your content strategy and optimizing your content.

Enhances collaboration and workflow between different tools and team members.

Improves the overall efficiency and effectiveness of your content creation and publishing process.
Therefore, make sure you go with AI blog writers that integrate with other tools so that you can ensure that your content creation and publishing process is efficient, effective, and optimized.

Extra Features to Make the Article Creation Easier
Apart from the features discussed above, some others can make the whole experience much easier and seamless. 
Here are some of the additional features to look for when choosing an AI content writer:
Content Templates:

When you have a tool with customizable and diverse content templates, it gets easier to structure your articles and ensure they follow a specific format.

In this way, you can create high-quality content that meets your specific requirements and engages your target audience just the right way!
Collaboration Features: If you're working with a team of writers or editors, AI blog writers

offering collaboration features can make article-making smoother and more efficient.

These features include sharing documents, leaving comments and feedback, and assigning tasks and deadlines.
Multilingual Support: If you are into creating content for a global audience, having the assistance of an AI blog writer who offers multilingual support makes the whole thing a lot easier and helps you reach a wider audience.
So, all in all,  when choosing among the host of AI blog writers, make sure that you keep these points in mind because, honestly, they can make the process of article-making easier, more efficient, and more effective. 
10 Best GPT-Powered AI Article Generators for High-Quality Content
Now that we know the most important aspects to remember while choosing the right blog writer, let us look at the best GPT-powered article generators to choose from!
Let's begin the countdown!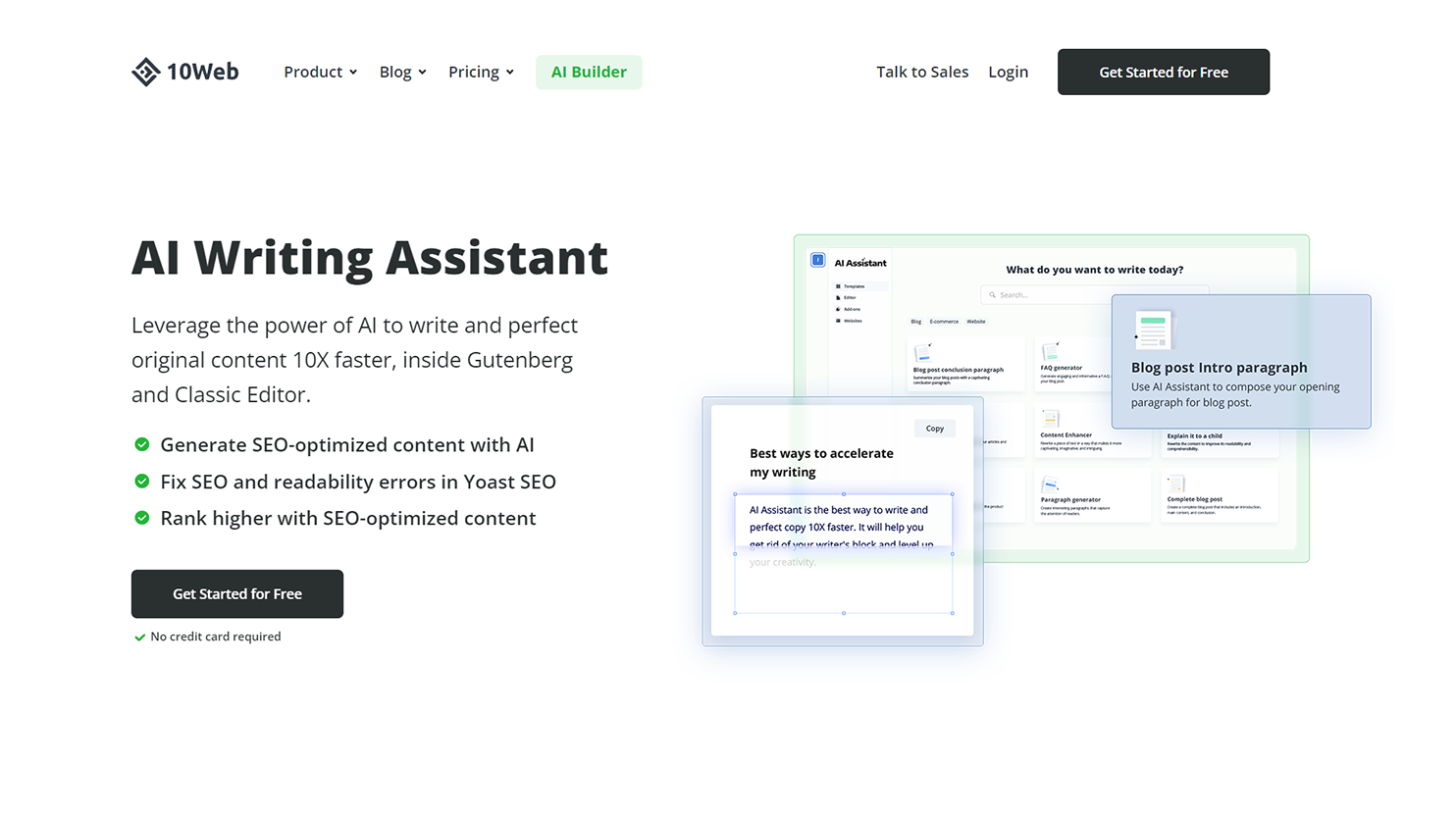 10Web AI Writing Assistant is an all-in-one AI content writer, editor, and optimizer that has been designed specifically for WordPress. Its advanced technology allows you to create premium content and conduct edits 10x faster as compared to traditional methods. 
AI Writing Assistant is fully compatible with the most popular WordPress plugins and themes and offers plans with unlimited connected websites, 20+ templates, and 10.000+ words. Its powerful AI capabilities can automatically generate or paraphrase meta descriptions and titles, fix SEO and readability errors, keyphrase and passive voice errors, paragraph/sentence length errors, and subheading distribution errors.
Features:
Generate SEO-optimized content with AI

Fix SEO and readability errors in Yoast SEO

Generate or paraphrase meta descriptions and titles

Automatically fix keyphrase and passive voice errors

Fix paragraph/sentence length errors

Fix subheading distribution errors
Pricing: 
Personal plan – $20/month

Premium plan – $60/month

Agency plan – $200/month
Optimize your content SEO with AI!
Write and perfect original content and fix all SEO and readability errors 10X faster with 10Web AI Writing Assistant✨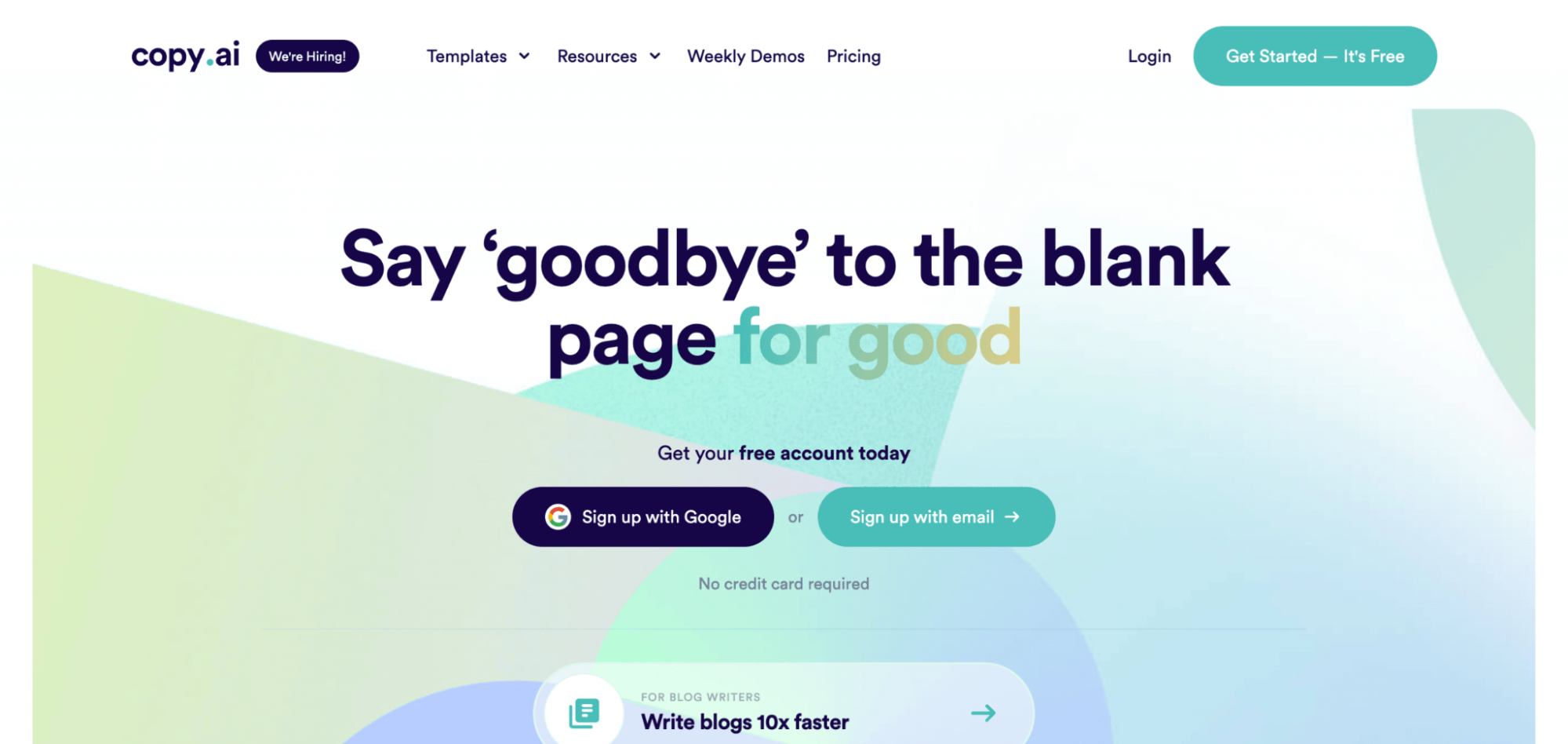 Copy.ai offers a range of tools and templates that can help writers generate content quickly and efficiently. One of its most useful features is the Blog Post Wizard, which can transform your blog post from scratch to a ready-to-publish article in under five minutes. With over 90 tools available, including the AI-generated title feature, Copy.ai can help streamline your content creation process and save you valuable time.
Features:
Lets you brainstorm ideas

Content idea generation based on website/blog analysis and industry/target audience understanding

First Draft Wizard that writes the blog for the user

Chrome Extension for easy copy generation in Google Docs and Gmail

Multiple language support

Customizable tone and style

Smart rewriting to improve existing content

Collaboration tools for teams
Pricing:
Pro plan – $36/month

Enterprise plan – Custom pricing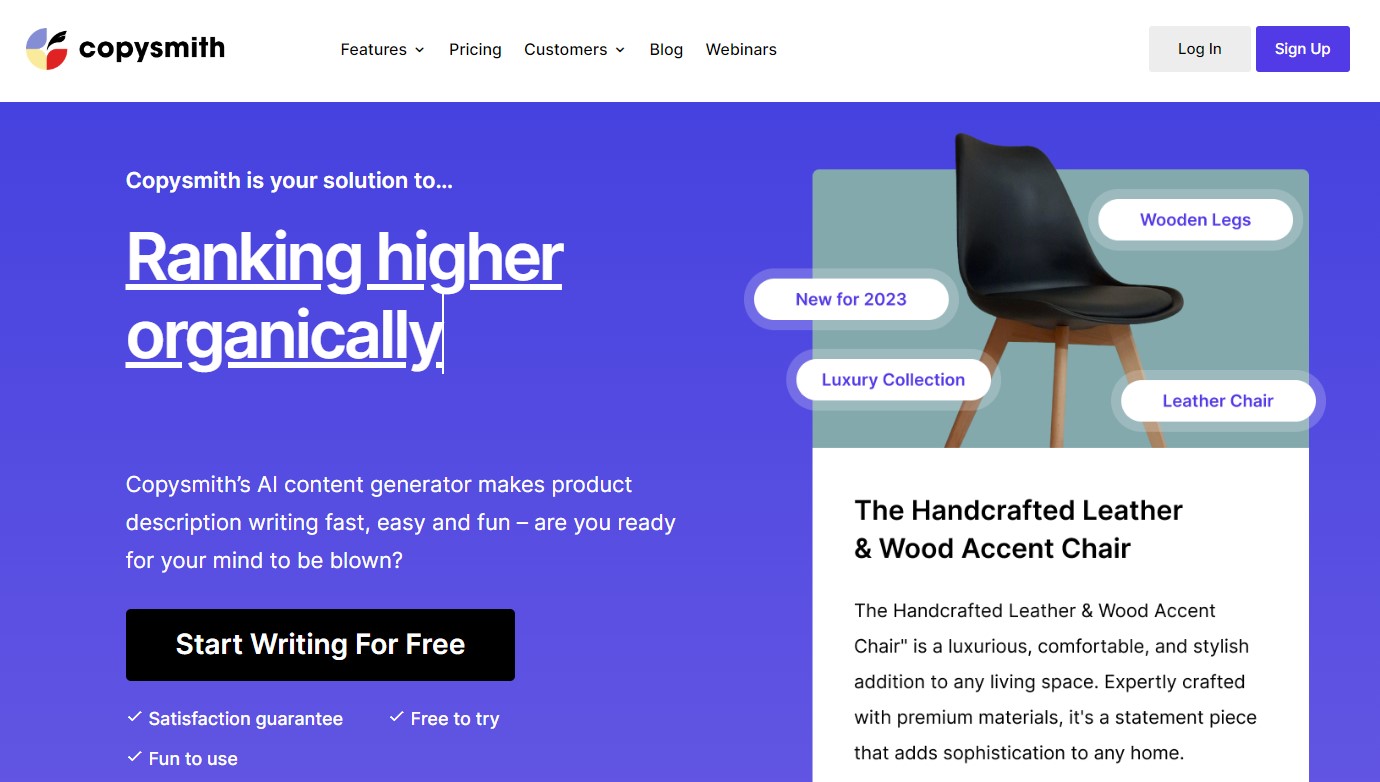 If you're looking to create high-quality content for your website or blog, Copysmith is one of the top AI blog writers that can help you achieve your goals. With its powerful AI capabilities, Copysmith can assist you in generating long-form content for your blog thanks to its unique "Article Writing Assistant" feature that breaks down your content and helps you expand upon it.
In addition, Copysmith also comes equipped with a Content Rewriter function that makes it easy to rewrite your content quickly and efficiently. Regardless of your stage in the content creation process, Copysmith has a range of tools that can help you craft your blog content to perfection.
Features:
Comes with multiple templates that can be used as building blocks for your content creation

Generates ideas and content from rough concepts to aid in brainstorming

Includes a plagiarism checker to ensure that all content generated is unique

Constantly updated and backed up to prevent loss of work
Pricing:
Starter plan – $19/month

Professional plan – $49/month

Enterprise plan – Custom Pricing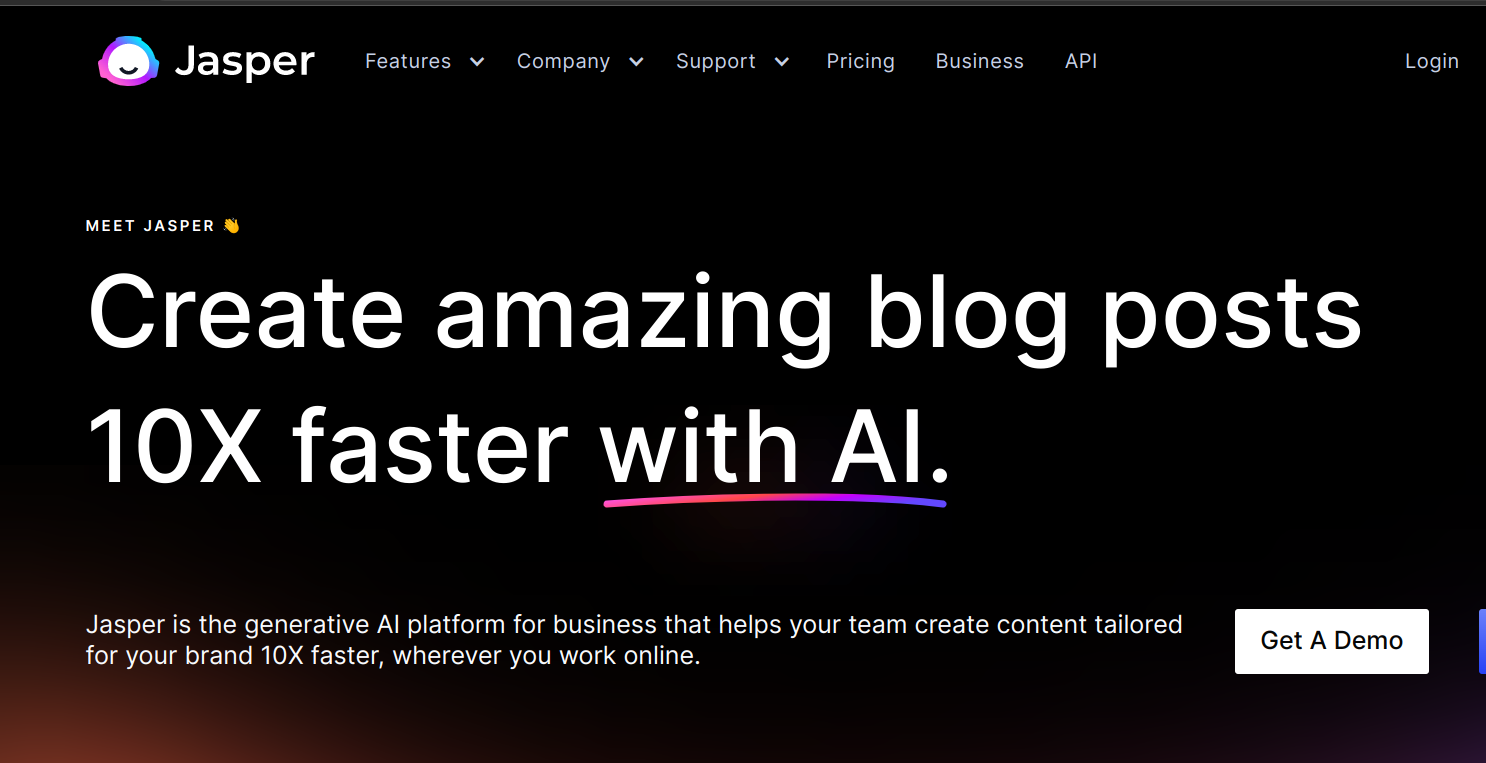 Jasper is one of the most popular AI blog writers that let you create high-quality content for your website or blog without the hassle of manual writing. Jasper AI works with a vast amount of data, and its algorithm scrambles and re-assembles content based on the input you provide. This enables it to create 100% original, accurately written content, with zero plagiarism flags.
Features:
Generates various types of content, such as stories, social media posts, and promotional content for landing pages and ad copies

Creates 100% original content that is accurately written and has zero plagiarism flags

Offers access to numerous content frameworks, including AIDA

Provides long-form assistance to create longer articles

Enhances existing content with its Content Improver feature
Pricing:
Starter plan – from $29/month

Boss mode – from $59/month

Business plan – Custom plan and price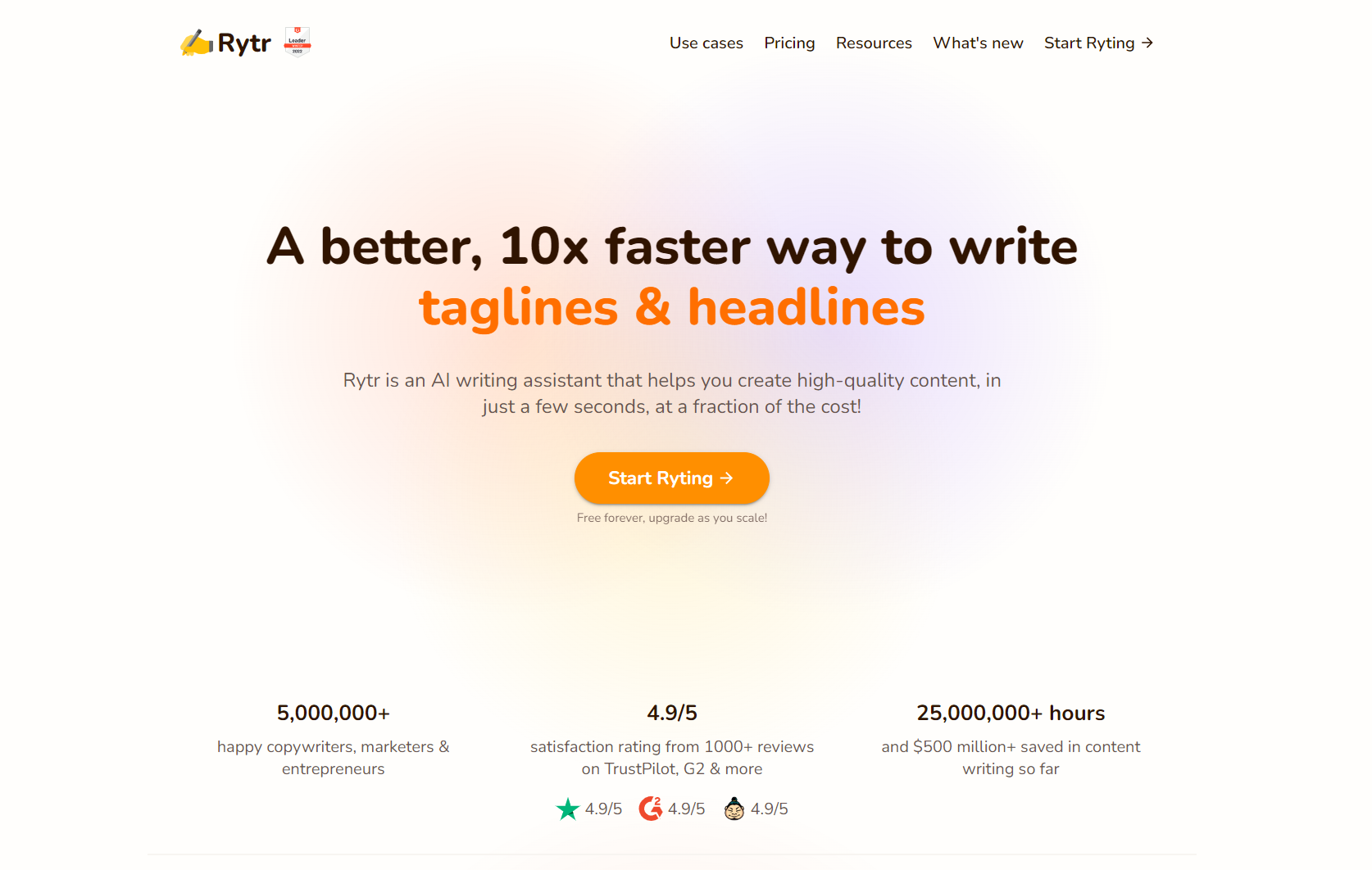 It is an excellent AI content writer that can assist you in creating content for various purposes, such as blog posts, social media posts, and ads. It even supports multiple languages and can attempt to write song lyrics. This tool is particularly useful for marketers who want to try AI-assisted writing without breaking the bank. 
Using Rytr is a breeze; you must follow four easy steps. First, select the language you want to use, then choose the tone of your content. After that, select your specific use case and add your input. And just like that, you'll receive the AI-generated output instantly!
Features:
Check for grammar and tone

Format sentences correctly

Ensure proper formatting

Verify for plagiarism

Get idea recommendations

Generate forms
Pricing:
Saver plan – $9/month

Unlimited plan – $29/month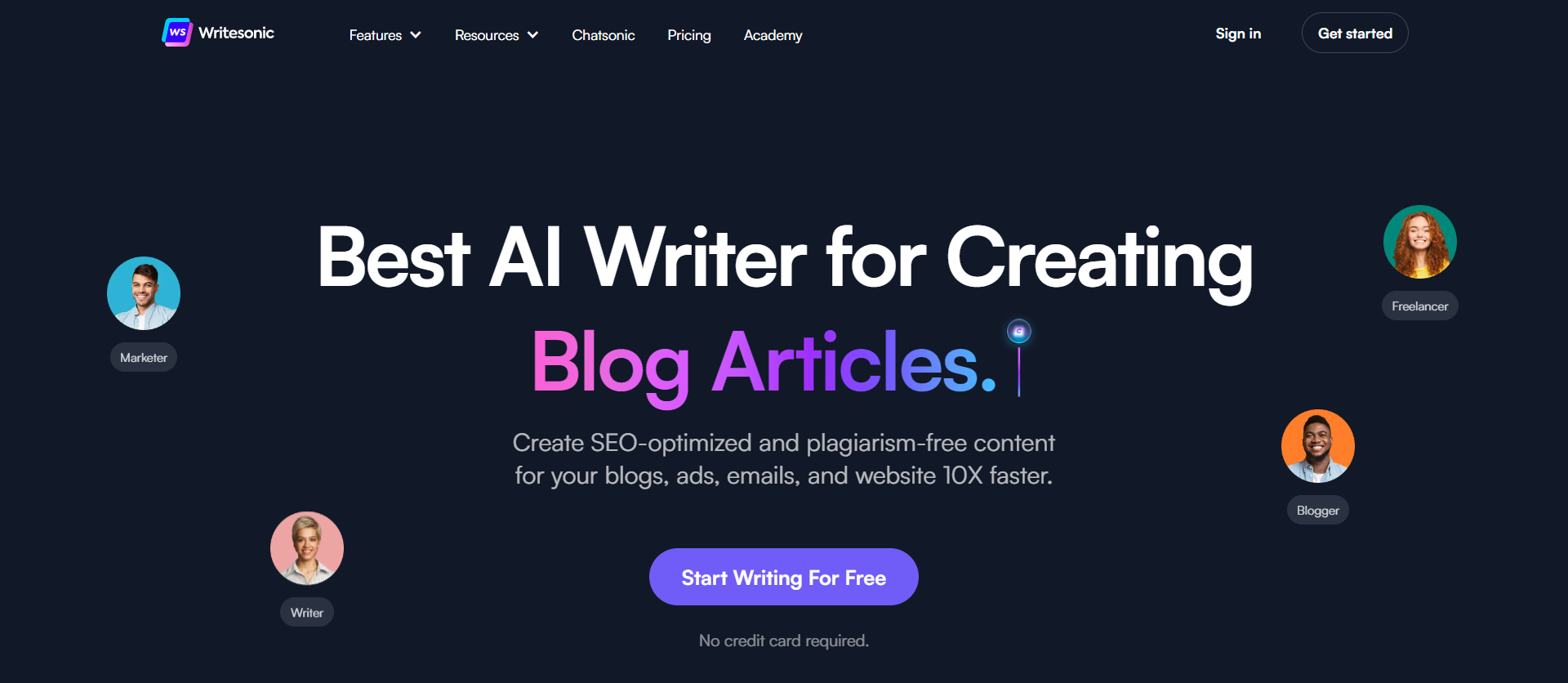 If you're looking to generate engaging content within minutes, you may want to consider using Writesonic. This GPT-3 blog generator generates high-quality outputs from the inputs you provide, which makes it a great tool for creating high-quality content at lightning speed. So if you want to save time and increase productivity, it could be just the right one for you!
Features:
Generates unlimited content and saves time & effort by allowing you to fill in your inputs

Offers 65+ features, including Article Writer 3.0, Facebook ads, landing pages, Quora answers, Twitter tweets, and Instagram captions

Utilizes a natural language processing algorithm to enhance the writing process and make it easy to create high-quality content

Provides a paraphrasing tool that enables you to rephrase sentences and paragraphs
Pricing:
Long-form plan – $12.67/month

Custom plan for teams and businesses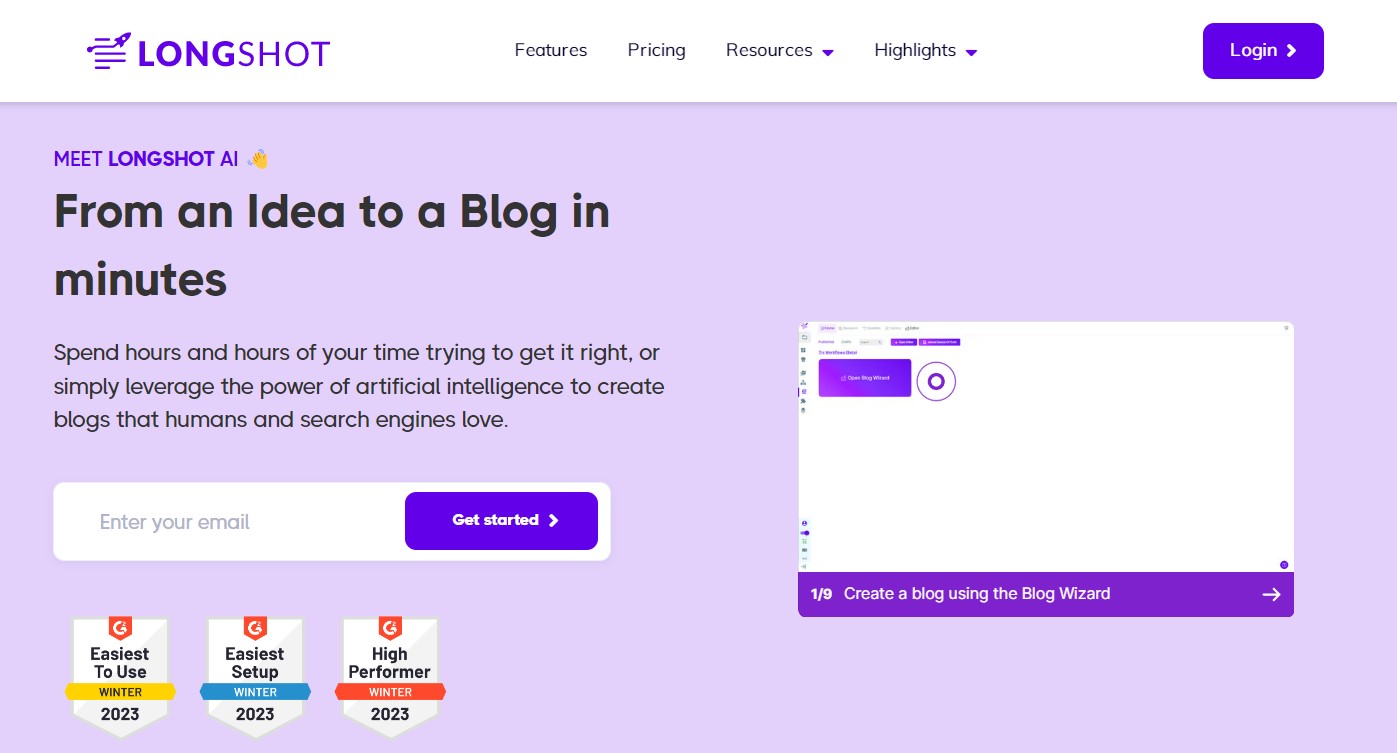 It can be your ideal tool if you need a comprehensive platform for long-form content writing. This all-in-one SEO AI writer comes with various tools, such as keyword research, SEO scores, and meta descriptions, to help ensure your content is optimized for search engines!
Features:
Target specific keywords in different geographical regions

Ability to dive into niche content for greater audience resonance

A collaborative platform for team members to work together on one document

Streamlines content creation process and ensures consistent tone, style, and messaging
Pricing: 
Pro plan – $19/month

Team plan – $49/month

Agency plan – $299/month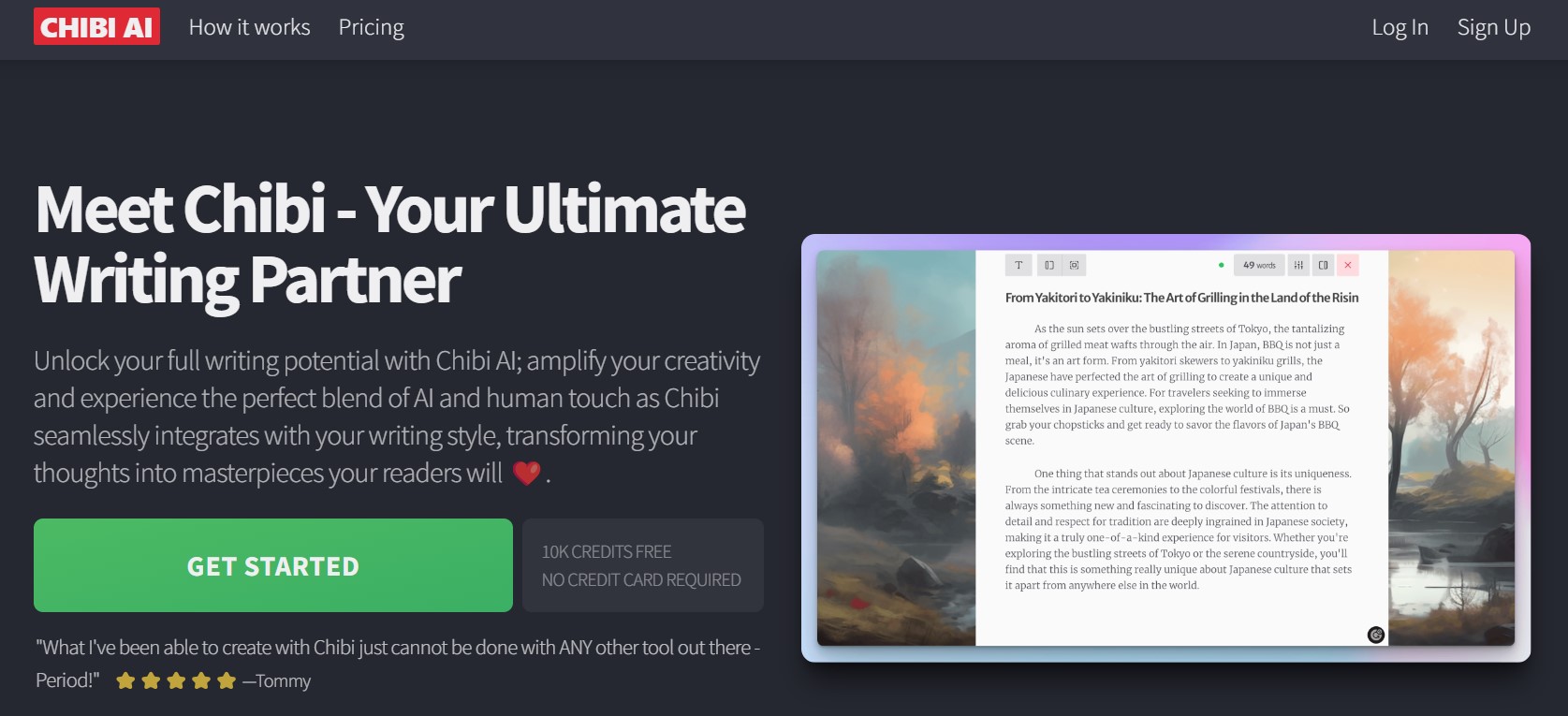 Chibi is one of the AI blog writers that assist with tasks like rewriting, shortening, expanding, and changing the tone of selected text to help you focus on your writing. You can even select a "creativity mode" to change the overall tone of the generated content, making it as simple or as complex as you'd like. 
Chibi also allows you to write rules to tell the AI what to do and what NOT to do. You can let the AI write from its perspective or give it specific instructions on what and how to write. However, it's worth noting that Chibi requires some initial content to get started, but once it has something to work with, the outputs are generally pretty good.
Features:
Per-document notes for jotting down ideas while writing

Easy export tools for taking content out of Chibi

Power-user command palette for accessing all commands in one place

Personalized writing buttons for custom templates

Global scratchpad for sharing notes across all documents

Dark mode for reducing eye strain during late-night writing
Pricing: 
Lite plan – $20

Monthly plan – $42

Yearly plan – $420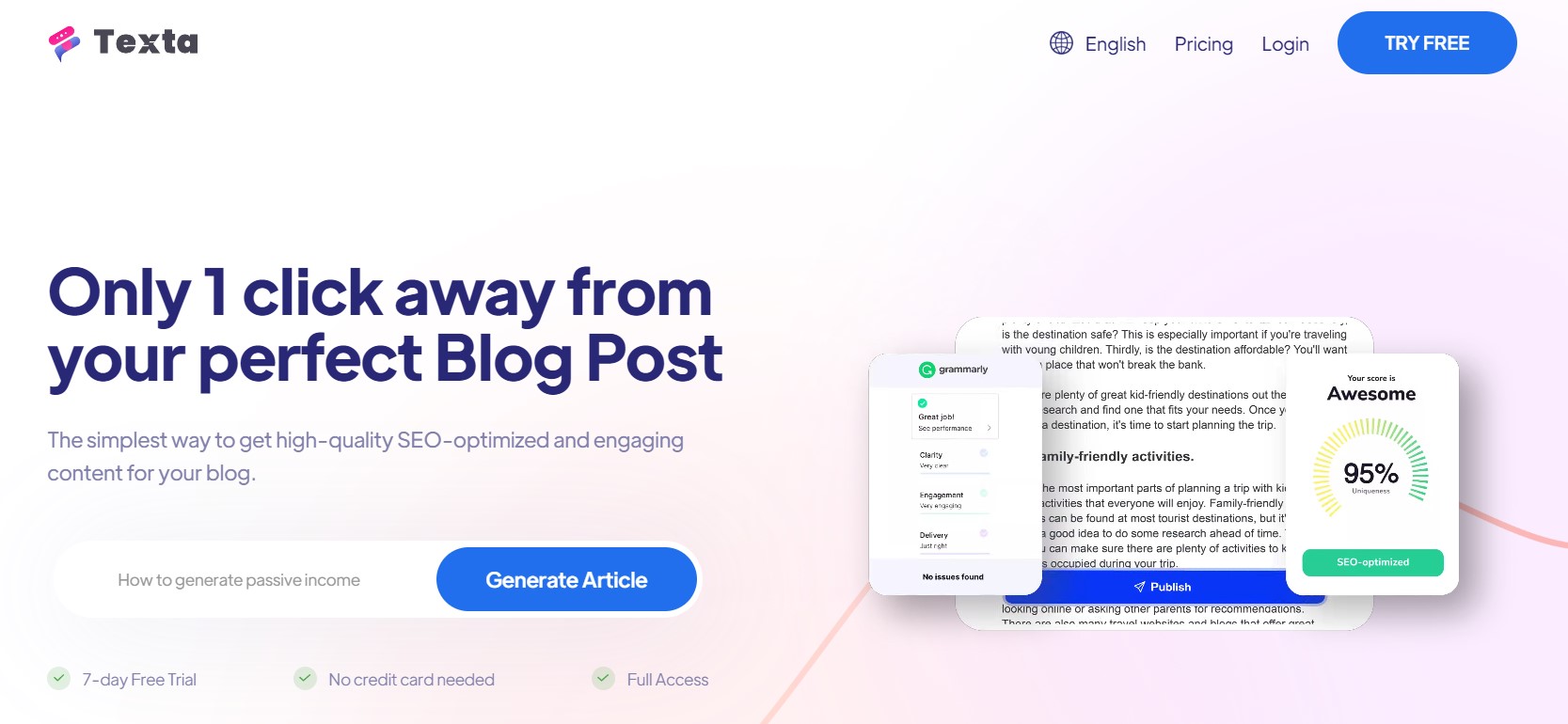 This tool lets you generate entire blog posts with just one click. The platform is designed to be user-friendly and simple, making creating content quickly and efficiently easy. All you need to do is input a keyword or description, select your language preference, and within seconds, you'll have an SEO-friendly blog article ready to go. This means you don't have to spend hours researching and writing your blog posts, as Texta.ai is one of the AI blog writers that can do it for you in seconds!
Features:
You can add multiple users to your account

Generate unlimited content

Access to more than 50 tools

Translate content into 11+ languages

Easily download the generated results
Pricing:
Starter plan – $10/month

Pro Max plan – $17/month

Pro Max Plus plan – $29/month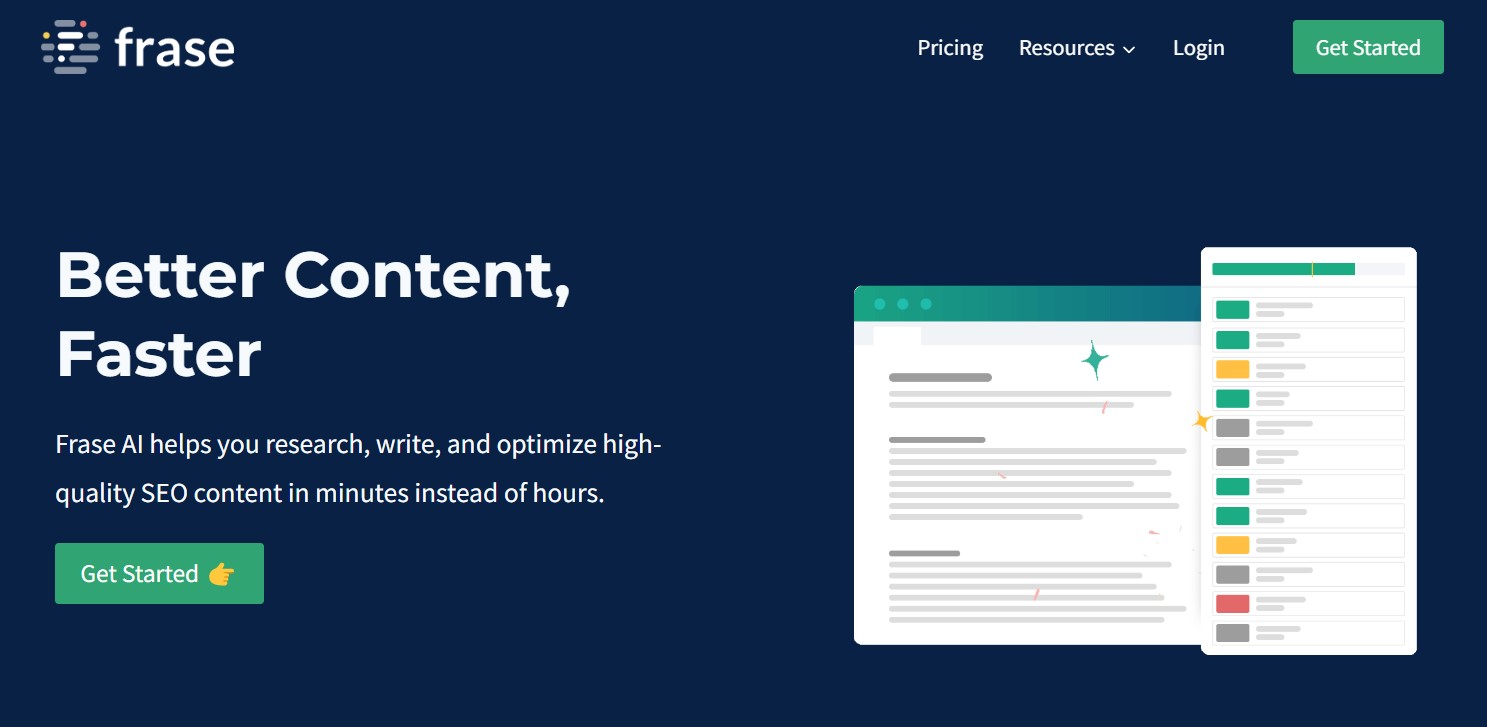 Frase is a cutting-edge tool leveraging GPT and machine learning to create highly targeted, SEO-focused content. It uses natural language processing to analyze and understand the content available on the web and then generates relevant content summaries with remarkable efficiency.
When you use Frase to search for a particular keyword, it scours the internet for related topics and questions most relevant to your search. It then uses this information to create detailed content briefs that outline the most important points you must cover. This tool also serves the purpose of an AI title generator to help you develop an optimized title for your blog posts.
Features:
AI-generated content briefs

Frase answer engine for relevant answers

Research questions and topics

Tutorials for learning the platform

It enables

AI content optimization
Pricing:
Solo plan – $14.99/month

Basic plan – $44.99/month

Team plan – $114.99/month
4 Tips to Make the Most Out of AI Blog Writers (ChatGPT Power Prompts Included)
Now that we know the best AI blog writers and the features you should look for, it's time to ensure you're getting the most out of your investment. 
After all, what good is having the best tool if you're not using it to its full potential? 
So without any further ado, let's look at 4 tips to help you make the most of these tools!

Use Specific Keywords
When using an AI blog writer, using specific keywords related to your niche or topic is important. This helps the AI model better understand the context and generate more relevant content. 
For example, if you're writing about digital marketing, use keywords such as "SEO", "PPC", or "content marketing" to guide the AI model.
Incorporate User Intent
Understanding user intent is crucial to creating content that resonates with your target audience. When using an AI blog writer, incorporate user intent into your prompts to generate content that addresses the needs and interests of your target audience.
For example, instead of simply asking the AI writer to "Write about SEO", ask it to "Write an article that explains the benefits of SEO for small businesses".
Use Power Prompts
Power prompts are short, specific prompts that help you get the most out of your AI blog writer. These are specially designed to stimulate and instruct the AI model and give it more context of what you want it to generate.
Here are a few examples of power prompts for your reference:

1. Task: Weekly content calendar around specific keywords 

Prompt – Design a weekly content plan for my website using [number of keywords]. Include [number of pieces] weekly content that integrates the keywords with persuasive and SEO-friendly titles. The plan should span [number of weeks] and incorporate various content types, such as blogs, articles, infographics, and social media posts.

2. Task: Suggest Blog Post Topic/ Ideas

Prompt – Create a set of [number of ideas] blog post concepts for my website, focusing on the topic of [topic]. The ideas should be original, useful to my target readers, and expressed through engaging, SEO-friendly titles. I want the content to reflect my brand's personality and values while addressing my audience's interests and pain points."

3. Task: Provide SEO-friendly Meta description and title for the topic – [Name]

Prompt – I need you to develop an SEO-friendly title and meta description for my blog post, ' [Title]'. The title should be both interesting and relevant to the content while also incorporating keywords that help with search engine optimization. The meta description should concisely summarize the post's contents and include relevant keywords to help it appear in search results. 
You can find more prompts to innovate your marketing plan in our related article.
Experiment With Output Types
While most AI blog writers generate text-based content, some offer other output types, such as summaries, bullet points, or charts. So, don't be afraid to experiment with different output types to see what works best for your content needs.
Conclusion
Now that we know what features to look for in an AI blog writer, it's time to implement that knowledge. By choosing a writer with prompt flexibility, the ability to optimize content, and the knowledge of your specific niche, you can create high-quality content that engages your audience and helps you achieve your business goals. So why not try these AI blog writers and see the difference they can make for your content marketing strategy?
Optimize your content SEO with AI!
Write and perfect original content and fix all SEO and readability errors 10X faster with 10Web AI Writing Assistant✨
FAQ
Can AI writers or ChatGPT replace human writers?
AI writers and ChatGPT have limitations and cannot fully replace human writers. However, they can be useful tools for certain tasks and help human writers be more efficient and effective in their work.
How much of the content production can lean on AI?
It depends on various factors, such as the type of content, the purpose of the content, and the target audience.
Can Google detect and prioritize human-written content?
Yes, Google can do so by utilizing a complex algorithm that evaluates different aspects, such as a web page's quality, relevance, and authority, to determine its ranking in the search results.
Get a head start on website creation with AI
Create a custom website tailored to your business needs 10X faster with 10Web AI Website Builder!