If you're reading this, you've probably asked yourself how to create a website for your business to give it the boost it needs. While many small business owners realize the importance of owning a website to improve their marketing reach, public communication, and sales potential, many soon give up when they see the challenges ahead.
In this article, we'll reveal these challenges holding small businesses back and explore ways to overcome them. Then, we'll provide a simple step-by-step process to create your own small business website to help you achieve your goals. You'll also find useful tools, tips, and examples that will inspire you and prepare you for the journey ahead.

The Challenges of Creating a Website From Scratch
Here are some of the most common challenges when you think of how to create a website for your business:
Limited resources:

Small businesses often lack the financial and human resources to invest in a website like larger ones. This can lead to compromises and an ineffective site or scrapping the idea altogether.

Lack of technical expertise:

Building a custom website can be impossible without hands-on web design or development skills. Even no-code website platforms require some technical knowledge or design acumen.

Choosing the right platform:

It can be challenging to select the right website platform when creating a website for a business. Each platform has its own advantages and disadvantages, and selecting the wrong one can lead to wasted time and resources.

Content creation:

Creating high-quality content for a website can be time-consuming and challenging, particularly if you aren't a skilled writer or marketer. However, it is one of the

most effective ways to market your business

and compete for Google search clicks.

Search engine optimization:

SEO is another critical component of a successful website, but it requires some technical skill and knowledge of best practices to get right.

Security concerns:

Small businesses are often the target of

cyberattacks

, and most lack the internal expertise or resources to deal with them.

Mobile responsiveness:

The

majority of internet traffic is mobile

, so your website must look good and function properly on mobile devices. This can be challenging, especially if you lack experience with responsive design.
The Benefits of Using an Easy and Automated AI Website Builder
An AI website builder uses the power of artificial intelligence and machine learning to help you build an affordable small business website. These platforms can use models based on web design best practices and combine them with user input to generate unique, feature-rich, and well-designed websites in a flash.
Here are some of the benefits of using an easy and automated AI website builder:
Quick and easy website creation:

An AI website builder can generate a new site within a matter of minutes, while it takes even professionals days or weeks. 

User-friendly interface:

An AI website builder typically has a user-friendly interface that is easy to navigate, making it simple to create and manage your website.

Cost-effective:

AI website builder platforms typically offer affordable pricing plans with no high upfront costs. It's usually far cheaper when compared to the cost of hiring a professional web developer. Plus, it saves you time which equals money.

Customizable templates:

An AI website builder typically offers a variety of customizable templates that you can choose from to create a website that aligns with your brand identity and business goals.

SEO optimization:

Many AI website builders include SEO optimization features, plus use SEO best practices that can help you improve your website's visibility on search engines.

Mobile-responsive design:

An AI website builder typically offers mobile-responsive design options, ensuring that your website looks great and functions correctly on all devices, including desktops, laptops, tablets, and smartphones.

24/7 technical support:

Many AI website builders offer 24/7 support, so you can get help when you need it.
As you'll see below, leveraging an AI website builder will help you with virtually every step of the website-building process. This will make it much easier to create a unique, professional-looking, and effective website without any prior experience or having to hire professional web developers.
Small Business Website Examples to Get Inspired
Sometimes, the best way to learn how to make a website for a small business is to look at other successful examples. Instead of copying them, you can see what they did right and try to apply the same principles to your own website. At the very least, it will show you that it's possible to create an amazing website as a small business:
Zeedog is a boutique brand that designs and sells accessories for pets and pet lovers. The website uses plenty of high-quality, professional, and custom images to showcase its products in the best light. It also has a simple, flat navigational structure with clear indicators of where on the website you are, e.g., the tabs at the top that show whether you are in the "dog" or "human" section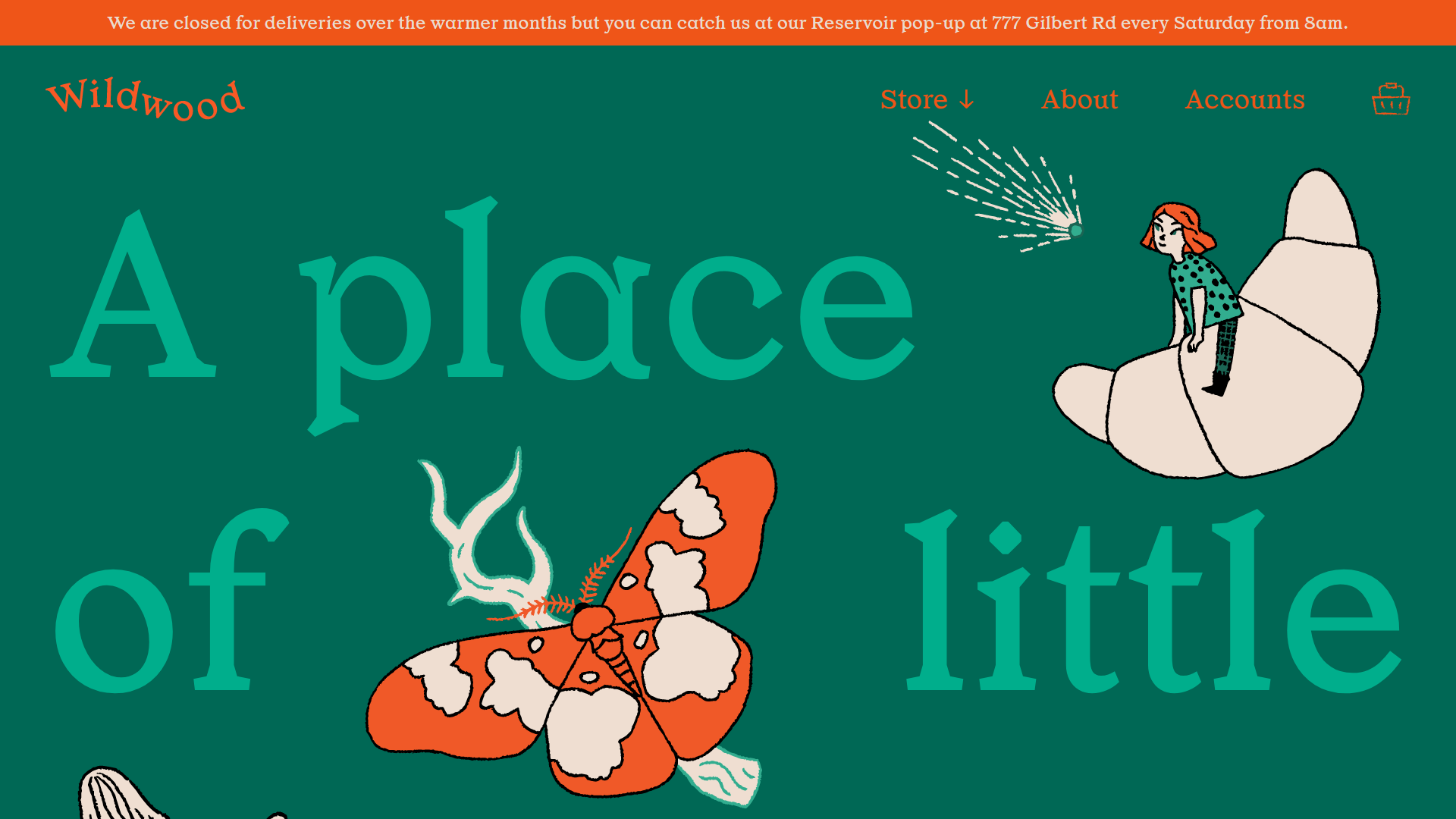 Wildwoods Bakery is living proof that small business websites can have an unconventional design and be successful. The pages look gorgeous, using interesting visuals and even animations. It balances out all this creativity with straightforward layouts and navigation to avoid confusing users.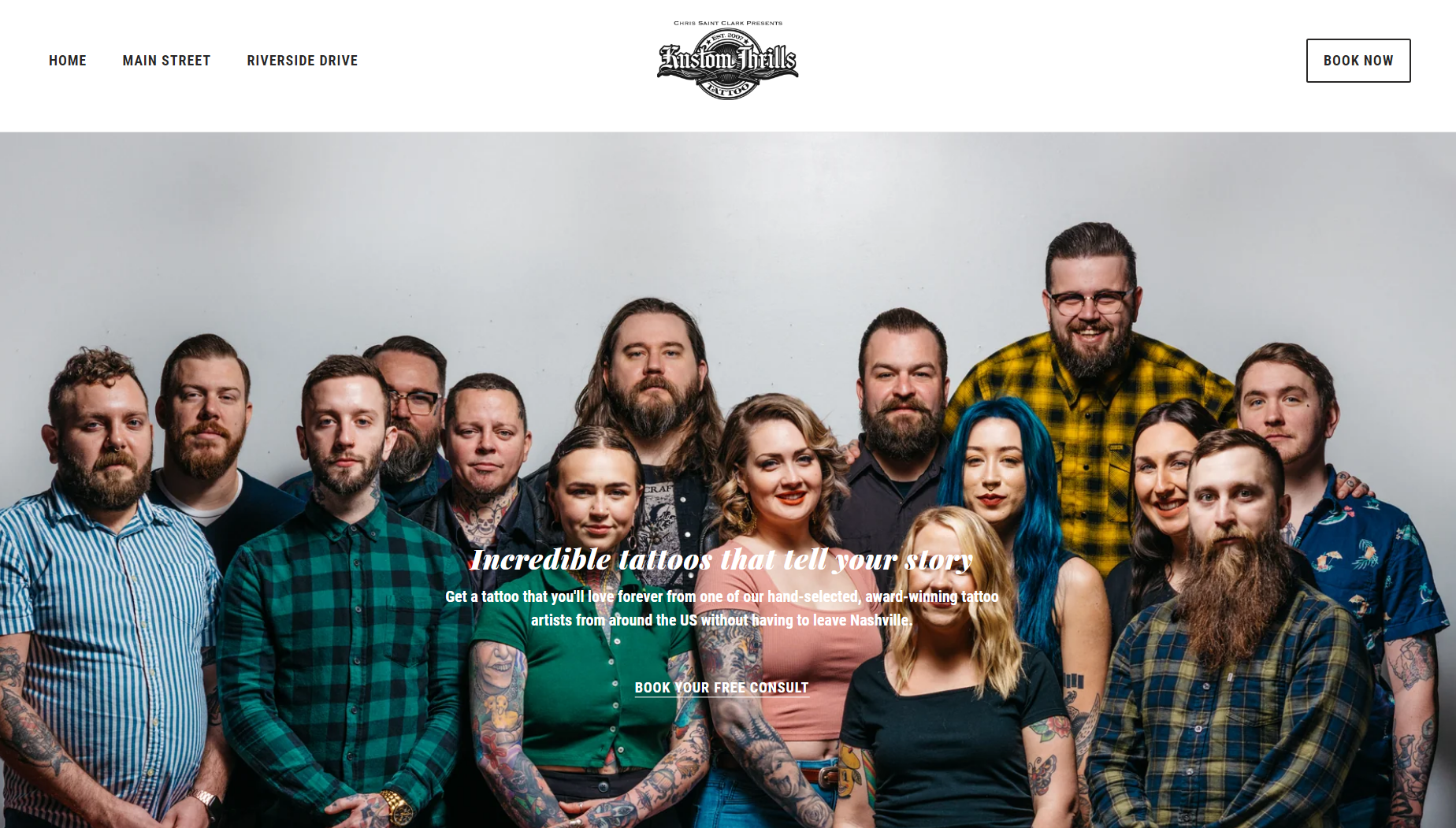 Kustom Thrills used a minimal design to not distract from the website's main CTA – to get visitors to book an appointment. It encourages and entices users to take this action with fantastic pictures of their artist's work. The website has a flat navigational structure and is basically a one-page website, making it easy to navigate.
8 Steps to Making a Website for Your Small Business
If you still want to know "how to create a website for my business?" but don't know where to begin, just follow these steps as a roadmap to guide you through the journey: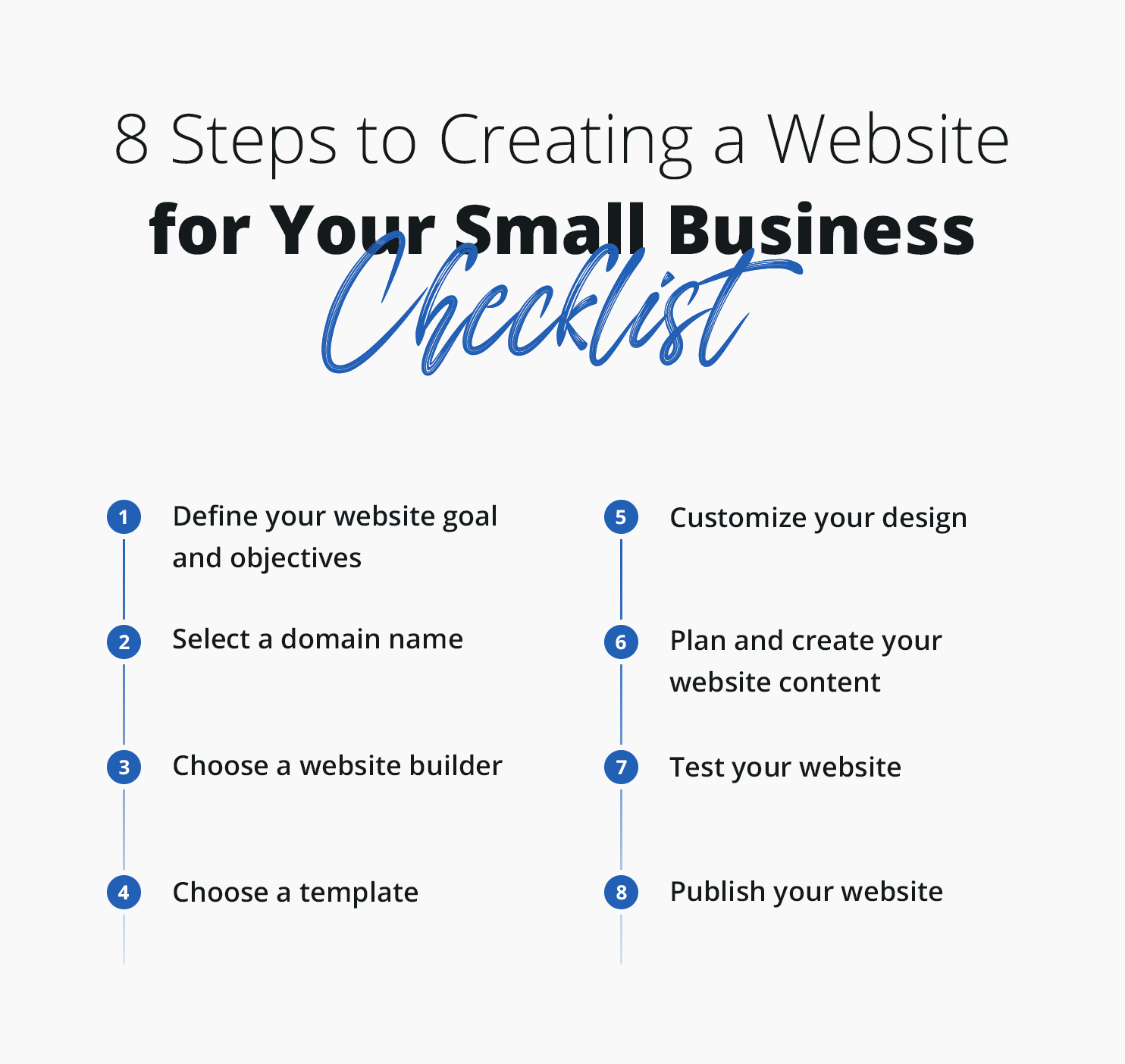 1. Define Your Website Goals and Objectives
This is a critical step as it will lay the foundations and guide every other decision you make. You probably already have goals for your business. Now, it's time to see how you can create a website that will support those goals.
Define your goals:

Start by defining how you want your website to support or improve your business. Ask yourself, what do I hope to achieve with my website?

Identify your target audience:

Your website needs to cater to your target audience to be effective. If you already have customer/user personas, you can use them by adapting them for the online world. 

Create measurable objectives:

This will help keep your project on track and measure its success. 

Prioritize your goals:

Consider which goals will have the most significant impact on your business, and focus on those first using a timeline with milestones.
You can learn more about effective website planning here.
2. Select a Domain Name
A domain name is the unique web address that people type into their browser to find and access your small business website. It's important that you choose a suitable domain name for your business website, as it will be tied inseparably to your brand in the eyes of internet users.
Luckily, picking a domain name isn't rocket science. Follow these tips to determine the best domain for your small business website:
Make it memorable: Choose a domain name that is easy to remember, spell, and associate with your brand/business. You can even use AI to help you with that.
Keep it short and simple: Shorter domain names are easier to remember and type without errors, so try to keep it as short and simple as possible. You remember 10web.io, right?
Make it relevant:

Choose a domain name that is relevant to your business or industry, so people can quickly understand what your business is about. For example, some simply explain their service succinctly, as in "carpetcleanershouston.com" instead of a brand name that doesn't relate to their business.

Use keywords:

Consider using relevant keywords in your domain name that people might use to search for your business online.

Avoid hyphens and numbers:

They can make a domain name harder to remember and harder to type correctly. Here is an example: "carpet-cleaners-houston123.com".

Check for availability: Before choosing a domain name, check to see if it is available for registration, and if not, consider alternative domain name options. You can check the domain availability on name.com.

Choose the right domain extension:

Consider the domain extension that is best suited for your business, such as .com, .net, or .org. There are also country-specific domains, such as .co.uk, .us, .ca, etc.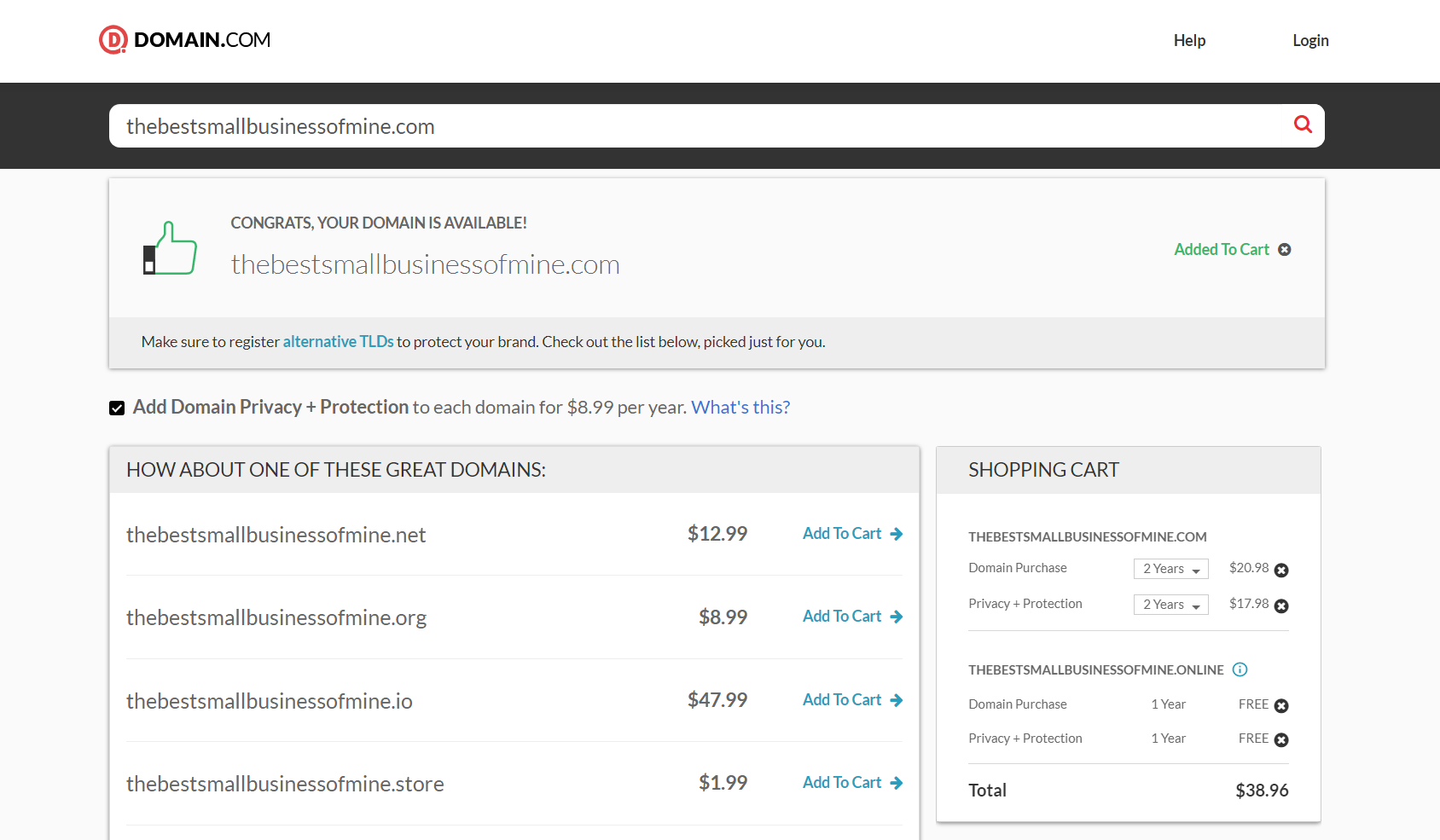 Protect your brand:

Consider registering multiple variations of your domain name to protect your brand and prevent others from using a similar name that could confuse your customers.
Read our dedicated article on how to choose a domain name for more tips.
3. Choose a Website Builder
We highly recommend using a website builder when making a website for a small business. This eliminates many of the technical difficulties of creating, managing, and securing a website. It's also generally cheaper than factoring in the cost of paying for custom web development.
The best website builder for small businesses also allows you to easily change your site's design or add new features via themes and plugins.
You can find many comparisons detailing the best website builders in our blog. However, you'll generally want to consider the following:
Evaluate a number of available options
Templates, plugins, and customization options
Ease of use and mobile-friendly/responsive
Integrations and plugins
Customer support
Scalability
Pricing
As mentioned, an even better alternative is to use an AI website builder, like 10Web. This helps you avoid having to learn the technicalities of building a website from scratch using a specific website builder. Instead, you can fast-forward to having a complete website that you can just modify to your unique requirements.
10Web AI Website Builder asks users to answer several basic questions and uses the input to generate a website with unique images and content tailored to your business needs. The whole process of generating a brand-new website takes less than a minute. 
The end product is a fully functional, responsive, and professional-looking website. Users can further tailor the website to their unique requirements thanks to fully customizable templates, which can be edited with the 10Web editor (based on the Elementor page builder). Users can easily add pages through the AI recreation tool, as well as use pre-made pages or blank pages.
Get a head start on website creation with AI
Create a custom website tailored to your business needs 10X faster with 10Web AI Website Builder!
Get a head start on website creation with AI
Create a custom website tailored to your business needs 10X faster with 10Web AI Website Builder!
On top of the AI Builder, the 10Web platform also comes with the following tools to make it easier to create and manage a new small business website, including:
Fully automated cloud-based WordPress hosting

PageSpeed Booster 

Premium widgets for additional functionality (interactive forms, menus, e-commerce, etc.)

The AI Assistant to help write more engaging and SEO-friendly content
4. Choose a Template
The template you choose will underlie the entire look and feel of your website. But there are thousands of templates out there, that can make it hard to differentiate the good from the bad.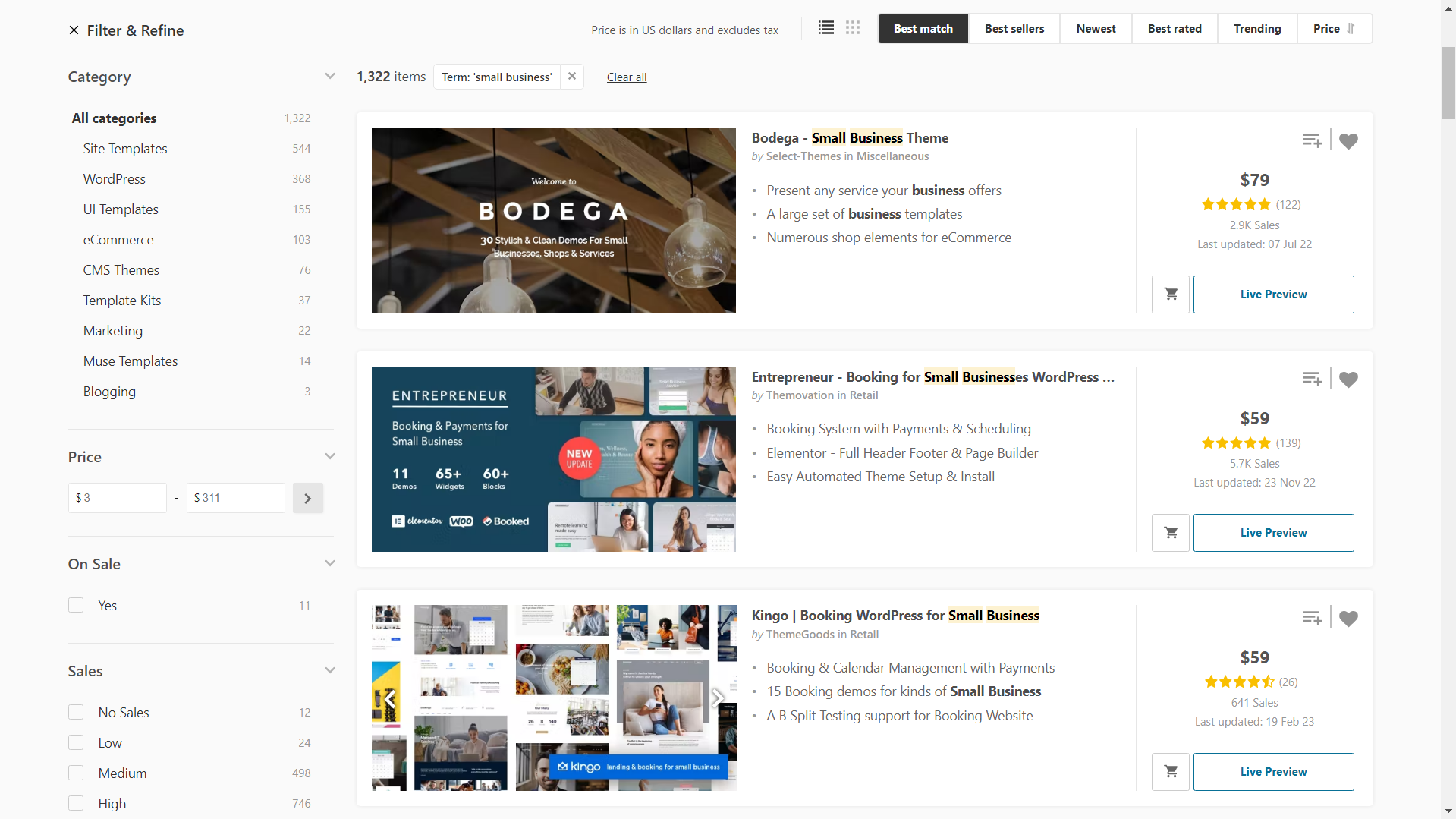 So, it's vital that you choose one that aligns with your goals, branding, and how you want to present yourself to the world.
Choose a template that reflects your business's identity and values, and consider your business type, target audience, and branding guidelines in terms of colors, fonts, and overall aesthetics.

Look for responsive, mobile-friendly templates that are designed to work well on all devices, including desktops, tablets, and smartphones.

Evaluate the layout and structure, including the placement of the header, navigation, footer, and content areas.

Look for templates that offer customization options, such as color schemes, font styles, and layout options, so you can easily personalize it to your unique needs.

A template should support the functionality you need, like e-commerce capabilities, portfolios, client login, or blogging.

Research templates and read user reviews and ratings to get an idea of other users' experiences.

Choose a template that comes with reliable support in the form of forums, documentation, and one-on-one support options. Technical support is vital when

making a website for a small business

, as even no-code platforms may have issues you can't fix yourself.
5. Customize Your Design
The question is how to create a website for MY business, not how to create just any business website.
Yes, there are thousands upon thousands of website templates out there to choose from. However, with over a billion websites, there is a high chance that others have also chosen to use that same template. It's also unlikely that a template will perfectly reflect your brand out-of-the-box.
Even if you think you found the perfect template, it's important to tailor it to your brand and business needs for consistency. Templates often come with demo content, but it's important to rewrite copy, replace graphics, change colors to your brand's palette, replace logos, and tweak the layout which brings us to the next step. This will help your website stand out and convey the right message.

6. Plan and Create Your Website Content
Content doesn't only mean written words – it also involves all the media you use to decorate and fill out your pages.
Conduct keyword research to identify relevant keywords and topics that your target audience is searching for, and use it to come up with content ideas and topics. This will help you create search-engine-optimized content that speaks to your target market.

Develop a content strategy to help you avoid a lot of wasted effort and causing confusion. It will also allow you to maximize the returns on the content you create by sticking to a publishing schedule and prioritizing key content. 

Create a content calendar that outlines when you will publish each piece of content. This will help you publish consistently, which is good for SEO and user engagement.

Craft high-quality content that is informative, engaging, and relevant to your target audience. Use a conversational tone and avoid jargon and technical terms that may be confusing to your audience.

Use visuals such as images, videos, and infographics to make your content more engaging and visually appealing. Visuals, especially videos,

generate more shares

and are more memorable to viewers.

Optimize your content for search engines by including relevant keywords, using headings and subheadings, and adding meta descriptions.

Review and update your content regularly to ensure that it is up-to-date, relevant, and accurate.
7. Test Your Website
Just because your website looks good from the inside doesn't mean that it will look and function properly once you launch it. It's crucial that you thoroughly test your website to ensure everything works as expected and to iron out any bugs that might compromise security or ruin your user experience.
As an entrepreneur when you think of 'how to create a website for my business', here are some tips to test that it works properly:
Conduct a functionality test to check that all website features are working properly, like links, forms, shopping, checkout, and other interactive elements.

Test your website speed using online tools like Google PageSpeed Insights or Pingdom. You should pay attention to

core web vitals

for search engine rankings as well. You can always use 10Web Booster to increase you website speed.

View your site on different mobile devices to ensure it is mobile-responsive and displays correctly on various screen sizes.

Conduct user testing to get feedback on the website's usability, user experience, and design. This will help you cover new perspectives that you might not have thought of and can be done with a small group.

Check that your website analytics is working properly to monitor traffic, bounce rates, and other metrics.

Use a tool like Broken Link Checker to scan your website for broken links and fix them to avoid SEO penalties or user experience issues.

Test website security by checking that your SSL certificate works, ensuring that all plugins and software are up-to-date, and using security tools like a firewall.

Get an editor to review all your website content to ensure it's error-free.
8. Publish Your Website
Publishing a website is the process of launching it live on the internet so that it becomes accessible to internet users. This can be a nerve-wracking experience, particularly if it's your first time, as you might not know what to expect.
For reassurance, you should go through the following checklist to ensure that your website is ready to go live:
Have you secured your domain name?

Do you have a reliable hosting provider?

Is your website design and branding aligned with your business?

Have you reviewed all your website content and media?

Have you checked that all your website's features and functionality are working?

Did you take steps to ensure your website is secured?
It's not enough to simply know 'how to create a website for my business'. You also need to know how to promote it to the world. Advertise the news on all your social channels as well as to your existing customer and business contacts. You might also want to publish some press releases on websites or platforms relevant to your industry.

PRO Tips for Making a Well-Converting Website on Your Own
After all those steps, it's understandable that you feel like making a website is a daunting task. But by following the below tips, you can make the process much less stressful and create a better result:
Focus on your website goals at every step to ensure that you cater to every aspect of your website to achieve them.
Follow the "KISS" (keep-it-simple-stupid) principle. Try to avoid any unnecessary complexity, and design your structure, navigation, and layout to help users get from point A to B as easily and as fast as possible.
Map out your website structure to ensure you have a logical hierarchy, that pages complement each other, and that individual page layouts tell a coherent story.
Follow well-established web design best practices regarding readability, use of whitespace, responsiveness, and design consistency.
Use frameworks like the hub-and-spoke or silo models to formulate a solid content strategy.
Only use original content to avoid any SEO penalties for plagiarism and to differentiate your brand.
Focus on quality over quantity. Often in web design, less is more. Rather use your time and resources to improve the quality of existing web content instead of creating more at a lower standard.
Give pages logical URLs and headings that clearly and concisely tell the user where they are on the website and what they can expect to find there.
Incorporate CTAs (call to actions) to guide users toward desired actions and give them a direct way towards them.
Use AI tools! AI tools are forever changing the way humans work, boosting our productivity and capabilities like never before. I can help you create an effective small business website faster, easier, and cheaper, while giving you better results.
Conclusion
You're now one step closer to knowing how to create a website for your business. However, the best way to learn is to start doing it yourself. If you find that prospect daunting, you can use AI tools for fast website design for small businesses without compromising on quality. From there, you can use these steps and tips to customize your site and ensure that it's optimized for your needs.
Get a head start on website creation with AI
Create a custom website tailored to your business needs 10X faster with 10Web AI Website Builder!
Get a head start on website creation with AI
Create a custom website tailored to your business needs 10X faster with 10Web AI Website Builder!
FAQ
How much does it cost to build a website for a small business?
This is probably the most vital question that comes in every business owner's mind when they think of making a website for a business. The average cost of website design for small business vary wildly, depending on the type of website and features you need. E-commerce sites with user login and online store capabilities can cost between $4,000 – $10,000. Simpler single or multi-page websites may still cost $500 to $3,000. With a website builder and hosting platform, you can reduce these costs to a monthly subscription of around $10-100/month. There are some other small fees, like a domain, business email, and SSL certificate, to consider too, but these only add up to $100-200 per year on average.
Can I create a website on my own without designers and developers?
Yes! No-code website builders have made it possible for individuals without professional web development/design expertise to create their own websites. However, you still need an eye for design, an understanding of the platform, and a lot of time to create a website yourself using a builder. AI tools, on the other hand, do a lot of the heavy lifting for you so that you can focus on the branding and business aspect of your website.
How long does it usually take to create a simple multi-page website?
Time is usually an important consideration when asking the question, "how to create a website for my business?" Without using any AI tools, it can still take weeks to develop a simple multi-page website from scratch. When using a website builder like WordPress, it should be possible to do the same job within a week or two. However, if you use an AI-powered website builder, it's possible to create a simple multi-page website within one to a few days.