How to Convert Any Website to WordPress in 3 Steps Without Coding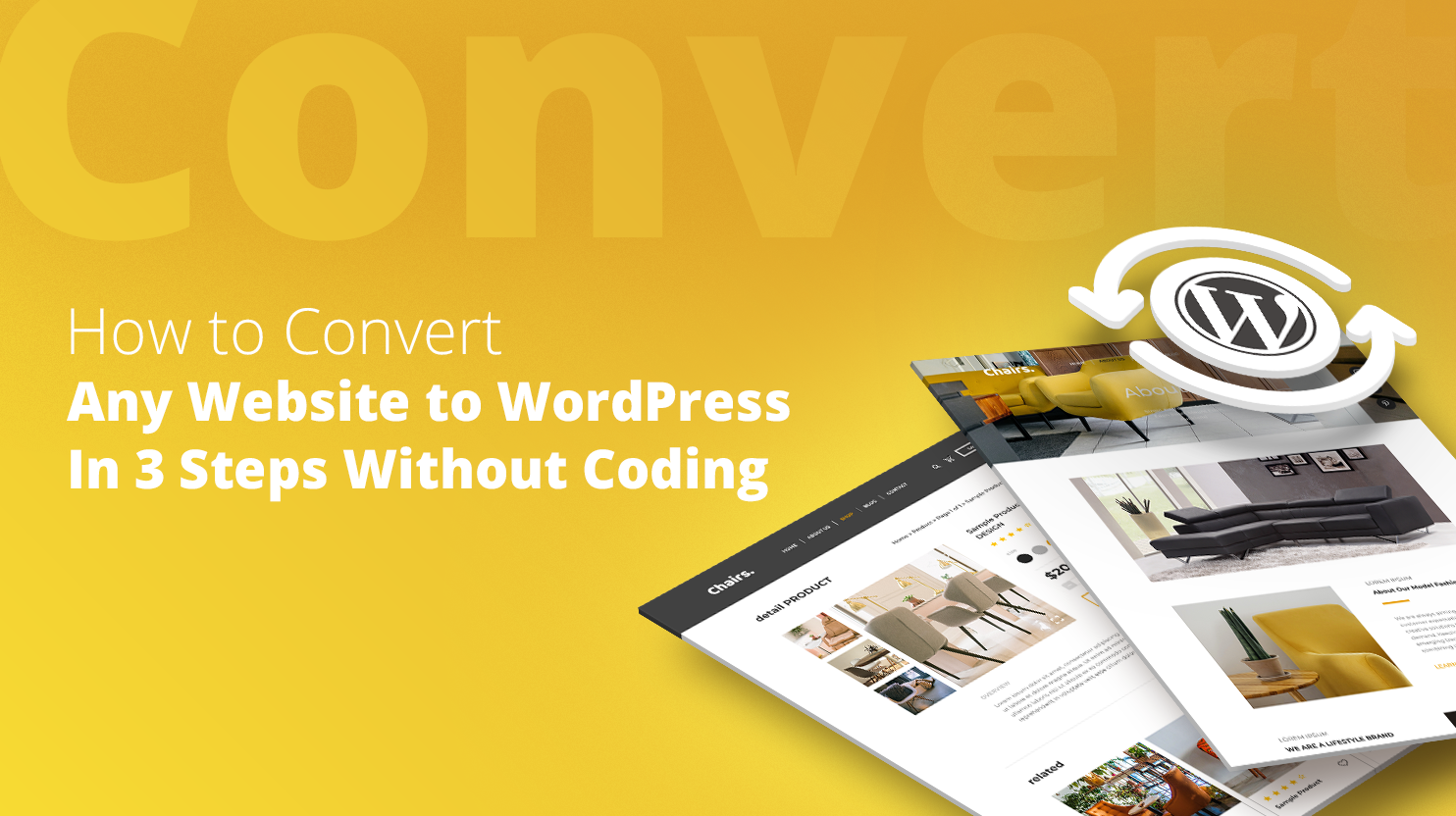 We've all been there. Back in those golden days, you created your website with cool static HTML code, but before you knew it, HTML was no longer cool and your website was no longer modern and competitive. You can sit and ponder how fast the world changes and how unpredictable it can get…Or you can think up ways of converting your website to the newer and more flexible CMS: the famous WordPress.
So in this post, we'll tell you why exactly you should convert your website to WordPress and what are the easiest ways to do so. Stay tuned, and let's start with the most basic question:
Why should you convert your website to WordPress?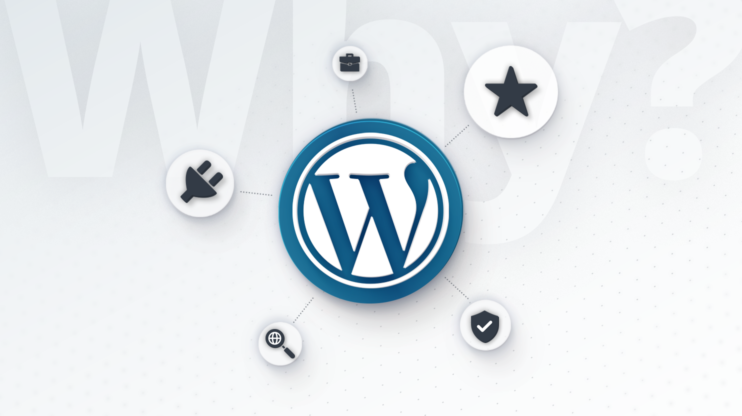 1. Popularity
One of the biggest reasons to join WordPress is its popularity across the internet. WordPress is used by 65% of all CMS users, which means that 39.5% of all the websites use WordPress. In addition to that, most of the important brands prefer WordPress too, and if they trust it, it means you can trust it too.
Another advantage of using a popular CMS is that you can be sure that you can reach out to a big community of users if you ever need help. It's true that sometimes plugins and customizations of WordPress can be too much of a hassle, but having a large group of WordPress developers out there makes dealing with WordPress easy and fast. There are a bunch of forums, blogs, and lots of online resources you can access anytime.
2. Boost your website speed
An excellent reason to migrate your website to WordPress is to gain excellent website speed and stand strong with Google. Google has strongly emphasized website speed and continuously stresses its importance on user experience. All websites now need to aim for a score of 90 to 100 on Google's PageSpeed Insights, its speed-measuring tool. Anything below this score means your losses – in terms of visitors, conversion rate, and so on – are significant.
Luckily, this is where WordPress and its speed plugins come to the rescue. WordPress speed plugins over time have developed into speed optimization solutions, going beyond just caching and script minification and compression. Speed optimization solutions today utilize a myriad of techniques and algorithms to optimize nearly all speed-sucking culprits.
One such speed optimization solution, the best in the market, is the 10Web Booster. It promises a 90+ PageSpeed score and improved Core Web Vitals, increasing your website's Google ranking. The 10Web Booster speed optimization solution, with its comprehensive speed optimization features, will automatically boost your website speed without demanding any effort or manual work from you. A fast website enhances user experience, which means your website visitors will effortlessly browse through your website, stay on your page longer, and easily find what they seek, hence decreasing your overall bounce rate and increasing conversions.
High website speed, translates to high page rank, more traffic, increased conversions, and one successful website enterprise.
Get a head start on website creation with AI
Create a custom website tailored to your business needs 10X faster with 10Web AI Website Builder!
Get a head start on website creation with AI
Create a custom website tailored to your business needs 10X faster with 10Web AI Website Builder!
Do you really need more reasons to convert to WordPress?
3. A bunch of plugins and themes
Remember when we mentioned just how popular WordPress is? Well, this not only means a large community of developers ready to provide support, but also a bunch of WordPress enthusiasts who design free plugins and themes which can enhance your website's functionality and design.
4. Security
Let's talk about malware and vulnerabilities. When you're managing your website or multiple websites of your clients, you need to make sure that all of them are safe and sound. Your clients won't forgive you if their website gets hacked. So when choosing a good CMS, it's also important to check whether it's secure.
WordPress, being one of the largest website-building and blogging platforms in the world, makes security its number one priority. WordPress staff is constantly updating the CMS and the plugins integrated into it to make sure the platform stays trustworthy.
So it's time to debunk myths that WP is inherently not secure. It really is one of the safest CMS platforms out there, you just need to keep some of the security best practices. For instance, make sure to get your themes and plugins from trusted sources and keep your website up-to-date to decrease the chances of getting hacked. Plus, don't forget to use WordPress's backup services so that in the worst case scenario you still have the backed up version of your website.
5. Business-friendly
Finally, if you're using your website to promote your business, then WordPress is the perfect choice as it's also super business-friendly. For instance, if you want to target a very niche audience of a specific country, you can easily translate your website to their language as WordPress is available in more than 70 languages.
Last but not least, WordPress is also extremely mobile-friendly which is very important these days because more and more users now visit websites via their mobile phones or tablets. This means that if your website doesn't have a proper mobile version, you'll lose a bunch of potential customers. So this is also a very important parameter to consider when choosing your CMS.
Traditional ways of converting a website to WordPress
Before we tell you just how quick and effortless it is to convert a website to WP using the AI builder, we'll take a quick look at the traditional ways of conversion so that you have something to compare the new method to.
With AI you can convert any website that uses a CMS or is made with any other tool to WordPress. Here we've chosen some popular alternatives to WordPress, HTML, and Wix. We'll tell you which are the traditional conversion methods for them and then compare with the AI method.
Do note that all of these traditional methods are not as effective as they seem: Although some of them sound easy, you'll encounter lots of issues once you start actually practicing them. So, in fact, all of these alternatives are just some methods you can try, but we don't guarantee their effectiveness.
Let's start with,
1. Converting HTML to WordPress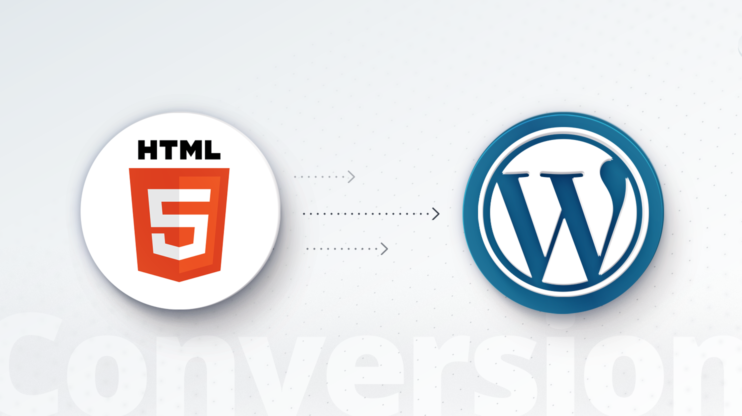 There are three traditional ways to convert a website to WordPress:
a. Create a WordPress theme manually based on your static HTML site.
If you choose this method, know that it'll require quite a lot of coding from you. You need to use the code you already have as a starting point. To access it, visit your HTML site's directory via an FTP client. Once there, you'll need to copy some parts of your code from your WordPress codex to create the necessary files for your new WordPress theme.
Note that this part should be done correctly. You can't just copy and paste static code into your theme template files. Instead, you need to do it in a way that the templates implement WP template tags, styles, scripts, header, and footer correctly.
If you have some experience with CSS, HTML, and PHP, and know how WP themes are developed, this might not be too difficult for you, but if you don't, this will be a real headache.
b. Migrate your content by installing a premade theme
This is one of the most popular methods to convert a website to WordPress. If you've already picked a hosting provider for your WP website, you just need to choose yourself a free or premium theme which will best suit your already existing website. Then you'll just migrate your content with a plugin freely available in the WordPress Plugin Repository: HTML Import2. However, that this plugin was last updated 3 years ago, and it might have major compatibility issues. In addition to that, it has a lot of limitations you should consider.
So, although this method sounds very easy, there are many details to consider. For example, you might not be able to create similar features with the new theme you choose. If the page is a custom page, you should find a theme which allows the creation of custom page templates, etc. It's also hard to find a theme which would recreate your page the exact way it was, so don't really expect that you are going to get an exact copy.
As an alternative to this method, developers usually take a somewhat similar theme and create a child theme out of it to be able to customize it or overwrite styles, creating custom templates. But this means we basically come back to the previous point because creating a child theme may be as hard as developing a new one from scratch.
This is why the most effective way to create a similar website is using page builder solutions and themes which support them and recreating these pages widget by widget, until they match the original page layout.
c. Choosing a paid conversion service
If you're a complete beginner and don't know much abut coding, this is surely the method you'll want to go with. There are a lot of HTML to WordPress conversion services out there which can help you easily convert a website to WordPress. All you need to do to find one is to Google it and choose one from a bunch of options. Keep in mind though that these services can be pretty expensive.
2. Wix to WordPress conversion
Wix in yet another popular platform for site building. Here's what you need to do to convert your Wix website to WordPress.
a. Find and sign up on WordPress web hosting
Before you start thinking of ways you can move your site to WordPress, you need to find a proper WordPress hosting to move it to. If you're new to WordPress hosting providers, here's a quick recap of the types of WordPress hosting providers you can find out there. Remember that your website's performance depends on your hosting provider so make sure you choose the right one.
b. Install and customize your WordPress
Once you've decided on a WordPress host, it's time to actually install and set up your WordPress. Here the process varies depending on the hosting provider you've picked. But it's not too difficult, just follow the instructions in your hosting provider's guide and you'll have WordPress installed in a few minutes.
Also, don't forget to customize your website by choosing a theme that best fits your previous website. You'll either get free templates from your hosting provider, or you can go on and purchase a premium one.
Now, here's the most crucial part. Once your WordPress is installed and set up, you need to convert your Wix to WordPress and there are two main ways of going about it, using the RSS feed or using an automated migration plugin. We'll start with the first one
c. Use RSS feed to convert Wix to WordPress
As Wix is a closed platform, it's not easy to migrate your content from there to any other CMS. But there is still a way to automate this process by simply importing your Wix RSS feed. This will save you a lot of time, as you won't have to import each of your blog posts manually. We won't go through the process in detail here, but you can read more about it in Hubspot's blog post. Again, note that the effectiveness of this method depends on your website. If it has too many features, you might encounter many issues when converting.
d. Use an Automated Migration Plugin
Now, this is the last method on our list which'll help you convert a website from Wix to WordPress. Although there are a lot of automated migration services on the internet, one of the most popular services is CMS2CMS. The process still takes a lot of time, because you'll need to create a CMS2CMS account, install a special plugin, set up the migration, etc.
As we've said, all these methods might sound easy to read about, but when you want to actually apply them, you encounter a lot of small issues that end up ruining the entire process.
So, although we covered only HTML and Wix conversions, the traditional process of converting any website to WordPress requires similar steps and is usually quite time-consuming and technical.
For instance, if you want to convert a website from Squarespace to WP, here's the huge list of things you need to do. Most of the time, the best and easiest conversion solutions are for open-source CMS platforms, such as Joomla and Drupal.
It's safe to say that none of these methods go 100% smoothly, so you need to give them a shot and see for yourself. Or you can try the brand new method we'll discuss below:
3. Convert a website to WordPress with the 10Web AI builder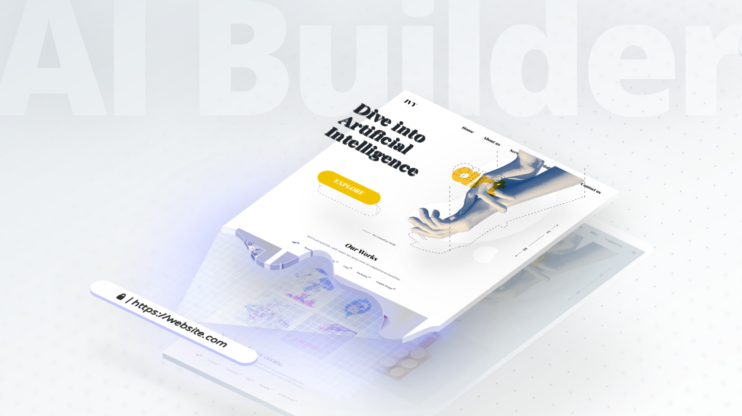 The methods discussed above, all have their pros and cons, but most demand technical expertise in coding, manual effort, time, and resources. What if there was another way, beyond all the coding, technical work, and plugin installation? Let me introduce you to an alternative: 10Web AI builder. A conversion to WordPress that requires no coding with the added bonus of fashioning the website of your dreams. The 10Web AI website builder recreates a website in a matter of minutes and without any technical effort on your part while automatically converting it to WordPress.
To convert a website to WordPress follow these three simple steps. Your website will be on WordPress in no time.
AI builder: The required steps
Create a free account with 10Web.

Go to 10Web.io. Hover over Products (on the top bar) and press on AI Builder.
You will need to register, but it's all free. Type in your email and click on Get Started for Free.
Answer the questions on the form to create a free account – no credit card information is required.

Convert with AI.

You are in! You have entered the What do you want to do page. Select Convert non-WordPress website with AI to convert your website to WordPress and get access to the added perks of the AI Builder.
Paste the URL of your website in the designated area.
Click Proceed and let the AI Builder algorithms take your website on a magical journey to WordPress. You will have to do this step for each of your web pages – see step 3.5.

Preview and Edit your website.

There you have it. A web page of your website is now converted to WordPress. It's time to preview and take the opportunity to spruce up your web page. Click Preview & Edit Your Website.
Two screens should now be visible; the left presents the preview of the converted page and the right screen shows the global style settings. You can leave your web page as is or take the opportunity to further update it with new buttons, colors, and fonts. Notice that the style changes are updated in real-time.
Once you are happy with your page edits, click Save & Proceed.
You may proceed by building, editing, and customizing your page with the 10Web builder. You now have access to the 10Web website builder based on Elementor to edit the design, structure, and content via drag and drop. If you choose so, no coding is required. Check out the designer-made and mobile-friendly WordPress templates, and Elemetor and 10Web premium widgets, all available for you free of charge.
To convert or add additional pages, go to the 10Web Dashboard, by clicking on the 10Web Dashboard button at the top right corner. Continue converting your website pages with our AI Builder by inserting your web page URL, or add new pages to your now-WordPress site. You can even select any of the pre-made pages. In all cases, the design elements will automatically match those of your website.
The free plan is limited to the conversion and creation of 5 web pages. 10Web also has paid plans that enable the conversion and creation of unlimited pages and websites.
Simplicity and automation are 10Web's game. Now that you have seen how easy conversion to WordPress can be, go ahead, and give it a try.

Get a head start on website creation with AI
Create a custom website tailored to your business needs 10X faster with 10Web AI Website Builder!
Get a head start on website creation with AI
Create a custom website tailored to your business needs 10X faster with 10Web AI Website Builder!
FAQs
What websites can I convert to WordPress using an AI builder?
You can convert any website using the AI builder, doesn't matter if it uses a CMS or is made with any other popular tool. However, keep in mind that the AI builder is optimized for the landing pages, meaning some of the other pages might not convert very well. For example, you might have some issues when converting front pages of shops.
Is converting my website to WordPress bad for SEO?
No, quite the opposite. As already mentioned, WordPress is really SEO-friendly so having your page on WordPress will actually help you boost your SERP rankings. Just make sure you take care of all the 301 redirects so that your visitors don't get lost.
Is it easy to migrate a website to WordPress?
It depends on which method you choose. If you decide to go with the traditional methods, you'll have to do a lot of coding or hire a special service which'll help you move your website to WordPress for a hefty fee. Anyway, even if you find a method that doesn't require a lot of coding it usually takes a lot of time and is rather technical. In contrast, our AI builder assistant offers a simple and time-efficient method where you'll get your website converted to WordPress in just a few minutes and with just a few clicks.
WordPress is one of the most popular CMS platforms out there, but it's not that easy to migrate your existing webpage to WordPress. Or rather, it used to be rather difficult, before the new AI builder assistant came to the market. With this new tool, you can move your website to WordPress with just three simple steps without wasting time, money, or energy. Give it a shot and write a comment about your experience down below!