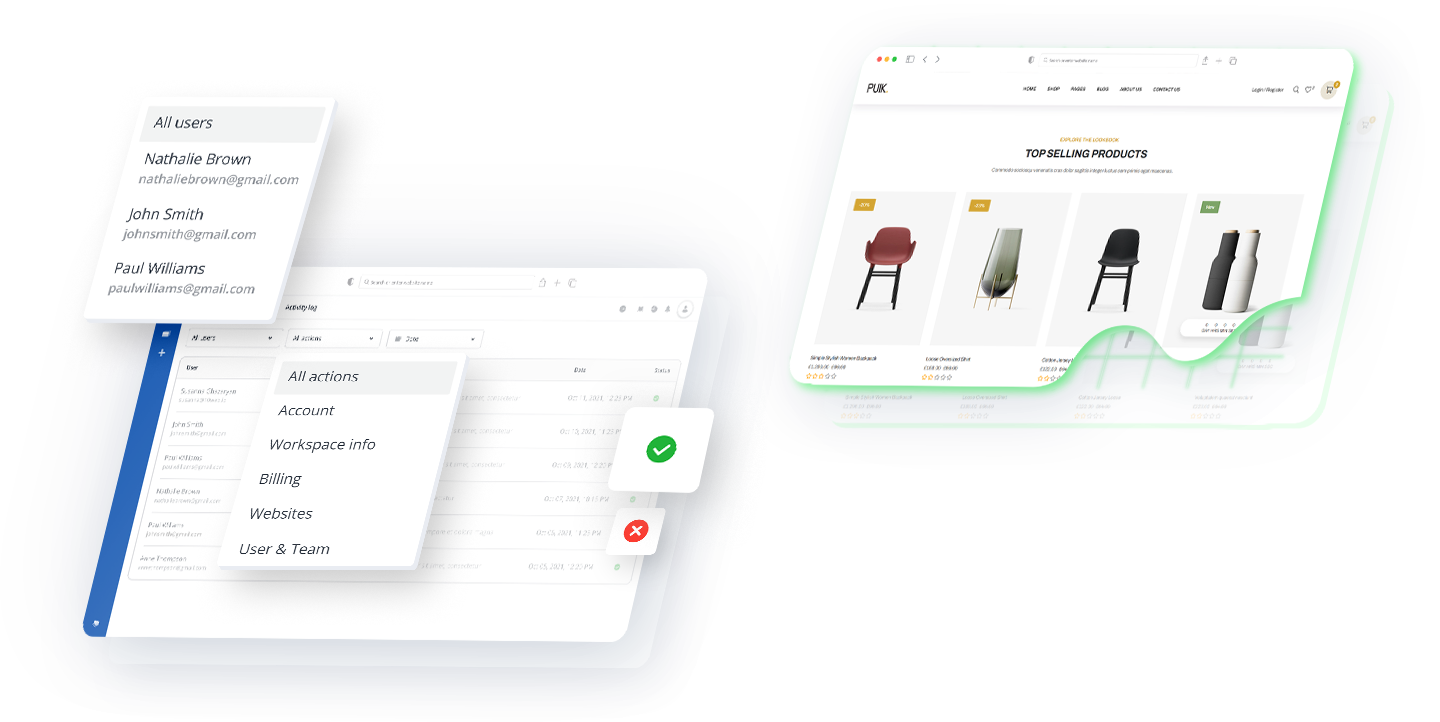 It's good to be back! Now that you've all been using and testing our products, we've been listening to what you have to say, what parts work and don't work for you, and really digging deep and adjusting our products on the nano level. There are some releases in this period that we'd like to share with you.
New 10Web Feature
Activity Log
Activity log is a new feature in the 10Web dashboard. As a part of the management of your workspace and websites, actions pertaining to your 10Web account, workspace, and websites are logged in this section. The feature gives you insight into who has made changes, where the changes were made, and what the change is. The feature also comes with options for filtering by action, user, or date.
See How 10Web Can Benefit You
Visit our homepage to learn more about the ultimate AI-powered website builder.
AI Builder
Slider widget
Before when AI recreated pages that had sliders, the Slider by 10Web plugin was installed and the pages were recreated using this plugin. We understand that installing a plugin isn't an ideal solution, so now, the AI Builder uses the Slider widget when recreating pages with sliders.
Products widget
The Products widget now has more options for customizing your ecommerce websites. Now you can hide/show the product's titles, descriptions, & images.
Now you can recreate ecommerce websites using the AI Builder. During recreation, the Woocommerce plugin is installed in order to better and more correctly recreate your shop. After the installation, the AI builder then uses the 10Web Products widget to recreate the pages of the shop.
Improvements
Improved recreation of Squarespace pages
Improved gallery widget spacing calculation
Improved spacing calculation inside CTA widget
Speed Optimizer
Regular improvements and additions to the 10Web Speed optimizer keep us in and ahead of the game. To speed up your websites, we first connect the criticall CSS to the pages and then load the rest of your website. This technique cuts down on the load time of your sites. Now when the critical CSS is generated, it is optimized before connecting to the pages, minimizing the size of your pages and making your load time even faster.
Not all pages where the Speed Optimizer is enabled have a positive outcome, that's why the Speed Optimizer is disabled on search pages.
Delay all JS
The Delay All JS option used to clear all custom attributes from the tag. Now for this option, all custom attributes are kept.
Improvements & Bug fixes
Security hardening
Improvements to performance
Improved CSS aggregation logic
Improved background image lazy loading
Fixed bug that breaks page when "Responsive Images" option is enabled
Fixed bug that prevents small background images regeneration critical background images
Other minor bug fixes
10Web Builder
At the top bar of the 10Web Builder, users have a drop down menu called Quick Navigation. This menu has all the pages of their website and opens each page in a separate window when clicked. We have optimized the menu for users by sorting the pages according to the date last modified, making it quicker and easier to find pages you are currently working on.