E-Commerce website creation, AI WordPress Assistant, PHP 8.2 support, new customized Pro Plans, and more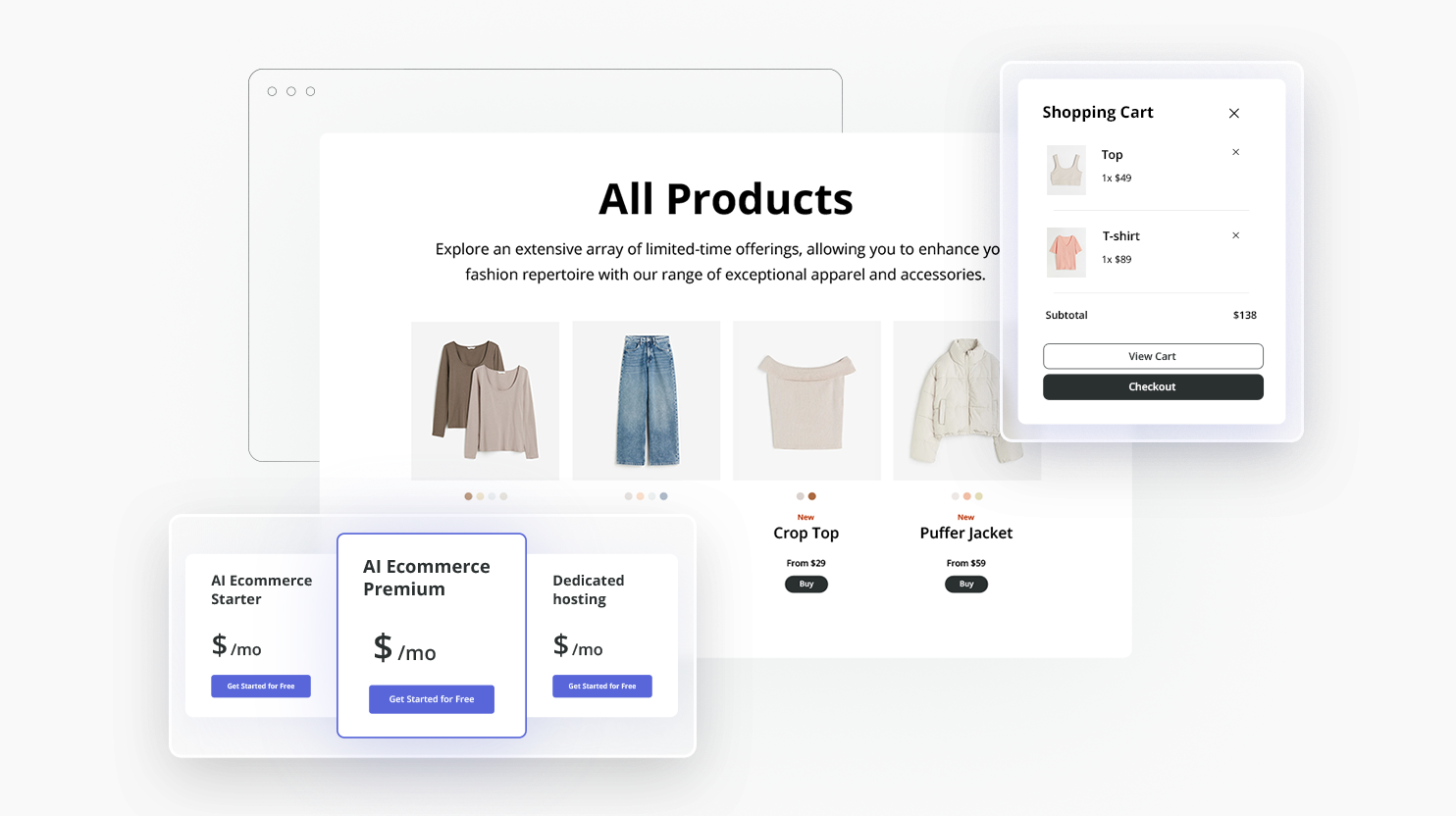 AI WordPress Assistant for content generation
We are thrilled to unveil the 10Web AI Assistant, a revolutionary tool set to transform the terrain of content creation for websites, especially WordPress platforms. Utilizing the prowess of generative AI technologies, including the sophisticated GPT-3 (Generative Pre-trained Transformer model), our AI Assistant crafts human-like, SEO-optimized text with unmatched speed and precision.
Key features
Multilingual Content Generation – Our AI Assistant broadens your global reach, supporting content creation in 29+ languages, seamlessly integrated within the WordPress editor environment.
Effortless Integration with WordPress – Immerse in the comfort of creating content directly within the WordPress editor, with the AI Assistant ensuring smooth, embedded functionality.
AI Assistant SEO pack – Get optimized SEO with Yoast SEO. In collaboration with Yoast SEO, our AI Assistant empowers your content, enhancing SEO and providing insightful, automatic adjustments for optimal search engine performance using the AI Assistant SEO pack.
Versatile Templates and Editors – Choose from over 20 tailor-made content templates and anticipate the release of our collaborative Document Editor, promising precise customization for your diverse content needs and audience types.
Embark on a user friendly journey with advanced content creation and optimization using the 10Web AI Assistant. Experience the future of content creation, where technological excellence is tailored for both the tech-savvy and the beginner, ensuring your website stands out in the digital expanse.
PHP settings in the dashboard
We are excited to present a brand-new feature on the 10Web dashboard, bringing you greater control and convenience. Now, you can seamlessly customize, increase, or decrease the PHP limitations directly from your dashboard, offering you effortless self-service capabilities. Navigate to the Tools section under Hosting Services to access and utilize this feature. Please be aware that the only exception is for PHP workers. To modify limitations on PHP workers, contact us via live chat.
PHP 8.2 support
10Web is excited to announce support for the latest PHP update, PHP 8.2. This major update introduces an array of advanced features designed to enhance your development experience. Key enhancements include the introduction of readonly classes and the ability to use null, false, and true as independent types. Beyond these, the update has deprecated dynamic properties, ensuring a more robust coding environment. Additionally, users will benefit from substantial performance improvements, making your projects faster and more efficient.
MySQL 8 support
At 10Web, we are dedicated to providing our customers with state-of-the-art technology solutions. We are thrilled to announce that we have successfully upgraded all of our databases to MySQL 8.
Key features
Data dictionary – Fully transactional, providing atomic DDL statements.
Enhanced JSON support – Improved storage and range of functions for efficient operations.
Common table expressions (CTEs) – Simplifying complex queries for easier management.
Window Functions – Offering advanced analytics capabilities without the need for external tools.
Improved Security – Native support for roles, invisibility for user accounts, and stronger password encryption.
Optimization and performance improvements – Enhanced optimizer traces and faster data retrieval.
These upgrades not only bolster our database infrastructure but also enhance the performance, security, and flexibility for our customer projects.
New customized pro plans
We are excited to announce the release of 10Web's newly customized pro plans, tailored to seamlessly align with every customer's unique needs. Recognizing the diversity and specific requirements of our versatile clientele, we have meticulously categorized our premium plans into three main sections: Business, eCommerce, and Agency. Within these classifications, customers are given the liberty to opt for a range of plans, ensuring a perfect fit for every individual's or organization's demands and budget. Beyond this, the option to personalize top-tier plans further empowers our clients, granting them the flexibility and control they seek in a web solutions provider.
New dashboard UI/UX
10Web has unveiled a revamped dashboard design. The updated UI/UX is streamlined and features a monochromatic color scheme. All features and tools are neatly organized in a left-side menu column, ensuring a tidy layout that enables customers to easily locate what they need.
E-Commerce website creation from the 10Web dashboard
10Web has introduced a transformative feature to its dashboard, enabling seamless creation and management of E-Commerce websites. Users can now easily establish their online stores by navigating the intuitive interface, which is bolstered by the integration of the powerful WooCommerce plugin. Once the store is created, a preview and editing option offer further customization. Beyond creation, the 10Web dashboard ensures comprehensive management of the online store. This all-encompassing eCommerce solution epitomizes ease and efficiency, ensuring 10Web users have a robust platform for their online business endeavors.
10Web Booster advanced settings
We are thrilled to announce the latest enhancement to the 10Web Booster – the Advanced Settings feature! With our unwavering commitment to optimizing your website management experience, we bring you a suite of settings for comprehensive control over your website optimization process.
Key features
JavaScript delay – Improve loading speed by delaying the loading of JavaScript until user interaction.
One click exclusion – Effortlessly exclude themes, plugins, or services from JavaScript delay.
Critical CSS – Control the rendering of above-the-fold content, enhancing your site's visual performance.
Font and image optimization – Optimize fonts and utilize lazy loading for images and background images, ensuring rapid website loading.
Fix scroll issues – Quickly resolve scroll issues post-optimization, ensuring a seamless user experience.
Aggregation and minification – Combine multiple JavaScript or CSS files into one and compress them, boosting your site's load speed.
Lazyload Iframe and videos – Delay the loading of Iframes and video content, enhancing initial page load speed and overall performance.
Migration Assistant
We are excited to announce the release of the Migration Assistant. The Migration Assistant is a user-friendly, efficient tool designed to facilitate the hassle-free migration of websites using a backup ZIP file. This advanced solution was developed to enhance the ease and reliability of website migration processes.
Important Aspects
Automatic migration failure handling – In instances where automatic migration encounters issues, the Migration Assistant steps in, displaying a warning and guiding users through the alternative migration process.
Simple migration steps – The process involves choosing a subdomain and data center, followed by the uploading of a ZIP file containing your website's wp-content folder and the database SQL file.
Secure uploading process – The ZIP file can be easily uploaded through the Migration Assistant interface. 10Web ensures the safety check of files and folders during this process.
Post-migration steps – After successful uploading and migration, users receive an email notification.
The Migration Assistant exemplifies 10Web's commitment to providing streamlined, secure, and user-friendly solutions for website migration, catering to both technical and non-technical users alike.