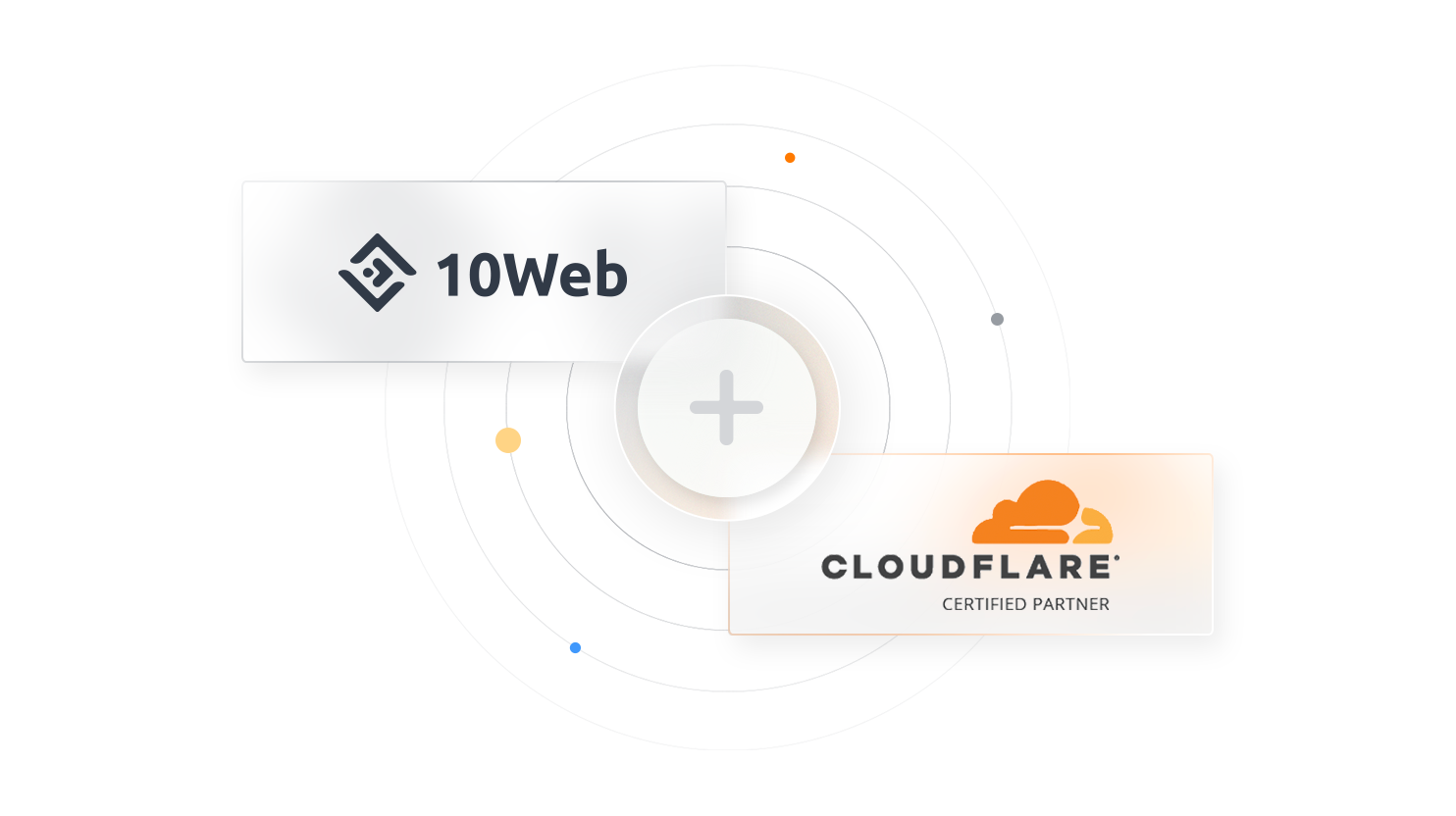 10Web is excited to announce its partnership with Cloudflare to deliver CDN and heightened security measures. With Cloudflare enterprise integration into 10Web Booster, you will now receive unmatched site speed and performance.
PageSpeed has become the decisive factor for website success. If a website's PageSpeed is slow, visitors will abandon it in a heartbeat, regardless of how fascinating or useful the website may be. When PageSpeed is slow, it becomes the most noticeable component of your website, driving your visitors away, but when PageSpeed is fast and seamless, it allows for the rest of your website elements to shine, grasping visitor attention and engagement. 
If you seek visitor retention, desire increased user satisfaction and high conversion rates, and value increased revenue, then increasing PageSpeed should be your number one priority. 
If you are not convinced, listen to Google, after all, it is the one dictating the rules. Not surprisingly, Google mandates a high PageSpeed for websites to rank high in its list. 
Google uses PageSpeed metric in its algorithm as a ranking measure both directly and indirectly. It does so directly as websites with higher PageSpeed and CWV receive a higher ranking in search results just due to these scores and indirectly through user experience. Visitors bounce less from pages that are fast, enjoy the experience, and therefore, stay longer. Such signals from visitors imply to Google that these pages are more useful and therefore, should be ranked higher. Unlike many other criteria used by Google algorithm, PageSpeed is completely within your control and can be fixed relatively easily and fast. It should not, by any means, be ignored. 
Let's look at Google's speed ranking: 
1-49 (over 4 seconds): slow; your website is seriously suffering 

50-89 (2.5 to 4 seconds): average; still has room for improvement

90-100 (under 2.5 seconds): fast; you are doing great! 
Even a small improvement in PageSpeed, can lead to significant results. Raising your PageSpeed score above 90 can give you the rank, above your rival, that you need to increase revenue. 
Why settle for less, when you can receive a score of 90 or greater?
What can be done? 
We all know that the diversity of WordPress plugins, themes, and builders, while unparalleled in user-friendliness and customizability, also makes speed optimization a challenging feat. This may be the reason why you have been avoiding the matter of your website speed or have attempted to boost your website speed through optimization and found it challenging. 
Help is on its way. 
At 10Web, we appreciate the complexities that come with WordPress speed and performance optimization and have the solution for which you have been looking. We believe that developing, optimizing, and maintaining sites should be effortless, and even enjoyable. 
The 10Web Booster, an all-in-one front-end optimization service, has already transformed the industry and brought effortless speed and performance optimization to countless websites delivering 90+ PageSpeed scores and driving websites to the top 1% of the fast loading sites. 10Web Booster is truly one of a kind, one-click, fast, and risk-free optimization solution for any WordPress website hosted anywhere. 
While some would be satisfied with the high ratings, happy customers, and an industry-defining plugin, our engineering team couldn't rest until we had developed the best and unbeatable product in the market. 
After an extensive evaluation, we decided to partner with Cloudflare. 
And so, we are excited to announce 10Web's partnership with Cloudflare to deliver CDN and heightened security measures to all our customers. With 10Web Booster, you will now receive unmatched web speed and performance. 
Here we are, with the best possible product in the market. A product that ensures the delivery of your website content to your visitors with the greatest possible speed and security. 
Want to speed up your website instantly?
Get 90+ PageSpeed Score automatically with 10Web Booster ⚡
On any hosting!
Want to speed up your website instantly?
Get 90+ PageSpeed Score automatically with 10Web Booster ⚡
On any hosting!
About 10Web and Cloudflare Partnership
Cloudflare is the world's market leader in providing performance, reliability, and security. Through our Cloudflare partnership, you will gain access to the largest global network of 275 cities with direct connection to nearly every cloud provider. In short, your website will be within the reach of less than 100ms for 95% of the world's population. It means your website will become super fast.
Moreover, 10Web Booster will be connected to the Cloudflare Enterprise package. This will ensure significant performance improvement compared to their free CDN. Through the Enterprise tiered cache, your website content will be delivered with unparalleled speed anywhere around the globe through a "reserved-for-enterprises" network, further reducing latency, and loading time. Your website PageSpeed will be boosted to new heights. Your visitors will experience seamless website performance and page interaction. 
Through 10Web's partnership with Cloudflare, we are delivering the ultimate speed solution along with the full benefits of Cloudflare's Enterprise tier to any WordPress website.
Enhanced 10Web Booster Features 
Full page caching 
10Web Booster with Cloudflare partnership enables full page caching and optimization of WordPress websites through its serverless infrastructure. When your visitors enter your page, the optimized page is served from the data center geographically closest to them, providing the content at the best possible speed, thus seamlessly loading your page. 
Full page caching, means caching everything. A static HTML copy for your website is created and cached, after which it is delivered from Cloudflare's wide-scale global network of data centers closest to your visitors. Full-page caching is particularly useful for blog websites or simple business websites (with no store functionality, contact forms, etc.), as it can provide significant speed and performance enhancement for such websites. 
Besides the page caching, Cloudflare CDN is used to distribute optimized and minified CSS and JS files, fonts and media, also acting like a traditional CDN. This means that for the visitor, an already optimized webpage and all the optimized resources in that page are loaded from the closest server within 100ms reach.
Scalability and reliability
You will never have to worry about infrastructure with 10Web and Cloudflare cooperation. The serverless solution alleviates any need for configuration, auto-scaling, load balancers, or charges for additional storage or capacity that's left unused. Your website traffic will automatically be directed and load balanced across the global network, providing the scalability you need, without any effort or additional resources from you. Furthermore, since the majority of webpages will be optimized and served from Cloudflare's network, the traffic to origin servers and their load will be minimal. The majority of traffic will be on the Cloudflare network. For those with non-scalable hosting, this means that you can now have a scalable website.
Say goodbye to downtime. Due to Cloudflare's network and edge servers, your website uptime will be even higher. Why? Because even if the original hosting server is down, its cached and optimized web pages and resources will be served from the Cloudflare network, making your website available to site visitors.
Security 
Cloudflare Enterprise is not merely known for its CDN. It is also the number one provider of web firewalls and DDoS (​​Distributed Denial-Of-Service) protection systems. You will now have access to excellent protection and security with 10Web Booster, out of the box. Your website will obtain the well-known and trusted Bot mitigation, anomaly detection, custom CAPTCHAs, and threat response. 
You can provide a rich website experience without ever experiencing any security or performance compromises. You can rest assured that your website will be protected by Cloudflare algorithms that block attackers and analyze future threats, analyzing millions of requests per second, and keeping you and your visitors safe. 
Save time, money and human resources
The best part of our partnership with Cloudflare is that it is all provided to you automatically. 10Web Booster still maintains a no-code solution. All it takes for 10Web Booster to optimize your website speed and performance is a press of a button. What happens behind the scenes is between our excellent team of engineers and our Cloudflare partners. This means you will not need any DevOps engineers or technical knowledge of any kind. 10Web Booster works out of the box for any WordPress site, ensuring the simplest of experiences for any web owner. 
Nonetheless, with our outstanding 24/7 customer service and chat support, our team is always with you in case of any questions or need for support.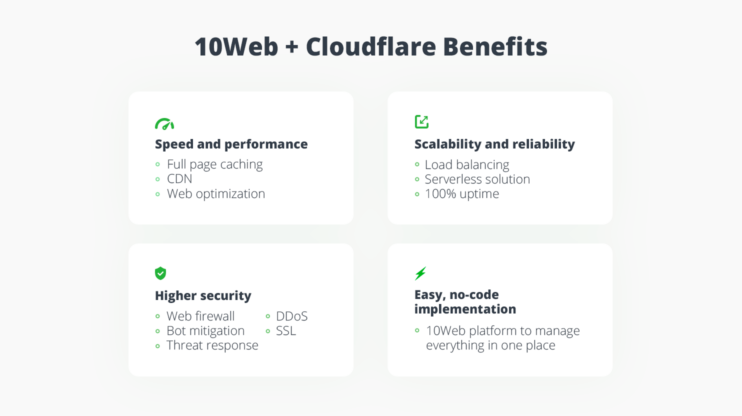 What is a CDN and why do you need it?
Let's get more technical. 
CDN or a content delivery/distribution network is a grid of interconnected servers with the goal of reducing the distance and time between website server information, including HTML pages, javascript files, stylesheets, images, videos, and visitors' browsers. Through this network, website content is served to global visitors with the highest possible speed, boosting page load time. 
It can be said that CDN works similarly to a cache. It offers storage for website content for a time within its interconnected grid of servers distributed around the world. As a visitor enters a website, the CDN locates the nearest server in its network and serves the webpage content to the visitor, thus significantly reducing distance and time. In this way, CDN impacts all metrics and has a particular impact on non-local and worldwide visitors. 
What is Cloudflare/Enterprise CDN?
Cloudflare is a market leader in the CDN industry. Cloudflare differs from other CDNs through its extensive horizontally scaled architecture, its DNS requests, SSL, security checks and website protection, and performance transformations, such as page caching, and scalability. Cloudflare Enterprise is the highest tier, which provides exclusive access to advanced functionality, security, and performance. The network is distributed within over 100 countries and 275 cities worldwide. 
Level up your website with 10Web Booster and Cloudflare 
Website visitors are more demanding than ever. Instantaneous load time, seamless performance, and the highest quality of visuals, are some of the few essentials. Knowing the needs of website visitors, Google has placed PageSpeed as a ranking component for desktop and mobile searches.
In today's global world, visitors use websites from across the globe. With every mile or kilometer of geographic distance between a website and a visitor's browser, seconds are added to the page load. This is where besides the best website speed optimization solution, CDN integration also becomes essential. 
CDN also alleviates any slowing down effect from simultaneous requests and heavier traffic by removing the need for server communication and replacing it with its Cloudflare network. Simultaneously, it also monitors and blocks malicious traffic, filters bots, and protects your website from potential threats and attacks. 
10Web Booster's advanced optimization along with Cloudflare's CDN and security measures, provide a product that is unmatched for a website speed boost, performance enhancement, and security. A monthly rate of just a few dollars has never offered such an extent of website speed, security, and performance features. Check out the detailed pricing plans for more information.
Upgrade to 10Web Booster with Cloudflare Enterprise for unbeatable performance, and see how your fast website transforms your business!
Want to speed up your website instantly?
Get 90+ PageSpeed Score automatically with 10Web Booster ⚡
On any hosting!
Want to speed up your website instantly?
Get 90+ PageSpeed Score automatically with 10Web Booster ⚡
On any hosting!