10 Most Common WordPress Blogging Mistakes to Avoid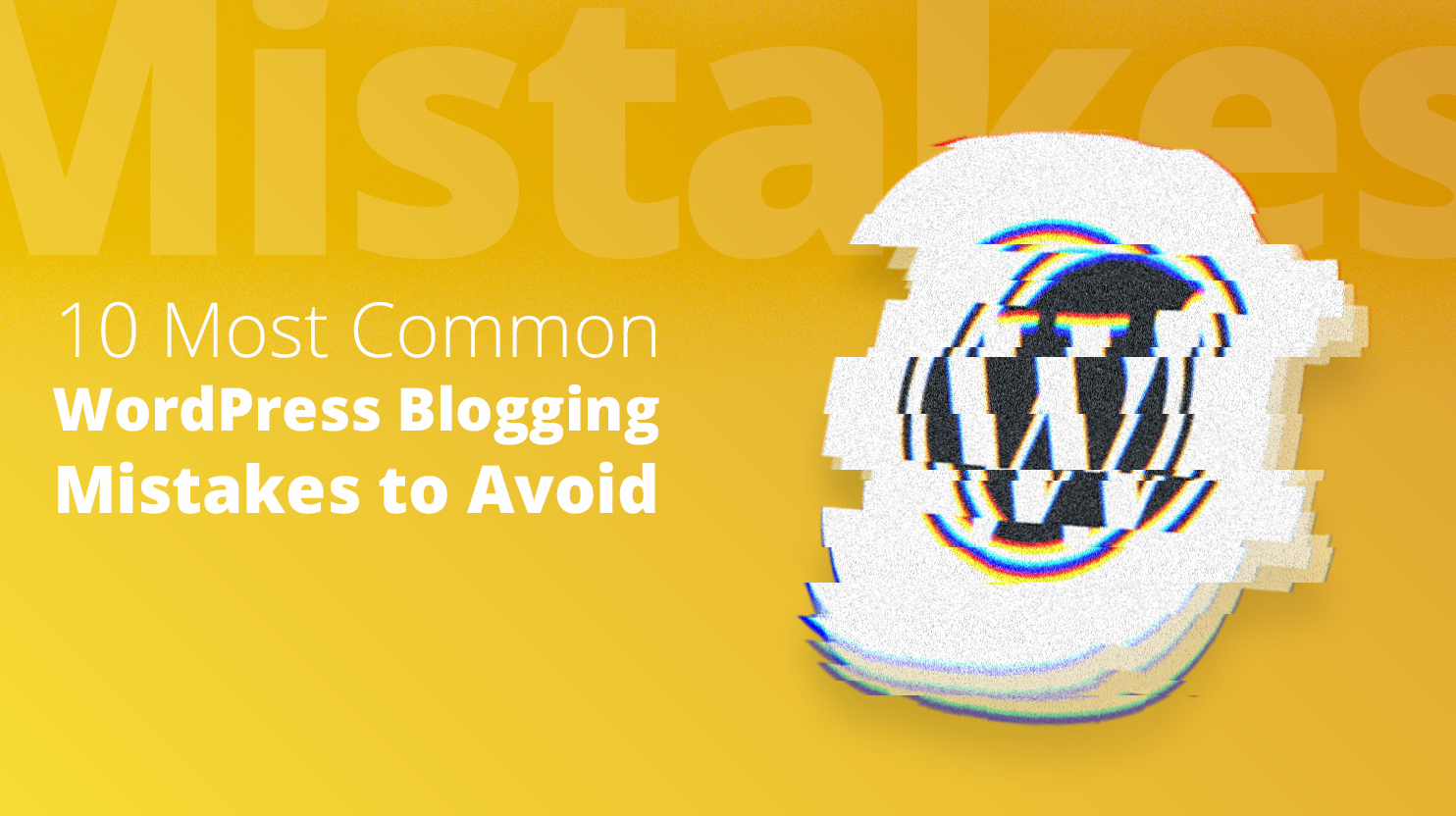 These days people blog about everything: music, literature, food, traveling, culture, etc. Even personal diaries have turned into blogs. As fun as it is, blogging has become an intricate business with rules and guidelines that you better follow if you wanna become a successful blogger. Because real-life blogging is way harder than modern fiction and movies make it seem. Speaking of the blogging world, how about we concentrate on WordPress, since it is the most popular CMS, and most businesses, entrepreneurs, and individuals choose it as a blogging platform? If you're considering blogging, whether it's a little makeup blog or a whole business blog for your company, avoiding the common mistakes, in particular, WordPress mistakes that a lot of beginner bloggers make is your ticket to success. So, I suggest we take a look at each of those most common blogging mistakes and talk about why exactly each of them is a common mistake, so you can learn from them. Here's what we'll discuss:
What is a blog?
Nowadays it's all blogging this, blogging that. Our listicles and feeds, even TVs and reccomendations on YouTube are filled with famous bloggers. It's no surprise then that a lot of people want to blog or dream about quitting their day job and becoming a full-time blogger someday. But what's a blog anyway? A blog is a site type where the content is presented newest first. The content can be anything and everything: text or photo or video or audio or all of these combined in some way. Typically, a blog will have a niche: a theme that runs through the whole blog like a red thread. Consistency seems to play a role in blogs. You don't expect a fashion and beauty blog to comment on the recent political scandal. Oftentimes a blog also has a personality or two attached to it. The perspective is something the readers get used to and come to expect. They come to believe that the blogger or bloggers are their virtual "friends." Blog authors need to commit to being a presence in readers' lives. These are the main features blogs have.
How to make a blog
Making a blog is insanely easy with 10Web. Get started with the free trial today and get the most reliable and secure cloud hosting on Google Cloud and all the services and plugins your blog might need. Here's how you can make a WP blog in the easiest way possible: Firt, sign up for the trial:
Hire a 10Web-approved Freelancer or Agency
We connect your business with the experts it needs to succeed.
Hire a 10Web-approved Freelancer or Agency
We connect your business with the experts it needs to succeed.
Then choose one of the designer-made website templates and modify them however you like with an advanced site builder on top of Elementor. You won't even need a designer! Afterwards, you should enable all the premium services available, from image optimization to security, backup to SEO. And finally, when you have all the necessary services enabled, you can start filling up your newly established blog with content. Note that WordPress might not be the easiest blog to create but it is the best platform because you own your content, can customize all aspects of your blog, and will never lose your data thanks to automatically created restore points. We've worked really hard to make WordPress as easy as other content management systems. Everything your blog will ever need is included! All you need to do is choose a niche and avoid the blogging mistakes listed in this article.
1. Publishing often, but not consistently
Consistency is everything when it comes to relationships. And I mean any and every possible relationship you may think of. Same rule applies when it's your relationship with your readers. The audience needs some kind of consistency to be able to fully appreciate your platform and show loyalty in return. Blogging a whole lot and inconsistently is a huge blogging mistake. In fact a lot of experts say that blogging all the time is actually quite a bad practice and that you should refrain from blogging every day. Instead, try to offer your readers some regularity, a consistent blogging schedule. Say, if you've decided to blog on Mondays, Wednesdays and Fridays at 6 pm, your readers will know exactly when to anticipate your next post, so they will be more responsive. Make sure to stick to the schedule whenever possible. Even if you come up with the most magnificent blog post idea on a Tuesday night, try to schedule it for the slot that matches your schedule.
2. Writing purely for SEO
Okay, well, SEO is kinda unavoidable if you want to be read. Otherwise, it's all just writing for and to the void. And I know exactly how it hurts when you spend night and day planning, writing, editing and proofreading a post that no one ultimately gets to see or read. However, that does not mean that writing purely for the SEO is going to work. I mean sure, if you manage to write extremely SEO-optimized texts that rank well on search engines, you're going to get a lot of clicks at first. What happens after? So the user comes across your article when searching for a certain piece of information. He or she starts checking the article out and… Nothing makes sense. It's just a collection of well-chosen keywords weaved into well-organized structures. What then? The reader spends a few seconds or maybe even a minute or so trying to make sense of the piece you've deceived the machine with and closes your blog in utter frustration. One reader is followed by the second one, then the third…And there you go, you just gained an extra-high bounce rate. Search engines are not all that stupid. In a while Google will realize the mistake it has made by letting you rank and —  voila! — suddenly you find yourself rolling down the ranking charts. Not the scenario you were hoping for, right? So, instead of producing meaningless SEO-optimized text for the machine, make sure to take a look at the situation from your reader's perspective. Write for the user and yeah, well, optimize for the machine. Keep the healthy balance and you'll totally rock it.
3. Focusing just on length
Look, the thing is that this is no longer high school, where you were assigned to write a 3000 word essay overnight on a topic you have no clue about. In the blogging world, putting the emphasis on the length of the post is a very big mistake. Of course, long and informative posts are great especially from the perspective of SEO, and the readers, too, enjoy articles that thoroughly cover each and every point of the topic, so they don't have to go look for any supplemental sources. BUT! There is this huge "but" here. You can't go on and on about a topic regarding which you have nothing of value to add. Not everything is supposed to be talked about for pages. It's a really important blogging best practice that in your pursuit of long and cool posts, you should never sacrifice quality for length. It's important to keep in mind that your reader doesn't wanna spend an hour reading a piece that could have been covered in 10 minutes. And he or she most probably will not. They will just bounce your page and go look for something less lengthy and more useful.
4. Writing without a clear niche
Don't wanna sound like a know-it-all, but finding a very specific blogging niche is where the journey of every blogger should start. The niche of the blog is the core topic your blog posts are going to address. Your "blogging formula" highly depends and revolves around the very niche you choose. The thing is, a lot of bloggers often choose a very broad and vague niche and eventually end up lost in a labyrinth of diverse topics and posts that don't make a lot of sense when put together in the long run. What's the whole niche thing all about? Obviously, most bloggers try to get a lot of readers. Okay well, that's exactly where you need a niche. You need to know what exactly you're offering the readers and the more specific your niche is the more likely it is that your audience will be broader. There's more to it, actually. The narrower your niche is, the more likely you are to be an actual expert in the field and inspire trust in your readers. For example, a blog on food and clothing and makeup and travelling and music doesn't really sound like a very specific plan and it'll be quite hard to find the audience that will be interested in all of your posts, which will get you less traffic than you could potentially attract. On the other hand, a food blog sounds like an okay idea. Well, a cake & pie blog sounds even better.
5. Lack of voice and signature
Blogging is in part about being unique and authentic. It's pretty similar to when readers fall for the literary style of the writer. Your readers are going to look for a specific voice and signature, something uniquely "you." Your blog is something like a brand and all of your products need to bear the style of the brand. If you're Gucci you have a different voice and if you're Adidas then you're totally different. Trying to copy other similar bloggers or just posting random things without adjusting them to your "brand" is most probably going to fail. But what do we understand when we say voice and signature? Well, they are typically dictated by your blog's niche, the topics you concentrate on. The voice you choose is about the language, the word choice, the unique "slang," the posting tendencies, certain gestures or expressions you keep making to just let your reader know that it's still you churning out these posts.
6. Not caring about the quality of the images
Images are a very important component of any blog, and ignoring their quality is one huge blogging mistake. We live in the era of multimedia, and most readers pay close attention to your blog's visuals. The professional look of the blog highly depends on its images. Nobody wants to read an article attached to semi-professional blurred photos. It makes the reader reconsider its high expectations of the text, too. Besides, low-quality photos no longer make any sense, since these days you don't even need a team of professional photographers to organize special photoshoots for your website. There are lots of websites with free high resolution images that you can easily use on your blog. Of course, high resolution images come with their own set of problems, since they are heavy and take up a lot of highly valued storage. But that problem is also solved, since there are a lot of image optimizers you can choose from. Take, for example, the image optimizer by 10Web. It'll let you optimize your images up to 3 times while maintaining image quality.
7. Repeating information
Let's be honest, staying new and relevant when the internet is such an open space of endless information is a bit hard. Especially if you have a very specific blog niche, it's not all that easy to find topics of new blog posts that match it. But that doesn't mean that repeating the same things over and over again is going to work. In fact, repeating points or topics you already covered is one of the biggest blogging mistakes one could make. As hard as it is, you have to stay relevant and new. No one is going to read about your brand new piece that exactly repeats what you've already covered in your other posts, say, a month ago. Not even paraphrasing is going to help you out. One good practice for not running out of blog post ideas is to create a backlog or a list of topics you'll be covering and then branch them into smaller topics, so that you can plan your new posts well ahead. It's very important, though, that you go back and review the list time after time in order to add new ideas and remove those no longer relevant.
8. Lack of set tags & categories
Here we have a technical blogging mistake more specific to WordPress. Blogging on WordPress has a lot to do with tags and categories — of course, if you're planning on ranking and not keeping an online diary or something only a few friends of yours are going to read. First of all, tags and categories help your readers easily navigate your content and choose "related" posts they want to read. That way your reader will not need to scan your whole blog in order to find another post like the one they were interested in. But more importantly, tags and categories are of crucial importance when it comes to SEO and ranking. The tags and categories serve as unique internal links that make crawling and indexing your website much easier for the search engines.
9. Not having a contact form
Now, how do you think your readers are supposed to reach out to you? Contact forms give your visitors the opportunity to write to you, telling you their opinion, making suggestions, or just simply reaching out to let you know they enjoy reading your posts. Generally, a contact form is one of the main ways of establishing a relationship with your readers and making yourself seem "more real and accessible" for them. The bloggers who fail to do so often struggle with maintaining readers' attention, and eventually fail to build community around their blog.
10. Not having a Backup plugin
We're talking sensitive things now. Your blog needs consistency and maintenance. I'm pretty sure you've heard a few of those scary stories of losing years of efforts, lots of money, fame and readers because of information loss caused by not having a proper backup mechanism for your website. Not having a reliable backup service or a plugin is one of the most severe WordPress blogging mistakes. Failing to backup means literally putting your blog under the threat of unrecoverable hacker attacks, all possible malwares, misconfigurations, and other blog misfortunes. There are tons of plugins and services out there that will make sure your website is backed up properly. Take, for example, 10Web backup service. It's really easy to set up and use and offers all the features one needs for ultimate protection. You should also consider the ideal backup schedule for your blog as well as what exact files you're going to backup. Now you're more or less prepared for the world of blogging. Before you go I suggest you also check out these issues most bloggers face and the ways of dealing with them. And don't forget to let us know in the comments section down below what mistakes you've made and how you were able to avoid them afterwards.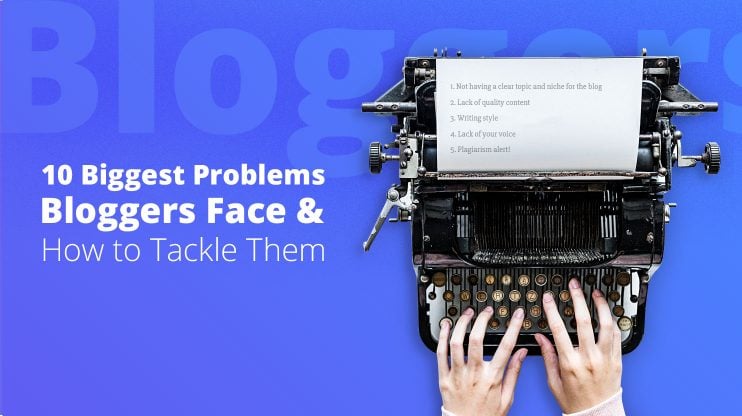 Surfing some of the biggest blogs out there, for example those of Kate McCulley and Daniel James (from Dan Flying Solo), and reading about how they gave up full-time jobs to start traveling and ended up living a life of luxury, earning a fortune writing about their adventures is guaranteed to be either a highway to hell or a stairway to heaven. Either way, before shouting out to the world that "blogging is the easiest thing on earth" and "anyone can do it" I suggest you think twice. In reality, blogging is a full-time job and requires dedication, patience, creativity, commitment, marketing skills, and so much more. The sad reality is that there are lots of problems bloggers face and they cause most of the beginning bloggers to fail. Especially it is a drag to browse already popular blogs and see the whole range of skills and talents on display:…