Why Your Website Needs a Google PageSpeed Score of 90+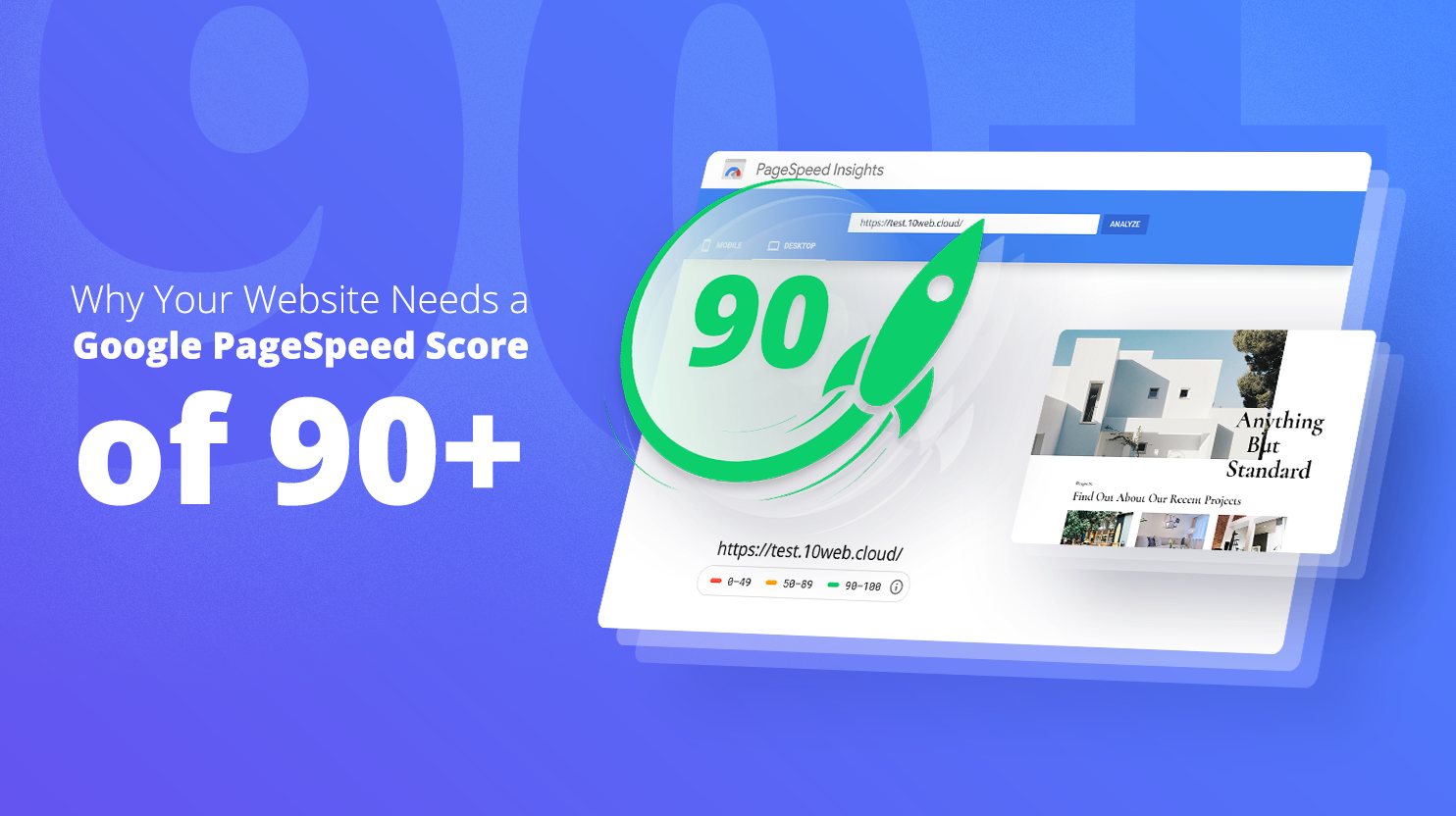 Trying to improve your website's PageSpeed score is complex and time-consuming for any website owner or manager: just think about the lengthy process of going through all the suggestions Google Page Insights provides and spending hours, days, sometimes even months minifying javascripts, optimizing images, editing metadata, and so on and so forth.
It is in the face of such difficulties that you've probably asked yourself, "What if I just don't do website speed optimization? Why is achieving a Google PageSpeed score of 90 or more so important anyway?"
Today we'll discuss in more detail just why it's crucial that your website has a Google PageSpeed score of 90+ and will share an innovative way of making it happen in just a few minutes without knowing much about SEO optimization!
Let's start off with the most important question: Why? Why would you want your site to have that 90+ Google PageSpeed score? Why can't your visitors just wait a few seconds more to get a chance to access your awesome content?
Google PageSpeed score affects your website traffic
The answer is simple! Your website's speed directly affects your website traffic, which in turn impacts your conversion rate. So, a low PageSpeed score equals low revenue.
Now let's discuss how exactly it influences conversions and revenues:
1․ It directly affects your website's rankings.
If your Google PageSpeed score is lower than that of the top 10 pages in the search results, you have no chance to rank on the 1st page. In fact, the average load time of all the websites ranking on the 1st page of Google is 3 seconds. So, if your website loads in more than 3 seconds, you're screwed and need to optimize your website right away to have a chance to rank highly.
2․ It influences your brand's perception and visitor satisfaction
47% of customers expect a webpage to load in 2 seconds or less, so when it takes way more time to load, the first experience of your potential customer with your brand automatically becomes annoying. More annoyed customers lead to a lower conversion rate, which in turn leads to a higher number of bad reviews. If you're running a customer-oriented business, this is the worst thing that can happen to your business website.
3․ It directly affects your sales and conversions.
Even a 1s page load time decrease can increase your conversion rate by 2%. Walmart, for example, found out that when their website load time got faster by only 1 second, they got additional 200K in revenue. Think about all the revenue you're missing out on just because of a few seconds of load time.
All this sounds great, but when you remember how much time you are going to spend on trying to achieve that 1 second increase, I bet you start panicking a little bit.
But no worries, 10Web has you covered.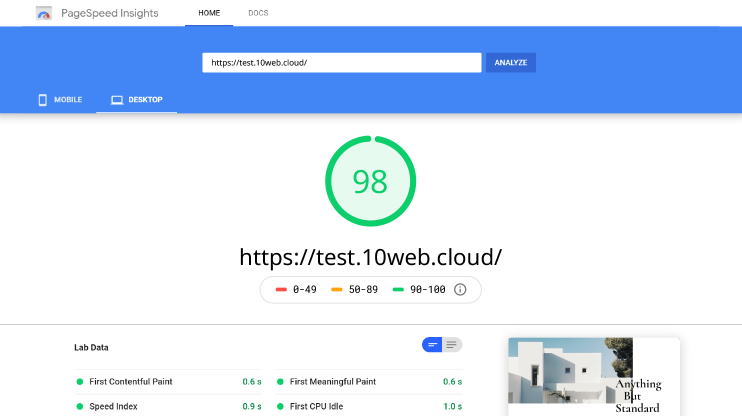 For the last 6 months our super hero development team has been working on a project that helps you get that 90+ Google speed score in just minutes. And no, this is not one of those cases when it's too good to be true.
Here's what you need to do:
1․ Sign up and make a copy of your website on 10Web in a click. You can get started for free!
2․ Compare the speed, that is the Google PageSpeed score, of your current hosted site and its copy on 10Web.
3․ Make the easy decision to permanently move your site to 10Web.
Or just start your 10Web trial and contact our customer care team to help you boost your website speed.
If you build your website on 10Web and keep using our hosting, the 90+ Google PageSpeed score will be your default.
Why should I move my site to 10Web?
Are you considering moving to 10Web? You'll be happy to find out that:
Websites hosted on 10Web have a Google PageSpeed score of 90 or more.
Our high hosting quality, a free SEO and image optimization service, and in-depth knowledge of what WordPress websites need result in all our websites scoring 90+ on Google PageSpeed.
The average load time of sites hosted on 10Web is 1.5 seconds.
This is significantly lower than the average user expectation of 2 seconds. Meaning, your website will appear superior and a lot easier to navigate because of low load time.
Migrating to 10Web dramatically improves website speed.
Every single website that has migrated to 10Web has seen a major improvement in speed. Your website will be no exception!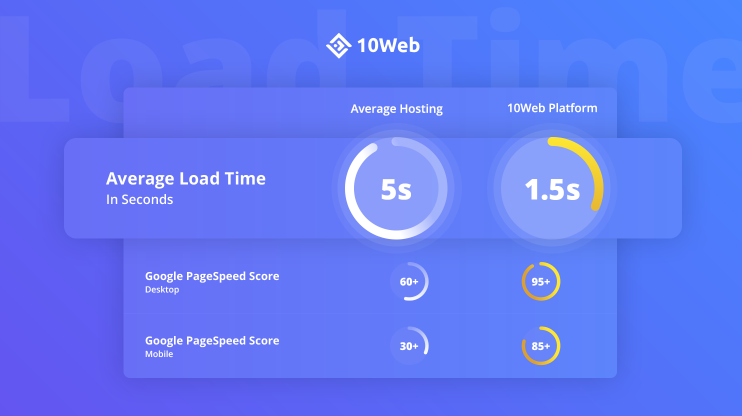 Migrating to 10Web and thus significantly improving your Google PageSpeed score will then result in:
Higher rankings on Google
Since the vast majority of visitors find your website through Google search, ranking highly will result in an immediate surge of traffic. The website you've been working so hard on will finally receive the recognition it deserves, reaching potential customers from all across the world.
Improved brand reputation and enhanced visitor satisfaction
The new visitors that'll find you through higher Google rankings will have a much better experience with your brand, be more inclined to stay and browse your website, as well as leave better reviews and comments. You'll reach a lot more people through word of mouth and form a lot more partnerships thanks to your website optimization.
A major increase in sales and visitor conversions
If your website serves any commercial interest, you'll see an impressive increase in sales. Visitors will be more likely to convert into loyal customers. Soon enough you'll have enough means to expand and enhance your website, adding features and improving products as you go along.
Oh, also, a nice little bonus – 10Web is the only all-in-one solution for WordPress! This means in addition to speed optimization and premium hosting on Cloud you get absolutely free security, image optimization, SEO, backup, and analytics services, as well as dozens of free plugins. And finally, our customer care team is available 24/7 to take on any WordPress-related question you might have. It's really a unique offer you shouldn't miss out on.
I hope all this information convinced you that it's super important for your website to have a Google speed score of 90+. Why waste time and effort with low-quality hosting options and thousands of SEO tips and tricks if higher rankings and conversions are just a click away? Let us know in the comments what your experience speed optimizing your website has been and whether migrating to 10Web has helped you with it.
Need a 90+ PageSpeed score?
With 10Web, you can get it automatically!
Need a 90+ PageSpeed score?
With 10Web, you can get it automatically!