What's New: Knowledge Base, AI Builder, & Speed Optimizer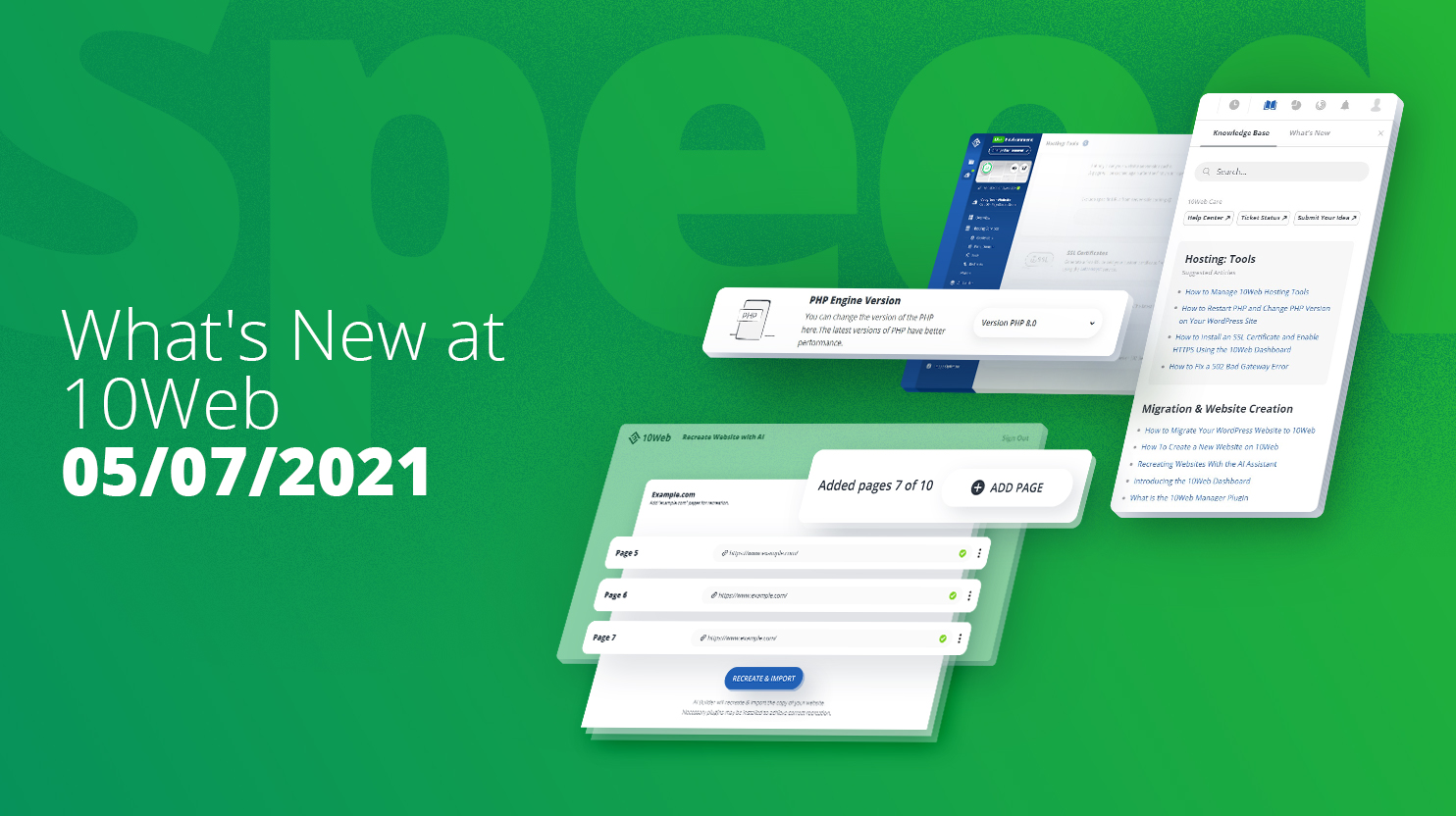 10Web Speed Optimizer
Critical CSS Generation With Various Loading Methods
Now you have the option to generate critical CSS for specific pages of your websites, choose the page sizes you want to generate for, choose how critical CSS should load, and the stages during which critical CSS should be generated. You also have an option to add custom page size for which you would like to generate critical CSS.
Hosting
PHP 8.0 Support
The new and improved PHP 8 is faster, safer, and is now supported by 10Web. Read more about the improvements and what the new PHP 8 offers.
Improvements
Performance of hosting servers
Automatic migration
Dashboard
Knowledge Base Added to Dashboard
The 10Web dashboard is designed to provide you with a workspace where all the tools, services, and functionalities you need to fully manage your websites are in the same space. So it was only logical to add the 10Web knowledge base to the dashboard. Look through the suggested articles depending on the page you are on in the dashboard, search the entire help center, check your ticket status, submit your idea, and see what's new at 10Web.
AI Builder
Page & Domain Limitations
By popular demand, the limitation of the number of pages that a client can recreate has increased from 5 to 10. Also, you no longer need to use the same domain when recreating with the AI Builder. Use multiple domains and if any of the same domains have a common header/footer, the AI builder will recreate them as a header/footer template. In other words, it will be possible to have multiple header/footers templates on the same WordPress site.
Improvements to Image & Video Recreation
The names assigned to media are crucial for SEO. Now, during the recreation process, the AI builder keeps the original names of video and image files. Along with this, the builder also keeps the alternate texts of images.
Improved
Form widget recreates and shows buttons only if a button is present
Bug Fix