What's New: Public Visibility, Security, and White Labeling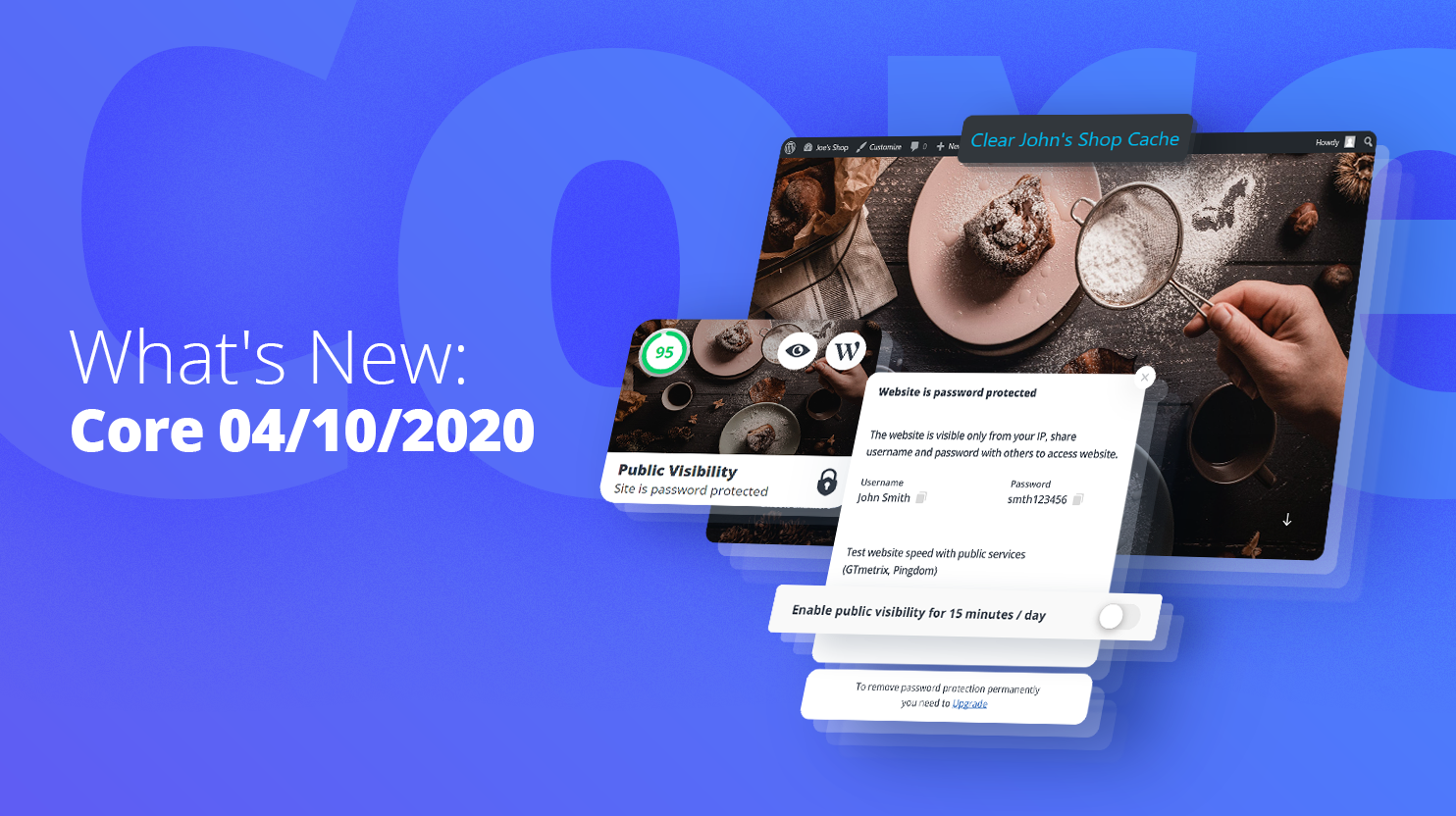 There are over 1.3 billion registered websites and of these websites, about 35% use WordPress. WordPress is free and considerably easy to use.
However, most users know that WordPress comes with certain drawbacks, such as, lack of strong security, slow speed, and difficulty to customize, are a few.
Over the years, 10Web has refined it's tools and services to optimize the website building process and maintenance for WordPress users. In doing so, we have provided a platform for managed WordPress hosting powered by the Google Cloud, advanced security, hosting elasticity to handle surges, website speed optimization,  an all in one dashboard, SEO services, and much more. In continuously working to fulfill our customers needs, here are some of the improvements for this period.
Public Visibility & Security
We understand the importance of having a chance to look around and get a feel of a certain tool or a dashboard. After all, it is what you will be using to build, so it should feel right for you. This is why we provide a 14 day free trial.
You can sign up at no cost and no credit card required. To start your trial and see how the all in one 10Web platform works for you,  you can choose to:
install an empty WP website
build a WordPress website with the 10Web builder
copy your existing website to 10Web
Unfortunately, some people use this opportunity in a negative way.
Getting security alerts from Google at 3am in the mornings was not making anyone's life easy. There were months of going through manual fixes, deleting, and protecting our customers and their information. This is our top priority. We needed a smarter and more effective solution to this problem.
To minimize websites that are made for phishing while taking advantage of our 14 day free trial, we have set all trial websites to Password Protected Mode. In order to have public visibility at all times, you will need to upgrade.. The website frontend is fully available for your IP address. Though you can check the performance of your website using the tools provided in the 10Web dashboard, in case you would like to use third party tools such as Gtmetrix or Google Speed Insights, you will have 15 minutes every 24 hours to place your trial website into public mode. If your customers would like to see the websites themselves, all you need to do is copy and  share the username and login information with them.
Taking into account the feedback of our clients and the security of information and their hard work, we have replaced and added:
WordPress crone with a more stable and fast System crone
PHP-FPM has been added to the logs section in your 10Web dashboard
White Label & Ease of Use
A great way to secure the trust of your customers is by providing good services and tools associated with your brand. The 10Web Manager and the 10Web Cache are two of the core tools used when you host your websites at 10Web. Websites hosted at 10Web are welcomed to take business to the next level by using the option to White Label their wordpress dashboards.  What this does is it rebrands the core tools such as 10Web Manager and 10Web Cache by showing your brand name and logo in the WP dashboard.
We've taken care of the technical aspects by providing support, updates, backups, and optimization, so that you can grow your business to its fullest potential. If you want your customers to see your brand in the WordPress dashboard, this is the solution for you. Here is a link on how to enable the White Label feature.
In optimizing your experience while using 10Web, we have added a Clear Cash button to the WordPress admin bar at the top of your website in the frontend. A much needed shortcut when testing in the frontend. One more thing! If you have enabled the White Label option, the Clear Cache button will have your brand name attached to it!
We look forward to your feedback, comments, and thank you for your participation in the community.