What's New: The 10Web Dashboard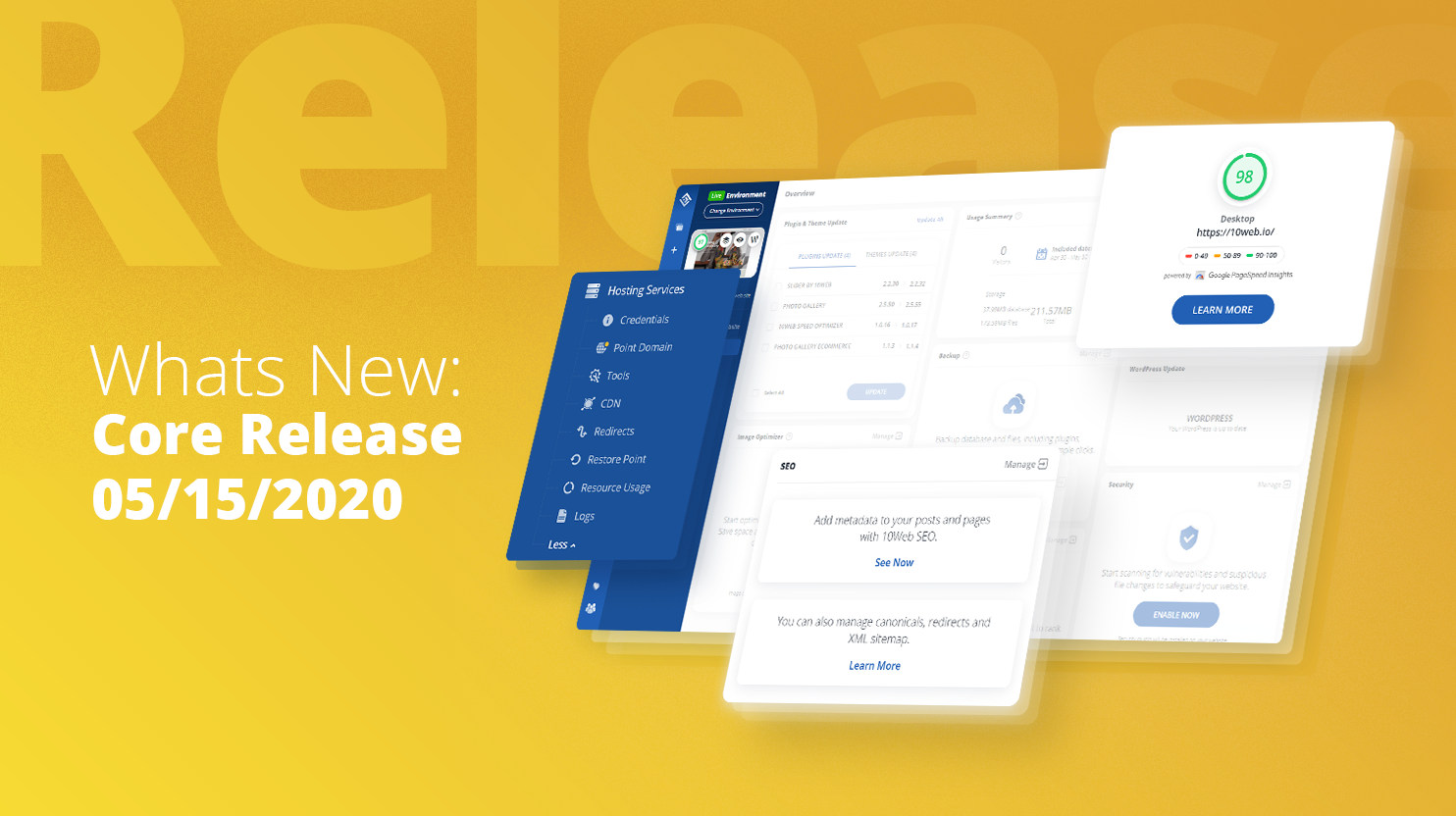 Clean and organized desks help in concentration while working. We find that having your tools organized within a clearly designed minimal dashboard does the same. We want you to be productive, that's why we are continuously modifying, organizing, and optimizing the 10Web Dashboard, your all in one website development workspace. Everything is clearly within your reach and what you don't need, is out of the way. 
The 10Web Dashboard
The 10Web Dashboard consists of two parts, the Main Dashboard and the Individual Website Management Dashboard. In the main dashboard is where you can see all of your websites, filter them, create a new website, go to our FB Community, read about the latest updates at 10Web, reach out to our Care team, and manage your Account. From the main dashboard is where you choose which website you want to manage, and this will take you to the Individual Website Management Dashboard. Here is where all the fine tuning of your websites happen. Manage your Hosting Services, find your Credentials, enable 10Web Caching, Point your domains, start building with the 10Web Builder, enable 10Web services, and more. In short, customization and optimization is done in the Individual Website Management Dashboard of 10Web. 
10Web Main Dashboard
To start off, we have moved the Submit Your Idea button into the heart icon. In the heart icon, you can also find our What's New articles, check your Ticket Status, and contact our Help Center. 
To guide you through the process of using the dashboard and save you time, a Question Mark icon has been placed next to the title of each page. Here, you will find hand picked articles from our Help Center pertaining to the processes of that page.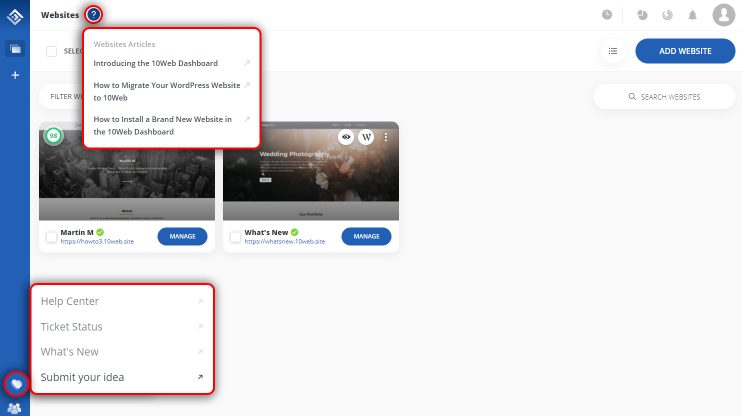 White Label
Here is an opportunity to grow your business and your brand awareness with the core tools offered by 10Web. The White Label feature is now available for Agency and AppSumo plans. 
10Web Individual Website Management Dashboard
This is the headquarters of control, and the more coherent your control panel, the easier to navigate. The left menu bar of the website dashboard has been updated, redesigned, and the order of the tools and services have been organized into a more logical order.
In the Overview section, we have added the Google PageSpeed score widget, informing you for your desktop and mobile scores. The default order of the widgets have also been adjusted. The SEO widget now has two buttons, See Now and Learn More. Start creating an SEO optimized page and manage your website SEO with one click.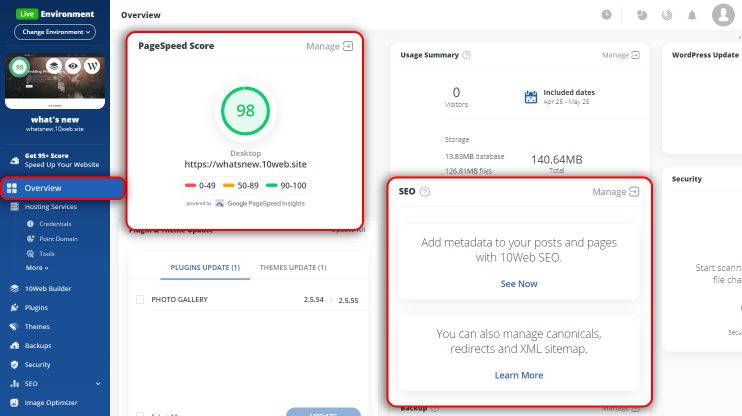 Under Hosting Services, we have clearly defined and categorized all the hosting tools and services available for 10Web hosted sites, adding icons to each for ease of identification.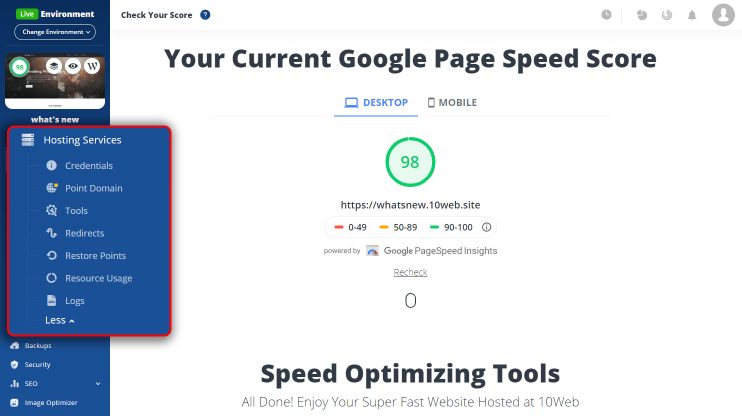 Previously in the left menu bar we had a section called 10Web Themes & Sites. In this section you could preview and import a template on which to build your site. To simplify, this is an essential part of our 10Web Builder. We offer you amazingly designed templates to start with, which you can then edit and customize with the 10Web Builder. So we went ahead and renamed it 10Web Builder then added a functionality to filter the templates by category, making it faster to find what you are looking for. Not only this, but we have also redesigned the page for enabling the 10Web Builder. If you are using 3rd party themes, go to the 10Web Builder tab to enable this tool.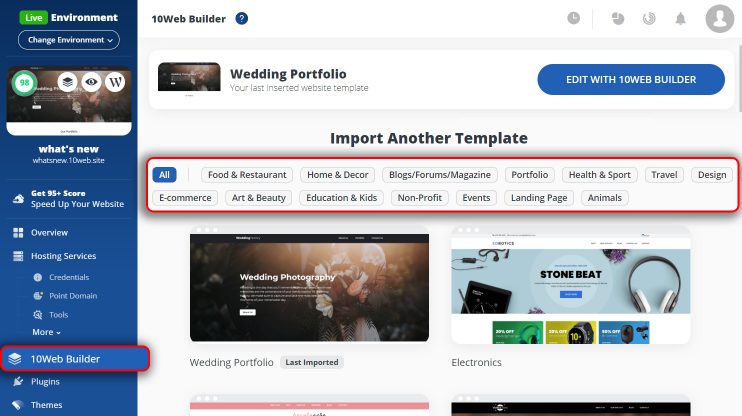 Security
All websites hosted at 10Web are provided with a free SSL certificate. Upon changing your primary domain, we suggest that you enable the SSL certificate. 
Building websites is hard work. Hours of fine tuning, late night snacking with extra cups of coffee. To be sure that when you want to remove your website, you are not removing it by mistake, the input case for removing websites has been made case sensitive, giving you one more chance to ponder before making a final decision.
After clients have logged into the 10Web Dashboard, their IP addresses will be whitelisted. This is especially important for those using our 14 day free trial, as by whitelisting, the website is fully accessible to you or anyone you have allowed to log into the dashboard and view your website.  
As mentioned in or previous What's New, websites that are taking advantage of our 14 day free trial are password protected. Time limitation for these websites to be publicly visible has changed to 10 minutes per hour. 
Instructional and Troubleshooting
Learning processes become enhanced when we visually experience them or experience them by actually doing the work. With this in mind, we have placed gifs at key points of your journey in the 10Web dashboard, both for troubleshooting disconnected websites and for connecting your websites.