How To Manage Multiple WordPress Websites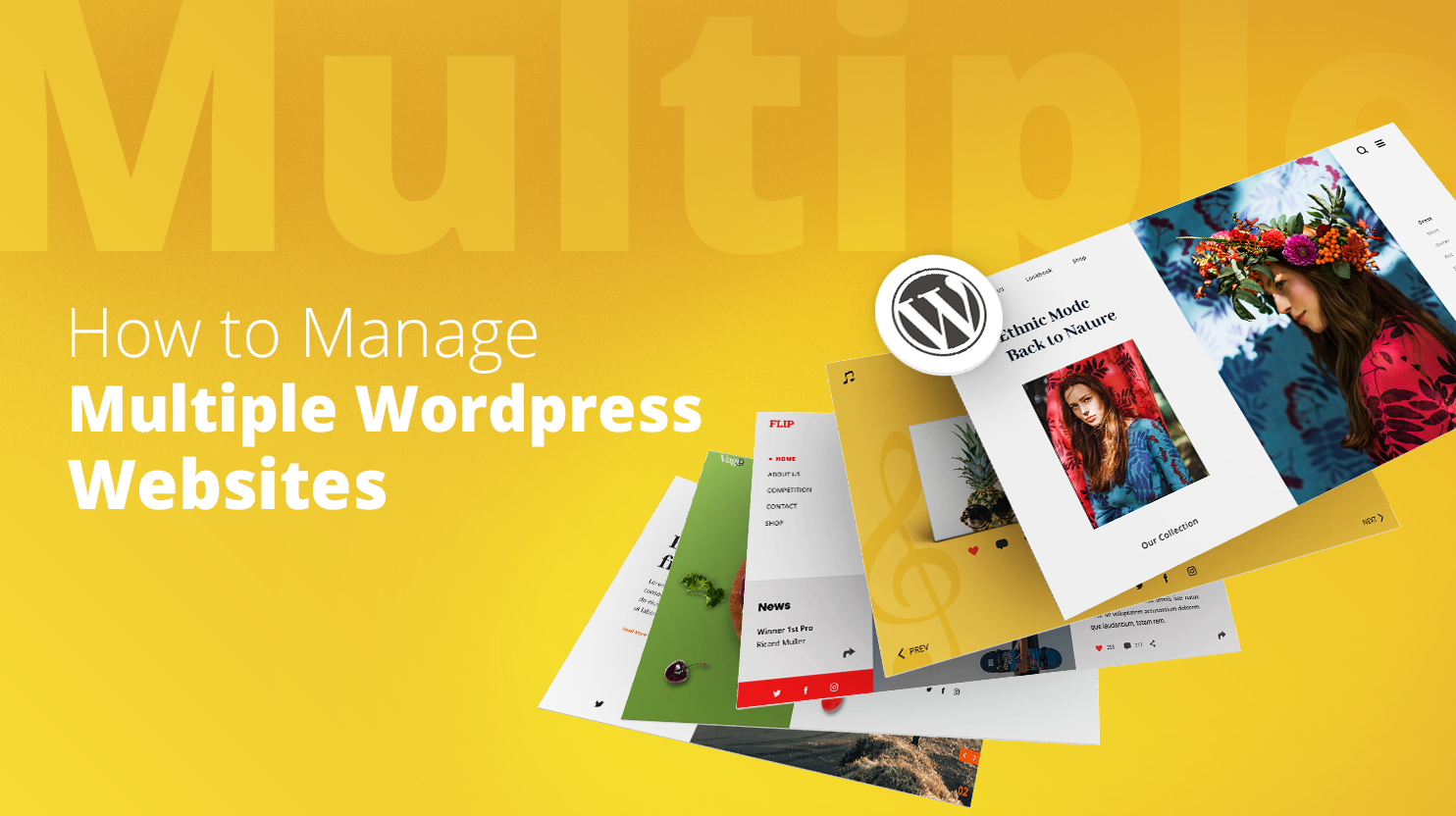 Managing a single website is a tough job. Imagine having to deal with a couple of them. Ordinary hosting platforms won't do the trick, you need special tools or special services to be able to manage multiple WordPress sites.
Should you use a WordPress Management tool to manage multiple WordPress sites?
Well if you're a WordPress developer or an agency that needs to create and maintain several websites then you probably want to keep them all on a single dashboard. You should also have a bunch of tools to ease up your workflow and make your work faster. That's why this article will present the parameters of a good WordPress management solution one by one.
Parameters of a good WordPress management solution you should look for as an agency
Starting with the first and one of the most important parameters:
All-in-one dashboard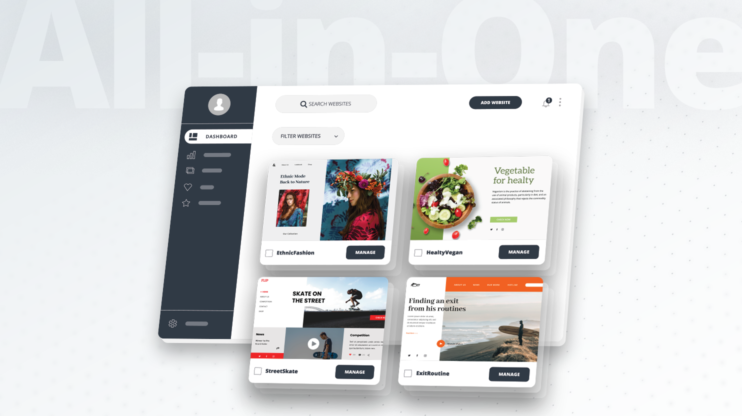 The work of an agency or a freelance developer juggling with thousands of projects is a real mess. It's crucial that you don't disappoint any of your clients and deliver your work on time. That's why having all of your pages in one place helps a lot.
So, when choosing the best tool to manage multiple WordPress sites, make sure it gives you the ability to gather all websites in one dashboard. That way you can make quick updates or general changes with just a few clicks, without any waste of time.
In addition to that, make sure you have other useful management tools in the dashboard too. Having backup services, an SEO plugin, a security scanner, and other services on the same dashboard makes management even easier. This way you can scan the security of all your pages, update your themes or plugins, and even optimize your images all from one place.
Multisite
If you need to manage a network of websites then you should definitely familiarize yourself with multisite. Multisite is a WordPress installation allowing you to make and manage a specific network of multiple websites from one WordPress dashboard.
You can consider using the WordPress multisite network if you need to manage several websites for a corporation, an online business, a news outlet, and similar big clients. Multisite networks are also extremely popular in educational institutions such as schools or universities.
For instance, if an "X university" decides to give access to all of its students to its blog, it can create a WordPress multisite network called "X University Student Blogs" and anyone with the xuniversity.edu email will have the ability to create their blogs there.
However, to not turn it into a complete mess, the site admin can confine the ability to make general, sitewide changes and install plugins only to him- or herself, while the students will only have the ability to publish their blogs.
In short, multisite installation allows you to make changes and updates to a bunch of websites in one place. With multisite, all of your websites share the same themes and plugins, but use different media upload directories, allowing each website's images, uploaded files and media to stay separate from others.
Plugin management
As much as plugins can be super useful, they can also be a real threat for your websites if you don't constantly update them, because old and neglected plugins are one of the main ways through which hackers can get access to your website. So constantly keeping track of your plugins and updating them is a must, if you want to insure the safety of your clients' websites.
But this is easier said than done. When you have only one page it's not difficult to constantly check how your plugins and themes are doing on updates, but if you have five or more this can become a real issue. Everytime you want to check something, you need to log out of your one page, log into the other and repeat the same action for a bunch of websites.
Hence, to manage multiple WordPress sites you also need to manage multiple plugins. So make sure the management tool or platform you choose gives you the ability to manage them quickly and easily from one place.
The plugin management tool will help you set all your website plugins and even themes to automatically update, so that you never need to worry about your website's safety. Plus, with the plugin management tool you can also install and activate your plugins for all your websites with just a few clicks.
Security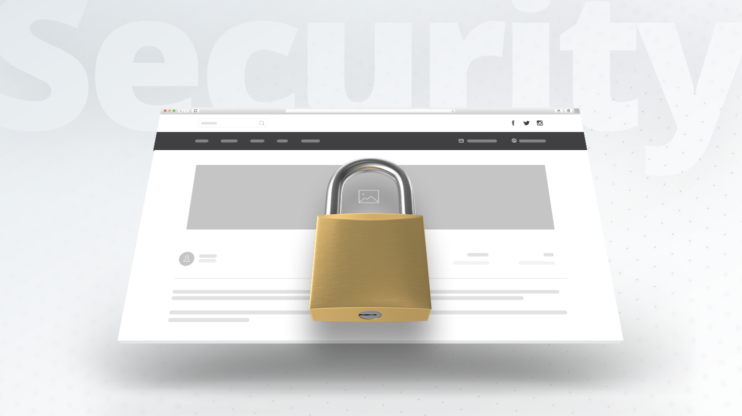 As we've said, constantly updating your plugins will help you make your pages even more secure, but there are a bunch of other things you need to do to ensure the overall security of your pages. Especially, if you need to manage multiple WordPress sites, it's important to know that no one can get access to them and that there will be no leak, because if there is you'll immediately lose all your clients.
Your management tool should allow you to scan your websites for security issues and provide comprehensive and detailed information about the vulnerabilities of your pages, their security problems and SQL injections through tools and reports.Also check if there are automatic security scans and fixes. Don't think of this as a one-time action. Checking and ensuring your websites' security is a continuous process, because even if you reduce the risk of getting hacked, it's never really gone.
So make sure your management tool or platform makes security checks simple and ensures the highest level of safety for your clients' websites.
Automatic migration
Now even though we talk so much about gathering all of your websites in one place, it's easier said than done. Sometime you already have WordPress websites but in different hosting and migrating them to one place requires a lot of work.
Unless, of course, if you have an automatic migration available which helps you move your old websites to the new place with just a few clicks. No coding required, no effort wasted. If you're going to choose a hosting platform that makes management of multiple websites easy, also make sure that it guarantees a smooth and fluid migration service, so you don't waste time..
Staging environment
Although the staging environment is not really helping you manage multiple WordPress sites, it's affecting the process of updating or changing those websites. That's why we included this feature in our list.
Working with different clients is hard in the sense that you constantly need to do experiments with multiple pages, make fast changes and show all of that to your clients. Now, if your management platform doesn't provide a staging environment you'll have to push all minor changes live just to showcase them to your clients.
Hence, if you're an agency or a developer working on multiple projects make sure that your website management tool or hosting provider offers a staging environment so that you protect yourself from making unwanted changes to your live websites.
Automation and bulk, scheduled actions
Finally and probably the most important feature of multiple website management is the ability to conduct scheduled actions in bulk and in an automatic manner. Instead of choosing all your websites one by one you can select all websites of your different clients and choose to make scheduled updates or install certain plugins for all of the chosen sites.
This makes your work efficient, saves you a lot of time and in general smoothens the workflow.
WordPress Management Platforms
Now that we know which parameters to look for in a right management tool or platform, here is a list of management platforms that will make it easier to manage multiple WordPress sites. Starting with the first one:
WP Remote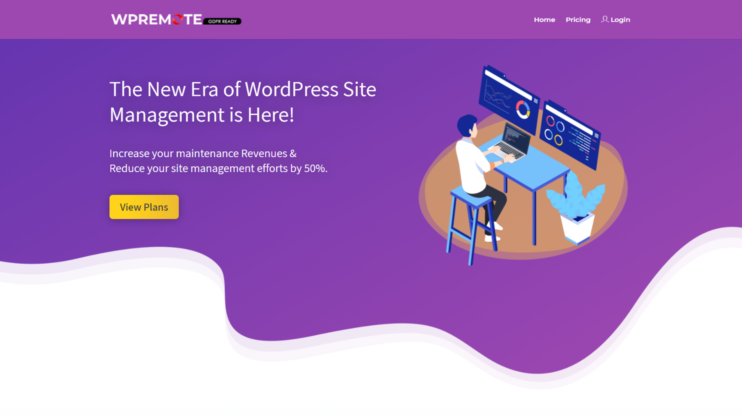 Released in 2017, WP Remote is a basic WordPress management tool that offers you a simple solution for managing multiple WordPress websites. Although it has a limited set of features, it's still a good one to start with. The WP Remote dashboard allows you to easily update your WordPress core, themes and plugins. With this dashboard you can also create and store your backups on SFTP or AWS.
Finally, WP Remote also enables you to download the snapshot of your sites. WP remote has over 40.000 installations, but keep in mind that it's not conducting constant updates so at times it might not be too reliable.
Pricing: WP remote is free for individual website owners or freelance developers. If you're an agency then the plan starts at 20$/month.
Manage WP
This is one of the earliest WordPress management platforms out there, because it was founded back in 2010. In 2016, it was acquired by GoDaddy and offers its premium features free for GoDaddy Pro users.
Here is the list of useful and free features for managing multiple WordPress websites from ManageWP:
Sucuri Security Check for a malware
Client reports
Integration of Google Analytics
All sites comments management from one place
Plugin and theme management. You'll also have the options to ignore the plugin updates or install older versions of your plugins.
Vulnerability check for your installed plugins
Monthly site backups
Ability to create WordPress templates (blueprints) for a fast new WordPress site setups
If you decide to go on with a premium add-on you can also unlock automation of services. For instance, you can get an automatic security check, client report and performance check. Other premium features are:
Scheduled and on-demand backup with migration and cloning tool
Uptime monitor of the website
White label services
Keyword tracking for SEO
Broken link checker for your websites with the link monitor
Pricing: Although ManageWP comes free, you need to pay for additional premium add-ons. Each of them costs 1$/month (except for the backup which is 2$/month). If you have more than 25 websites you can pay a fixed monthly price of 25$ and a 75$ per month for the backup (the limit of the websites you can manage liest at 100).
Main WP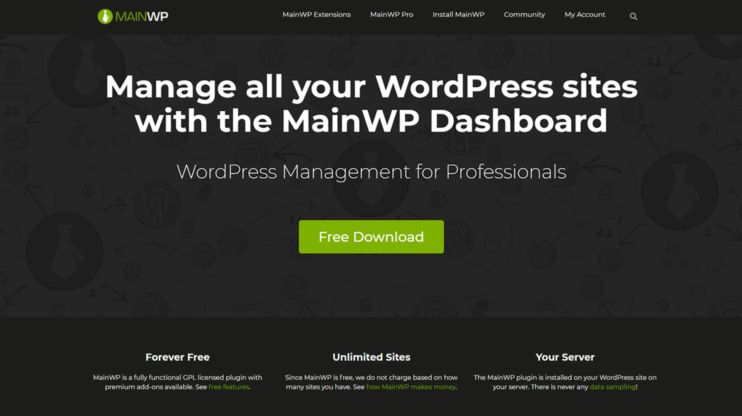 This is probably the best platform to help you manage multiple WordPress sites out there. It's open source, but you can also benefit from their paid add-ons. To use MainWP you need to install the MainWP dashboard plugin on your WordPress site and then install their other plugin MainWP Child on all the WordPress websites you manage.
Once done you'll get an entire list of free features such as easy theme and plugin management, uptime monitoring, security scanning (powered by Sucuri), scanning of vulnerable plugins and themes, content and user management.
But the most important feature of MainWP is that it has a large set of MainWP extensions that add some additional features for backup content, and administrative, security and performance data. It also has extensions for popular WordPress plugins such as BackupBuddy, UpdraftPlus backup, WP Rocket, Broken Link Checker, WordFence, iThemes Security and many more.
If you choose to go with their free plan you can use their 12 free MainWP extensions for your backup, security and optimizations. The paid MainWP plan offers more. You can get access to all their paid extensions, but if you just want a couple of them you can also acquire them separately by paying for only the desired extension.
The new MainWP version has a cool and updated user interface and it will improve your user experience. It has also some updated features for performance improvement.
Pricing: It's free and allows the management of an unlimited number of sites. Paid extensions range from $29 to 69$. You can get the monthly membership starting from 29.99$/month.
How to manage multiple WP websites with 10Web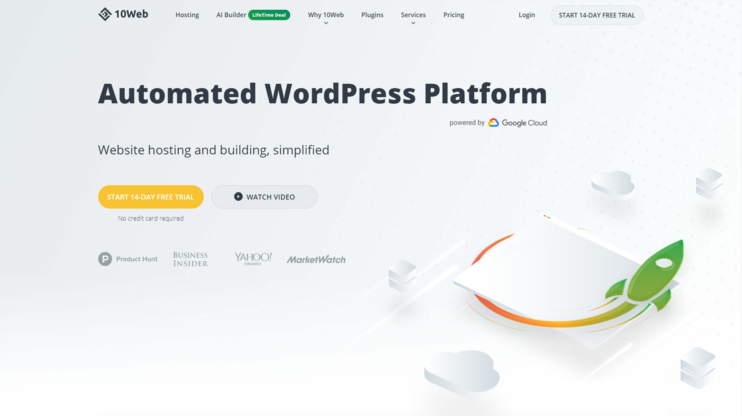 So we've talked about the most popular management tools and platforms, but in fact you can manage tens of websites easily and without effort if you choose the right hosting provider. That's why in this section we'll discuss why 10Web's hosting is an even better platform for website management than all the tools mentioned above. Here are some of 10Web's features that will help you manage multiple WordPress sites effortlessly and effectively.
Automated PageSpeed Boost With #1 WP Hosting
Get 90+ PageSpeed Score and boost Core Web Vitals by migrating your client websites to 10Web – all within minutes, all automatically.
Automated PageSpeed Boost With #1 WP Hosting
Get 90+ PageSpeed Score and boost Core Web Vitals by migrating your client websites to 10Web – all within minutes, all automatically.
Plugin Management, Update Management, Control
When you host or connect your agency's website to 10Web you'll be led directly to 10Web's dashboard. Here you can find every parameter we've discussed above. It has an all-in-one dashboard where you can connect all websites and manage them all from one place.
It also has an easy-to-use interface and a pretty intuitive plugin management panel. You just set all website plugins, and themes to automatically update and go around your business. You can also use this dash to install and activate plugins and themes with a click or manage the full range of services and features 10Web provides to agencies.
Reliability
The next thing you can be sure of with 10Web is that all websites your clients have entrusted you with are in reliable hands. And one way you can be sure of your websites' reliability is through a structured and trusted backup system.
Well, luckily 10Web provides a free premium backup solution. You can set all websites to backup automatically and stop worrying about losing data. It takes just one click on the dashboard to automate backups.
You can also choose to schedule your backups weekly, monthly or yearly. Set up the date and time and you're ready to go. You can also choose if you want to perform a full backup or backup the databases and files separately and keep them in AWS S3 storage space.
Comprehensive supporting features
Moving to another cool feature of 10Web: supporting features and services. In order for your agency to succeed you need your websites to load as fast and possible, be secure, and rank high.
10Web's site management solution offers three services that'll take care of these tasks: Our speed optimization service will get all your sites an automatic PageSpeed score of 90+. The security service will safeguard your site from malware and vulnerabilities, while the SEO service will push all your websites to rank higher on Google.
Your clients will love the fact that their sites are secure, SEO-optimized, and lightning-fast thanks to your agency.
Control: Multisite, White-labeling
The next parameter that is an absolute must for agencies is white-labeling with the option to host and manage multiple WordPress websites. As we've already mentioned, WordPress Multisite is a feature which allows you to create a network of WordPress sites all within a single install.
You can then perform an action that affects the whole network of websites, which will save you plenty of time. This is how it works at 10Web: you get a "Network dashboard," where you manage sites in bulk. You can also just pick one site from the network and manage it separately, of course. Basically, all services and plugins you install will be shared for the whole network but you can activate different themes on each site.
The second feature in this parameter is white-labeling. This is how it works: Your agency signs up for 10Web's "Agency" plan, starts using all its features and services but presents those services to the client as services provided by the agency.
In short, you just get 10Web to operate under your brand name. It's a fantastic tool for agencies that already do a lot and would love to get an extra set of services under the belt.
Hosting Infrastructure
We've mentioned so many features for a good management platform, but we've forgotten the most important one: hosting infrastructure. Site management is not just about features and services. It is also about hosting. When you are managing multiple websites it is much easier to deal with one hosting company than with many. You'll have single payment, one type of subscription plan and there is no need to manage your hosting site by site.
Hosting is responsible for so many aspects of your client's websites: their speed, uptime, security, SEO. Luckily, 10Web is here to provide fantastic hosting powered byGoogle Cloud for all your websites.
You'll get nine data centers all over the world, the latest-generation SSD disks, elastic scaling, a staging environment, a caching service, and a 10Web Speed Optimizer to ensure an automatic PageSpeed score of 90+.
Cost
And the final reason to choose 10Web is its pricing. Although it's an Automated WordPress Platform (a superior form of managed hosting) and at the same time allows you to manage multiple WordPress sites, its pricing is unlike the ones you'll meet in managed hosting plans. It's way cheaper. You'll get all the things mentioned here for just $6 per website per month without hidden or extra costs. I challenge you to find a similar offer on the market. It's the absolute best price for this full range of agency services.
FAQs
What are some tips to handle many WordPress sites at the same time?
Well, you need to have a good management tool or a hosting platform that will provide some additional features specifically designed to manage multiple WordPress sites at the same time. Our advice is to find a platform that gives an all-in-one dashboard, plugin management tools, ensures security and offers multi-site solutions. Make sure you'll get the ability to conduct bulk actions in order to save time.
How do I manage the security for multiple WordPress sites in one place?
To manage multiple WordPress sites and at the same time ensure their security you need to be able to constantly backup all your websites and make continuous updates for plugins and themes when needed. Also, get an SSL certificate for all your websites. This is an absolute must.