Schema Markup: How It Can Boost Your Traffic and ROI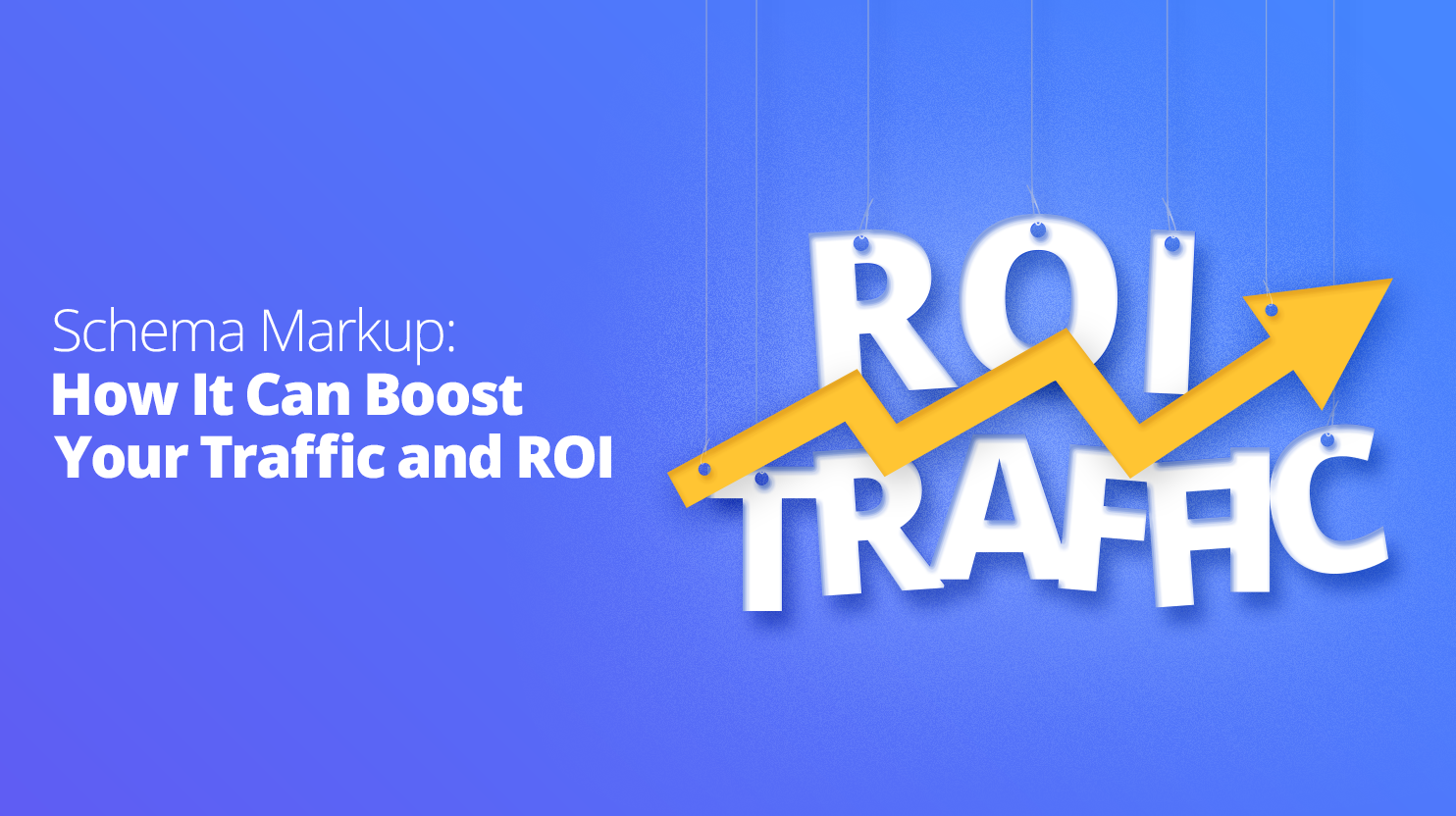 Schema markup is a crucial part of technical SEO. It helps search crawlers identify thousands of data types and offer the best search results to the users. Both search engines and their users love it when you help them skim your pages and understand if you can offer what they want. That's why schema markup can immensely increase your pages' traffic and conversions. Today we'll talk all about implementing schema and reaping its results.
What Is Schema Markup?
If you don't know what schema markup is, just enter a search query on Google and compare the search results. Some of them have the publication date included, some have a five-star rating system in the preview. Prices, images, authors, links to related pages—you can see it all thanks to schema markup. But before getting into the details, let's clarify a couple of terms. Schema markup is the way we use microdata to help search engine crawlers recognize different components of web content, in order to provide better-structured results. You mark the data type and the crawler easily reads it to generate a detailed rich snippet. Valid product markup leads to more visibility in SERPs that ultimately generates an increase in sales. It works not only for Google, but also for Bing, Yahoo!, and Yandex (a super popular engine for Russian speakers). Schema.org has a vocabulary where you can find all the values to correctly mark your data types.

Need a 90+ PageSpeed score?
With 10Web, you can get it automatically!
Need a 90+ PageSpeed score?
With 10Web, you can get it automatically!
What Is a Featured Snippet?
A snippet is the search result on a search engine page. The basic snippet consists of a title, URL, and description of a page. A rich snippet is a snippet that includes additional data other than the page title, URL and description.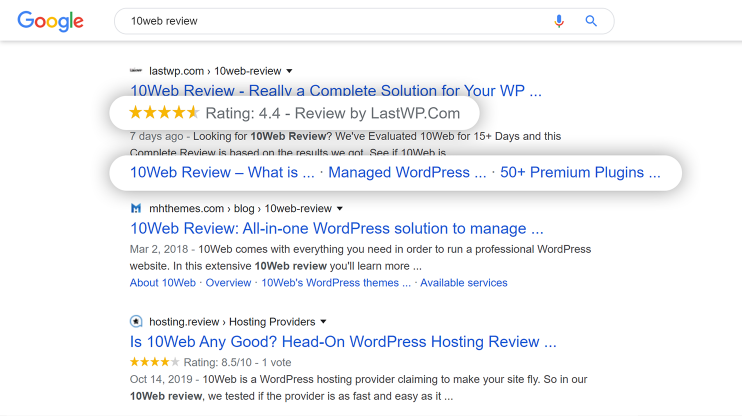 Examples of Rich Snippet Types
When you carefully mark up all your content elements, search engines generate various snippets. There are certain elements that we expect from recipes, movies, online stores, and many other category pages. Here are some examples.
Q&A Snippets
Questions and answers are a huge search trend for the last couple of years. They also work magic when it comes to voice search. Never ever forget to mark up the QAPage, Question, and Answer types.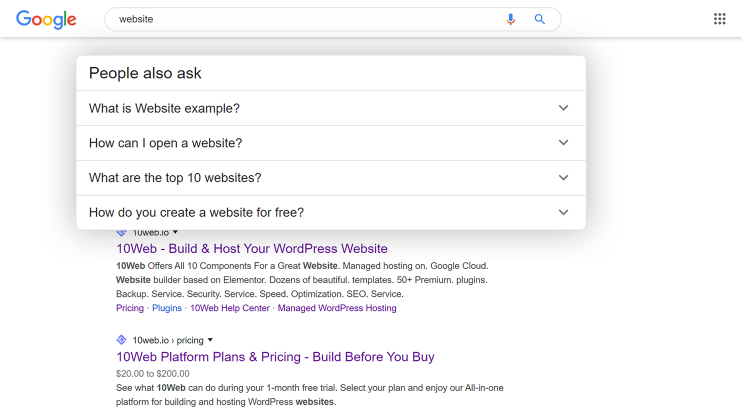 Online Store Rich Snippets
When shopping online, I always prefer websites that don't hide any information. Prices included in the snippet and especially in the image search result is what helps me choose from the huge competition. Don't forget to mention categories, sizes if there are any, and locations you ship to.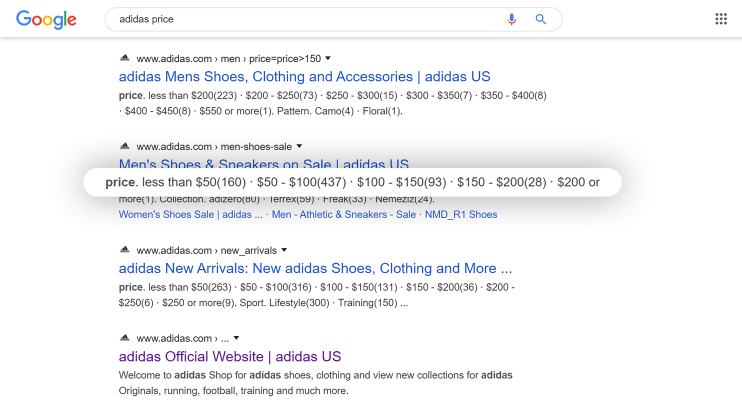 Movie Rich Snippets
When I search for a movie, I expect its duration, director's name, rating (preferably IMDB), and release year or date in the featured snippet. But expectations are different, and there's a ton of various data to include in a preview. So here's the Wiki snippet from a random movie search. It includes the producer's name, budget, box office, and production companies' names. If your website is all about movies, make sure to mark up all components, so that searchers have the possibility to find their top priority information upfront.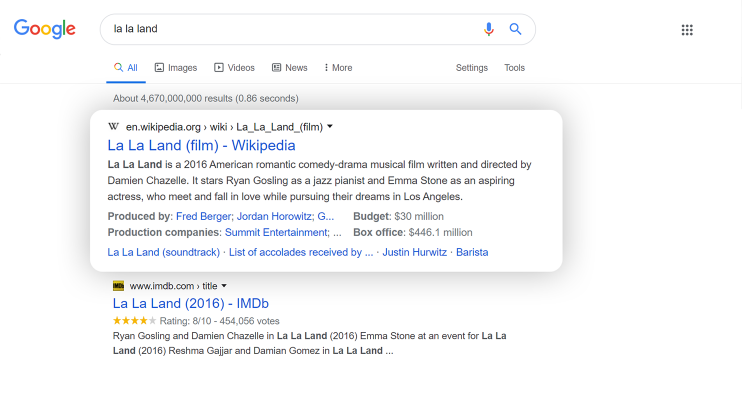 Recipe Snippets
So, you have a dish in mind that you want to cook. You look up a recipe in the interwebs. What is it that you want to know prior to deciding whether you want to cook that thing or not. For me, it's the time it will require and the list of ingredients. For many others, calories per serving are a must-know. If sharing yummy recipes is what you do, make sure to look up every type and mark them so Google can understand. There are hundreds of other snippet types, and for each, you have to do your research. Look at the highest-ranking competitors' snippets, and make notes for yourself. But beware of overkills. They happen sometimes when we can't get enough of structured data.
Why Use Schema Markup?
Schema Markup has a huge role in increasing your CTR (click-through rate) from the SERPs (search engine result pages). It also boosts your chances to rank higher for queries relevant to different parts of one page. The moment when the search giants — Google, Bing, and Yahoo! — decided to launch schema.org (months later joined by Yandex) is among the best moments that have ever happened in the history of SEO. This is when schemas for structured data started getting heavily implemented in search engine optimization.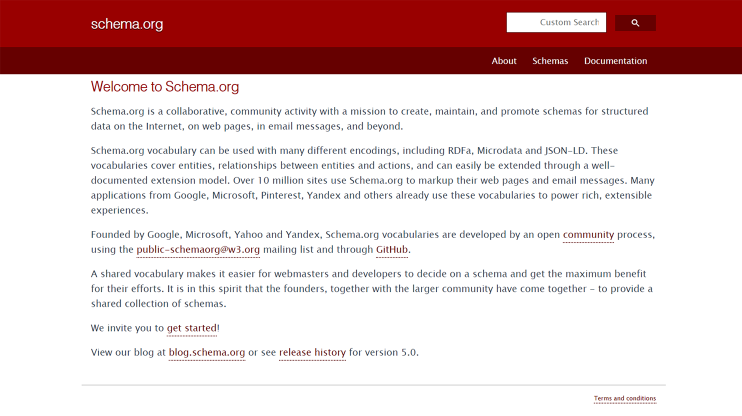 Let's see what Schema affects and how.
How Schema Markup Affects the CTR
CTR or click-through rate is entirely depending on the human factor. It's just the percentage of people who click on your snippet among all those who've seen it. The more you know about a page that a search engine suggests you visit, the more you're likely to open it. There's a lot of proof of that in an SEO experts' personal experience. The increased CTRs average between 20% and 40%. Scroll down to the success stories to see it all.
How Schema Markup Affects Search Rankings
The best content writers write for humans. The best SEOs help search engines read that content. With well-structured data on your pages, not only do you get more clicks on your snippets, but you also have more people to see those snippets. In other words, a well-structured page ranks higher. Here's what affects those high rankings:
Relevance — search engines have a better chance to find out how relevant your content is.
Domain/page authority — schema markup is one of the factors that affect domain and page authority rates.
CTRs — high CTRs indicate that the page's content is appealing to users, so it's more relevant and should rank high.
Now let us see how schema markup has actually helped a number of companies.
Schema Markup Tips and Success Stories
For WordPress users, schema markup has become super easy: you can just use one of many schema plugins to do your job instantly. Our partners and colleagues have shared their success stories where schema markup has helped their business grow. Here they go. Robin Young, CEO of Fitness Savvy UK and US: "If you run a site with category pages (such as an e-commerce site with product categories), then you must ensure all items on the page are marked up, or none of them. We run a price comparison website, and none of our category pages would rank. This is because some items were marked up, while others were not. This inconsistency is actually against Google's guidelines, and they explicitly state that this can prevent you from ranking in results: If you mark up one item in a list you must mark up all items; marking up just one category entity from all listed on the page is against our guidelines. Pages or sites that violate these content guidelines may receive less favorable ranking or be marked as ineligible for rich results in Google Search in order to maintain a high-quality search experience for our users. https://developers.google.com/search/docs/guides/sd-policies Once we fixed this issue, our product category pages began appearing in search results after nearly 2 years of being nowhere to be seen. No one could help us understand the reason we weren't ranking, but when I found these guidelines, it all made sense."   William Taylor, Career Development Manager at MintResume: "In my previous company, we used schema markup to boost our web traffic. It helped us improve our CTRs by nearly 20%. We applied schema markup to our FAQs section. As FAQs provide valuable content that search engines want to understand, they can deliver informative answers to users. We leveraged the fact that Google frequently delivers rich snippets to user's queries with a helping hand from Schema Markup. So, we applied Schema to all the answers that we wanted to appear as a rich snippet."   Rob Stand from SEOBetter.com: "One trick that I came across that anyone can implement if they are using WordPress and the Yoast SEO plugin is to take a look at Gutenberg blocks in your blog posts. When you are writing a post with blocks search for FAQ or How to when adding a new block in a post. Go through and fill in the information, take into account only one schema block will show in Google for your blog post. When you implement it Google will show the How to or FAQ schema block results in mobile search under your listing. It will also show up in your Webmaster tools account."   Umarah Hussain, PR and Outreach Executive at Colewood: "We work with a range of clients that we've gained great exposure for. To illustrate, quite a neat trick for those promoting an upcoming event is to add Schema.org markup to a normal blog post with event details. Here at Colewood, we had a wedding venue client that wanted to promote an open day back in the summer so the client created a blog post about the event with the details on. However, as this was a standard blog post in WordPress search engines just treated it as a normal page with text on. The client wanted to improve how the open day was promoted so we put the details of the event in JSON-LD script and added that to the blog post. The page looked exactly the same to the client but now it had the added Schema code. We requested Google re-crawl the page using Google Search Console then as if by magic the event started to appear in the Knowledge Panel when people were searching for the venue. The event was a huge success and the open day was a Sell-out!"   Farasat Khan, the SEO Specialist at IsItWP: "I have over 4 years of experience in the industry. Being in a competitive niche, it is not always easy to attain and sustain rankings. But by using Reviews Schema, our results saw an increase in CTR by 8% even without having good rankings. This is because the SERP position becomes visually appealing and allows decision making. Therefore I suggest every business in the affiliate niche to play around with Reviews schema as it increases SERP exposure. This gets highly lucrative when the user base is visiting from mobile devices. This is because of the same reason that the results tend to be visually appealing when a Review schema is presented in Google SERPs."   Calloway Cook, the Founder of Illuminate Labs: "I manage our SEO efforts and have a four-year work history at one of the top SEO firms in the U.S. prior to launching my own venture. Here are my experiences: Contrary to popular wisdom, I've actually found that less is more with schema markup. Instead of highlighting customer reviews, location, and tons of different fields, we only use schema to feature the price in the search engine results pages (SERPs). This leads to lower bounce rate on our product pages which improves SEO. People who click-through already know the price, and thus are more likely to complete a purchase than someone who is unaware of the price until they reach the page. Especially as a high-end brand retailing for a higher price than much of the competition, this is vital to our success."   Joseph Colarusso, Senior SEO Manager at ESM Digital "At ESM Digital, we used LocalBusiness schema markup for a client with multiple locations. In only three months, we saw an increase in click-through rate and conversion rate on the location pages. Schema needs to be part of every local SEO strategy. One tip with schema markup is to use Google's Structured Data Testing Tool: https://search.google.com/structured-data/testing-tool. Here, you can input your schema to see if there are any errors. It also tells you how exactly Google views your schema. This makes the entire schema process much less daunting."   Mark Webster, Co-founder of Authority Hacker: "We recently discovered a huge win when it comes to Schema and Google's freshness scoring and it's a pretty simple thing that anyone can implement! We never used to bother updating our publish date whenever we went to go back and refresh older content and assumed nothing of it. However, we recently decided to do a little testing and see just how much Google uses the publish date provided in your schema markup. The difference was almost immediate and huge! Our older content climb up the rankings within a day back to its former glory all from a simple date adjustment. I can't stress enough how much of an easy win this is and I recommend everyone to go out there and try it for themselves!"   Jeremy Ong, blogger at HUSTLR: "The websites I own as a whole bring in about 60,000 visitors, 3,000 email leads, and close to 1,000 conversions each month. I started using schema markups when they were first introduced. I did not get many benefits for it. My biggest mistake was optimizing the single page on the website through schema markup for a single query. Putting schema markups for several queries on the same page brought me a fantastic result. It enhanced the keyword impression on Google, and the traffic of multiple queries collectively formed a higher traffic ratio. It assisted me to rank higher and upscaled the revenue by 13%." Now, do you have any experience with schema markup? Tell us in the comments. Or come over and start a discussion in our WordPress Family Facebook Community.