WordPress Hosting: Best Hosting for Agencies and Developers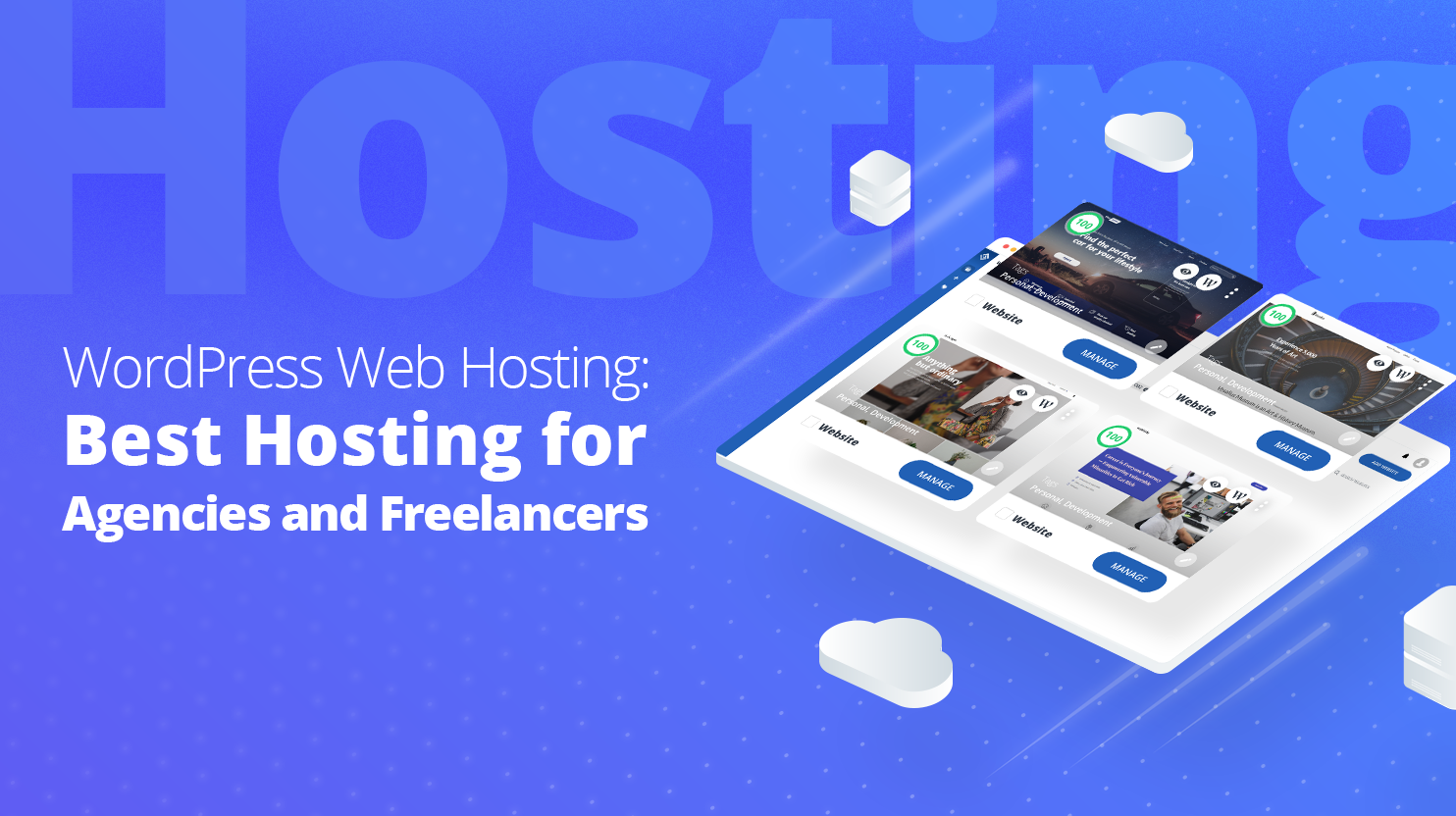 The choice of the right WordPress hosting for agencies and developers can prove to be a mammoth task. It has a direct impact on whether your business will make it or break it.
Agencies usually operate for several clients, which isn't much different from developers who usually tend to have several projects going on at the same time. That's why professionalism and reliability are inescapable requirements for running a successful business and maintaining a long-lasting relationship with clients.
And it all starts by exploring the world of WordPress hosting for agencies and developers. Not only do you have to have a 360-degree view that covers your needs from every thinkable angle. You also have to have a future-oriented vision to make sure that your hosting can be adjusted to future evolution and changes.
Basically, choosing the right hosting is easier said than done. But, don't worry, we have compiled a list of top 10 factors that you should include in your checklist before making a decision.
For those of you who prefer visuals over text, we got you covered. This video has all the information you'll need:
Let's delve right in, shall we?
1. Speed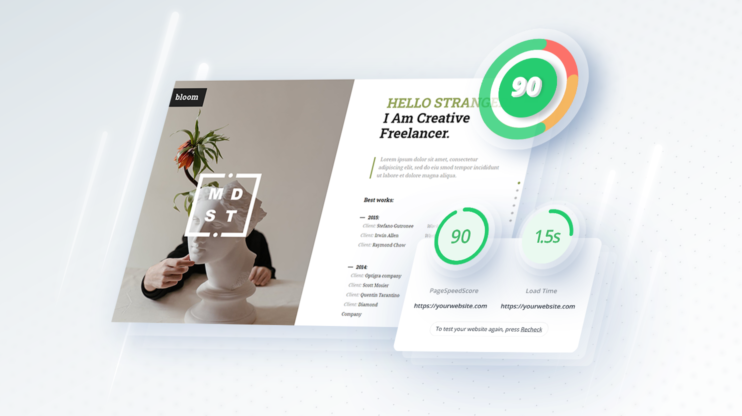 At the risk of sounding like a broken record, page speed is an essential quality that every website should have. In the same vein, any good WordPress hosting for agencies and developers should be mindful of this aspect.
First and foremost, it significantly influences user experience. When it comes to slowly loading pages, users are merciless. They're usually looking for fast results and are most likely not willing to wait patiently until your website content is fully loaded. They'll simply move on to the next one.
This will without a doubt result in plummeting conversion rates and simultaneously rising bounce rates. This, of course, will be registered by Google's algorithm, resulting in lower SERP (search engine results page) ranking.
Here's how you can avoid blunders of this kind:
Perhaps you've already heard of this but Google has a page speed measuring tool, the so-called PageSpeed Insights, that will provide you a speed score ranging from 0 to 100.
On 10Web's WordPress Speed Optimization page you can on one hand check your page's speed score. On the other hand you'll receive an optimized version of your website, meaning that we will optimize your website speed automatically to a PageSpeed score of 90+.
For the curious Georges out there, wondering how this is even possible, here are 3 sets of rules we, at 10Web, rigorously follow:
10Web makes it a priority to use the latest generation of servers as well as high capacity SSD storage. On top of this, we have Google Cloud Platform's "premium tier" network at our disposal for hosting implementation.
A state of the art hosting infrastructure that relies on containerization, caching and elastic resource management also ensures a high level of page speed through for example load balancing.
For load compression, 10Web, among other things, optimizes your site's visual elements, minimizes JS and CSS files and implements lazy loading.
2. Security

Running a successful business is all about reliability. Your clients must be able to rely on you doing whatever it takes to protect their as well as their clients' data, whether it's personal or bank account information.
Overall, it's safe to assume that the reputational damage resulting from just one slip can have significant ramifications for the survival of your business.
This is why when it comes to choosing the right WordPress hosting for agencies and developers make sure to go for a hosting provider that offers qualified and resilient cyber security measures. From this point of view, managed hosting is the most suitable option and here's why:
Most managed hosting providers rely on cloud hosting, which provides every user a separate virtual private server (VPS) that is almost completely isolated from the VPS of other neighboring users. This means that you don't run the risk of experiencing bad neighborhood effects as you would with shared hosting.
Additionally, consistent monitoring, qualified support, as well as unlimited malware and vulnerability scans are usually also part of the hosting package. This adds a level of vigilance that will give you a peace of mind, enabling you to focus on other important tasks. </li
An SSL certificate is also something that is usually included in managed hosting plans. It provides an additional protection layer by a) encrypting the data exchange between website visitor and server and b) encrypting data exchange between the website owner and the server with a cryptographic protocol.
Another benefit of managed hosting is that it also comes in the shape of WordPress-specific services, also known as managed WordPress hosting. Basically this means that the security services provided to you are tailored around the WordPress content management system (CMS). This no doubt enhances the efficiency of the security measures.
We at 10Web offer all of the above-mentioned services and much more. Our security services include built-in login limitations, scans for vulnerabilities and file changes, DDoS protection, as well as the restoration of already hacked websites.
3. Real-time Backup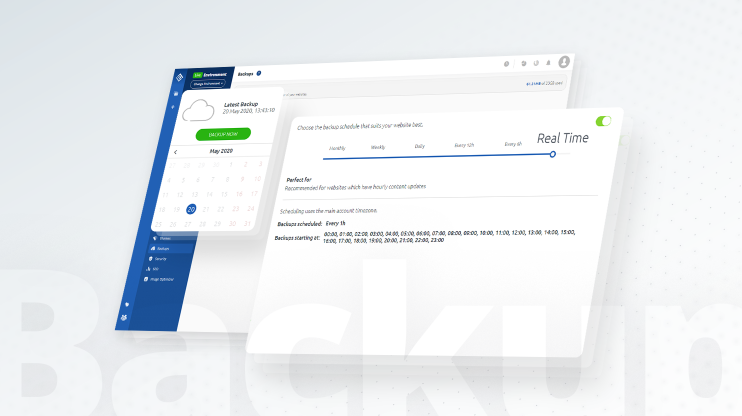 The next item on the checklist for WordPress hosting for agencies and developers is automated backups. They're another indispensable way of maintaining reliability.
I'm sure you've heard this one many times before. Be that as it may, we still insist that you automate your backups because it's the only way to ensure a full and fast restoration of data.
For most website owners, it's safe to assume that their website content is always changing. To keep up with those modifications you need to periodically update your stored files to the most current state. Otherwise, you risk losing valuable content. So make sure to schedule backups at appropriate intervals.
That's why at 10Web, we provide real-time differential backups. In other words, you have the option to schedule your backups on an hourly basis, so that any "real-time" changes to your site's content are automatically backed up and stored in a cloud location, AWS S3 to be exact.
Differential backup means that only the most recent changes – those made after the last backup – are saved. This is a very efficient and fast way of backing up your data, which, most important of all, doesn't negatively impact your website's performance.
4. Elasticity
First things first, elasticity refers to your hosting provider's ability to scale the amount of provided resources to the users' demand, which is also why it's sometimes referred to as the scalability of your hosting plan.
10Web has great elasticity. Its services are very flexible and easily adjustable. But is this feature really necessary for WordPress hosting for agencies and developers? Let us paint a picture for you:
Assume for example the traffic flow of your site unexpectedly skyrockets. This, without a doubt, is great news for you.
But of course, there's a but:
Now imagine your hosting plan isn't equipped to handle this kind of sudden surge. In this case, the unexpected increase in website visits will negatively affect your site's performance. This in turn will result in you losing your visitors.
And as the saying goes: what is lost is lost forever… Just kidding, there's a simple solution: Many hosting providers such as 10Web, offer great elasticity that will automatically upgrade your website's capacity in case of such an event.
Basically, you'll kill two birds with just one stone: For one, your website's performance won't suffer from increased activities. Secondly, you don't have to manually upgrade your hosting plan. It is simply done for you.
Don't worry, though, this doesn't mean that you'll have to permanently upgrade your tariff. The upgrade only lasts one month and then you'll go back to your initial plan.
For every additional 10k visitors you'll be charged an extra $2 at the end of the billing month. The same goes for every additional 5GB SSD storage used.
5. All-in-One Dashboard and Multisite Support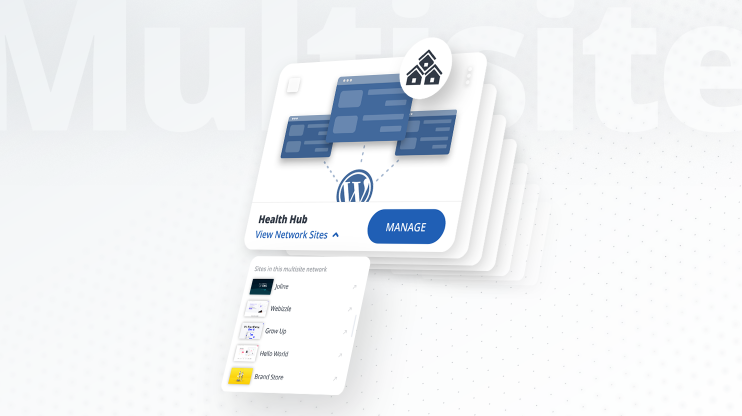 It doesn't matter if you're an agency that is juggling multiple clients at once or a developer who's working on multiple projects, ease of use is a must-have feature of your hosting package.
That's where an all-in-one dashboard plays a significant role. It helps you manage your website professionally and effectively in just a few simple clicks.
At 10Web, for example, our website dashboard includes a myriad of features: you can update WordPress, install and manage your plugins and themes. Services such as backup, SEO, security are all listed together on the left-side bar, easily visible and accessible for you in order to avoid wasting time on searching for essential features.
With that in mind, you're also provided the opportunity to create a multisite network. Multisite refers to the possibility of managing several separate websites from one dashboard. This will help you save time when managing different projects for your clients, by, for example, giving you quick and easy access as well as allowing you to use shared plugins, themes and users.
This way you don't have to worry about implementing the settings individually for each website. Another bonus is that the higher the number of your website projects, the more you save in costs.
6. Pricing
Another essential step in the choice of WordPress hosting for agencies and developers is taking into account one's own as well as the clients' financial capacity.
Clients, not unlike the majority of people, usually demand high quality for a low price – and we wouldn't have it any other way. The problem that presents itself here, however, is that this is when most people resort to shared hosting by default because they associate it with low costs. Shortcomings, such as lack of security, page speed, support as well as flexibility are oftentimes sacrificed for the sake of diminished costs.
This used to be true in the past. Nowadays, the website hosting market is more competitive than ever before, providing a lot of affordable alternatives to shared hosting with better quality.
The message here is pretty clear: website owners settle no more!
Take us, 10Web, as an example. Our Automated WordPress Platform, an advanced form of managed hosting, costs the same as shared hosting, even though our services are by far superior. For one website you have a monthly price of, lo' and behold, $10. Should you for instance be in need of 10 websites instead of just 1, then your monthly fee can go as low as $6.
To be able to test our services before spending money on something that doesn't suit your needs, we provide a non-binding free trial period, without credit card requirement. Make sure to pay a visit and let us know what you think.

See How 10Web Can Benefit You
Visit our homepage to learn more about the first-ever AI-powered WordPress platform.
7. Staging Environment
Staging environment is something that is included in all the plans offered by 10Web. Why? Because we think it's an essential part of running your website in a professional manner.
One of the most frustrating things to happen to a website owner is publishing content that contains errors or visual elements that simply don't work as they're supposed to. To avoid any type of visual failures or technical and content accuracy problems, we offer our users the possibility to stage environments.
This means that an identical version of your website will be created, on which you can test out any changes to your content before you decide on which version you want to go live.
The ideal WordPress hosting for agencies or developers should have this component. It will noticeably increase the quality of your communication to your clients.
When presenting a new idea to them, you can easily visualize ideas in a staged environment. This will allow you to better illustrate your vision and at the same time it will allow them to better communicate their comments and preferences.
After you reach an agreement, you can implement the desired changes knowing that your clients will be happy with the result.
8. SEO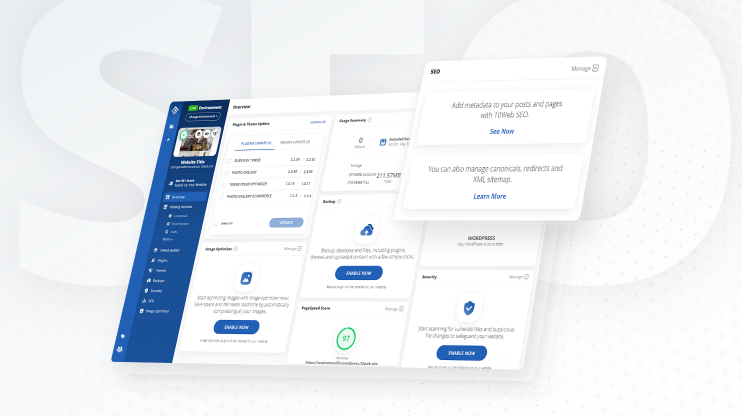 As long as Google continues to rank number one on the list of websites with the largest amount of traffic, the significance of search engines will prevail. This inevitably puts search engine optimization (SEO) at the top of every website owner's list of priorities, your clients included.
It's imperative that this aspect of hosting isn't underestimated, because, as studies have shown, a high Google ranking has a positive impact on your click through rate (CTR).
So, make sure to add this one to your list of must-have factors for WordPress hosting for agencies and developers.
That's why optimization services are such an important part of 10Web's product range. Our SEO services include custom metadata, a XML sitemap, canonical URLs, search analytics as well as redirects, to name a few.
This and many other services will, on one hand, help you analyze and understand your past performances in order to be able to learn from your mistakes to then be able to avoid them in the future. On the other hand, they will provide you with guidance as to how to optimize your site's performance.
What's more is that you have the opportunity to create a knowledge graph. What a knowledge graph does is it links matching data to each other using natural language. This will facilitate understanding and indexing the content on your website.
In addition to this, we at 10Web also provide URL optimization by, for example, examining URLs' length. Finally, you'll have the opportunity to import data from your Yoast account. That way you won't lose any previous SEO accomplishments.
9. Support
Nowadays customer support is provided by most managed hosting companies. So, if you happen to encounter a hosting provider that doesn't include qualified customer support in the hosting plan, then we recommend you move onto the next one.
Especially agencies and developers should insist on having this feature. Things usually have a way of not turning out the way you want or expect them to. In such instances, it's better to be safe than sorry and have a support team at your disposal that will provide effective and fast solutions to your problems. If you ask us, any suitable WordPress hosting for agencies or developers needs to provide this basic feature.
At 10Web, customer support isn't just something that is assigned to one department only. It's every single worker's responsibility to always be hands-on and deliver quick solutions whenever a customer needs it. And this is of course available to you 24/7.
If you don't believe us, go ahead and give it a try. Ask a question and see if you don't get an answer within 5 minutes.
10. White Labeling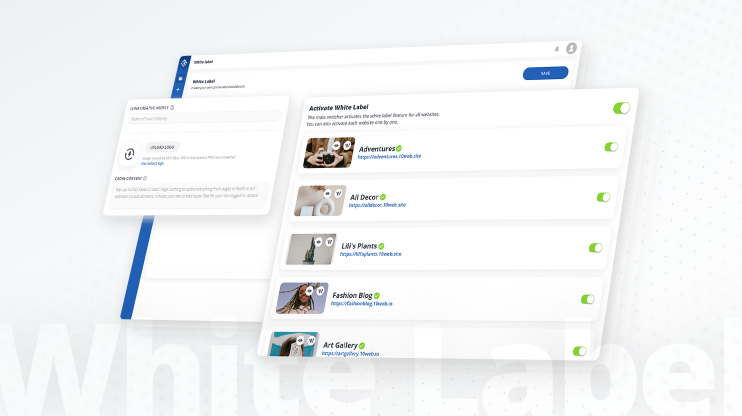 As you can see, we saved the best for last. Let's start with white labeling. Now this feature basically gives you the opportunity to "resell" our hosting services.
In what way would this be beneficial for agencies or developers, you ask? Say, for example, your client tells you they're in need of good hosting services. You can offer them these services, without them knowing that you're providing outsourced services.
At 10Web, white labeling is included in our product range. So feel free to offer our services to your clients. Rest assured that they won't find out that they're using 10Web and that your brand will get credit for what you offer.
Now that we have provided some As to your Qs, let us know what you think. Did we forget to mention an aspect that you find essential? Do you agree that our hosting at 10Web is the right WordPress hosting for agencies and developers? Or are you missing certain additional features? Make yourself heard and leave a comment below!