Speed is crucial for building an effective, conversion-generating WordPress website. A myriad of caching solutions are available to improve website speed and performance. The real challenge is to determine which one will effectively meet your requirements. Let's compare WP Super Cache, W3 Total Cache, and 10Web Booster plugins side by side and ease your decision-making. 
The Need for a Cache Plugin on Your WordPress Site
What are the benefits of utilizing a WordPress cache plugin anyway?
A cache is a temporary higher-speed access space that saves recently used data for faster retrieval in the future. Caching saves and shows visitors a "static" version of the information on a website, earning your website valuable seconds of loading time.
A cache noticeably improves speed and performance by downloading frequently-accessed resources and data from its source, creating a copy of these resources and storing it in a temporary storage space where it can be accessed much faster at a later point. The temporary storage can be a browser, web server, or even the same web server with the resources in different formats.  When you update your site at its source, the temporary version of your site resources stored in the cache is updated as well. ​​Caching also ensures that website content is always accessible; cached material may remain visible even if your site goes down due to a server error. Various types of web caching take place throughout a page request or while a web application is active. These web caching types include Opcache, server cache, database cache, object cache, page cache, browser cache, CDN Cache, and DNS Cache.  A cache reduces the bandwidth used to relieve network congestion, lessens the workload on your hosting server to increase performance and save server memory, and enhances Search Engine Optimization (SEO) by improving speed. 
In simpler words, if Google ranking, bounce rate, user satisfaction, conversion rate, and simply the speed of your website are elements of concern, as they should be, you must consider a cache plugin for your WordPress site. Let us compare WP Super Cache, W3 Total Cache, and the 10Web Booster plugin to determine which is superior.
WP Super Cache Vs. W3 Total Cache Vs. 10Web Booster: An Overview
We'll examine the main difference between the top three candidates for the best WordPress cache plugins, WP Super Cache, W3 Total Cache, and 10Web Booster, and explore products' installation, key features and optimization results, cost, and customer support.
WP Super Cache, developed by Automattic, is a static WordPress cache that generates HTML files, a speedy alternative to processing WordPress PHP scripts, which can be costly and time-consuming. The cache is limited in its features and provides three ways to cache files. The quickest approach is called the Expert option. It ensures that your website operates effectively even when under strain from high traffic by bypassing PHP when serving cached files.
However, it does necessitate modification of your .htaccess file. This modification may be dangerous if done incorrectly and can cause a website crash. The "Simple" option is the recommended alternative. It provides files with dynamic segments but is slower than the  "Expert" option because it serves the cached files by PHP. The final technique, WP-Cache caching, is designed for logged-in users. The cache ensures visitors experience dependable performance while the content is served "per user".
WP Super Cache can also sync with your WordPress Content Delivery Network (CDN), allowing you to speed up your website further. 
W3 Total Cache is a more complex and effective alternative that works well for busy websites. W3 Total Cache seamlessly integrates with your CDN. It also reduces bandwidth usage by compressing and minifying the site's files, drastically reducing download time and improving the overall user experience. W3 Total Cache is better suited for more experienced users due to its numerous settings for decreasing JavaScript and Custom Style Sheet (CSS) files and its object caching capabilities.
10Web Booster is an automated speed optimization plugin and a component of the 10Web platform. 10Web Booster provides both frontend and backend optimization.
10Web Booster works on all hostings and is a more comprehensive solution, which goes beyond that of a simple cache. ​​It provides free comprehensive frontend optimization, including but not limited to lazy loading, minification, compression, image optimization, and critical CSS Generation. 
10Web Booster has engaged with Cloudflare to provide one of the best WordPress Content Delivery Networks in the market, ensuring exceptional speed, functionality, and security for WordPress websites. 
Why is 10Web fundamentally better than the first two?
In comparison, WP Super Cache and W3 Total Cache require additional optimization solutions for features such as image optimization, critical CSS Generation, and JS delay. 10Web Booster has these techniques by default. Additionally, if slow web hosting is the reason behind website slowness, WP Super Cache and W3 Total Cache, which improve website speed by creating static pages, will not suffice.
For this reason, 10Web Booster Pro, the paid speed optimization solution, offers a one-click automated migration to 10Web's WordPress hosting on Google Cloud and focuses on backend optimization to enhance overall website speed and performance.
Active Installation Comparison 
Winner: WP Super Cache  
10Web Booster is a new plugin launched in 2022. To date, it has achieved more than 10000 active installations. W3 Total Cache has more than one million installations, while WP Super Cache has more than two million active installations. 
Rating Comparison 
Winner: 10Web Booster 
10Web Booster, a recently launched plugin, has a rating of 4.7 out of 5 stars with 30 reviews. W3 Total Cache has 4.4 stars out of 5, with 5012 reviews, while WP Super Cache has 4.3 stars out of 5 with 1,292 reviews. 
Ease of Setup Comparison 
Winner: 10Web Booster 
Similar to other WordPress plugins, WP Super Cache, W3 Total Cache, and 10Web Booster can be installed through your WordPress dashboard. W3 Total Cache does require a bit of a daunting process through their Performance menu that calls for the configuration of each offered setting. 
WP Super Cache plugin is significantly easier to install and configure and offers two simple options: on or off. The WP Super Cache also has an Advanced Setup that allows for greater control over the plugin caching of your site. 
10Web Booster is simple to install with automated configuration. It requires a one-step procedure; just connect your website and the rest is done automatically. 10Web Booster Pro likewise offers a simple solution with a one-click automated migration to 10Web hosting on Google Cloud, where complete website optimization awaits. 
Support Comparison 
Winner: 10Web Booster 
When selecting the ideal WordPress cache plugin for your website requirements, support is a crucial aspect to consider. Both W3 Total Cache and WP Super Cache provide support through their extensive FAQ sections, online guides, and routinely updated help forums on WordPress.org. Similarly, 10Web Booster offers FAQs, alongside articles, guides, video tutorials, and demos. Notably, it offers 24/7 live chat support for troubleshooting or inquiries, available for free and paid plugin users. 
A comparison of WP Super Cache vs. W3 Total Cache vs.10Web Booster for their offered support presents an obvious winner, 10Web Booster. Both 10Web Booster, a free plugin, and 10Web Booster Pro, a premium option, provide a 24/7 live chat service to help users address problems quickly, effectively, and without irritation, and a savior for those who dislike reading through extensive documentation.
Pricing Comparison 
Winner: 10Web Booster WP Super Cache is a free cache plugin and does not offer any paid options. W3 Total Cache has free and paid versions of the plugin. W3 Total Cache Pro is available for an annual fee of $99. The W3 Total Cache Pro includes solutions that work with any CDN. It also utilizes fragment caching, Genesis Framework compatibility, and more. It also provides premium services ranging from $250 to $350. These services entail performance auditing and consultation, troubleshooting, and configuration services. 
W3 Total Cache Pro Premium Solutions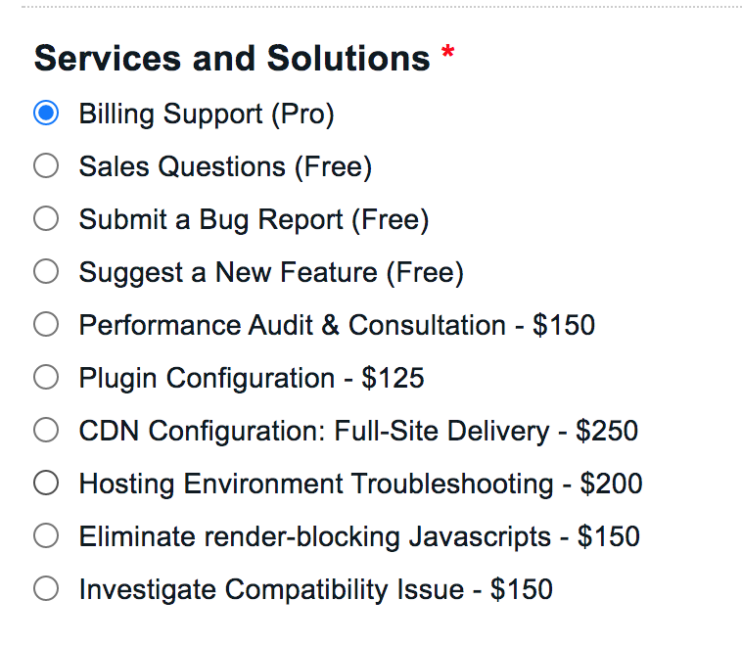 10Web Booster also provides free and paid versions. The free 10Web Booster plugin provides frontend optimization of the homepage and 5 other pages of any website. The Free package guarantees a high cache hit ratio for all websites, improved Core Web Vitals, a 90+ PageSpeed score, and 24/7 Customer Care.  
10Web Booster Pro comes with the 10Web platform paid plans. 
For $10 per month, the Personal plan offers full optimization of all pages of one website and/or hosting of one website. 

For $24 per month, which comes to $8 per website, the Premium plan offers full optimization of all pages of three websites and/or hosting of three websites. 

Last but not least, at $60/month, or $6 per website, the Agency plan offers complete optimization of all pages of 10 websites and/or hosting ten websites. 
10Web Booster Pro provides services for hosting, backend optimization, and all features of the 10Web platform at no extra cost.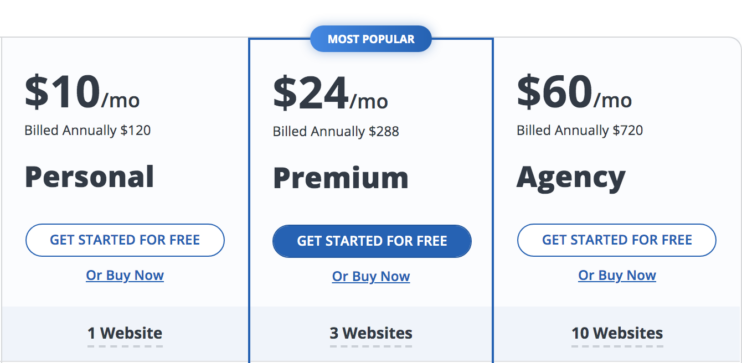 When comparing WP Super Cache, W3 Total Cache, and 10Web Booster in regards to cost, whether for a simple website with minimal user interaction or a complex website with a variety of features, 10Web Booster proves to be the winner. It offers a free plugin for sites of any complexity and a paid plugin for backend, hosting, and full website optimization. 
Super Cache Vs. W3 Total Cache Vs. 10Web Booster: Feature Comparison
It is common for individuals to refer to optimization solutions as "cache". This is quite unfortunate and very misleading. Caching is just a small fraction of the world of optimization solutions. Caching alone will no longer bestow you with a 90+ PageSpeed score or help you pass the Core Web Vitals.
Speed is no longer merely derived from simple minification and cache but from a dozen of techniques that have emerged in the recent decade, taking solutions above and beyond cache. The goal today is to optimize and improve metrics and speed.
Let's go through some of the most critical features and their impact on page metrics and speed.  
CSS, HTML, and JS minification and compression
Minification and compression are basic methods of frontend optimization. They reduce file sizes, the number of web page requests, and decrease page load time. When developers create CSS, HTML, and JS files, they use spaces, newline characters, comments, unused code, and variable names to make the code readable. Unfortunately, this code readability also increases the size of the file and slows down the frontend.
Fortunately, browsers do not need all these code details to execute the files, and by using minification to eliminate these non-essential code details and then merging these test files and compressing them, we can reduce the length and size of the code, the network traffic and increase the speed of file execution, and the frontend. Minifying and compressing files improves all metrics, especially FCP, TTI, and TBT.
WP Super Cache does not minify or compress CSS, HTML, and JS files. W3 Total Cache and 10Web Booster plugins do minify and compress CSS, HTML, and JavaScript files, enabling a faster frontend speed. The difference between W3 Total Cache and 10Web Booster is the use of Brotli compression.
10Web Booster employs Brotli for the sites hosted on 10Web. Through Brotli compression it derives JavaScript files that are 14% smaller than Gzip, HTML files that are 21% smaller than GZIP, and CSS files that are17% smaller than Gzip. 
Page caching
Each time your web server generates HTML for each of your webpages, it must execute PHP scripts, obtain data from the database, and output the results as HTML. This process is time and resource consuming. Page caching ensures that this process only happens once. When the web server generates HTML, it is then saved in your website storage or cache as a file. The next time you browse the webpage, the cached version, or the file of your page, is downloaded from the server.
There is no longer the need to execute PHP script or retrieve data from the database, all it takes is a file download. Caching improves LCP, TTFB,  and many other metrics.
10Web uses page cache. Page cache retains dynamic web pages as static files. Since dynamic pages are typically written in backend programming languages like PHP, in the case of WordPress websites anyway, they take longer to generate than traditional static web pages, which are plain HTML.
This means that when a visitor re-visits your webpage, the "static" version of your webpage is promptly loaded from the cache instead of your hosting, making your website seem lightning fast. WP Super Cache, W3 Total Cache, and 10Web Booster all have similar cache practices. 
File caching
File cache stores the created minified and compressed CSS and JS scripts on the web server's disk, memory, or cache. This process reduces the number of HTTP requests and increases page load speed. 10Web Booster, W3 Total Cache, and WP Super Cache employ file caching to boost page speed. 
Feed caching 
If your website has complex news feeds, product feeds, or blog feeds with hundreds of products or more, feed caching can be a vital tool for you. These enormous feeds can slow down your website and may even have difficulties loading. Feed caching temporarily stores the feed files in a storage area and allows for faster retrieval once a visitor enters the page. 10Web Booster and W3 Total Cache have feed caching, WP Super Cache has third mode caching. 
Object caching methods, including local Disk, Redis, and Memcached 
WordPress websites are made up of a variety of PHP objects that are constantly created and deleted. Object caching temporarily stores results of database queries for faster retrieval at a later time. In WordPress, it is enabled by default, however, the stored data is only used for the original request. Any requests at a later time demand an additional database query. Storage solutions like Redis and Memcached can be configured with the native WordPress object cache, enabling the cached data to be used after the original request and for multiple requests.
This is an advanced technique that sometimes can provide extra optimization, particularly in case of recurring database queries that are used to generate dynamic pages, such as filtered product listings. Such pages are difficult to cache using page cache.  Only W3 Total Cache provides the option of object caching. 
Critical CSS generation
For your visitor to see your webpage, the browser has to download and parse through all the CSS files. The size of your CSS files makes a large impact on the loading time of your website. The smaller the files, the faster your page loads. Critical CSS generation finds the essential code required to load styling for a web page and inlines them into HTML files for speedy page rendering. The non-essential code is delayed and loaded when necessary. CSS generation improves FCP, TTI, and TBT metrics.
WP Super Cache and W3 Total Cache do not use critical CSS generation. 10Web Booster uses a built-in function to generate critical CSS for every page and layout and  enhances the load time and performance of your website. 10Web Booster generates critical CSS on devices of all sizes, both mobile and desktop.
10Web Booster ensures that all stylesheets for critical CSS are available, avoids rule duplicates, and orders styles in a manner to obtain fast performance and keep page styling unaltered. 
JS Delay 
Delaying the execution of scripts and styles can also speed up load time, leaving the impression that content is immediately made visible on your website. WP Super Cache and W3 Total Cache do not employ JS delay. 10Web Booster on the other hand uses this technique to delay the loading of JS  files and prioritize important styles and scripts in a non-blocking way.
10Web Booster also automatically detects website-breaking issues and takes two corrective measures. It either avoids delaying these problematic scripts or disables the entire option, making sure these issues do not see the light of day.  JS delay improves FCP, TTI, TBT and FID metrics.
Image, video, and iframe lazy loading
As mentioned before, when your visitor enters your webpage, their browser starts the loading process of all the page resources, including images, videos, and iframes. Images, videos, and iframes are typically large in size and demand a longer load time. Lazy loading is a technique that loads only the images, video, and iframes above-the-fold while delaying the rest for a swift page load. WP Super Cache does not allow for lazy loading of images, videos, or iframes. W3 Total Cache has lazy loading for images and background images only and does not support lazy loading of iframes and videos.
10Web Booster, on the other hand, does take advantage of this great method of lazy loading images, iframes, and videos for enhanced frontend optimization. ​​This significantly improves all Core Web Vitals.
CDN
Content delivery/distribution network or CDN is a network of geographically-linked servers that store website resources. CDN detects the server that is located closest to your website visitor and provides content from that server. It reduces the distance between a website server information (HTML pages, javascript files, stylesheets, images, and videos) and the visitor's browser, therefore allowing for delivery of content as ​​efficiently, affordably, and securely as possible.
W3 Total Cache provides an integration solution with any CDN, however, CDN must be purchased with a separate subscription.
10Web Booster has access to one of the biggest global server networks through its partnership with Cloudflare. Through the Cloudflare network, your website will be connected to 275 data centers, more than 100 countries, and 95% of the world's population in less than 100 milliseconds.
10Web Booster grants websites access to Cloudflare's enterprise package. Cloudflare's "reserved-for-enterprise" network presents cutting-edge features and capabilities to cache and serve your website to your visitors with optimized speed and security. 
Cloudflare CDN enterprise enables full-page caching within its network. All static website material, including non-image content like CSS/JavaScript files, file attachments, and others, are automatically cached. Before caching, fonts, media content, CSS and JS files, and other assets are also optimized and minified, and images are lazy loaded.
The distance between the server and the visitor browser is greatly reduced through the processes of optimization, caching, and delivery from the closest network server, which speeds up websites and minimizes page load times. CDN is especially impactful for websites with international audiences.
Through the CDN's solid-state drives and load-balancing capability—a feature that is especially crucial for websites with limited hosting capacity—Cloudflare strengthens server-side infrastructure. The requirement for load balancers, auto-scaling, and setups is eliminated with Cloudflare. By automatically routing and load-balancing traffic, the CDN and its enormous, interconnected network of servers lessen the burden on the origin server. As a result, your website receives the scalability and dependability it requires to maintain and improve its optimal performance.
By ensuring that your website is accessible to users even when your server is down, Cloudflare also guarantees increased uptime. With 10Web Booster and Cloudflare CDN, server outages will no longer result in website downtime. Even during blackouts, visitors will still be able to access your cached website. In addition to excellent uptime, Cloudflare makes sure your website is always safe and secure. To ward off threats, it makes use of industry-leading web firewalls, DDoS, anomaly detection, personalized CAPTCHAs, and bot mitigation.
10Web Booster Pro provides automatic access to the leading CDN provider, Cloudflare enterprise CDN, while WP Super Cache and W3 Total Cache merely provide the capacity to integrate these plugins with an independently purchased CDN, leaving most of the cost and manual labor to you. 
Want to speed up your website instantly?
Get 90+ PageSpeed Score automatically with 10Web Booster ⚡
On any hosting!
Want to speed up your website instantly?
Get 90+ PageSpeed Score automatically with 10Web Booster ⚡
On any hosting!
Font optimization
Web fonts can slow the load time of your page. Web fonts require the download of additional resources to load on your visitor's browser, which can take time.
10Web Booster uses a technique called font swap to decrease the load time of fonts by initially showing a default font, and once your web font downloads, swapping the default font with the custom web font. 10Web Booster also avoids FOUT and FOIT issues.
WP Super Cache and W3 Total Cache do not utilize font optimization techniques. Font optimization improves FCP and LCP metrics. 
Image optimization (compression, resizing, WebP)
High-resolution images, photographs, and galleries, because of their size, can consume resources and drag down your website speed significantly. There are several methods through which image optimization can be obtained. For example, container-specific image-resizing finds or creates duplicates of images in smaller sizes, so that if your visitors use a smaller-screen device, it can load a smaller-sized image, saving valuable seconds of load time. 
Compression to WebP reduces image file size.  WebP is a de facto standard for web and efficient image format that converts images to be on average 26% smaller than PNG and 25 to 35% smaller than JPEG. 
Lazy loading is another technique for image optimization. The technique loads only those images in the view of the visitor and delays those that are not above the fold. 
WP Super Cache and W3 Total Cache do not have any image optimization methods, while 10Web Booster uses lazy loading, compression and conversion to WebP, and container-specific-resizing to optimize images.  
Image optimization impacts all metrics with a strong impact on LCP.
Backend optimization
In the search for speed optimization solutions, backend optimization also plays a critical role in speed and performance boost. The backend or server performance is not something that a website visitor will see or interact with, but in case of any shortcomings, the impact will be felt by visitors in the form of a slow and improper functioning website. Some caching plugins may offer limited backend optimization in the form of object cache, for example, but this is a drop in the bucket. When it comes to backend optimization a strong backend begins with the hosting. 
According to Google, a TTFB under 200ms is an indication of a strong and powerful backend. If your TTFB is over 200ms you have a slow backend in need of improvement. A slow backend negatively impacts your pages, particularly dynamic pages. This means that your backend will provide unique content on each request. The AJAX requests sent to the wp-admin/admin-ajax.php script will also be slow. Moreover, a slow backend will also negatively impact and slow down WordPress Rest API, even when the Rest API does not have any views and is merely a plain JSON. 
An optimized and powerful backend with cloud hosting, isolated architecture, and its own hardware resources, is crucial for the smooth operation of your website functions and algorithms. An optimized server generates and sends pages to visitors at the fastest possible speed without sacrificing quality or crashing your website.  
10Web hosting uses Google Cloud Premium Tier Network and Linux container technology to provide a powerful backend for websites. The isolated Linux containers ensure that resources are your own and not shared with other sites. Furthermore, 10Web hosting hardware resources, including SSD drives, offer significantly faster speed than those with HDD. You will also receive the speediest page cache solution with NGINX FastCGI Cache, the latest MySQL version for notably fast database and fast website speed during traffic spikes, the newest PHP Version for enhanced performance and speed, and much more. 
A powerful backend is only a click away with the 10Web Booster Pro. It's a fast and risk-free automated migration to 10Web hosting. Enter your website URL, select a data center and experience seamless migration and the complete optimization of your website. 
Nginx FastCGI cache
We know that the fastest website is a static website. 10Web utilizes NGINX FastCGI Cache, the fastest page cache solution that allows you to control what pages get cached and ensures that pages are retrieved at the fastest possible speed. The NGINX FastCGI page cache takes the dynamic WordPress web pages and creates static pages, serving them with lightning-fast speed. It caches the recently visited and generated web page responses from PHP-FPM as static files and gives them unique cache keys.
Later, it serves the static files from the cache to your returning visitors without any delay. NGINX FastCGI Cache outperforms most other page cache solutions, particularly when considering the number of active clients the server can handle without compromising on average response time. FastCGI also allows the processing of more requests at one time and is much faster as it avoids executing each request as a separate process. Requests are therefore processed with high efficiency ensuring that your page loads fast. 10Web uses  NGINX FastCGI Cache to ensure optimal caching. 
PHP version
The newest versions of PHP are more secure and offer significant performance improvements. According to benchmark tests, before version 8.0, new versions typically saw a performance boost of 10%. The latest 8.1 PHP version has exhibited a spectacular performance increase of 40-50% compared to its predecessors. 
10Web subscription makes PHP updates a breeze. It includes a staging environment for each hosted site for no extra cost. Within the environment, you can easily create a clone of your website, change the PHP version and test your website. Once you are confident that all functionality works accordingly, you can take your site live. 
SSD
Your backend may be slow due to the lack of server RAM. SSD drives are noticeably faster than hostings with HDD. SSDs for both WordPress files and databases can significantly increase website speed and reliability. Without sufficient SSD drives or with a slow HDD disk, it may take a long time to read your data and open files. Even page and file cache use your disk to store resources.
If your disk is slow, your cache will also be ineffective. Not to mention the adverse impact of a slow disk on your database. This is why an SSD is crucial for storing files and databases and for the speed and reliability of your website. An SSD drive can also have an impact on the TTFB metric, helping you reach TTFB faster than 200 ms.
10Web hosting offers hardware resources like SSD disks for storing your website's files, providing the best possible speed and reliability and operating substantially faster than hostings with HDD.
Fast servers
There are a myriad of web hosting solutions out there. The most common hosting option is budget or shared hosting. Budget hosting companies are infamous for over-allocating their servers to cut costs, which compromises the performance and security of your website. If you are seeking a fast website – if you weren't you wouldn't be reading this article – then a fast server is essential. When evaluating servers for their performance, look into hardware resources like RAM, CPU, number of workers and the like. Fast servers are only one click away from an automated migration to 10Web's WordPress hosting on Google Cloud. The transfer process is fully automated without any manual labor, technical difficulties, or data loss.
Isolated architecture
10Web cloud hosting is built with Linux container technology. With Linux container technology each website runs in its own isolated Linux container and does not share resources with other websites. Such architecture guarantees that your website's speed is unaffected by the load and traffic fluctuations of the nearby websites. 
Optimized network
A sudden spike in traffic can slow down websites or even cause errors. By dividing the traffic load over its Google Cloud Premium Tier Network, 10Web hosting addresses this problem and ensures that your website can withstand the demand without experiencing downtime or speed loss. Despite a surge in traffic,10Web guarantees that your website won't go down and that its speed performance will remain at its optimal level.
WP-CLI support for cache purging, updating, etc.
WP-CLI is the official command-line interface for WordPress. WP-CLI and WordPress Dashboard have the exact function. Everything that can be done through the dashboard can also be done through WP-CLI. The difference is that with WP-CLI, you use code or commands instead of clicking on buttons, something that is often preferred by developers. 10Web provides WP-CLI support for cache purging, updating, and more for websites hosted on 10Web. 
Winner: 10Web Booster 
Features 
WP Super Cache
W3 Total Cache
10Web Booster 

Minification and Compression (HTML, JS, CSS) 

✔️

    

✔️  

✔️

File Caching

✔️

✔️

✔️

Feed Caching

❌

✔️

✔️

Page Caching

❌

✔️

✔️

Object Caching

❌

✔️

❌

JS Delay

❌

❌

✔️

Image Lazy loading

❌

✔️

✔️

Video, and iframe lazyload

❌

❌

✔️

Use of critical CSS

❌

❌

✔️

Optimizing font delivery

❌

❌

✔️

Converting image format to WebP

❌

❌

✔️

Container-specific image resizing 

❌

❌

✔️
Features Comparison Overview
In the age of speed optimization, utilizing only cache optimization is no longer enough, modern optimization solutions are needed which have much more than just cache features. The question here is: which is the best optimization solution with caching?
10Web Booster's optimal and superior algorithms of optimization, in addition to serving as a free entry point to the 10Web platform, makes it close to incomparable with WP Super Cache and W3 Total Cache solutions. 
It cannot be denied that superior speed improvements require effective hosting and cannot be attained by services that merely optimize the website frontend.
You may think it unfair to compare the backend with the frontend, yet when comparing only the frontend optimization features of these three, speed optimization solutions,10Web Booster algorithms, and technology still offer better optimization than that of WP Super Cache and W3 Total Cache.
10Web Booster stands strong with 
critical CSS generation, 

image lazy loading, 

iframe, and video lazy loading 

image optimization 

optimized font delivery

container-specific resizing 

conversion of image format to WebP

font swap
These features are equipped with enhanced technology and deliver smooth and fast performance without breaking websites. 
10Web Booster Pro with Cloudflare integration provides additional services for exceptional website speed, performance, and security, on top of immaculate user-friendliness for your sake, including: 
One-click automated activation and configuration 

Automatic cache optimization and full-page cache for static pages 

Static and dynamic content delivery with excellent speed

Image optimization and lazy loading for desktop and mobile pages, built-in and automatic. 

Scalability, load-balancing, enhanced reliability, and enhanced uptime. 

Built-in DDoS protection

Web application Firewall(WAF) 

Website, application, and network protection 

SSL capabilities (in case of SSL, compatibility with your existing SSL)  

Intuitive user interface

Stellar 24/7 customer support 
Or you may pay $10 a month and receive the best full cache, frontend, and backend optimization (and 10Web Hosting! And Cloudflare CDN!) with 10Web Booster Pro. 
Let's not forget all the other critical components of a solution
Effortless setup and management 

Continual updates and improvements

Prevention and avoidance of breaking of websites and unexpected errors

Excellent customer support 

Automated cache and speed optimization 

A mere $10 per month with 10Web Booster Pro and your receive full frontend and backend optimization, and hosting at no extra cost. 
10Web Booster is also more reliable, has a better user experience, and offers more favorable pricing than WP Super Cache and W3 Total Cache. 
You may pay zero dollars and receive a free limited WP Super Cache.

You may pay $8.25 per month and receive a modest cache optimization with W3 Total Cache. You may pay zero dollars and receive the best cache optimization with 10Web Booster for a limited number of pages (homepage + 5 pages). 

Or you may pay $10 a month and receive the best full cache, frontend, and backend optimization (and 10Web Hosting!) with 10Web Booster Pro. 
Summary and Winner 
10Web Booster comes ahead of WP Super Cache and W3 Total Cache in terms of caching types, features, overall performance, price, and user-friendliness. 10Web Booster is not merely a cache solution (unlike WP Super Cache and W3 Total Cache), it is a complete website speed and performance optimization solution with a myriad of features that go beyond caching.
Moreover, with 10Web Booster Pro, you receive backend optimization on a powerful host, making your website performance unbeatable.  The only option for a completely optimized, flawlessly functioning, stable, and dependable website is the 10Web Booster.
Want to speed up your website instantly?
Get 90+ PageSpeed Score automatically with 10Web Booster ⚡
On any hosting!
Want to speed up your website instantly?
Get 90+ PageSpeed Score automatically with 10Web Booster ⚡
On any hosting!