5 Most Crucial B2B Marketing Strategies to Grow Your Business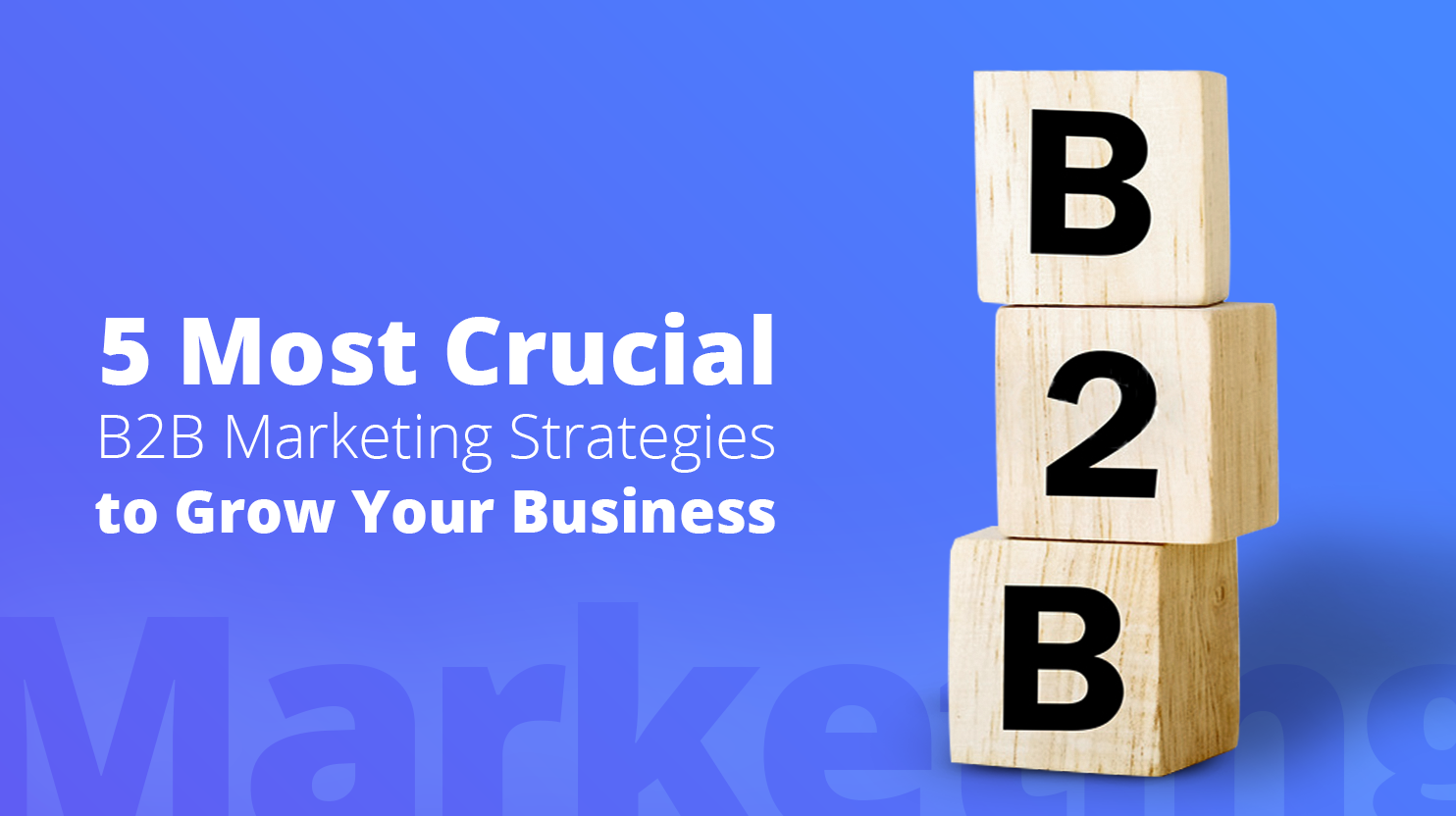 The digitalization of the world has changed the way we do B2B marketing forever. There are several reasons for this:
Firstly, about half of all B2B buyers are millennials and they increasingly prefer online shopping to cold calls and face-to-face business.
Secondly, B2B buyers now more than ever dedicate more time to consider their options, read reviews, and do in-depth online research.
A typical B2B buying group is now comprised of more people than before, which means your product or service needs to please different types of people to convince them to purchase.
Finally, the modern B2B buyers go back and forth through the sales funnel a few times before making a buying decision.
So, to please this modern diverse thoughtful group of buyers, you need to use these 5 most crucial B2B marketing strategies for the digital world. Just follow our advice and see your business grow!
1.Building a great website
It comes as no surprise that your brand's website is its business card in the online world. Most buyers will not hesitate to judge a site by its website, which is why if you don't have a professional-looking website do yourself a favor and get one. In fact, you can even use one of our many designer-made website templates. You can also read more about creating a great business website in 5 easy steps here.
See How 10Web Can Benefit You
Visit our homepage to learn more about the first-ever AI-powered WordPress platform.
See How 10Web Can Benefit You
Visit our homepage to learn more about the first-ever AI-powered WordPress platform.
But what makes a great business website? It has to:
• Load fast.
In fact, 47% of consumers expect a site to load in two seconds or less and if your website takes more than 3 seconds to load, you lose almost half of your traffic. What you can do to make your site load fast is host it on cloud with a great provider, optimize your images, and follow a performance service's advice. By the way, hosting on 10Web is known for making sites achieve a PageSpeed score of 90+. You can copy your site for free and check for yourself.
• Be secure.
The vast majority of buyers won't browse an unsecured website. Definitely use an SSL certificate.
• Be well-designed.
Well-designed means your website looks sleek, is easy to navigate and has an intuitive interface, and makes your business's message extremely clear from the get-go.
• Be mobile-friendly.
These days mobile phones and tablets have become the primary way of web browsing so you need to make sure your website has readable and user-friendly version for mobile to attract visitors.
• Be engaging and informative.
Your website needs to give clear and concise information about what your business does and how a visitor can contact you. It also needs to be full of engaging content targeting your potential visitors' interests and hobbies. We'll discuss this point in more detail in the content marketing section!
2. Content marketing
In the informational age content marketing is the marketing of the now – stats show high ROI and more and more companies engage in content creation for promotional aims.
In fact, 84% of people expect brands to provide content that entertains, tells stories, provides solutions, and creates experiences and events. And 70% of consumers prefer to learn about products through content instead of traditional ad methods.
A good content marketing strategy includes:
• Setting clear metrics and measurable goals for your content from the beginning.
• Creating content that targets your audience and addresses its specific needs and interests.
• Varying formats and not being afraid of trying new things. Digital possibilities are endless: ebooks, vlogs, infographics, comics, etc.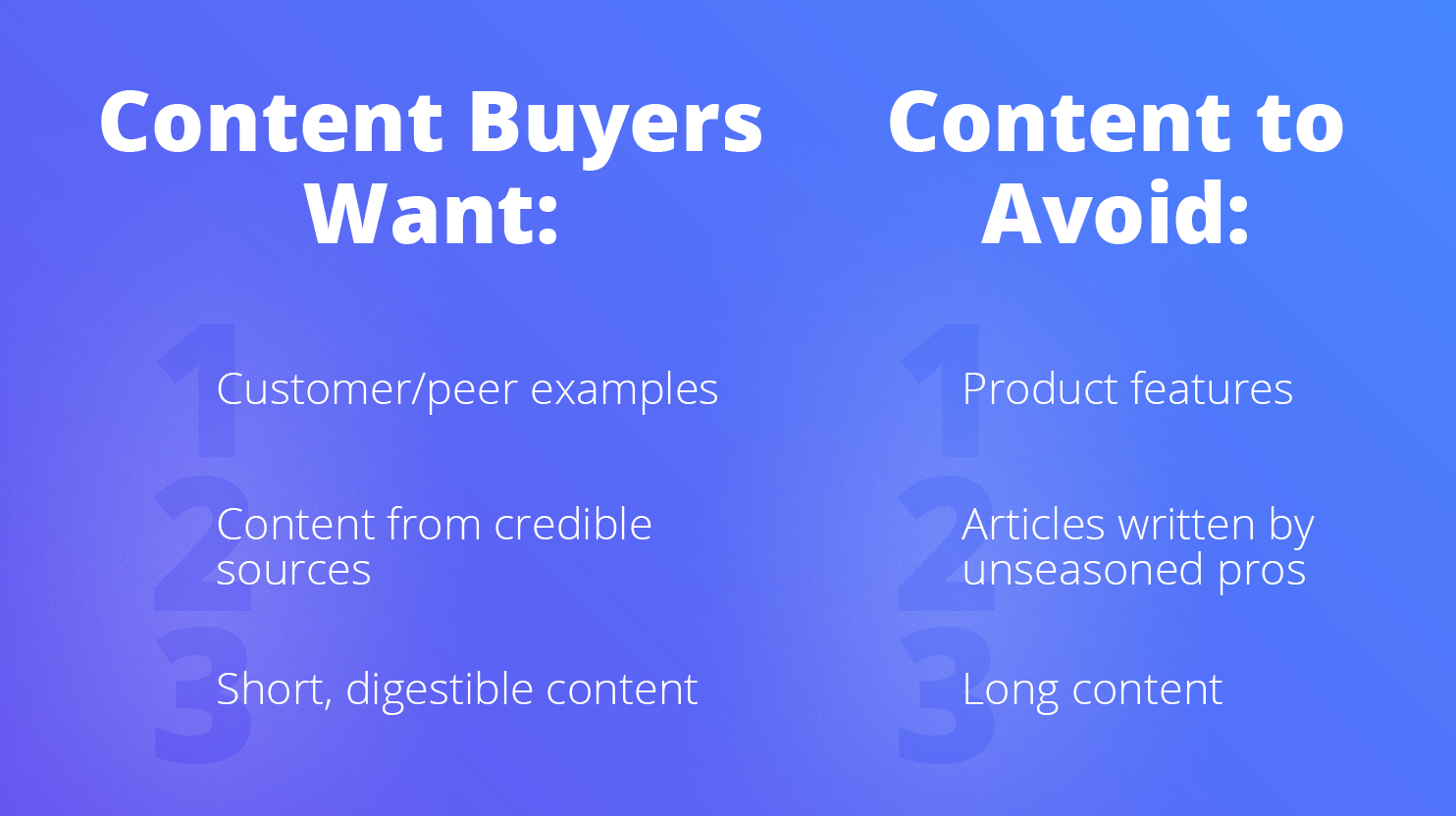 In short, buyers want customer/peer examples, content from credible sources, and short, digestible content, and don't want product features, articles written by unseasoned pros, and longreads.
• Making content shareable on social media and actually promoting it through the company's social media channels.
• Focusing on visual and interactive content.
You can read more about avoiding mistakes in your content marketing strategy in this article.
3.SEO (Search Engine Optimization)
Searching online is the main way consumers find your business's website, which is why ranking highly on Google is so important.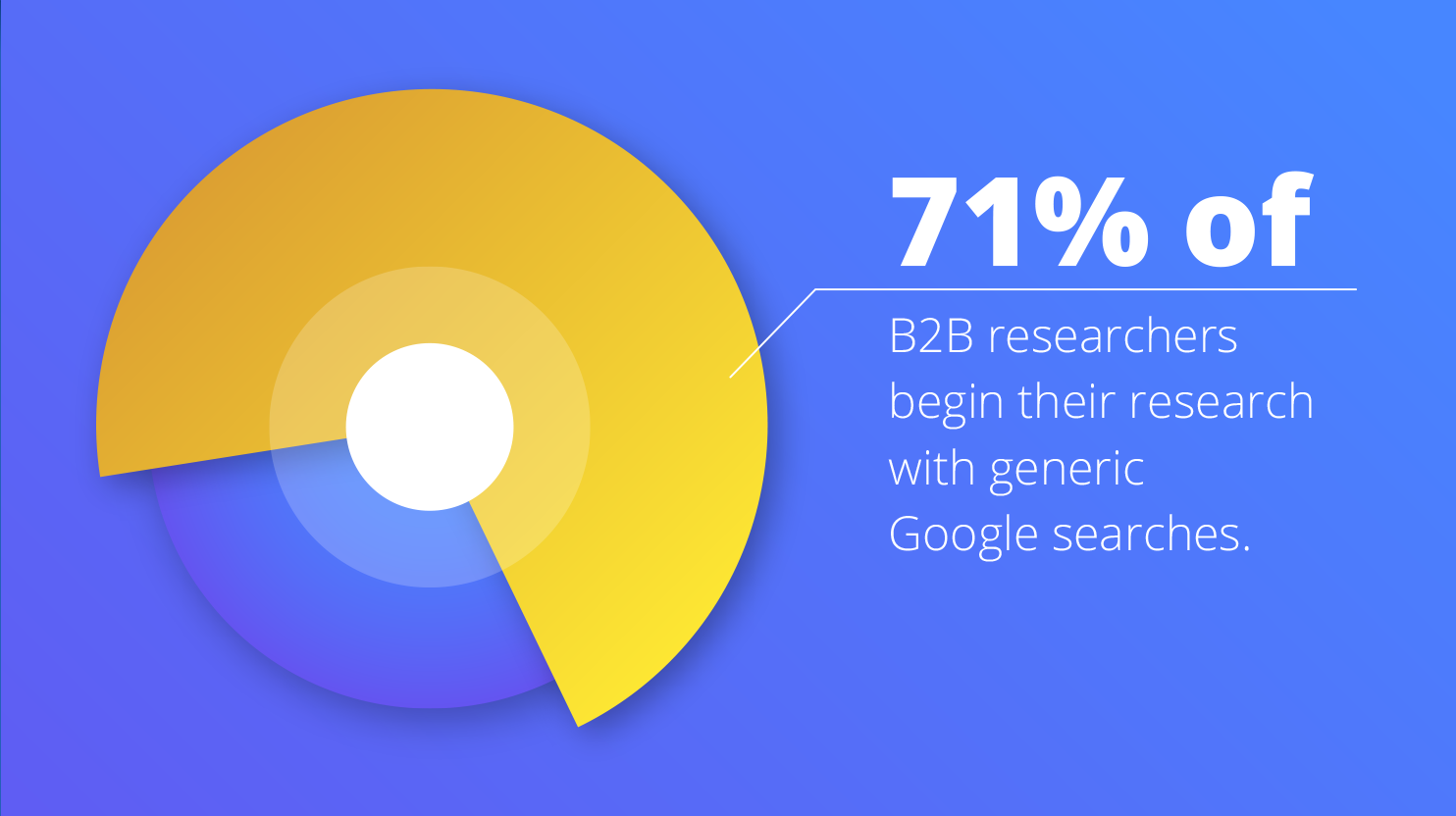 In fact, researchers perform 12 searches on average before landing on your website! So, you have 12 chances to catch the buyers' eye.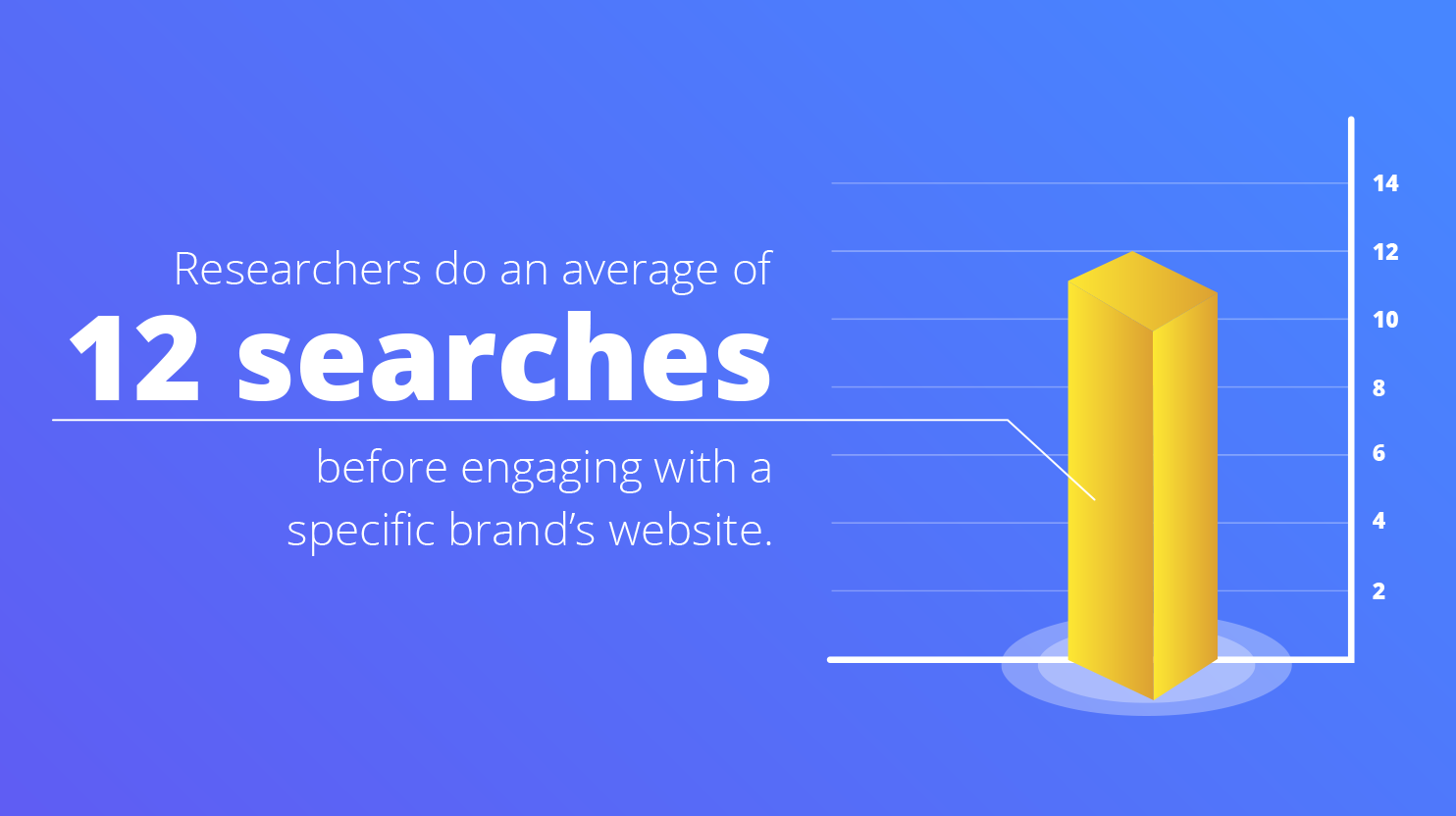 The next main question that arises is what exactly is the intent of your search. What to optimize for? For B2B purposes, it's a good idea to focus your SEO efforts on:
• Purchase-related keywords, such as "buy," "packages," "RFP," "quote," etc.
• Competitor and branded terms
• Contact-related keywords, such as "contact," "call," "request"
• Comparison, cost, and pricing keywords, such as "reviews" "how much," "cost of"
• Location-specific keyword modifiers – for example, city or town, state, ZIP code, etc.
4.Forming partnerships and affiliations, collecting reviews and testimonials
According to stats, authority in the digital world has never been more important than now. It's only natural – people have a tendency to trust brands by their association with other brands and by their relationships with their existing clients. The web has just made other customers' opinions more accessible geographically and partnerships more visible. Here are a few ways you can include building authority in your marketing strategy:
• Set up an efficient affiliation program
Our company has come a long way to get to our current affiliation program – that's how you know our advice is sound.
The best way to go about setting up an affiliation program is doing some competitor research and going with something similar for a start. Then in the future depending on the profits you can make the program even more generous, add an online calculator so potential partners can calculate their potential income, feature a couple of your partners' opinions, etc.
• Encourage reviews
It's very important that your customers leave reviews, positive or negative. If you get a few of the latter, you'll find out exactly what part of your business needs improvement. In addition, if you answer in a polite manner, apologize, and possibly offer them a few perks, the negative reviewers are likely to change their minds and mention that they were treated well when an issue occurred. Remember, you're no one until you're reviewed – Isn't that what Gossip Girl was all about?
• Showcase testimonials
Businesses trust brands that other businesses have already trusted. It's as simple as that. So, it's a good idea to display a few testimonials on your website's landing page, for example.
• Reach out to potential partners online
Dedicate a set time every week to reaching out to potential partners online. It's amazing what shapes partnerships can take if you keep an open mind.
• Reach out to bloggers and marketing influencers and ask for reviews
Now some of the influencers may and will ask for money, but there are also plenty of beginner bloggers who'll likely be more than happy to review your business in exchange for some visibility. It's all a part of authority building.
5. Email marketing
Email marketing not only has a great ROI, but is also a great way to build a relationship with your customer base, keeping them in the know about any new products or features, educating them on their topics of interest, and encouraging their loyalty through special deals and seasonal sales.
Here are a few email marketing formats to try out:
• Bi-weekly/Monthly newsletters
These newsletters make your brand a regular part of their life. Your clients will interact with your brand, receive helpful information, and make purchases in due time.
• Blog newsletters
You can send them the new articles on your blog or compile an overview of thematic blogs' newest articles.
• Invitations to thematic webinars
Webinars are a great format for digital learning. All you need to do is devise a course and send out the invites to your loyal clients.
• New product or service announcements
A lot of your customers will likely be interested in what other new products and services your business comes up with. They're a great already-kinda-interested target.
• Thank-you or culture-building emails
Emails are a great cost-effective way to make your customers feel appreciated or have them participate in the shaping of your business's culture.
• New thematic e-books
Devise and send out e-books on topics that your customer base is interested in. There's no greater pleasure than to learn.
• Team intro emails
Your customers may be curious to know more about the people behind the brand, especially if you position yourself as an open and friendly SME.
I hope you found these 5 most important B2B marketing strategies for the digital world helpful. Have you included any of these strategies in your overall marketing strategy? How has that worked out for you? Tell us in the comments down below!