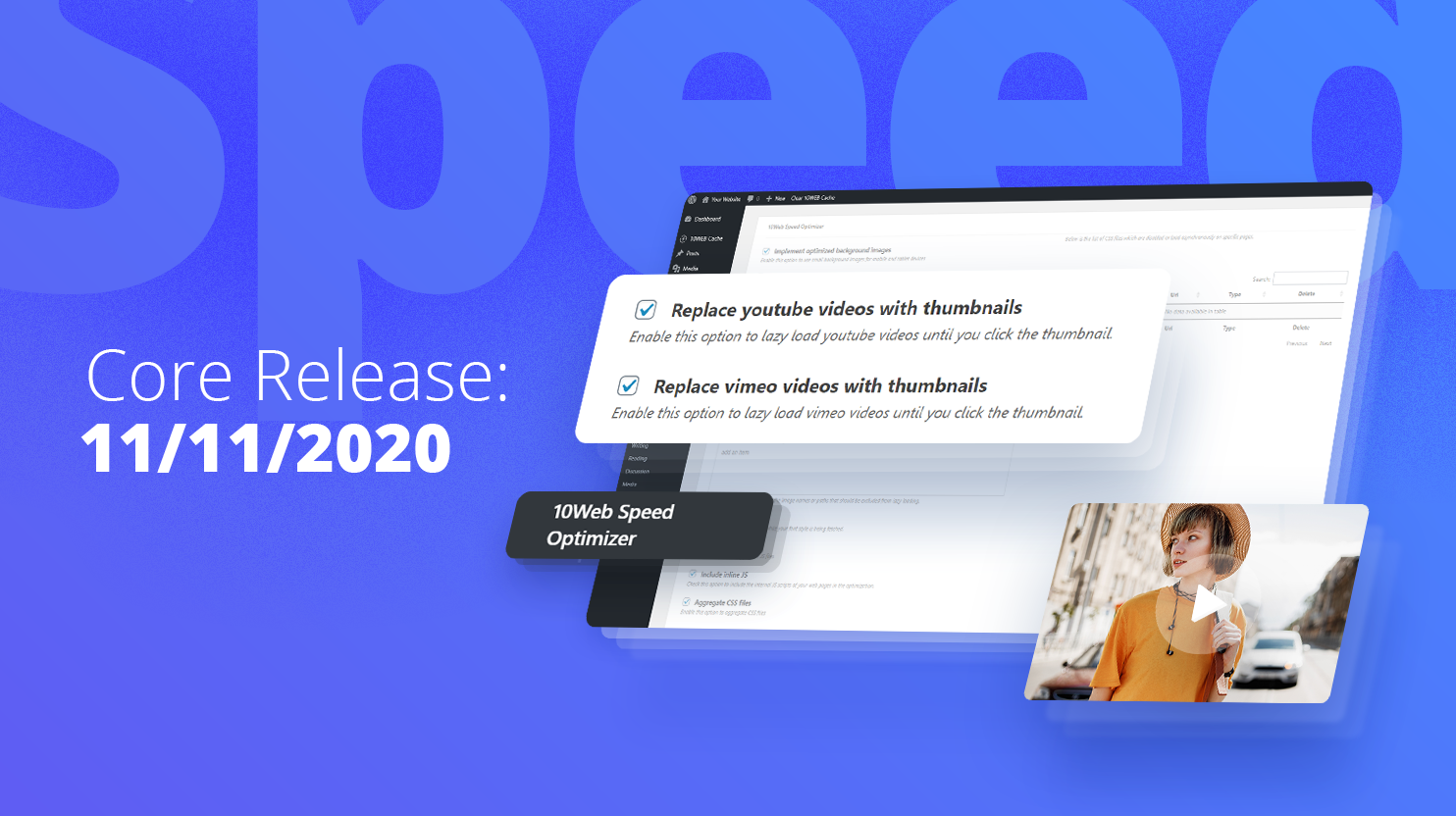 Improvements to the 10Web Speed Optimizer
More improvements to the 10Web Speed Optimizer! As we have mentioned in our previous releases, the Speed Optimizer is key to reaching a high page speed score when you host with 10Web. Automation in optimizing your page speed is one of the cornerstones at 10Web. The 10Web Speed Optimizer is an ever improving tool with the sole purpose of the needs of our customers in mind.
Option to Minify CSS/JS Files
This option removes white space and comments to reduce the size of your files, speeding up your site.
Option to Preload Videos
Preloading videos will download and cache the data, this in turn will affect the load speed of your page, making it faster.
Image Recompression
We have enabled Image Recompression as a default. Image recompression makes your JPGs lighter without having a noticeable effect on its quality and turns pings into webp files. The recompression also gets rid of the metadata of the images, thus, making your pages lighter and faster.
Option to Set YouTube and Vimeo Clickable Image
Now you have the option to replace embedded YouTube and Vimeo videos with a clickable, automatically generated thumbnail. When a video is embedded, the JS/CSS starts to load as soon as your page is loaded. With the clickable thumbnail, the JS/CSS starts loading once the visitor clicks on the thumbnail, making your pages lighter and giving you a faster page load speed.
Improvements
Image optimizations after migration have been improved.
Dashboard and Core
To make your transactions smooth and more hassle free, we have added two options to our payment system.
Option to Change Payment Method from PayPal to Card
We understand the importance of having flexibility when making payments. For that reason, we have added the option to change your payment method from PayPal to a credit card.
At the same time, we have also added the Option to Buy Additional Websites via PayPal, giving you wider flexibility with payment options.
Security
Today, it is of utmost importance that your websites and all the information within are protected from various types of attacks and fraudulent activity. To ensure that we all do our share in protecting critical information, 10Web enforces strong passwords and 2FA activation.
Enforce Strong Passwords for Our Customers
In order to keep your information safe and protected, password validation has been added to signup and checkout forms.
Enforce Customers to Enable 2FA
If you have not enabled 2FA verification, once you have logged into your 10Web dashboard, a popup will prompt you to enable 2FA verification.