A Brief SEO Guide for WordPress Bloggers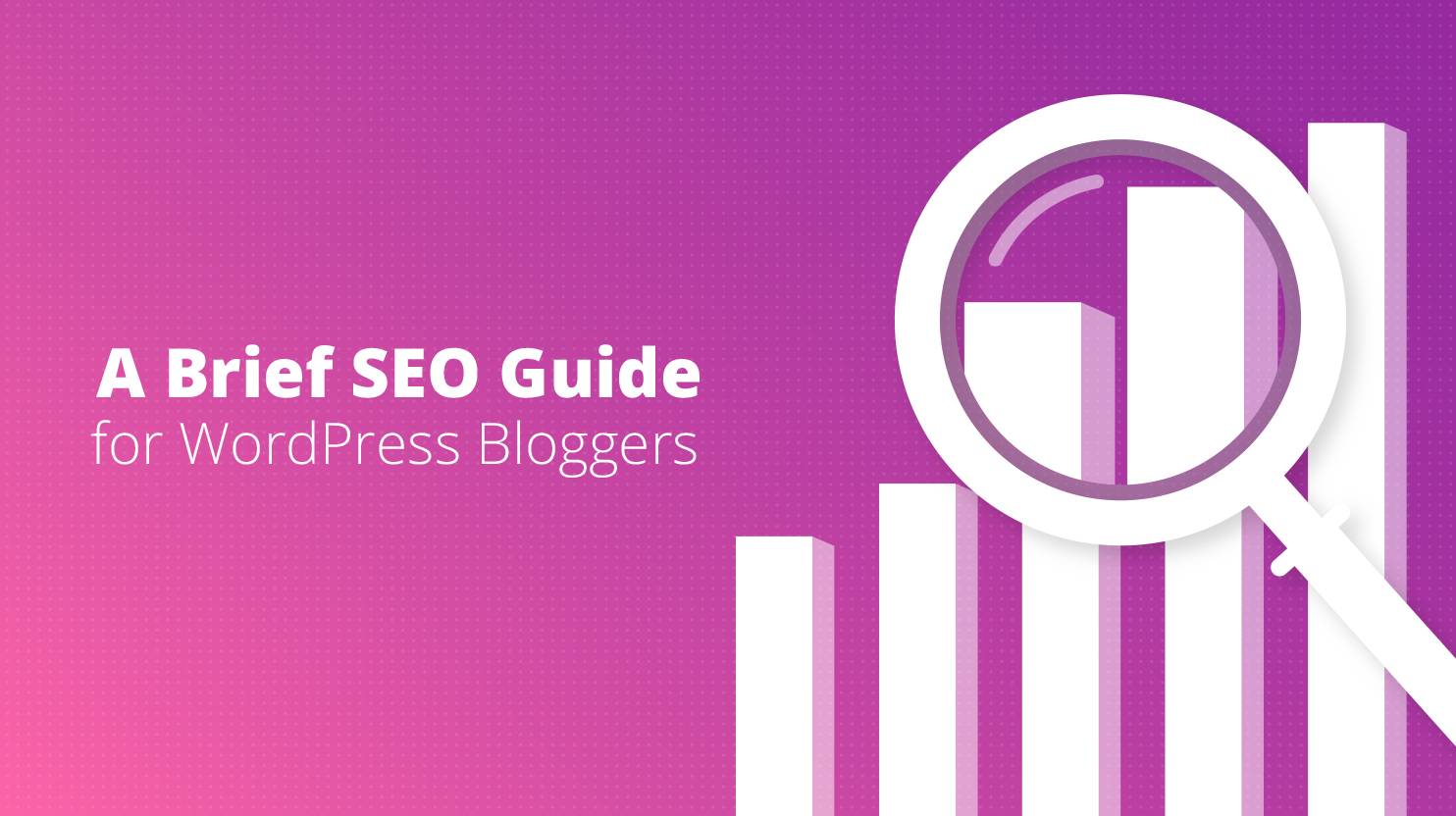 SEO — search engine optimization — is the process of increasing website visibility and position on search engines' result pages (such as Google, Bing, Yahoo, etc.) without paid advertising.
The traffic (exchange of data with users) generated through unpaid search results is called organic traffic.
That's what we are going to learn to boost. Use this guide to increase the number of your WP blog readers and reach out to everyone who's interested.
If you've only heard about finding keywords and stuffing your article with them, I'm sorry to disappoint you: SEO is a much more complex process.
There are 2 things you need to know about it from the very beginning: SEO is never a one-time job and you should never expect fast results.
Search engines take time to recognize and evaluate your pages and then they change their algorithms so you always have to stay tuned to the industry news.
Need a 90+ PageSpeed score?
With 10Web, you can get it automatically!
Need a 90+ PageSpeed score?
With 10Web, you can get it automatically!
In this article, we will go over the basics of SEO, covering:
1. Optimize your website structure
Search engines crawl the web and find the pages that seem to match the words a user has entered. So, you have to keep in mind that it's a bot crawling through your website and make it easy for it to understand where to go.
Google has its own guide –  Google SEO starter guide that you might find helpful.
1.1. Interlink your pages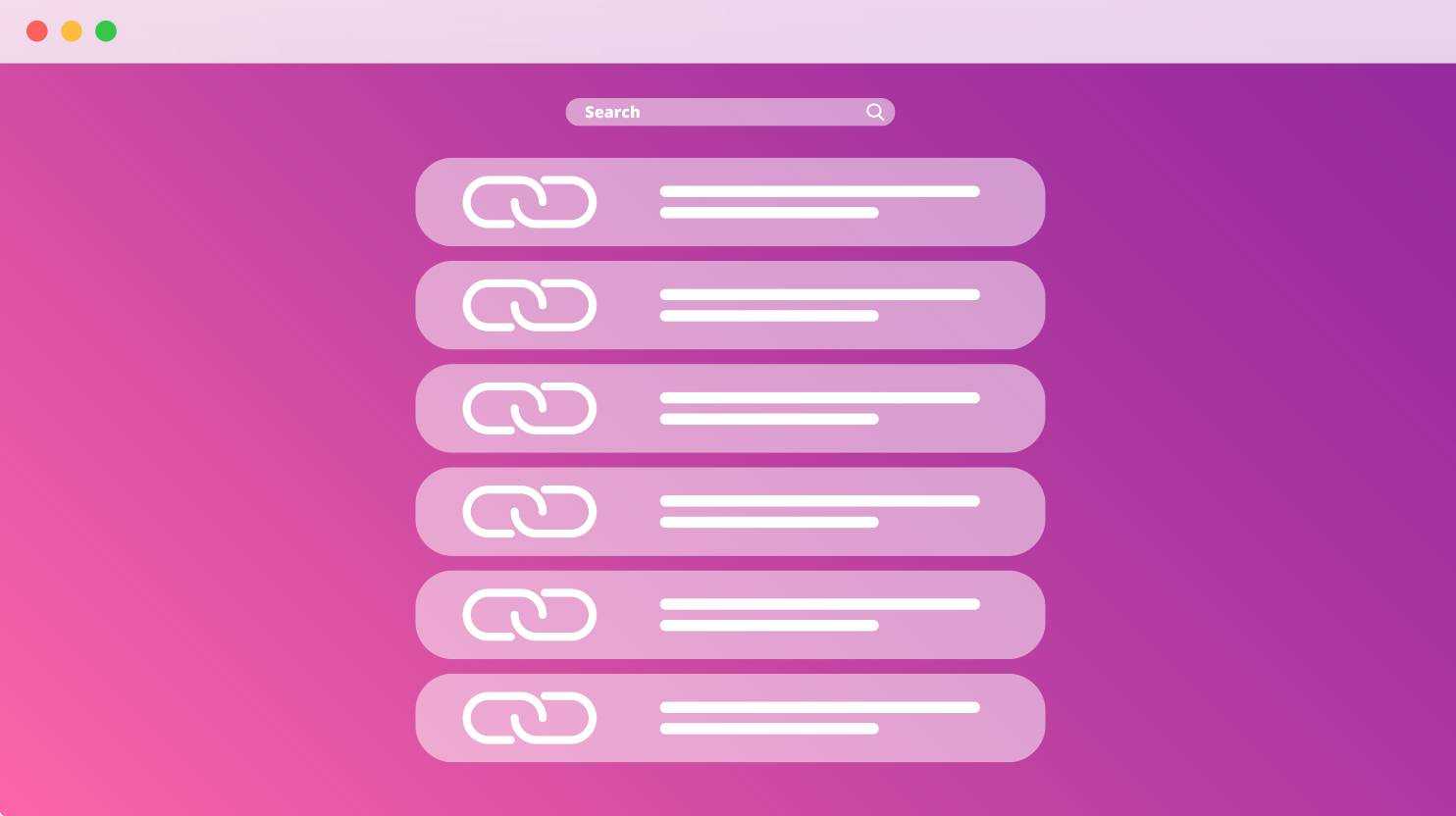 An internal link is a link that connects two pages on the same domain. This includes not only hyperlinks in your text but any link like the ones that take you to internal pages from the home menu.
By interlinking the pages, you both make the navigation easy for users and help search engines find what users want.
It's important for the bot to see the connection and hierarchy between your pages so make sure to clarify the structure and connect all the pages.
While adding links, pay attention to the anchor texts. These are the texts that users click to follow a link. For example, when we invite you to read our blog, "read our blog" is the anchor text and https://10web.io/blog/ is the actual link.
You can add links easily through the visual editor with the link symbol — 🔗․ Or else, copy this code and replace the link and the anchor text with your own:
<a href="https://10web.io/blog/">read our blog</a>
With internal links, you lead users from one page to another and increase both session durations and the number of pageviews per visit. Increase these two numbers and search engines will see your content as more interesting.
Does your blog offer related posts or recent posts after a user has read an article? I guess it's time to add these, too.
1.2. Add a sitemap
To understand the structure of your blog better, search engines expect to see its sitemap. It works just like interlinking: the bot sees what your most important pages are and excludes the ones you don't want to show. Only a sitemap makes the structure obvious and you can clearly manage it, while interlinking is intuitive.
A sitemap is an XML file which you can easily generate and manage through 10Web's SEO service.
Here's how it looks: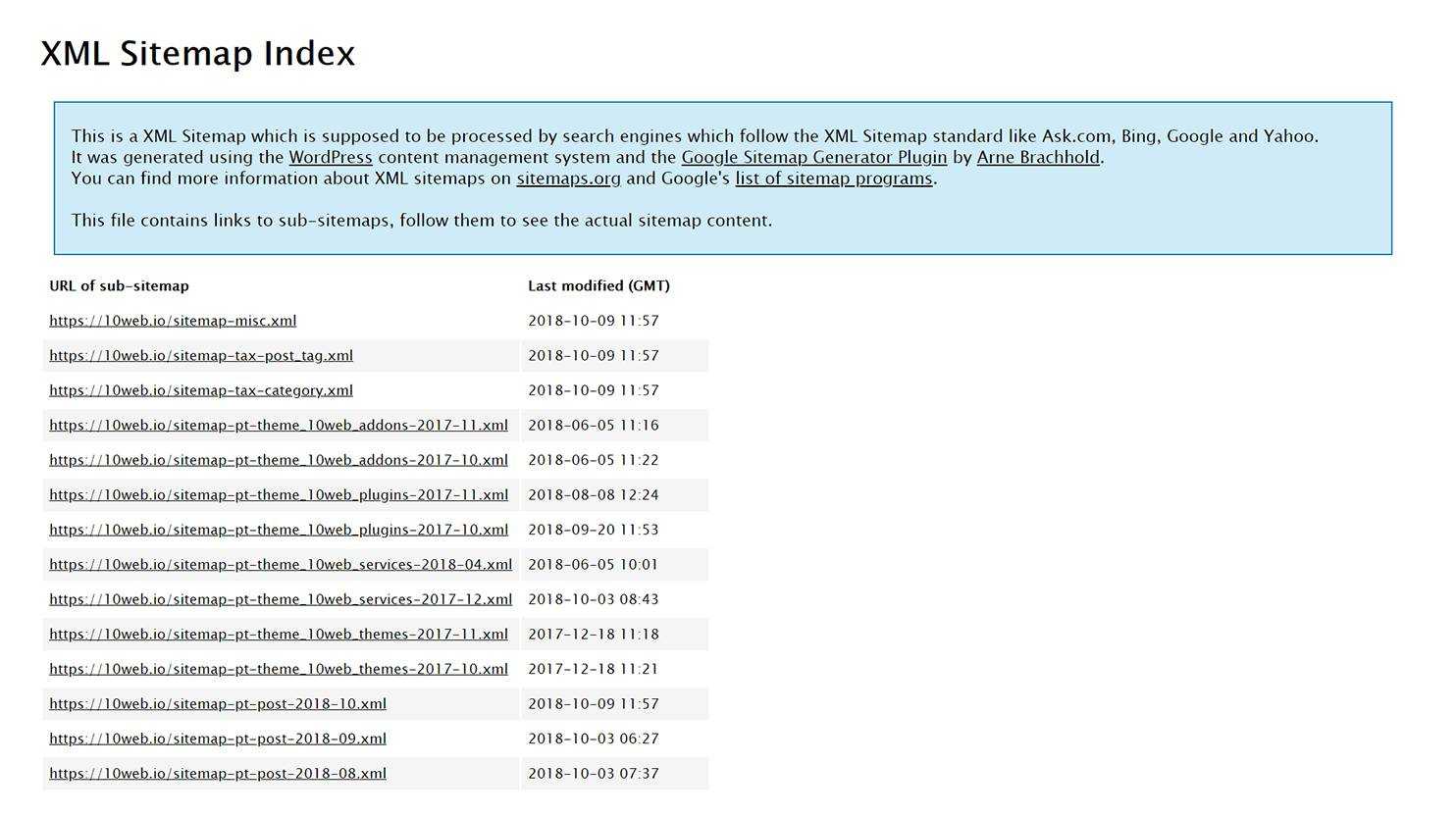 1.3. Improve the user experience
Are you anticipating a war between bots and humans? Well not yet, and definitely not with the search bots! You'll be surprised how user-centric the search engines are.
With two major updates in 2011 and 2013, Google has started to evaluate a website's relevance based on human-like experience which it analyzes through machine learning.
This means that the algorithms surf your site and rank it higher when it seems to provide a better user experience.
The ranking factors constantly change and can't be all named within one update. However, the ones below are (and will remain for a while) important for getting to the first search page:
Easier navigation (remember interlinking, make it simple);
Shorter load time;
Mobile optimization (responsive design is the preferable way);
Average visit length (including visit time and the number of pageviews).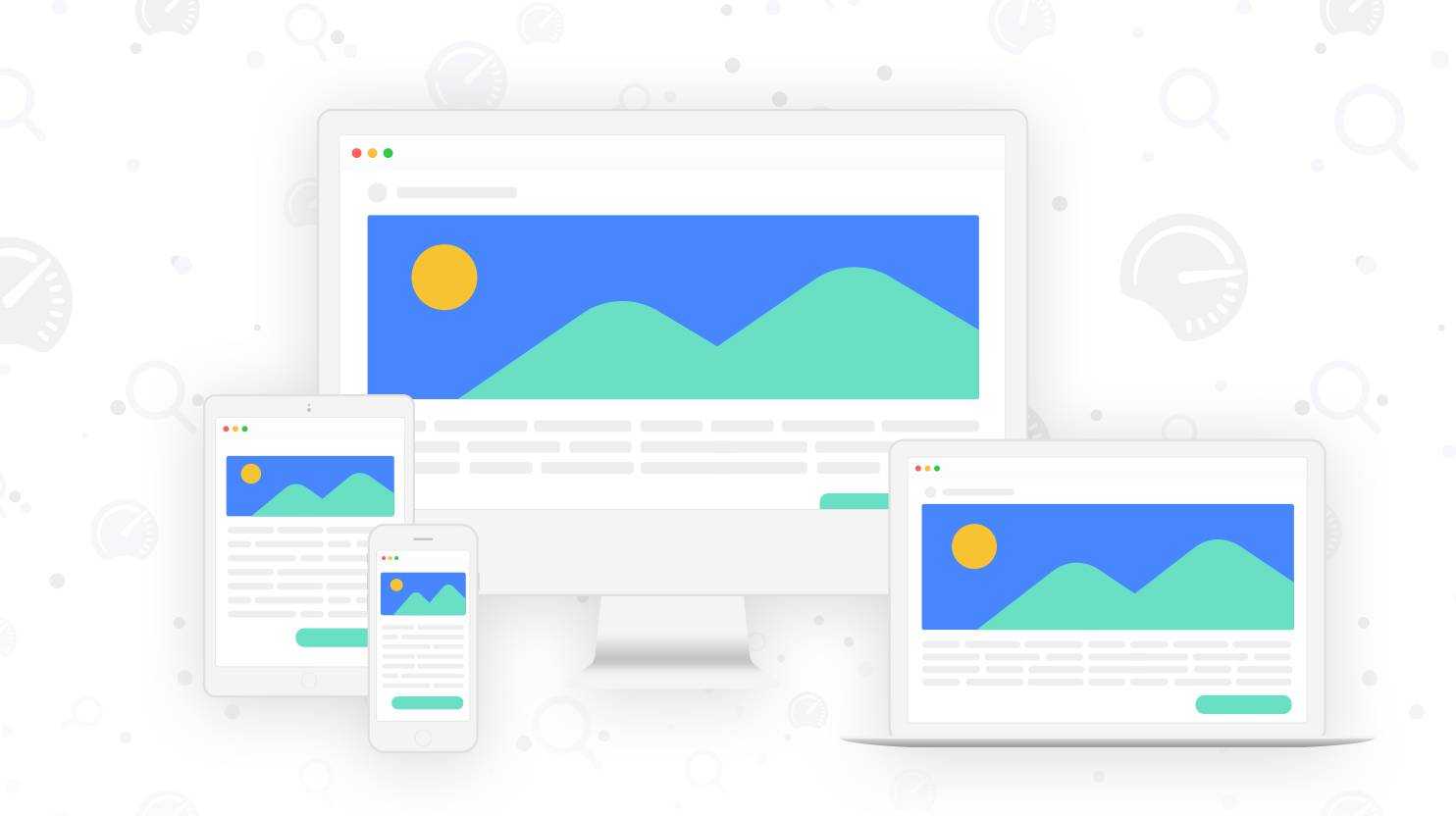 Some of these are easy to optimize through 10Web's performance service and our image optimizer.
1.4. Customize URLs
URL is short for uniform resource locator; you can see it in the address bar of your browser. It's one of the primary things a search engine reads to find the necessary keywords.
Before getting to your blog's content optimization, set up a custom URL for each page. For internal pages, include keywords and exclude unnecessary words like prepositions and articles; engines ignore them, so why shouldn't you do the same?
But most of all, search engines don't like 404 errors (well, who does?) It's that error page that opens every time a requested page is not found. You can get there by entering a URL of a non-existent page directly in the address bar or by clicking on a wrong link.
To avoid this error, you can redirect your old URLs to the new ones that offer similar content through our SEO service.
And the next thing you must avoid is duplicate content. Same thing on two different pages? No, please. You need unique content for a high ranking. Duplicate content is easy to find with this tool.
If you do have two identical pages, keep only one of them. You can easily redirect the duplicate page to the original one with our service!
2. Optimize your content
Have you heard the phrase "content is king"? Well, I think it's exaggerated. User is the king. And your content must serve the user right if you want to benefit from the king's attention.
2.1. Create content for users
Did I mention that search engines tend to be more and more human-centric? Well, then forget whatever you've heard about creating content for bots. Do your pages need to be search engine-optimized? Certainly! But search engine-centered?
No way! Never forget that you want to attract readers through search engines, not the other way round.
More and more users just scan your articles instead of reading. Rather than trying to force them to read carefully, just make your posts scannable.
Here's what helps:
Subheadings
Shorter paragraphs
Highlighted phrases
Numbered and bulleted lists
It shouldn't be surprising that scannable text is also readable. People go from a subheading to a list and when there isn't much between, they end up reading it all.
Here is a service that measures the readability of anything.
Just don't overdo it with such online services. In the end, you are a human and you're the one responsible for the final decision of what's readable and what's not.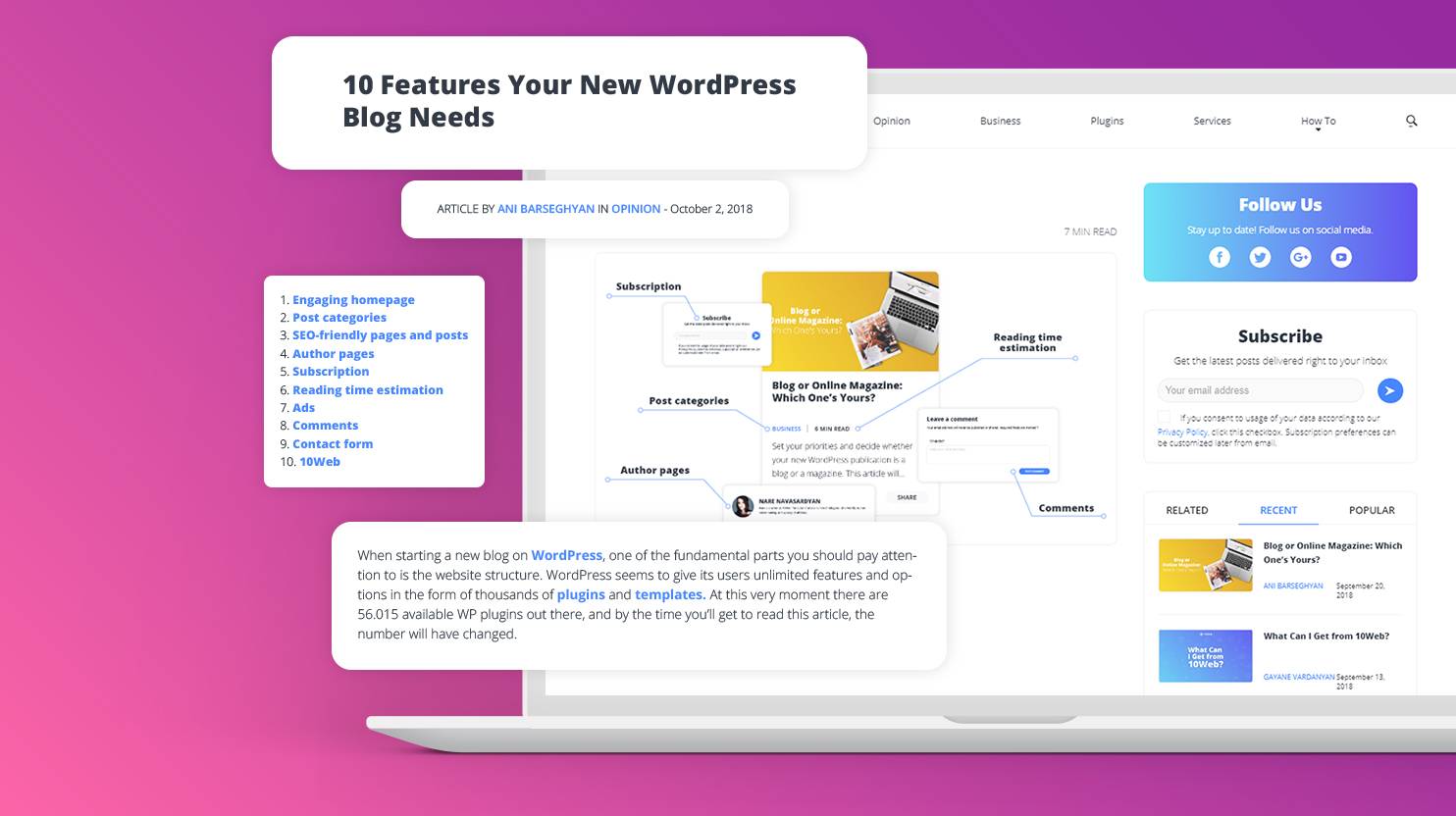 2.2. Find and use keywords
Finally, here we are. Talking about the most discussed element of SEO — keywords! Let's start with how you choose your keywords. Beginners often do it manually and intuitively, but that's not how you should do it.
There are hundreds of tools for keyword research and some of the most popular ones are Google keyword planner, MOZ keyword explorer, ahrefs Keyword Explorer.
But at 10Web we don't want you to bother going to multiple sites and services for a single keyword. That's why we've added a keyword research and analysis tool to our SEO service.
Once you've planned all your keywords for an article, remember not to stuff the page with them. If it fits and looks organic, use your keywords in:
Title (H1)
A few subheadings (H2 or H3)
The very first paragraph
Some will also recommend to maintain a certain keyword density, like 2% of your text. But this approach is outdated because is almost always leads to stuffing. If you keep the main topic throughout the article, you'll find that search engines are smart enough to understand the context.
2.3. Use meta tags
Meta tags are HTML code elements that help search engines understand what the page content is about. As an editor or publisher, you don't need to dig into the code. Just make sure to optimize the following parts of your content:
Meta title: the title that search engines see and display in the search results. Keep it short and try to start the title with a keyword.
Meta description: preferably a short intro to your article which will help the users and search engines understand whether this page is what they're looking for.
Alt tag: the description through which an image is found. Users can see it in the image search results.
Once you have the SEO service by 10Web activated, go to a blog post, and you'll find the SEO optimization boxes at the bottom of the page.
All you need to do is insert the meta title and meta description here. You'll then have a preview of how you page will look in search results.
And for the image alt tag, go to "media" and choose the image you want to edit.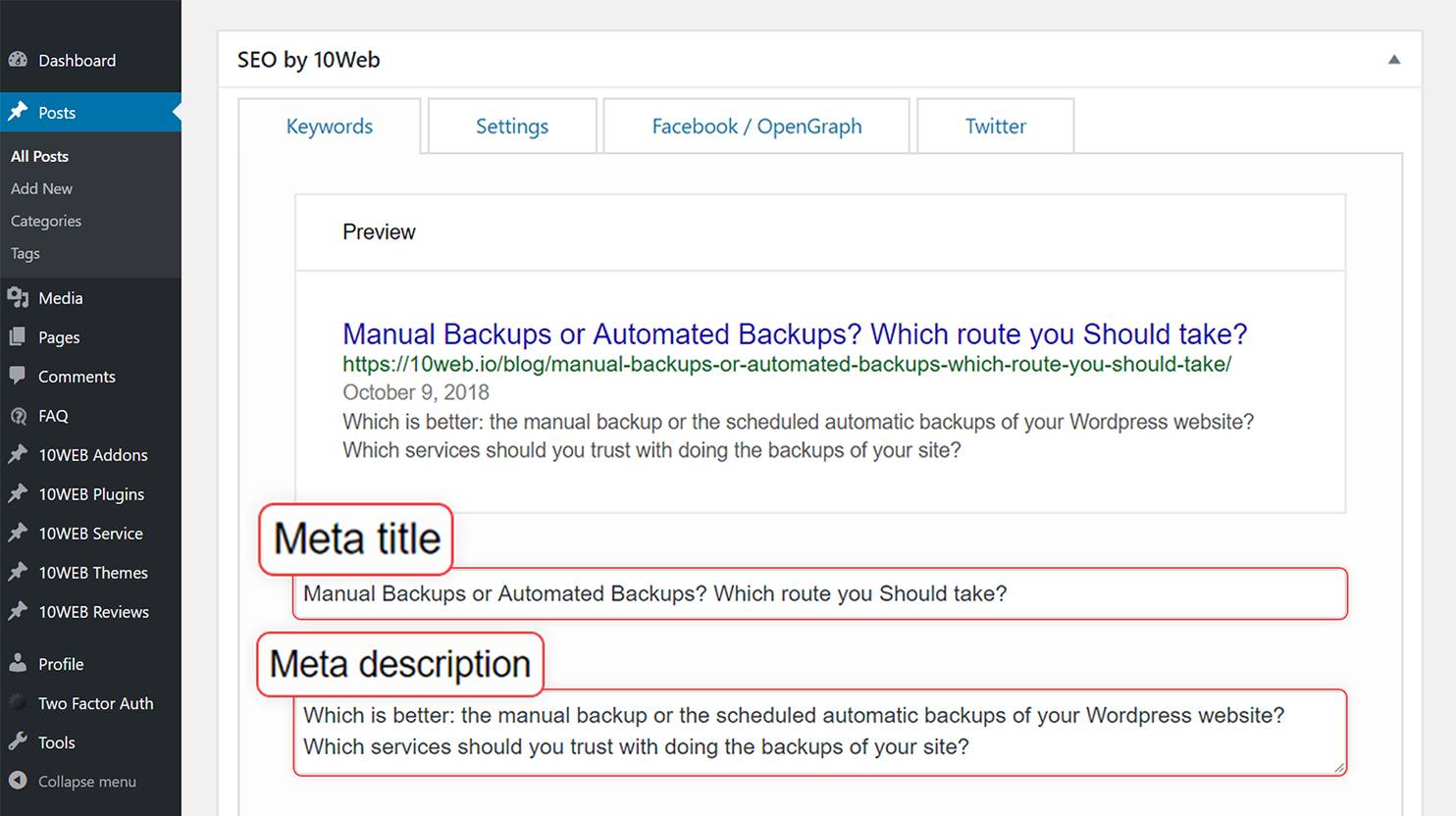 3. Offsite SEO
Your position in the search results depends not only on your website but also on how reliable it appears to be for others. That's why you should pay attention to what people write about you.
3.1. Build backlinks
A backlink is a link to one of your pages from a different domain. When a website with a higher authority gives a link to your blog, you're supposed to be a credible and reliable source for them, and it adds to your own ranking.
This is how people get valuable backlinks:
Influencer marketing: find relevant bloggers with a good follower base and a high domain authority (you can check the authority here). Together with those bloggers, work out a way to appear in their pages. They can mention you in their posts, dedicate you articles or whatever their blog format allows. Just don't forget that search engines do their best to block spam, so make your placement look as natural as possible.
Guest blogging: it's when you write a post for another blog with a link back to yours. Publishers usually have guidelines for guest posts and prices for publishing them. The cheapest ones I've seen are $10 per article. But, hey, you're a blogger! Try to create some article that the other blog would love to buy, and then give it to them in exchange for keeping your backlink.
PR: there are websites that would be happy to publish your press releases for free or at an affordable price. But again, you should check their authority and ranking to make sure it's not spam and is worth your efforts.
You can also go through catalogs and user review portals but it's a really tough job finding which ones of them are worth it. Go for it if you have the resources.
Check out Sunlight Media's perspective on SEO optimization and learn more about building backlinks.
3.2. Encourage social sharing
I'll start with a spoiler: a few years back, Google announced that social shares affect search results in the same way that links from other (non-social media) sites do. But the number of shares can be visible on your website if you use a plugin for it (this one, for example).
So it adds to your post popularity along with pageviews. And, social interactions help you easily determine whether this post is what users are looking for.
Our SEO service offers you the option to edit the preview the users see on social media just like the search results page preview.
3.3. Follow your analytics and reporting
You should, of course, pay attention to your current results to improve and update your SEO plan. Keep a close track of your Google Analytics reports. What search engine queries led the users to your blog? What particular part of the blog are they interested in? This information will help you concentrate on the readers you have already gained and improve your SEO strategy.
Always analyze your competitors. There are multiple tools, such as the abovementioned MOZ, for finding out what website or page ranks higher than the other and how they do it, there are multiple tools like MOZ that was mentioned above.
Do your research and find the best tools for exactly the results you're looking for.
Never stop optimizing your website and your consistency will pay off. And don't forget your website's daily SEO audit. Self-awareness is a key point in SEO.
What else would you like to know about SEO for your WordPress blog? Write all your question in the comments and we'll try to find the best solution for you! Subscribe to our updates for more detailed articles about publishing and SEO.