7 Best cPanel Alternatives [2022 Edition]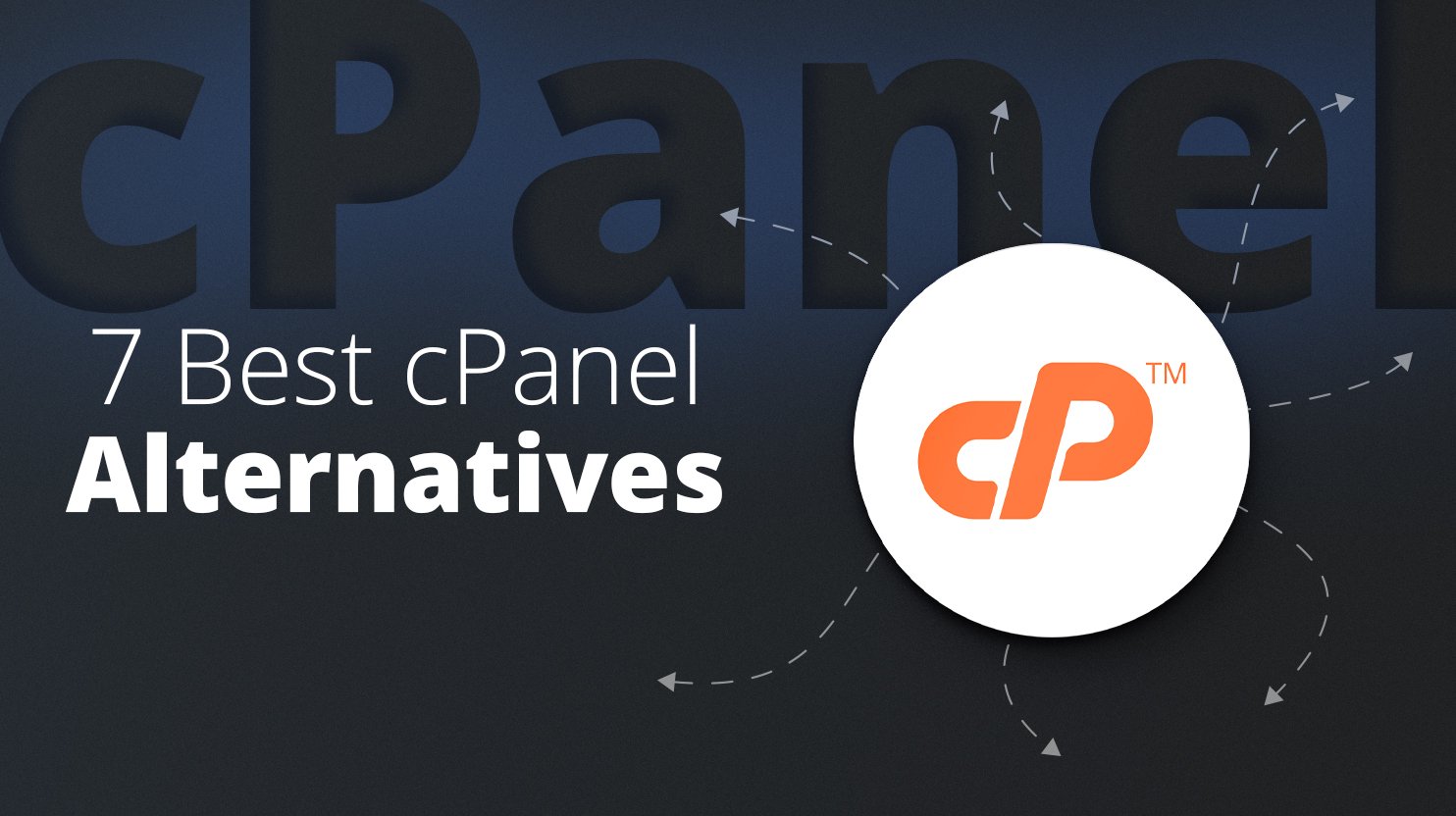 Chances are, if you've ever paid for a web hosting plan, you are familiar with cPanel. Its time-tested, web-based interface makes it easy to install WordPress, set up email accounts, work with databases, configure DNS, and helps tackle many other everyday tasks for web admins.
You may have encountered cPanel – or one of its alternatives – when you first used your new hosting plan. Its file manager helps you upload your website's files; you can easily create a database and add SSL certificates or handle pretty much anything else concerning your website.
Agencies, web hosting companies, and developers can use cPanel to allow clients access to their hosting accounts. In addition, each hosting account gets its own cPanel to make it easy for clients to manage their websites in the same way.
So why try alternatives to cPanel?
cPanel's interface is notoriously cluttered and complicated. Some users say they spend too much time digging through cPanel's swiss army knife-style interface.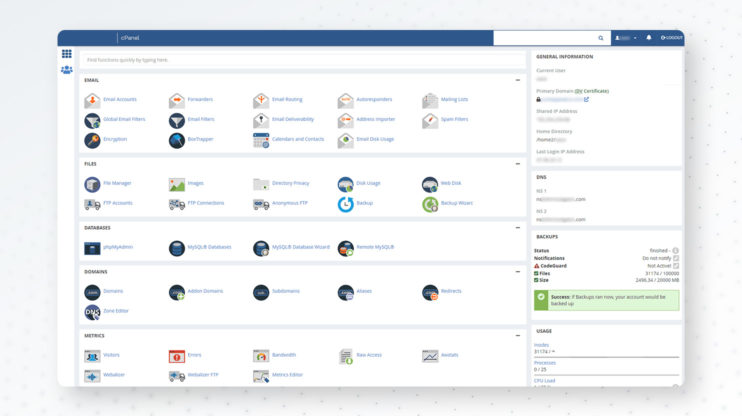 In addition, its one-stop shop approach to managing a server, web apps, email, backups, etc., tends to make it more resource-heavy than might be necessary.
Admittedly, most people still find it easier to use its clunky interface as opposed to managing their server with a more technical alternative like secure shell (SSH) and command line. However, it still requires some degree of technical expertise to take advantage of all it offers.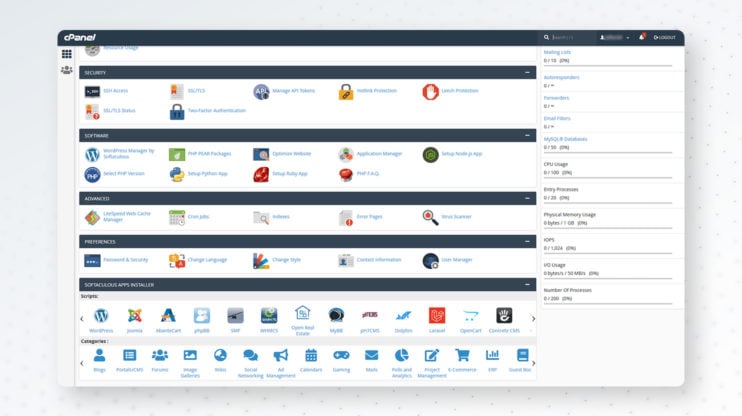 Security
Security is only as good as the weakest link. If a website or user has a weak password or your server has another tempting vulnerability, it may literally invite trouble. Because cPanel requires the administrator to have elevated permissions, it can also pose a security risk. Since the admin user can potentially make changes to the entire server, keeping this user account safe against any malicious attempts is crucial.
Cost
Also, cPanel is expensive. Now, more than ever. cPanel brought lots of changes to its pricing, and many users saw prices drastically increase. In particular, those who buy multiple licenses.
Value from alternatives
cPanel may have set the standard (and perhaps still does for some users), but modern options have a lot to offer in terms of getting the most out of your hosting budget. Their ease of use and abundance of built-in features leave this internet dinosaur in the dust.
Tons of cPanel alternatives to sift through
Fortunately, there are cPanel alternatives galore. From open source projects that offer a free cPanel alternative, all the way to managed hosting or even completely automated hosting, you can find tons of options to accomplish all of the usual cPanel tasks. As a result, finding the right choice for your needs can be like looking for a needle in a haystack.

See How 10Web Can Benefit You
Visit our homepage to learn more about the ultimate AI-powered website builder.
That's why we've identified several must-have tools and functionalities that any possible cPanel alternative needs to have on offer. Users of any skill level will be able to manage websites with simplified and straightforward tools like:
One-click CMS or WordPress installation
SSL that anyone can install and configure
SFTP
DNS management so you can set up your website's domain
phpMyAdmin or similar database access
PHP version switching
Some of the cPanel alternatives have:
Full automation for vital admin tasks
Caching
Backups
Pre-installed security measures
Migration tools to help make the switch to or from the platform
Staging environments
Email (with a caveat below)
There is a debate over whether you should host email and websites on the same server. Some alternatives to cPanel require you to use a third party like G Suite or Rackspace for email.
Self-hosted cPanel alternatives vs. hosting-integrated solutions
Some of the alternatives to cPanel included in the list are self-hosted, and some are more hands-free when it comes to hosting and server management.
When considering a self-hosted option, remember that you'll still need to pay for a server to install the control panel. Also, you'll need a supported server that will play nicely with your chosen cPanel alternative. Many alternatives have integrated hosting with cloud providers.
Managed and automated hosting providers offer a wide range of services for beginners to professionals and everything in between. These types of hosting platforms tend to be more all-inclusive, and many use the most powerful cloud hosting available in today's market. Moreover, with hosting included and with an upgraded control panel, they are often an economical option since they save time and money.
Depending on the provider, agencies and developers still have plenty of options for client management and control over the end product.
A cPanel alternative to make your life easier
Since these alternatives combine hosting, server management, and a custom cPanel alternative, you may find they have a lot to offer.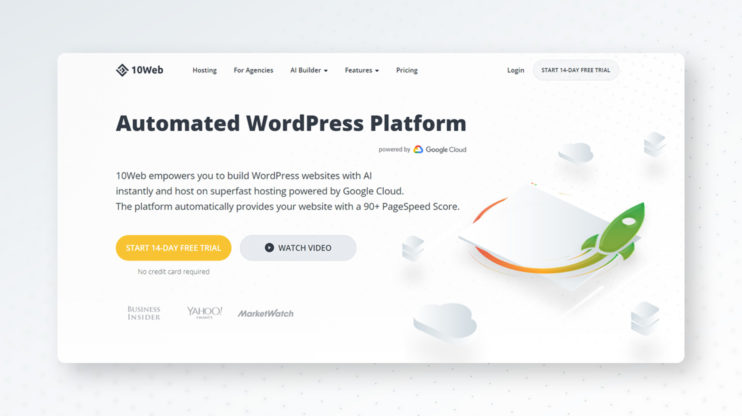 10Web Automated Hosting Platform
If you are looking for a cPanel alternative for working with WordPress sites, we highly recommend checking out 10Web's automated platform.
With 10Web's experts taking care of security, backups, WordPress updates, and all the inner workings of your server and hosting plan, you can get to work on producing fast, reliable websites that run from Google Cloud's super-fast servers.
This automated platform features a full suite of built-in services and tools that provide you with hands-free solutions for all of your typical cPanel tasks and more.
Impressively, the built-in speed optimization automatically blasts your website's page load time straight up to a 90+ PageSpeed score on both mobile and desktop. Since 10Web's automation takes care of everything, there's no need to install plugins and deal with complicated configurations in cPanel or anywhere else to get everything working.
Plus, the user-friendly 10Web dashboard makes it easy to manage your website's:
DNS and domains
SSL certificates
SFTP
Email
Databases with phpMyAdmin
Redirects
Caching
PHP version switching
Staging
One-click installs for WordPress
One-click migrations
Unlike cPanel, you can even manage your WordPress themes and plugins from within the 10Web dashboard.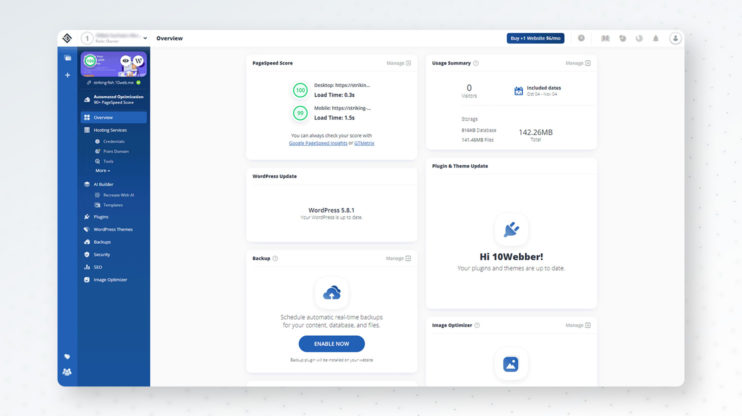 Integrated Client Management allows you to securely share your workspace with team members or clients. You can create user accounts and set appropriate permissions to allow just the right level of access for anyone.
Agencies can take advantage of white label support to retain full control over branding and client-facing content.
With WordPress multisite support, there is no limit to the number or types of sites available on your plan.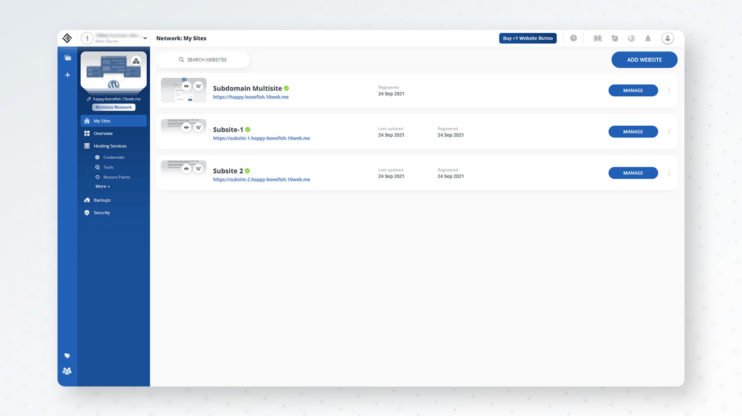 No matter how many subsites you create within your WordPress multisite network, 10Web considers the entire multisite network as just one website. So you can create as many sites in your multisite network as you desire, and not have to worry about limitations on the number of websites your plan supports. Then, you can control every site conveniently from the 10Web dashboard.
The one-click migration tool makes it easy to bring your WordPress site to 10Web, or you can use the AI Builder to convert a non-WordPress site, such as Wix, to WordPress instantly.
Creating new websites, including WooCommerce sites, is a breeze with premium templates and widgets.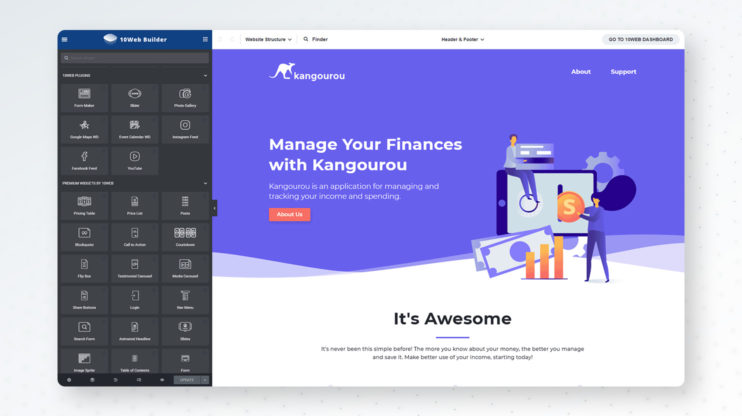 Simply click, drag, and drop your way to a professional site with the integrated Editor. Everything you need is conveniently located within the easy-to-use 10Web dashboard.
Pricing
10Web's pricing structure provides you with all the right resources for your business or personal websites. All plans include everything from the list above unless noted otherwise. In addition, each plan comes with extra storage space for backups.
Personal plans start at $10 a month (billed annually) or $14 a month (billed monthly) for 1 site with 10 GB of storage and 25K monthly visitors.
Premium plans are $24 a month (billed annually) or $35 a month (billed monthly) for 3 sites with 15 GB of storage and 100K monthly visitors. However, with WordPress multisite support, you can have an unlimited number of sites on this plan. Just remember that you'll need enough storage and bandwidth for all your sites and visitors.
Agency plans are $60 a month (billed annually) or $85 a month (billed monthly) for 10 sites with 50 GB of storage with 400K monthly visitors. Support for WordPress multisite allows you to host unlimited sites within your multisite network, which counts as one site on your plan. Since you will need enough storage and bandwidth for all the network's sites, 10Web makes it easy to scale up for a small charge. This allows you to efficiently host any number of sites, including high-traffic, content-heavy websites, with no reduction in speed or stability. In addition, white label support makes this plan perfect for providing a reliable, easy-to-use hosting solution for your client's sites.
Need blazing fast infrastructure for more than 10 sites? 10Web's experts are ready to help with a customized plan to support your needs.
You can try out your website for free for 14 days (no credit card required) on 10Web and give this state-of-the-art automated hosting platform a spin.
WPEngine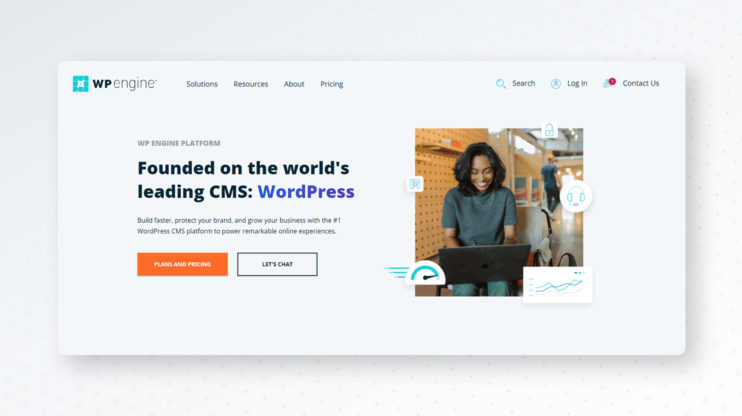 Like 10Web, WPEngine is a cPanel alternative that's made for working with WordPress. This managed platform is known for automatic plugin updates and auto-rollback if there's any trouble during an update. Daily backups and options for beefed-up security measures are available. In addition, integration with the Genesis theme will help get new websites off the ground quickly.
With WPEngine, users can manage the usual tasks, just as in cPanel, but with a modern take on the interface. Taking care of basic admin tasks like installing SSL certificates, configuring domains, and adding SFTP users is easily accomplished from WPEngine's dashboard.
Support for local development with push/pull capabilities is sure to be a win for designers and developers alike. Different staging environments are easy to deploy in just a few clicks.
One caveat about WPEngine, though. You may find it a bit more complicated than usual to migrate your sites away to different platforms from WPEngine. According to the site's documentation, there are a few extra steps you'll need to follow in cleaning up your site's files and database during the migration process. It's something to be aware of, but it's a minor issue and shouldn't be a deal-breaker for most.
Pricing
Monthly prices start at:
$30 for 1 site with 10 GB of storage and 25k visitors a month
$59 for 3 sites with 15 GB of storage and 75K visitors a month
$115 for 10 sites with 20 GB of storage and 100K visitors a month
$290 for 30 sites with 50 GB of storage and 400K visitors a month
WPEngine also offers dedicated custom hosting for more scalable, high-performance, or security-prioritized sites such as eCommerce or other sensitive sites.
Flywheel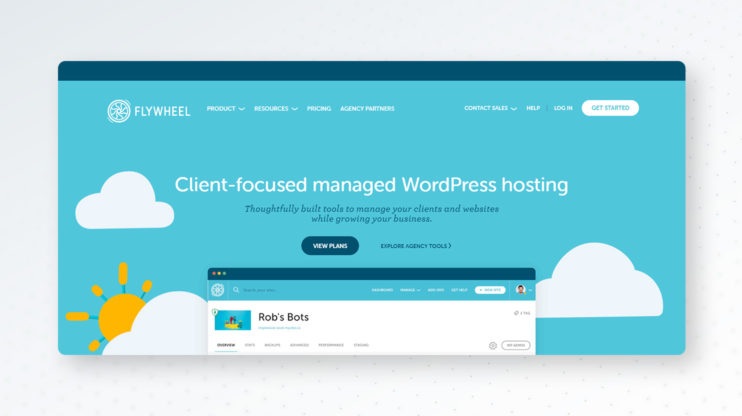 Flywheel's managed hosting platform is another cPanel alternative for working with WordPress. Best known for its well-integrated local development, this platform offers a turn-key solution for both hosting and developing WordPress sites. Because of this, developers and agencies stand to benefit the most from Flywheel's integrated billing, CRM, and white labeling.
All users will enjoy the built-in caching and CDN, which helps set the stage for a speedy user experience on your websites. Automatic daily backups are really just for added peace of mind since Flywheel's auto-healing service will automatically fix your site's woes in the event of failure. In addition, free malware clean-up is a welcome feature.
cPanel users will feel at home using the Flywheel interface to administer websites. phpMyAdmin is not supported, but you'll have a web-based database interface to help with anything you need. Also, add ons are available to help with things like adding SSL certificates.
There's no email hosting with this cPanel alternative, so you'll likely want to consider a third-party email service like G Suite or Rackspace.
Pricing
Flywheel organizes its prices into two categories: managed hosting and growth suite. The prices listed below are monthly:
$15 for 1 site with 5 GB of storage and 5K monthly visits
$30 for 1 site with 10 GB of storage and 25k monthly visits
$115 for 10 sites with 20 GB of storage and 100K monthly visits
$290 for 30 sites with 50 GB of storage and 400K monthly visits
Growth suite which includes client billing, CRM, and white label:
$135 for 10 sites with 20 GB of storage and 100K monthly visits
$330 for 30 sites with 50 GB of storage and 400K monthly visits
Custom pricing starts at 100 sites
Cloudways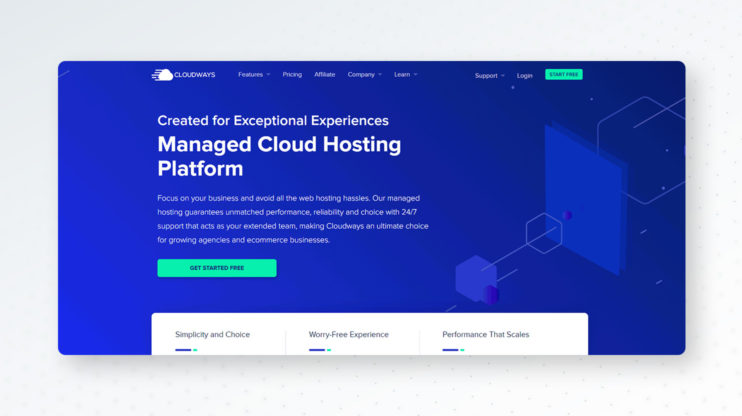 Cloudways managed cloud hosting platform promises to make using cloud hosting more straightforward.
Built-in caching, CDN, and backups will eliminate the need to configure these services as usual. In addition, managed servers mean you'll never have to worry about your website crashing since most of these issues are solved by Cloudways' auto-healing restarts.
Day-to-day tasks are easy to check off your list via the more user-friendly Cloudways control panel, which is also a complete cPanel alternative. For example, you can spin up a WordPress site or any of the 10+ built-in web apps with one click. Support for MySQL and MariaDB lets you choose which database will work best for your site or app. In addition, integration with Let's Encrypt will let you easily install SSL certificates, and the Rackspace add-on can help streamline your process for handling emails.
Pricing
Since Cloudways works with multiple cloud hosts, their plans are available at a wide range of prices. Each cloud host offers fully scalable plans for even the most complex and resource-intensive sites and applications. Pricing starts with Digital Ocean, Linode, and Vultr servers being the least expensive. AWS and Google Cloud are the highest priced.
$10 monthly for 25 GB of storage with 1 TB of bandwidth. (1 GB of RAM and 1 Core)
$42 monthly for 80 GB of storage with 4 TB of bandwidth. (4 GB of RAM and 2 Cores)
$36.51 monthly for AWS Small with 20 GB of storage and 2 GB of bandwidth. (2 GB of RAM and 2 vCPUs)
$33.18 monthly for GCE Small with 20 GB of storage and 2 GB of bandwidth. (1.70 GB of RAM and 1 vCPU)
RunCloud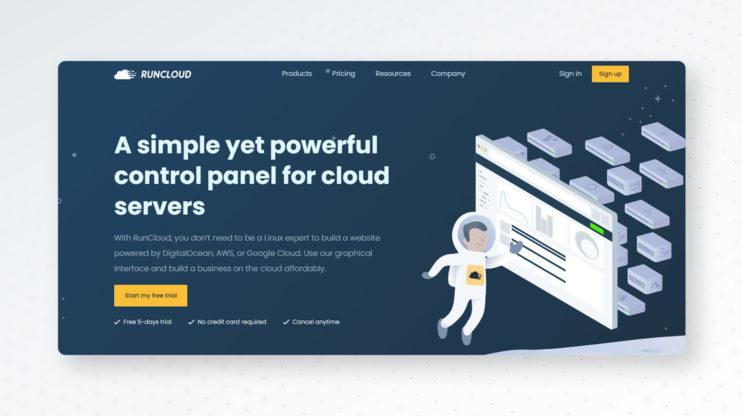 RunCloud is a control panel designed to allow everyday users to run their websites and applications on the biggest and best cloud platforms without being a server admin wiz.
This cPanel alternative has built-in options for automatically configuring servers, backups, and security that will take a lot of the guesswork out for less technically savvy users. Everything is available in one easy-to-navigate dashboard, where you'll find familiar tools and settings for taking care of day-to-day tasks.
Just because RunCloud's interface and features are lay-person-friendly doesn't mean it's not ready to flex for your team. If you need it, you still have control over your servers and everything on them. In addition, you can manage users and share resources to collaborate with complete control over permissions. Developers will be able to deploy and manage Droplets using RunCloud's API and take advantage of integration with a collection of tools and services to deploy updates without downtime.
To get started with RunCloud, you'll need a cloud VPS provider account to begin the installation.
Pricing
$8 monthly for 1 server with unlimited web apps and 1 WordPress staging environment
$15 monthly for unlimited servers and web apps and 10 WordPress staging environments, along with a few other improvements
$45 monthly for a step up with all the tools your business needs like team collaboration and WordPress Canvas
ServerPilot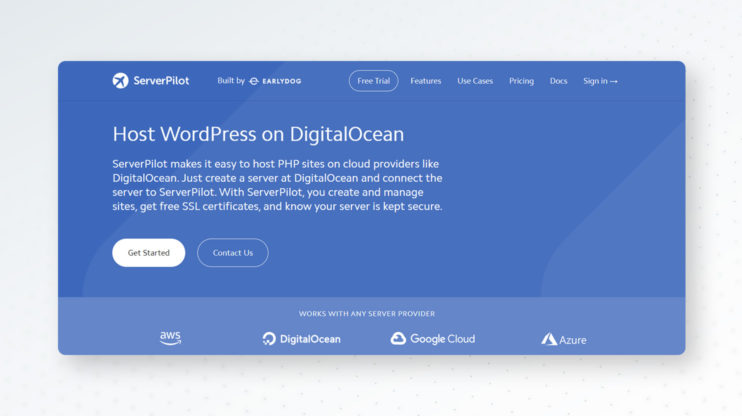 ServerPilot is another web control panel replacement made to work with the server provider of your choice. Site owners get the ability to host and manage their sites on popular cloud servers, with ServerPilot handling the technicalities of managing the server. Its interface gives users simple point and click functionality for one-click WordPress installs, SSL certificates, and more.
There's a lot on offer for developers, agencies, and larger outfits, too. Since it's your server, you alone have root access. ServerPilot automatically takes care of security and server optimization for fast, reliable hosting. Integration with HostLaunch gives you access to a hosting automation solution along with its improved control panel experience.
Pricing
Once you're spending over $50 monthly, you qualify for a 50% discount. All plans are monthly and include everything you need to start using this cPanel alternative for hosting and managing your site. Pricier plans include features businesses will need, like better tracking and monitoring and premium support.
$5 for each server plus $0.50 for each app
$10 for each server plus $1 for each app
$20 for each server plus $2 for each app
Plesk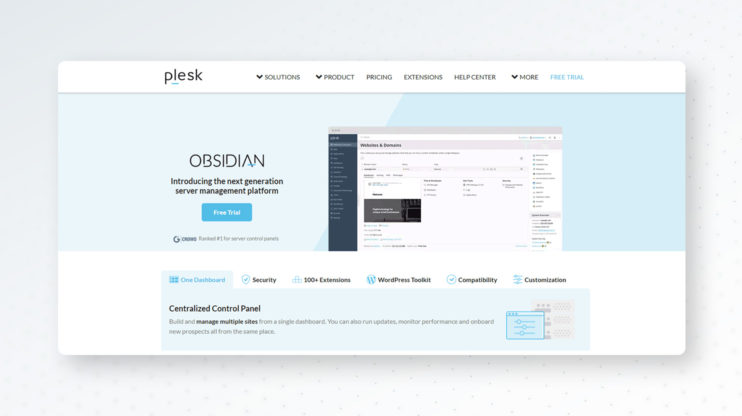 No list is complete without this classic cPanel alternative. Its streamlined web control panel is a direct cPanel alternative, with an interface that many users find more intuitive and easy to use. What's more, unlike cPanel, Plesk is compatible with Windows servers.
Plesk offers plenty of features for a wide range of use cases. Everyone from bloggers to hosting providers will find the tools they need to grow their business.
With easy one-click WordPress installs and automated options for optimization, website owners will find it easy to manage everything from one control panel. At the same time, businesses, even those that need to manage thousands of domains, will find the tools and services they need to manage complex systems and grow their business.
You'll need hosting or a server to get started with Plesk. They partner with many different web hosts, or you can go with any of the most popular cloud providers.
Pricing
Pricing is monthly with optional savings if you buy your license annually.
$11 for 10 domains
$16.50 for 30 domains and client subscription management
$27.50 for unlimited domains plus reseller management
Plesk also offers a customized plan for managing multiple servers or customers.
Manage your site without cPanel
There is a multitude of alternatives to cPanel out there. While it may have once set the standard for managing your website, we now have next-gen services with newer, slicker interfaces designed to help users manage their websites in ways that are head over heels better than cPanel's old-school interface.
Identifying your critical needs is vital for finding the right solution for you. Many of the alternatives listed above have free trial periods that can help pinpoint your pain points. We recommend using the free trial to try out your website on 10Web's automated managed platform and see the difference first-hand.
FAQs
While cPanel does have a bug bounty program and a team of developers working on any vulnerabilities, it can still be hacked. It's known to be susceptible to many commonly used attacks like brute force attacks, malicious script installs, or DDoS attacks. Moreover, there's a growing market for valid cPanel credentials on the dark web.
What happens when cPanel's license expires?
You will no longer be able to access your cPanel account, meaning you cannot manage many facets of your website the way you normally would. Instead, you'll need to use SSH or FTP to work with your server directly.
How do we install WordPress using cPanel?
cPanel uses auto-installers, most notably Softaculous, to install many popular web apps and CMSs like WordPress, Drupal, and Joomla.
Is it bad to host my website on a cPanel host?
Most experts probably wouldn't consider cPanel a bad idea. However, there may be alternatives to cPanel out there that offer a better fit for you. Despite its issues, many providers still offer cPanel as a part of their hosting plans.
Can I add quotas through cPanel?
Yes, but only if the hosting provider allows it.
Which hosting types have cPanel?
Many different hosting providers use cPanel to give users an easy interface to work with for managing their websites. However, managed and automated hosting platforms generally don't use it. Instead, they offer platform-specific dashboards, which are often an improvement over cPanel's interface.