Is Ranking #1 on Google Really Overrated?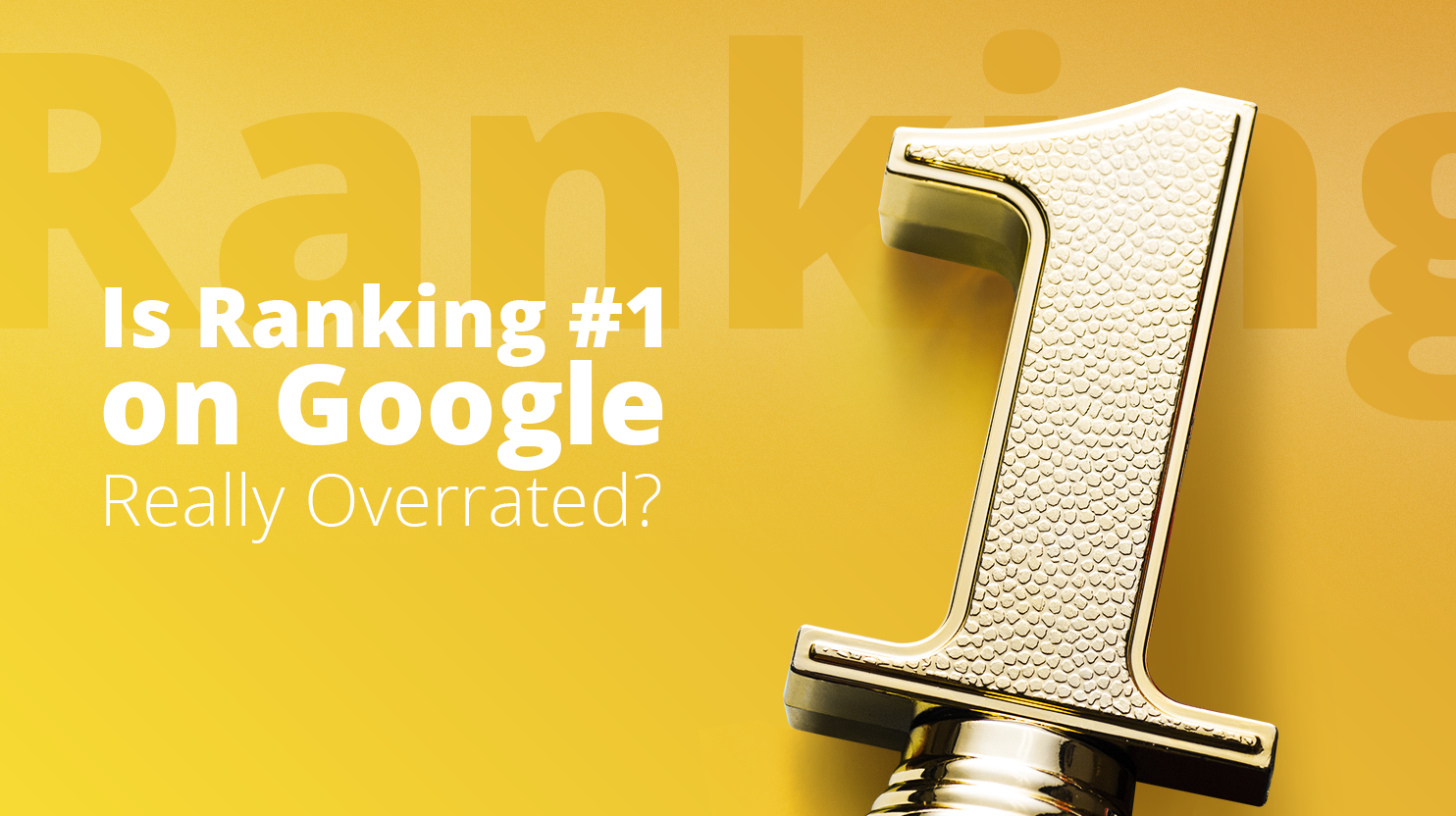 Recently I found out that one of my articles ranks #1 on Google for a very relevant keyword and with no additional effort. So I proudly reshared it on LinkedIn.
But then I remembered that in March, I received Neil Patel's newsletter saying that you shouldn't target the #1 rank on Google's SERP. When I saw the title, of course, I was curious.
I clicked to read the article right away but didn't find anything convincing. Neil was listing other — more important — metrics to track for SEO analysis and explaining how to reach them. Anyhow, I was not at all satisfied with the answer to why you don't need to try and rank #1.
So I went to Google for that and found an amazing article on ahrefs blog written by Tim Soulo, their CMO, with the headline "Ranking #1 on Google Is Overrated." This one was based on some serious research of 100K keywords.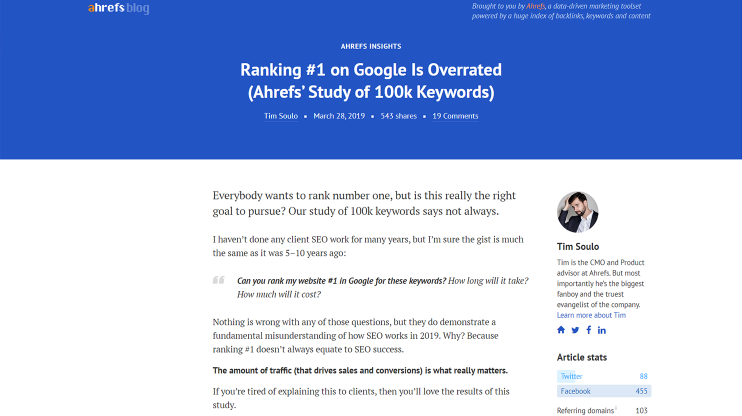 It pretty much explained how sad the traffic of a top-ranking website can look if they're ranking for only one (and not the best) keyword. And how much better you could optimize your website. The ahrefs tool helps a lot, BTW.
But is it all really simple?
I discussed this statement about #1 being overrated with a lot of SEO people and decided to share some insights with you.
So here are some major factors that prove ranking #1 is less significant than it seems. Let's hear opinions on each.
#1. It's worth nothing if you rank for the wrong keywords
#2. It's only a small part of your overall search traffic
#3. You should aim for #0 search result instead.
#1. It's worth nothing if you rank for the wrong keywords
As much as the ancient techniques of keyword-stuffing and density-obsessing days are gone, most of SEO is still about finding and targeting the best keywords. The best meaning highly demanded and super relevant.
You can take all the highest SERP ranks you want. But what will it give you if the query you're winning at is not good enough?
This is the major concern of Adam Bastock, an eCommerce SEO Consultant:
"What search volumes are like for each term?

Quite often, talking to small business, they will want to rank #1 for terms that they think people are searching for. This can often be different from what people actually search and behave like.

Thus ranking #1 is more of a vanity project than it is one for a business context.

Ranking #1 for a phrase that only has 10 searches a month might get you 3 hits a month (based on a 30% CTR). Ranking #8 for a phrase that gets 10,000 searches a month will get you 200 hits a month (based on a 2% CTR).

Quite often, both of these terms can have similar search intents behind them, but people are describing it in a different way," Adam says. And I totally agree.

"E.g. "Grey wallpaper for hallway" (300/mo) vs "grey wallpaper" — 50,000/mo. Both groups want grey wallpapers, but in much bigger numbers for the short-tail keywords.

In short, ranking lower would convert far more traffic to our site! When looking at keywords to rank for, you should be considering the search intent behind it (and how likely they are to convert) as well as volumes."
While I agree with Adam's point, isn't this just an example of the results of careless SEO research? If I talk about ranking #1, I mean a relevant and demanded keyword by default.
And I used to think it's obvious: if #1 is nothing more than a number, ugh, sorry, you've got nothing to celebrate. Keep working a do your research better.

#2. It's only a small part of your overall search traffic
This was one of the major points in ahrefs' research article. As great as a #1 position is, what does it put on the table? If you're just working to impress the client, there you go. But if you're looking to increase sales, drive traffic, or whatever the end result for your SEO is, ranking #1 for a single keyword is only a small part of your big game.
Ryan Scollon is an SEO & Google Ads consultant. He has worked in the industry for over 5 years now, and has been featured on the likes of Search Engine Land, Moz & Business News Daily. Here's what he thinks of ranking #1:
"Ranking #1 is not everything. Of course, you should expect more traffic and a higher click-through rate if you are #1m does it not necessarily mean more leads or customers.

If you are top of the search results but your website is slow, unresponsive or just not very UX friendly, these things won't help. For certain businesses, people will get quotes from the top 2 or 3 companies, so even being 2nd or 3rd can be just as good."
On the other hand, Louis Watton, who works as Marketing Executive at Shiply, doesn't agree with Ryan (and Neil Patel) at all. And frankly, Louis has a pretty strong point that we can't argue with.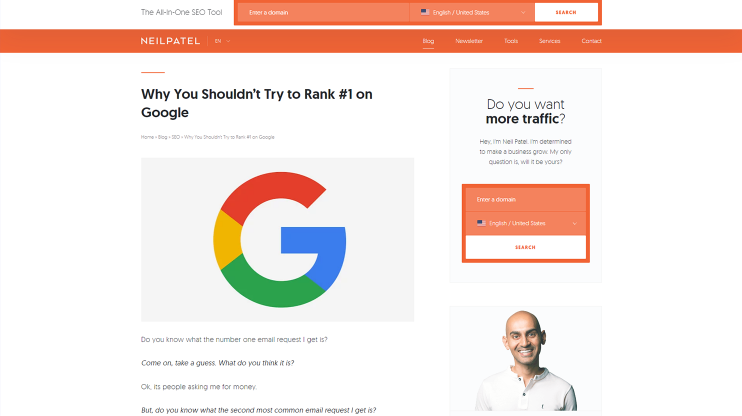 "I strongly disagree with Neil Patel and believe that ranking #1 for key search terms is still the best way to drive organic traffic and conversions on your site.

Whilst it is true that there other methods of getting visibility on the SERPs such as featured snippets and paying for ads the #1
result still drives the most traffic, without which you simply cannot convert.

Whilst in some cases you may see SERPs where perhaps position #2 or #3 gets more traffic, this is often due to many other keywords that they are ranking for. Further, these pages won't be in those positions on purpose, they will be fighting for #1 and just missing out. The best tactic on the SERPs is still to aim for the top spot."
And here's one more argument against aiming for #1:

#3. You should aim for the #0 search result instead.
Let's not forget about the search results that come before the first standard snippet. We call them featured snippets or #0 search results. And compared to them, #1 becomes secondary.
It's pretty much like fighting for the gold prize when there's also platinum. Gold is great and all, but, well, platinum ranks higher.
Here's what Gregory Golinski, the Head of Digital Marketing at YourParkingSpace.co.uk, says about aiming for featured snippets instead of #1:
"Ranking at number 1 is overrated because it's better to rank at number 0.

To rank at number 0, you must appear in featured snippets in Google search results. This will drive much more traffic to your website than ranking at number 1.

The best strategy to achieve this is to add commonly asked questions to your content and answer these questions. To find the right questions, look at the 'People also asked' results for each query on Google. You can also find relevant questions on websites such as AnswerThePublic.

Content that wouldn't necessarily rank at number 1 can appear in featured snippets and overcome competing content if you optimize this content for featured snippets. To do that, create questions and answers that are around 50 words long, use specific words that can help you appear in these snippets, or even better, create an FAQ in your content to increase your chances of appearing in featured snippets."
Daria Khmelnitskaya, an SEO specialist at SE Ranking, agrees with Gregory:
"I noticed that your rankings organically improve if you get a place in a featured snippet. The best option is to win both the featured snippet and one of the top 3 positions in SERP for one query.

Sometimes you can see 2-part featured snippet and ads for a query. Of course, in this case, the first position won't give you huge traffic because people need to scroll in order to discover you. A fresh example here for the query "intercom alternatives" in the US.

You can still gain the vast part of the traffic in case you have a standing out snippet — a cool title or a 5-star rating based on reviews."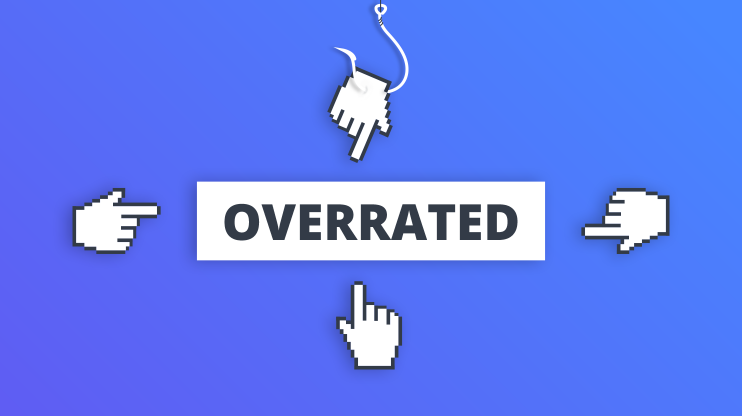 Now, while all these points against obsessing over the #1 ranking make sense, we still secretly (or explicitly) dream of the day when all our target keywords will return our carefully crafted pages as the top search result. So here comes the question:
How to make the #1 position worth it?
After discussing all the pros and cons of the search result position #1, we all agreed that any of the good SERP positions is good if you manage to convert your customers using valuable and relevant content.
Alex Connellan, the Head of SEO at an Australian agency called Kymodo, convinced me that it's a bit of an exaggeration to call this position overrated. We agreed that some publications use this for a clickbait (not ahrefs though, their research justifies all the name-calling).
Here's the summary of what Alex told me about this whole topic.
"To your question, I don't think it's 'overrated', but I do think there's a lot of emphasis from the 'old school' client or agency that misplaces its importance — speaking personally, a lot of my clients when they first came on board treated it as the 'end goal', as opposed to part of a larger digital strategy.

It's part of my education process as a professional to point out that ranking isn't just about being position #1, but it's also about ensuring the terms we're ranking for match searcher intent and bring in the best bang for our buck in ROI.

And it obviously doesn't stop there, because once people land on your site the relevance of the content and the friendliness of the design/UX will determine whether they turn into leads or potential customers. There's no point in getting great rankings if people don't find your site valuable and don't convert.

To summarise, I don't think it's necessarily overrated because there is certainly value in getting to position #1 (for the right phrases), but I think it's definitely misrepresented by some in the industry as the 'be-all-end-all․"
Not to repeat Alex's summary, I have to say this: if you're ranking #1 on Google, you've definitely made a huge progress in your SEO journey. Just make sure you're going the right way and getting to your real goals.
And don't hesitate to tell us in the comments what you think of the #1 position being overrated!
You can also start a discussion in our WordPress Family Facebook Community with fellow WorsPressers.