Choosing a domain name is an important part of launching a website or online business. It is the foundation upon which your entire brand will be built, so it's essential to select a name that accurately reflects your business. In this article, we will cover some tips and steps for picking a domain name, explain how to buy a domain name and what to look for when choosing a domain name registrar, as well as look at the dos and don'ts of picking a domain name
When you want to establish an online presence, be it a blog, a portfolio, or a new online storefront, one of the first steps is deciding on a name. Usually, deciding on a business name will directly lead to choosing a domain name for your new venture.
Your domain name can impact everything from your search engine ranking to the actual sales your make (if your website is selling something). You will want to know how to pick a good domain name that is easy to remember, unique, fits your brand and of course available.
This article will be your guide on how to choose a domain name. It will cover some tips for picking a domain name, how to buy a domain name, and what to look for when choosing a domain name registrar.
Along the way, this article will look at the dos and don'ts of picking a domain name as well as frequently asked questions about domain names.

What is a domain name?
Before we get into the details of how to pick your domain name, let's set the stage for what a domain name is.
You may know a domain as a word or phrase, usually ending in a .com, typed into a browser to visit a website. Every computer, or server on the public internet is accessible via an IP address.
The domain name is a way to more easily associate a memorable word with not so memorable IP address.
ICANN (Internet Corporation for Assigned Names and Numbers) is a non-profit organization that oversees the registration of domain names. A domain name is registered through a company acting as a domain registrar. These are domain registrar companies like hover.com and namecheap.com that will register a domain name for you as well as be able to provide other services such as WHOIS privacy and email services.
WHOIS is a database where information about domain names and IPs is stored. It is a public database and you can use websites like https://www.whois.com/ to look for owners of domain names and IP blocks. For this article, we are mostly concerned with the domain name so IP addresses are out of scope.
The last bit of helpful technical information when talking about domain names is the different parts of the domain name.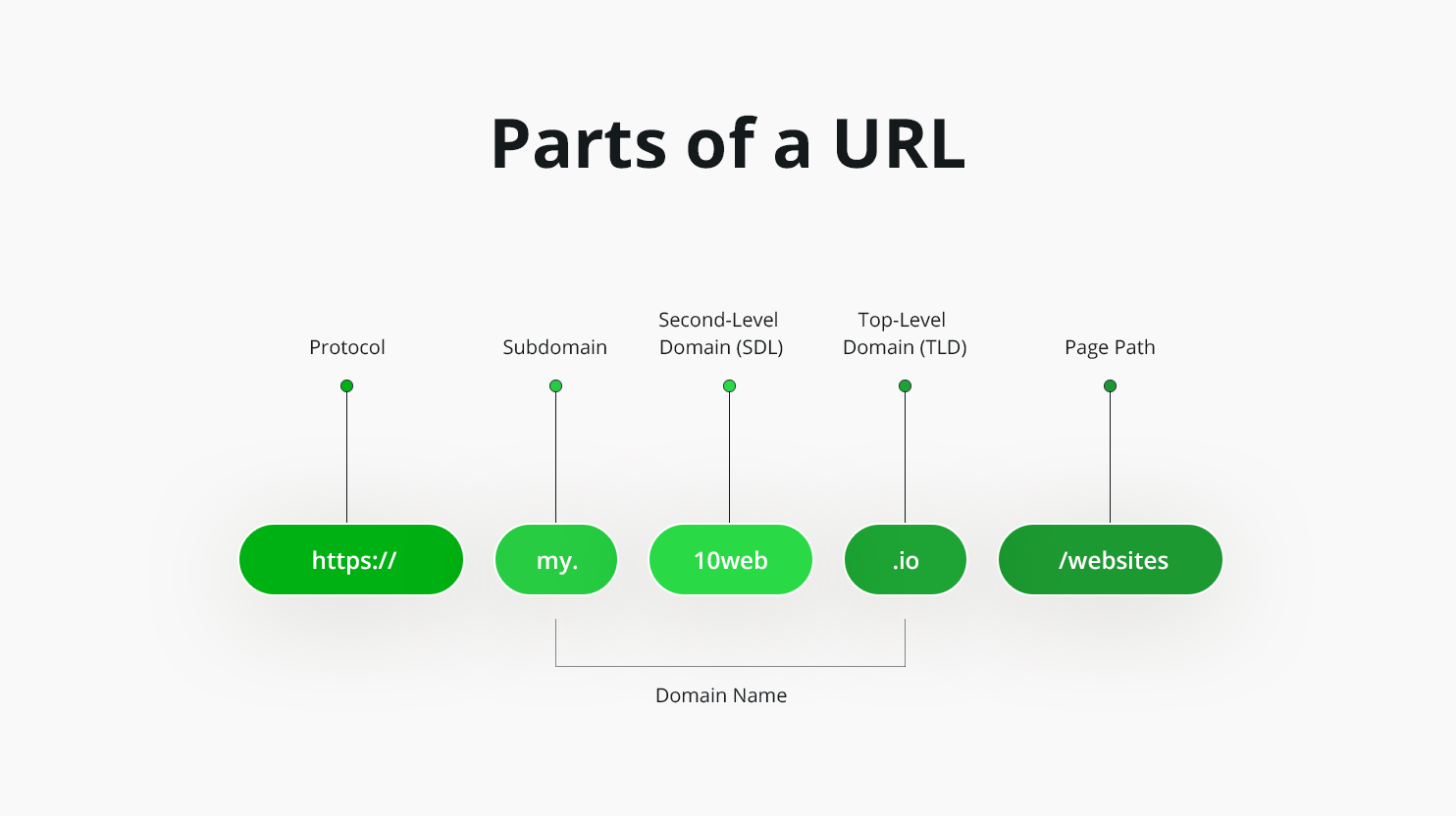 If we take a look at the URL https://my.10web.io, there are a few parts we can break it down to. 
Let's start with the https://, this is the protocol and is usually http or https. The domain name is 10web.io while the "my" part is a sub-domain. 
Subdomains are a way to break out parts of your website that would benefit from having their own dedicated section. Some common examples would be blog.domain.com, shop.domain.com, or in the case of the 10web.io dashboard, my.10web.io.
The last part of the domain name is the TLD (Top Level Domain), this is the .com, .net, .org, and even .io. The most common TLD is the .com but now there are many more TLDs that represent countries such as .us for the United States, or .it for Italy, and vanity TLDs for almost any interest from photography to design and style.
Now that we have some of the technical terms under our belts, let's take a look at things to consider when choosing a domain name.

4 steps for choosing a relevant and memorable domain name
Let's start with some tips on how to pick a good domain name. These are four guiding steps on how to choose your domain name. If you keep these tips in mind when choosing a domain name it will make the whole process easier.

1. Understanding your brand
The first step is to make sure your website represents your brand. This can look different depending on if you are starting a blog or starting a business, but in either case, your domain will be a visitor's first introduction to your brand.
Another word for your brand is your purpose, the reason your domain exists. In other words, why are you doing what you are doing? 
One way you can align with your brand is by selecting the right TLD or Top Level Domain. Often .com TLDs are the way to go, but as the internet has been around for many years now, less and less common .com domain names are available. The TLDs for .net and .org represent networks and organizations respectively. Neither one of these may accurately describe your venture.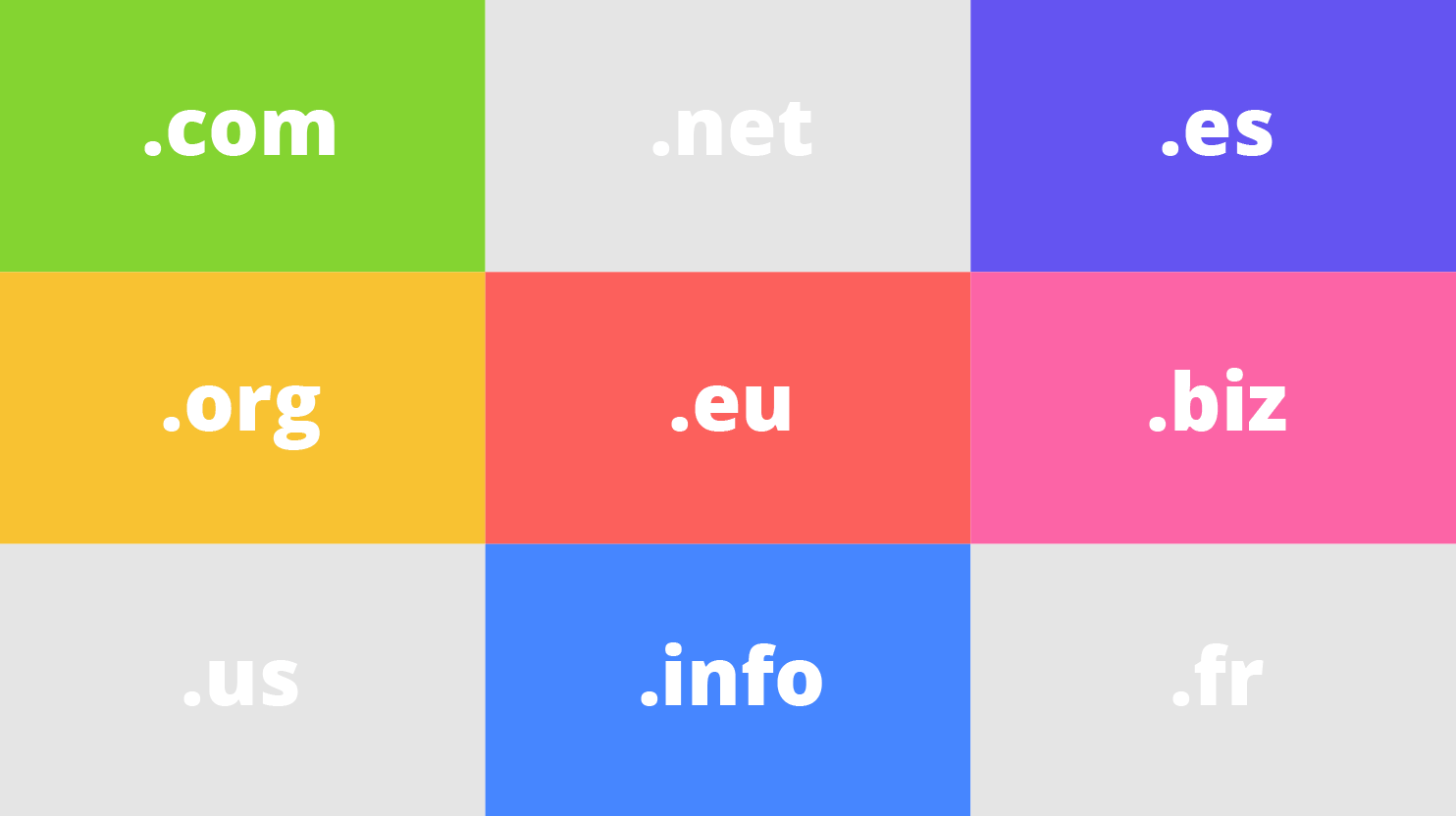 One option is to look at vanity domain names such as .blog or .me if you were running a blog. If you were running a restaurant, maybe .shop or .restaurant would be a good choice. There are so many choices now. A full TLD list can be found online. 
A great example of understanding your brand and choosing a TLD based on that understanding is the .io TLD used by 10web.io. The .io TLD has become synonymous with tech companies due to I/O being a technical phrasing for input/output. 

2. Brainstorming domain name ideas
Sometimes, when deciding on your domain name, it may take some time and a few rounds of brainstorming before you find a name that fits your brand and is available.
Maybe you luck out the domain that matches your brand and business name is available right away. If so, consider yourself lucky. Do not expect to be able to register a 3 or 4-letter domain name as most if not all of them have been registered.
More than likely you will need to find a clever combination of branding and the business name to come to the perfect domain name.
If you are stuck on a name, you can use 10Web AI Business Name Generator which may get the creative juices flowing. 
If your ideal domain name isn't readily available, one option would be to choose a domain name that describes what you do as a business or a service. In this case, think about your audience. Are you serving a global base or a local community? If local, can you pick a name that refers to the local city or state? 
As an example, let's say that you own a bookstore in San Antonio, TX and it's called Books Books Books. The domain, booksbooksbooks.com is probably taken so instead you decide on the domain name, satxbooks.com. Choosing a name that is more relevant to your audience is also a great way to land a recognizable and memorable name.
When brainstorming on how to pick a good domain name, keep in mind that while your domain can have numbers and hyphens, you will want to avoid both of these unless there is a good reason to include them. 

3. Checking availability and trademark infringement
Every registrar has a way to check if a domain name is available. Often all you need to do is enter a domain name and click search. You should see a result.
A domain being available could me a couple of different things.
The domain name is outright available and ready for purchase.

The domain name might be registered but still available if the owner is willing to sell.
Lastly, if the domain you decided on is not available you may be given other opportunities for purchasing similar domains that are available. You might be surprised at what is available if you are willing to compromise on not having a .com domain name.
A search for "check domain availability" returns many results from reputable registers.
Depending on your country, there may be some legal due diligence that needs to be done before you can safely register your domain name.
For this section, I will mostly be talking from the perspective of starting a new business. If you are starting a new business, more than likely you will need to register the business with a state government. 
One of the steps when creating a business is making sure nobody else is using the exact or even similar name. This is also a great way to verify the domain you have choices is not the name of another business.
It is also good to verify a domain name is not infringing on trademarks and is the same name as a global company. The practice of buying a domain that you know is to be under somebody else's trademark is called cybersquatting. An example of this might be if you registered the domain friski.es. Friskies is a popular brand of cat food, but if you registered the domain frisky with a .es TLD might be a copyright or trademark issue.
In some countries, if taken to court, you could be forced to surrender the domain name even.

4. Finalizing your domain name
So, you have determined a domain that is a fit for your brand, and you have brainstormed ideas around the domain name and what you want to convey when people hear your domain. The second to last part is checking availability and trademark infringement to make sure your domain name can not be construed as trying to be another product or business.
After all that is complete, and you know how to choose a good domain name, you can decide on which registrar you want to go with. There are many reputable companies out there.
One thing you should consider when choosing a domain registrar is the pricing of the initial registration versus the pricing of any future renewals. If you are planning to have this domain name for the foreseeable future, it might be worth just renewing for 3-5 years at a time if there is a discount.
Once you have done your comparison, and before you click purchase, review some of our dos and don'ts for successful domain names.

Dos and don'ts of a successful domain name
Keep in mind that no rule is 100% a do or 100% a don't. There is some wiggle room but keep these dos and don'ts in mind when deciding on that domain name.

Dos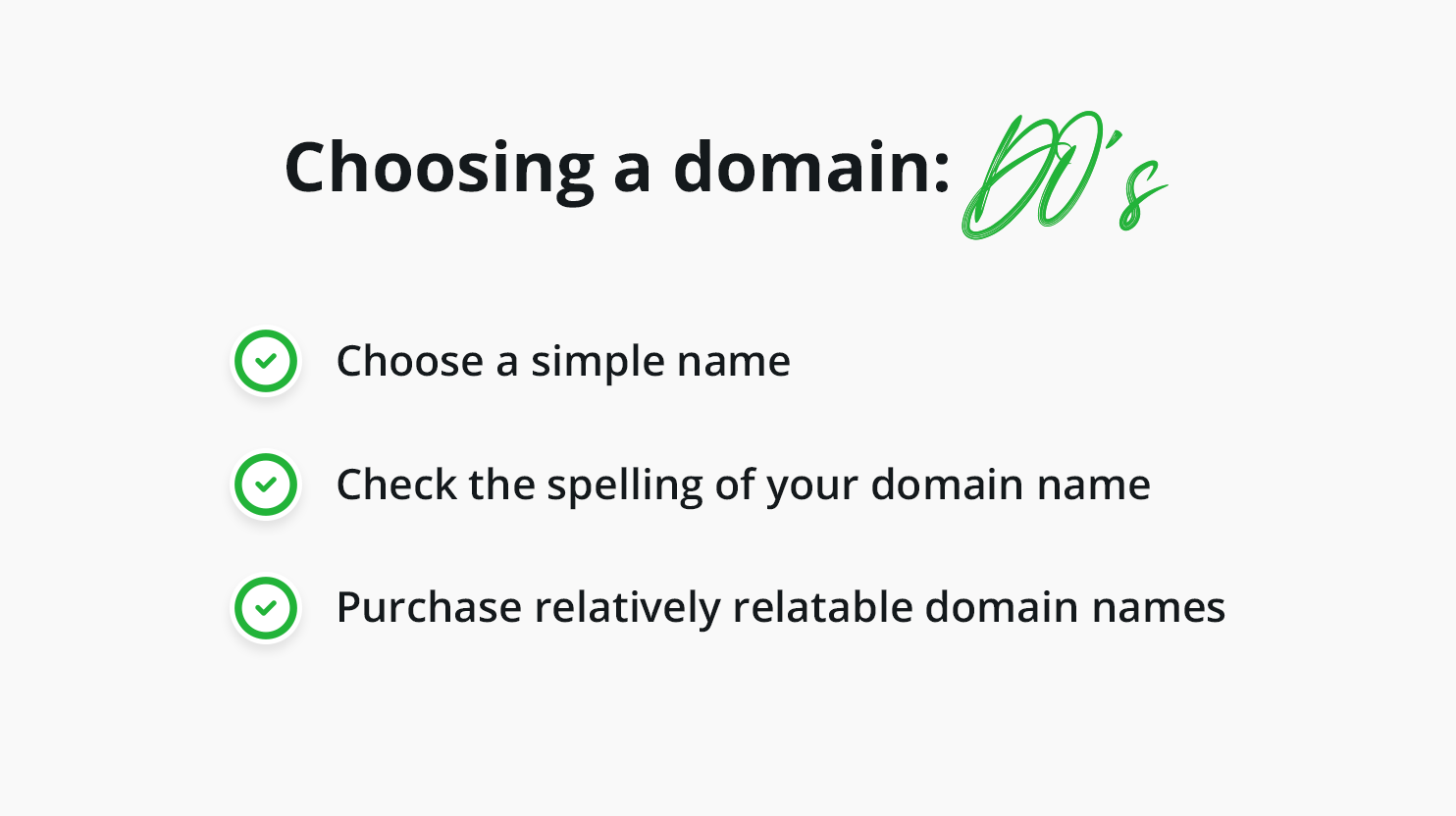 DO: double and triple-check the spelling of your domain name before clicking buy. This comes from personal experience. Some registrars will allow you to cancel a domain name within the time window of purchasing it. This is only sometimes the case, so check your registrar's policies. This may factor into where you decide to purchase. You do not want to end up with a slightly misspelled domain name for a year.

DO: Pick a short and concise domain name. Satxbooks.com would be much easier to remember than sanantoniotexasbooks.com. 

DO set up auto-renew for your domain name. You do not want to let your domain name expire without you knowing.

DO consider purchasing some versions or common misspellings of your domain name, especially if the domain is long or hard to spell. 
Don'ts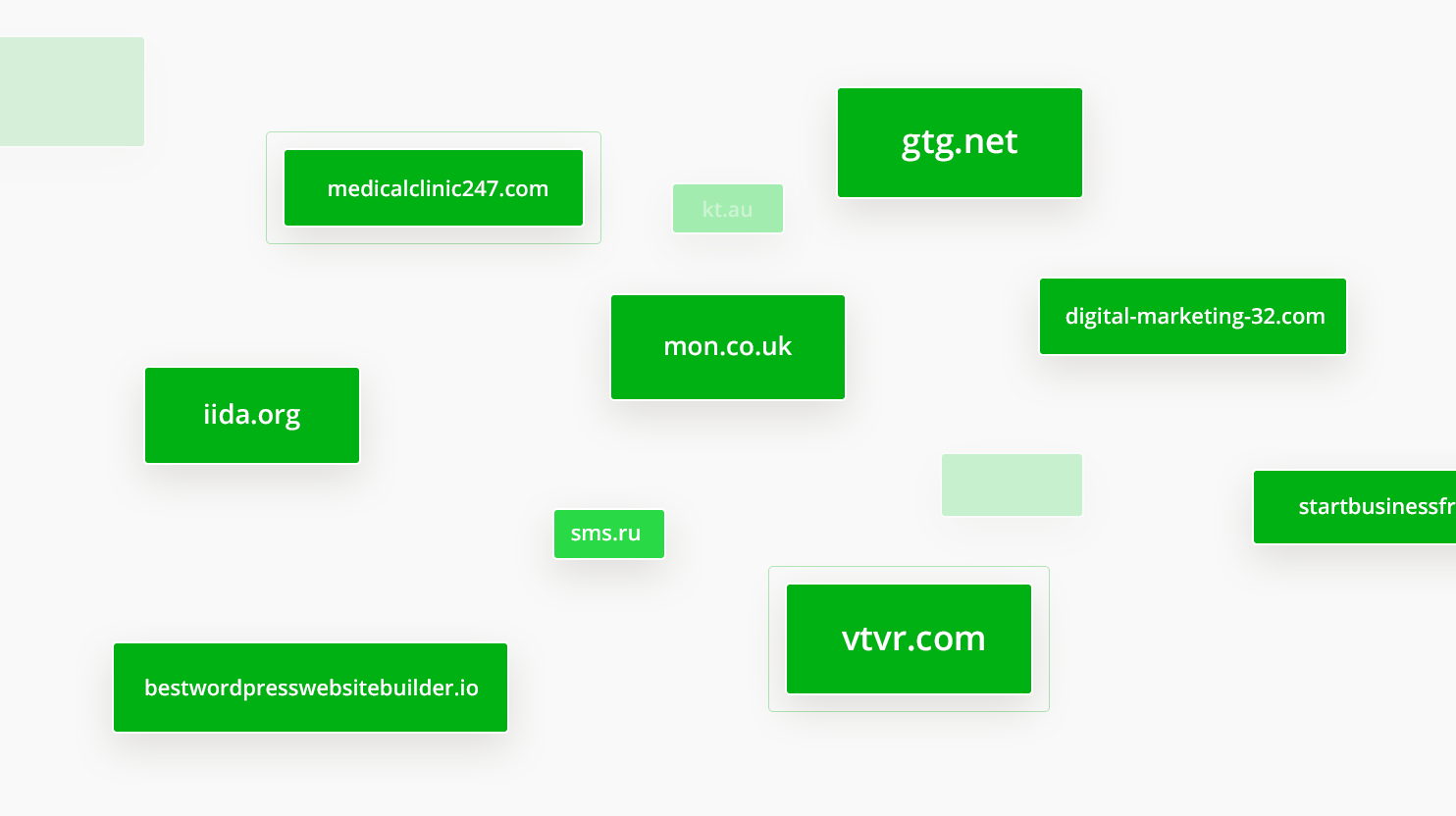 DON'T use numbers in your domain name unless your brand centers around it. Here 10web.io is a good example of an exception to this don't. While tenweb.io works and redirects to 10web.io, 10web is part of the branding.

DON'T use abbreviations for your business/domain name, unless you are 100% certain it could not be confused with anything else. 

DON'T use hyphens unless absolutely necessary.

DON'T think that long-tail domain names are necessary. An exact match long-tail domain is one that is overly specific. For example, the domain weddingcakesinwillowdalekansas.com is very specific and there could be shorter options.

DON'T squat on a domain that you know is infringing on others' copyright or intellectual property.
4 tips for registering your domain name faster and cheaper
1. Choose a reliable domain registrar
For a company to register a domain with ICANN, they need to be accredited. There are plenty of companies out there that have been registering domains for a while. Which one you pick might come down to other services they offer.
When deciding on a registrar, consider any other product or services you may need. For example, email. If the registrar offers email services and as well offers to register your domain name as long as you also purchase and host email with the same company, that might be a great deal.
Take your time to compare offers, benefits, and services between different registrars.

2. Register your domain name for multiple years
Like many things, purchasing in bulk can lead to discounts. If you expect to use a domain name for the foreseeable future, you may be able to get discounts by registering a domain name for multiple years.
In addition to potentially receiving a lower price with multiyear renewals, turn on automatic renewal. By renewing for multiple years and turning out automatic renewal you will lessen the chances you will forget to renew the domain name and lose it.

3. Pay attention to the renewal price
If you are choosing a domain register based on an introductory or initial price, look at what the "real" price will be after the first year.
If the initial price for your domain name is $10.99 cents but each year after that is $15.99 depending on the TLD this could be much higher than the average cost.

As noted in the previous tip, you may be able to bring this price down by renewing your domain name for multiple years.

4. Consider privacy protection and other add-ons
One of the ways the different registers differentiate themselves is through the extra add-ons and additional services they provide.
Does your domain register provide privacy options? ICANN requires that domains be registered and their register's data be stored in a publicly accessible WHOIS database. If you would prefer your data redacted, see if your domain registrar provides a private registration.
If you are going to want email addresses to go with your new domain name, you may want to consider what options your registrar has. This offering can vary depending on place to place.
Lastly, if provide a DNS service, make sure they can provide appropriate txt records and domain verification.

Conclusion
Choosing a domain name is an exciting process. You have the space to be creative, but this decision could be long-term. 
We discussed tips on how to pick a good domain name and choose a domain name registrar when it comes time to buy the domain. Our goal is that after reading this article, you understand how to choose a domain name.
If you go through each step to on how choose a domain name, follow the dos and don'ts, and implement the four tips for registering your domain, you will be on your way to registering the right domain name for your new venture.
Understanding the ins and outs of how to choose a domain name is just the beginning. Once you have your domain name, you can use 10Web's AI Builder to quickly and easily create a website. The 10Web AI Website Builder can create and publish a website with images and content tailored to your needs in minutes. Once your site is built you can add more pages or customize your website to your needs with 50+ premium widgets.
When your website is ready for the world, you can point your domain to your 10Web website.

Get a head start on website creation with AI
Create a custom website tailored to your business needs 10X faster with 10Web AI Website Builder!
Get a head start on website creation with AI
Create a custom website tailored to your business needs 10X faster with 10Web AI Website Builder!
FAQ
How to buy a domain that is already owned and is not for sale?
Trying to buy a domain that is already registered and not advertised for sale can be a tricky task. All domain names require some sort of registerer information. This is stored in a publicly available WHOIS database.
The WHOIS database can offer some contact information unless it is redacted as part of domain privacy. There are domain broker services that can be helpful in reaching out to domain owners.
How to buy an email domain?
If you are looking to buy a domain name that will be solely for email, often there will be services that will waive the domain name fee as long as you continue email services with them.
How to negotiate a domain name purchase?
If the domain you want is already registered and is for sale, often there will be a contact form on the home page.
One great option is to hire a domain brokerage service to negotiate a deal to purchase the domain from the current owner.
How to buy a domain name forever/permanently?
It is only possible to buy a domain name for a while. You can lease a domain name for an indeterminate amount of time, but that time is not initially set out as "forever".
How to purchase a domain name from someone (an individual)?
If an individual's information is available in the WHOIS database, start the negotiations by reaching those contacts.
Can I register a domain name for free?
Depending on what you are doing, you may be offered a domain registration for free. Often if you are purchasing other services, such as hosting or email services, domain registration will be included for free.
Be wary of introductory deals. It is seen often that the domain for the first year is $0.99, but each subsequent renewal has an increased price tag with it.
How to buy a domain name anonymously?
ICANN does require that registrars maintain information on all their domains. This could potentially put your private information out on the internet.
Look at what offerings your registrar has for domain privacy. Avoid a registrar if they do not offer some version of WHOIS Privacy.
What happens to my domain if I forget to renew it?
If you forget to renew your domain name and it expires, depending on how long it has been expired and your registrar you may have options to renew it up to 60 days. Contact your registrar for their specific details.
If it has been some time since the domain has expired, you may find yourself trying to buy it back from an auction or a domain broker for a much higher price.