10 SEO Secrets That Have Never Been Shared in Public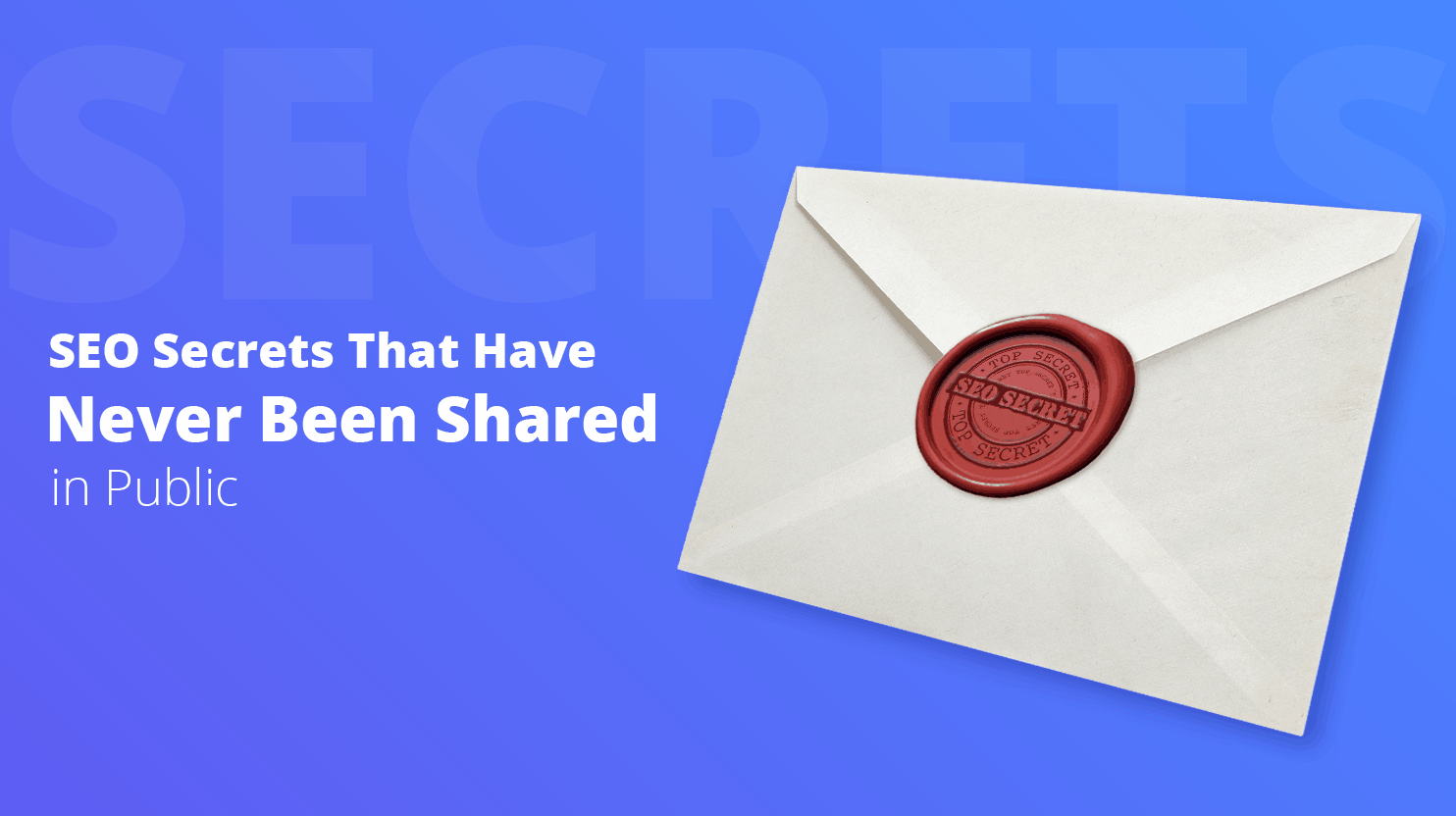 There are endless SEO guides out there telling you to use keywords and headlines and more keywords… And well that's what SEO is all about, isn't it — like, many keywords but not too many and densely but not too densely located.
Wrong!
SEO is so much more and surely once you start actually digging deep into the field you'll discover there's a whole lot more to it. There are actually quite a lot of tips and secrets that you probably haven't heard about yet and that might slip your attention even after you do thorough research on the web.
There's a lot to pay attention to and failing to do that might end up being critical for your rankings.
Let's talk about the top 10 SEO secrets your website can greatly benefit from:
1. Optimize your content for Google's top 3 ranking factors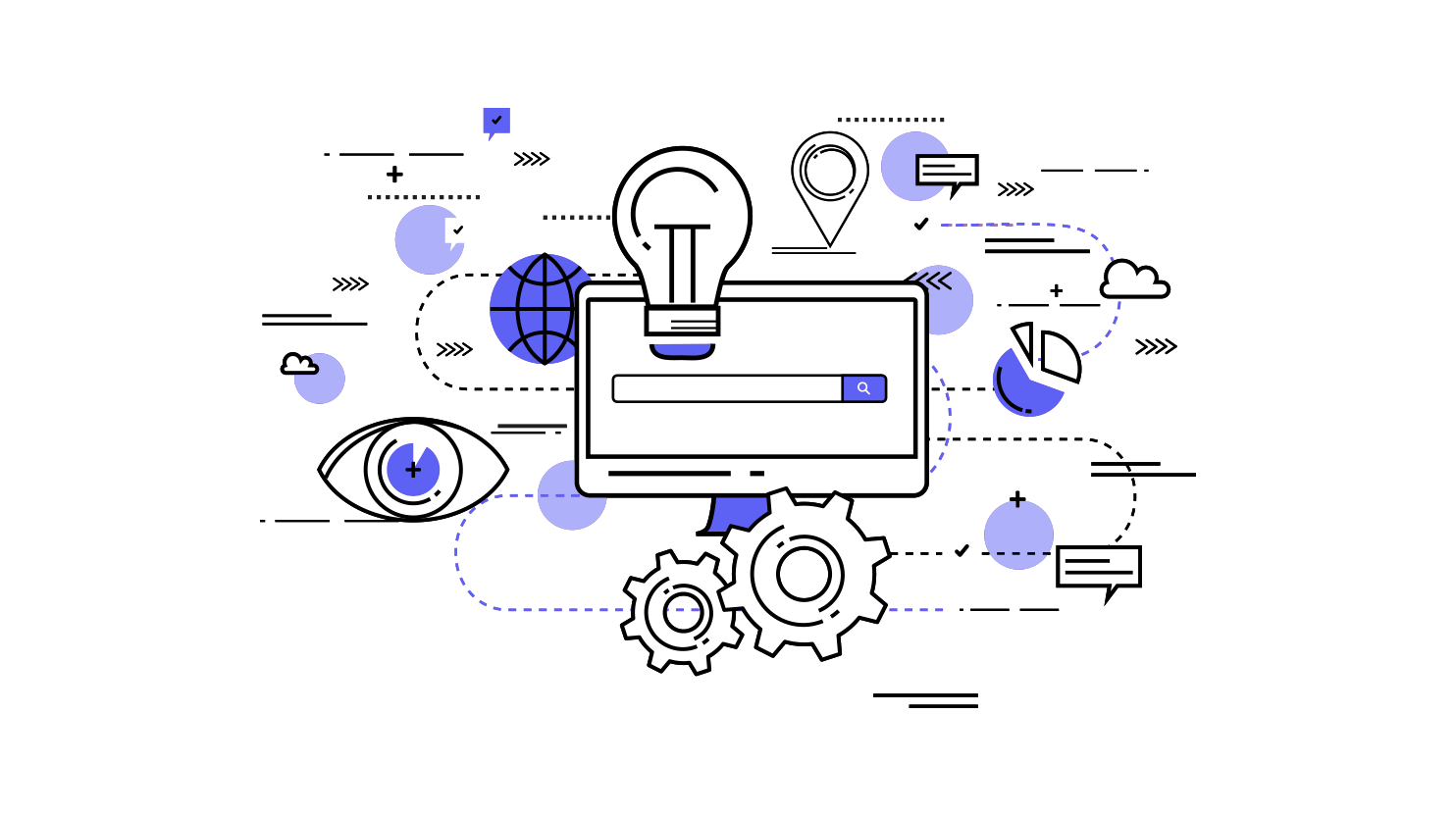 Google is complicated and hard to please. There an example — it's got a list of 200 ranking factors to pay attention to when it comes to your website ranking. And then there's also the fact that they constantly change the algorithms and update them, hence keeping track becomes very very difficult.
Luckily for you, though, one thing is sure — the exact shortlist of the three most vital ranking factors of Google. And if you know them, you know what to pay attention to most.
Ok, ready to hear the names of the three top ranking factors? It's links, content, and Rankbrain.
Well, it's more or less understandable what links and content are referring to and we'll discuss them later on in the article.
But things are not that obvious with Rankbrain. Rankbrain, to put it in simple terms, is the machine-learning artificial intelligence way Google uses to decide on the pages that correspond to the query the best.
But, how do you optimize your website for Rankbrain?
Basically, the trick is in usuality and your ability to write in a conversational language. If you go all-traditional-SEO and start writing for the machine your writing is most likely going to be a pile of confusing sentences and words that don't really make a lot of sense. On the other hand, if you write in a natural language that your readers can easily make sense of, you can proudly consider your content well-optimized for Rankbrain.

This article explains how Rankbrain works in more detail.
2. Create content for people who can give you links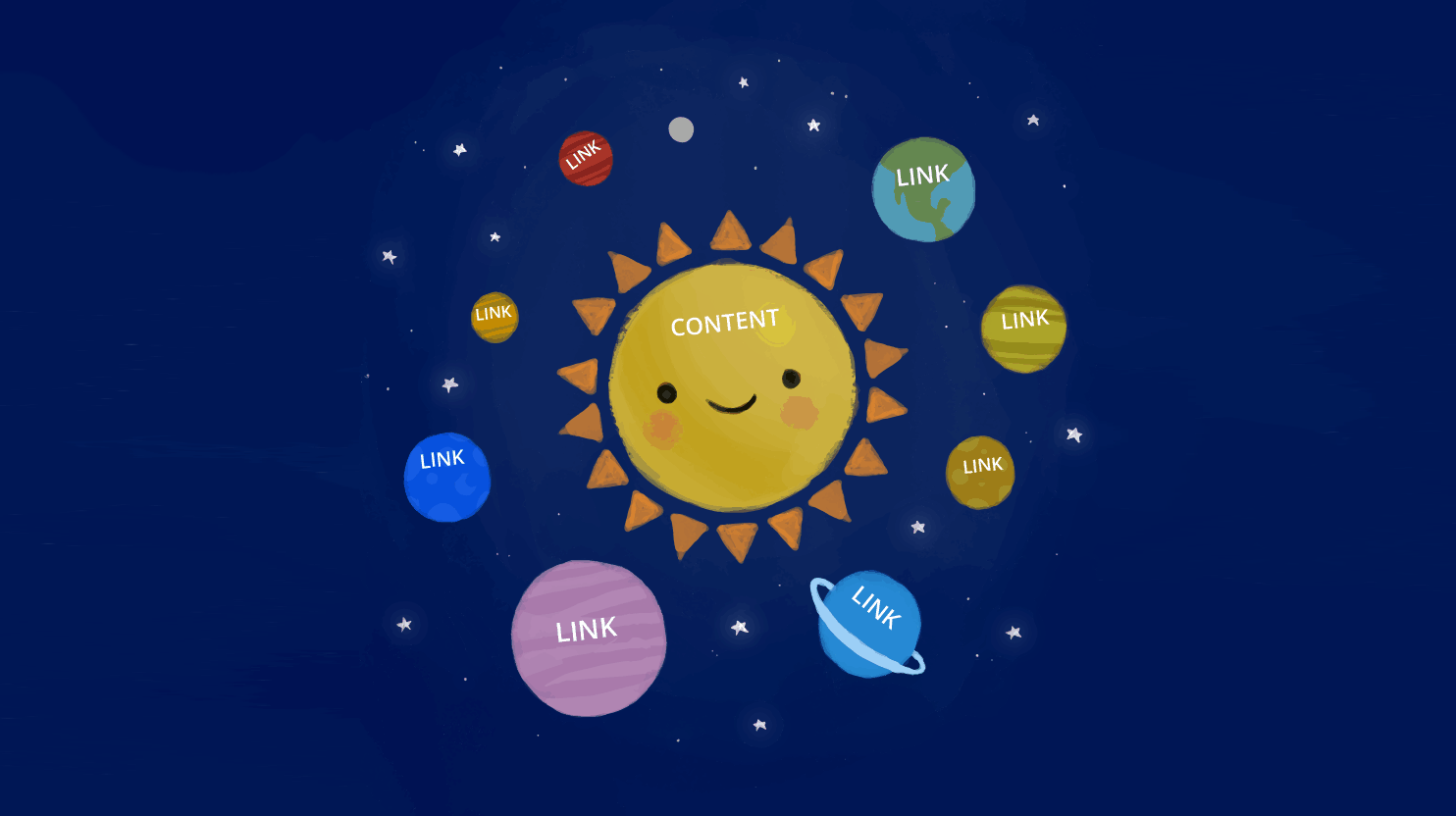 As we already mentioned above, content that attracts links is highly important from the SEO perspective. Not only are those links direct traffic to your website but search engines also really do care about the links you get, because it makes your content "worthy of the links."
That is why you should start developing and adopting a strategy for attracting links.
However, not all links are equal. The thing is that the reputability of the website that links to you is highly important too. About 24% of the ranking algorithm Google uses is based on the trustworthiness of your link sources. And, consequently, the higher their reputation, the more it adds up to your own vitality and weight.
Yet, when it comes to creating content that qualifies for gaining links, moreover, from reputable websites, is not all that easy. Then there's also the outreach procedure which takes tons of time and effort, while not guaranteeing final success.
The good news in this despair is that eventually all websites need strong sources and citations to base their points and content on. Which gives the option of specifically creating source-content.
What I am trying to say is that you can do the following:
Primarily plan on the websites that you would like to gain links from (yet stay realistic because gaining a link from Techcrunch isn't all that possible if you have just started your website and have 4 readers overall).
Once you have the list of the websites it is important that you carry out an investigation on topics in order to create the list of topics that might serve them well as a source.
Then, of course, it is important to create high-quality content that the website would like to link to. This is not simple. In fact, it's the trickiest part. You'll need to do deep and throughout research and study past examples and choose your style/wording/etc. It takes a while and a number of failed attempts at creating the content they need.
The rest is a bit of outreach and engagement; voila — you might get linked to.
The best part is that once you get cited by a website with high reputation — you're much more likely to start gaining links from other authoritative sites too.
3. Featured snippets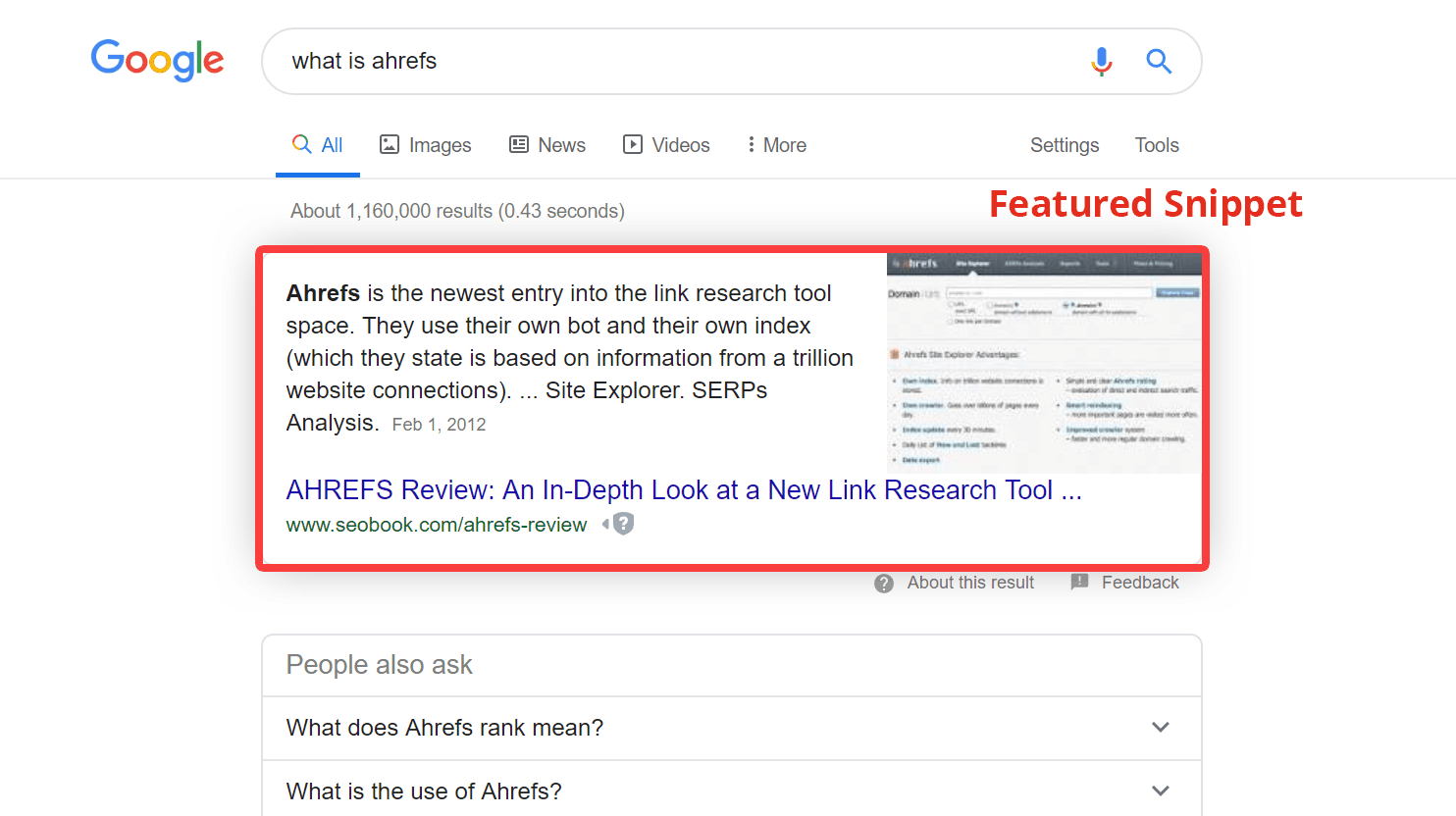 Google at the moment aims at providing complete answers directly on the search results page is that the person who sent the request no longer needs to click on the website and go read pages of information. That's exactly what featured snippets are about.
Briefly put, featured snippets are the format in with Google delivers the answer directly on the search results page.
Well, though, we have a conflict here. A lot of website owners and SEO experts believe, that since the answer to the question appears on the screen immediately, the users are more likely to read it there and hence restrain from clicking on the website. Which would mean that featured snippets make you lose your organic traffic.
However, experience shows, that getting featured snippets benefits your website traffic greatly. You get around 20 or 30 percent more traffic than you otherwise would with the same content.
Of course, the process of optimizing for featured snippets isn't the easiest one. There are several things you should consider, such as:
Make sure to choose questions with intricate or long answers when you're optimizing for featured snippets. That is in order to assure that your answer isn't just a sentence or two that will be fully revealed in the search results page leaving no meaning for the reader to click on your website.
Pay attention to the trending pages and the topics that you have the highest chances of getting featured snippets on. You might consider DIY, finance, and health in particular.
Feel free to read more about optimizing your website content for Google featured snippets.
4. Use LSI Keywords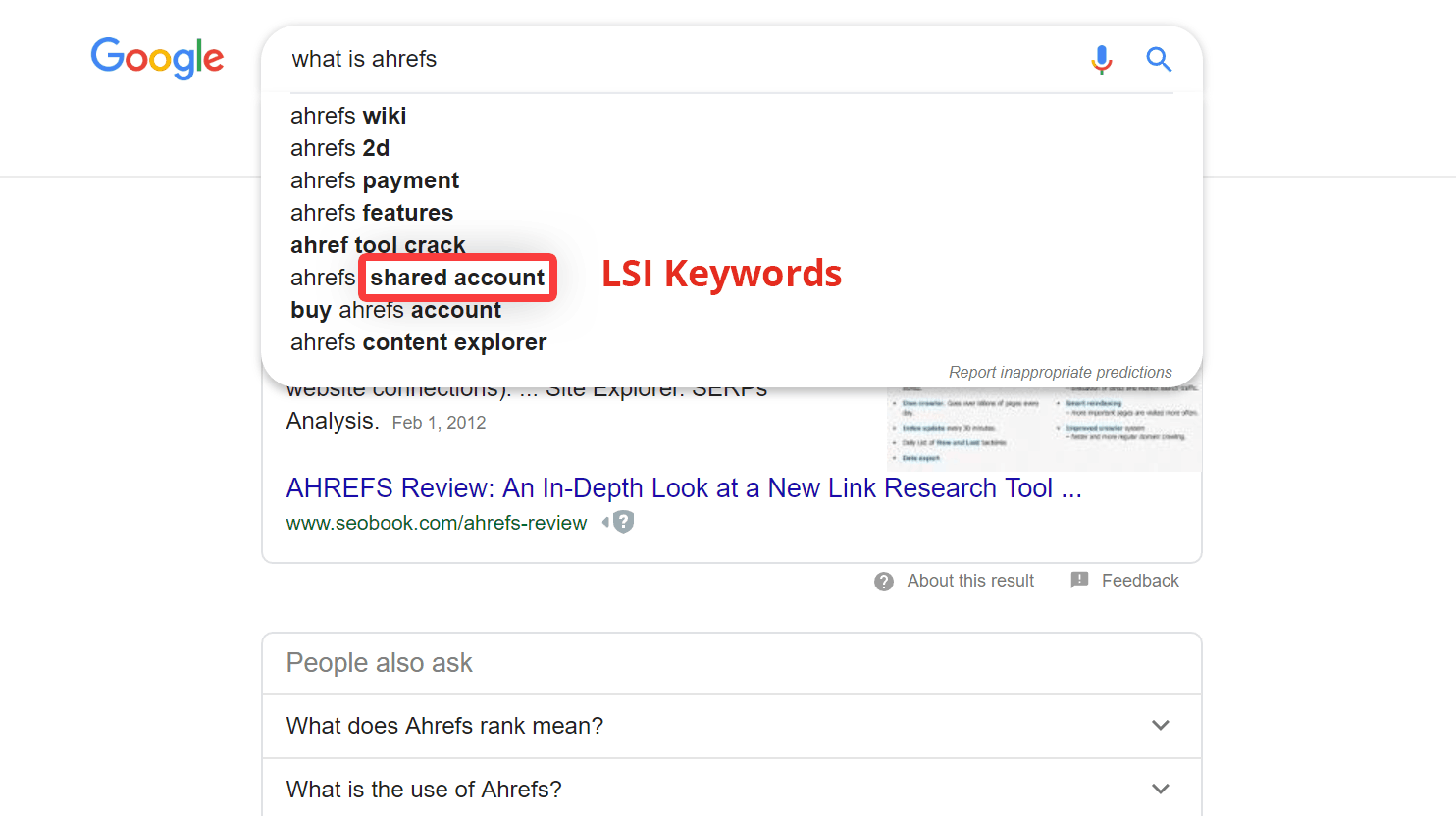 Okay, so what's an LSI keyword?
Latent Semantic Indexing or the so-called LSI keywords are keywords that are semantically related to your main keyword. Those include keywords that are contextually synonymous with the main one you're using as well as other keywords that are likely to be found together with your main keyword due to referring to the same narrow topic.
Turns out, Google nowadays pays more attention to discovering LSI keywords rather than calculating the density of the keywords you've used. This leads us to conclude that LSI keywords are critically important in terms of your website ranking.
Let's discuss a few reasons why you might consider using LSI keywords in your content more:
Once you surpass your limits of using the main keyword from the perspective of the overall permitted keyword density — LSI keywords will come to your help. Instead of repeating the main keyword suspiciously many times you can start using LSI keywords as healthy replacements.
Being related to your main keyword — LSI keywords are highly likely to increase your ranking "twice" — as the main keyword and as an alternative as well.
Google no longer cares for keyword density as much as it cares for the overall context of your content. This basically means due to LSI keywords you can actually help Google understand the context of your page easier.
5. Update old posts
They say the lifetime of a post is shrinking which is why you must be vigilant and not let your content decay.
Every piece of content goes through the same stages: It goes live, gets crawled, competes for rankings, starts getting more and more traffic, stops getting traffic, and effectively dies for Google.
That's why as soon as the traffic that a piece of content brings plateaus, that is, stops growing, you have to update the content to be able to reintroduce it to the ranking competition. Here's how to do that:
Go over the content and evaluate which parts are no longer relevant. Also note the content that isn't relevant but can be made so and content that is hopelessly outdated. For example, you can modernize an example, if the old one isn't working anymore but you can't modernize instructions about fixing a piece of software no one uses anymore.
Add distinct markers to show that the content is fresh. For example, if it was "Things to wear in 2019," after you've updated the article, you should update the year as well.
Do thorough research to modify the content in a way that reflects innovation.
6. Optimize for voice search
The percentage of voice searches is steadily on the rise which is why your content needs to adapt.
Read this detailed guide to preparing your website for voice search to find out more!

7. Add videos
Videos are fun and very much in vogue on the web, so if you can present your content in a video format in addition to text and images, you're sure to rank higher on Google.
Here's how you should approach video content making and SEO:
Define a target market and research what your competitors are up to video-wise.
Make sure your videos are made with appropriate equipment that renders a high quality of both sound and visuals. It's super important to set the light in the optimal way!
Use the chosen keywords at least three times in the video.
Make sure the length of the video matches the content you're trying to communicate: Don't stretch out information. But don't jump from one point to another either.
Test out your video on a group and ask them to fill out a survey about the content and its delivery, sound and image quality, etc.
Diversify the type of videos you make. Users appreciate different formats and approaches to topics.
Encourage comments by asking viewers questions and reply to them when you get them.
Be consistent in your video making efforts.
Use an appropriate category, description, and tags.
Share the video on your company's social media sites.
Strategize which video hosting platform you're going to use.
Spend a long time editing, adding fun visuals and music where needed.
Never underestimate the script. You should write down everything you can: the dramatic pauses, the GIFs, the gestures.
Video is the medium that absolutely requires teamwork. Make sure your team works well together and generates and shares a lot of ideas!
You can also optimize videos for Youtube.
8. Use up-to-date SEO tools
An SEO expert is only as good as his or her tools, so you need to make sure you're using the most efficient and modern ones.
We've compiled an updated list of 42 best SEO tools you should be using in 2021 to make sure you're well prepared to face the ranking battles.

9. Implement visuals-first approach
Have you seen those sad posts where the visual is clearly just a later addition to the text and don't they look outdated? It's usually stock images of handshakes to indicate business partnerships and smiling people holding paper to symbolize productivity. No more of that!
Visual excellence is increasingly important to provide a good user experience, which is why you need to plan ahead with the visuals. Moreover, it may even be beneficial to adapt text to the graphs, infographics, and other relevant images you've decided on, instead of vice versa.
You may be wondering how you can know if the visual is useless or makes your site look like it's from another time. The rule of thumb is to ask yourself if the content will suffer in some way if you just delete the visual. If you find that the visitor will not even notice the disappearance, this means the image is not interwoven with the content and doesn't add much to the equation.
Great visuals typically are able to stand on their own and require the user to spend some time examining them.

10. Meet user expectations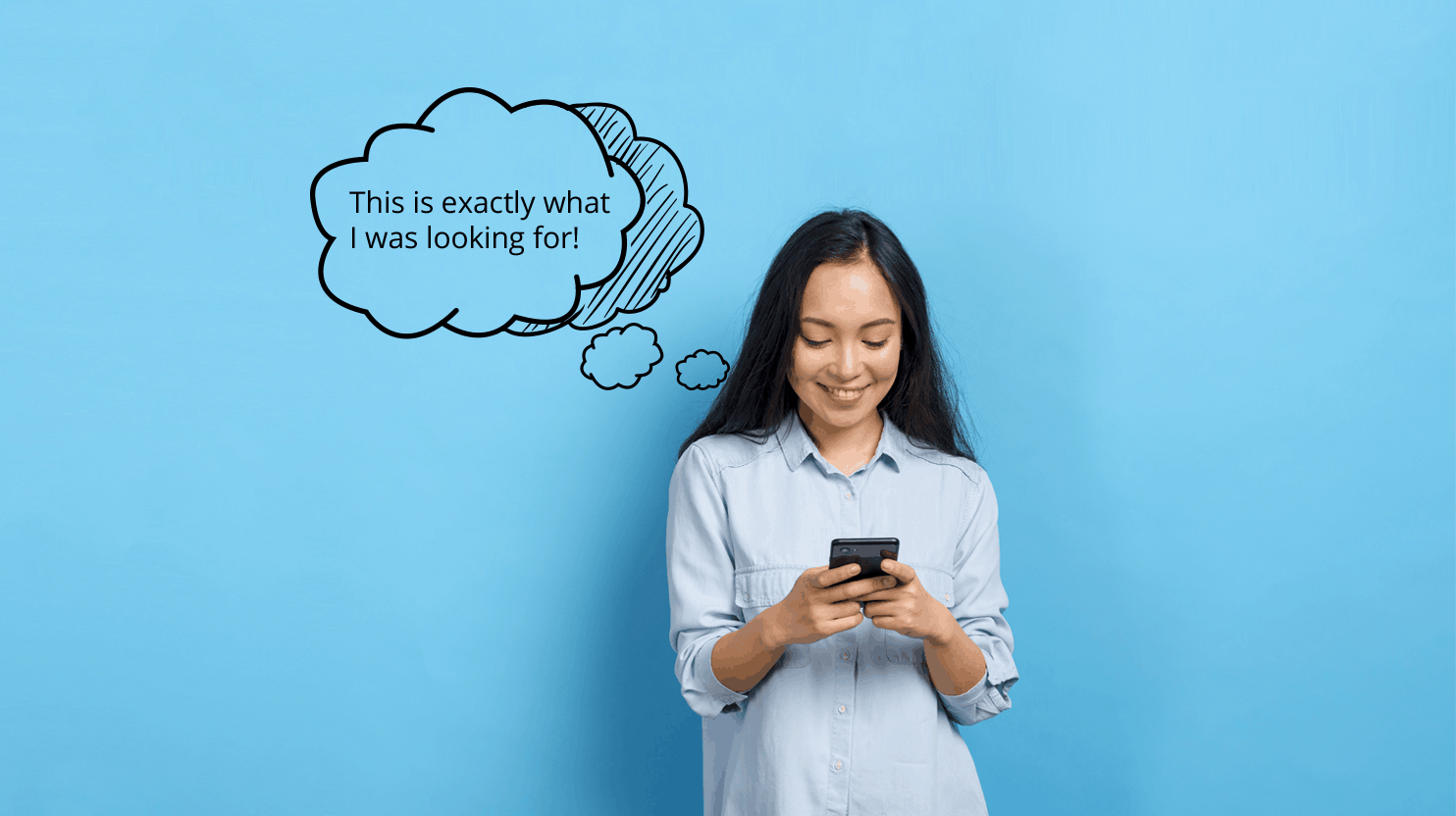 Well, as trivial as this might sound, we can't actually skip this point. This is one of Feedster's top 5 SEO tips. And the truth is that still a lot of websites out there keep on writing for the machine purely.
The reality is that ranking is cool but you have to know what you're ranking for. If you SEO optimize your website for the engine to a point that you crawl up to the top positions, but your content ends up being trash from the point of view of the users — you're guaranteed to fail.
Here's why.
So, suppose your SEO optimized content does not answer the question of the users appropriately or at all, and hence does not meet their expectations. Not meeting the user intent means your content will not receive the necessary "reaction" from the users.
Browsing your page for a while and not getting the results he or she hoped for, the user will get tired and realize that you are never going to answer their questions; they will simply drop your page in search of better and more insightful content.
What happens when your webpage is abandoned numerous times? True — your bounce rate climbs higher and higher while the time spent on your webpage drops lower. Google, who is not stupid at all will soon figure out that something is wrong and sensing that your content does not satisfy your readers' interest — will bring your ranking down.
Sad ending, isn't it?
Well, there is a great way to avoid this situation. Wanna know the most important timeless SEO secret in existence?
Write for the users! As amazing and important as SEO is, please always bear in mind that your final readers and those who are actually going to evaluate you are your readers. So make sure to write for them — on the topics they care about and in ways they want you to and try your best to provide the precise and informative answers to their questions.
Conclusion
SEO optimization is a complex and intricate process and the more time you spend on exploring its secrets — the higher your future content is likely to rank. A few points to keep in mind are:
Writing for the users as well, not purely for the machine.
Optimizing for Google Rankbrain.
Writing quality content and obtaining links.
Using LSI keywords.
Optimizing for voice search.
Creating videos.
Using appropriate SEO tools.
Prioritizing visuals.
Trying to gain featured snippets.
If you're a beginner though, first read LoudGrough's SEO tutorial here. It's a good introduction to everything SEO and you'll have a grasp on the basics before jumping to secrets.
Automated PageSpeed Boost With #1 WP Hosting
Get 90+ PageSpeed Score and boost Core Web Vitals by migrating your client websites to 10Web – all within minutes, all automatically.
Automated PageSpeed Boost With #1 WP Hosting
Get 90+ PageSpeed Score and boost Core Web Vitals by migrating your client websites to 10Web – all within minutes, all automatically.
Hope you found our list of 10 SEO secrets useful and will keep them in mind when SEO-optimizing your website. And do not forget to share other SEO secrets you might know of in the comments section below!