Finally! How to Get More Clients for Your Agency With 10Web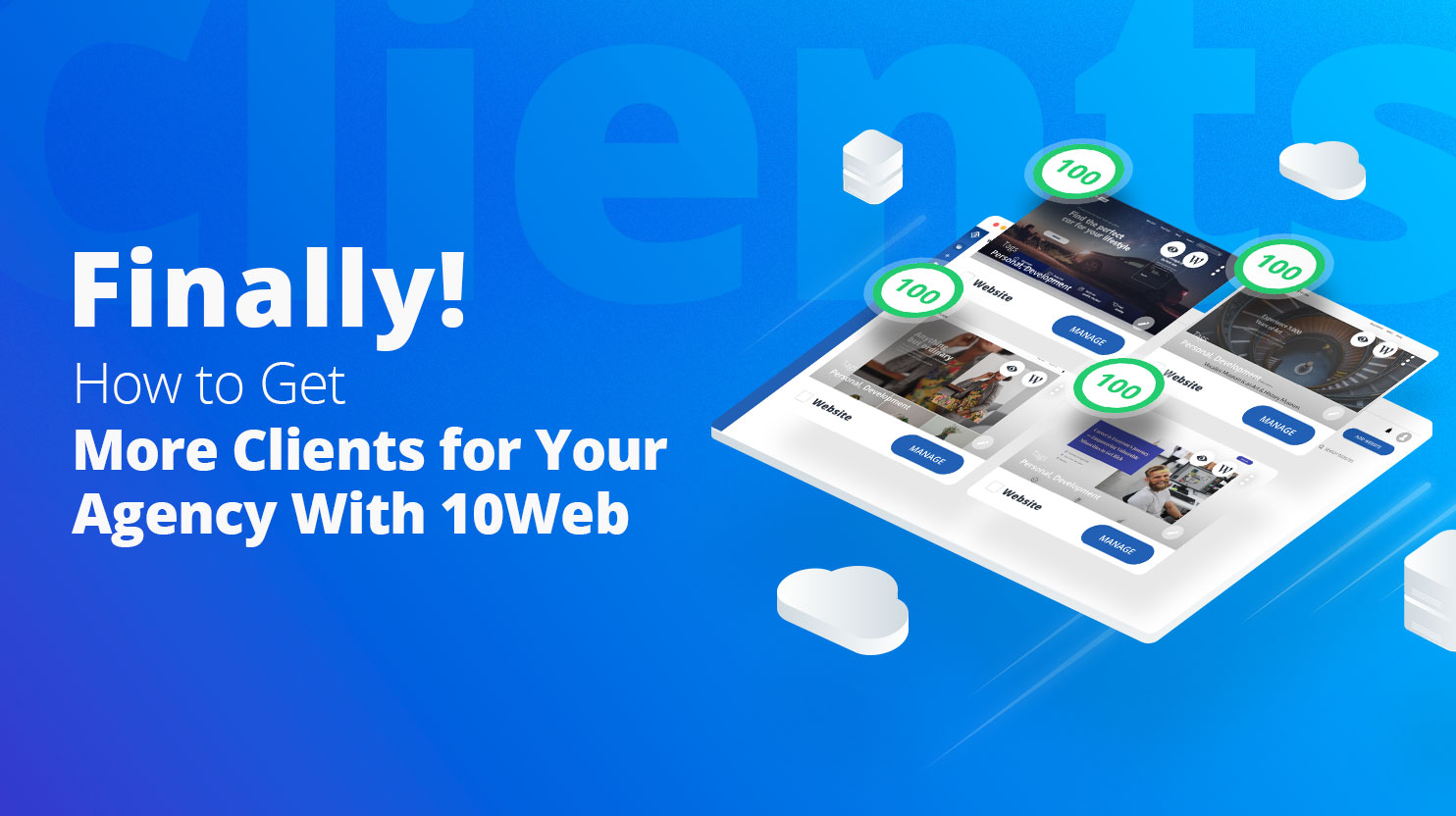 You've created your agency and finetuned every aspect. You know what you offer is great and will genuinely take your clients' businesses to the next level. So why isn't your agency growing at the speed you expect?
There are three main factors that can stunt any agency's growth. If you've been in this business long enough, chances are you're unfortunately all too familiar with every single one of them.
The challenges:
No unique selling point: A harsh truth is that the market is just too congested and if you don't have a unique selling point, your message will be lost in the abyss. As great and unique as your services may be, an agency's biggest challenge comes in the form of effectively differentiating itself from the competition.
Lack of time: There is so much work that goes into the building and upkeep of a successful agency, that it can often feel like there is absolutely no time leftover to focus on one of the most important aspects for any business: growth.
Low retention rates: Even if the above issues have been resolved, there is the final challenge of establishing customer loyalty to your brand and retaining the clients you worked so hard to attract in the first place.
These are overwhelming issues for any business owner to overcome, and if you're nodding your head along to any—or all—of these, don't worry, we're not just preaching to the choir.
The all-in-one solution:
10Web is an automated hosting platform specifically designed for agencies that solves all of these issues, and more. 10Web provides you an edge over your competitors with its innovative and groundbreaking automated 90+ PageSpeed score for both mobile and desktop. In addition, the platform is designed to save you time and establish customer loyalty. Being a Google Cloud Partner, 10Web also guarantees reliable hosting with a 99.9% uptime, providing another layer of trust between you and your clients.
Let's break down how 10Web propels your agency forward by resolving the main challenges agencies face through its all-in-one automated hosting platform.
Create a Unique Selling Point to Attract More Clients
We touched on differentiation, a certain je ne sais quoi needed to really have your agency stand out. With 10Web, it's the foundation itself that gives you that unique—and much needed, selling point that will attract your ideal clientbase. 10Web's innovative features, that can be white labeled for your agency, provide your clients with a VIP experience they won't find anywhere else.
10Web's Automated 90+ PageSpeed Optimization

By simply migrating your clients' website to 10Web, you can guarantee an automatic 90+ PageSpeed score for both mobile and desktop. The average website has a PageSpeed score between 40 to 50, leading to low rankings, a high bounce rate, poor SEO health, a negative user experience, and low conversion rates.

At 10Web, speed is an integral component of its platform, and its automated 90+ PageSpeed score makes websites incredibly fast without complicated and time-consuming set-ups or configurations. This unique feature enables you to sell more website optimization services, more SEO, and more ads. The 90+ PageSpeed score automatically results in better conversions, and therefore better results. Your clients will be amazed at what a touch of speed can do for their business—all thanks to you.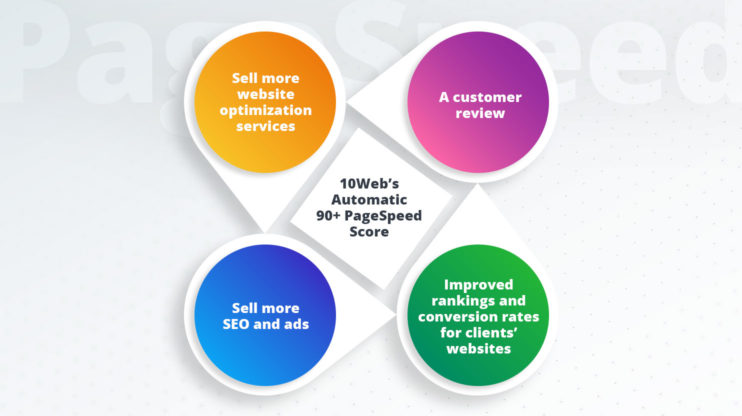 User and Team Management 1.0

When we say 10Web was built with agencies in mind, we mean it. And as the needs of agencies evolve, so too does our platform. That's why we recently unveiled User and Team Management, the most requested feature by the agencies we work with.

User and Team Management allows you to create a workspace in which you can invite users, assigning them varying levels of permissions. You'll have your own space for productive and convenient collaboration with both your team members and clients in real time. Your customers will appreciate this added bonus of working with your agency. Our roadmap for User and Team Management includes features such as subscription and billing management, client statistics and reports, and much more.
Automated PageSpeed Boost With #1 WP Hosting
Get 90+ PageSpeed Score and boost Core Web Vitals by migrating your client websites to 10Web – all within minutes, all automatically.
Automated PageSpeed Boost With #1 WP Hosting
Get 90+ PageSpeed Score and boost Core Web Vitals by migrating your client websites to 10Web – all within minutes, all automatically.
Save Time While Working on Multiple Clients at a Time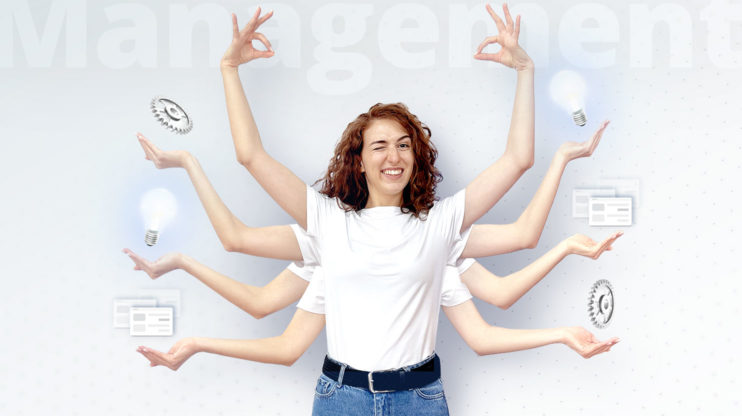 As an agency, you spend so much time on your services, perfecting your processes, and managing the needs of multiple clients. This often means that there is no time left to work on strategies for growth or creative collaboration. While you may not expect your hosting service to offer much in this area, 10Web is so much more than just hosting. The all-in-one automated platform does all the hard work for you—including taking care of all the technicalities and little details, so you can put your time to better use and continue planning ahead.
Multiple Website Management

10Web's intuitive dashboard allows you to manage multiple websites simultaneously, saving you time and headache. As your agency continues to grow, you never want your clients to feel neglected. 10Web's intuitive dashboard is an extremely effective tool that empowers your agency to provide personalized services while remaining efficient and productive with your time.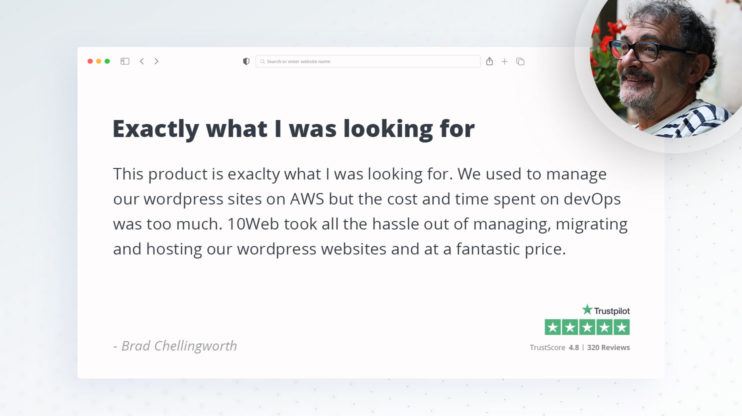 Automated Migration

Migrating client websites to a platform is usually a painfully long manual process. With any surge in clientele, you'll really see what a thief of time and resources it really is. With 10Web, the entire migration process is fully automated, eliminating not only the manual labor, but also the technical difficulties and potential data loss of the process. No client is ever left behind with 10Web's smooth and swift automated migration feature.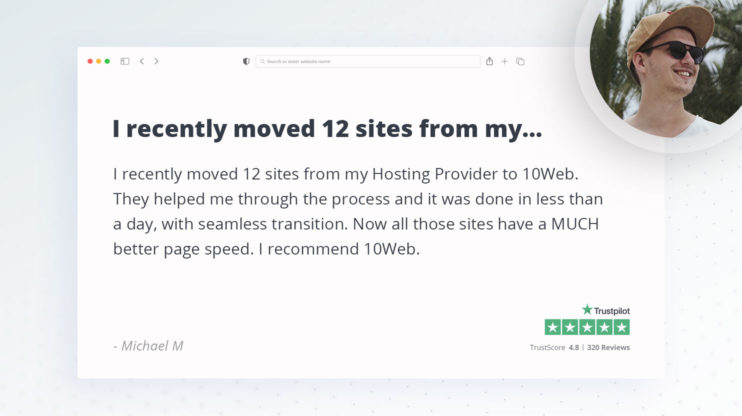 Automated PageSpeed Boost With #1 WP Hosting

Get 90+ PageSpeed Score and boost Core Web Vitals by migrating your client websites to 10Web – all within minutes, all automatically.

Automated PageSpeed Boost With #1 WP Hosting

Get 90+ PageSpeed Score and boost Core Web Vitals by migrating your client websites to 10Web – all within minutes, all automatically.
Real-Time Backup

60% of backups are incomplete, and 50% of backup restores fail altogether. Let those numbers sink in for a moment. A truth your agency needs to understand is that backups will only work as well as your hosting does. Accidents happen, but with 10Web you will never lose a client over them. You can set and schedule real-time backups using the platform so no loss of data ever occurs. This will not only save you time and provide you with a much needed peace of mind, but also establish an important level of trust with your clients that they just won't find anywhere else.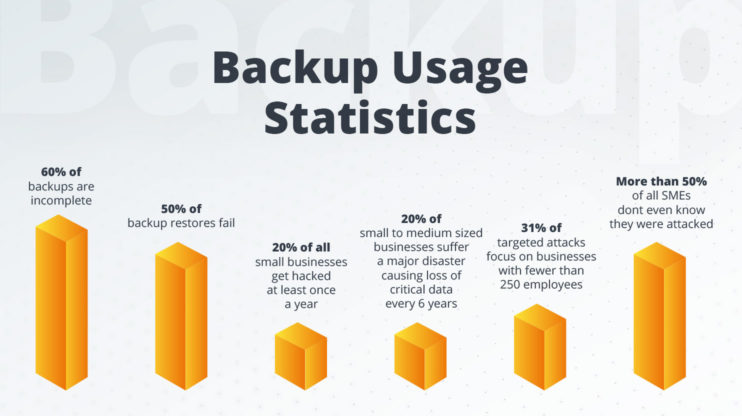 Security

10Web prioritizes the highest level of security with constant monitoring and vulnerability alerts. You can set and schedule regular security scans to automate the process, saving you time and lightening your load. Both you and your clients can rest assured that all websites hosted on the platform are safe from all security risks.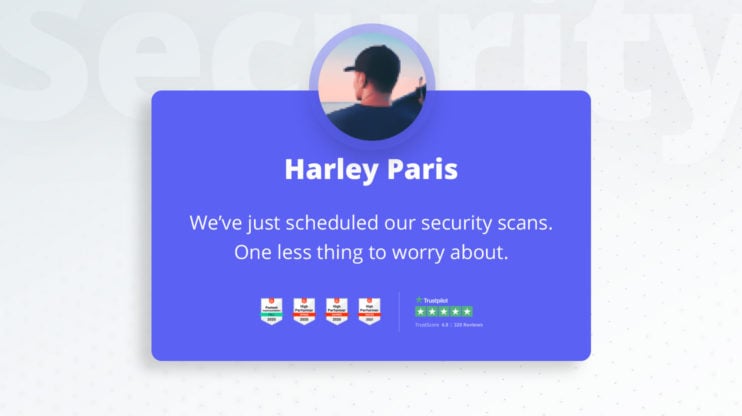 Prolong Partnerships With Your Clients
Attracting clients to your agency is not the end game. The challenge is in keeping them. In addition to all of the features and services 10Web offers, it also includes unique perks that help establish long-term relationships with your clients by building brand loyalty.
While Labeling

The truth is that on average, clients remain with their hosting providers for three to four years. 10Web's white labeling feature allows agencies to sell all of 10Web's innovative services—like its automated 90+ PageSpeed score—as their own to their clients. This is not only an effective way to differentiate yourself from all other agencies, it's also a great way to secure the trust of your customers by providing unique services and tools that are associated with your own brand. It establishes customer loyalty, resulting in the retention of clients, and recurring revenue. Essentially: 10Web does all the heavy lifting, your customers enjoy a truly VIP experience, and you get all the credit.
Conclusion
Driving your agency's growth is dependent on differentiating it from the competition, having the time and resources to focus on the creative aspects, and establishing customer loyalty to retain clients. 10Web's automated hosting platform takes care of all these aspects by being specifically built with agencies in mind, so that you can grow your business to its fullest potential. Join our 4K+ strong customer base and see how automation and an all-in-one platform propels your agency forward. But don't just take our word for it, see what our customers have to say: