How to Monetize Your Blog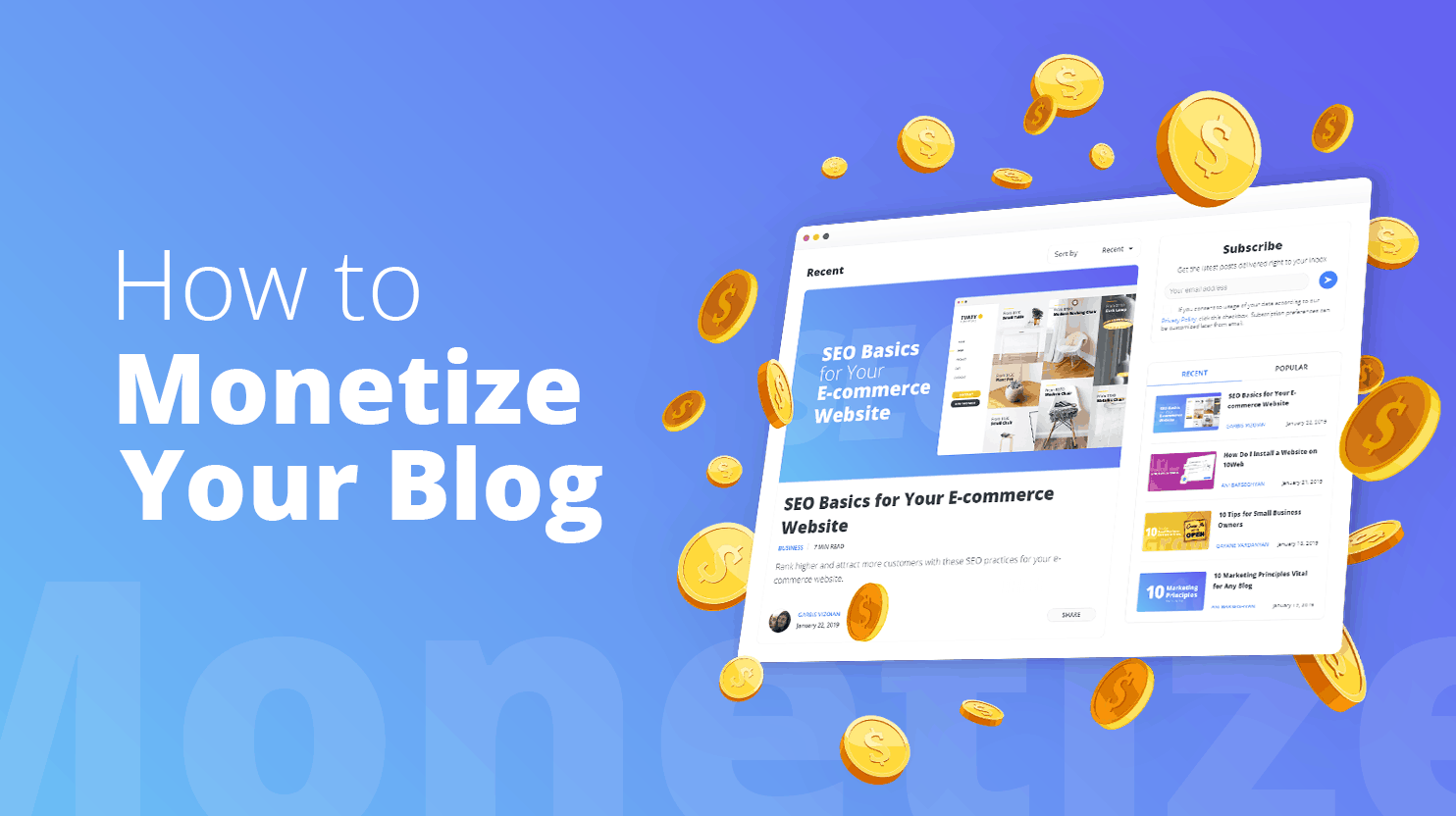 As your blog develops an audience and starts getting sufficient traffic on the regular, you may start thinking of ways to monetize it.
While we've all heard of famous bloggers and their immense riches, reaching a point where a blog is your sole source of income is predictably difficult. Making it just one of your income sources, however, is a viable option.
Here's a guide to making the first steps toward earning money through your blog.
To sell or not to sell ad space?
The first thing that comes to mind when discussing monetizing a blog is selling ad space directly. Given certain amount of traffic and popularity, your blog may have already received an offer or two.
The tricky thing about this is you are solely responsible for the ads you place and partnerships you form.
Here are all the aspects you need to consider before selling ad space:
Thematic compatibility. Ask yourself how likely a person interested in your blog is to also be interested in the advertised product or service.
For example, if you're a blog about different cat breeds, advertising a multiplayer online game might not be the best idea. In fact, ads with acute thematic compatibility tend to appear primarily on websites with pirated content, such as online movies which explains in part why they're so obnoxious.
Compatibility with design. Consider how likely is the ad to detract from your visitor's user experience. If a modest offer below the sidebar menu will be deemed harmless by most users, large animated banners or "fake" buttons are unacceptable in most cases.
Even if an ad is merely conflicting with your website design's set color scheme, it may turn a lot of visitors away.
Ethical implications. You need to make sure the ad doesn't violate the ethical standards of your company, your blog or the country. If you enjoy users' trust and respect, placing ads with overly exaggerated promises or those of low-quality products may have disenchanting consequences. If you violate your country's legislation by, say, placing an ad of a casino if it's illegal, the consequences will likely be significantly more severe.
Contextual advertising, namely Google AdSense
This option is perfect for those who don't mind having ads at certain spots of their website but aren't quite ready to make the commitment to seek them out, choose them, and negotiate.
Contextual advertising is when certain services, such as Google AdSense, pick and place advertisements relevant to your target audience automatically.
AdSense has the benefits of being really easy to set up, operate, and then get paid. Not to mention the fact that only authorized and relatively high-quality blogs can use this ad program, making it a sort of mark of recognition.
While this option may seem like an easy way to contribute to your passive income, you need to take into account the fact that automated services work like Amazon's product suggestion list: They often promote your direct competitors.
Every click you get a few dollars for increases your bounce rate and loses you a potential customer.
Affiliate marketing
This is one of the most common and effective methods to monetize a blog, especially for newcomers.
Affiliate marketing is the process of partnering with companies, placing each other's trackable links or banners, and earning every time a click leads to a conversion.
Here are a few essential points to keep in mind about affiliate marketing:
Your visitors need to remain the focus of your blog. Forget the advertisers, think of which products or services will bring your readers value, are relevant to their interests.
Only partner up with companies and bloggers that offer a quality you can vouch for. Don't recommend something you don't like or you'll lose the trust of your readers.
Devise an affiliate program that rivals your competitors and create a separate easy-to-find website page for it.
Reach out to your affiliates, try to really get to know their top selling points and main issues to be able to advertise their services more successfully.
E-commerce, merch, and online learning
Depending on what sort of blog you have, you may be able to monetize through setting up an ecommerce shop on your website.
Think about the handmade or thematic merch your readers would enjoy: Do you have any catchphrases or slogans or frequently quoted videos your readers would like to have merch with? Are there any recurring characters or political stances to use in creating products?
For example, after their success vlogbrothers Hank and John Green set up a store where "nerdfighters" could purchase hoodies with "Don't forget to be awesome" quote or pizza John T-shirts.
Similarly, think of the e-learning courses/programs that fit your theme.
Say, if you write about astrology, maybe some of your readers wouldn't mind learning about interpreting the planetary positions themselves or if the topic is healthy living, you can devise individually-tailored diets and fitness regimes.
Most of the time wherever it's possible the video or audio format works better than just text but of course it depends a lot on the topic.
Try various formats to see what works best – ebooks, courses, coaching services, digital products, etc.
Native advertising
This type of advertising looks exactly like regular content on your blog except it's sponsored. Welcome, guest posts!
One really important thing about native advertising is you should never try to entirely blend it in with your content or use clickbaits.
Instead, give the readers a notice that it's sponsored and provide good content with clear messaging and accurate data.
Remember that 70% of people prefer to learn about products through content, instead of traditional ads, so if you know the interests of your readers well, they won't mind a well-designed introduction to a product they are highly likely to enjoy.
When going for this option you need to be especially careful in monitoring the quality of both the content to be featured on your platform and the product it advertises.
Make sure the tone, visual content, and format all fit your blog and then work with your advertisers to tweak them accordingly.
This is pretty much all you need to know to get started with monetizing your blog. Have any questions or want to share your experience monetizing a site? Leave us a comment.