How to Scale Your Content Marketing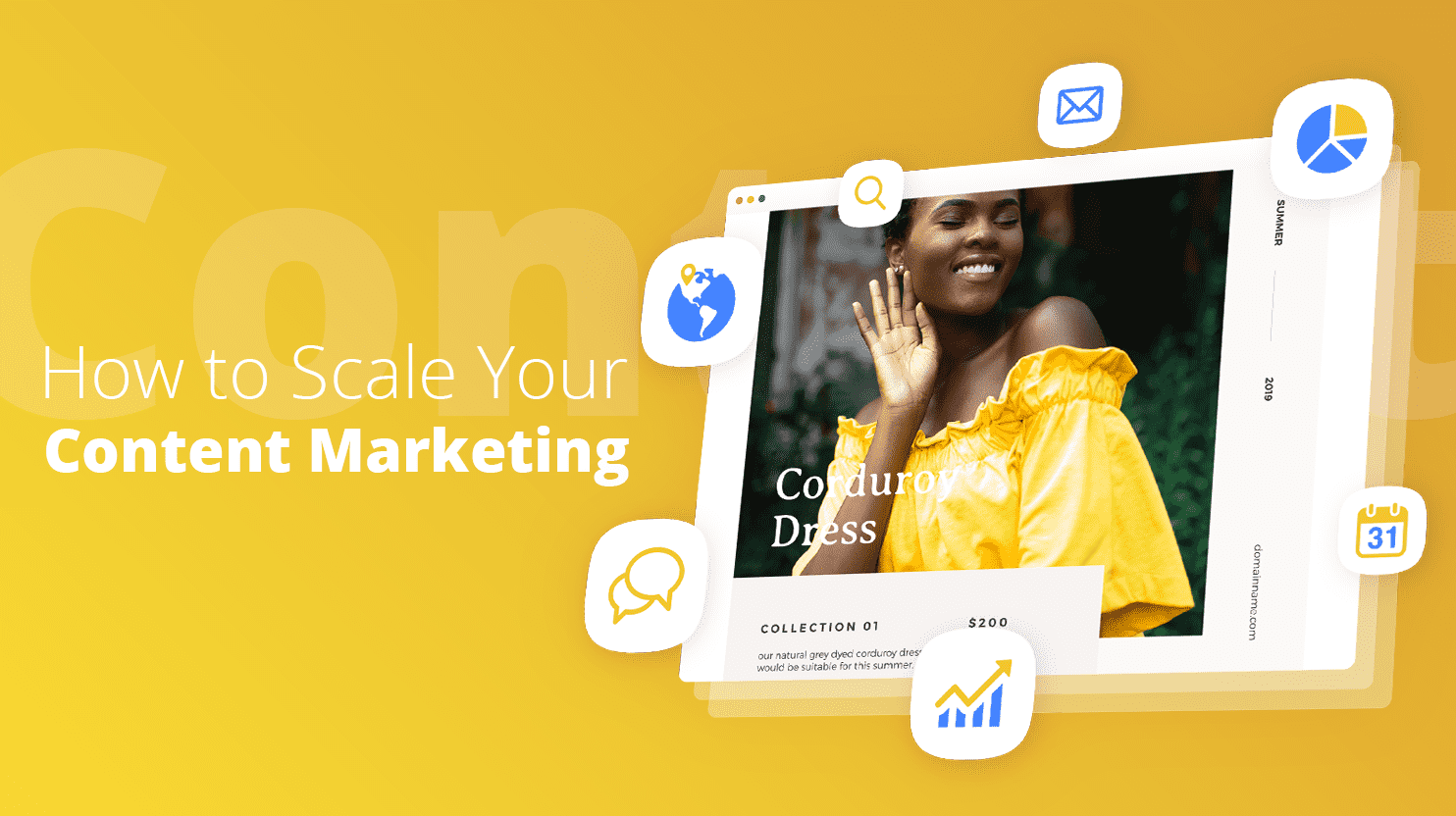 Content marketing is about attracting the customers not by ads and direct sales, but by providing relevant and insightful content.
And since content marketing is becoming more and more popular, the success of your business today might depend on it. Statistics tell that:
But creating high-quality engaging content is not easy. It takes efforts and planning to decide on the media channels and gather the right team.
Even after that, the process of creating the right content at the right time might turn into a headache if you don't choose the right strategy.
This is when you realize the need to scale your content marketing strategy, that is developing a strategic plan that will help you keep track of the content you produce, measure it, and grow your business.
Now, how do you scale your content marketing? Let's go over all the steps one by one.
Clear strategy
The first thing you need is a clear understanding of your expectations, objectives, and goals. The choice of content format, media channels, amount, topics, and voice highly depends on the specifics of your business.
So, you need to carry out an in-depth research of the field to find out the answers to the following questions:
1. Who is your target audience?

Everything depends on the audience.
Kids, teenagers, artists, tech professionals and doctors care about different things and talk different languages, meaning they should be addressed in absolutely different ways.
So, first of all you need to figure out who your content is aimed at.
Sometimes it is advised to create detailed buyer personas, fictional representations of your target audience. Here you can learn how to create a buyer persona.
2. What content does your audience need?
Once you have a clear idea of who your audience is, it's time to decide what they need.
At this stage, brainstorming sessions will be very helpful for figuring out what exact topics interest your audience, which media form would be more attractive for them (videos, articles, e-books, etc.), what's the specific voice (language, professional terms, patterns, etc.) that works best for them.
For example, if you're targeting tech professionals, you should consider more insightful technical articles, video tutorials, etc. with a large amount of technical terms and content, which is thoroughly different from the way you'd address teenagers.
3. How are you going to do content marketing?
Once you know what your customer needs, you're ready to plan how you're going to do content marketing.
This stage is about gathering the right team of professionals and mapping the approximate pathway of your CM.
You might need writers, video makers, graphic and UI/UX designers. It all depends on the answers you provided to the previous question.
Team play

Teamwork is really important when it comes to strategizing your content creation flow. It's great to have a clear idea what the business needs, however, in order to succeed, you'll need the full contribution of all the team members.
Here is what team play rules impose:
1. Awareness
Productivity is based on awareness and understanding. Vague tasks are going to ruin quality and lead to a waste of time.
Your expectations will only be justified and met when you make sure each team member is aware of your goals and has a clear understanding of what's expected from them.
This means that you need to have staff meetings to explain your strategy to the specialists in detail clearly state what needs to be done and what's expected of each of them, from the blog post writer to the editor, from the designer to the video maker.
2. Realism

Dreaming does no harm. Or, wait, doesn't it?
If you wanna own a successful business, you'll need realism. Putting an impossible load on the shoulders of incompetent people is not only going to turn out to be a waste of time but is also going to demotivate your team members.
Assigning 3 huge professional articles on the side effects of certain new and untested medications to a starting writer with no medical background is probably not the smartest decision.
Instead, break down your expectations into clearly formed tasks and assign everyone clear, realistic, and achievable tasks with sensible deadlines.
3. Communication

The team needs to be on the "same wave," which requires well-planned communication. Different team members might have different individual tasks, but those tasks are intertwined, which demands cooperation.
To easily schedule meetings and discuss different questions and issues you need to choose a comfortable messaging software. For example, Slack is very comfortable and widespread among professional businesses.
Another important thing is to use separate channels to group together people working on each particular task. That way you won't needlessly bother those not associated with the task.
Note though, that while messaging is helpful, organizing regular group meetings to keep people in touch and discuss key points won't harm.
Editorial calendar
An editorial calendar is basically a bit more sophisticated to-do list, where you mark all the tasks to be completed, who is responsible for each task, and the deadlines.
It's a very popular and tested method for organizing content marketing and staying focused on the tasks by putting visual emphasis on each task.
You can use a content collaboration tool for multichannel planning and scheduling.
Use measurement tools

The Little Prince was right about grown-ups liking numbers: We usually need measurements and numbers to develop a clear understanding of things.
Your content marketing is no exception. Measuring and grading will help you fully analyze your strategy, so you can adjust it accordingly and keep it up-to-date.
Measuring the content might seem a bit confusing from the start, since it's hard to understand which criteria and metrics you should measure: outcome, the traffic it brings, user engagement, views, etc.
The good news is, there are tons of effective marketing automation tools you can use.
Google Analytics is an amazing tool, since it will provide you detailed reports on your ranking and user engagement, state the exact time users spend on your content, the geographical locations of the traffic stream, etc. At the same time, it will grade your performance growth by comparing current records to older ones.
Social Booster is a WordPress plugin that will help you easily connect your blog and socials.
This article will explain how to decide which metrics you should consider and what tools to use.
Learn from experience
You can't underestimate the meaning of learning from your own experience. The content you've created in the past is the most valuable lesson. You can learn from both successful ventures and failures.
You should regularly monitor your past attempts to discover which patterns were successful and which were not. It will help you plan future content more wisely, as you'll be able to avoid past mistakes and stick to the patterns that worked well.
Well, you can also learn a lot about content marketing strategy from Imaginasium's experience.
Now you're almost a content guru, or at least feel more confident about scaling your content marketing. So, go ahead and get stuff done. If you come to have any questions, feel free to drop us a comment below, we're here for you.