Over the last decade or so, the pace of e-commerce has been breathtaking. Just last year, in 2022, global retail e-commerce sales grew to a record high of an estimated 5.7 trillion USD. Compare this to 2014, when this was estimated to be 1.3 trillion USD, sales have increased by over 5 times in just 8 years. 
The opportunity is massive, as more and more users are looking towards online shopping as a better way to buy what they need. Among the many kinds of products people look for, clothing is at the top of the list. Reports show the sale of apparel will account for more than USD 800 million in e-commerce sales worldwide by 2027.
Therefore, starting an online clothing store is a massive opportunity to grow as a brand and holds tremendous value in the future. If you want to start a clothing business in 2023, we're here to help.
Here, we break down the entire process of how to start your online clothing store into 3 simple stages, with steps for each stage to help you execute the process from start to finish. Let's dive in!
Stage 1: Preparation and planning of your online clothing store
No business can be successful without a strong foundation, whether it's offline or online. This means having a business plan, doing market research, researching to assess if the business is financially feasible, having the right marketing strategy, and so on. 
If you're wondering how to start a clothing business online, here's a step-by-step guide on how to plan things out effectively:

Step 1: Start with market research
You're starting an online clothing store, but there are many variables to consider before you launch. 
This can include whether the geography you plan to sell in is financially feasible, whether the specific market segment (activewear, formalwear, high fashion, etc.) is viable, understanding demographics, creating an Ideal Customer Profile (ICP), competitor analysis, and so on. Luckily for online clothing stores just starting, powerful AI tools for market research that exist today can help with this tremendously. 

Step 2: Check financial viability and settle on a niche
Use your market research to settle on a niche that you think will work. This should happen after careful consideration of competitors, how financially sound this niche is, what unique value you bring, and if there's long-term value in sticking to this niche. 
Remember, you can always expand into other niches later. But at the beginning, your niche will be crucial in helping you scale and develop a brand. Some popular online clothing niches include streetwear, activewear, yoga apparel, and sustainable fashion. 

Step 3: Develop a business plan
Once you know what you're selling, create a business plan that lays out in detail how you're going to execute. This will also serve as an internal compass for you and your team. 
Make sure you spend time thinking about all aspects of the business, from marketing, operations, and accounting/budgeting, to laying out a mission statement/vision for your online clothing store. You can use an AI business plan generator to assist you with crafting the right plan.

Step 4: Create a digital marketing plan
Next, craft a marketing plan. Since your business is online, explore digital marketing channels such as social media (Instagram, Facebook, TikTok, etc.) ads, paid and organic search marketing campaigns, e-mail marketing, etc. Determine which marketing channel is more viable based on your budget, and plan how best to use resources accordingly. 

Step 5: Account for all legal complications
Consult a lawyer and study any state and federal e-commerce laws beforehand. This includes registering with the state, knowing when to file your taxes, what kind of taxes apply to you, consumer protection laws, etc.

Step 6: Find the right team
Finally, develop effective hiring processes to ensure the right team is working with you. As a new business, you cannot afford to spend financial resources on people unfit for the role. 

Step 7: Choose a name for your business
Finally, choose a name for your e-commerce store. Try our free business name generator if you're looking for inspiration or, generally, some ideas.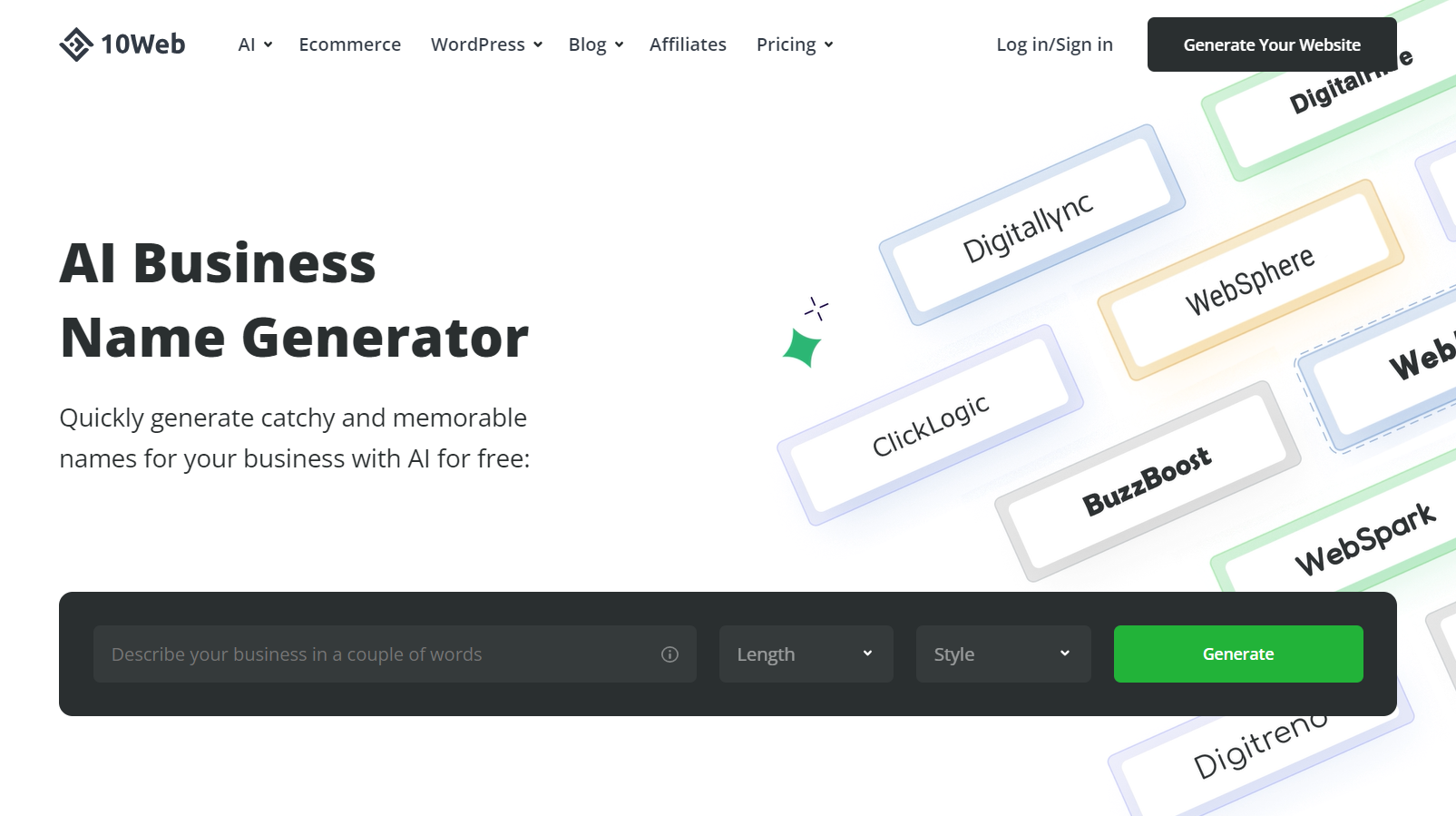 Stage 2: Infrastructure setup of your online clothing store
The next step is gearing up to set up your digital infrastructure. This will include everything from choosing an e-commerce platform to picking a payment gateway. 

Step 1: Choose a backend e-commerce management platform
Known as a 'Content Management System (CMS)', an e-commerce management platform will allow you to manage your online clothing store's operations at the backend through a user-friendly interface. 
The most popular choices are 10Web, Shopify, and WordPress, which have built-in capabilities to help you manage your e-commerce store. For example, with 10Web, you can manage everything from customers, payments, orders, inventory, shipping, and tax, to marketing and analytics. 

Build your ecommerce business with the help of AI
Create your custom ecommerce website in minutes with AI-generated content and images and customize it easily with our drag and drop editor.
Build your ecommerce business with the help of AI
Create your custom ecommerce website in minutes with AI-generated content and images and customize it easily with our drag and drop editor.
Step 2: Purchase a domain
Think of a name for your clothing store and next check whether the domain is available or not. Once you find your fit, proceed to the next step. 

Step 3: Choose a hosting platform 
Similar to a physical space that a business owner rents out to run a business from, a 'hosting platform' is a digital space that you pay a specific rent to in exchange for the platform helping you keep your website active on the internet for anyone to find. 
For anyone considering how to start a business online for clothing, a hosting platform will be one of the requirements.  Choose a reliable platform like Hostinger, Namecheap, or 10Web. To skip the hassle of trying to find the best one, you can opt for 10Web's automated WordPress hosting, which you can activate once you build a website with our website builder tool. 

Step 4: Pick an accounting software to use
Choose an accounting software that's suitable for small and medium businesses and, ideally, a solution that can integrate with your e-commerce platform like Shopify or WordPress. Accounting software solutions like Xero or QuickBooks are viable options in this regard. 

Step 5: Pick an inventory management software
As an online clothing store, you'll be managing inventory across multiple sales channels and will need a software solution to keep track of everything online. 
Ideally, the inventory management software should also integrate with your e-commerce platform, accounting software, shipping service, and all other channels so everything remains streamlined. 

Step 6: Pick payment gateway(s) to accept customer payments
Picking a payment gateway is one of the most consequential and crucial aspects of building your online clothing store. The payment gateway should facilitate smooth checkouts for customers, have low service charges, and should ideally pay you on time. 
The internet is full of horror stories of e-commerce businesses suffering at the hands of bad payment gateway service providers and having their business affected as a result. 

Step 7: Build your website
After you've figured out what CMS you'll use, hosting provider, payment gateway, inventory management system, accounting system, and rest of the details, proceed to build out your site. Once it goes live, next comes marketing and overall execution. 
Additional note: With 10Web, build your e-commerce store in 4 easy parts
To skip all the hassle of going back and forth with developers to build out the perfect site you've envisioned, simply choose 10Web Ecommerce Website Builder which takes care of the entire process (from hosting to even customizing content and images) in one place. 
You can instantly revert back or make changes through the drag-and-drop editor. Here's how:
Part 1: Purchase a 10Web Plan
Start by exploring all of the AI Ecommerce plans available, and the differences in features for each. Based on the requirements of your own online clothing store, choose the one that suits your needs.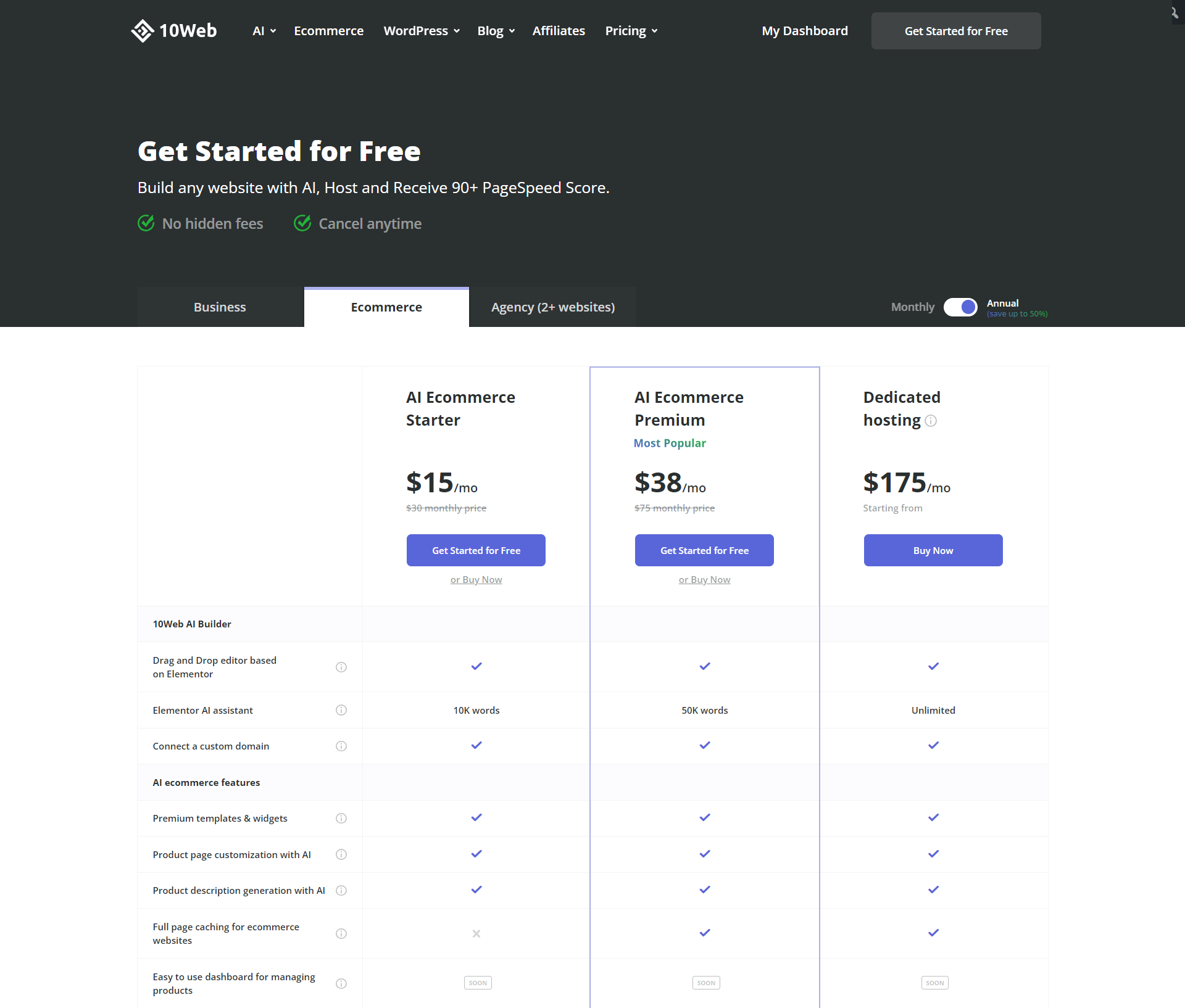 Part 2: Create a website with AI
Once you've chosen your preferred pricing plan and filled out personal information, you'll be prompted to this page where you'll choose "Create a new website with AI".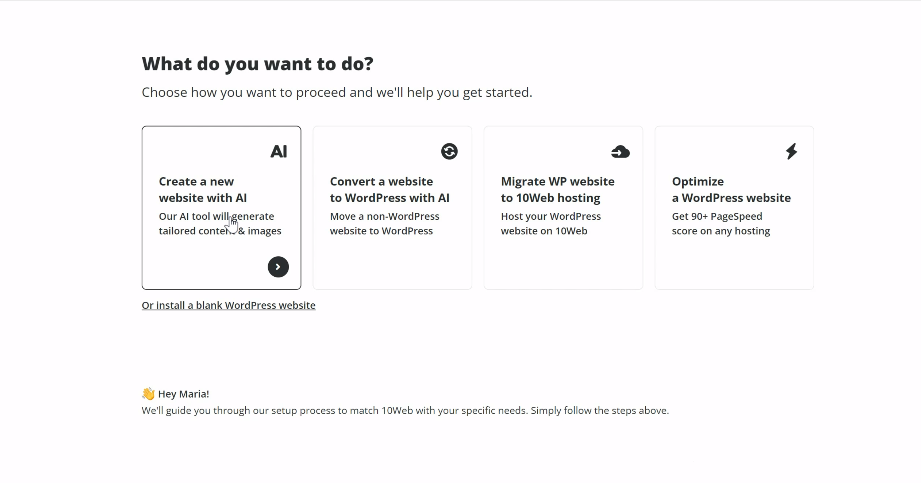 Part 3: Describe your store and answer a few questions
Next, choose "I want to create a website with an online store" and then answer a few important questions about the kind of site you want. This includes information like your store name, store type, adding products and categories for your store, and just generally describing what kind of store you're looking for. 
You can even provide an example by pasting a URL so our AI tool knows where your inspiration is coming from. Once done, proceed to the final step where you'll add content.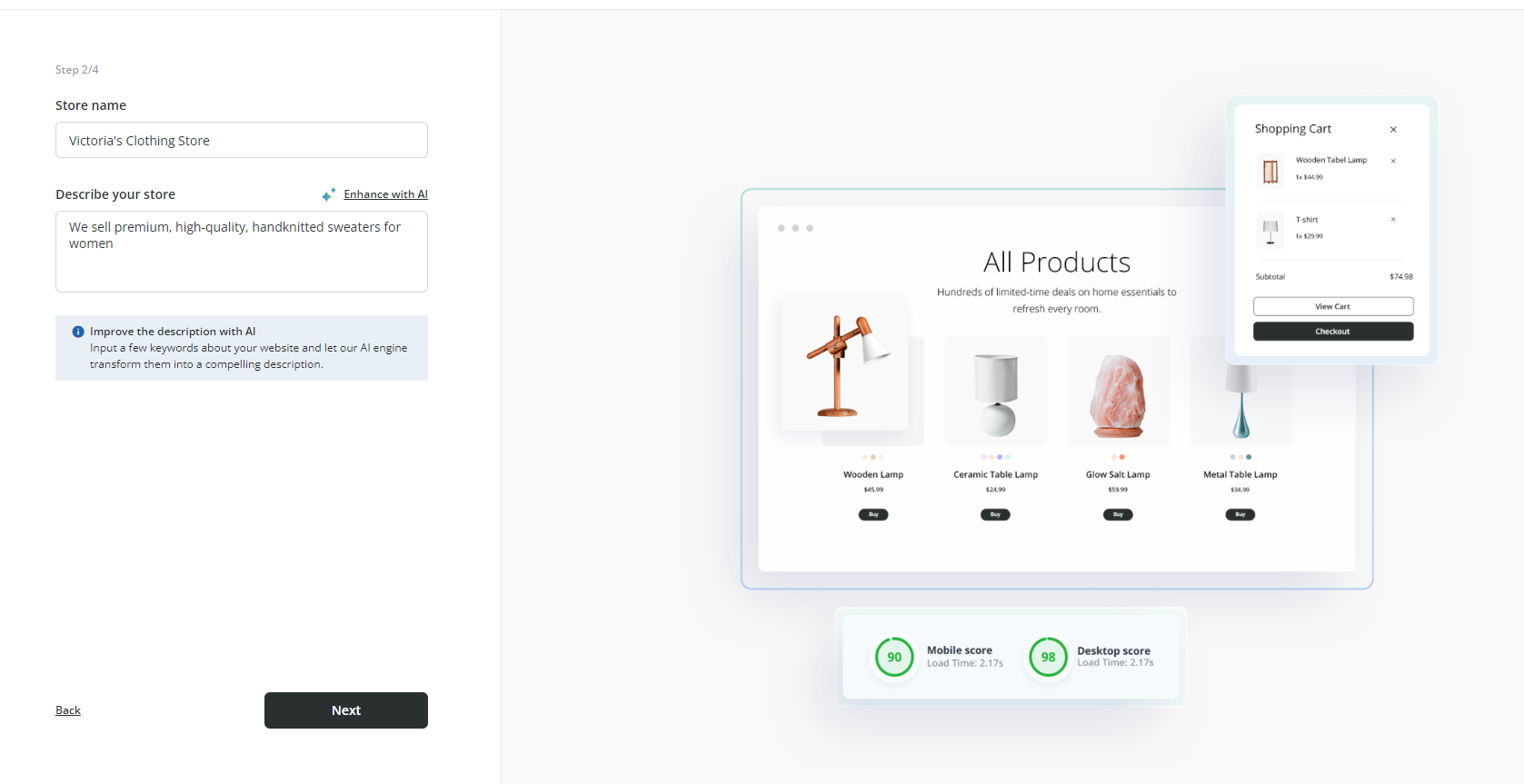 Part 4: Generate the site's content
Finally, generate the site's content. This includes choosing a tone of voice (formal or informal) for the site's content, choosing color palettes, adding a pricing table, and so on. Once done, simply finalize the site and see it go live in no time!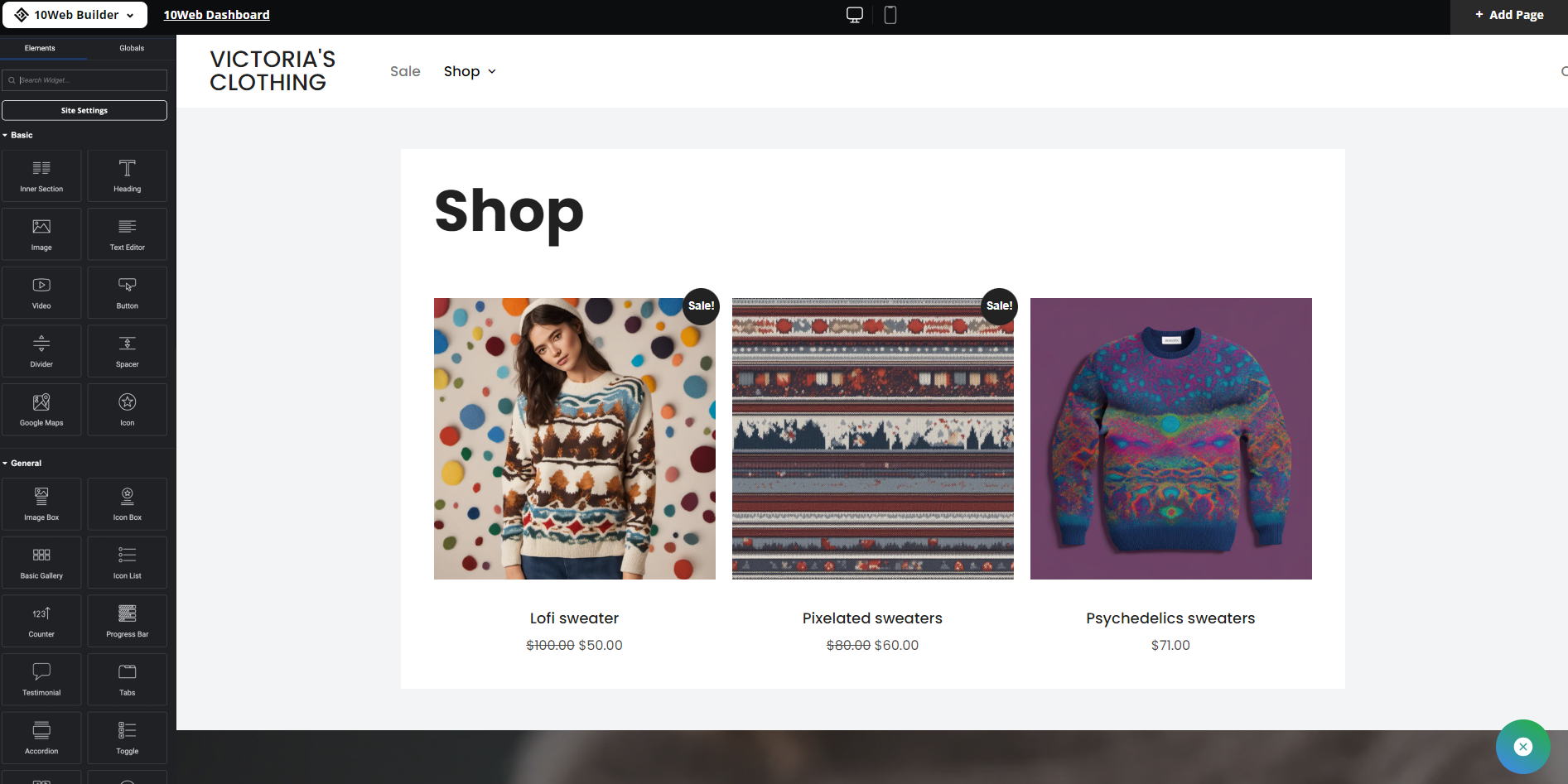 Stage 3: Online presence and marketing of your online clothing store
Finally, as part of starting your online clothing store, it's time for you to execute your marketing strategy and market your brand. This is the most crucial step, as customers can only visit your website if they know it exists. Your digital marketing strategy and its execution will thus influence the success of your online clothing store. 

Step 1: Create a content strategy that fits your brand theme
Your focus should be quality content based on your ideal customer profile. Potential customers visiting your website will interact with your content and use it as a compass to understand what kind of brand you are and whether they should purchase products from you. You can check here for our recommended content planning strategy to get started. 
Make sure you develop processes so that content is aligned with your brand theme, and delivers value to users so they convert. 

Step 2: Optimize your website for SEO to capture all relevant search traffic
One of the most effective ways to build an organic audience for your new online clothing store is by optimizing your website according to SEO best practices. Optimizing helps search engines like Google understand what your site is about, which increases the probability of your products showing in search results when someone searches for a relevant product. 
For example, if someone searches for the search term "Buy baby clothes in Houston, Texas", and your site is optimized for location and the product, the chances of your website showing up become higher. For new businesses who can't afford an SEO consultant, there are AI SEO tools that can help. 

Step 3: Launch social media campaign on desired channels
For online clothing stores, social media channels such as Instagram and TikTok are probably one of the most effective ways of marketing your brand and creating a loyal customer base. 
If you have planned your social media marketing strategy out, running ads should be straightforward. Also, we recommend optimizing your ad campaigns based on results from the initial period of running ads.

Step 4: Create a standardized customer service strategy
When you think about how to start a clothing business online, the first thought that comes to your mind should be about making quality products that customers will enjoy and facilitating them as much as possible. 
This is why you need to develop processes for customer service and have a standardized approach to taking care of customers based on every situation possible. Think about how you'll handle refunds, what your return and exchange policy will be, any happiness guarantee you think should be in place, and so on. Generally, anything that facilitates customers to the fullest should be part of your strategy.

Step 5: Optimize the marketing campaign after you start seeing results
Finally, as we pointed out in step 3 of this stage, you need to optimize your marketing campaign across all channels to ensure you are getting maximum value out of your marketing efforts. 
This could be something as small as changing the meta title of a category page on your site to better optimize it for SEO to target different demographic groups on social media by studying conversions from past ads. 

7 effort-cutting tools for launching your online store faster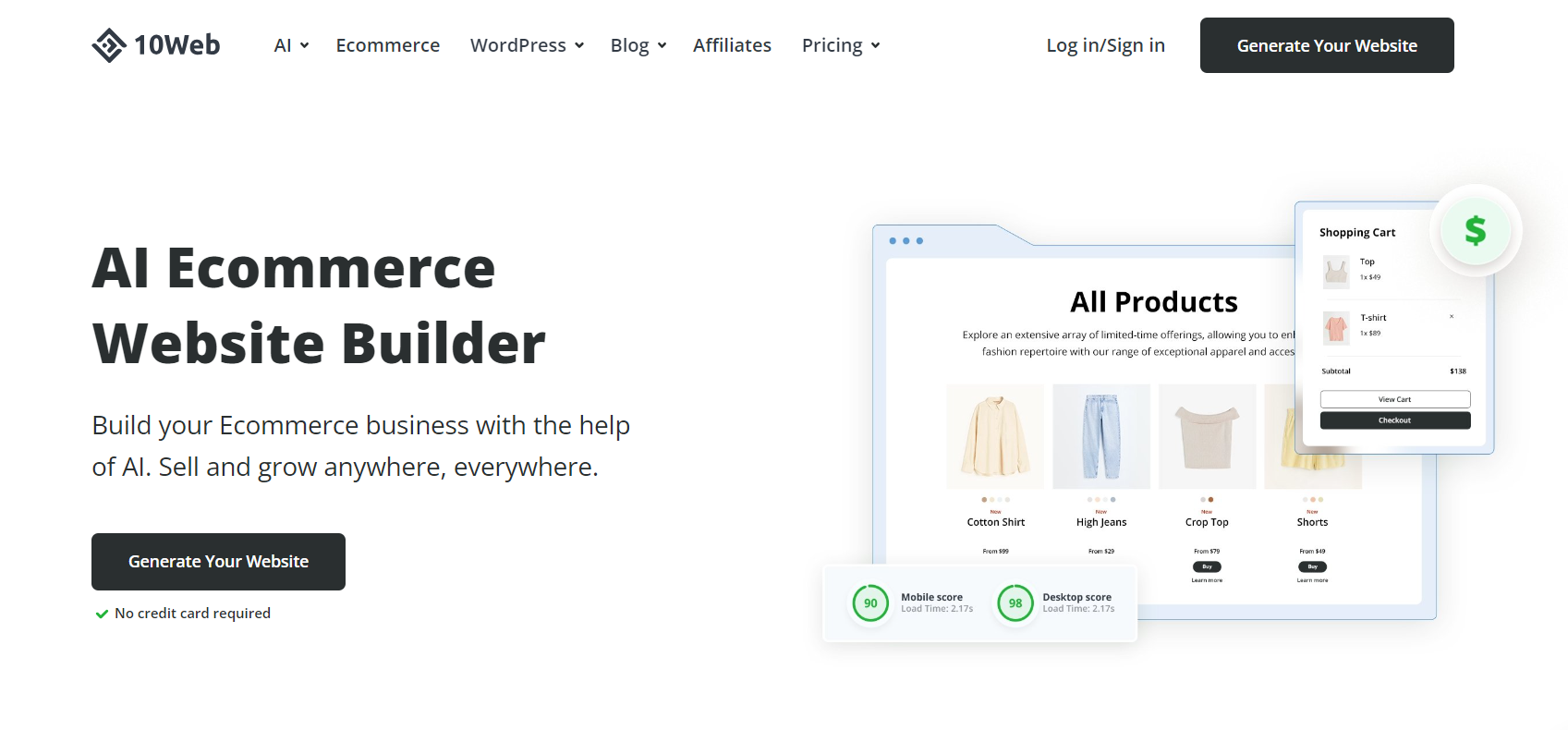 As a business owner, it's not your job to think about the complexities of building a website. Back and forth with developers to handle all minor details can also be overwhelming, which is why 10Web AI Website Builder is the best option on this list to create a clothing website. 
The AI tool builds the website for you by automating the entire process: you just have to answer a couple of questions about your clothing business and the products you sell and the tool will build the site within minutes. You can also follow up to change things later on simply through the drag-and-drop editor. 
The best part is that 10Web also has other tools like hosting services, PageSpeed Booster, an AI Assistant to guide you through the process, a migration tool, and much more. Check here for all the pricing plans and features you can get with 10Web.  

Build your ecommerce business with the help of AI
Create your custom ecommerce website in minutes with AI-generated content and images and customize it easily with our drag and drop editor.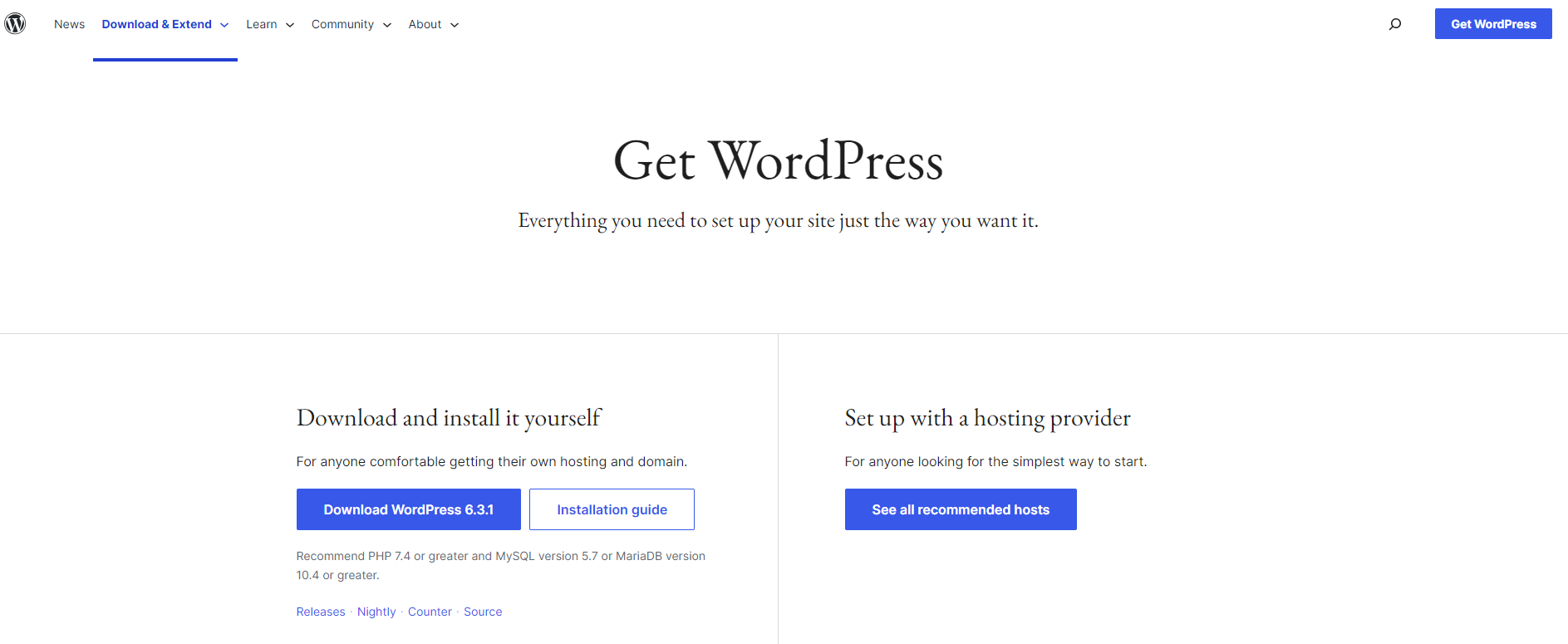 With almost half of all sites on the internet built on WordPress, it's safe to say WordPress is a worthy option if you're wondering how to start an online clothing store. 
It has plug-and-play capabilities, making it easier for business owners to start their businesses without worrying about the complexities of coding. 
Users can simply add plugins to take care of different aspects of their WordPress website, from security to marketing, and WordPress handles the coding on the backend. 
You can even simplify the process further by using 10Web's AI Website Builder to let it handle most of the WordPress site-building process for you.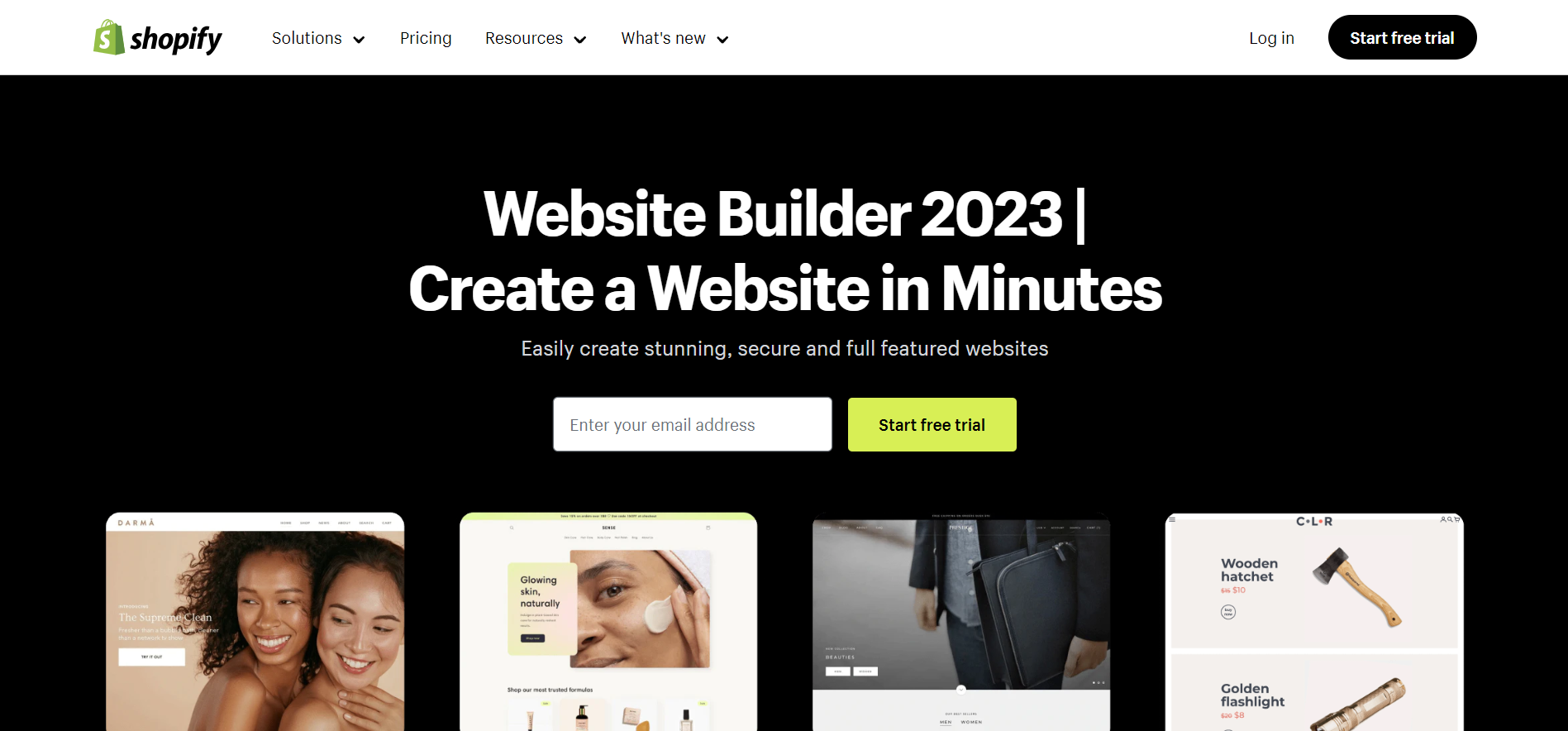 Shopify is one of the most popular e-commerce store builder tools in the market today. It offers a user interface designed specifically to help e-commerce store owners manage their online stores, with advanced features for order tracking, finance management, customizing the site, advanced marketing analytics, etc.

It comes included with everything online clothing store owners need to run their business, including integration of almost all payment gateways as well.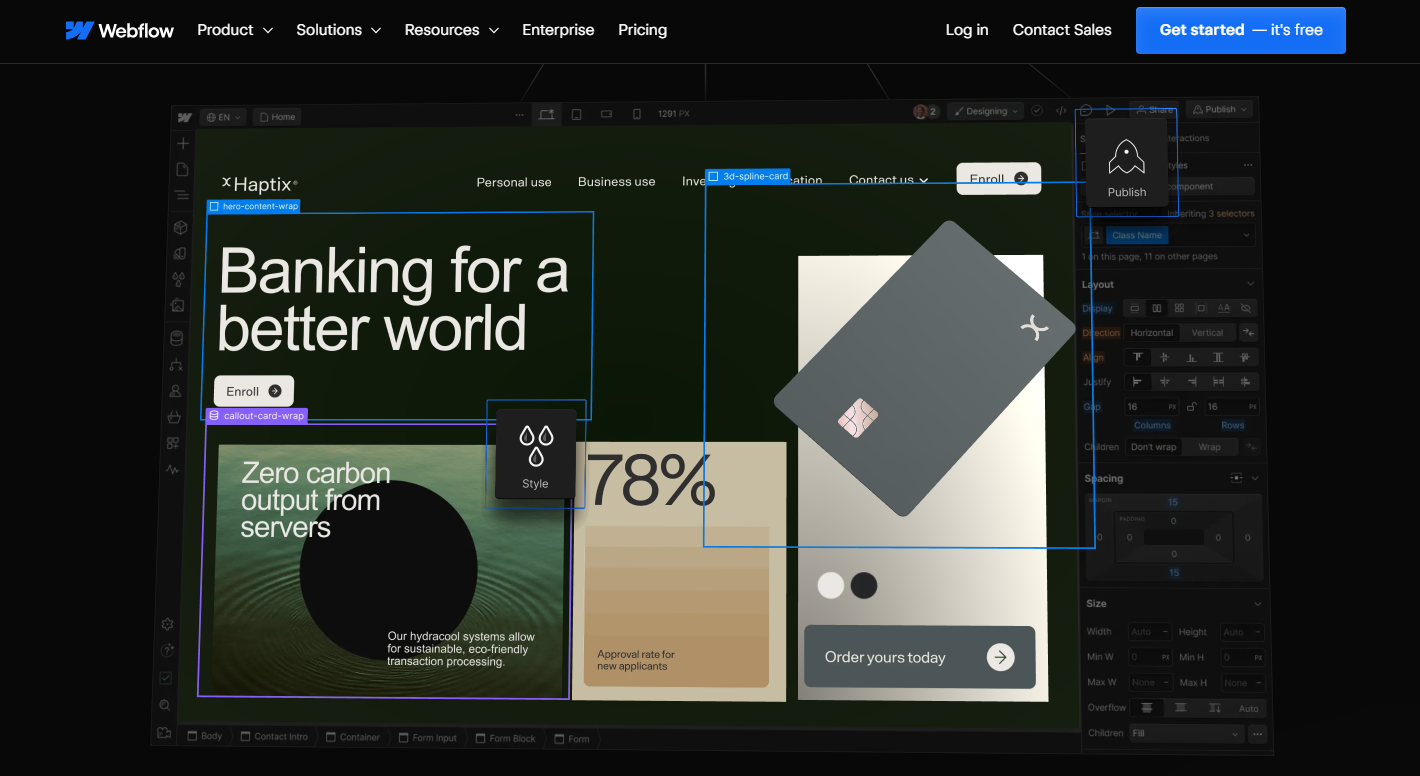 Although fairly new when compared with others on this list, Webflow is growing to become one of the most popular website builders in the market. The easy-to-use interface which uses a drag-and-drop method to build websites, makes it easier for business owners to build the site they need themselves instead of hiring website developers. 
Webflow is also gaining popularity because of the stunning and interactive website designs you can build in your e-commerce stores.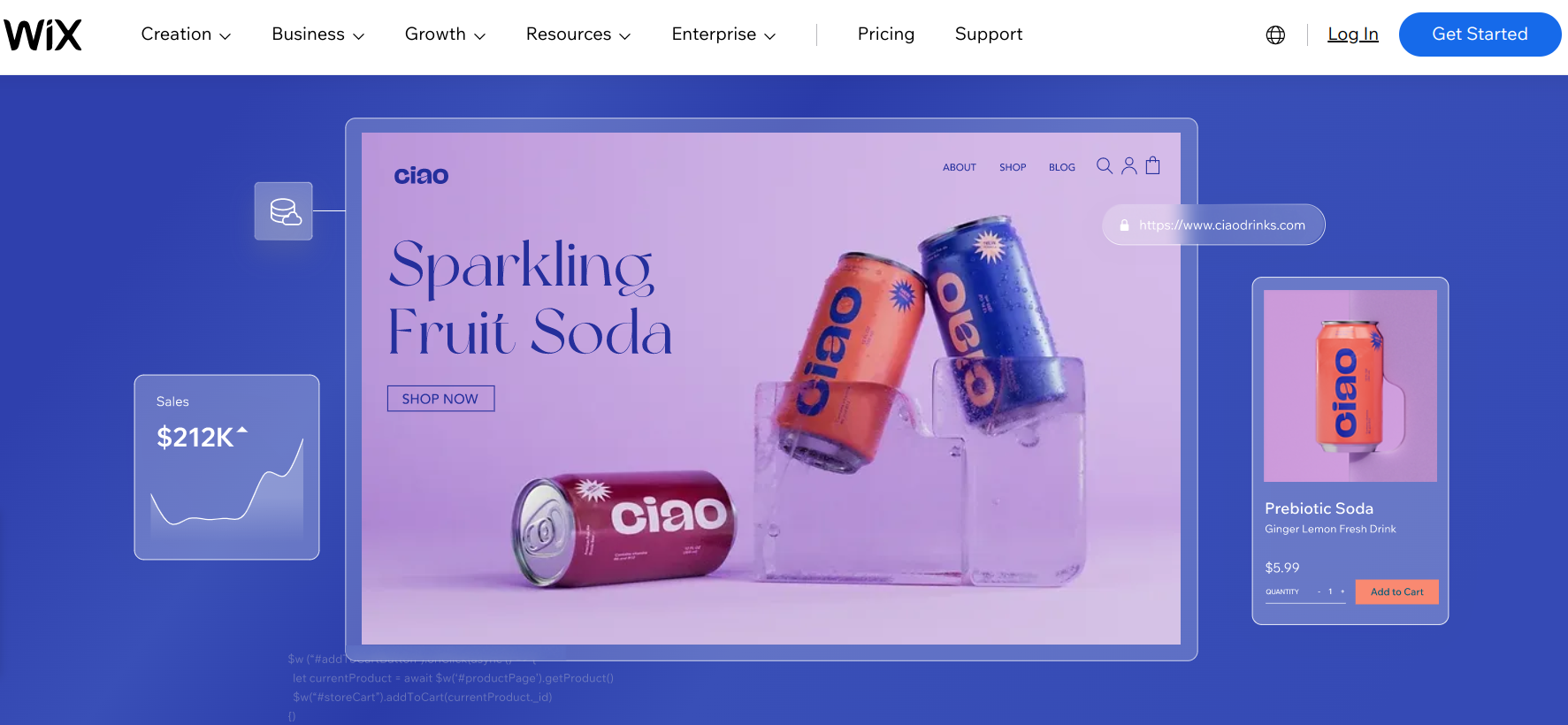 Although compared to WordPress's 63.7% market share, Wix's 3.6% market share seems small, it's still a major competitor to other e-commerce builders like Shopify.
Wix offers a no-code solution, where users simply drag and drop website elements to build out their e-commerce store. If you're wondering how to start a clothing business online, Wix is a popular choice with many design options available for e-commerce.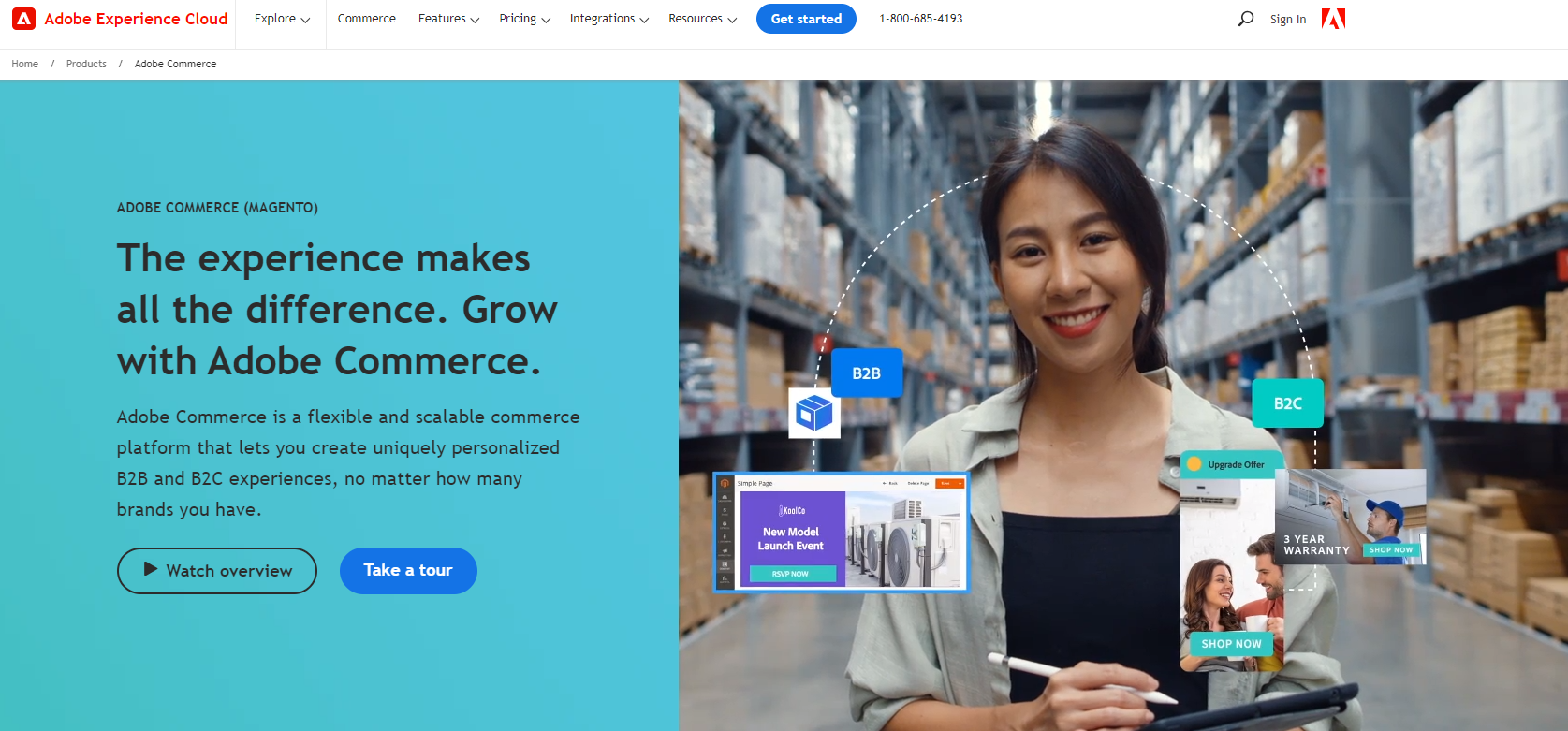 Although not as simple as other Content Management Systems (CMS), such as WordPress, Shopify, or 10Web, because of the programming involved, Magento is still a popular tool for launching e-commerce websites. 
Now acquired by Adobe and rebranded Adobe Commerce, the solution is a powerful alternative to current dominant players. This is because of features such as built-in B2B functionality with custom catalogs and pricing, easy integration with Amazon, a built-in payment services platform, AI-powered live search to enhance the navigation experience for customers, and much more.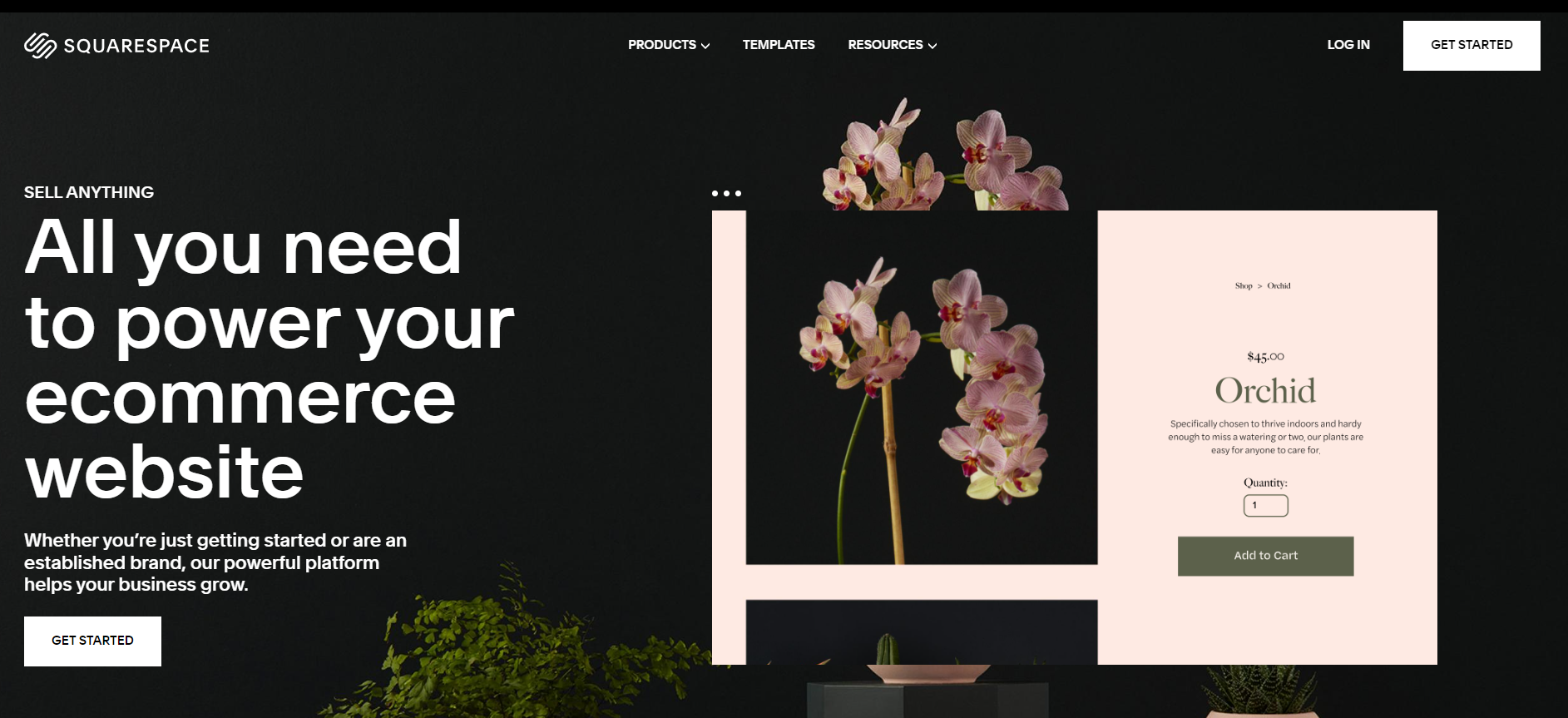 In the same vein as Wix and Shopify, Squarespace is a popular e-commerce site builder platform that allows users to build e-commerce sites within minutes. If you're wondering how to start a small clothing business from home or generally how to start a clothing business online, Squarespace offers ready-made templates for e-commerce stores that you can use. 
The subscription cost is very low, and almost everything you need is included. This means the usual e-commerce tools like Xero for accounting, Payment gateways (Stripe, Apple Pay, PayPal, etc.) for payment processing, UPS for dispatching orders, etc., can be utilized within Squarespace. 

Conclusion
From creating a business plan and conducting market research to choosing an e-commerce platform and marketing your online clothing store, each step is important and has its significance. 
Of course, it's always smart to launch quickly and fix your direction over iterations rather than spending too much time planning. Execution is most of the work and will determine the success of your online clothing store. 
That's why choosing the right tools is important, as it'll help you launch your online store faster and more effectively. We did present tools that can speed up the launch process and we would recommend checking 10Web AI Ecommerce Website Builder out. 
It removes the complications of coding or even using drag-and-drop tools to build your store. With the AI website builder, you simply instruct the tool through text prompts to create your e-commerce clothing store. 
You can add in your instructions or give it a URL of another site for reference and improve through follow-up edits. The tool takes care of everything and builds the site within minutes. If this sounds like a fair deal, run a test here and generate your first AI-powered website today!

Get a head start on website creation with AI
Create a custom website tailored to your business needs 10X faster with 10Web AI Website Builder!
FAQ
How much does it typically cost to start a clothing business online?
Costs vary, but the main expenses for starting an online clothing store include buying a domain, hosting, website platform subscription fees (such as WordPress or Shopify), marketing expenses, and inventory costs.
Is it possible to start a clothing business online with no money?
Although certain costs, such as domain and website hosting fees, subscription fees, etc., cannot be avoided, business owners starting an online clothing business can bring it down to a minimum by using a dropshipping strategy where inventory costs are negligible.
Is starting a clothing business by buying wholesale too risky?
If you're just starting and wondering how to start a clothing business online by buying wholesale, know that it is a risky strategy because it will require a lot of capital. Wholesale rates are lower, but they come with the risk of too much upfront investment into a clothing line or product that may not sell.
How different is a used clothing business from a regular one?
If you're wondering how to start a used clothing business online, keep in mind that it's very different from a regular online clothing business. You'll have to account for factors like regular inspection of inventory condition since it's old and creating quality control standards. Having said that, a used clothing business has its advantages as well, such as higher profit margins and lower purchasing costs.
What specifications does the children's clothing business have?
For a children's clothing business, have a clothing business plan. Keep in mind specifications such as accurate sizing and fit, considering a child's growth, the difference between clothing sizes (infants, toddlers, preschoolers, school-age children, etc.), durability and washability, and care instructions/packaging for parents.