SEO Basics for Your E-commerce Website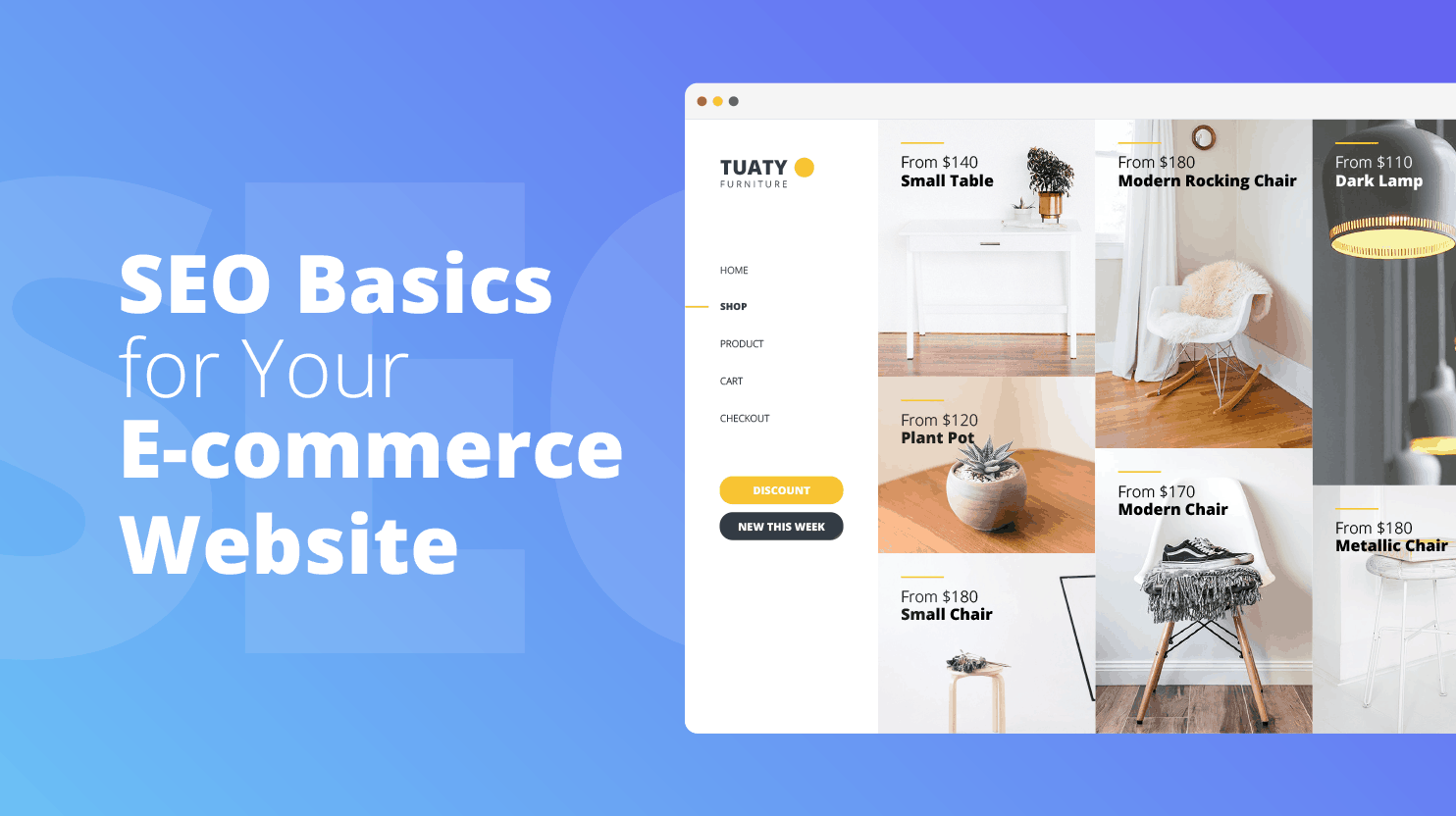 Performing your website's search engine optimization is an absolute must. Luckily for you, with the correct plugins or services, doing so is easier than ever.
Ensuring the correct implementation of your website's SEO means that you'll not only have your website indexed on Google, but people will also be more drawn to visit it when it pops up in the results.
Optimizing your website's SEO will ensure a steady stream of organic traffic (unpaid traffic) to your website.
Proper SEO isn't just about finding and stuffing your site with keywords.
There are multiple things that you need to do to make sure that your website's SEO is set up correctly.
It's a very common pitfall to directly aim for the top rankings based on keyword search rates and not receive any positive results in the process.
For example, these are the results you get when searching for "Men's Shoes."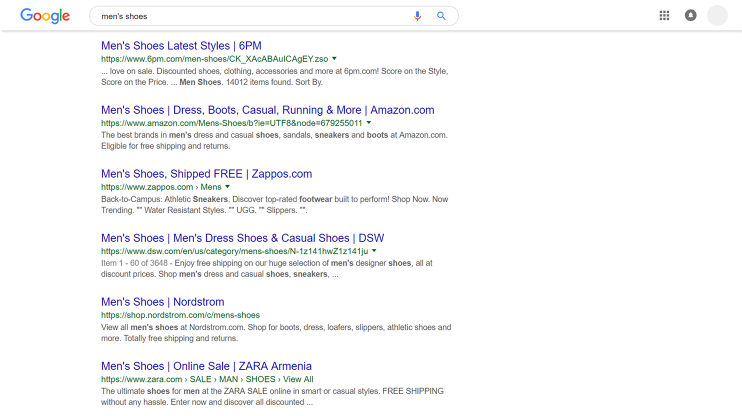 Focusing on general keywords such as this one is an uphill battle that your website will have a very tough time overcoming.
That's the focus should be on the less competitive individual product and category keywords right from the get-go.
Keyword research
In order to have a solid basis for a start, every SEO strategy begins with keyword research. To do this you need to focus on two things:
Having all the pages on your site listed
Mapping all the relevant keywords to each page
The important thing is not to laze out on performing specific keyword research for each page on your site.
When it comes to e-commerce sites, you need to focus on two main pages for this:
Start by generating an XML sitemap of your site. You can use a dedicated SEO service to generate your sitemap with a single click and it will look something like this.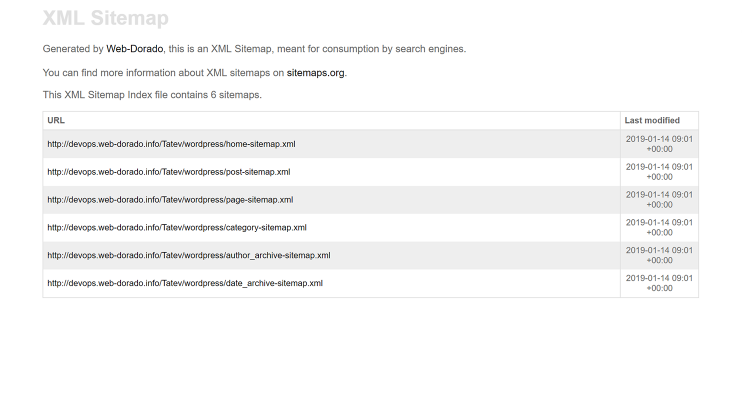 Generating a sitemap will help you categorize and keep tabs on every page on your website. It will also make it much easier for search engines to make sense of your website's structure.
At this point as an optional step, if you have a lot of pages on your website, a sitemap can help you prioritize which pages to optimize first since you have to apply this process to each page individually.
Now you need to identify and map keywords to each of your pages. You're looking at two types of keywords here:
Head keywords
Long-tail keywords
For the head keyword of each page, use your SEO service's keyword tracker to find out the most searched keywords for each of your products and product categories. Make sure that the head keyword you're going for has a high exact match search volume.
Also, make sure you're searching for your local search results, instead of global.
Your head keyword will be very specific and competitive, most likely overshadowed by other top websites.
That's why you need to pay attention to your long-tail keywords: 70% of searches on the web come from long-tail keywords.
A long-tail keyword is a specific phrase of 3 to 4 keywords that contain the head keyword as well.
You can look at the other results from your initial keyword search for long-tail keywords with high exact match results.
Now that you have your keywords, keep in mind not to fill your page with them to the brim. Just use them in moderation and write your product descriptions and content for human readers instead of search engine bots.
And stay away from keyword cannibalization, as in don't have two pages on your website compete for the same keyword.
On-page search engine optimization
Apart from keyword research, there are a few more steps you need to take next.
Meta titles and description optimization
The approach to this is very similar to keyword mapping. You will need to have catchy meta titles and descriptions that guarantee a high click-through rate (CTR), but if your store has hundreds, if not thousands of products, writing a unique and optimized meta title and description for each is an impossible task and having a generic template for all your meta titles is not a good practice, and can damage your SEO ranking.
In the same way that you performed keyword mapping, you can check the priority list of your pages and make sure the higher ones are properly optimized first before you move on to the rest.
10Web's SEO service allows you to very easily add a custom meta title, description, and keywords on every post and page of your website, which will look something like this: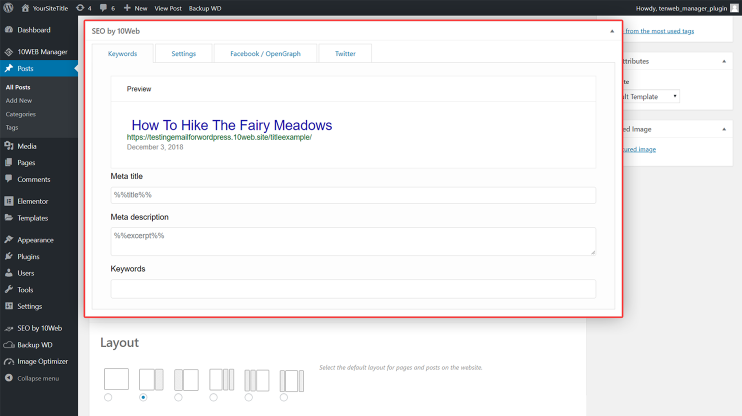 At this point, it's just a matter of writing a good enticing title and description while avoiding the pitfalls of keyword bloating or cannibalization.
URL optimization
This step is very straightforward. Simply make sure that it doesn't look bad. Your URLs need to be clear, straightforward, and above all, readable.
An example URL that would be in your best interest to avoid is something like this:
https://www.yesstyle.com/en/women-women/list.html/bcc.14068_bpt.46#/sb=165
So make sure there aren't any random numbers and letters stuck to one another, you can follow this example as your overall template:
sitename.com/category-name
sitename.com/category-name/subcategory-name
sitename.com/category-name/subcategory-name/product-name
Each line is already self-explanatory as to which page goes into which section of your URL. So, to sum up:
Keep URLs short and readable
Have your head keyword in it
Use (-) to separate words instead of (_) or any other characters
Stay away from URL parameters as much as possible
Unique categories and descriptions
Every successful e-commerce site focuses on providing unique category and individual product descriptions to their customers, which look something like this for category pages: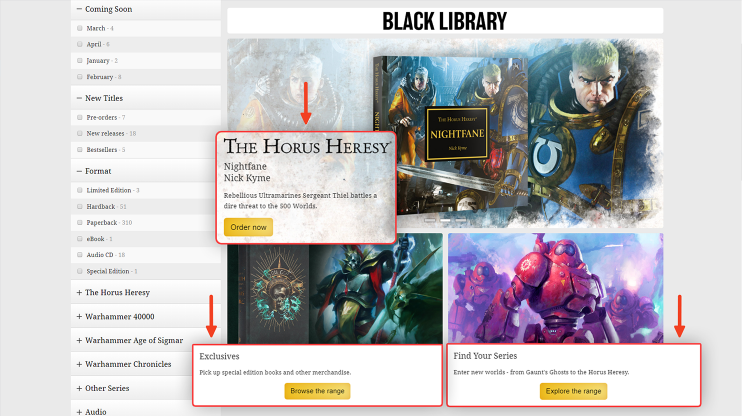 And something a bit more detailed for products: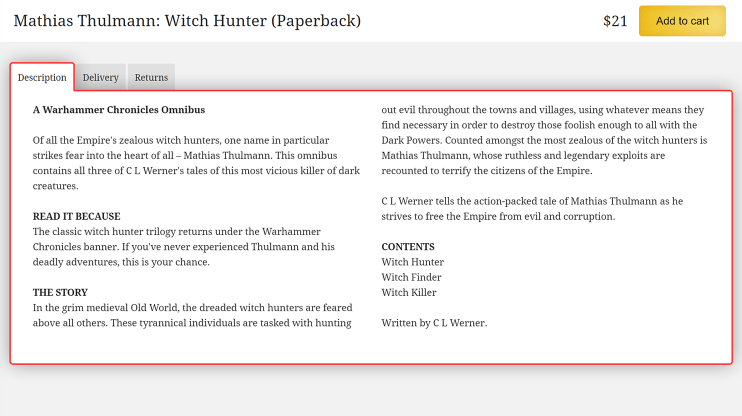 These serve two main purposes:
Providing more details to your customers about the product (obviously)
Helping the search engine's algorithms make sense of your website's content
Leaving those areas empty will only make it harder for the search engine algorithms to understand your site, which will lower your SEO ranking.
Just like every other step, simply make sure that you aren't just copying and pasting a sample template for all your pages.
Make sure to make each one unique, clear, and informative to your customers.
Social integration
This step turned into an integral part of website SEO after Google announced that Twitter and Facebook links to your site affect your ranking similar to links from any other site.
After which point, having a social media "share" button and tally counter became a very important step.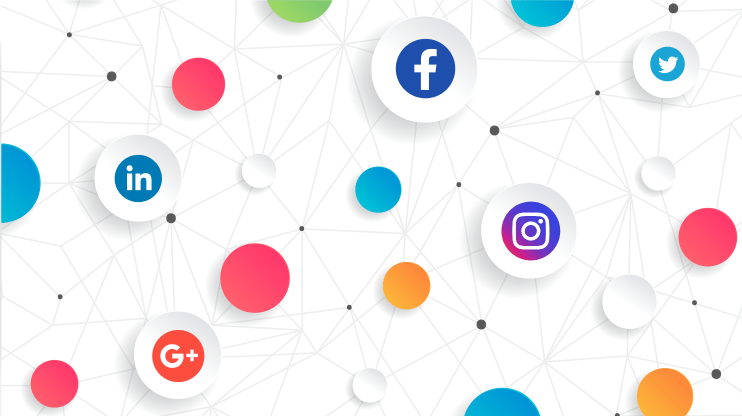 You can use a social media plugin to not only allow your customers to share your products on their social media accounts (which affects your SEO ranking) but also see the number of shares of each product.
This will also help you prioritize your pages, which, as you've noticed so far, can be very helpful in optimizing each page individually.
According to GearFuse, multi-channel expansion plays an immense part in the future of ecommerce.
…and one more thing
If you've completed every step so far, it means your website as a whole is already very SEO-friendly and you should start seeing your site's ranking slowly rise up in Google's ranking.
But your work doesn't end there.
Keeping your SEO ranking on the rise is a maintenance job and you need to keep close tabs on who's visiting your website, as well as where they're going to and where they're coming from in order to tune and optimize your website further. Check out BigTimeDaily's article on how optimizing ecommerce sites for crawl budget impacts SEO.
You need to closely follow your website's google analytics reports, track which keywords your customers searched for to find your website, which products are generating the highest traffic, and which parts of your website are underperforming (high bounce rates).
This way you'll have a much more detailed insight on everything that goes on in your website, and you can tweak and maintain your SEO plan accordingly to make sure that your ranking stays on a steadily increasing
The important part is that you should keep in mind that optimization is a maintenance process, and it takes constant optimization and monitoring to achieve the successful implementation of your SEO strategy.
Got burning questions regarding all things WordPress? Throw them our way in our WordPress Family Facebook Community and we'll answer them for you.