Web Hosting for WordPress: Which Hosting Type to Choose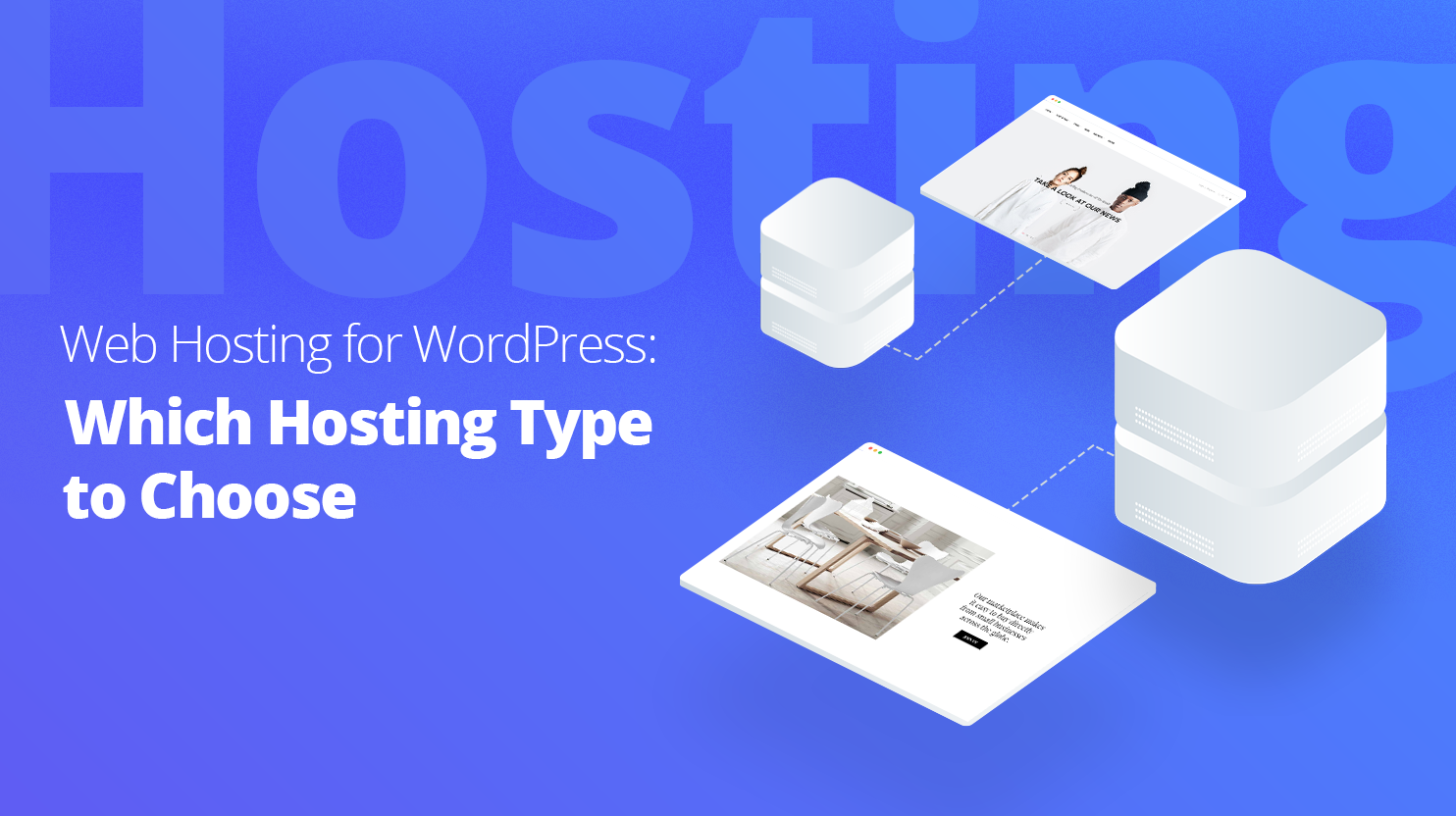 Choosing a web hosting provider for your WordPress website is a major decision in the process of your website creation. It's incredible how much of your success depends on hosting: website performance, security, its downtime, even Google rankings, and so much more.
But here comes a question: is WordPress hosting any different than any other generic hosting? Yes, it is. You can choose a generic one for your WordPress site as well, but specialized web hosting for WordPress will give you a better experience by making WordPress installation easier, being compatible with all software you might need, and offering more perks. But let's keep the details for later and get back to the hosting market.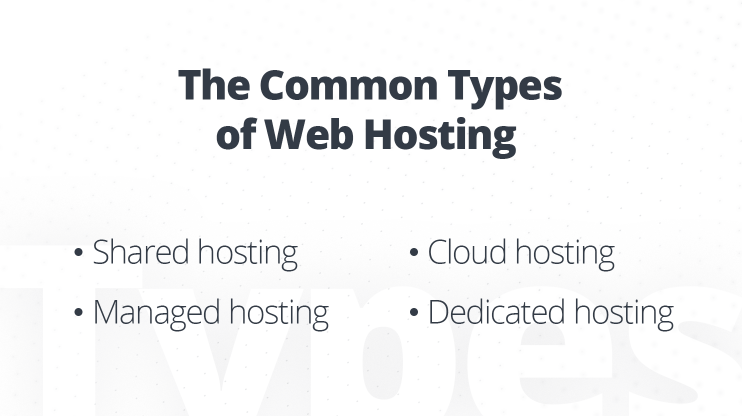 Today's market of web hosting providers is too large, and it makes your choice even more difficult. According to FinanceOnline, web hosting was growing at an annual rate of 15.5% in 2019. And given the unprecedented amount of internet usage worldwide due to the pandemic, it might start growing even faster. It becomes impossible to navigate the market unless you know exactly what you want from your host. To narrow down that choice, you should first decide which type of hosting you want. 
Here are the common types of web hosting:
Shared hosting

Managed hosting

Cloud hosting

Dedicated hosting
Let's go over each type one by one. 

Shared hosting
Shared hosting is a popular choice especially for those starting their very first website on a tight budget.
Here's how it works.
The server that hosts your website is shared between multiple websites. It means the resources are shared with "neighbors". Which is fine most of the time, but every now and then it can cause you real headaches. You might need some additional bandwidth in times of unexpectedly high traffic. But so might the other websites on the shared server, and if there isn't enough space for all of you, one of the websites will go down and it can be yours.
Now, let's see how shared hosting compares to other options.
Price
Shared web hosting is considered the cheapest option out there with an average monthly fee between $3-$10. This is usually the primary reason why so many people go for this hosting type. 
Probably the most irritating thing about shared hosting pricing is that with most providers, you get your first year super cheap as a starting price but the small print says that the prices will go up as soon as you hit your second year. Those who are buying hosting for the first time and aren't familiar with the market are very likely to miss it. 
Speed
Website speed depends on tons of factors, and if one of them isn't taken care of, your website slows down. To keep the price down as a competitive advantage, most shared hosting providers don't use the best hardware and software for their clients.  
Or else, you get the basics at the low price but pay extra for any additional option such as SSD storage, a CDN (content delivery network), or you manage all your caching manually.
It often costs less to pay a couple more dollars for managed hosting and get all of these in a package.
Security
Every year, shared hosting providers find and implement new measures to make their users' experience more secure. Is that enough? For many users, it is. But we're living in times when every website's traffic is simply unpredictable. Even with scalable shared hosting, you can never be sure how much your website needs will increase and whether your provider can fulfill them.
Plus, if someone decides to attack other websites from your server, yours is at risk, too.

Managed hosting
Managed hosting is the hosting model where the provider offers all hosting management services for the customer. You can get different types of managed hosting, such as cloud-based or dedicated. But the big trend is for cloud-based managed hosting because clouds like Google Cloud or Amazon AWS are secure, reliable, and have tons of options to customize. 
With a managed WordPress hosting, you get to use one of those clouds for your website and get all the perks of automated website management, an easy-to-use interface, and customer support.
Well, let's get into more details on managed hosting.
Price
With all these perks, managed hosting usually costs more than shared hosting, usually starting at $25-$30 per month and going upwards. Most providers, unlike the shared ones, give you fixed pricing.
> Check out this article where we've compared the most popular managed hosting providers, including their prices.
But there is one option where you get a better version of managed WordPress hosting for $10/month or even cheaper if you host multiple websites. We're speaking about 10Web's automated WordPress hosting. It relies on the power of automation to simplify and speed up website hosting and building. 
Speed
Optimized website performance is one of the key selling points of managed WordPress hosting. But it's different from one provider to another. Before choosing the one you prefer, scroll through the reviews and see what users say about their website performance. Besides, it won't hurt to look at the technical aspects: does this hosting provider offer CDN? Does it make caching easier? What types of disks do they use (SSD is the preferable option)? And a dozen more questions.
To get your own idea of speed requirements, read these 15 tips for speeding up a WordPress website.
Security
Another extra point that you get with managed WordPress hosting is security. First of all, if we're talking about cloud-based hosting, your website is separated from other websites stored on the same cloud in a virtual container. These containers make your part of the cloud work as a separate, dedicated server.
Additionally, a managed WordPress hosting will give you much more tools for security, such as an SSL certificate, a service for regular security checks, and so on. Check if your provider of choice ticks every box regarding security because you're already paying for a package and don't need such basic add-ons for an extra fee.

Cloud hosting
Cloud hosting sounds similar to the cloud-based hosting we were talking about, but it's not the same. It's when you get the amount of storage space you need on a virtual cloud server directly from the cloud provider. You can get you best out of it, but cloud hosting requires tons of work and technical knowledge to set up and keep optimizing.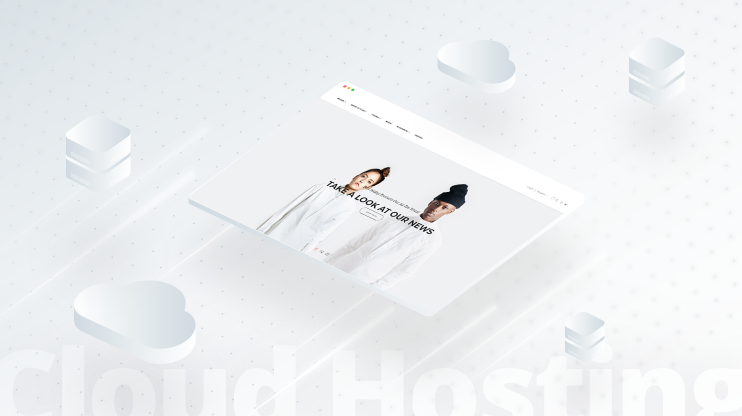 Price
All we can say is that cloud hosting starts at super low prices, because it varies greatly depending on how much storage and what technical option you want/need. Keep in mind that you might have to pay extra for tools and software that are included in other hosting packages.
Speed
If you know how to optimize it, then your website will run fast as a rocket. But again, it takes all your time and effort. Plus, you'll be needing some additional services such as image optimization, CDN, and many more.
Security
The clouds themselves are secure. You just have to keep the environment safe. Set up backups, security scans, enable HTTPS for secure data transfer. The big difference from managed hosting is that you have to take care about all of this by yourself.

Dedicated hosting
The name speaks for itself. Dedicated hosting is the type of hosting where you get your own physically separate servers to use. As a user, you get to access and configure your completely isolated server that gives you the ideal privacy, control, as well as resource allocation. It can be a great solution for a large website with a separate IT department, but not so much for a website of average size. Let's see why.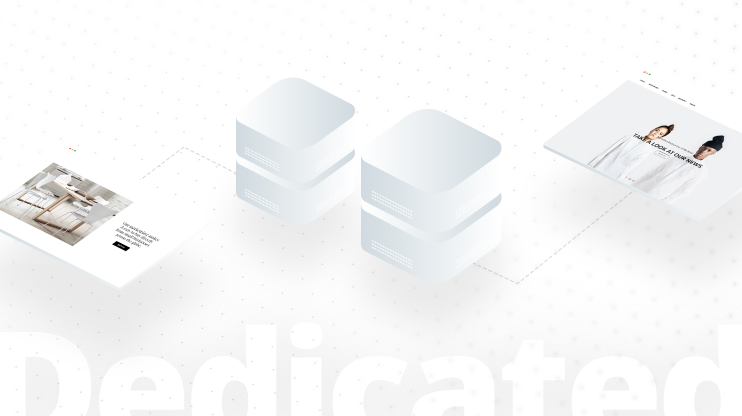 Price
Although the price for dedicated web hosting varies greatly as well, we can still be safe to say that it starts at around $70-$150. This is a pretty serious price to pay for just one website unless you have a justifiably large database and/or traffic. 
Speed
Just like an isolated container on a cloud, a dedicated server helps you avoid speed-related issues caused by "neighboring" websites. You have absolutely nothing to do with any other website's traffic which keeps you pretty much safe. 
On the other hand, with all the configuration and customization freedoms, comes the responsibility to take care of your website speed manually or through a third-party service. If you won't have that much time, skills and resources, look for a provider that speeds up your website for you.
Security
Isolation for all other websites is great for your security. Not only are you safe from others' traffic surges, but you also can never get infected with a virus or otherwise hacked just because you're sharing your space with a more vulnerable website. 
If you're up for configuring all the additional services and features, such as backups, security checks, and keeping reversible logs of all website changes, then dedicated hosting is definitely secure enough for you.
Now, we've taken a look at the most popular hosting types available in the market. It's time now for having a more profound comparison and  defining our main criteria when choosing a web host.

Managed WordPress Hosting VS Shared Hosting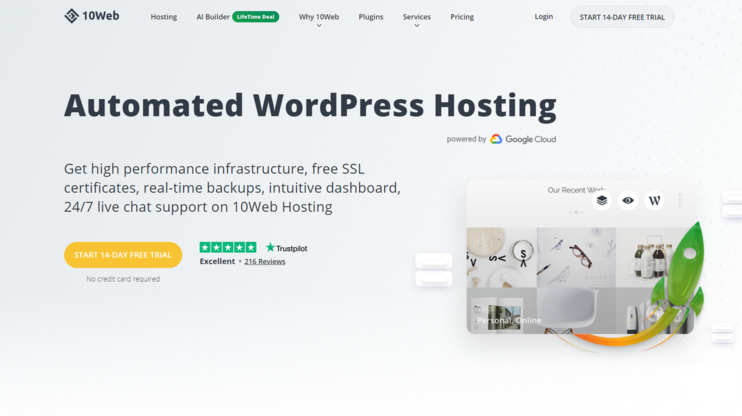 According to FinanceOnline, "managed web hosting (18.7%) is the fastest-growing segment of the industry, followed by shared web hosting (10.4%)."
While shared hosting itself can have an additional management layer, the traditional understanding of shared hosting implies the non-managed option, configured by the user. By managed hosting, on the other hand, we mainly understand the cloud-based options managed through the automated management layer and a super-easy interface. 
I may sound biased but you'll find it's common knowledge that shared hosting is nothing but a more affordable alternative for most users. It's considered a nice fit for hobby websites and small projects but not good enough for more serious projects. 
Today, however, as the price for a superior managed hosting alternative, automated WordPress hosting, have gone as low as $10/month with no changes in price overtime, users who have been on a tight budget consider it as well. 
Things to Consider When Choosing a Web Hosting for WordPress
Whether or not you've come up with your final decision on the hosting type for your WordPress website, these next steps will help you realize what exactly you need from your provider. 
For this purpose, we've asked our colleagues and simply WordPress users around the world to share with us their criteria of choosing a hosting provider.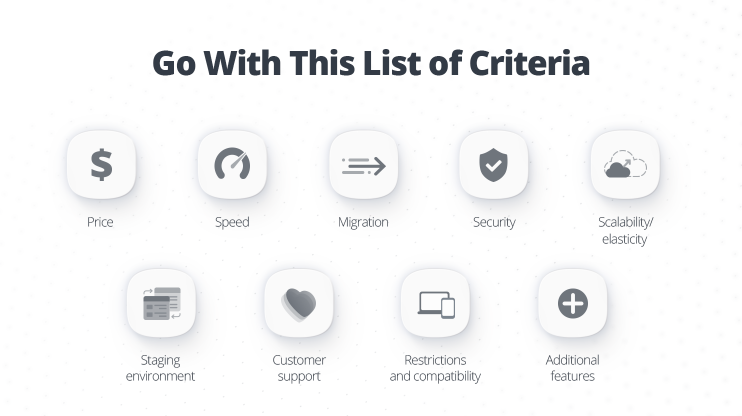 Let's see what they've got to say and then go with this list of criteria:
Price

Speed

Migration

Security

Scalability/elasticity

Staging environment

Customer support

Restrictions and compatibility

Additional features
Erico Franco, Inbound marketing manager at Agencia de Marketing Digital:
"In addition to factors such as functionality, cost, support, price, backup, and automatic updates, it is important to choose a service that is optimized for WordPress. A hosting service optimized for WordPress will have server memory and processing capacity compatible with WordPress. Another important factor is to go to a hosting service that has specialized support for WordPress as it will be very important, especially in the initial stages of Setup."
Dale McManus, Co-founder and Web Developer at https://createaprowebsite.com
"When choosing a WordPress hosting provider, consider the "three S's" — speed, security, and support. WordPress is unique in that it's the most popular content management system in the world. There are thousands of plugins available, which makes it a great choice for bloggers and business websites, but may also slow down your site if you're not careful. A WordPress hosting provider should provide a basic level of performance optimization such as load balancing or content delivery network (CDN) options. On the security side, WordPress is especially susceptible to malware. Make sure your Managed Hosting Provider offers security certificates (SSL), along with file and database backup tools. Another option I look for when choosing a web host is malware monitoring, which protects WordPress sites from potential malware attempts. The third "S" represents Support. Every great web host should offer 24/7 support since your website should be available online 24/7 as well. If something goes wrong with your website when normal businesses are closed, you'll be glad you have a web host that is available after hours."
Stacy Caprio,  Founder at Growth Marketing
"I choose hosting based on the cost and how good the support is. My main objective is always to find a low cost host that has exceptional support because this means I won't be paying too much, and I will be able to fix any problems that arise with the help of the support team. I prefer shared hosting because it tends to be cheaper, and you need to do less maintenance or running of the server."
David Lynch, Content Lead at Payette Forward:
"One important thing to consider when choosing a web hosting provider is their customer support. No matter which hosting provider you choose, you're going to run into issues with your website.
Most people aren't web developers and don't have time to debug website issues while running a business.
That's why it's important to choose a web hosting provider that provides expert customer support in a timely fashion."
Jason Palmer from Palmer Computer Services, Inc.
"Do they offer both Production and Staging Site?

Support available via Real Time Chat vs Email/Ticket?

Are they a dedicated WP Host – such as WPEngine or Pressidium?

Do they offer Backups?

What Plug-in Restrictions do they have?

Included or Extra Charge:

Caching

CDN

Image Compression

SSL (Free LetsEncrypt or BYO SSL from CA)

SSH Gateway

Statistics/Google Analytics or similar

SEO

How do they charge for:

Storage

Visitors

Bandwidth

Data Transfer

How Many Sites are included?

Month to Month or Annual Term Required?"
Stuart Cooke, founder of Levity Digital:
"When it comes to finding a host for a WordPress website, the most important thing for us is communication. I have been shocked at just how poor communication can be from some hosting providers, for example moving websites to another server without telling the company resulting in their emails going down at vital times. Communication is key so read the reviews and make sure that they won't leave you in the dark at vital times".
Anjana Wickramaratne, Web Design Department Manager at Active Digi Solutions:
"As a web developer, I usually design websites with WordPress as some clients ask for their website to be designed in WordPress. In such situations, I always prefer hosting that gives unlimited storage/bandwidth, free SSL certificate, and a free domain (for a year).
When it comes to the hosting type that I prefer, it usually varies with the website type. For example, if the website needs to be highly encrypted, then I will choose a dedicated server hosting as it is much more secure. If it is a normal website such as a blog site, then a shared hosting would be ideal."
Hassan Alnassir, founder and owner of the toy company Premium Joy:
"I pick a hosting provider for a WordPress website based mainly on the overall customer rating (provided by the Web Hosting Geeks website) and initial registration price.
My go-to source to find unbiased customer reviews and ratings of all web hosting providers is hands down Web Hosting Geeks. For each hosting type, you get a nice table that compares the top hosting services side by side including various important specifications and overall customer ratings.
These customer ratings (which have a 5-star scale) are reliable as they come from real people who used the hosting provider. The ratings are also comprehensive since they involve all important aspects of the hosting companies including user-friendlies, price, uptime, software, and support.
After finding the web hosting companies with the best customer rating (more than 4 out of 5), I simply compare the total price of each. Based on the registration for the maximum allowed period which is typically 2-3 years, I choose the hosting provider with the lowest overall cost.
I prefer to use shared hosting because it's the cheapest hosting type and I don't need more when starting out, at least for a few years ahead."
Now, let's take out the most important criteria that were mentioned.
It's obvious that no one wants to overpay for their hosting, and many of us couldn't afford it if we wanted to. This is one of the main reasons why so many users resort to shared hosting. Luckily for us, 10Web's automated WordPress hosting powered by Google cloud is available at a price you would usually pay for a shared alternative — $10/month!
Website performance is insanely important to your website. Studies show that just one-second delay in page load time can cause a 16% drop in customer satisfaction!
Open one of the speed testing tools (Google PageSpeed Insights, GTmetrix, Website Speed Test by Pingdom, etc.) and see if websites hosted where you want to host yours run fast enough. Websites hosted on 10Web automatically get a PageSpeed score of 90 and higher.
That's due to a combination of a number of features, including, but not limited to CDN, smart caching, SSD drives, image optimization. And that's all included in the initial price.
On top of all of this, we have a built-in image optimizer which will allow you to check and optimize your website speed in mere minutes.
If you already have a website but have decided to change the host, the process of migration can very easily give you a migraine. You have to do everything 100% correctly, because a small mistake can crash your entire website. 
But I have good news for you: 10Web has developed an automatic migration option that allows you to relocate your website in one simple click. And of course, we all get anxious when making such major changes. That's why you get a free trial and a staging environment to test on. 
Every website out there is vulnerable. Most hackers don't aim for exact websites, they just target bunches of them, and you have to protect yourself all the time. Plus, security issues go way beyond hacker attacks. 
Well, 10Web can help you through every step of it. 
First of all, you get a free SSL certificate for secure data transfer. Next, we provide you with an advanced backup service (so good this should be a separate point) to reverse any damage that might be done. You just schedule regular automatic backups with a storage of your choice, and bring your old website back whenever something goes wrong. Both full and differential backup options are available.
And last but not least, you get regular security checks that will notify you of any unwanted change on your website so you can reverse it with minimum damage as soon as possible. 
This one's getting more and more important as the times are getting even more unpredictable. See, if you face a sudden traffic surge, you risk having your website down. But not anymore. With elastic scaling, your capacity adjusts to your current needs to keep your website running at top speed. That works for both visitor and storage overages. Read more here.
You don't want tests on your website to take unexpected turns when they're already live. For a smoother experience, you might need a staging site.
It's a must have when you're just launching your website, migrating it, or making major changes in design. 
There are rules you should follow before pushing the updated website to live.
Even if you find a perfect WordPress hosting, you'll still have questions and/or issues, maybe even related to different aspects of your website. To help you solve all of them, you'll be needing a 24/7 live chat support. 10Web provides that to all its users. 
Restrictions and compatibility
As a company with a long history of developing WordPress plugins, 10Web pays extra attention to being compatible with any other software you might need.
You get dozens of services, plugins, and extensions as part of your managed WordPress hosting service. And if a sudden incompatibility occurs, our customer support team will make sure to help you with them.
As I just mentioned, we offer dozens of WordPress plugins, services, and extensions, some of them with over 10M WordPress downloads. 
The list includes a newly updated multifunctional SEO service, a super popular image optimization service, the unprecedented speed optimizer, one of the most downloaded WordPress photo galleries, and many many more. They are all mutually compatible and keep your website running as fast as it gets. 
But the most important additional feature that comes with 10Web is the wide choice of ready-to-use website templates and an advanced WordPress website builder to customize them.

WordPress Hosting FAQs
Does shared hosting affect SEO?
Not directly, but yes, it does. 
First of all, shared hosting doesn't provide the highest page load speed in the market, whereas website speed is among the essential ranking factors. Second of all, shared hosting has proven to have a little more downtime which, again, is something Google doesn't approve of and might even penalize a website at some point.
And finally, the best managed hosting providers offer an additional SEO service in the package to smoothen your search optimization experience.
Is shared hosting good for eCommerce?
You can totally host an eCommerce website on a shared platform but there's certainly a better option. 
See, eCommerce is the kind of website that deals with financial transactions and constant updates, so an additional security layer is a must. A better option would be either getting an entire dedicated hosting and add take all the necessary security measures or choose a cloud-based managed option that's isolated in its container and has a built-in security layer (better a thick one).
How does WordPress hosting help?
WordPress hosting refers to managed hosting designed and developed for the best compatibility with WordPress and the easiest management for WordPress users. Its additional features are WordPress-specific (plugins, themes, services, etc.), and in some cases, such as 10Web, the package includes dozens of website templates along with a WordPress website builder to help you customize them.
Migrations are made easier as well, like the 1-click migration 10Web offers. 
Is managed WordPress hosting worth the extra price?
In most cases, it is. The trick is, you'll most likely have to pay the difference one way or another: managed WordPress hosting comes with essential services (such as security, backups, and more, depending on the provider) that often cost much more when purchased separately.
The good thing about all of this is that now you can get the superior version of managed WordPress hosting, automated hosting, at an average shared hosting price. Check out here: https://10web.io/pricing/.
Does it matter where your servers are physically located?
It does. If the majority of your audience comes from the same region, try to find a hosting service that has its data centers nearest to the target region. This way, your users will get the fastest loading speed. 
Cloud-based managed hosting usually allows you to choose one of their multiple data center locations. Another way to deliver content faster to different regions is by using CDN (content delivery networks) specifically designed for that purpose.
Can I publish a WordPress site without WordPress hosting?
The short answer is yes. 
WordPress is an open-source platform running mainly on PHP. You can choose a generic hosting provider and use it with your MySQL database. The advantage of specialized WordPress hosting is that it makes this entire process easier, offering options like one-click WordPress installation. But it's in no way the only way to host a WordPress website.
To Wrap It Up
Shopping for web hosting for your WordPress website can get tough. Shared hosting and managed cloud-based hosting are top options all around the world. Given all the additional features and easy compatibility with WordPress, managed WordPress hosting wins, whereas shared hosting remains ever more popular due to the low costs.
However, 10Web has managed to bring the already top-quality managed WordPress hosting to a new level by channeling the power of automation and offering automated hosting that makes website hosting and building even simpler and faster than it ever was. And all this comes at a super low price ($10/month and cheaper if you host multiple websites).
Have you been hosting shopping, too? Share with us your top criteria and your preferred hosting type in the comments! 👇
See How 10Web Can Benefit You
Visit our homepage to learn more about the first-ever AI-powered WordPress platform.