Which WordPress Files Should You Backup and Why?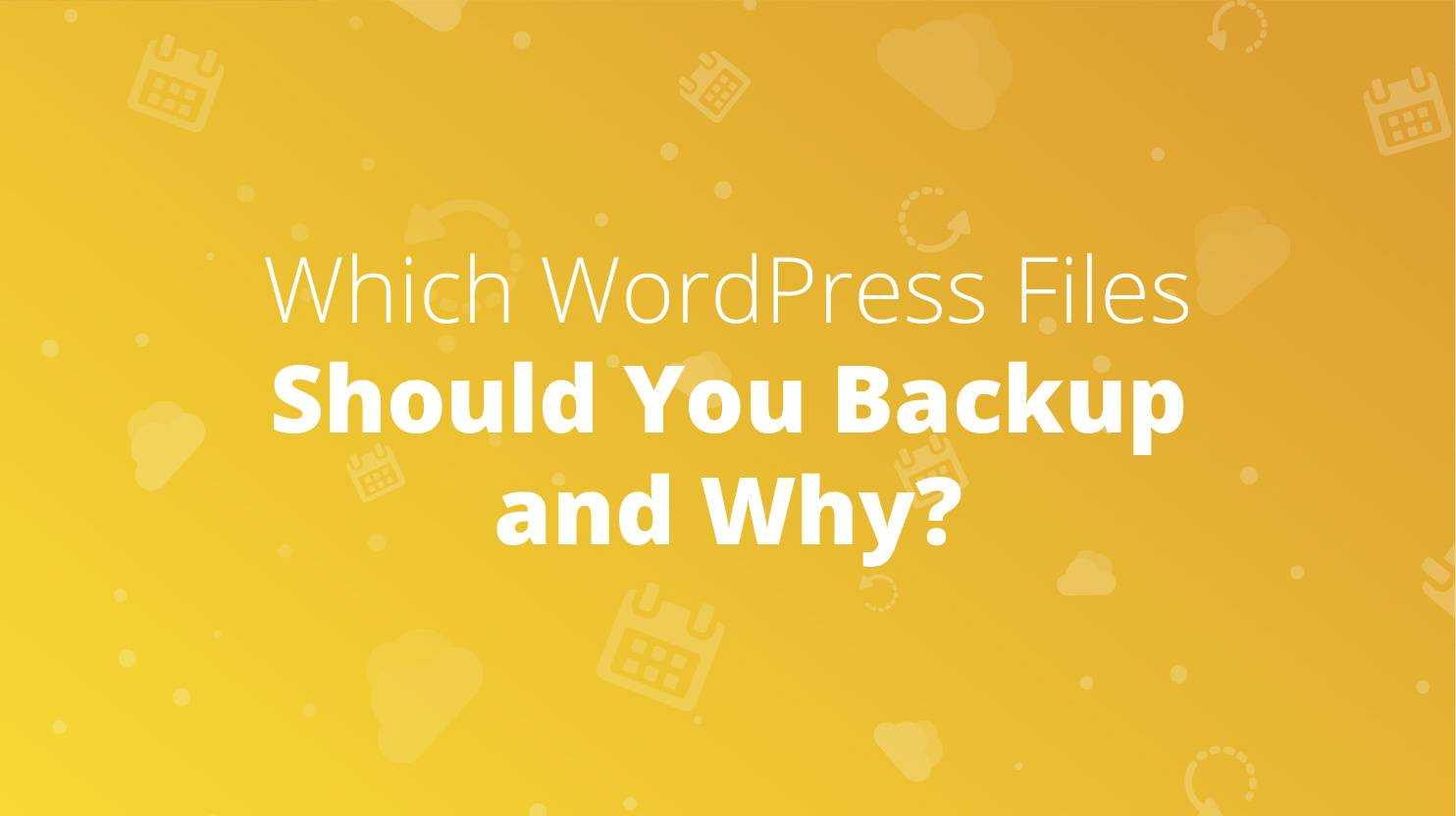 Not to hurt anyone's religious feelings, but let me propose the hypothesis that all those years ago the ark was actually Noah's best backup plugin and, as you're perfectly aware, served the mission of saving the world well! So, yeah, a good backup can save your web-world too and its absence can straight up destroy it.
Website backup is the process of creating copies of all the files used for your website for safety measures, so that if something happens you know how to recreate the original version of the website. "What can happen, though?" you might ask.
A lot, actually, starting from wicked hacker attacks to security issues to simple technical flaws and misconfigurations.
File types:
Your backup should be planned carefully enough to assure the future of your website. Meaning, anything crucial for restoring your website after the "Genesis flood" should be backed up.
Let's define the major file types of your WordPress website and see which ones you need to back up:
WordPress Core: There are some files you don't usually interact with. They just exist silently and hold your website "on their backs." Those core files literally run your WordPress site, ensuring its appearance and functionality, yet you don't need to backup those files, because they are universal and could easily be restored from wordpress.org any moment.
WP-Content folder files:This folder is your website's unique personality. It includes all the themes and plugins you use. All the media – images, videos, audios – is in the same folder, in the wp-content/uploads section. The wp-content/uploads folder has to be backed up, otherwise you'll lose everything.
In fact, it is a convenient and useful practice to backup the whole wp-content folder, but if for some reason you choose not to, you can remember the plugins and themes you're using and only backup the wp-content/uploads folder: the themes and plugins can be reinstalled after the damage is caused.
The WP configuration files:Another important category, as these files contain the settings of your website. The configuration files most importantly include the wp-config.php and the .htaccess files. The wp-config.php file holds relevant information about your database as well as certain higher-level settings. The .htaccess file deals with URLs by making them neater and smaller, rewriting them in case it's necessary.
The DataBase: All your posts and pages, the information about your users, the comments you received and everything else is stored in a MySQL database, and that's why the database needs the most frequent backups.
With the availability of automatic backup services though, it's a much better practice to do full website backups every once in a while.
Decisions, Decisions

You have a series of decisions to make about your backup setup:
Should you use manual or automatic backups? Feel free to check out this detailed article for answers.
Another issue is picking the right backup schedule and the answer based on your individual case can be found here.
Which backup service/plugin should you use? Let me give a more extensive answer to this question by summing up the key advantages of 10Web Backup Service.
10Web Backup Service:
Scheduling: You get mega-frequent backup scheduling! One mouse click and you've already set up whether you want to perform a backup on a monthly, weekly or daily basis.
Real-time backup: If you highly value your information way, you have the option to schedule your backups to occur almost immediately after you've made a change.
Differential Backups: To save time and space, 10Web offers differential backups: only the parts that underwent changes since the last full backup are backed up.
Amazon S3 storage: 10Web gives you storage on Amazon S3 cloud where you can securely save all your information. Have a different preference? Choose from a list of alternative options, such as, for example, Google Drive and One Drive.
Easy Restore: The process of full restoration of your website will take no more than one click with 10Web.
Cloud Hosting System Level Backup: A little extra-security can only do you good. And 10Web, as your host, takes care of creating backups of your website every day, which are saved for a total of 10 days. This feature, surely, adds a layer to your security.
So, young Noah, now you're ready to save your own world. Go ahead and get started with 10Web today to level up your whole web experience. And don't forget to share your ideas about the backup service in the comments below.