Where Should You Store Your WP Website Backup Files?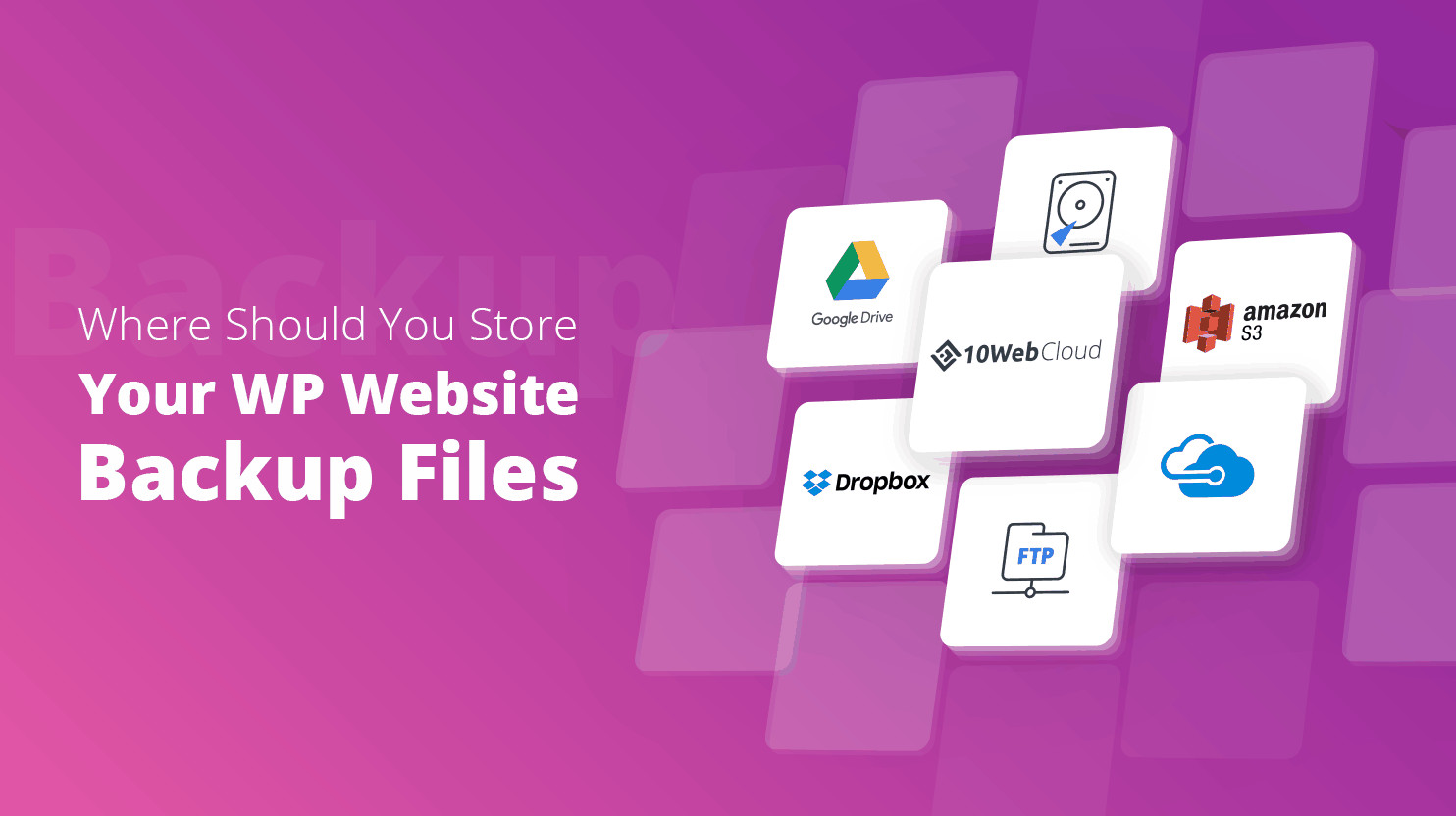 Backing up your website is a must no matter what. You don't wanna let all those hours spent building your website and filling it up with content go to waste, do you?
And although it's a widely accepted fact that you need to backup your site on the regular, a number of other questions remain to be discussed: Which of the available tools to use? How often should you backup and which particular files? Where should you store the website backups you create?
We've previously addressed most of these questions.
At 10Web, we've created our own tool for WordPress websites' easiest and most secure backups.
To create and maintain this website backup service and make it meet every user's needs, we've done quite some research, and now there are a lot of details we can share with you.
We've already shared what we know about the perfect backup schedule for your website.
And then, we told you which files are worth backing up.
This time, we'll talk about the backup locations.
It can be useful for all those curious about backing up their WordPress websites, with or without 10Web.
As you might already know, 10Web offers 7 backup location options for you to choose from.
You can see them on the Backup page of your WordPress dashboard.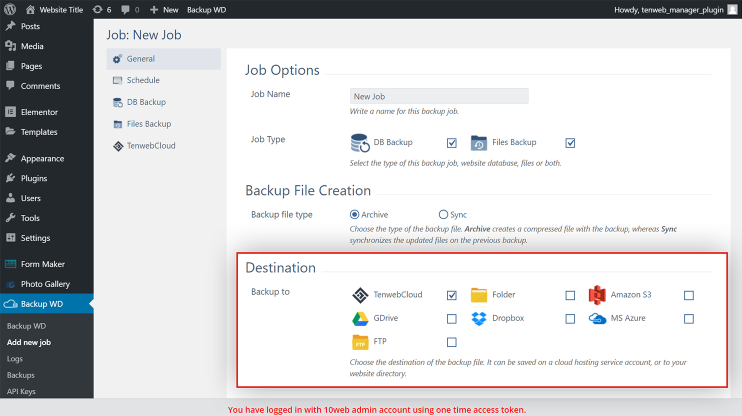 Of course, we recommend using them all. But today, I'm going to tell you why we've decided to include each of these in the list and what you'll get when using each.
Oh, and we've asked website management experts where they primarily store their own backups; more unbiased opinions never hurt.
But before we dive right in, we'll also go over why exactly it's an accepted fact that website backups are paramount and how you can backup your website using the tool we talked about.
Why do you need a website backup?
As you probably know, a backup is a copy of your website data using which you can restore your website if something happens to it. What can happen to your website? Quite a lot, actually. Why should you backup? Well, for a number of reasons.
If you diligently backup your website, no time or effort spent creating your website will go to waste because of crashes, hackers or even natural disasters.
You will never lose the trust of your customers or visitors because of compromised data related to them.
You can rest assured that if anything you can restore from a backup in a few minutes, which is not only a way to have your peace of mind but also a competitive advantage.

The short and obvious answer is: "Better safe than sorry." Especially because nowadays scheduling your backups and never thinking twice about them is really easy.
How to backup a website
Website backups are really easy to create these days. In the case of WordPress websites, for example, there are about ten great backup plugins you can install and use. See a more detailed comparison of them here.
If you go for 10Web backup solution, the only WP backup plugin that's entirely free in its premium version, creating a website backup takes only a button click. You can also set a schedule depending on the type of website you have and backup on a monthly, weekly or daily basis. And of course, if you're constantly updating your site or transferring data in real time, you can set the schedule to "real time" and feel super safe. Our solution has never failed a site restoration from a backup before!

And if you're interested in the mechanics of how website backups at 10Web are performed, you'll be glad to know that we use the method of differential backups, that is we save only changes made to your site since the previous backup, which will save you a lot of time and storage space, wherever you pick to store your data.
1. 10Web Cloud
10Web Cloud is your personal secure cloud provided by the 10Web Backup service and based on Amazon Web Services. We recommend using this backup location for its flawless performance and super simple setup.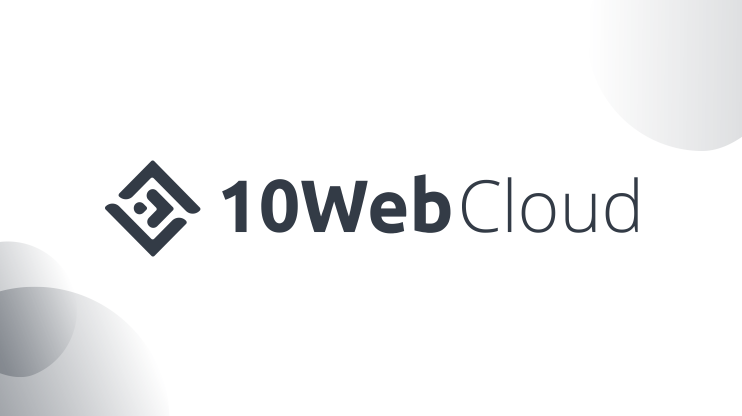 Amazon Web Services use cloud computing to make your backups safe, reliable, and easily accessible for you.
At 10Web, we've optimized the services for even easier use of yours.

Wherever you're hosting your website, check if they have a backup option and make sure to use it. It literally takes no effort.
2. Google Drive
Do you consider Google Drive a safe place to store your work files? At 10Web, we do.
Google Drive hardly ever has accessibility issues, and deleted files first go to trash which makes it really hard to remove anything by mistake.
You can either use your personal Google account or a GSuite one to authenticate from your WordPress dashboard and save the backups to your preferred folder.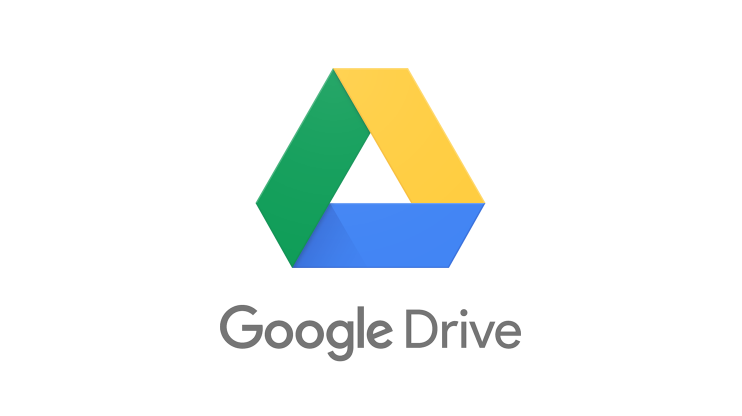 We know quite a lot of website admins who use Google Drive for backup. Let's listen to some of them:
Rachel Davidson, founder of Watchdog Pest Control.
"If you're a Chromebook owner, you could have around up to 3TB of storage space in your Google Drive account. You might as well use the monstrously huge amount of storage to store your database backups.

If you're using a lot of Google services to enable your business or blogs, then Google Drive is a great place to store everything you need in one place."
Syed Ali Hasan from Film Jackets:
"I would recommend cloud storage for this purpose like Google drive. You can even access it from your smartphone which makes it easy to download and share the files. To further secure them, use a Google password that is hard to guess."
Yeah, and don't forget about two-factor authentication!
Swati, a personal finance blogger from HearMeFolks. says:
"Store your files in the cloud. There are different file storage providers that you can make use of in storing your backup files. Google Drive, Microsoft OneDrive, Dropbox, Egnyte and etc.

This method provides somewhat a good benefit since it's accessible anywhere, making it easy for you to retrieve your files and restore your site in case an unfortunate event happens. In choosing the right file storage site, you must consider these few things; the cost, storage capacity, features such as automatic data synch, and most importantly the security."

So, users love Google Drive. It's easy and it's free. Is there a reason not to use it? Absolutely not.
3․ FTP
You can backup your website files on your hosting server or any other server using FTP. You just have to enter your login credentials to connect and then customize the destination and backup settings.
The FTP option takes a couple of minutes longer to set up so you can skip it.

But if you have the time, use this option to have your files and database back after unnecessary changes were made.
4. Hard drive
What if all cloud services collapse at once? What if you lose all your passwords? What if you just don't trust anyone but yourself?
There can be a lot of reasons to backup your website on your own hard drive.
Keep a copy on your laptop and another one on a portable drive, just to be sure. This was the golden rule of backups back in the day and makes sense even now, in the golden age of clouds and automatization.
Just choose the folder location from your WordPress dash, and schedule the backup work.
Remember Swati, the personal finance blogger from HearMeFolks who keeps her backups on a cloud? Well, she uses her hard drive, too.
"Store your files locally: create a copy of your backup files to be stored in your own machine, own hard drive. Need not to say more, it's better to have something available on hand in case of an unforeseen circumstance, e.g. being unable to access your File Storage right away,
slow connection and you are unable to download your backup and etc."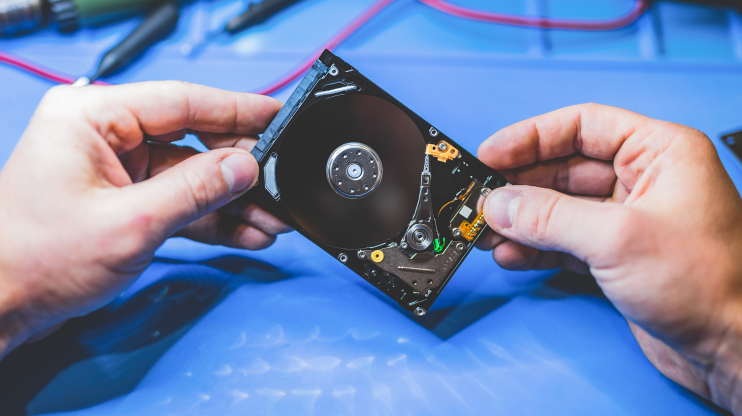 Another hard drive user, Joe Flanagan, who works as a software engineer at GetSongBPM, says the following:
"You want an off-site location for storing the backup of your WordPress website. It is a good idea to keep a copy on your local hard drive."

So add the "Folder" option to your backup locations, save it to your hard drive, and let's head back to our cloud options.
5․ Dropbox
Backing up on Dropbox is very much similar to using Google Drive. Both are cloud hosting services, and you can choose either or just take both.
Daniel Cheung from Angus Porter says:
"Before we moved to a Managed WordPress web host provider, our site backups were carried out using UpdraftPlus.

The actual files were stored via Google Drive and Dropbox for added redundancy. As a small business without IT staff, it was important for us to have regular backups of our site in case of user-error or malicious attack.

Hosting the files on cloud servers ensured that we could access them at any time."
Jessica Rhoades from Create IT Web Designs, prefers host-side backups but still uses cloud storage as an alternative:
"I keep up to 5 backups in my Dropbox account, as an external solution in case something happened to the web host."
And Chloe Brittain, the owner of Opal Transcription Services, uses both Google Drive and Dropbox along with her hard drive backup:
"I store my site backups in Google Drive and Dropbox. I also back them up along with everything else on my computer to a portable hard drive.

Of the two types of backup, the cloud-based is probably the safest because the portable drive can break, get misplaced, or become corrupted.

On the other hand, the good thing about the portable drive is that I own and control it, so it gives me peace of mind to store my backups in both locations."
6․ Amazon S3
If you have an Amazon S3 account, it's super easy to connect to 10Web. If not, we highly recommend getting one.
It's part of Amazon Web Services (AWS) mentioned above.
Here is why Joe Falagan uses Amazon S3:
"The Simple Storage Service offered by Amazon, also called Amazon S3, is a good option. There are no setup fees associated with this service and you only pay a minimal fee for the storage space that you will be using. This is a secure server and your backup file will be readily available, should you ever need it."
As you can see, many experts use multiple locations to backup their websites. And so should you.

Not sure about Amazon? Then use other options, but more than one of them.
7․ MS Azure
Just like Google and Amazon, Microsoft has its own cloud computing platform: MS Azure.
This is another great location to backup your website if you're an Azure user.
If not, you can either become one or just use the rest of the cloud options.

To connect to MS Azure, you need to provide your account name and its key, then create a container for your backup.
[Bonus]: Restore points (hosting-side backup)
Were those 7 options not enough for you? Now don't worry.
If your website is hosted on 10Web, there's an additional option for you.
Have you seen those restore points on your 10Web dashboard?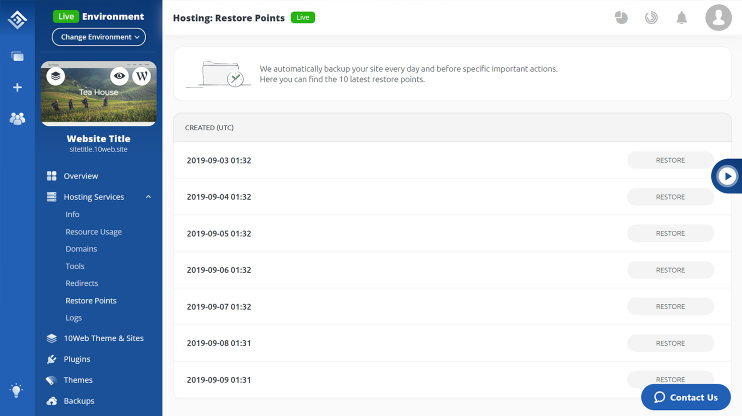 Just go to the Hosting Services submenu, and you'll see the Restore Points.
Those are saved versions of your 10Web-hosted website that work just like a simplified version of backup. Whenever you want to return to one of those points, just click it, and your website will be back to the old version.
This way you won't even have to bother about scheduling backups or choosing which files to save. You'll just always have 10 restore points you can go back to in a couple of minutes.
So, have you decided where you're storing your backup now? Tell us in the comments down below!
If not, come check out our WordPress Family Facebook Community. We're always up for discussing all those backup details and just anything WordPress.
Automated PageSpeed Boost With #1 WP Hosting
Get 90+ PageSpeed Score and boost Core Web Vitals by migrating your client websites to 10Web – all within minutes, all automatically.
Automated PageSpeed Boost With #1 WP Hosting
Get 90+ PageSpeed Score and boost Core Web Vitals by migrating your client websites to 10Web – all within minutes, all automatically.