25 Plugins vs One-Stop Shop: What Does Your WordPress Site Need?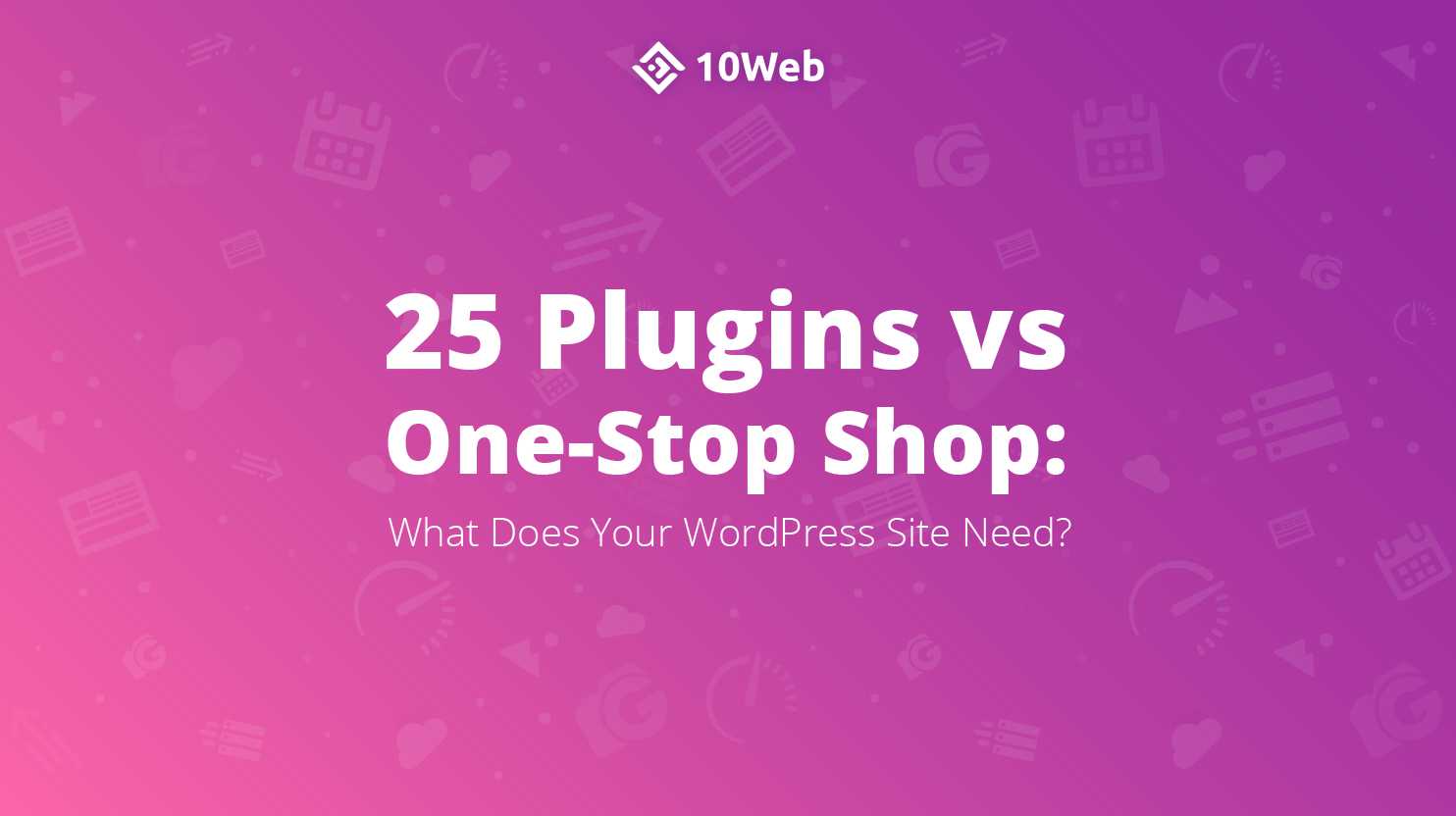 Soon after setting up your WordPress site, you'll find out you need plugins for a lot of the things you want to have on your site, be it SEO or backups or a gallery. Initially downloading a bunch of plugins seems like the easiest and most straightforward solution but could it be that going with one-vendor services is the better way?
Let's examine WordPress history and stats to determine if there really is a shift from single plugins to more unified solutions.
WP plugins: history & stats
There are more than 50,000 plugins just in the WP directory right now and the number keeps growing. As the general quality of websites keeps increasing, so do the demands we place upon the extended functionality plugins can provide.
For example, e-commerce and, subsequently, use of the most popular WP e-commerce plugin WooCommerce has grown tremendously in the last years. WP users integrate social media accounts on their sites, take measures against ever-present security vulnerabilities of the platform, and make their websites multilingual more and more frequently.
Another important point is that most visitors now browse the web on mobile devices, instead of computers, making responsivity and optimization plugins more popular as well.
There is also a shift from static to dynamic web pages which means there is an acute need of quality site builders and layouts. Not to mention there are more factors conditioning theme choice: Should we pick one with or without a builder? How much should we customize it to make our site stand out?
Based on these trends and the continuous growth of WordPress plugin installation number overall, it is safe to assume that if back in 2015 the average self-hosted WordPress site had 25.2 installed plugins, now it definitely needs more to comply with the demands of the modern state of technology.
Plugins and time management
One major concern of busy entrepreneurs and bloggers is time management. It takes time to find the right plugins, keep them up-to-date, setup and customize, taking into account different UX.
Making a decision about which plugin to use is not as simple as it seems. In fact, a lot of plugins have their number of downloads increase without actually growing: people download them, the plugins don't suit their particular requirements, and immediately get deleted.
The plugins you ultimately decide on need to be kept up-to-date. Say, if the plugin developers updated a certain plugin more than a year ago and you keep using it, your site runs the risk of developing vulnerabilities hackers can exploit. Alternatively, the plugin can just be so outdated it will plainly give up on your site and stop working.
Moreover, each plugin requires you learn how to use it first, which, depending on the interface, can be a lengthy and complicated process. And, after spending hours looking for this or that button or setting, you may even find out the plugin has no technical support to speak of, wordpress.org support can't help you with a third-party plugin, and the forum folks take forever to come up with a response.
Let's do the math. Suppose your site needs the WP average of about 25 plugins to provide the necessary functionality. Assuming they all have different specializations — which would make sense for them to do — they likely have at least 4 options worthy of your attention.
It's safe to assume you, the prudent site owner that you are, will take time to consider each to find the perfect fit. That's 100 plugins to at least read about, at most install and test out. Not to mention coping with the headache of 25 different interfaces and styles/timings of tech support.
Plugins and pricing
Everything WordPress seems free from the first glance, but most plugins are actually "freemium," require making a purchase for certain crucial functions. Besides, there is a general impression that premium plugins are getting more expensive overall: For example, if Yoast, the most popular SEO plugin, cost around $20 before, now you have to pay about $50 every 6 months.
The example of Yoast is definitely only a symptom of a general tendency for WP companies to switch from single-payment to a subscription business model, which means the sum of recurring payments over the whole course of use ends up being quite high.
Say, if you're only paying for 5 of the 25 plugins your site needs and, taking the example of Yoast as a reference point, they all need $50 every 6 months, it ends up costing you about $42 monthly. That's pretty expensive compared to one-vendor solutions that, besides providing more services, liberate you from concerns about incompatibilities and vulnerabilities.
At 10Web, for example, you can get 50+ plugins and extensions, along with hosting powered by Google Cloud, an advanced website builder, and other essential components for website maintenance, starting from just $12.5 a month.
Plugins and risks
A significant risk when overloading your website with various plugins is their incompatibility: no plugin is specifically designed to work with any other plugin by another developer.
A plugin can also prove to be incompatible with your hosting or a certain version of WordPress. Who hasn't watched a plugin deteriorate and refuse to function after updating WP core?
Badly coded plugins can slow down your website. Rarely updated ones cause security threats. There are a thousand possible incompatibilities and unexpected costs to reckon with.
If there is a conclusion in here somewhere, it's that the more plugins you install, the more hassles and inconveniences you encounter.
So, all-in-one?
Reducing the number of active plugins and with them the potential headache is often impossible: site owners do need more and better features and functions.
The solution seems to be choosing to trust a single vendor solution. In that case all plugins by the vendor will be compatible, kept up-to-date, and, if anything, will have technical support standing by.
It ends up being all about having an ongoing client-company relationship to get comprehensive and continuous services, instead of just installing plugins from here and there. It's also much better for software compatibility and optimization if the vendor offers hosting, too.
Comparison table of single vendor solutions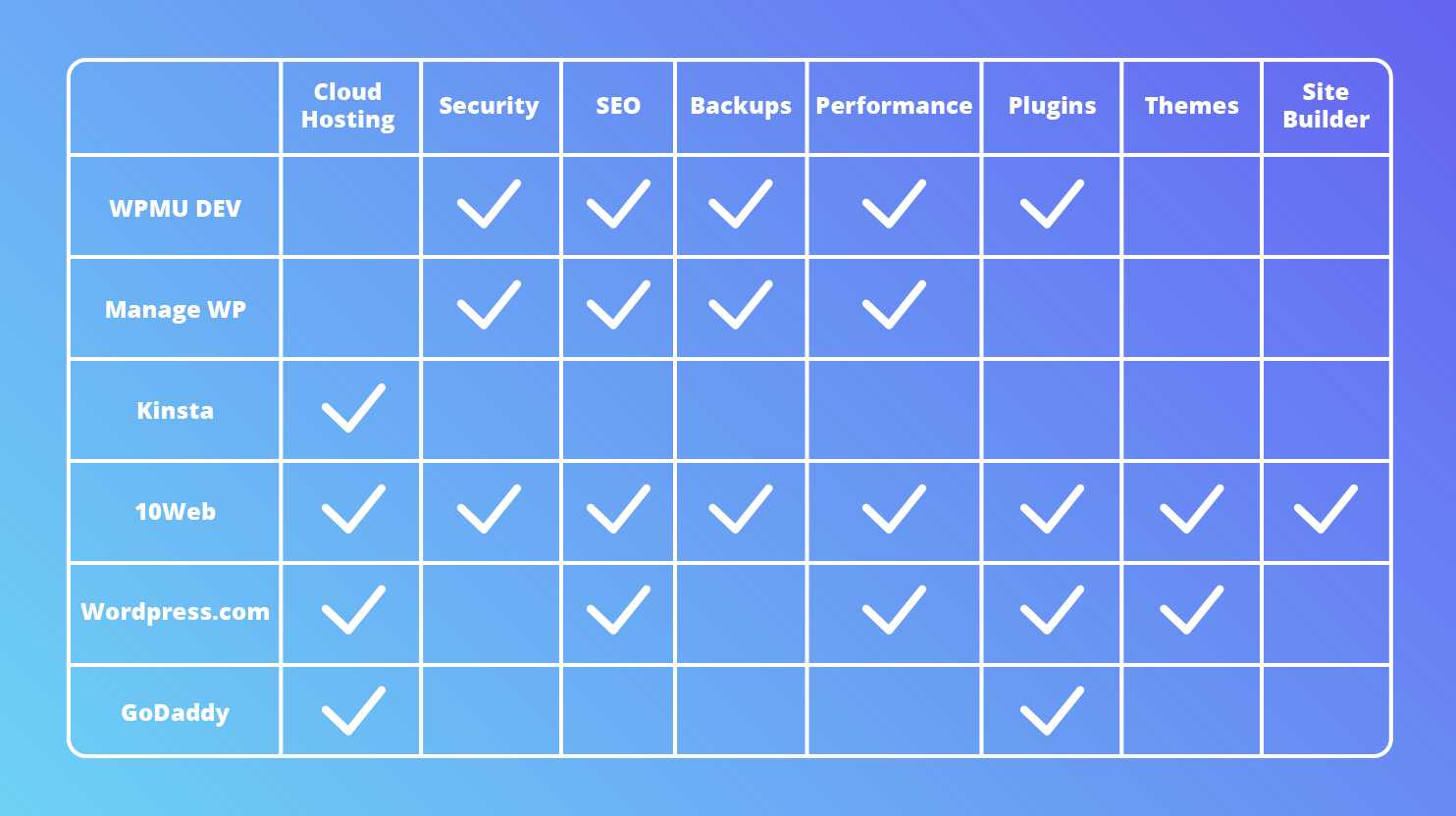 We've trotted all of web (and dark web) in search of a solution that will rescue us from the vast multitude of plugins, companies, technical support teams, quirks, and idiosyncrasies one has to deal with when creating a decent WordPress website.
Unable to find a suitable option, we set out to create one ourselves. All the essential components for a great website come together on our unique all-in-one platform for building and hosting WordPress websites.
And, if you ever run into trouble, we have an awesome lightning fast customer care team. You can give 10Web a test drive absolutely for free here.
Automated PageSpeed Boost With #1 WP Hosting
Get 90+ PageSpeed Score and boost Core Web Vitals by migrating your client websites to 10Web – all within minutes, all automatically.
Automated PageSpeed Boost With #1 WP Hosting
Get 90+ PageSpeed Score and boost Core Web Vitals by migrating your client websites to 10Web – all within minutes, all automatically.


Don't forget to let us know below if your site runs on hundreds of plugins or a single vendor solution!