A2 Hosting Review 2022: Why Choose 10Web Instead?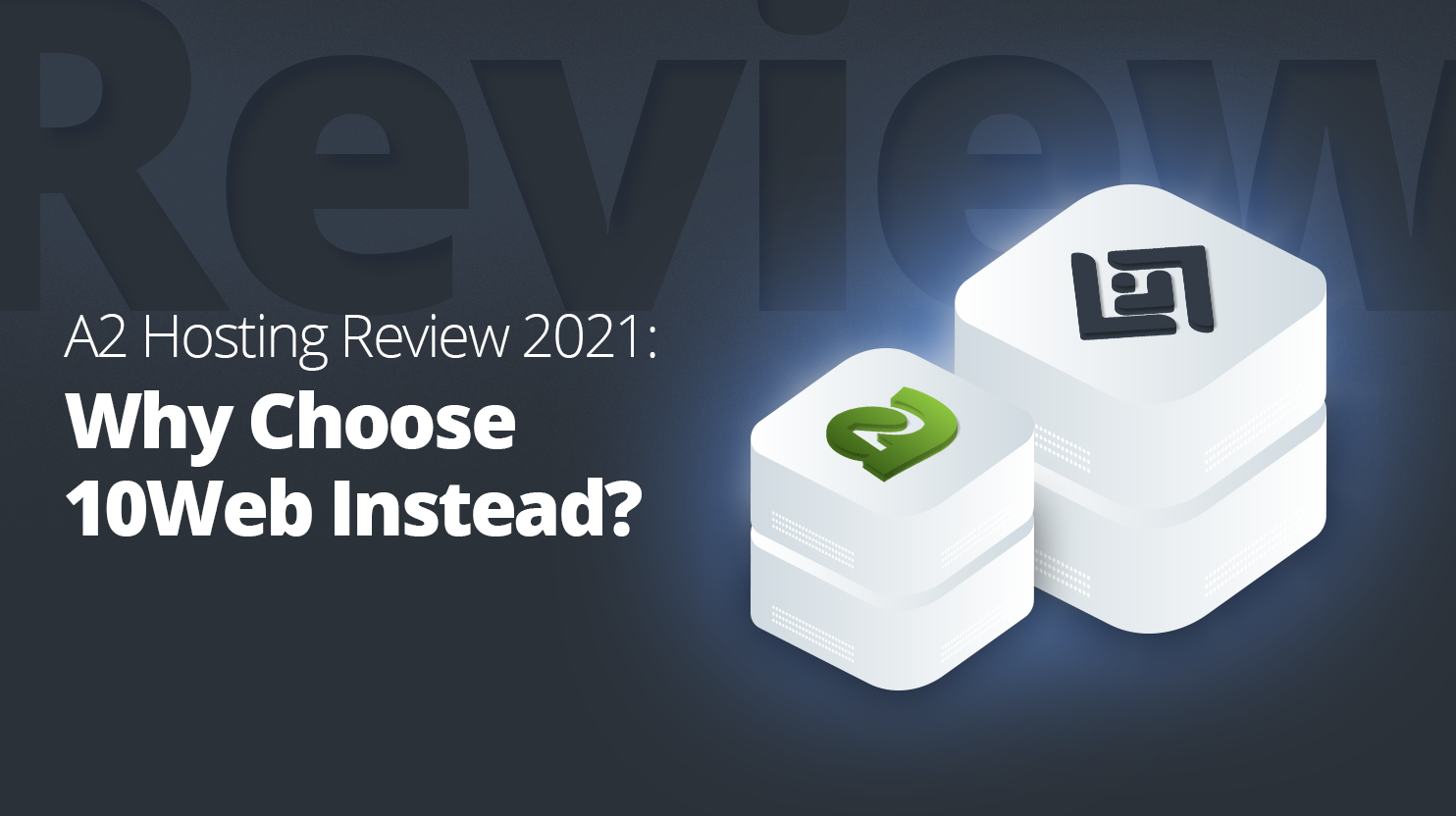 This isn't just your average A2 Hosting review. This article will introduce you to the 10 features that you should factor in your decision when choosing a website host, tell you how A2 Hosting performs in those sections, and provide you a much-needed alternative.
But why do you need an A2 Hosting alternative to begin with? At the risk of sounding like a broken record, we, at 10Web, highly discourage website owners from relying on shared hosting.
The low prices aren't worth it, if what you're getting is low-quality security, bad neighborhood effects, and lack of qualified customer care. Especially, if you consider that you could get high-quality services that ensure a high-class security and an excellent performance for the same price.
Don't believe us? Just watch!
Is GoDaddy a better hosting than A2 Hosting?
Is A2 hosting suitable for businesses?
Is WordPress compatible with A2 hosting?
1. Infrastructure
The first thing we're taking a look at in this A2 Hosting review is the hosting infrastructure.
A2 Hosting has a New Relic infrastructure, a third-party product that monitors server performance in real time. The only problem with this is that it's only available for their managed VPS or Flex Dedicated Server plans.
Moreover, with A2 Hosting you have the possibility to choose between 4 data centers distributed over 3 continents, which isn't a lot, but it's still better than nothing. The actual drawback, though, isn't the small number of data centers, it's that A2 Hosting charges server migration fees if you want to change data centers.
Now let's contrast this with our designated A2 Hosting alternative:
We at 10Web provide automated WordPress hosting (a superior alternative to managed hosting) powered by Google Cloud. By relying on cloud computing we're able to assure a high-quality infrastructure resulting in a high level of performance.
Using the latest generation of Google Cloud's servers ensures a state-of-the-art infrastructure. You can always count on us to use the most innovative solutions.
By relying on Google Cloud's SSD storage we manage to constantly keep your speed performance at a high level.
Perhaps most importantly, we use Linux containers to isolate the resources provided to you, which makes sure that your site won't fall victim to any bad neighborhood effects. At the same time, it grants you administrative freedom, which allows you to manage your resources according to your individual needs.
Low memory usage and a high concurrency are guaranteed thanks to Nginx and FastCGI. This means that high traffic won't negatively affect your performance.
In the same vein, the latest version of PHP (currently, it's 7.4) is used to ensure an optimized performance.
Altogether, with Google Cloud, our infrastructure is perfectly equipped to
achieve an extraordinary high level of speed performance and offer great scalability through load balancing;
provide high-class security and administrative independence thanks to containerization;
enhance connectivity thanks to the availability of data centers distributed around the globe. With 10Web, you have 8 data centers distributed around 4 continents at your disposal.
On a related note, let's take a closer look at both hosting providers' speed performance.

2. Speed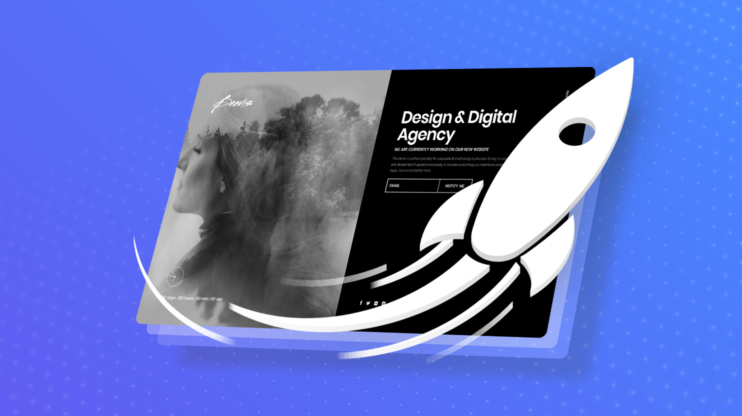 Website speed is a feature that under no circumstances can be absent from this A2 Hosting review, or any other review for that matter. Think about it: In the booming era of smartphones and digital technology, who's going to have enough patience to sit and wait until your website has fully loaded? The children of millennials, also known as Generation Alpha? No way, Jose!
Not even the tech giant, Google, is forgiving when it comes to page speed, so much so that speed has become an important ranking factor in Google's algorithm during the past few years.
Both 10Web and A2 Hosting are fully aware of this trend, which is why both of them are eager to ensure high speed. Let's take a look at how those efforts take form.
A2 Hosting has a software stack optimized for speed. They also have Turbo servers with a drop-in Apache replacement that enhances the loading time of pages to up to 20 times faster compared to standard hosting. These Turbo servers are fast because:
They have fewer users per server,
They include an A2 Hosting optimized feature that's powered by APC/OPcache and Turbo Cach,
They use up less CPU and memory than Apache,
They allow for faster, more efficient, and stable connections.
While all of this sounds amazing, the catch is that this feature comes with A2 Hosting's Turbo package and A2 Site Accelerator, making it an exclusive feature.
Here's what we at 10Web offer in all our packages:
We have a speed optimization service which allows us to guarantee that every website hosted on our platform will automatically receive a 90+ PageSpeed score. Here's how this is possible:
We use the latest generation of servers, provide sufficient SSD storage, and operate with the highly reliable Google Cloud "premium tier" network to host our sites.
We provide a state-of-the-art hosting infrastructure that includes containerization, caching, and elastic resource management.
We automatically optimize our website's images, minify JS and CSS files, lazyload resources, and much more.
You can check this function out yourself. Just visit our WordPress Speed Optimization page, enter your URL and see what result you get. If you score somewhere below 90, we highly encourage you to sign up at 10Web and install our Manager plugin. You'll get an optimized copy of your website within seconds. And don't worry about this affecting the live version of your website. All changes are going to be made on a copy of your site. It's up to you to decide whether you want to move your website to our platform.
That's what our free trial without any credit card requirement is for. You can take a look at all our features and see if they suit your needs. It's completely non-binding and you're free to leave it if you're not convinced.
Need a 90+ PageSpeed score?
With 10Web, you can get it automatically!
Need a 90+ PageSpeed score?
With 10Web, you can get it automatically!
3. Migration
If we manage to sweep you off your feet and you decide that you want to transfer your website(s) to our platform, you need a fast and reliable migration service. That's why we've included this feature in our A2 Hosting review.
For those deciding to move their website to A2 Hosting, you'll have to fill out a migration request form, then wait for your site to be transferred for you. On average, A2 Hosting's migration experts will transfer your website within 24-48 hours. For more complex migrations, it might take even longer.
Should you want to migrate your site to 10Web, we provide a 1-click automated migration. You simply have to enter your URL, choose a data center location, and that's it. Your website will be connected to the 10Web dashboard in a matter of seconds. The added bonus here, as already mentioned, is that your site will be automatically optimized to reach a 90+ PageSpeed score.
It can't get easier than this, right? And it all comes for free, of course!

4. Elastic Scaling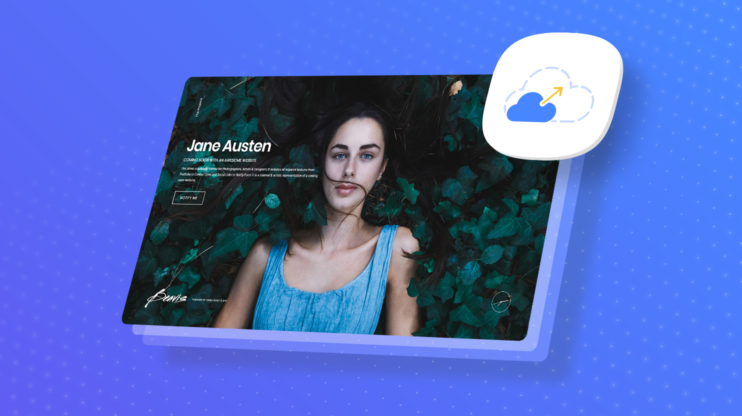 Elastic scaling, scalability or elasticity all refer to a host's ability to match your resource needs even when you exceed your pre-determined resource capacity.
This is an important feature that many website owners underestimate because they underestimate their website's potential traffic. So when the time comes when their traffic unexpectedly grows, their website's performance suffers and they realize how indispensable scalability is.
To spare you all the headaches and regrets, we've decided to include this element in our A2 Hosting review.
When it comes to scaling, A2 doesn't provide this option. Or if they do, it's not indicated in their website. The only way you can scale up your resources is to upgrade your plan. This isn't great because traffic surges happen unexpectedly and sometimes only temporarily. This means that the moment you experience a traffic spike, you won't have an immediate response from your host's side.
So, by the time you upgrade your plan, it might be too late and you might have lost visitors because of your site's poor performance. An alternative scenario is that you respond to a traffic surge by upgrading your plan, but later realize that the upgrade wasn't worth it, because your traffic went down again.
With 10Web you won't experience this type of trouble, because we offer great scalability. We'll always match your resource demand. If your website experiences a traffic surge somewhere between 2K to 200K visitors, you're in safe hands. Your site won't experience downtown or lose speed.
For additional 10K visitors or for every extra 5GB storage used, you will only be charged an extra $2 at the end of the billing month. You might have noticed, no tariff upgrade is necessary. Should you, however, come to realize that this type of traffic growth is rather permanent, then you have the option of upgrading your plan. But, again, this is completely up to you.

5. Backups
The next item in our A2 Hosting review is backup. Always have a backup! I'm sure that every single one of us has heard this one before and for good reason.
This counts double for website content. Creating a website with the perfect design, content, and functionality is hard enough as it is. You don't want to risk losing it and doing all the work all over.
For this, you need a hosting provider that offers a variety of backup options, i.e. manual and automatic backups on a daily, weekly or monthly basis.
10Web offers exactly that. You can schedule your backups to avoid negligence and ensure consistency. On top of that, 10Web offers real-time differential backups.
What real-time backup allows you to do is backup your data on an hourly basis, which is extremely important for highly dynamic website content.
Differential backup, on the other hand, means that only the most recent changes made after the last full backup are saved. Your data is safely stored in AWS S3.
Our backup service is included in all plans.
Moving on to AS Hosting's backup service. The hosting provider allows for manual and automatic backups of website files or your MySQL database. With the Server Rewind feature, you also have the ability to restore your files and database with just a few clicks.
The big downside to this is that this feature isn't available in their starter plan.

6. Pricing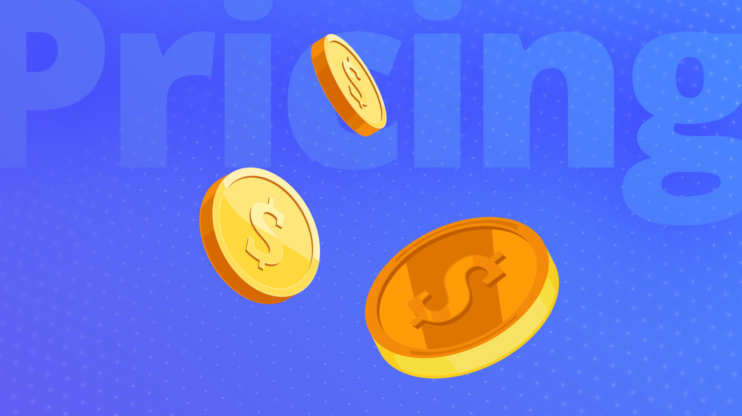 The price shouldn't be the main reason you choose your host, or any other goods and services for that matter. But at the same time, we understand the importance of affordability and the fact that you shouldn't live beyond your means. That's why we've included a comparison of the pricing schemes of both hosting providers in our A2 Hosting review.
10Web's annual pricing starts at $10 per month for 1 website. If you host 10 websites or more on the 10Web platform, you'll only be charged $6 per website. It's important to highlight that these are our regular prices, no discounts or promo codes involved.
What's special about 10Web's pricing structure is that it offers automated WordPress hosting for the price of shared hosting, which is something that you can't find anywhere else, at least not with the same quantity and quality of services.
We also provide a custom plan, which you can customize according to your individual needs. It allows you to determine the number of websites you want to host on 10Web, the traffic capacity, and SSD storage.
As for A2 hosting, the price for their WordPress hosting service ranges from $8.99 to $24.99 per month. These are the original prices. However, the hosting provider is currently offering huge discounts. Here we advise you to be very careful, because you only get the discount for 1 year (maximum 2 years) after which you'll have to pay the original price.
Generally speaking, you should always make your decisions based on regular prices, given that discounts by their nature have the purpose of luring new customers with short-term promises.

7. Security
Website security, perhaps the most important element in our A2 Hosting review, is something that people should prioritize when choosing a hosting provider. It's not just about you protecting your site and your resources. You carry the responsibility to provide a secure browsing experience for every visitor. That goes double for eCommerce websites and online banks, because you can't risk an unauthorized exposure of your customers' bank information.
This type of failure can also result in reputational damage that is very difficult if not impossible to recover from.
That's why 10Web constantly adapts and evolves its security measures. Here are the current safely measures that we apply to ensure the resilience of your website against security threats:
a free SSL certificate,
constant monitoring,
built-in login attempt limitations,
a scan for vulnerabilities, malware, and file changes,
DDoS attack protection,
full and quick reparation and restoration of hacked sites.
Our users can conduct manual or automatic check-ups of their sites' security status. But, just in case you need it, our 24/7 system administration team is always there to assist you in conducting those check-ups for you.
As for A2 Hosting, here are the security features that the hosting provider offers:
free, wildcard, and many other SSL certificate options,
DDoS protection and brute force detection,
OpenVPN, which is a flexible tunneling solution,
Linux Malware Detect, and
Linux Environment Security.
After taking a look at the hosts' safety measures, let's jump to some features that 10Web offers in all plans. Technically, they don't even belong in an A2 Hosting review, given that A2 Hosting doesn't offer them.

8. All-in-One Website Builder
Now, on to the next item on our A2 Hosting review, namely the website builder.
10Web offers a website builder that's based on Elementor, a builder that's known for its ease of use. You can manage your website easily via drag-and-drop and don't need to waste precious time on coding.
With 10Web's website builder you get production-ready websites with full control over their design.
Moreover, the Elementor builder allows you to
arrange your layouts,
choose from a variety of design elements,
create a responsive experience, and
adjust your content automatically to all screens and resolutions.
But this is only the half of it, because our website builder comes with
40+ stunning designer-made and mobile-friendly website templates,
40+ premium widgets, consisting of Elementor and premium 10Web widgets, and
50+ premium plugins, such as Photo Gallery, Form Maker, Slider, etc., that will cover your every need.
Additionally, our website templates are pre-optimized to ensure that everyone who connects their site to 10Web gets a perfect 90+ PageSpeed score.

9. Image Optimization
This next feature in our A2 Hosting review is especially important for those of you who are as obsessed with speed as we are. It's our image optimizer. It ensures that your images don't negatively affect your website's performance. You don't want people to visit your website, see that it takes forever for your images to fully load, and then eventually move on to the next option to avoid wasting their time.
Basically, by providing up to 90% image compression without quality loss, we ensure that every image uploaded on your WordPress will be 10 times lighter. In terms of speed, your website will be 3 times faster.

10. SEO Service
Our last feature in our A2 Hosting review, which, again, is something that A2 Hosting themselves don't offer, but our alternative of choice does. It's our SEO (search engine optimization) service.
This little gem of a feature is particularly useful for sites that aren't particularly famous and are struggling to get on Google's radar. Especially if you don't have the financial and human resources to get professional assistance, our SEO service that's included in all plans will be a real lifesaver.
With the help of our SEO service, you'll be able to detect the problems with your site and receive recommendations on how to improve your SEO strategy. Whether you implement these recommendations is completely up to you.
To paint a clearer picture, here are some SEO features that we offer:
Custom Metadata,
XML Sitemap,
Canonical URLs,
Search Analytics,
Redirects, and much more.
But don't just take our word for it. Again, we'd like to remind you of our non-binding free trial without a credit card requirement that allows you to check out our colorful range of service.

11. FAQs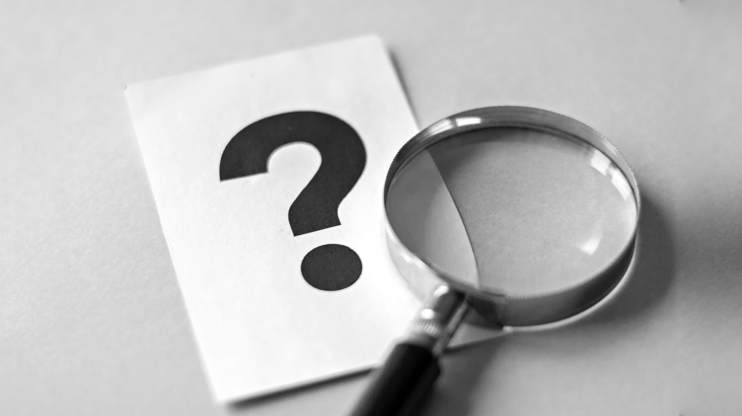 Is GoDaddy a better hosting than A2 Hosting?
If we have to pick one, it's going to be A2 Hosting. In a previous GoDaddy review, we demonstrate in detail all the downsides of GoDaddy's services and shared hosting in general. Don't let their popularity deceive you. When it comes to website speed, backup service, security, and pricing, GoDaddy has significant deficiencies that you should try to avoid.
But, given that, like GoDaddy, A2 Hosting offers shared hosting too, we highly recommend you to look for better, more reliable hosting types.
10Web is an Automated WordPress Platform that offers high-quality services for the price of shared hosting. So give our free trial a try before you resort to low-quality services.

Is A2 hosting suitable for businesses?
A2 hosting is a fine option for bloggers, small and medium-size businesses. But this depends on which plan you want to purchase. If you're going for the starter package, we highly discourage you from this decision, given that it's a shared hosting plan. In other words, your website will lack high performance, security, flexibility, and much more. Here's a good article that explains in detail the shortcomings of shared hosting.
An even better option is 10Web. As described above, when it comes to website speed, backup services, and other optimization features 10Web clearly outperforms A2 hosting, while maintaining an affordable price-performance ratio.

Is WordPress compatible with A2 Hosting?
Yes. A2 Hosting provides several types of hosting services (shared, VPS, and dedicated hosting), all of which are optimized for WordPress, Drupal, and Joomla respectively.
Now it's your turn. Was this A2 Hosting review helpful? What's your preferred alternative? Leave a comment, share your thoughts!