Complete List of 47 Most Powerful SEO Tools (2022)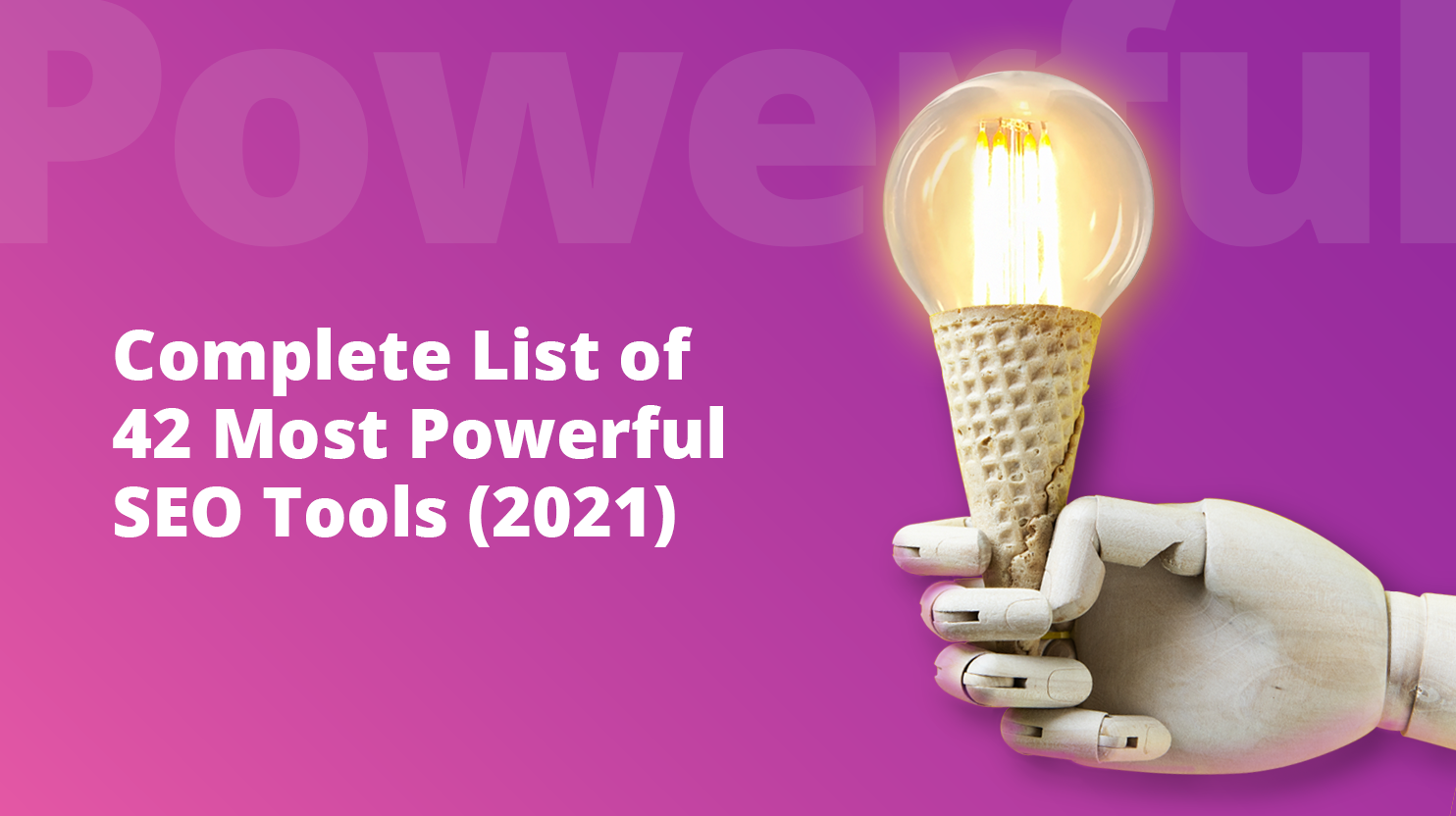 UPDATE: After publishing the list, we're getting requests to review new tools all the time, so we have more than 42 on our list.
We've been writing about SEO for a while and realized that most of it was theory. But how do you make it work?
I asked Albert — the SEO guy at 10Web — for a list of tools he uses on a regular basis and tested them myself.
Here's what I learned.
The tools are pretty different so we divided them into 3 sections:
Here are all the best SEO tools

But first, we'll talk about what SEO is and why these tools are so important, as well as summarize the ten best SEO tools regardless of sections:
What is SEO?
SEO (search engine optimization) is the complex and multi-step process of increasing your website's traffic's quality and quantity by making your website more attractive to search engines.
You see, in this day and age, if Google doesn't know about your website, no one does. And Google can't hire people to manually check out all the websites and rank them by relevance and quality. So, Google devises an algorithm and bots crawl all websites instead, ranking them according to set criteria. These criteria include site speed, number of backlinks, structure of the website, frequency of updates, etc.
SEO includes keyword research, content writing, speed optimization, link building, metric analysis, etc.
You can find something helpful for each of these tasks in our best SEO tools list.
Why are SEO tools important?
SEO tools are very important for every website because:
You can analyze your competitors' SEO strategy in a few clicks.
You can make more accurate assessments of your own SEO strategy.
You can use advanced technology to spot keyword opportunities you wouldn't consider otherwise.
You can save a lot of effort and time. Manual SEO checks take forever.
You can visualize the data to understand what works and what doesn't better.
You'll understand your ROI better.
10 most essential SEO tools
Don't have the time to read the full SEO tools list? Here are the ten most essential ones:

For Google Chrome: List of the Best SEO Chrome Extensions (2022)
As of June 2022, Google Chrome is the most popular browser out there, with a 71.6% share in the web browser market, according to w3counter.
We're using it at 10Web as well, so their SEO-related extensions are convenient, quick and effective tools we use.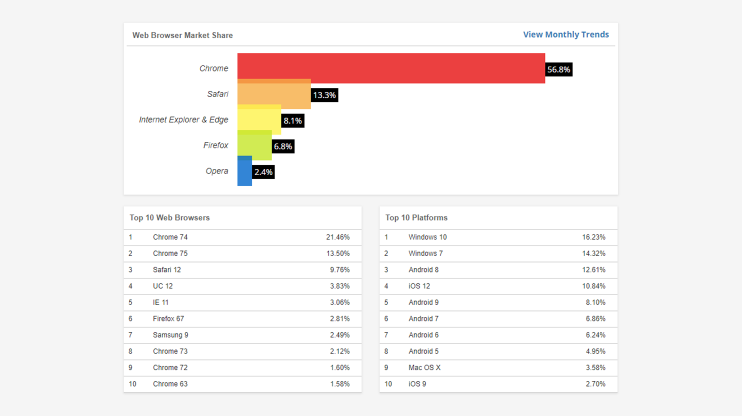 We'll talk about MOZ in general in the last section of our SEO tools list. But for now, let's see how the MOZBar extension works.
It displays all SEO-related data about the currently open webpage in a topbar. We're using the free version which has some useful features.
Here's what you can check with MOZBar:
On-page elements (URL, title, meta tags, headings, general formatting)
General attributes (meta robots, canonical link, page load time, Google Cache URL, IP address, country)
Link metrics (page authority, domain authority, external links count, linking root domains)
Markup (schema.org, open graph protocol, twitter cards, microformats)
Http Status
Spam score
Link types highlighted with colors (followed, no-followed, external, internal)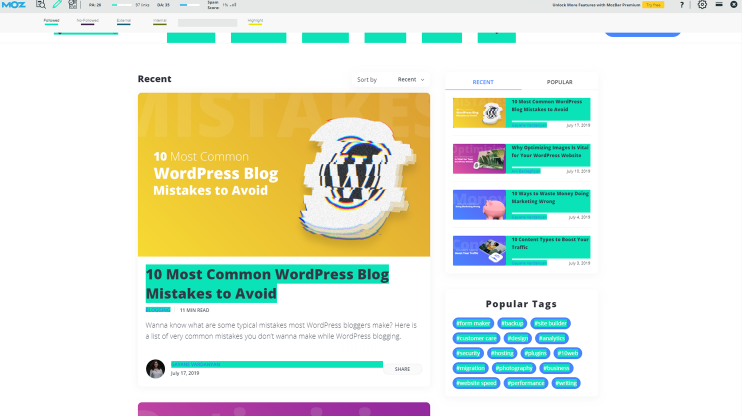 MOZBar also has a free function of SERP (search engine result page) monitoring that shows the DA, PA, and the number of backlinks for each search result.
MOZBar can be helpful for on-site SEO analysis, competitor analysis, link building, and numerous areas of SEO.

When the extension is closed, you can see the DA scores of websites as you browse, on the extension bar, instead of the MOZ logo.
Wappalyzer helps us see how a website runs. Open the page, click the Wappalyzer icon, and see what technology is behind the website.
Depending on the website permissions, some parts may be hidden. Usually, the following features are revealed with the extension:
CMS
Programming language
CDN
Database
Analytics tool
Font script
Blog CMS version
Web framework, and much more.
With Wappalyzer, you can check the best competitors' SEO tools and see how they optimize their websites.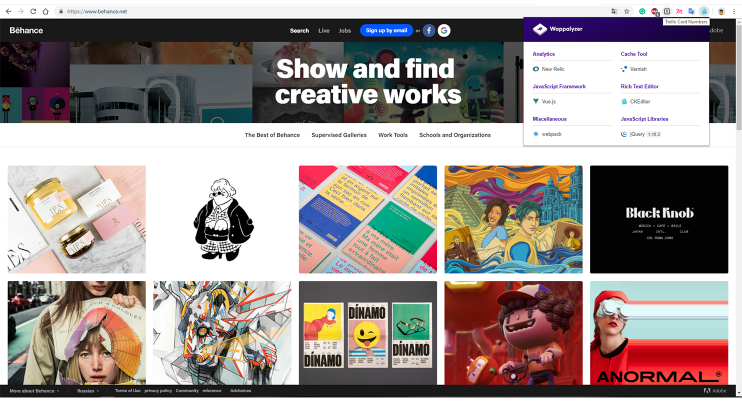 BuiltWith is something similar to Wappalyzer but is much more advanced. Besides the more detailed information on the technologies and features analyzed above, you'll find:
Contact info
Ranking score from different services
Links to related social media pages
Connected websites
Redirects, and much, much more.
This extension is a combination of several analytics tools and gives a lot of basic information about the web pages you visit.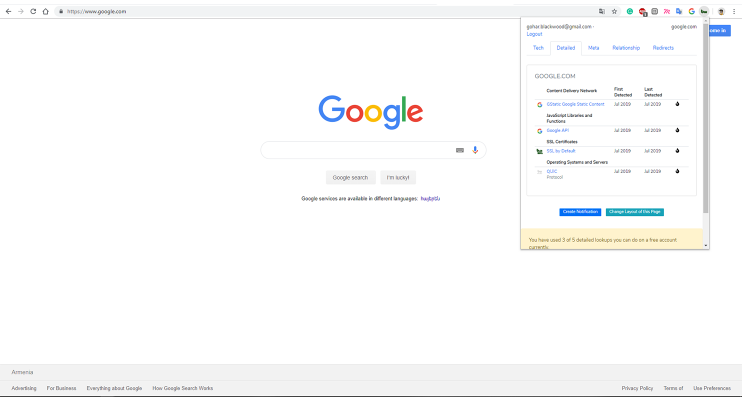 Monitor competitors' search-related metrics, such as:
Traffic (monthly and daily visitors and page views)
Backlink sources (top referring websites)
Organic keywords
VStat also links to SimilarWeb to give you more detailed data.
The traffic changes during the last 6 months are displayed in a minimalistic graph.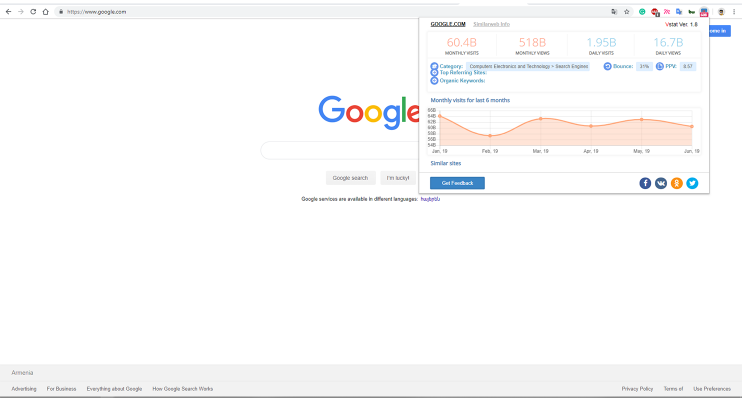 Why would SEO specialists need a spell checking extension, you might ask?
Well, first of all, you need accurately spelled keywords for them to match with search queries and rank.
Other than that, the Grammarly extension has a nice tool for suggesting synonyms for the words you highlight. It's way faster than looking up words in the thesaurus.
Plus, the premium version checks for duplicate content which can make all your SEO efforts go to waste when used carelessly. Use the tool to make sure you haven't written anything unauthentic, and in case you have, paraphrase it.
And as a bonus, extended grammar and style checks won't hurt. They're also only available in the paid version though.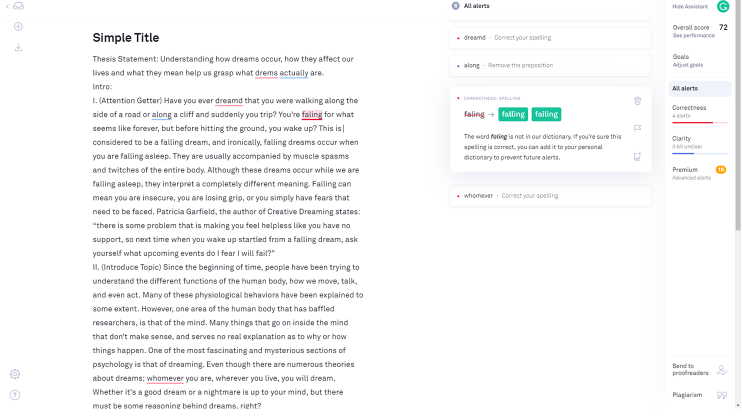 By the way, if you want to try Grammarly alternatives purely for grammar, check out Digital.com's list of 11 grammar checkers.
Visit a page, click the extension icon, and see all the URLs your browser has visited to reach the current one.
In extendable lines, you'll see details on each of those URLs, including server information, load speed, redirect status, page security information, and much more.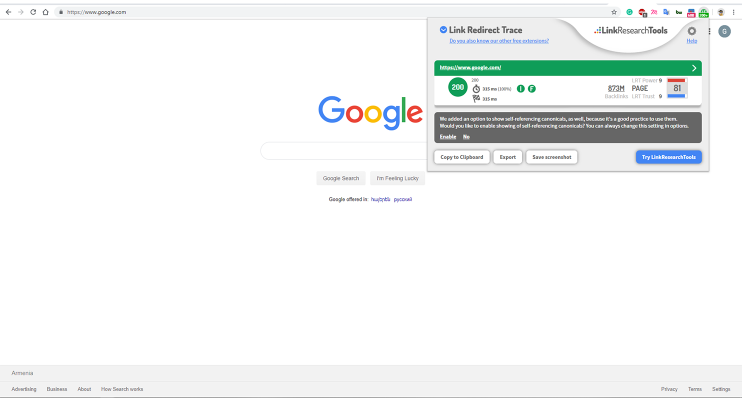 Don't want your search and research history to affect your next search results? Ghostery finds and if necessary, blocks all trackers on a website you're browsing.
It includes ad audience trackers, analytics tools, and even ads themselves. Ghostery is a pretty effective ad blocker.
With the unnecessary exchange of information blocked, page speed increases as well.
Still, this privacy extension may sometimes get in your way when it blocks essential site features by mistake. But you can mark any website as trusted, allow certain types of trackers or just pause the extension at any moment.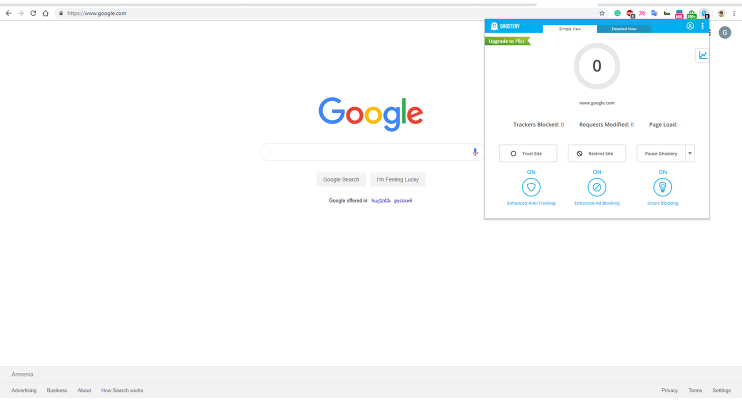 It's perfect for all kinds of outreach.
Do you want to contact a company but only know their website address? Try Hunter. It will show you emails and maybe even phone numbers of the company departments and employees if those are mentioned somewhere on the Internet.
Try it on this page: you'll see the email addresses of our Customer Care and HR department.
It's also nice to see where exactly those addresses are mentioned on the web. Hunter gives a full list of URLs. And if the info is removed from those pages, it just adds a "removed" badge but keeps displaying the contacts.
Check out Google's employee database when you're searching for something. You'll find dozens of emails from all their departments and a couple of phone numbers.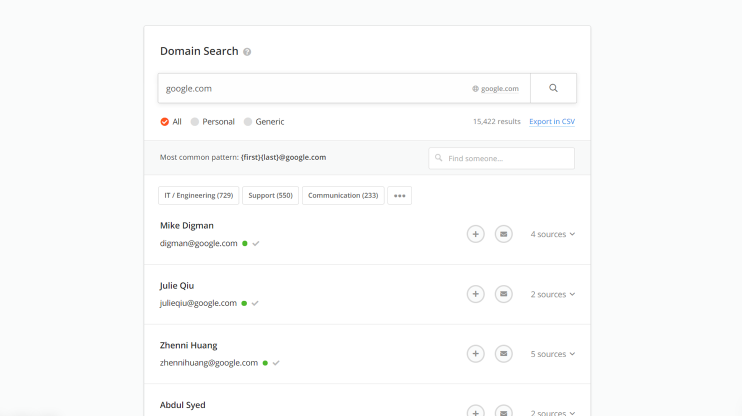 As you conduct a search, right on the search engine results page (SERP) you'll see all the data related to the current search. Check out the search volume and PPC (pay per clock) ad prices on 15+ websites like Google Search, Google Analytics, YouTube, MOZ, eBay, Amazon, etc.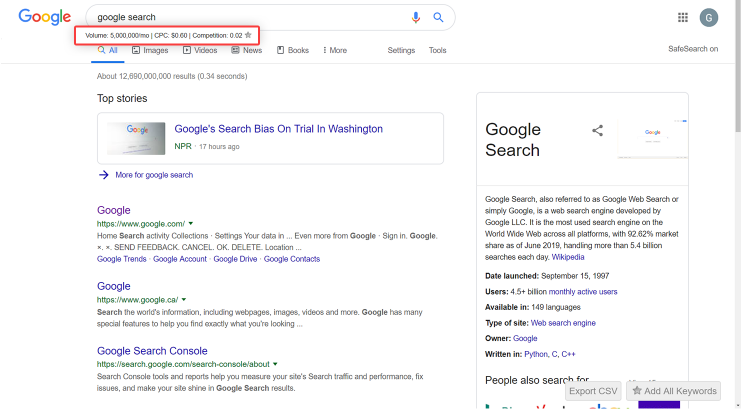 The extension is extremely useful not just for sales, but for SEO. If you're doing mass outreach, it's crucial to track the emails and see in what stage the potential partnership stands.
TheHubspot Email Tracking tool allows to:
Create email templates
Schedule emails
Track emails (when user opens it or clicks a link)
Synced with Google Calendar, manage your tasks
If you're using Hubspot's CRM for outreach, referral or affiliate marketing, the extension would be a nice addition.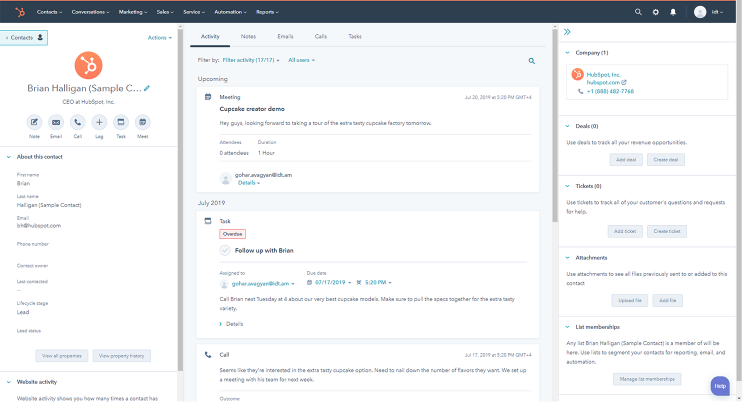 This one is mainly for your own website.
While you can track and find the 404 (page not existing) errors of your own pages through Google Search Console, the Check My Links extension crawls the pages you visit and finds broken links there.
For example, if you've mentioned website X as a source for your article and linked it to their page, but now that page's URL is broken, you can easily find out through the extension and change or remove the link.
This is to improve the user experience: the fewer broken links you give them, the less they have to face online dead ends, the more they trust your website.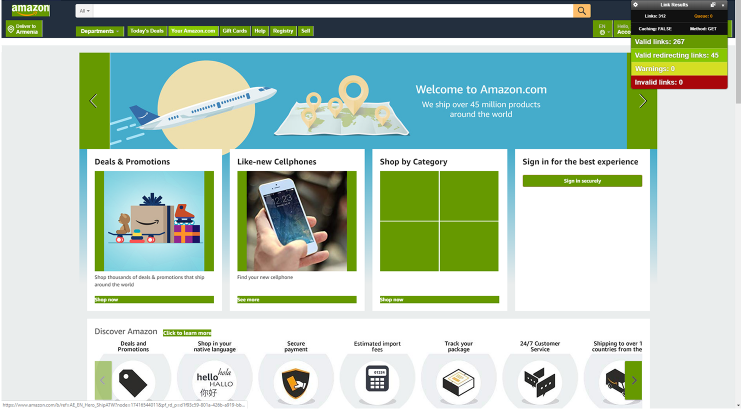 Snovio (snov.io) offers three different extensions to find contacts, track emails, and check for web technologies.
They offer functionality pretty similar to Hunter (Snovio Email Finder), Wappalyzer and BuiltWith (Snovio Web Technology Checker), and HubSpot Email Tracking (Snovio's Unlimited Email Tracker). Except, all three Snovio extensions have an incredibly high rating and the prettiest violet-colored design.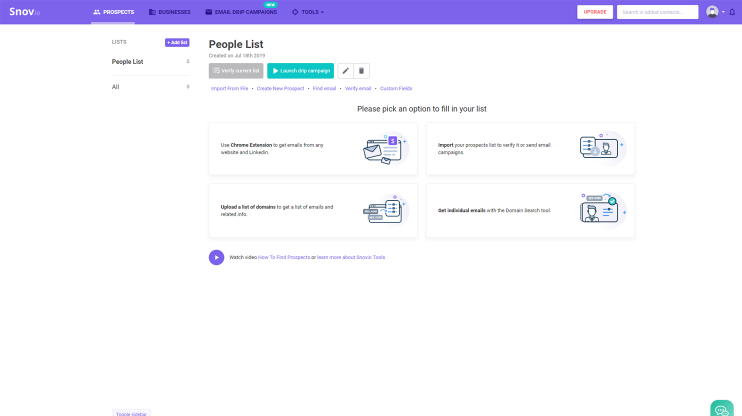 A gem for the SEO review of your published content. Check every page's H1, H2 and so on with this simple and crucial app. Just have the headings highlighted and scroll down through the page to see if it's all properly formatted.
It might also be useful in competitor research in case you need to easily find their pages' outlines.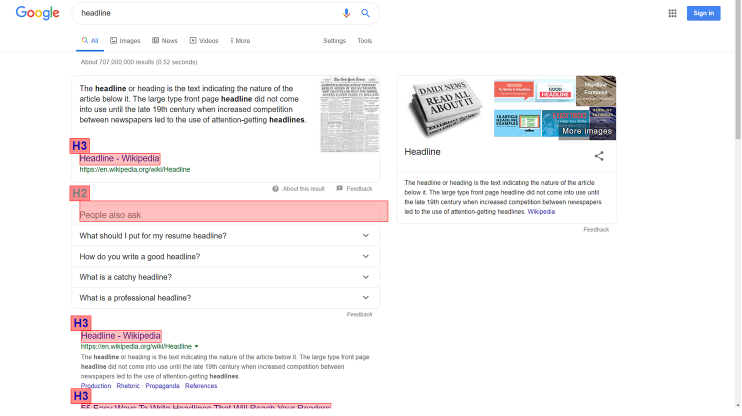 Every SEO-related specialist has at least once heard about Similar Web. It's a great analytics tool for tracking a website's traffic and ranking.
The Chrome Extension is, of course, simpler than the overall tool.
As you browse a website, click the SimilarWeb icon to reveal all sorts of detailed data in beautiful graphs:
In-depth analytics
Traffic sources
Geographic segmentation.
Search simulator makes your competitor research so much easier. Just enter the search query, location, and language of the audience you want to rank for.
You'll see the SERP (search engine result page) that your target users are going to see, instead of the one affected by your real location and search history. It gives more realistic information for your further SEO activities.
For WordPress: List of the Best WordPress Plugins (2022)
WordPress is the world's most popular CMS (content management system) with a market share above 60%, according to w3techs.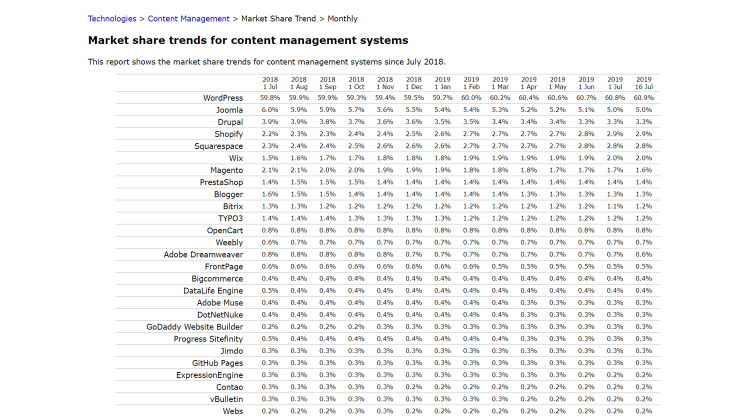 If you're running your website on WordPress, you're lucky today. We've got over 15 plugins and services hand-picked for you to optimize your website for the search engines right from the dashboard. It was a hard choice: there are lots of well-established brand names like Yoast and new ones like SEOPress, and most of them deserve to be here. To be fair, I decided to only include the ones that either I or someone from the team has tried.
If you're not, consider switching to WordPress. Here's why.
Now let's get back to our plugins list.
16. SEO by 10Web
This SEO service can be managed both from your regular WordPress dashboard and the 10Web platform dashboard.
Need a 90+ PageSpeed score?
With 10Web, you can get it automatically!
Need a 90+ PageSpeed score?
With 10Web, you can get it automatically!
It helps you optimize both the website structure and separate pages with their content. Here are the service's features:
The plugin automatically generates an XML sitemap for the web crawlers to see your website structure and hierarchy. You can then customize the sitemap manually whenever you need to.
You can add meta information and SEO configurations for each post or page and you can set defaults for the pages you're going to add later.
In case there are multiple URLs indicating the same page, you'll need canonical tags to show crawlers which one of them is primary. It will help you avoid duplicate content issues.
You'll get to monitor the queries that users search for to get to your website. It will give you a lot of hints for content optimization.
Search Console finds technical SEO problems and errors and offers easy solutions.
You can redirect any of your pages right from your dashboard to avoid 404 issues of non-found pages.
Search Result Snippet Previews
You can see all your posts' and pages' snippets that will appear on SERPs, so you can optimize them by editing the metadata.
Same as with search result snippets, you get to Configure how your posts and pages appear in social media posts with OpenGraph.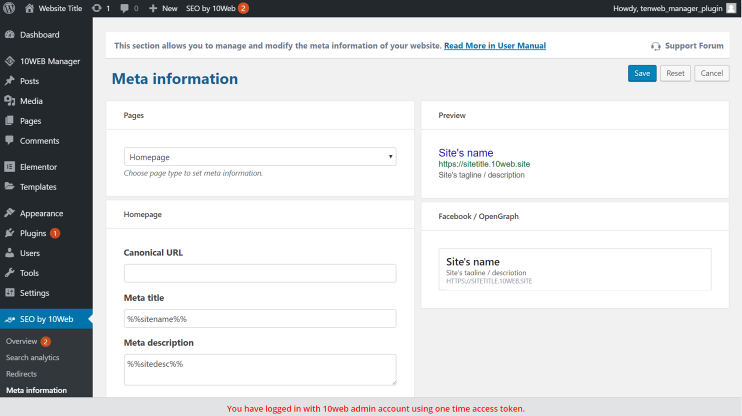 Yoast is one of the most popular SEO plugins with its free and premium versions.
In the free version, it offers some of 10Web's features, such as meta tags optimization, sitemap generation, Google SERP snippet previews, etc.
And it also has several other features, such as keyword optimization suggestions, readability check and so on.

Compared to other SEO plugins and services, content optimization is Yoast's biggest competitive advantage. Even if you prefer another SEO plugin, you can use Yoast for a while to adopt SEO writing habits.
Introduced in December 2018, the site kit is still available in developer mode (beta) only. It means you have to download it and install manually, unlike plugins available on wordpress.org.
The site kit has the best of Google combined in one place for WordPress. It includes Search Console, Analytics, AdSense, and PageSpeed Insights.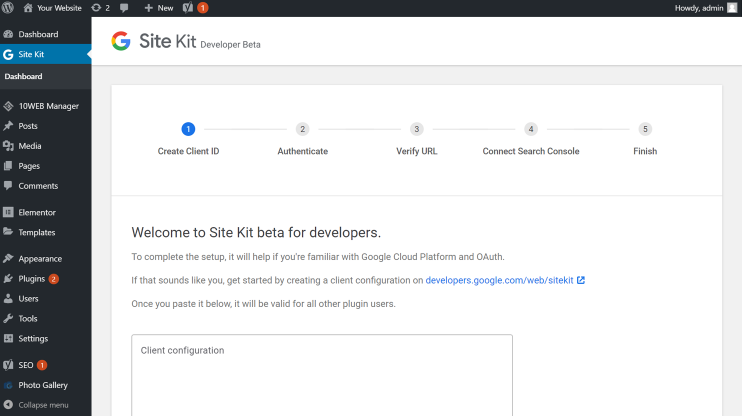 For those who use their website/blog to review products and services, this is an essential (and free) tool. With just a couple of clicks, you visualize your reviews in stars, points or percentage.
Well, what does this website design plugin has to do with SEO, you might ask?

Google rich snippet is the answer. WP review uses intelligent markup that helps display the rating in your rich snippet. Do you know how much more attractive it makes a search result look? Your average CTR (click-through rate) may skyrocket by up to 400%.
Another plugin for rich snippets/rich cards and easy crawling,
With a table of contents, search engines understand your page structure better and may fetch the exact right quotes or lists that match the user's query.
You don't have to set up the tags manually; the plugin just extracts the info from your headers, and you're free to modify it.
To be honest, it's one of the most boring parts of publishing content — adding alt attributes manually. There were times when WordPress used to extract all the available data on an image and automatically generate the alt text.

Now this plugin does it for you. But you must know that it only uses the file title in your media library, so check how the image is called before you upload it. And take a couple of seconds to review the alts; apart from making sense, they have to be SEO-friendly.
Remember the Check My Links Chrome extension? This is the same but for WordPress. It's all about preferences but I prefer the WP plugin. You don't have to open a page every time to see if it has a broken link and then fix it.

Plus, Broken Link Checker also finds images that are removed from your library and set up the plugin to automatically add a no-follow tag to broken links.
Why would you need to republish your old blog posts?
First of all, you make it look fresh to the users.
Second, you get a chance to rank in case of time-filtered search.
Third, you'll make it into RSS feeds.
And after all, forgotten articles will get back to your front page.
Don't use this plugin if:
You use dates in your permalinks;
Your posts are time-sensitive (includes news and dates).

See, it's better to filter and update evergreen content only. Do it yourself if you have the time; only use the plugin to make it faster.
24. Website Speed Test by 10Web
This is a free WordPress solution for periodic performance checks. You can just schedule them and monitor the reports.
It estimates the page size and its average load time. This is made simpler by A letter grading of page speed.
After checking the performance, the Speed Test service offers solutions for improving it.

How does it help SEO? It's been a while since Google started paying great attention to page speed. Fast pages rank much higher.
LinkHunter is an easy-to-use link building tool built for SEO specialists, entrepreneurs, and marketers. Unlike most link building tools, LinkHunter is beginner-friendly and guides users through the link building process to help ensure links are built (no SEO or link building knowledge required!).
It can help you build backlinks to your website in a few different ways.
Get your products reviewed by influencers,
Promote your content to relevant websites,
Guest post on authoritative blogs,
Reach out to the websites linking to your competitors,
Find advertising opportunities on industry blogs.

Not only can it find all the link opportunities for you, but it will handle the outreach as well with automatic follow-ups, instant email address discovery, built-in email templates, SEO metrics, and more.
Large and heavy images are the number one problem for page speed. It's always been hard to combine images' high visual quality with their light weight.
With 10Web Image Optimizer, lossless image compression has reached a new level. A bare eye will never see the difference between the original and optimized images.
As it's a WordPress solution, you can optimize images in bulk and set up default parameters for optimizing images uploaded in the future.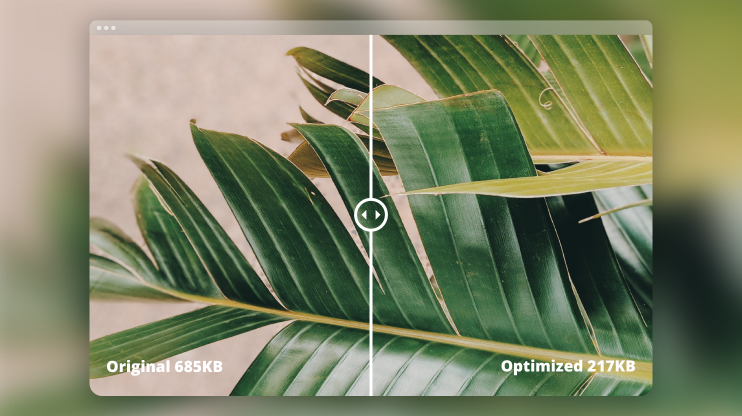 WP Rocket is a premium caching plugin for faster website performance.
Besides caching pages that's a proven practice for speeding up the page loading, the plugin makes images load one-by-one and start loading them only when they are in the visible part of the page, to lighten the initial page size.

If you already have a caching system in your hosting package, you can just get the Lazy Load by WP Rocket plugin. It's free and only offers the image-by-image loading system.
To optimize it, you need to monitor it first. Monitor your traffic, its sources, and the most useful queries and keywords with Google Analytics right on your dashboard.
The best part of it is the easiest setup.
You can set custom metrics, monitor them, and get real-time reports in the most convenient way out there.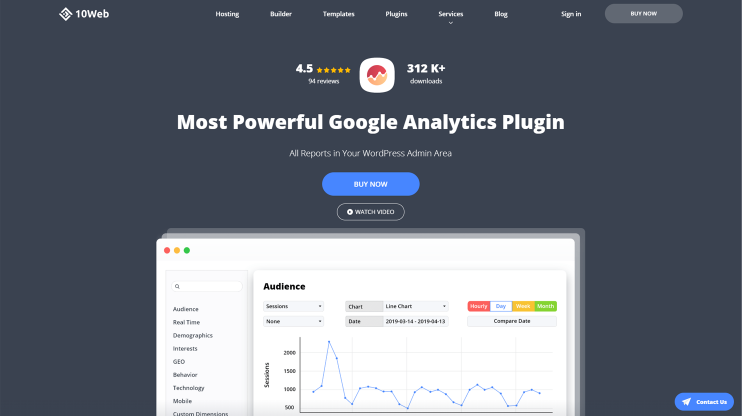 We all use the "search and replace" (CTRL+f) feature in our text documents (Word, Google Docs, etc.)
And many of us would find the same helpful in our websites' databases.

When you're migrating from one domain or hosting to another, or when you make major updates, you might want to change some text components in bulk. With this plugin, you can do it just like in MS Word.
Guess you know how Google prioritizes HTTPS (secure) websites over HTTP. The S in HTTPS stands for the security certificate. You need an SSL certificate to prove search engines and users that your website is trustworthy.
If you've purchased the certificate but don't know how to use it, this plugin will help you install it in a few clicks.
Alternatively, if you host your website on 10Web, you get a premium certificate for free and its installation only requires a click.
List of the Best SEO Tools for Your Website (2022)

There are services that aren't built into anything but serve perfectly on their own, from the most basic tools to entire platforms. Here we go:
Remember the MOZBar we were talking about? MOZ link explorer is an extended web version of it. You insert a URL, and MOZ gives you:
A list of backlinks
Top links
A list of websites with competitors' links (for your future outreach)
Differential link analysis (newly added or removed backlinks)
Spam score
Anchor texts list
It's all available with Moz Pro only.
The cost of this service starts at $99 per month and you can get packages for up to $599/month.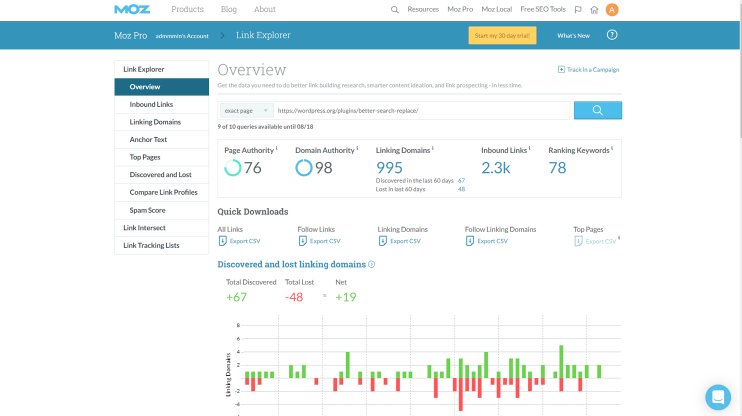 Semrush is a huge platform with what seems like endless SEO opportunities. A premium account is a must for this one.
You can manage a full-cycle SEO campaign here, from website and keyword analysis to content creation.
Every detail is included: backlink research, ad research, all kinds of comparison with competitors, useful sources, a lead generation tool, and dozens of other services and features.
Due to its scale, SEMrush deserves a separate, dedicated article.

In addition to that, as a content writer, I've used SEMrush more than once as a trusted source of any SEO-related information.
Here's a free SEMrush trial.
Another massive platform for all SEO needs. Most of the features are similar to SEMrush, but Ahrefs is a bit better for competitive analysis, whereas SEMrush has many more advertising-related tools.

The platform also values users' education, that's why they've launched the Ahrefs academy for bloggers and marketers.
The classics. All you need to know about your organic search traffic, you can find here.
We recommend using it from your WordPress or 10Web dashboard for easier setup, customization, and access.

Scroll up to the plugins section to find out why Google Analytics is vital for a WordPress website.
Created for paid advertising planning and placement, this is also a great SEO tool. With the Keyword Planner, you can discover popular keywords, their search volume, and competition rate.
These keywords are essential when you're building the content of your website.
And you can always use this tool for its essential purpose — paid advertising on search engines.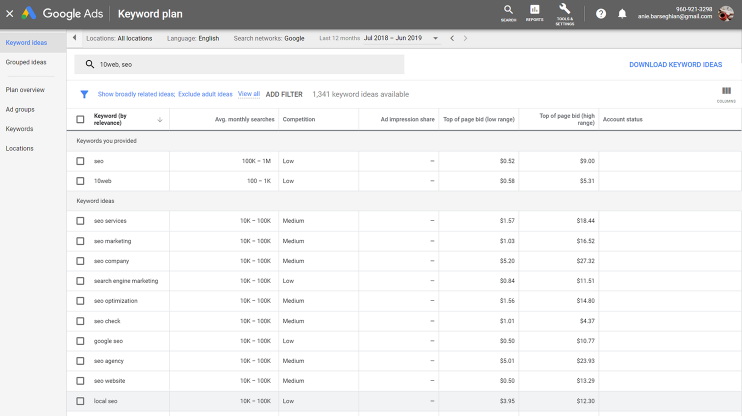 Here's another simple tool for your keyword research. You enter a keyword and get a list of the most popular related queries to modify your content according to the target audience's expectations.
Here you can find long-tail keywords for:
Google
Bing
YouTube
eBay
Amazon
Play store
Instagram
Twitter
In the free version, you just get a list of long-tail keywords and details for a couple of top results.

The details that are open for all results in the paid version include the search volume, trend (how much the search volume has changed within a year), CPC (cost per click), and competition.
Yes, another page speed test but this one's a Google product. Google cares about the speed of websites it offers in search results. That's why it doesn't just rank faster websites higher, but also helps the slower ones to optimize their speed.

PageSpeed Insights imitates the page opening process, finds out the page load time, and gives detailed recommendations on what you can do to speed up the site and how much it will help ("remove the unused CSS code — 110ms; optimize the transfer sizes — 50 ms, etc.)
I've mentioned a couple of tools for email outreach above. But Lemlist is nothing like those. It's a separate platform for sending and scheduling outreach and follow-up emails, famous for their high level of personalization.
Armine, our outreach and link building specialist, sends dozens of emails every day, each of them personalized to include the receiver's email name and their company name if necessary.
She even includes a photo where she offers a mug of coffee to the receiver, and lemlist edits the image to add the receiver's name to the mug as if it's printed.
But our favorite thing about lemlist is how they teach us to grow our open and response rates. Besides leading by their great example with every email they send to us, the lemlist team gives away the most efficient email templates, and some of them are publicly available on lemlist blog (the rest is just for the users).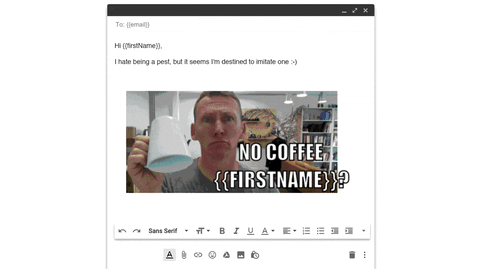 Robot.txt is a simple file in your website database. As you may have guessed, the file is used for managing the access of robots (search crawlers).
Websites without this file cannot be fully reached, indexed and displayed by Google or other engines.

That's why you need your robots file or just an automatic tool to create it. And then you just have to upload the file to your directory.
In beautiful graphs, you can discover search trends and compare your keywords. Here's what you can find out with Google Trends:
Search volume changes over time (from last hour to last 15 years)
Discover the most interested countries and regions
Find related queries
The platform offers convenient filters based on the search type, period, location, and category.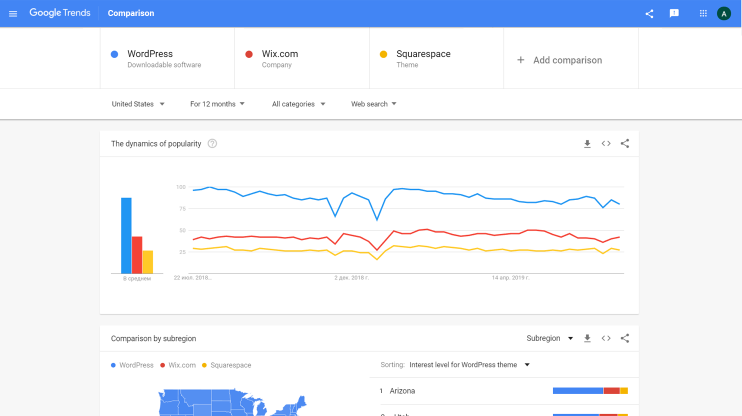 Both spider and frog.
If you want to rank on Google and keep your organic traffic growing, you need to maintain a website structure close to perfection.

Screaming frog will monitor your website to detect any broken link or redirect issue, to analyze your meta tags and page content, generate an XML sitemap (seems like everyone's generating sitemaps, huh?) and come up with useful recommendations on your website architecture.
Google prioritizes pages that load and look perfectly on all devices.
Instead of trying all smartphones out there or trusting your browser to display the necessary sizes correctly, you can go ahead and check for mobile-friendliness with Google.

If there are components on the page that don't look like the original design, make sure to fix it and try to improve your ranking.
Honestly, I don't know why our SEO guy uses this tool. It's a plagiarism checking tool, and we always write unique content from scratch.
But in case there are parts you're rewriting, you absolutely need to make sure that this text has become unique. Google always filters pages with copied content and only displays the original. In some cases pages with plagiarism can even be banned, so be careful.
Bonus Tools
42 turned out to be a pretty small number for an SEO tools list. We're adding more here.
Woorank is a platform that has most of the listed tools' features combined.
It provides in-depth SEO analysis displaying how well the website is optimized (usability, mobile-friendliness, structure, and more), how it's promoted (backlinks, social media channels, local directories), and how the traffic can be measured (visits, visitors, and their demography).
After the scan, the platform suggests improvements to the website. For example, it suggested we add a tap target to 10Web.io and create an Instagram account. BTW, do you think we need one? Maybe we should post our new templates or tutorials there. Let us know what you think in the comments.
Back to WooRank: you can test it with a 14-day trial!
If for some reason, you don't have a proper SEO plugin on your WordPress website, you can generate your XML sitemap externally through a platform like XML-sitemaps and upload the file into your database.
With the premium version, you can have larger sitemaps and keep them automatically updated.
Vocal References is a tool for creating and adding testimonials from customers, including video testimonials and ones imported from elsewhere.
How do testimonials improve SEO, you might ask? Rich snippet is the answer! With a rich snippet, a higher CTR (click-through rate) for your SERP is guaranteed! And if you manage to get a 5-star rating for your page (don't fake it, though; search engines will recognize it) the CTR will skyrocket.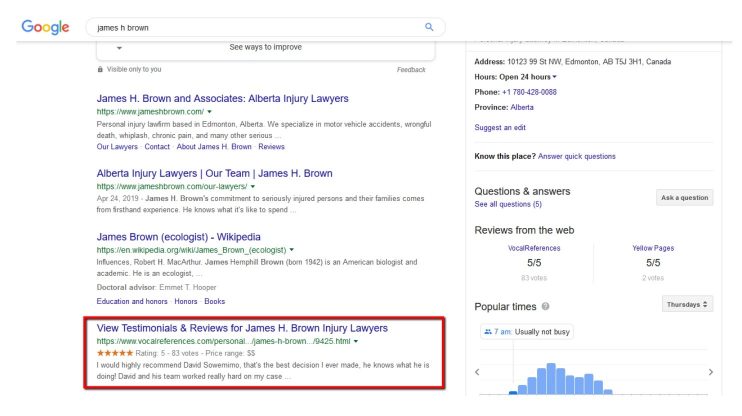 A tool like Vocal References is a must-have for e-commerce websites but it also works pretty well for portfolios, "business-card" style websites and even blogs.
I've been following how our SEO team has been struggling with link building. We can clearly see the great results, it just takes too much time and effort. I already mentioned lemlist that makes email outreach so much better.
Now, Linkody is a tool for monitoring and analyzing the backlinks. First of all, Linkody users no longer have to manually check if a backlink to their website has been added or removed. But the better part is that this tool makes competitor analysis easier and faster. And what makes Linkody unique is probably the option to find and disavow bad backlinks that work like spikes in an SEO campaign's wheels.
This is it. 47 tools and counting in our comprehensive SEO tools list. And here's another list of recommended SEO tools from Intent Marketer.
Do you have any favorite SEO tools worth mentioning? Let us know in a comment or start a discussion in our WordPress Family Facebook community!