Top Resources for Beautiful WordPress Templates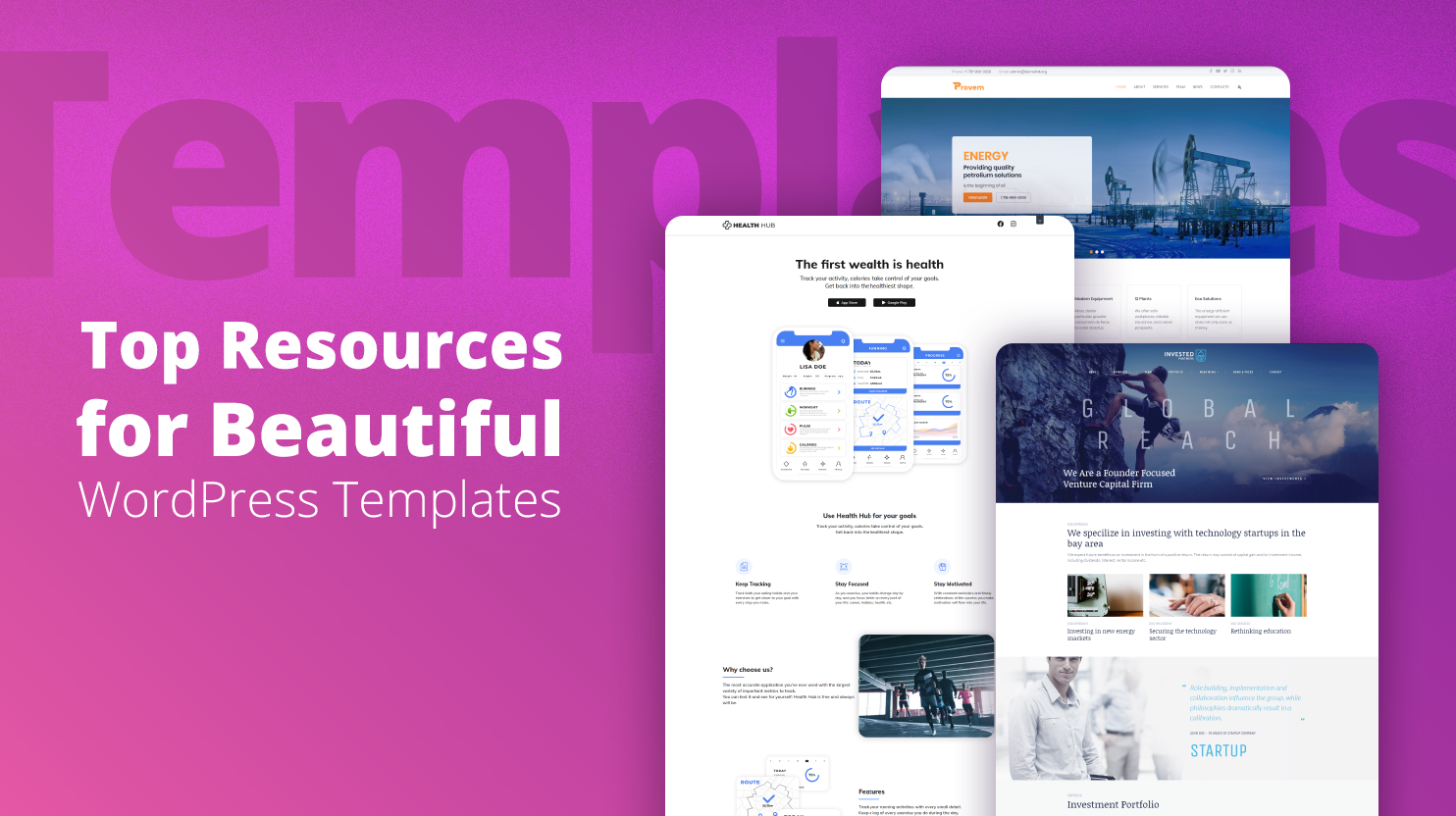 Instead of spending weeks developing your website from scratch, WordPress provides themed templates for a website's design and functional structure. This streamlines the creative process and can save you hundreds of hours. Many templates are free and can be downloaded directly from WordPress, however, many more can be found online.
With a plethora of choices, many of which may be of questionable quality and limited functionality, it's important to proceed with a template that aligns with your needs. If you're a WordPress novice, using the free options are a great way to explore the platform. However, for those more serious about building an attractive website, a paid WordPress template will provide the most value.
In this article, we'll be discussing the best WordPress template resources for building engaging websites.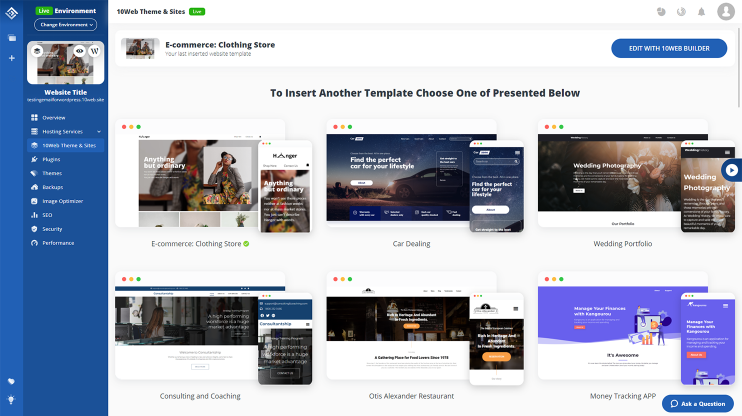 10Web has a collection of many beautiful WordPress templates ranging from everything for blogs to e-commerce to restaurants, and everything in between. With their preview feature, you're able to interact with the website and see how it appears on desktop, tablet, and phone.

See How 10Web Can Benefit You
Visit our homepage to learn more about the first-ever AI-powered WordPress platform.
See How 10Web Can Benefit You
Visit our homepage to learn more about the first-ever AI-powered WordPress platform.
While their library of templates may be smaller than other resources, they make up for it by offering all their templates free with a 10Web membership. This allows you to easily integrate the template with your site hosted on 10Web.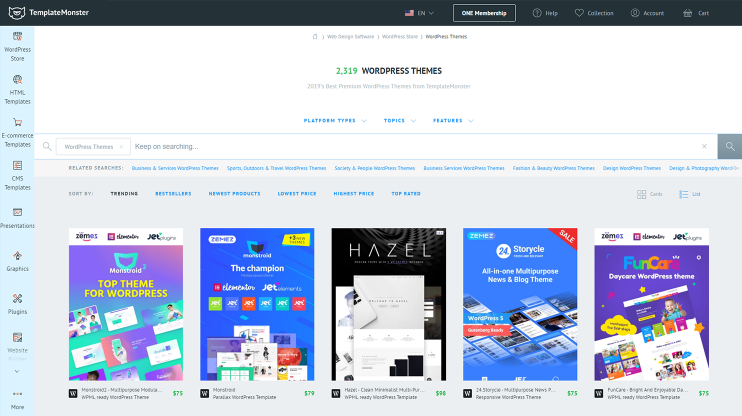 Next up is TemplateMonster, which as the name implies, is a monster when it comes to templates (their collection includes over 2,300 WordPress templates). Like with 10Web, they provide you with a live demo of each theme, allowing you to preview what the website will look like on different devices.
With hundreds of thousands of sales made via their platform, many of which result in reviews, you're able to easily sort by those templates with the best ratings and read their reviews.
Unlike 10Web, TemplateMonster does not have any free templates. Their templates start at $45 and range above $200. However, when you consider the amount of time you can save by using a template, you'll often find it to be well worth the money.
What I really like about TemplateMonster is the amount of filtering they provide. Due to their large selection of templates, they allow you to search templates based on filters such as responsive, admin panel, SEO friendly, and more.
TemplateMonster also allows you to sort the templates by the best sellers. As of November 6, 2019, the following are their top three sellers:
Monstroid2 – Multipurpose Modular Elementor WordPress Theme – 11,395 sales
Monstroid – Best WordPress Template – 7,665 sales
BeClinic – Multipurpose Medical WordPress Theme – 1,852 sales
If you're looking for beautiful WordPress templates on TemplateMonster, here are two I'd suggest: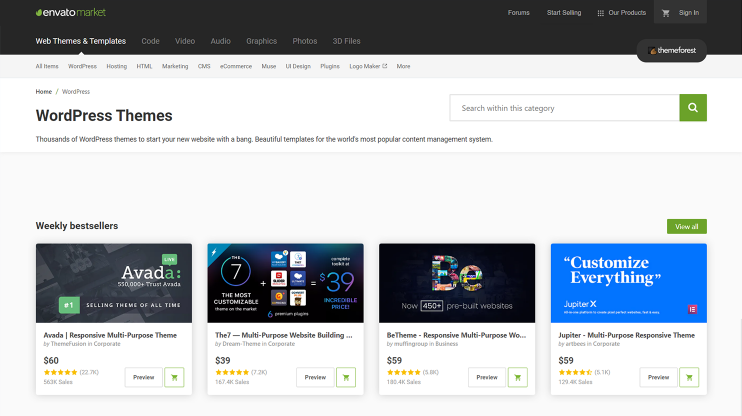 When it comes to template collections, other libraries cannot compare with the immense selection of ThemeForest. With over 11,000 WordPress templates, no other template marketplace comes close.
Like TemplateMonster, ThemeForest provides information including a live demo, reviews, and the number of sales of each of their templates. Affordable templates start at $13 and more expensive templates cost over $1,000.
The best thing about ThemeForest is the sheer amount of templates, which allows for a very detailed list of categories and tags to filter. For example, ThemeForest's 2,797 templates under their corporate category is more than all the templates TemplateMonster has on their entire collection.
ThemeForest best sellers:
If you're looking for beautiful WordPress templates on ThemeForest, here are two I'd suggest: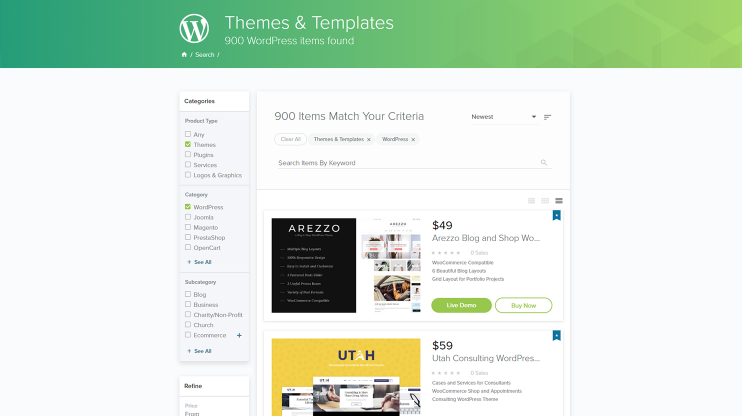 While MOJO Marketplace is very popular and well known, they don't have as many WordPress themes as ThemeForest or TemplateMonster. However at 914 templates, they still have a fantastic selection of templates.
Like the other marketplaces mentioned, they provide live demos, reviews, and the sales of each template. Prices start at $39 and are capped at $99. While they do have a lot of filtering options, due to their smaller selection of templates, I didn't really feel like I was able to narrow my search down on MOJO as I could on the other marketplaces.
MOJO Marketplace best sellers:
If you're looking for beautiful WordPress templates on MOJO Marketplace, here are two I'd suggest:
Nimva for a diverse set of modern styles
SolidBox for a template that will work across many different businesses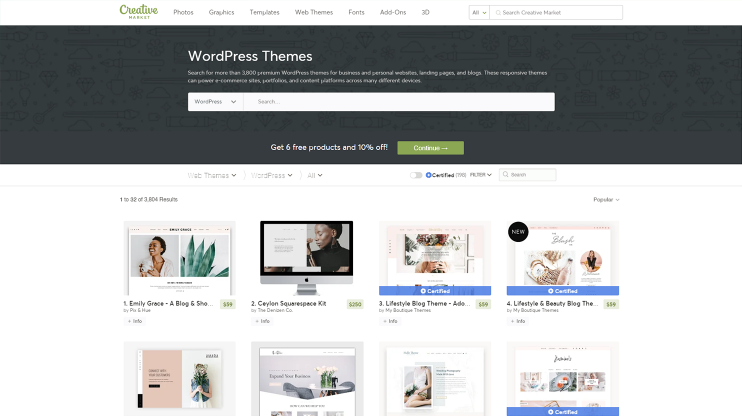 Last on this list to be mentioned is Creative Market which boasts 3,800 WordPress Templates. Creative Market provides live demos and reviews, but does not list the sales of each template. Besides 10Web, they offer the lowest starting price per template, with 33 templates at just $2 each. Their highest-priced template is $444.
Unlike the other marketplaces mentioned, Creative Market's filtering system has room for improvement. Unlike the other marketplaces that can filter for SEO, admin panels, and more, Creative Market's filtering is limited to generic categories.
Unfortunately Creative Market does not list the amount of sales per theme, so I was unable to compile a list of their top sellers. If you're looking for beautiful WordPress templates on Creative Market, here are two I'd suggest:
Conclusion
Even though creating your own WordPress website can be done from scratch, it often makes more sense to start with a high-quality template. With the resources mentioned in this article, you should have no problem finding the perfect WordPress template for your needs.