What's a Staging Website and How to Push It Live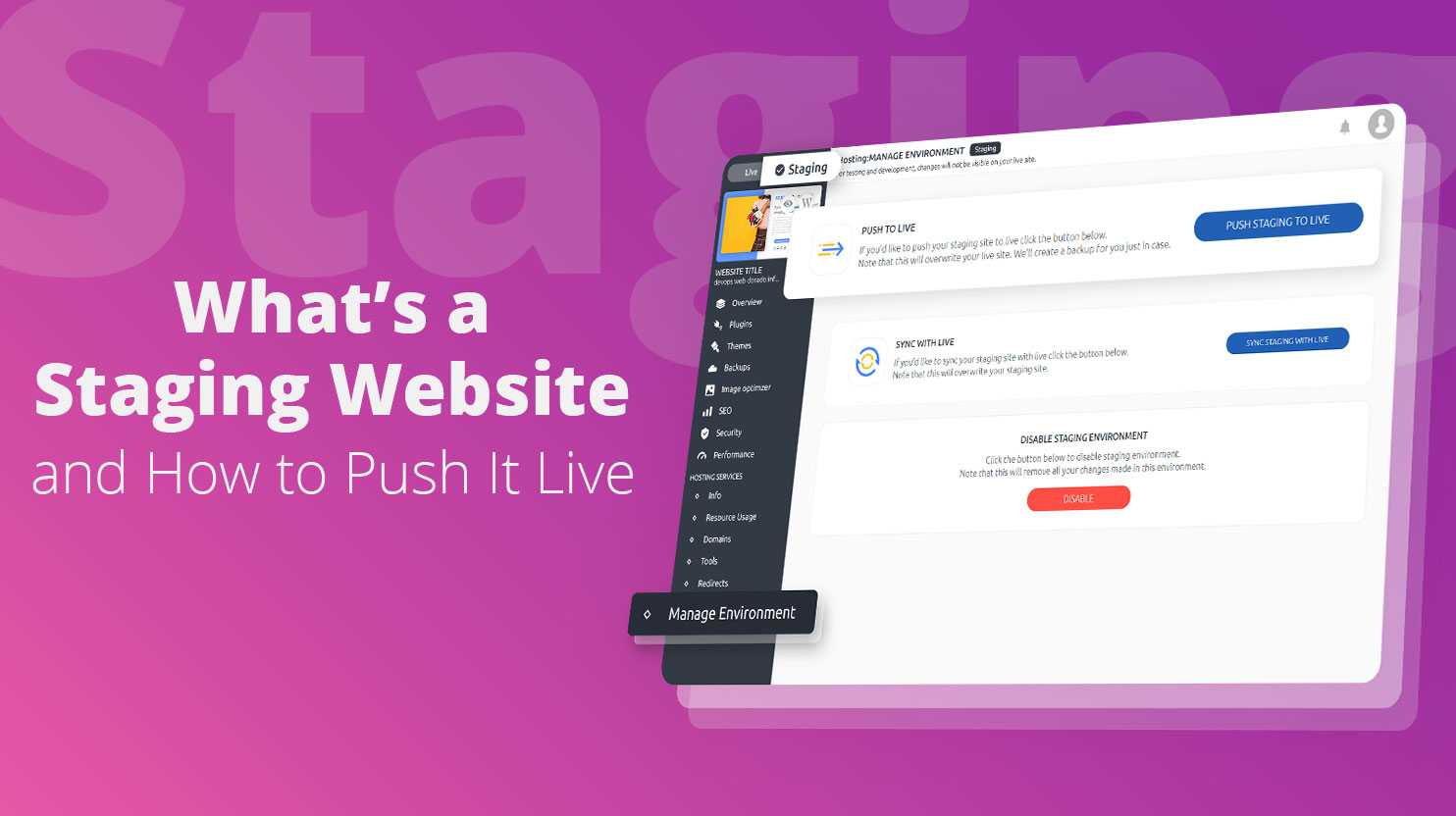 One of the benefits of having automated WordPress hosting with 10Web is having an easy way to create a staging website.
What's a staging website?
It's basically an exact copy of your production website where you can test plugins, themes, and custom codes, before going to production.
How to create your staging website
Creating a staging environment is super easy. You need to just open 10Web dashboard, click "Hosting Services," then "Staging Environment," and then "Enable now."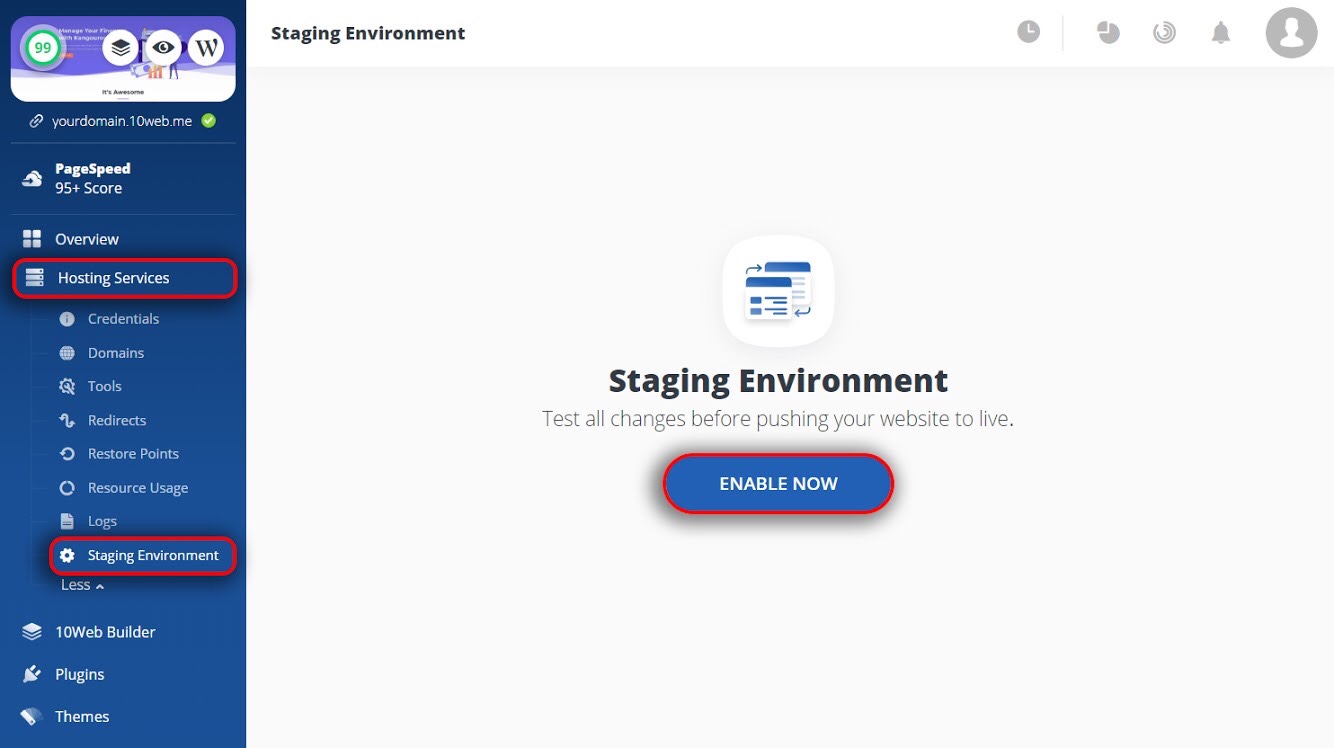 Your staging website is created.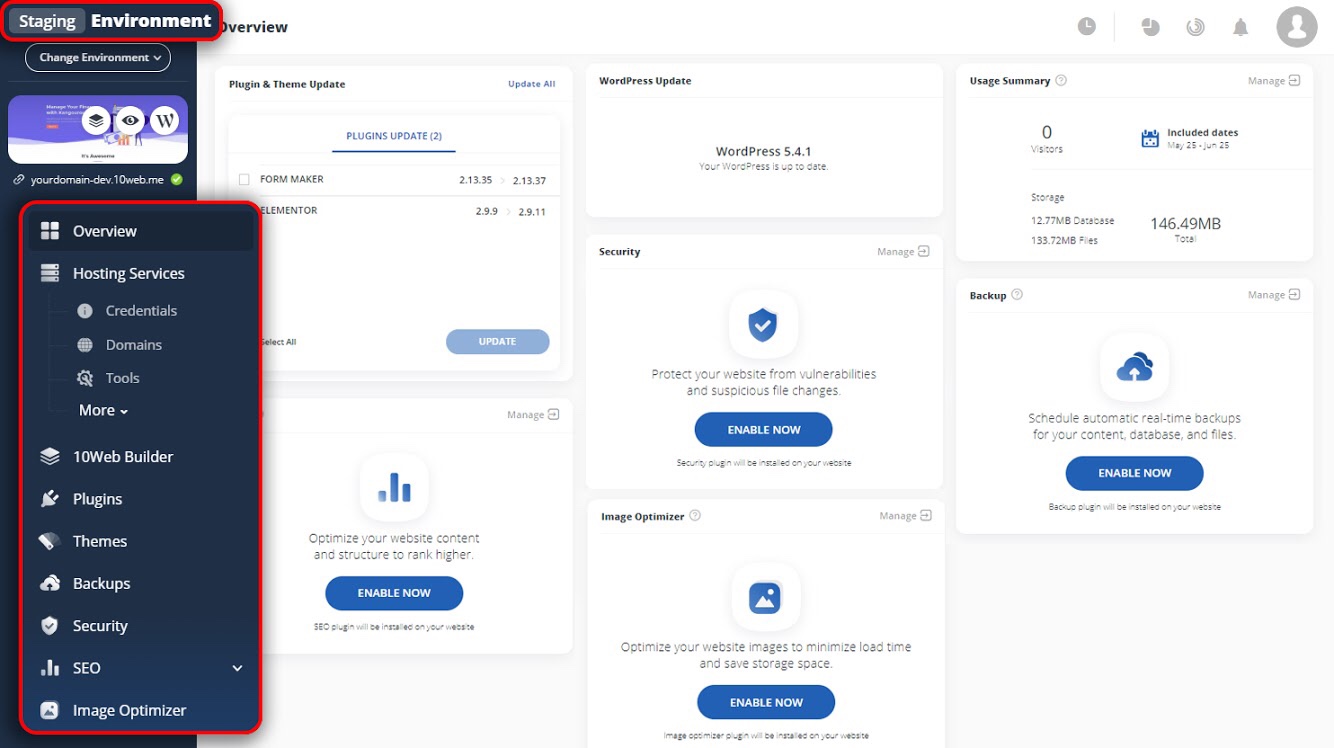 The darker interface and the "Staging" written in the upper right corner indicates that you've already switched environments and can install new plugins or make any other changes without affecting your live website. Note that after enabling your staging environment, services such as backup, image optimization, etc. will be deactivated and you'll have to enable them again.
How to push staging live
Tested out and liked the changes and want to push them live? Click "Manage Environment" in the left menu under "Hosting Services" and then "Push staging to live."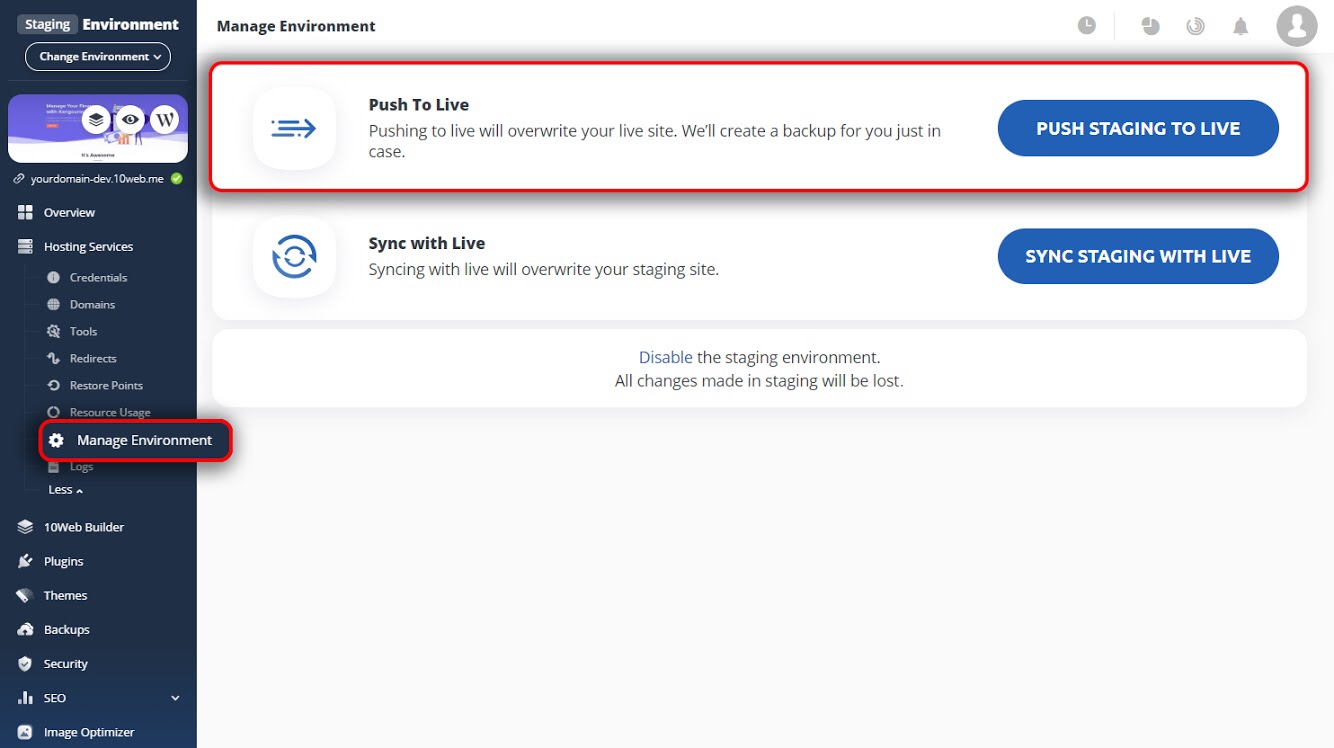 Enter your subdomain into the field below and click "Push to live:"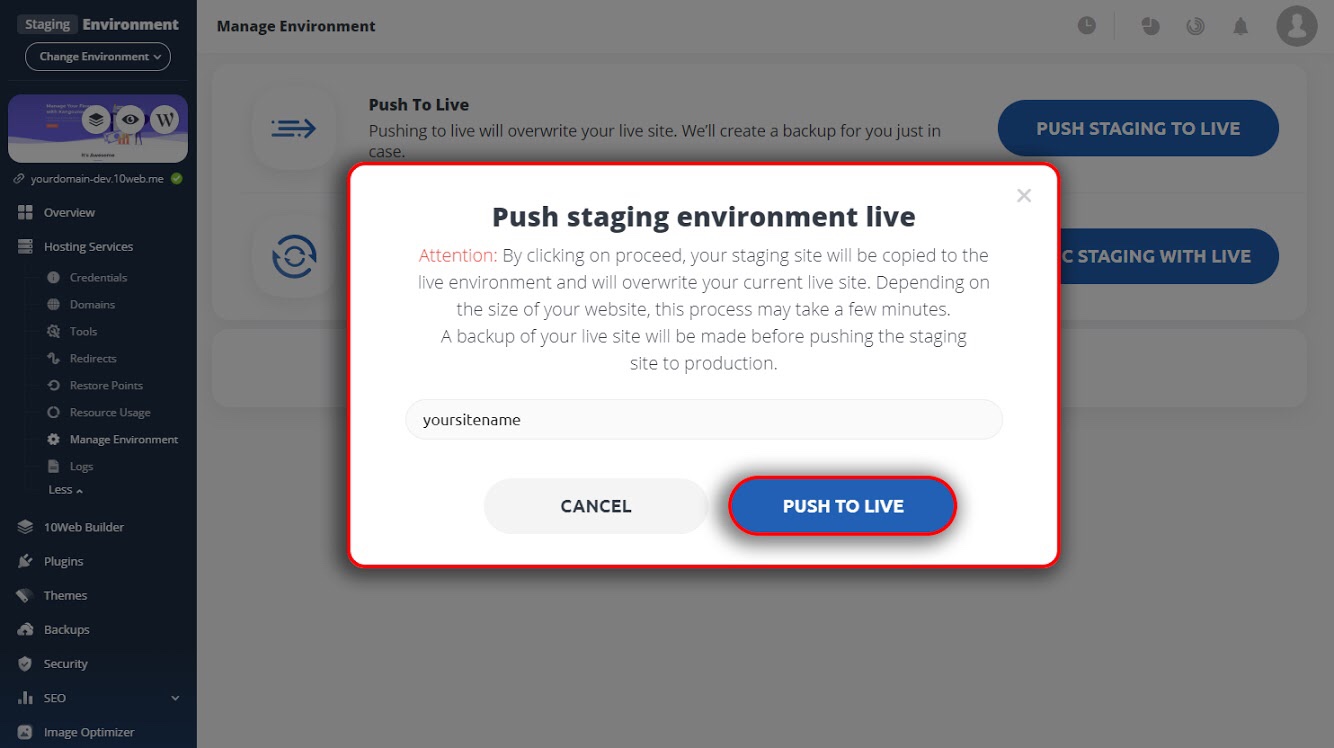 That's it! You may have to wait for a few minutes though before the changes to the live site are made. We will also automatically backup your whole website before making the changes in case you want to reverse them.
How to delete or sync your staging website
If you don't need your staging website anymore, just click "Disable" from the "Hosting Services > Manage Environment" menu subsection.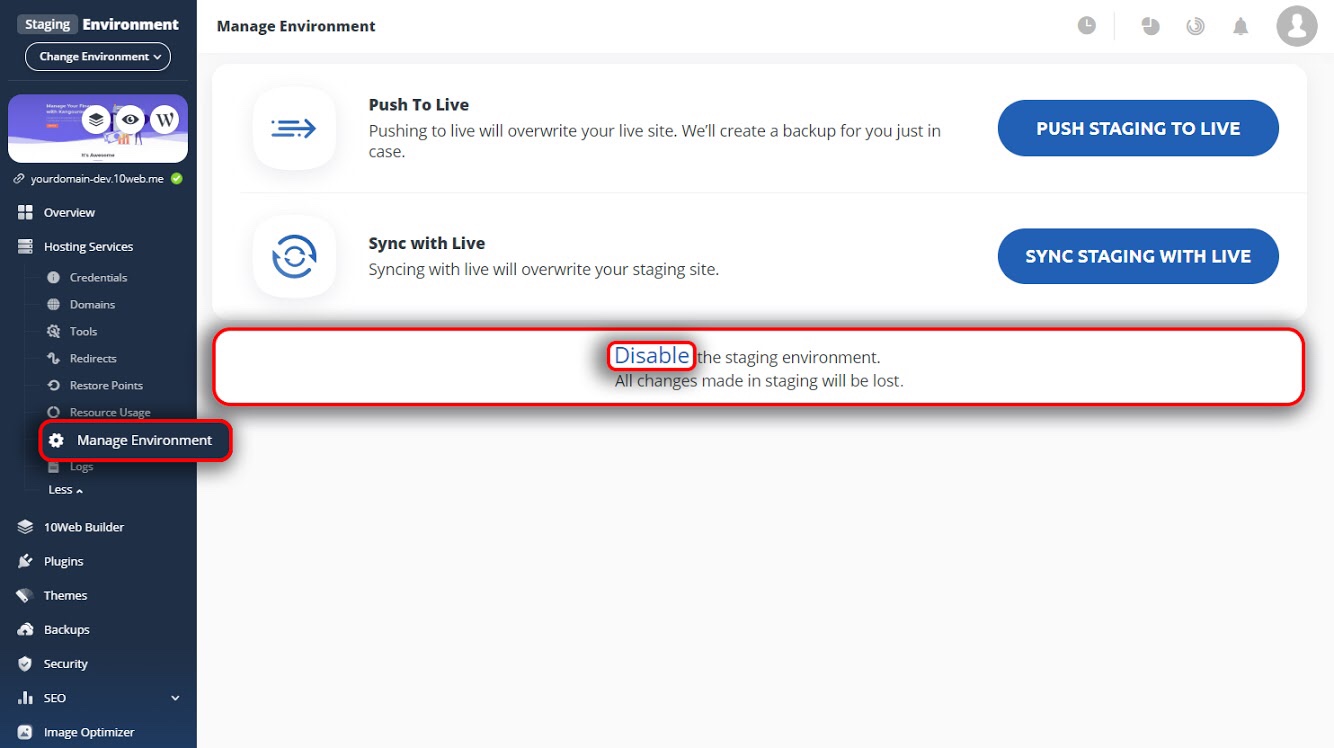 If you've made some changes to your live website and want your staging environment to reflect them, click "Sync staging with live" from the same "Hosting Services > Manage Environment" section.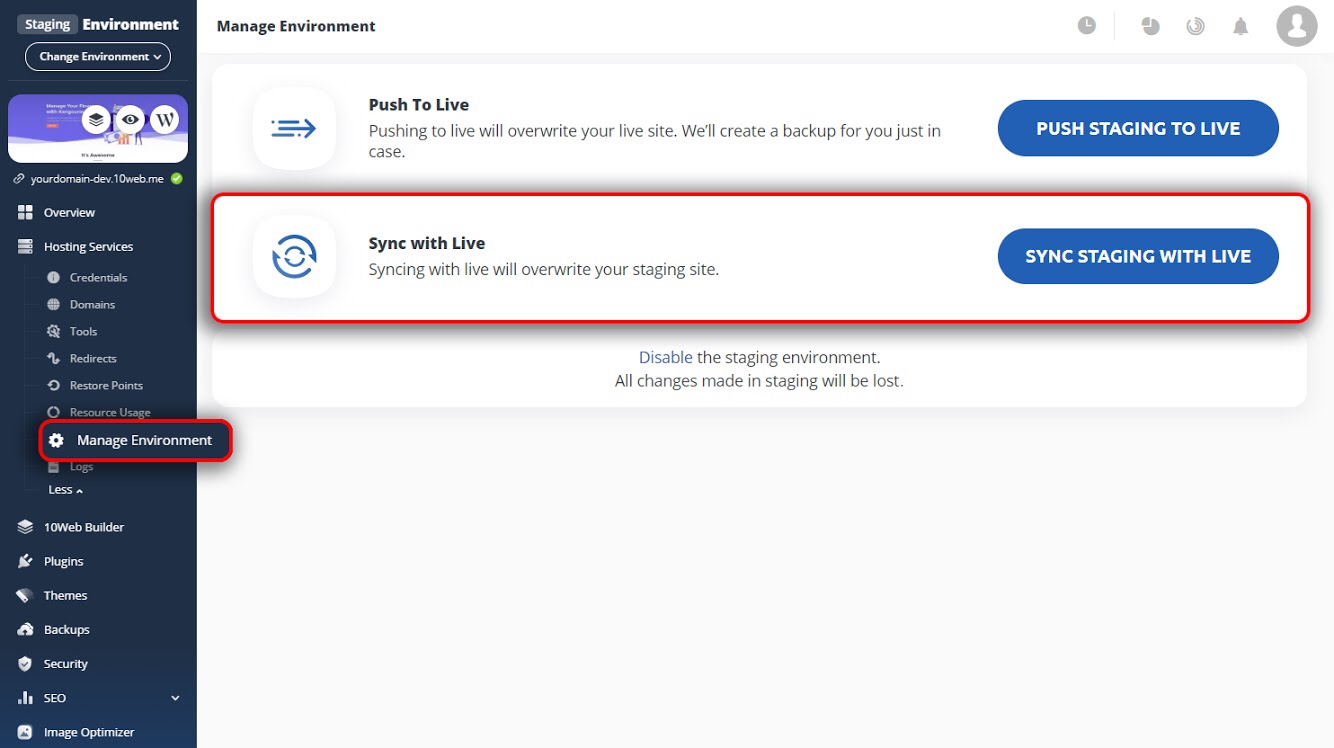 A few staging things to keep in mind
1. Caching is disabled
Staging websites are for development purposes so their caching is disabled. Don't be surprised when your staging site loads slower.
2. Indexing is off
Indexing staging websites would register as duplicate content by Google bots so it's turned off by default. This is to make sure your SEO works well and your website ranks high.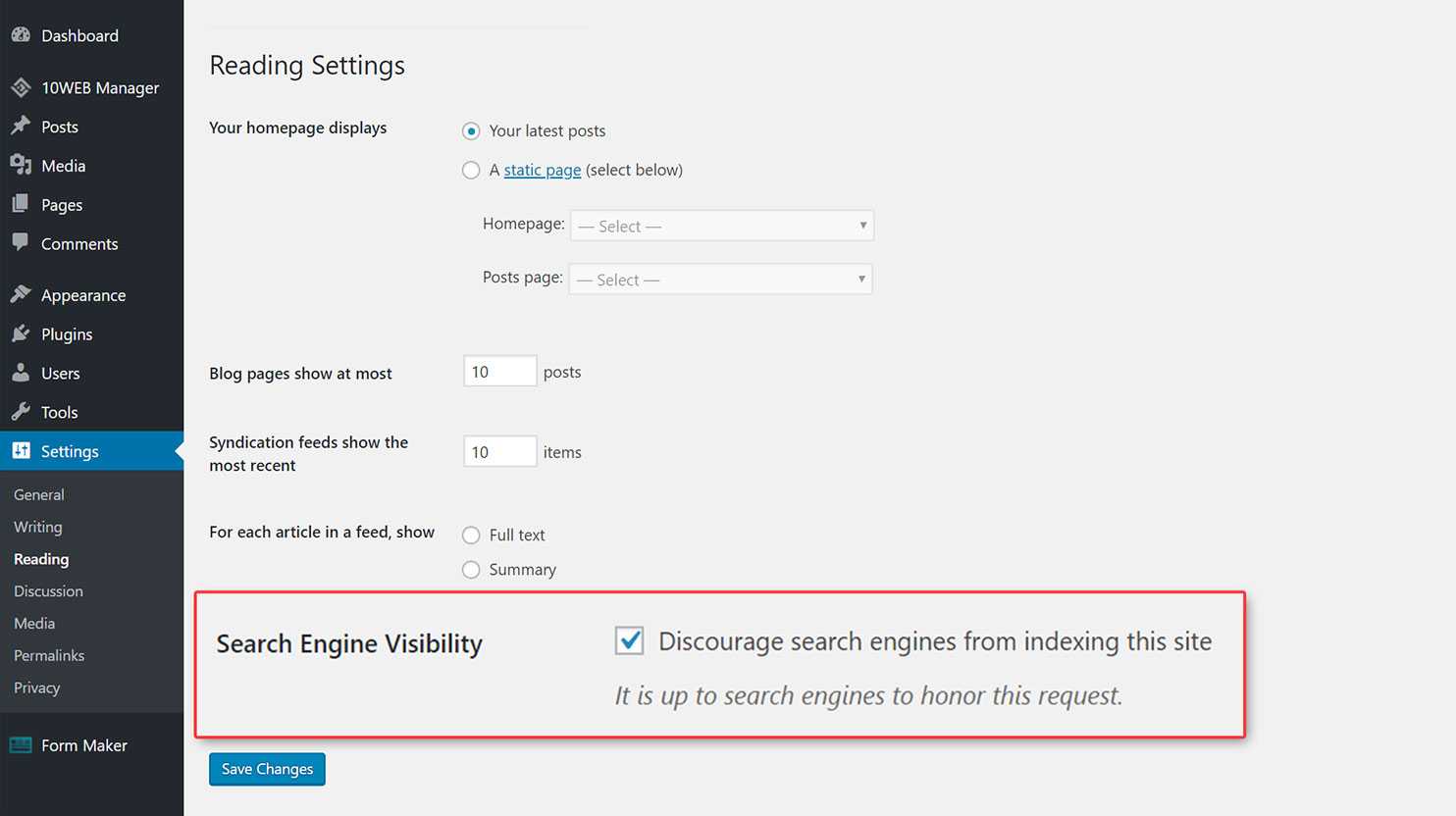 3. Admin credentials
Staging websites have the same admin credentials as your WordPress website unless you change them after creating a staging site.
4. Login URL
If you're using a plugin that changes the default WordPress login URL, your staging site's login URL will also be different.
5. Social Scheduling Plugins
Please deactivate any social scheduling plugins, such as CoSchedule, on your staging site to prevent them from sharing your staging pages.
6. Staging is strictly for development/testing
Staging websites are created for testing and development only so they don't function properly as actual websites. Please don't use staging sites as live ones.
Have any further staging-related questions? We likely have the answers. Leave us a question below in the comments!
See How 10Web Can Benefit You
Visit our homepage to learn more about the first-ever AI-powered WordPress platform.