6 WordPress Performance Plugins to Boost Your Speed Today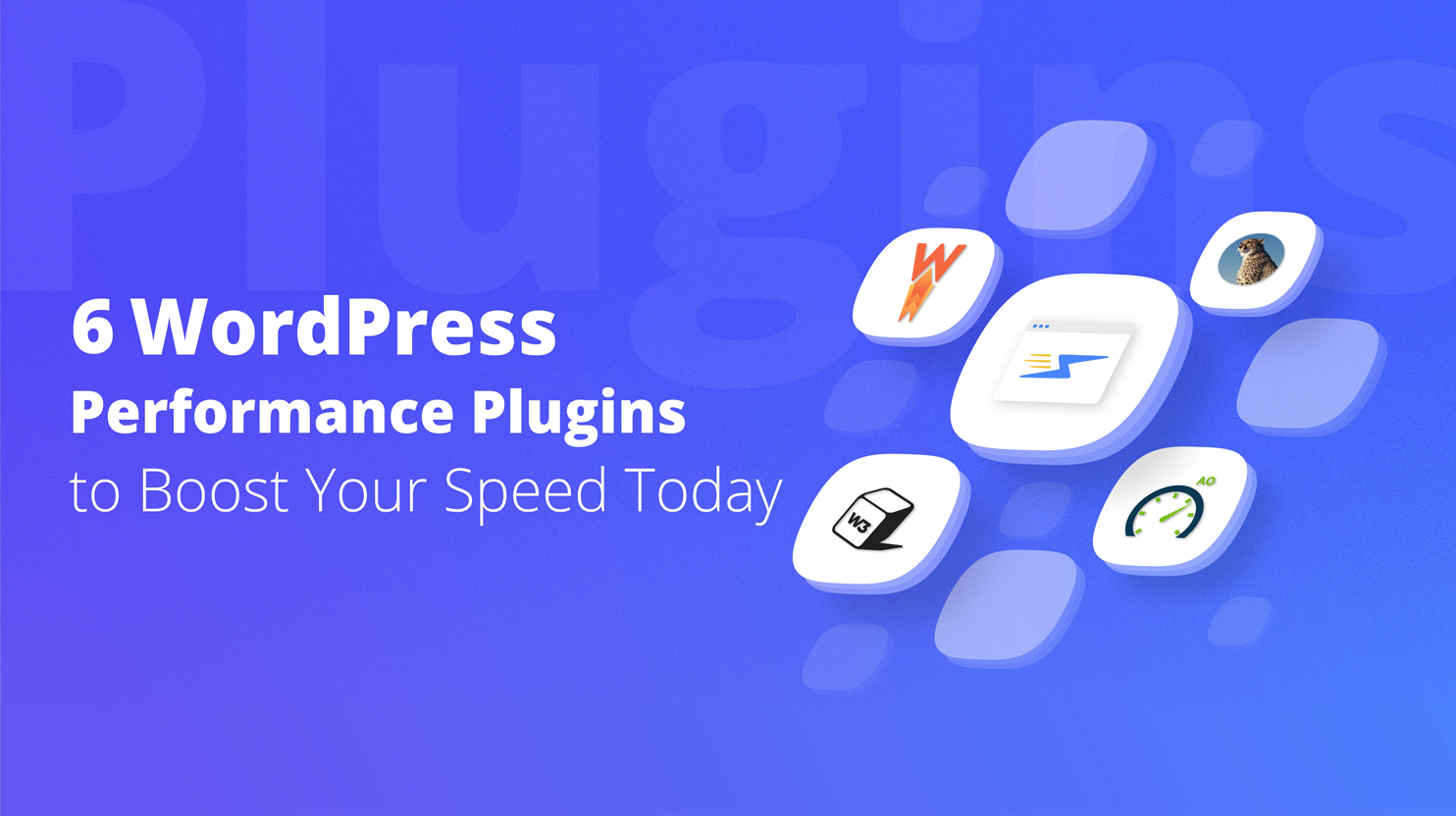 Today speed is everything, and if you want to keep your customers satisfied your website should be fast. No one wants to spend more than a couple of seconds waiting for a page to load, so if your page does not respond instantly, you can easily lose your customers. But what should you do to keep your page speed high and website performance good?
Here is where WordPress performance plugins come to save you! In this blog, we'll guide you through all the awesome plugins that can boost your speed and improve your page's performance, never letting you lose even a single customer. But let's start from basics:
The Importance of a Fast Website
Even without us telling it, you have probably considered that a slow page can have a negative influence on your website and decrease your traffic. Well, studies have shown that your hypothesis is correct. According to research done by Akamai Technologies Inc., 40% of users are not going to wait more than 3 seconds for a page to load.
Furthermore, according to HubSpot your website's speed directly affects your revenue. If your page was making $100,000 a day, even 1 second improvement of your page's speed will bring you additional $7,000 daily. Guess when they said that time is money, they really meant it. In this case, every single second is important as it will not only help you keep your customers on your website, but will also directly influence your company's income. But enough about speed, let's figure out:
Why does website performance matter?
Now let's talk about your webpage's performance. Imagine an eCommerce website where you can't add the products you want to buy to the cart because the page doesn't function properly. Or you can't quickly share your favorite blog post because the social media icon does not respond. In all of these cases, you get frustrated and it is very possible that you won't ever come back to the website. In other words, if your website is performing badly, you will lose a lot of your potential customers.
Now this is also bad for another important reason: your SEO. Search engines are very focused on site providing good user experience, and if something goes wrong, they get a bad signal. That is, if too many visitors open your page and leave it fast, search engines will conclude that you probably don't deserve to be on those front pages of SERPs (search engine result pages). So making your page function properly is not only recommended, but an absolute must.
How can I check my WordPress site performance?
Today there's an easy way to understand how you're doing with your website speed and performance. We at 10Web have a special tool that measures your website's PageSpeed score and shows you the aspects you need to work on to improve it. Plus, we offer a pre-optimized 90+ PageSpeed for your website if you switch to our hosting, and you can do it pretty easily, with a 1-click automatic migration. But before that, simply enter the URL of your site in the field below, and we will tell you how fast your website is:
Need a 90+ PageSpeed score?
With 10Web, you can get it automatically!
Need a 90+ PageSpeed score?
With 10Web, you can get it automatically!
What WordPress performance plugins should you not install?
Basically, anything that lowers your site speed. Don't forget that having too many WordPress performance plugins installed will eventually hurt your page, instead of improving it, because the more plugins you keep, the harder it is for your page to function, and the worse its performance gets. That is why below we'll list the best WordPress performance plugins that cover a lot of features and are really worth it. So without further ado, let's jump right into
6 WordPress Performance Plugins for 2021
And the first in our list is:
10Web Booster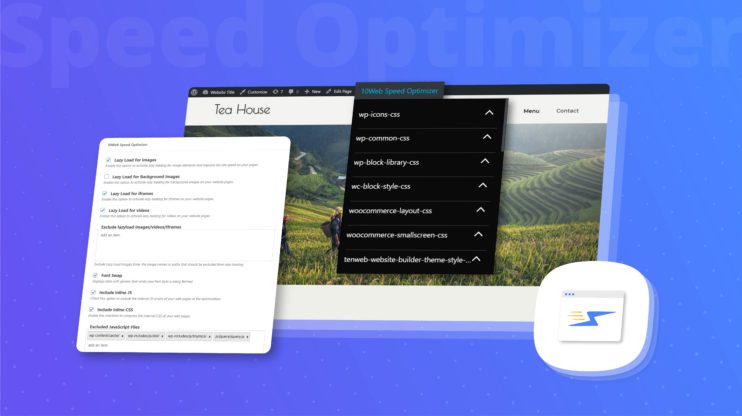 10Web Booster is an automated website speed and performance optimization solution for mobile and desktop, resolving any speed difficulties facing your site. With 10Web Booster, you automatically receive a 90+ PageSpeed score and improved Core Web Vitals. 10Web Booster Pro is integrated with Cloudflare CDN to ensure fast speed, optimal performance, and solid security. 
10Web Booster with the following features will be within your grasp.
CSS, HTML, and JS minification and compression
Minification and compression decrease file size, lessens the quantity of web page requests, and reduces page load time by eliminating spaces, comments, unused code, and all that is non-essential for the browser to run the code. By minifying and also compressing the files, the length and size of the code are reduced. Through this reduction, network traffic is also lessened, while the file execution speed is increased.
Caching
To present a webpage to a user, a whole lot happens in the background. PHP scripts are executed, at least a few database queries are implemented, and additional javascript and CSS are loaded. All this and more is necessary for the website to display and function properly.
These processes are activated each time a page is requested, consuming resources and demanding time to load, unless…you have a cache. When caching is enabled, after the page is rendered, the results are saved in temporary storage, waiting to be called on again. Upon another page visit, the cached page is served, significantly increasing load time. 10Web takes optimization even further by employing NGINX with FastCGI caching ensuring that cached pages are served with optimal speed.
By enabling caching, your website
Decreases the time to Interactive (TTI)

Reduces the total blocking time (TTB)

Lessens the time for the First Contentful Paint (FCP)

Increase the Speed Index
Critical CSS generation
10Web Booster generates critical CSS on devices of all sizes, both mobile and desktop. For a webpage to load, the browser must parse through all the CSS files available and then download them. The larger the size of your CSS files, the longer it takes to load your page. Therefore, you must reduce the size of your CSS file. 10Web Booster does this through Critical CSS generation, which locates the essential code required to load styling and inlines them into HTML files to decrease page rendering time. The non-essential code is then held back and delayed until it is found necessary. 
10Web Booster will automatically generate critical CSS for every page of your site, increasing load speed and decreasing load time. 10Web Booster takes critical CSS to another level by ensuring that all stylesheets for critical CSS are available, and that rule duplication is avoided, while styles are ordered in a manner that provides fast performance without altering page styling.
JS Delay 
JavaScript brings interactivity to your site, including the potential to gather stats for your website, or through the use of third-party software or plugins. Typically, JavaScript is a blocking resource, meaning that the browser waits for the JavaScript to load before completely rendering the page. These JS scripts can reduce the website speed and slow down your website performance. 
10Web Booster delays the loading of non-essential scripts and styles of JS files in a non-blocking way to increase page speed, while quickly loading the scripts critical for page function. Identifying which scripts are critical and which are not can be problematic and if chosen incorrectly, can break the websites. To ensure the non-breaking of websites, 10Web Booster automatically locates website-breaking points and starts corrective measures, which include avoiding delaying these website-breaking scripts or disabling the JS delay feature. 
Image, video, and iframe lazy loading
Images, videos, and iframes demand a longer load time because of their large size. To ensure that the browser does not load all available images, videos, and iframes on your page, 10Web Booster uses lazy loading to only load the images, videos, and iframes above the fold. The remaining images, videos, and iframes are delayed until necessary.
Content delivery/distribution network
A content delivery/distribution network or CDN is a network of globally-linked servers that temporarily store website resources; similar to a cache. Unline a cache, a CDN identifies the server located nearest to a website visitor and serves page content from that nearest server. Through a CDN, the distance between a website server information and the visitor's browser is significantly reduced, which increases page load speed and ensures the content delivery is as efficient, affordable, and secure as possible. 10Web Booster utilizes Cloudflare enterprise CDN to ensure the best and most secure network through its  "reserved-for-enterprises" network, which is a network with greater and more powerful features and speed than its free CDN. 
Font optimization
Custom web fonts can increase the load time of your webpage since they demand additional download of resources to load. 10Web Booster utilizes font-display: swap which first loads and displays a default font, thus signaling the browser not to block page rendering, and then upon the download of the web font,  swaps the default font with the custom web font. 
Image optimization (compression, resizing, WebP)
High-resolution images, photographs, and galleries are essential for any website but can devour valuable resources and slow down your website speed. Image optimization techniques are therefore vital for increasing your website performance and speed. 
Container-specific image-resizing is one technique that locates or creates duplicates of images in different sizes and optimizes these images based on visitors' devices. Smaller-sized images are delivered to visitors with smaller devices. Since the image is smaller, the load time is shorter, yet the image quality is not sacrificed for those who have larger screen devices. 
Image compression is another technique. WebP is an efficient image format with better lossless and lossy compression that decreased image size. On average it reduces size 26% more efficiently than PNG and 25 to 35% more efficiently than JPEG, serving images at an optimized load time. 
10Web Booster uses all these techniques to ensure the speedy delivery of high-quality images to website visitors. 
In addition to that,
10Web Booster also ensures an optimized backend. Backend optimization has a critical role in website speed and performance. Some plugins may offer limited backend optimization in the form of object cache, but not 10Web Booster. 10Web Booster offers a TTFB under 200ms, a signal of a strong and powerful backend, obtained through a one-click migration to 10Web hosting, which provides cloud hosting, isolated architecture, and its own hardware resources. 
If switching hosting is not for you, 10Web Booster Cloudflare integration provides the flexibility and scalability your website needs to supplement your limited hosting provider. 
10Web and Cloudflare cooperation provide scalability, eliminating any hosting infrastructure concerns. Cloudflare's serverless solution removes any need for configuration, auto-scaling, and load balancers. 10Web Booster and Cloudflare CDN will automatically distribute website traffic, even during unexpected traffic surges, ensuring load balancing within Cloudflare's powerful CDN. No additional resources and costs will be demanded from you for this automatic scalability. 
Furthermore, 10Web Booster will protect your website from any malicious attacks with the best web firewalls and DDoS (​​Distributed Denial-Of-Service) protection.
Did we mention that everything is done automatically? All you'll have to do is press a button for a powerful and fast website. 
All the best optimization features in the market combined with the leading market CDN in an automatic and affordable package valued at $6/month.
Want to speed up your website instantly?
Get 90+ PageSpeed Score automatically with 10Web Booster ⚡ On any hosting!
Want to speed up your website instantly?
Get 90+ PageSpeed Score automatically with 10Web Booster ⚡ On any hosting!
WP Fastest Cache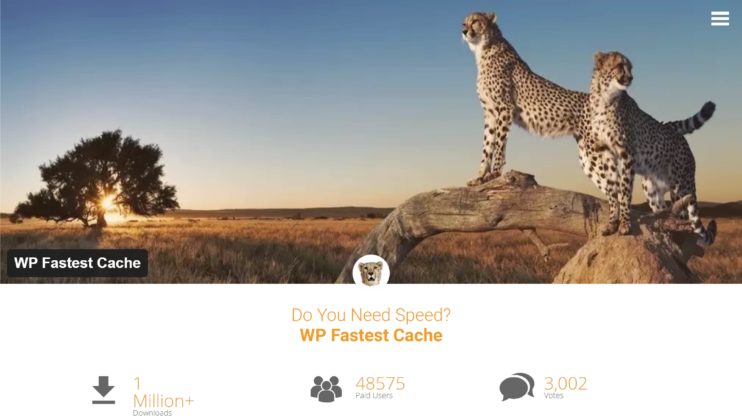 Another handy WordPress performance plugin is WP Fastest Cache. With 10Web hosting, you don't need a separate caching plugin, as 10Web already uses Nginx FastCGI cache which is faster than any other caching plugin. But if you're hosting your page with a different provider, caching plugins will be extremely useful. To explain how it functions we first of all need to understand what caching is.
When the web user clicks on your website and decides to visit it for the first time, a lot of complex processing goes on. The WordPress core sends a PHP query to the database which then has to send back the requested data. Later on WordPress uses this data to create an HTML page for the user.
As you can see, simply displaying your page to the new visitor requires a lot of steps, and it would take too much time if WordPress had to perform these tasks every single time. That is why people use caching plugins. These plugins create a static copy of your site's HTML, which can be called every time needed, without going through all the intricacies of the original process. As a result, the request does not take too much RAM and CPU and renders faster.
You could practice caching with WP Fastest Cache which is our best caching plugin recommendation. As listed on their plugin page, here are some of the ways this WordPress performance plugin improves your website:
Generates static HTML files from your dynamic WordPress blog
Allows you to decrease your page's size (minifies HTML)
Allows you to decrease your CSS files' size (minifies CSS)
Reduces your page's loading time for repeat visitors (leverage browser caching)
By reducing the size of the files which are sent from the server, improves the speed with which they get transferred to the browser (enable gzip compression)
The plugin also gives you a bunch of useful features, such as the ability to delete your cached files, enable or disable caching for mobile devices, SSL support, CDN support, Cloudflare support, and much more.
Easy Speedup by PageCDN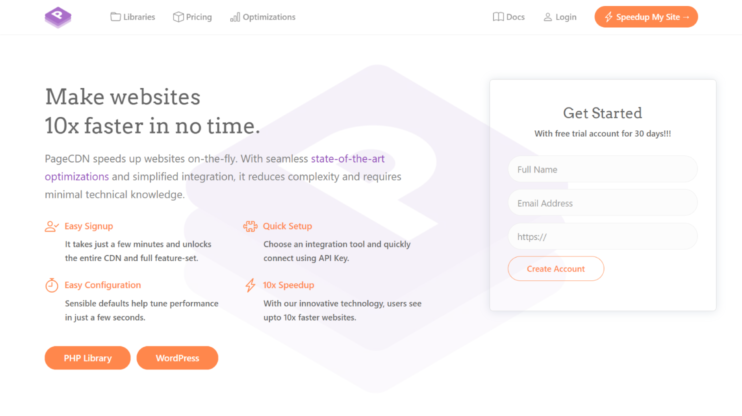 Content Delivery Networks (CDNs) help speed up websites by sending content from the nearest data center in their global network to reduce the transfer time and make websites more responsive.
Easy Speedup by PageCDN is a powerful WordPress plugin that combines the power of content optimization with the speed of CDNs. Whether your website needs "content optimizations", "cache optimizations" or "delivery optimizations", this plugin does all the heavy lifting for you.
PageCDN is the first service to introduce the Host Consolidation technique that is a smart way to remove unnecessary overhead introduced by years of advancement in web development practices.
PageCDN then combines Host Consolidation with better caching, compression, and all other goodies to get the best out of available technologies.
All you have to do is install this plugin and it'll start accelerating your website. You can choose to go for both the free and paid versions.
Easy Speedup gives you access to several premium features like:
Host Consolidation – for better HTTP/2 utilization and caching, and fewer DNS lookups.
Cutting-edge compression with up to 27% better compression
Cloud-based image optimization, resizing, and conversion to WebP
Cloud-based CSS and JS minification
Easy HTTP cache optimization with an option for immutable caching
Accelerated delivery through PageCDN global network
Automatic cache sharing with other websites through open-source libraries
Easy Fonts which improves your PageSpeed score making fonts more cachable.
WP Rocket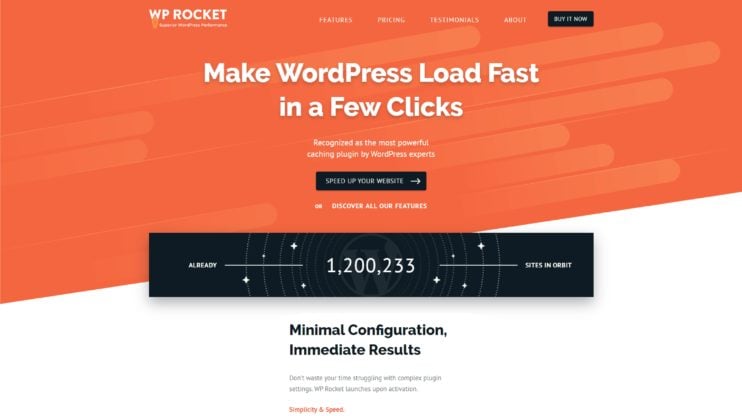 Another cool plugin that we really recommend is WP Rocket. It is recognized by the WordPress experts as the most powerful caching plugin. As the name suggests, this WordPress performance plugin "rockets up" your speed by providing a bunch of useful automatic optimization features, such as page caching, cache preloading, sitemap preloading, GZIP compression, Lazyload, database optimization, and others. Here is the exact list of functions that WP Rocket does, as listed on their page:
Providing you static cache for your desktop and mobile version, that is giving the static HTML version of your content
Browse caching either on Apache or if available on the server, which means storing certain file types on the local computer of your visitors
Providing support of different third-party plugins, hosting environments, and themes
Combining the inline and third party scripts
And you do not need to enable or disable these features, once you activate the plugin your site will automatically benefit from all of them. In addition to that, WP Rocket is eCommerce and developer friendly and has multilingual and multisite compatibility. The plugin is also famous for its simplicity, as you can install and configure it in less than 3 minutes. This makes it easy to use, even if you are a complete WordPress beginner.
It is worth a mention that unlike most of the plugins in this list which are completely free, WP Rocket costs $49 for one website, $99 for 3 websites, and an unlimited number of websites for $249.
And then your license is valid for only a year and when it expires you can neither use the support nor the updates. Nevertheless, your plugin will continue to function without any issues for some time, so there is not much to worry about. Plus, you will get discount rates for your license renewal in case you decide to update it.
Autoptimize
The mere fact that Autoptimize has over 1 million installs on WordPress should be proof that you're dealing with a really good WordPress performance plugin. Now, let's have a quick overview of what Autoptimize does and why exactly it is so popular among WordPressers.
This WordPress performance plugin offers a quality optimizing service for your website by minifying caches scripts and styles, minifying HTML, offering image lazy-loading services, optimizing Google Fonts, removing WordPress core emoji cruft, and doing much, much more.
Another advantage of this plugin is that it is compatible with all web hosts, even the ones which have customized caching configurations. Plus, Autoptimize's free version has all the features required for optimizing your website, so you really don't need to pay anything to get yourself a well-performing WordPress site. Here's a short guide on how to use the plugin.
First, install and activate it. Once you do so, go to your Settings and enter the Autoptimize tab. Here you will find three options: optimizing your HTML, JavaScript and CSS.
Optimizing your JavaScript codes minifies your javascript files. You can choose the "aggregate JS files" option which combines all of your JavaScript files into a single file. Same way, if you enable "optimize CSS code," you'll minify your CSS files. And finally, turning on HTML optimization will help you reduce the size of your pages. This is done mainly by reducing the unnecessary whitespace in your HTML.
To test this plugin out, Themeisle has done a test by installing Autoptimize and enabling all of its three options of optimizing HTML JavaScript, and CSS. The result was that they've cut their home page's size down to 297.8 KB, and their loading time decreased by 0.58 seconds.
This might seem a small difference, but in fact it is still noticeable and as we've mentioned before, even if your website is one second faster, you can boost your conversions and improve your SEO.
W3 Total Cache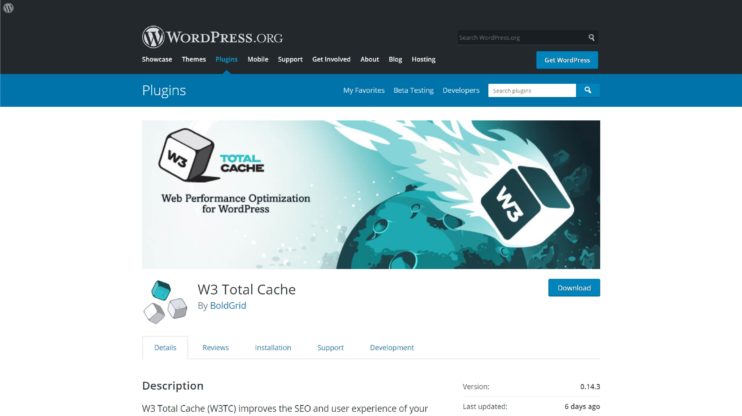 Yet another caching plugin, W3 Total Cache not only provides caching services, but also deals with website optimization. And if you also wanted to improve your SEO, then this WordPress performance plugin is the perfect solution. It improves your SERP (search engine result page) rankings (this works especially well for mobile-friendly websites and those that use SSL), enhances your conversion rate which in the end affects your site rank and reduces page load time.
In addition to that, W3 Total Cache improves your total site performance at least 10 times. When fully configured, you get a grade A in WebPageTest or significant improvements in your Google Page Speed. They also ensure 80% bandwidth savings if you minify your HTML, CSS, and JS files.
Another useful feature is that they also improve your server's performance which allows you to handle high traffic periods. For instance, if you're selling Christmas gifts this can be extremely helpful during those pique seasons when visitors are bombarding your page. W3 Total caching also optimizes progressive render which means your page starts rendering faster and users can interact with it more easily.
W3 Total Cache is compatible with both shared hosting, virtual private/dedicated servers and dedicated servers/clusters. To use the plugin you need the minimum version of WordPress 3.2 or higher. You don't need to worry about the compatibility of W3 Total Cache with other plugins or widgets as it will perfectly go with them, and if you use minify settings you will improve performance a couple of times.
Finally, this plugin is absolutely free so you can benefit from all of its features without having to pay anything.
FAQs
Is there a correlation between WordPress performance and the number of plugins installed?
Yes, of course. You can't simply download all of the plugins that look cool. You should choose your plugins very carefully and make sure you install only the best ones that do a couple of functions at once. It is generally advised not to keep more than 20 plugins, and if you're on a shared hosting this number goes down to 5. If you don't, your website will run slowly, and you will eventually lose your visitors.
Do WordPress plugins affect website speed?
As we mentioned, in order for plugins not to lower your speed, you need to choose and install only the best ones and keep their number as small as possible. Plus, WordPress plugins can also harm your performance if they have too many intricate features that look promising but are too heavy to perform. So try to keep your plugins simple. Plus, don't forget that plugins can also cause security issues if you don't upgrade them from time to time as they are an easy target for the hackers.
What are the best cache plugins for WordPress?
Here at 10Web we don't recommend using caching plugins if you're hosting your website on our platform. However some good caching plugins on our recommendation list are WP Fast Cache, WP Rocket, W3 Total Cache or WP Super Cache. All of these plugins will help you get your caching done quickly and efficiently.
How can I find WordPress performance bottlenecks?
There are a couple of places where you should look for the performance bottlenecks first. First of all, if you're using shared hosting, then the website's bad performance is definitely because of your hosting provider. In shared hosting, you share your page with thousands of other users, so if your neighbour's page gets a sudden traffic boost, it will also affect your website and make it run slowly.
But if you have a good host, you could check your Javascript and PHP files (if they are outdated or not) and make sure that all your plugins are updated. Plus, as we've mentioned before, don't overstuff your page with plugins because it will eventually lower your speed.
Also, you can find WordPress performance bottlenecks by checking website score with Google PageSpeed insight or GTmetrix, which has a very insightful recommendation section.
Page speed is important as it directly influences your website's traffic, conversion rate, and SEO. So, in order to speed up your WordPress and improve its performance, we've recommended five good plugins that will surely do the work. In our list, we have 10Web's Speed Optimizer, WP Fastest Cache, WP Rocket, Autoptimize, and W3 Total Cache. With any of these 5 premium plugins, you can be sure that your WordPress speed will get a boost and you'll quickly see new customers on your page. Let us know in the comments what you do to speed up your site!