10 Tips to Improve Your Website's Usability & Conversion
Usability and conversion rate are the two most important criteria you should keep in mind when designing your website and planning your content marketing.
Simply using SEO skills to draw people to your website isn't enough: you have to try hard to keep them on the website and eventually turn them into customers.
Improving website usability is key to engaging users enough to make them stay on the site and keep browsing.
Conversion, that is "buying the product," comes as a logical development of the business-client relationship. So, enhancing your website usability you're directly increasing your conversion rate, the decisive factor in the formula of your business success.
There's a list of rules and practices you need to follow to improve the usability of your website and ensure a higher conversion rate. Let's discuss each!
1. An Easily Navigable Website
Value the time of your visitors. Make finding what they're looking for as easy as possible.
No one wants to spend hours browsing your website to find the information they need. The bounce possibility raises with every second of useless search.
Numbers say the first 30 seconds are crucial: once you get the visitor to stay on the page for half a minute, chances are they'll stay longer.
Truth is, three clicks is all it takes for users to leave your website, if they couldn't reach their destination. Turns out there's a lot to consider when designing your website.

See How 10Web Can Benefit You
Visit our homepage to learn more about the first-ever AI-powered WordPress platform.
See How 10Web Can Benefit You
Visit our homepage to learn more about the first-ever AI-powered WordPress platform.
UX dictates navigability. The user should be able to effortlessly navigate through your pages. So, leave a healthy amount of space between the posts and different elements.
Include a good amount of links between the pages and sections that are contextually connected. Design a website that guides the visitor to their destination.
2. Skimmable Website
People don't start reading a webpage's content immediately after it appears on the screen.
Instead, they first scan through your page to evaluate whether it's worth their time.
This means that your quality content won't make a difference if people can't find the answer to the question that brought them to your website soon enough.
Webpage skimmability is key to making the user stick out and actually read your content.
According to research, even after the initial skim, people only read about 20% of the words on a webpage.
Control the space to boost your scannability. Instead of having huge chunks of text on a page, separate the paragraphs to let the eye take a break. Make use of the two main scannability rules: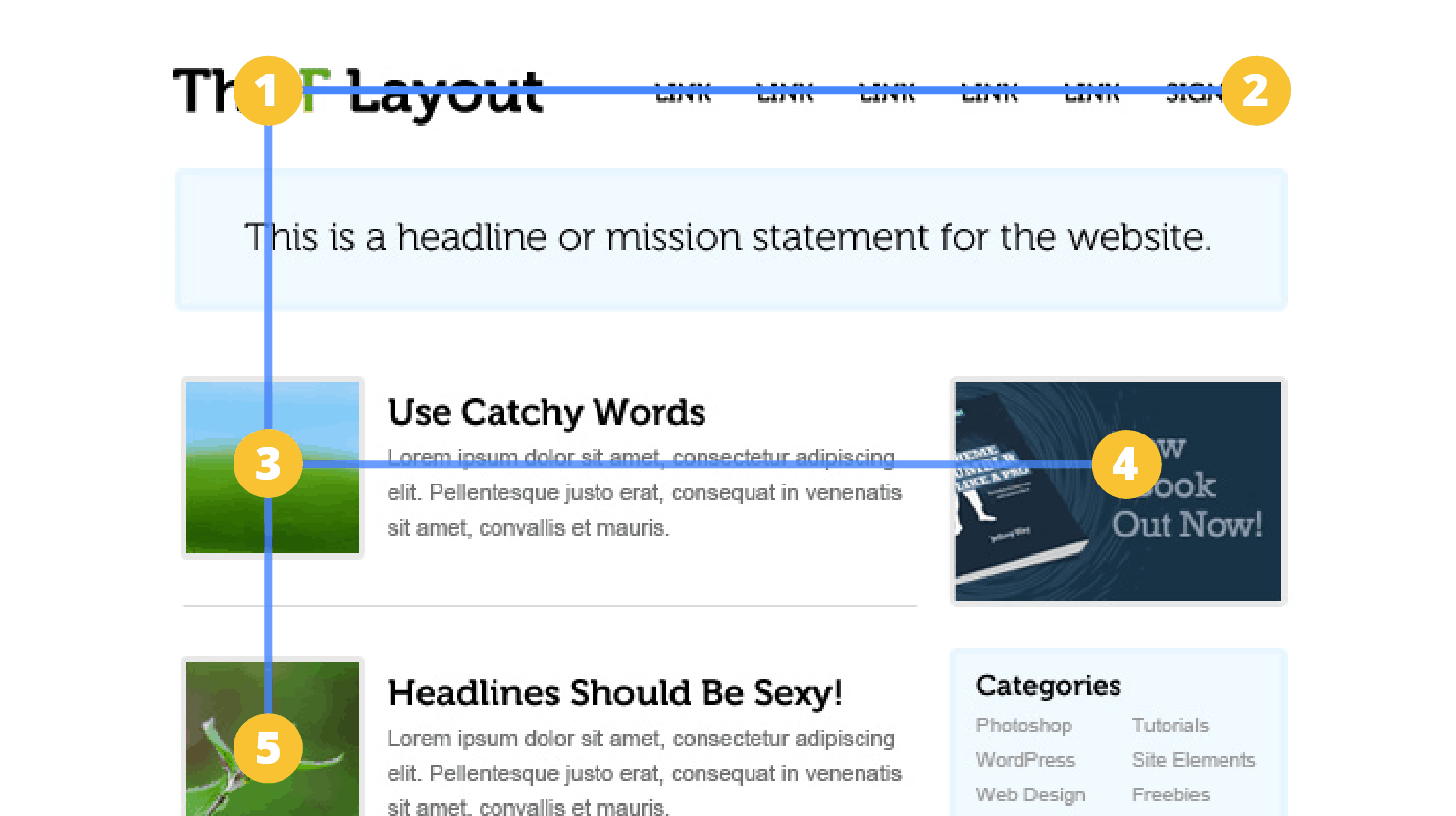 People mainly scan a page that has a lot of text on it in the F-shaped pattern. So, adjusting your design accordingly will suit the natural flow of the eye.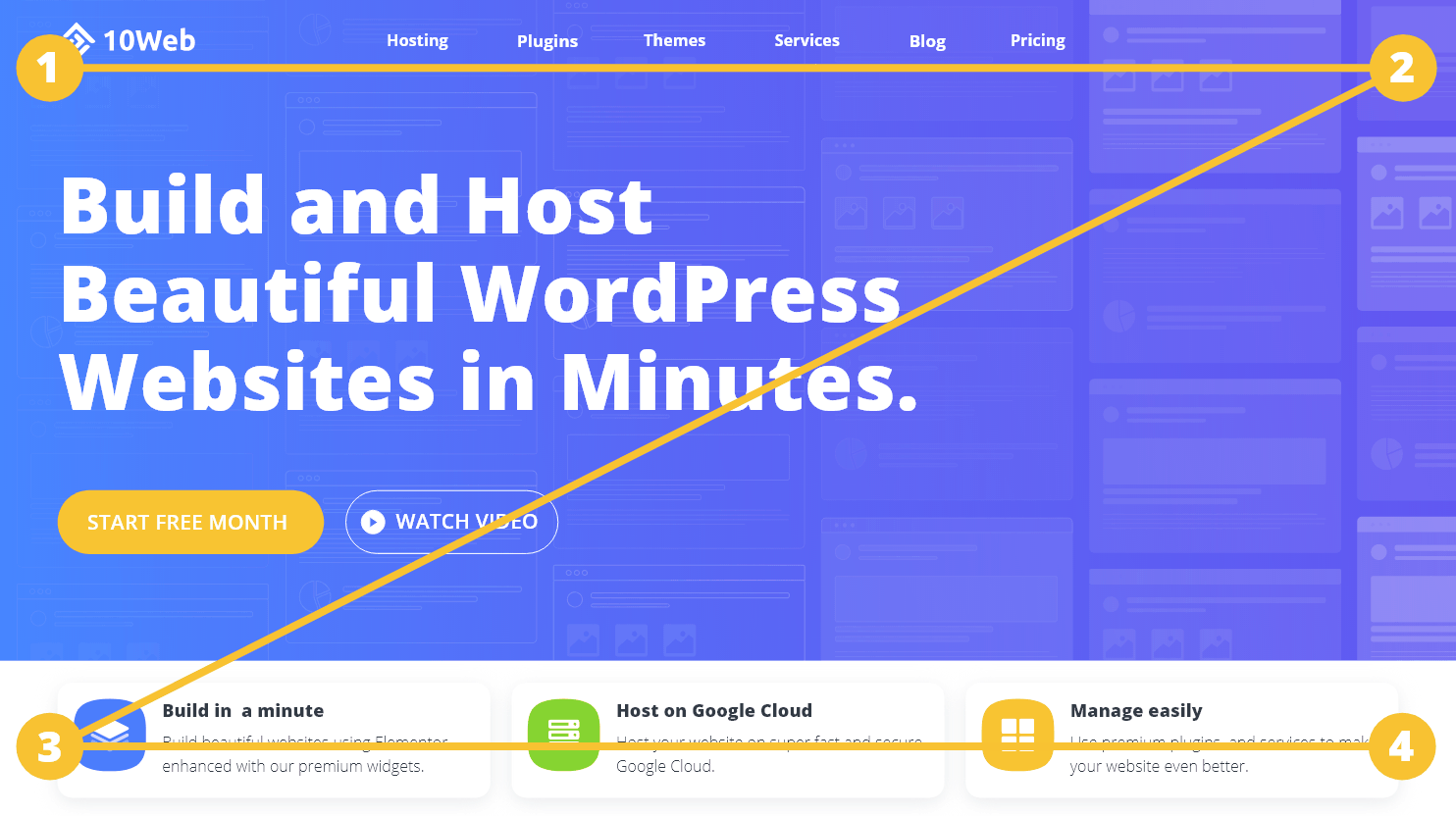 Z-pattern page scanning is more popular with the pages with less words, such as landing pages. The eye "draws" the Z from the top left corner where the Logo should be located, landing in a diagonal and drawing a horizontal line to the "end of the page."
3. Hierarchical Pages
System and hierarchy might be against your liberal political views, but when it comes to UX and usability boost, hierarchical structure is an absolute must.
The human eye is used to scanning from top to bottom.
What most people do is just look through the headings first and, if they don't find the point they need, bounce right away.
Using different headings and subheadings – mainly H1, H2 and H3 – will help develop a logical page structure that your visitors will appreciate.
Create lists and bullet points that will catch the reader's eye.
Hierarchical structure will also majorly improve the page's scannability.
4. Shorter Content
Too much information is overwhelming. I know every piece of your data is important and you wanna share all of it with your visitors. But don't.
This might sound unfair: You put so much effort creating the best products for your audience and making everything as comfortable as possible for your readers, and they don't even seem to be willing to hear you out. But accepting reality is your way to success.
Be selective. Choose only the most crucial points to highlight at every step. Put the focus of each landing page on something specific, list only the qualities that matter most for the specific service/functionality/etc.
Whenever you need to convey a lot of important information, present it visually via infographics. Here are 5 awesome infographic makers you can use!
The golden rule applies here as well: value the time of your users and they'll value your efforts.
5. Responsive Design
These days it's all about responsiveness. With so many device types and screen sizes out there, you should be considerate when designing your website.
Even if it looks majestic on a laptop, it may look worse on a certain type of mobile or tablet screen. So, if you want better usability, switch to responsive design if you haven't done that yet.
The process of creating responsive design, of course, isn't simple, as everything, from the page structure to images, from videos to page margins, should be adjusted.
All the best things demand effort, don't they? Plus, millions of paid and free courses of responsive web design are available, so why worry?
Some prominent designers advise to start the website design from developing the mobile version look, considering that 53.3% of world traffic comes from mobile.
6. Colors, Sizes, Shapes
To make the user wanna stay on your website and explore, you need "tasteful design." You can't expect people to be willing to spend time on a website designed with randomly picked colors and shapes, that don't go well together at all.
Contrasting colors raise the readability of the text. Generally picking lighter and cooler colors for the background works in most cases since it's more comfortable for the eye to focus on the screen.
As a contrary contrasting and darker colors should be chosen for the tests, to make sure the content is visible and easy-to-read.
Same works for the fonts as well. Using messy-comic-sans-like fonts for a serious business website might not be the best choice.
7. Thoughtful Use of Images
Images play a crucial role in usable web design.
However, that doesn't mean that you should use an overwhelming amount of meaningless images just for the sake of using images.
Take your time choosing the right images that complement the text and fill it with more details, rather than just illustrating your points.
At the same time, you should keep track of the number of images you embed on a page. Don't use 4 images for a 100-word piece.
Finally, high resolution images, with all the visual appeal they offer, are heavy, which decreases your webpage load time. There's a solution, though.
Compression and optimization tools exist to reduce the "weight" of your image files and reduce your load time – one of the most important aspects of usability. This Image Optimizer can do the work for you.
8. Improved SEO
Putting yourself out there is the only way people will ever know about you. To raise your website usability, you first need to enhance your visibility.
Though the human factor is of a huge importance, you can't ignore search engines. You have to try equally hard to suit the requirements of crawling bots for them to deliver your content to potential users and customers.
Luckily, there are dozens of SEO guides and checklists you can make use of as well as sophisticated SEO tools that will let you avoid SEO mistakes.
This WordPress SEO service, for example, will check and grade the state of your website's SEO and provide deep and insightful tips on how to improve it.
9. Awesome Content
Now imagine a scenario: you've built a super SEO-friendly website and it's ranking high in Google.
The user clicks on your website and the design is literally magnificent: you controlled the space well, used all the UX rules to make everything super comfortable, readable and pleasant for the user.
The user stays on the website, easily finds, say, an article on a topic they're interested in and starts reading it. The first paragraph disappoints. The reader skims through the article and figures it's neither insightful, nor interesting.
What's the next step?
Of course, he or she will drop the page, close your site and go find the answer to their question elsewhere. Why waste time on useless words?
High-quality engaging content is the most important thing you can offer. Meticulously research the topic at hand before publishing something. Write as an expert.
At the same time, keep it fun. Let the user enjoy your content. That could be done by:
Developing your storytelling skills to make your content more attractive and easy-to-read,
Adding interactive elements, such as meaningful and connected videos, images, sketches, etc.
Giving examples of whatever it is you're talking about. People tend to understand and enjoy them better than dull theory.
10. Constant Testing
Usability testing is a widely used practice among the most popular companies around the world.
Carry out different testings to figure out what your specific audience seems to like better. That does not just mean asking for opinions via online polls.
Sometimes the users themselves don't precisely know what will make a better impression on them. Instead, check your site's usability and analyze conversion based on real examples and input.
One popular means is A/B testing, that is offering two options of the same interface or webpage segment to the users and then grading the conversions to check which one brought in more sales.
This might seem like a lot of work, but trust me, you'll get into the habit of paying attention to these factors pretty soon. Plus, the efforts will definitely pay off resulting in better usability and higher conversion rate. If you have any questions, objections or other tips you wanna share, don't hesitate to drop us a comment down below and we'll get back to you ASAP.