8 Workflow Automation Software Solutions to Boost Your Efficiency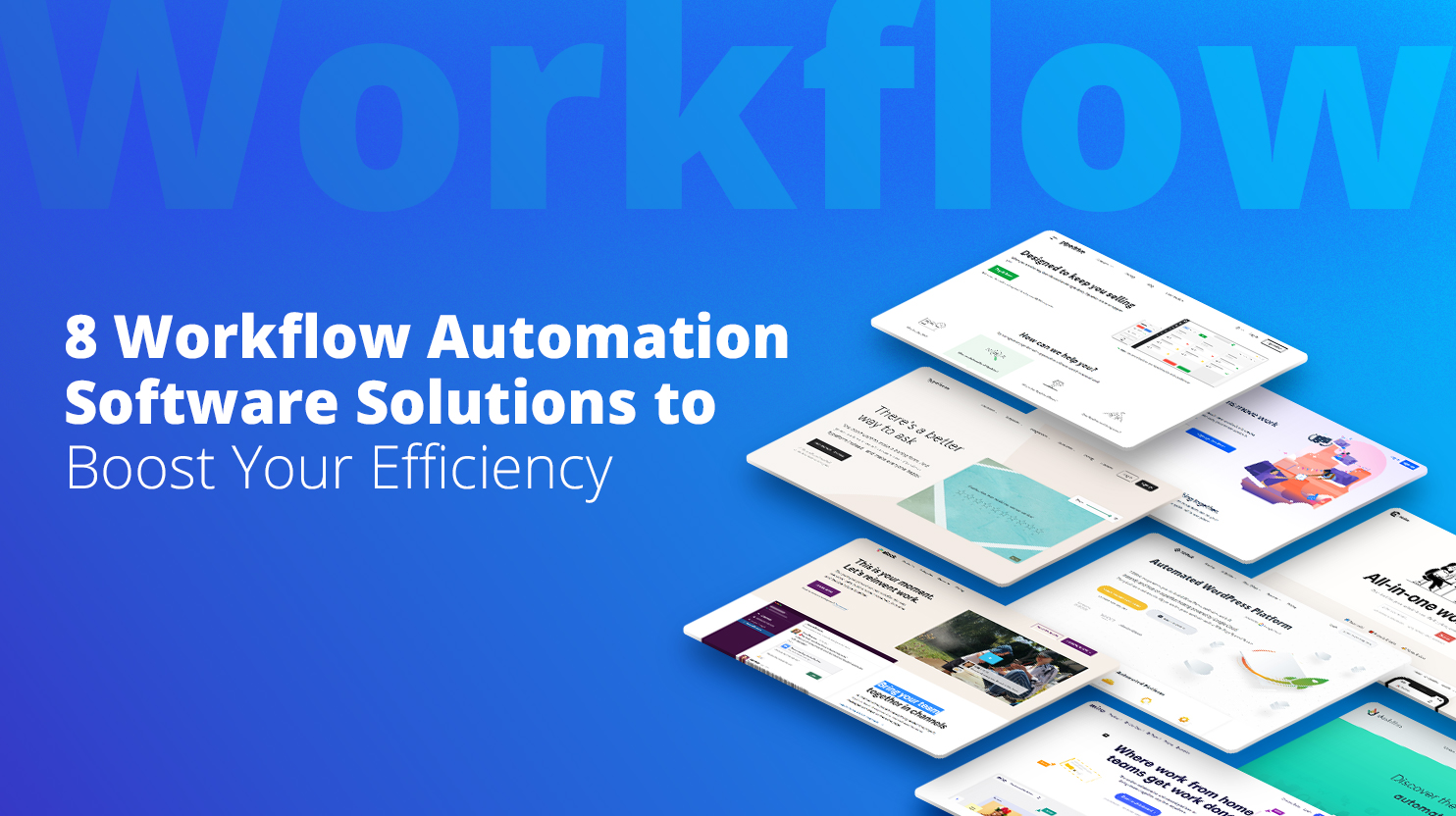 Aside from technology taking over humans (winky face, a little joke with a hint of "what-if"), what's the reason you're still spending so much time on manual tasks when you can automate them?
From personal life to working life, from automated bill payments to automatic website building and so on; all these things help us save precious time wasted on hideous manual tasks and spend that time on business growth, family time, and therapy to recover from previous stressful working lifestyle.
As the famous saying goes, "Life is too precious to waste on things you can pay someone else to do for you." Nowadays, we can change it to, "Life is too precious to waste on things a tool can do for you."
All jokes aside, my life changed drastically when I started using automation software solutions to ease my working life. Back in the day, when I worked at agencies, the amount of time I was able to save with the help of automation was insane. I focused that "saved time" on getting more clients, spending more time on client communication, and decreasing the churn rate. Happy client, happy agency, right?
So when I thought about what to write about next, I came up with the idea to share my top 8 workflow automation software solutions to boost your efficiency!
These are the tools I've been using for years, that I swear by. And since I'm not a selfish person, I had to share them with you.
First, let's divide the agency workflow into 3 categories to better understand which workflow automation software solutions are used in each step.
We start with "client onboarding," move to "client management," then to reporting," as you can see in the diagram below: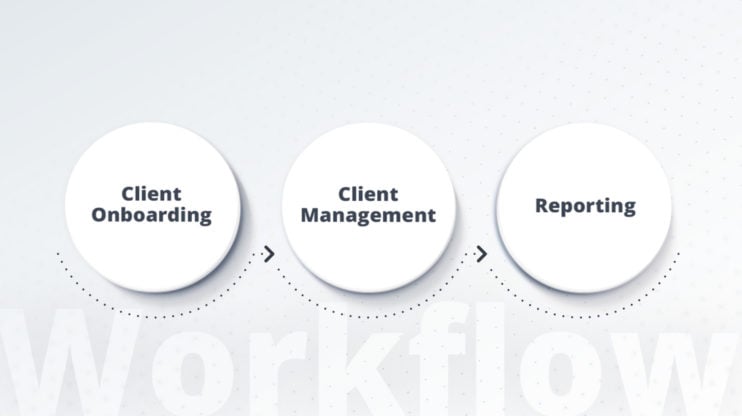 Workflow Automation Software Solutions: Client Onboarding
For this stage, I've separated 3 of my favorite tools from CRM to client communication software. And by all means, please share your favorite ones in the comments, as I'm always eager to explore new workflow automation software solutions.
Disclaimer: There are way more tools that I like that are similar to the ones I'm going to mention. I've just separated the ones that I currently use and love, that have excellent pricing and are very easy to use.
Pipedrive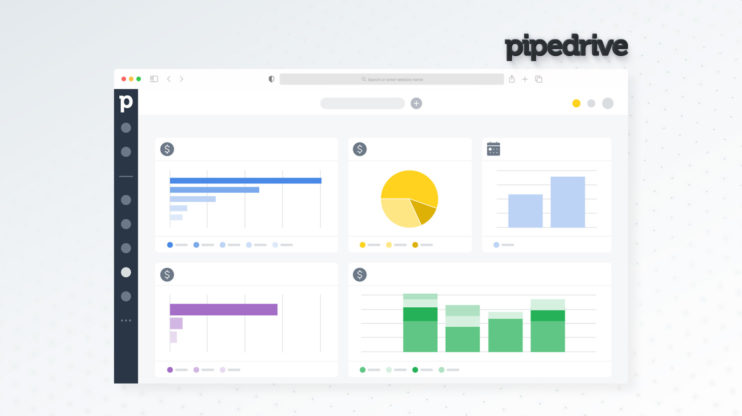 I've used many CRM tools in my ten-year working life; too many, to be honest, but last year I landed on Pipedrive, and honestly, it's so user-friendly that I don't think I'll move from it anytime soon.
To make it more understandable why I love Pipedrive without taking an eternity to tell about each feature (and I can go on and on about something I love for hours, days, and even years), I've separated all the reasons in short bullet points. If you still want me to dive deeper, leave a comment, and I'll be happy to blab for a while longer:
A straightforward drag & drop interface
Very easy to build any funnel (specified for your needs)
Automated reminders
Integration with tons of tools, including all of the most popular email automation tools
The price is fantastic in comparison to competitors with similar quality
The mobile app
API (as we mostly make inbound sales, this was a crucial point when choosing a CRM tool)
Of course, there are waaaay more reasons I prefer Pipedrive, but these are the main ones.
Typeform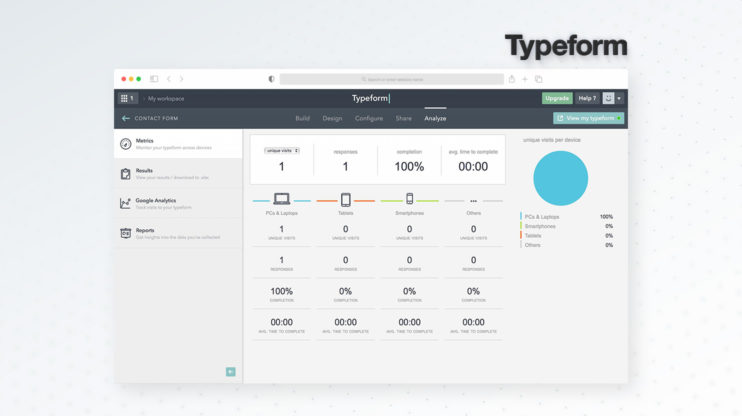 Customer surveys are one of the most important things when it comes to client onboarding. It doesn't only help you understand your client better but it also allows you to set up better KPIs and understand which metrics to track.
Sure, you can do it with suitable old Google forms, but come on, we are way too evolved for that by now; well, the technology is. 😀
I enjoy what Typeform offers: from gorgeous templates to fantastic tracking. My favorite things about Typeform are:
Stunning templates. I believe the more appealing the survey looks, the eager your clients are to fill it out.
Integration. From Slack to Facebook pixel and even Pipedrive 🙂 and if you don't find your preferred tool, there's always Zapier
Straightforward user experience
Tracking/data
Great pricing
I haven't found any better alternative to TypeForm, but if you have, let me know.
Slack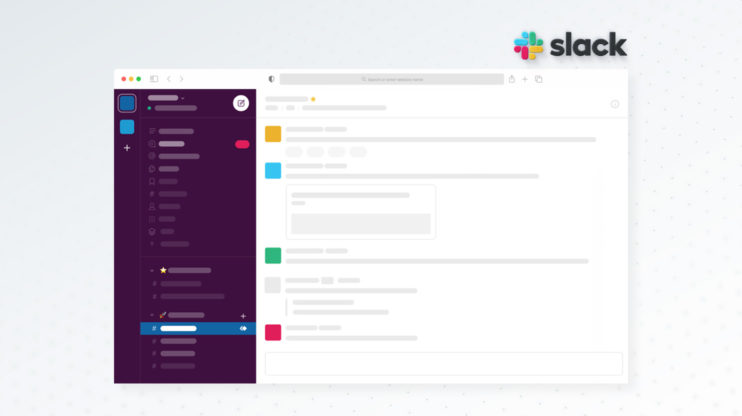 Do I need to say anything about Slack?
It's the most convenient communication software in the market, and needless to say, it speeds up your communication with your clients enormously. I'm just going to mention my top picks of how it can help you as an agency:
Creating separate rooms for each client and including all the people working on the project in a folder. I love using unique emojis for each folder.
Zoom integration, start the calls with /zoom anytime you want.
Automated reminders before meetings or critical events like reports.
I love way more things about Slack, like text reactions, GIF integrations, to make everything more fun. There's only one thing that I think needs to be added to Slack, especially with our remote working life: voice messages! Can we please have it, dear Slack team?
Workflow Automation Software Solutions: Client Management
Now when your clients are all successfully onboarded and have everything set up like their CRM and communication tools, it's time to ease the client management processes by adding automation with the help of workflow automation software.
Trello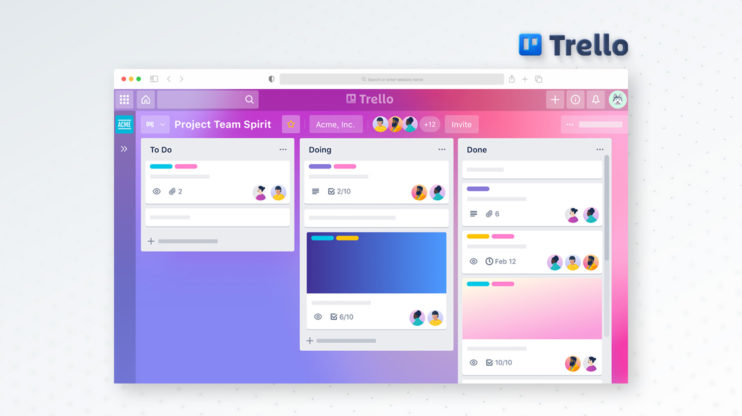 Can I say what we're all thinking? There are too many project management tools in the market. You can get easily lost when choosing one. I've personally used probably about 6 different ones, and most of them are pretty good.
So why have I chosen Trello? Because it's the most suitable one for agencies that are handling different companies with different workflows. The best attributes are:
Being able to see all clients in one dashboard
Creating customized workflows and tags
An easy drag-and-drop interface
Mobile app
User management
It's super easy to use; any non-tech person can use it, so even if your client is not that tech-savvy, they still can see the process and understand how to navigate.
10Web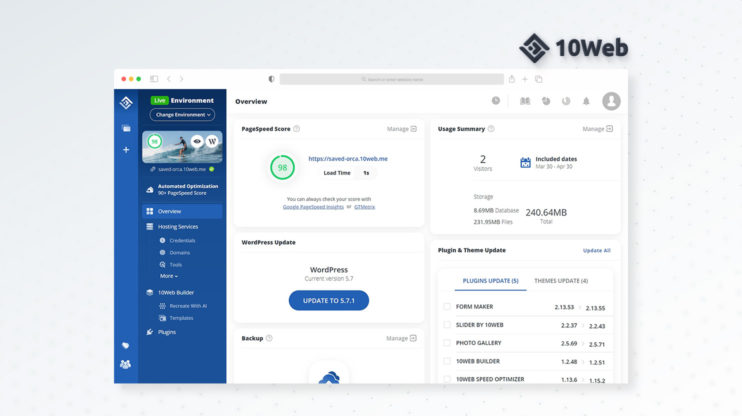 Now, I know this makes me look biased. But if you hear me out, you'll realize that I'm not. Just give us a test drive with a free trial and then come and tell me that I was wrong (I'm sure you won't).
10Web is an automated WordPress platform that helps you automate website building, hosting, and managing so you can focus on your business growth.
Here's why you'll love 10Web as much as I do and how it will help you grow your agency:
Automated website building with AI assistance. Just paste the URL of the website you want to recreate, and, abracadabra, you get a fully functional copy of the website on WordPress in minutes.
Automated website management. Backups, security scans: just schedule them and stay chill as you are always covered.
Automated 90+ PageSpeed optimization. We all know how important page speed can be for better rankings and conversion rates and how time-consuming it can be. Being a "victim" of manual PageSpeed optimization myself, I find it my responsibility to encourage you to test 10Web's automation.
An upcoming user management solution (it's on its way, so stay tuned).
I could talk for hours about what you can get with 10Web, but I'd rather you sign up for the free trial without any credit card and test it yourself.
Automated PageSpeed Boost With #1 WP Hosting
Get 90+ PageSpeed Score and boost Core Web Vitals by migrating your client websites to 10Web – all within minutes, all automatically.
Automated PageSpeed Boost With #1 WP Hosting
Get 90+ PageSpeed Score and boost Core Web Vitals by migrating your client websites to 10Web – all within minutes, all automatically.
Miro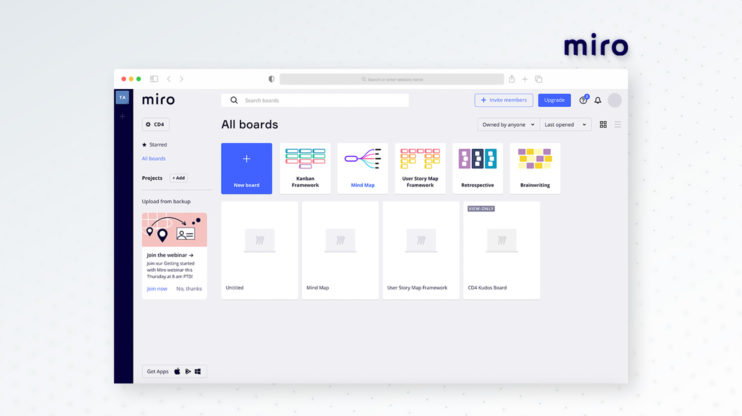 Do you have any idea how many campaign flows, user flows, and all kinds of flows I create per week? It may sound like a nightmare to you, but I love it, especially since I've found out about Miro.
Once I started using it, there was no way back to the tools I was using before.
Moreover, if anyone points a gun at my head and asks me to name one single tool that I love the most at the moment, I would shout Miro without giving it a second thought.
So how Miro won over my marketing-infused heart:
Various and handy templates
All types of integrations: from Google docs to Slack
Collaboration with teammates
Easy to use
The user-friendliness is out of this world; try it out, you won't regret it. It has a free version as well.
Notion
Notion is one of the very few all-in-one solutions in the market that is amazing. You can use Notion for documentation, project management, and more.
I love Notion for 4 main reasons:
It's all-in-one. You don't need to use a hundred other tools, forcing you to transfer info from one place to another.
Very user-friendly interface. It's super easy to use and to collaborate with the team.
The wiki tool. It's just excellent for storing your company strategies, different policies, and more.
Mobile-friendliness, which is a must in the modern world.
And it has a free plan so that you can test it out right away.
Workflow Automation Software Solutions: Reporting
The clearer your reports, the better your clients' understanding of them. But it takes time to create very detailed yet still simple reports, considering how many platforms you might use for each client. Here I have only one tool to share with you that caught my eye. I'd love to hear your suggestions in the comments section, though.
DashThis
DashThis is a reporting tool that gathers all your data from different sources in one place. It has many outstanding features, but the main things that caught my eye are:
It's super easy to connect with other tools like Google Ads, SEMRush, Facebook, and more.
Amazing report templates
A user-friendly all-in-one dashboard
And—wait for it—white labeling, so your clients won't know you're using their tool (winky face)
And like many other tools I've already mentioned, it has a 15-day free trial so that you can explore it yourself.
It's time to sum up our list of workflow automation software solutions to boost your efficiency. I've told you about the ones I've tried and loved and hence were worth mentioning for me. I can't wait to find out about your suggestions and explore some new tools.