Why Use WordPress? Here Are 9 Rock-Solid Reasons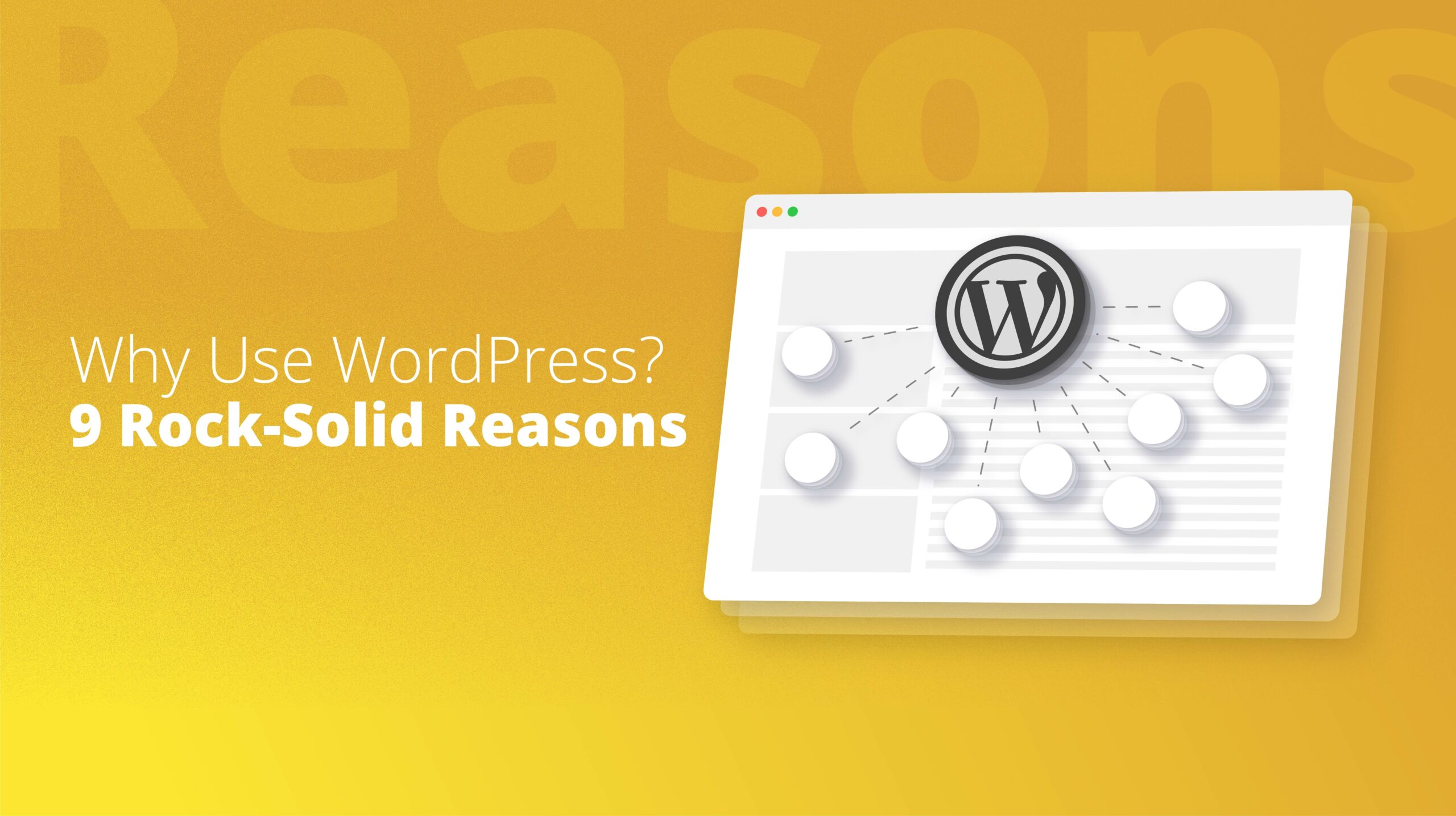 You're in the process of deciding how to create your website and are wondering why you should use WordPress? Well, no need to be wandering around in Wonderland anymore, because we have all the information you need.
Let's start by asking, "What is WordPress?"
WordPress is the most popular and reputable content management system (CMS) there is to date. It's an open-source software that's accessible for everyone, and it won't cost you a dime. As of now, WordPress is reigning over the CMS-market: with a market share of 62%, the platform is used by 35.2% of website owners worldwide.
Already impressive, right?
But there's so much more to WordPress than meets the eye. To keep it concise, we picked out 9 advantages that WordPress offers, which make it indispensable for every website owner out there. Here's a little sneak preview:
Free and Open Source
Huge Community
Easy to Learn
Host Everywhere
SEO-friendly
Flexibility
Security
Easy to Manage
Simple Integrations
Why use WordPress and not Blogger?
What websites should not use WordPress?
Why use WordPress over Squarespace or Wix?
Why use WordPress?
There are countless reasons why you should use WordPress. But here's a summary of the most common ones that will blow your mind.

1. Free and Open Source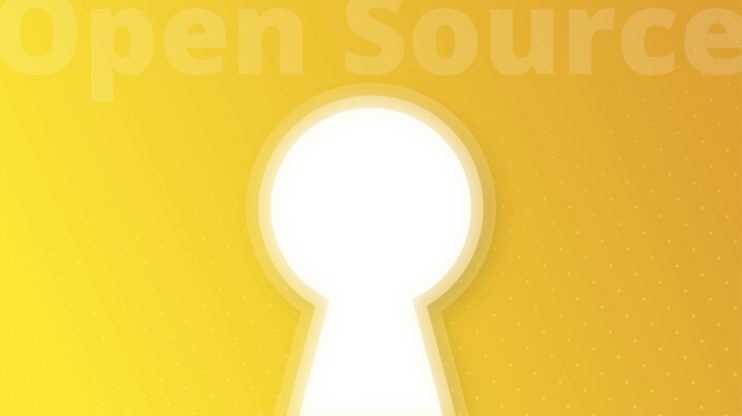 One major reason why people use WordPress is that it's free and open source. This, of course, explains some of its charms. But WordPress offers more than that. The WordPress community is constantly working on evolving their solutions and providing users with useful innovations and security updates.
WordPress in itself provides a lot of essential tools to build a website. And it all comes for free. However, website owners who are new to the game might feel a bit overwhelmed by the sheer amount of technicalities to take care of a functional and professional-looking website.
Luckily for you, there are many hosting providers that offer services tailored to the WordPress system, ensuring a smooth website building and managing process. We at 10Web, for example, offer our automated WordPress hosting services, a high-caliber version of managed hosting, for the low price of shared hosting.
Automated hosting spares all the trouble of dealing with the innate technicalities of owning a website. Thanks to automation, the majority of elements of managing a website run automatically without you having to break a sweat. If all of this sounds Greek to you, check out this article to learn all about automated hosting and figure out if it's the right choice for you.
Alternatively, make use of our non-binding free trial without a credit card requirement and without trial version limitations. Meaning, you'll have full access to the entirety of our services, allowing you to make an informed decision about your website host based on your own experience.
See How 10Web Can Benefit You
Visit our homepage to learn more about the first-ever AI-powered WordPress platform.
See How 10Web Can Benefit You
Visit our homepage to learn more about the first-ever AI-powered WordPress platform.
2. Huge Community
Another reason to use WordPress is its extensive community. Having taken over 30% of website owners, WordPress doesn't just settle on this achievement but works ardently to create a community and keep its members engaged.
WordPress has its very own community/outreach team, that's responsible for a wide range of community-building projects. Some of them are:
Community events,
Diversity initiatives,
Mentorship programs, and much more.
Should you be interested in joining this community, you can apply as a volunteer.
Moreover, WordPress has its own YouTube channel for discussing all things WordPress and using it as a communication and educational tool for loyal WP customers.

3. Easy to Learn
Another reason why you should use WordPress is that it's unexpectedly easy to use. Even if you're not a tech-savvy person, don't hesitate to sign up for it. If you have enough time on your hands, be assured that you'll be able to very easily jump onto the website building wagon. The World Wide Web is full of useful and lengthy tutorials about how to use WordPress.
If you're not sure where to start looking, don't worry, we've got you covered with this article containing an extensive list of WordPress channels that will be a life-saver for both beginners and experienced users.
If these free channels are not enough, you can always sign up for premium learning platforms, such as Udemy, which is famous for its intensive and step-by-step instructions that will turn each and every newbie into a WordPress-savvy person.

4. Host Everywhere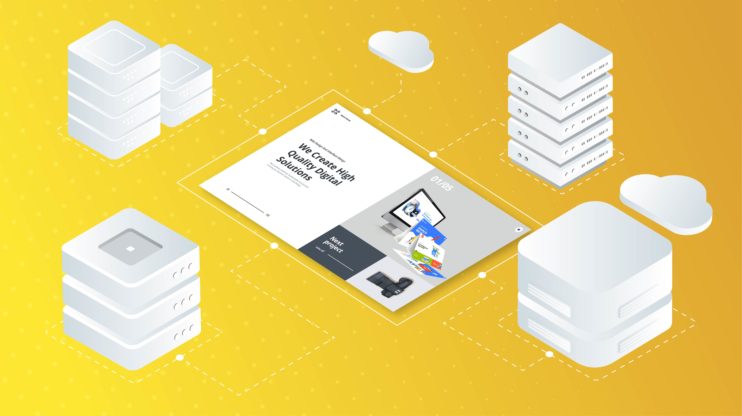 WordPress being the market leader when it comes to CMS, it makes sense that it's compatible with every hosting environment. In other words, you can host your WordPress site on other hosting platforms. There are no restrictions put upon your site.
If you use Wix, on the other hand, you can only host your website on Wix, because of their business model of charging monthly subscription fees that naturally doesn't allow customers to move their websites once they've subscribed to one of their plans.
The ability to migrate your site from one host to another is a very important feature that you shouldn't underestimate because it determines your freedom of choice. In an ever-evolving marketplace, it's not wise to choose a product or a service that binds you to one specific provider. It prevents you from following new, technologically more advanced trends and from profiting from the price elasticity that results from a highly competitive market.
That's exactly why people use WordPress because they own their content and can move it wherever whenever. WordPress gives them the essentials they need for building a website and then they can decide what to do with it.
We generally advise you to choose a WordPress-specific hosting provider because that'll guarantee a freedom of choice that you might not have with other hosts. A good example of this is yours truly, 10Web. We provide automated hosting services optimized for WordPress for the price of shared hosting. With us, you'll be able to benefit from a vast range of high-quality tools, knowing full well that if you decide you want to move your business elsewhere, you can.

5. SEO-friendly
It's been a while since search engine optimization (SEO) has taken over and whirled up the marketing world. Nowadays, it's impossible to have a successful marketing strategy without minding search engine visibility. This goes for absolutely every website owner. Creating a website by design implies that you have something to share with the entire world or at least with a specific part of it. But in the age of information overload, there's no way you'll manage that without being visible on search engines, most significantly Google, the world's most frequently visited site.
That's where WordPress comes in handy. The software is known for being extremely SEO-friendly. How so, you ask? Well, search engines index your website's content via crawlers. The specific factors that they're indexing for are never fully disclosed. They're for the search engines to know and for us to guess. But basically that's how search engines rank websites.
Google, for example, puts heavy emphasis on speed, mobile-friendliness, user experience, and much more. So, in order to rank well on Google, you need to mind these factors. WordPress helps you do just that. For starters, many SEO elements, such as alt tags and descriptions, permalinks, meta descriptions, etc., are included in its source code. This and the fact that WordPress is mainly written in PHP, but also includes HTML, make WordPress websites easy to crawl for search engines.
WordPress themes can be understood as an extension of the source code and enhance the functionality and visuality of your website. Most of those themes are free and designed to meet search engines' SEO demands.
Besides this, WordPress has an extensive range of premium plugins and themes that support and enhance SEO performance. But why use plugins to begin with?
They allow you to analyze your SEO achievements, conduct proper keyword analysis, create meta descriptions, and much more. You won't get this amount of optimization efforts elsewhere, which also answers the question of why use WordPress and explains why you have to use WordPress to create a website.

6. Flexibility
One of the benefits of WordPress is that it's incredibly flexible on multiple levels.
You have the option to self-host your website and have full control over every aspect of it, design, functionality, and content, making flexibility the sixth reason why you should use WordPress.
It's very customizable, which gives you a lot of freedom when creating a website. Basically, because you have full control over WordPress codes, you can tailor any theme or design to match your preferences.
This said, if you're not a tech-savvy person, the task of building, customizing, and managing a website can prove to be difficult, which is why many are of the opinion that WordPress is so hard to use. In such cases, you have two options:
You continue to self-host your site with the help of the countless tutorials available on the World Wide Web, or
You can choose a hosting provider that will take care of the technical aspects of website management and provide support whenever you need it. There's no need to worry about compatibility issues with hosting providers because WordPress is seen as the "universal donor" among the CMSs.
7. Security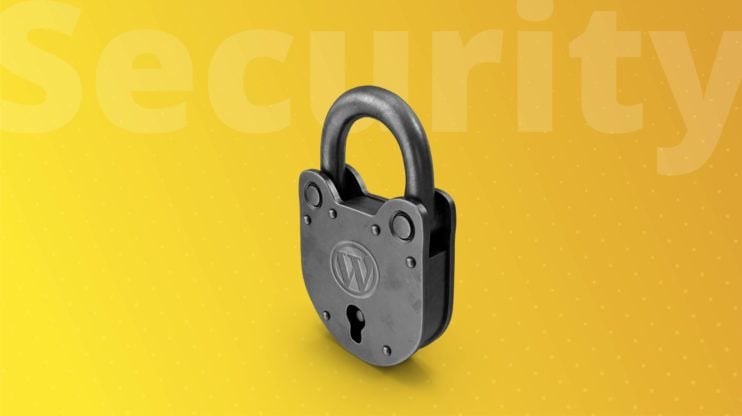 WordPress security is a sensitive topic. Many people would count WordPress's security issues as a reason why you should not use WordPress. But the real reason for a high number of attacks is that WordPress is the most widely used CMS and because of its open-source nature, the likelihood of WordPress sites being targeted by hackers is higher.
When people associate security threats with WordPress they're assuming that the number of hacker attacks on WordPress sites is higher because WordPress in itself lacks proper security. This is a rookie mistake.
The high number of breaches is due to the fact that WordPress has the largest market share, which increases the possibility that a random hacked website is a WordPress site. It's simple math, really. Add to this some malpractice by website owners – forgetting to consistently update their WordPress core, the plugins, and themes, for example – and you'll see that vulnerabilities are bound to exist.
So, why did we include security as one of the reasons why you should use WordPress? Simple, we wanted to deconstruct the existing prejudice about WordPress's lack of security. The CMS even has a security team, consisting of 50 tech experts there to research security issues and resolve them as quickly as possible.
If you're still skeptical, there are many WordPress hosting providers that offer excellent security measures that will reduce the vulnerability of your site. We at 10Web, for example, offer the following:
a free SSL certificate,
constant monitoring,
built-in login attempt limitations,
a scan for vulnerabilities, malware, and file changes,
DDoS attack protection,
full and quick reparation and restoration of hacked sites.
So, if security concerns are what's holding you back from using WordPress, then you might want to reconsider.

8. Easy to Manage
Another reason why you should use WordPress is that it's really easy to manage. Remember the security issues we mentioned that sometimes arise from people forgetting to consistently conduct updates? Well, they're really unnecessary, especially if you consider that WordPress has an integrated update management system that gives you the opportunity to update plugins and themes via your admin dashboard. And WordPress mobile app allows you to manage your sites en route.
On top of that, you are constantly notified about the most recent WordPress updates, just to make sure that you don't neglect to upgrade your old WP version. You can do so via one click only, not much else necessary.
Should you still fear for the safety of your website's content, you have the option to install a WordPress backup plugin, schedule automatic backups, and have your data stored safely in a cloud location.

9. Simple Integrations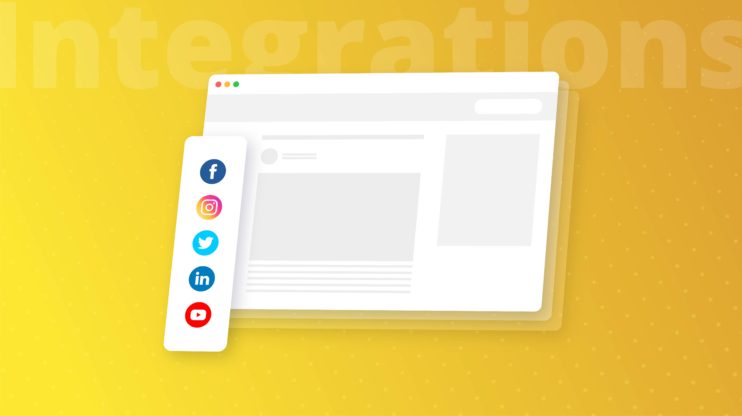 Having discussed the importance of enhancing your website's visibility via SEO, let's now take a look at a very important factor of social media. It should be said upfront that social media signals per se aren't an official SEO factor that will result in a higher search engine ranking. But domain authority is.
Your website gains domain authority through its high-quality content and through other websites linking to your website, thereby signaling to search engines that the information provided by you is of high value. But what does that have to do with social media and how does it explain why you should use WordPress?
Easy, being active on social media channels can impact your domain authority positively. For example, if people start sharing your posts on Facebook, other users who see this will for one get acquainted with your brand and refer to it when publishing something related to your post.
That's why having those social media outlets integrated into your website is extremely important. It will allow you to enhance your social media presence, facilitate communication with visitors, make your content easier to share, bring in additional traffic, and inevitably positively impact your search engine ranking.
The integration of social media is very easy with WordPress. You have the option to install a WordPress social media plugin, such as Social Media Share Buttons & Social Sharing Icons for example, that will add sharing buttons to your posts. You'll be able to link your website to Facebook, Instagram, Twitter, LinkedIn, and many other social media sites. Blog2Social on the other hand, allows you to cross-post on different platforms simultaneously.
Basically, another reason why you should use WordPress is that it allows you to create and run an active website providing you several channels through which you can keep your visitors engaged.

FAQs
Why use WordPress and not Blogger?
The clue is in the name. Blogger is designed for blogging, nothing else. Are you a writer who's just interested in getting some thoughts out with no ulterior motives? Then Blogger might be the right choice for you. But keep in mind that the range of features and services offered is pretty narrow.
But if you want your content to reach people, to be read, and consumed, then WordPress is the way to go. With WordPress, you have more control over your site in every thinkable way and better chances at having a solid SEO performance, given that WordPress provides more SEO-friendly options.

What websites should not use WordPress?
WordPress can be considered a chameleon of CMSs, it can take any form you want and is thus suitable for every type of website.

Why use WordPress over Squarespace or Wix?
Wix lacks flexibility when it comes to your website's design, as well as its migration to a different host. Regarding the design, you can't change your theme after publishing, which is pretty unfortunate because it takes away the opportunity to change your mind. As for website migration, you can't host a website built with Wix with every host. There are compatibility issues that require conversion to WordPress first before migrating your site to another hosting environment.
Squarespace, on the other hand, isn't as customizable as WordPress, doesn't provide the same range of themes and plugins like WordPress, and doesn't meet the demands of "unconventional websites," whose needs exceed those of small and simple websites.
After sharing our reasons why we use WordPress, what are yours? Are you a convinced user of the CMS or are you simply using it because everyone else is and it's free? Share your thoughts, leave a comment!